A Beautiful Bengali Alpona Design is a compulsion for a Bong Home. In West Bengal, the homes are decorated with a beautiful White Rangoli design. Which is painted with White Clay powder or sometimes White fabric dye too.
Such pretty Bengali Alpona Designs are painted through the house. Especially a pattern in the home's Puja room. During Durga Puja and Lakshmi Puja, a Bengali Alpona Design is a compulsion.
Most Bengali families paint an aesthetic design on the floor on auspicious occasions. It symbolises the prosperity of a family which makes a home positive. Illustrations symbolise Hindu Gods and Goddesses.
Firstly, you should always make one on your big day too. Here at myMandap, we have enlisted the best Bengali Alpona Designs which have made the art form so special. Likewise, these are the best Bengali Designs.
Why make an Alpona Design?
It is believed that Goddess Lakshmi, the divine Hindu God of Wealth is worshipped with utter prosperity. She is worshipped with a Rangoli Design in the centre of the room which makes it so special. The Sanskrit Word 'Alpona' means, print or art.
It is either made with a thick liquid paste of water and rice paste or with a painting brush. Some women use thin cloth to make a pretty Bengali Alpona Design. There is the good flowing text which dictates the best.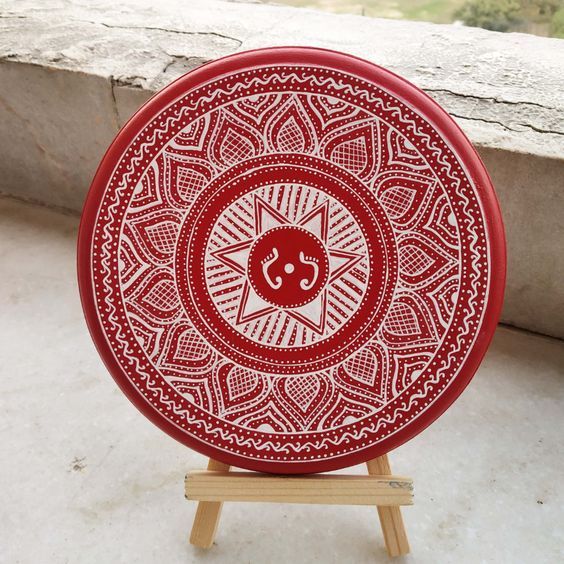 These are the best Bengali Alpona Designs which makes it very special for the day. Firstly, these designs are simple and they make really simple styles too. Lastly, these styles are perfect for a person who is trying to get a good design. Such Bengali Alpona Designs are the best.
In India, there are Bengali artists like Abanindranath Tagore and other major designs which makes the day special. During Pre Aryan Times, the tradition of rangoli and Bengali Alpona Design was quite common. Here, we have enlisted some of the best Bengali Alpona Designs for you.
Check More: Beautiful Alpona Designs
Top 10 Beautiful Bengali Alpona Designs:
Floral Design on a Mandala Motif
I love Alpona Designs which are traditional and perfect too. Once in a while, they are a compulsion for an Indian home. Firstly, these simple styles are one of a kind.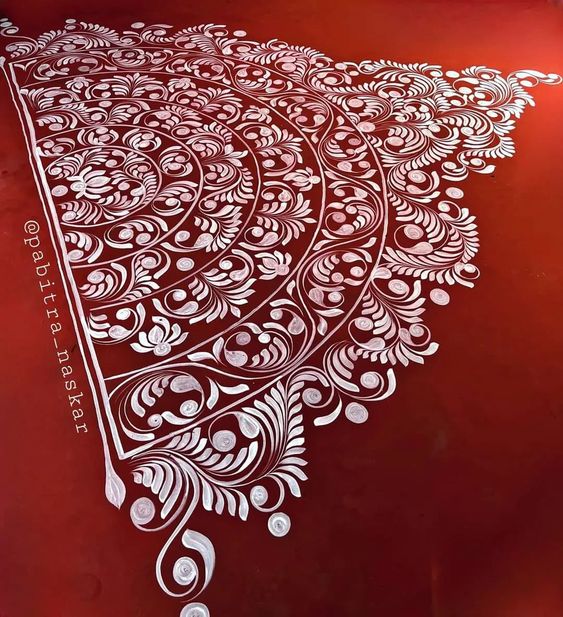 Then these designs are easily customised too. Just makesure, your Alpona Artist is using fabric colour instead of rice paste or something else. Lastly, these styles are the most beautiful options.
Beautiful Design for Festivity
If you want to be a part of festivity then a Beautiful Rangoli Design is the style you need. Firstly, these Bengali Alpona Designs wouldn't need much to it.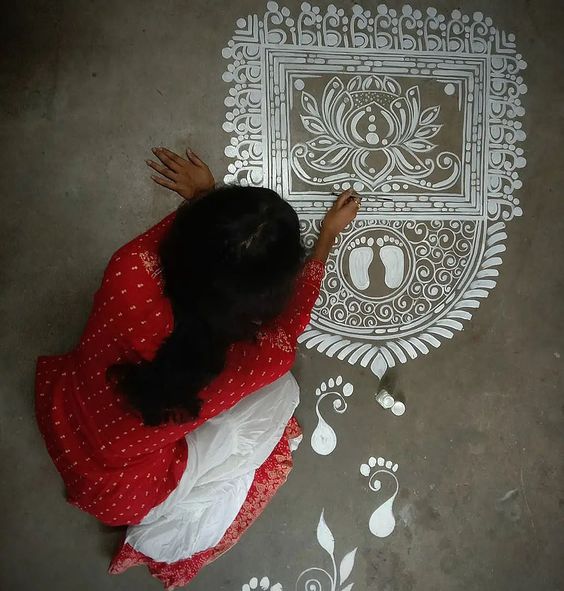 It has a remarkable design with the most lively design and style too. Such beautiful Bengali Alpona Designs are simple and way better than design.
Bengali Alpona Design by Nandalal Bose
If you're a Bengali then you should know the name of Nandalal Bose. he is a very famous Aplona Artist. He is known to have made over a hundred popular Bengali Alpona Designs.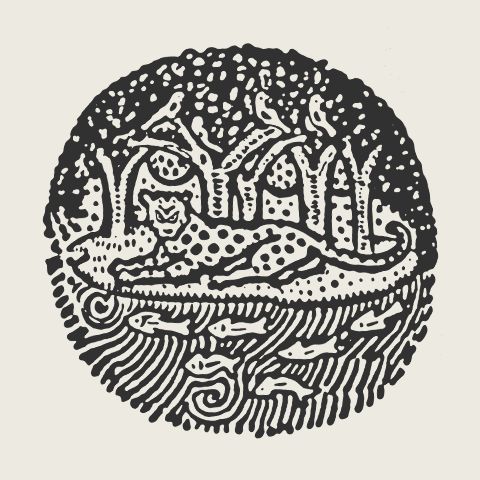 This is one of such beautiful pictures drawn by him. If you look closely at his art, it is very magical and it romanticises the Whimsical world.
Lakshmi Puja Alpona Design
Most Bengali homes have this puja at their house. It includes a detailed Bengali Alpona Design which is styled with the most beautiful intricacies.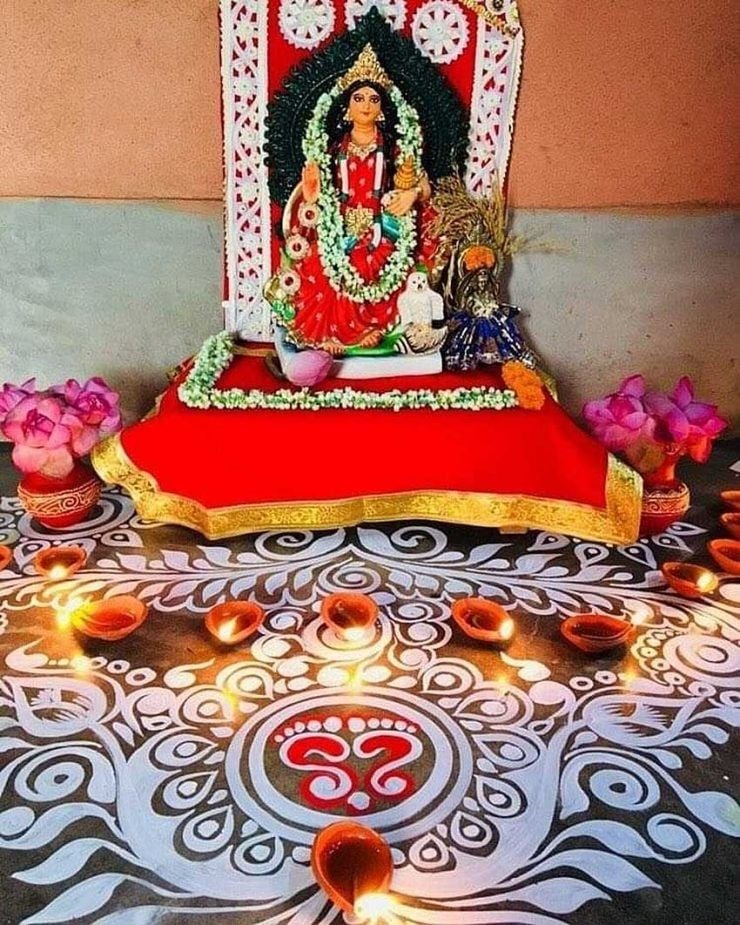 Such Lakshmi Puja Alpona Designs are all about the Holy Goddess. Her divinity placed her well into the world of art. Such beautiful Bengali Alpona Designs are a must.
Durga Puja Rangoli for Bengali Homes
Most Bengali woman's love keeping their home simple and stylish. It is about the designs which make a wedding Rangoli so special and significant.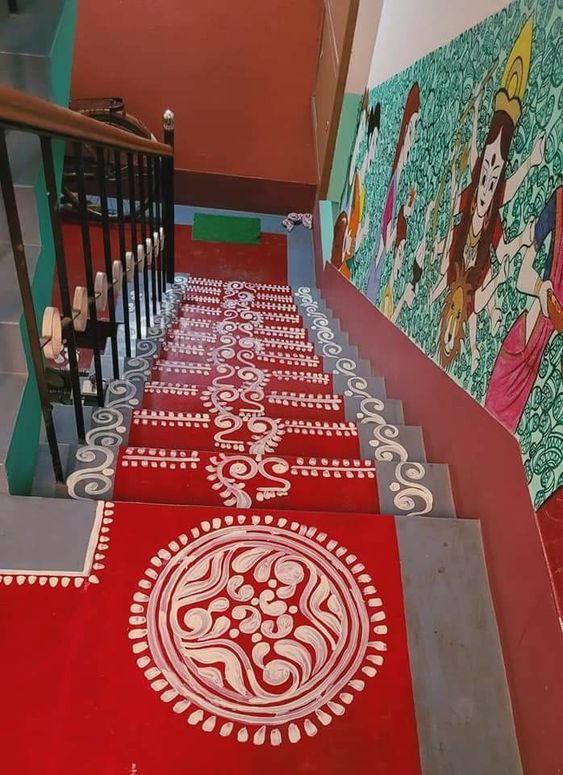 What makes these Bengali Alpona Design so special? Firstly, these styles are drawn across across the house as a minimal cluster. Lastly, they are easier to draw.
Tiny Creatures of Alpana Designs
Indians love the concept of inanimated and animate objects drawn into a Rangoli or Alpona Design. It is about the styles which make it so significant and special.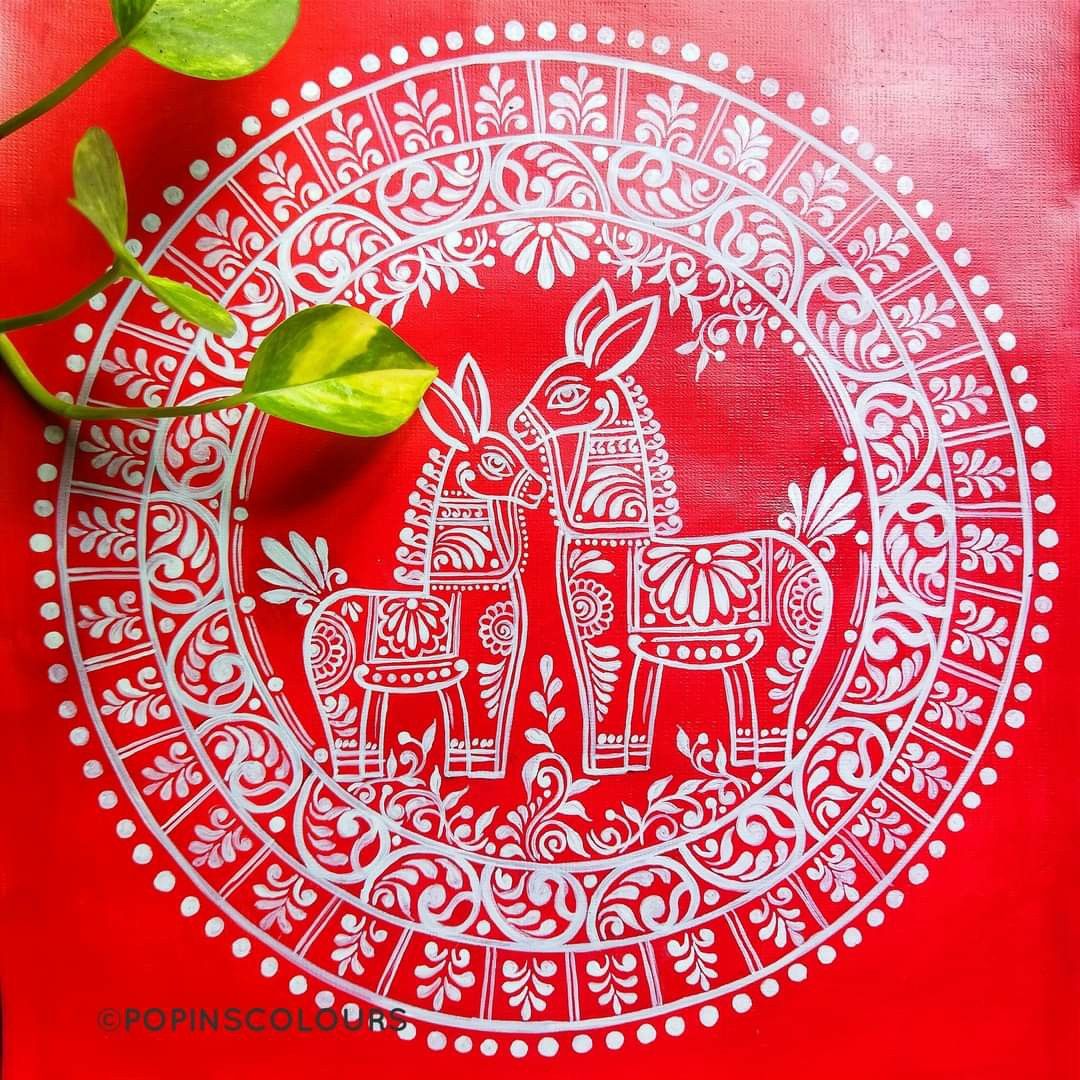 Such Aplona Designs are a little hard to paint. You should outline the entire design first, and then you can paint over this beautiful design with fabric paint or rice paste.
View More: Best Bengali Biyer Piri designs
Lotus Motifs on Alpana Patterns
I'm a big fan of beautiful designs, especially the ones which are painted with Lotus as the central organ. Here, we have some of such wonders painted across the way.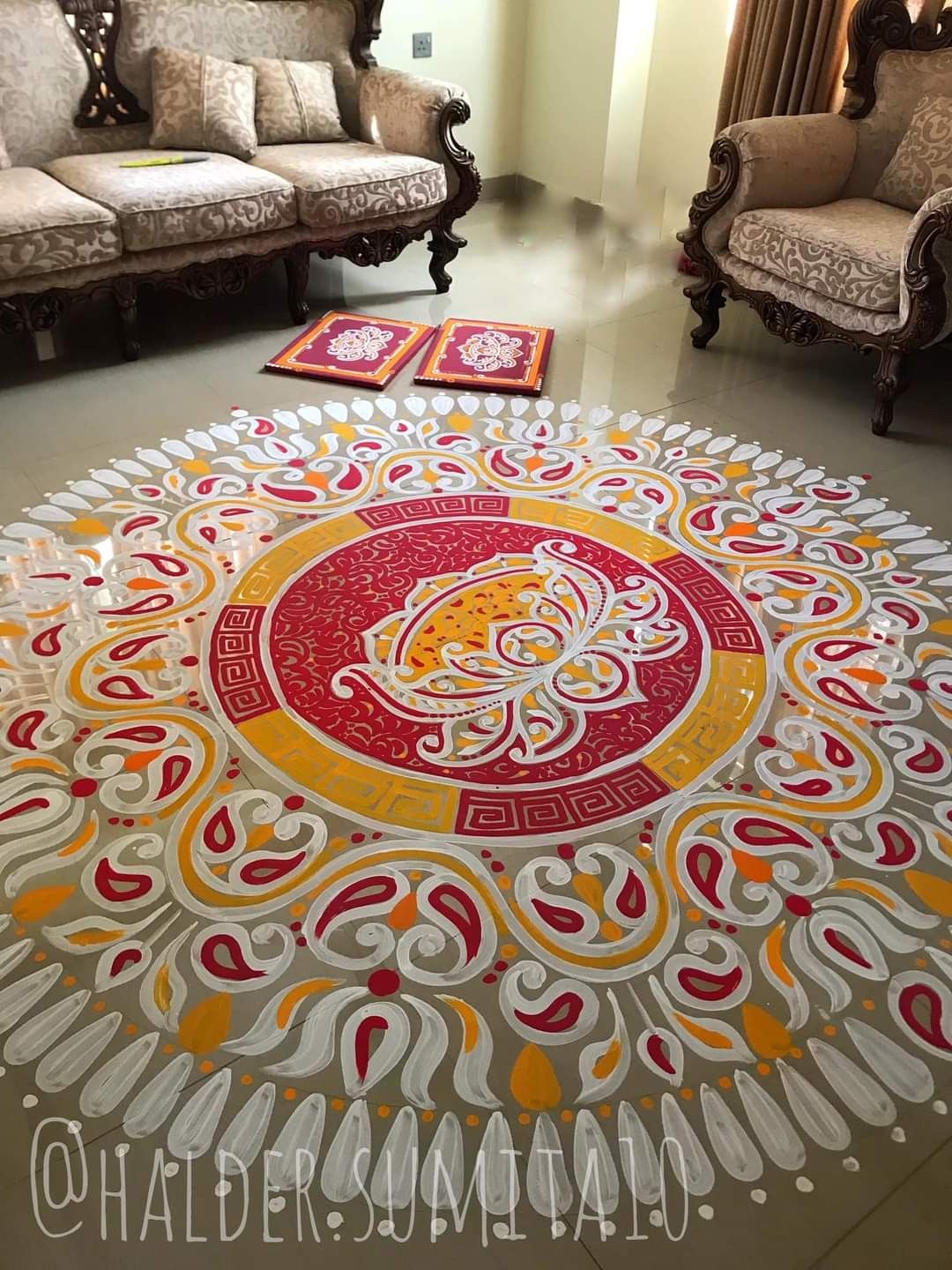 This is a beautiful Rangoli Design which is detailed with a luscious theme and style too. Just makesure, you paint your Alpona as colourful and as beautiful as this option. Lastly, these Bengali Alpona designs need more than one person to draw.
Flower Petals on a Wooden Piri
Bengali Weddings and Puja's always these traditional ceremonies in the home. Yes, it's a tradition to draw a beautiful Bengali Alpona Design on top of a wooden stool which is used in rituals. These wooden stots are called 'Piri' or 'Pire'.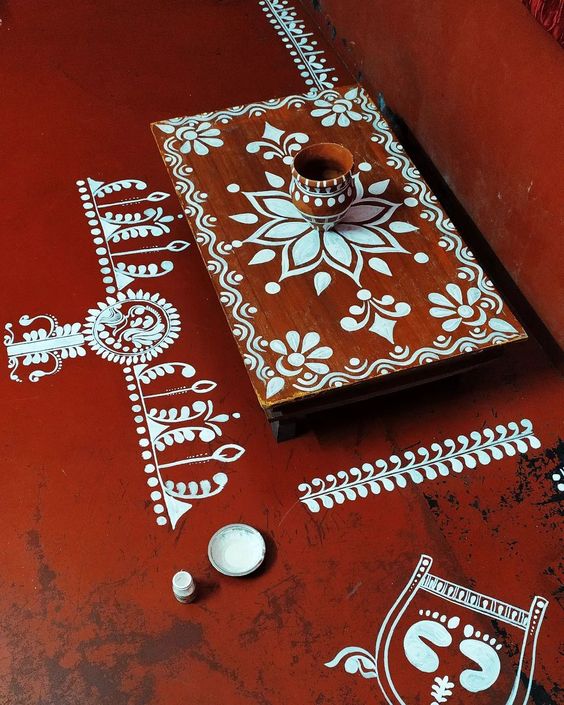 The pronunciation usually varies from region to region. These Bengali Alpona Designs are stylish and they happen to have a remarkable design too. Just makesure, you're painting a good array of pattern on top.
Plate Alpona Design by Rabi Biswas
Bengali arts are always original and they're mostly ethnic. Here, we have a beautiful and wonderful wedding Aplona Design. It has details which are very different from most other Bengali Alpona designs. Rabi Biswas a famous Alpona Artist made this.

These Bengali Alpona Designs are painted on top of mud plates. Yes, these plates are quite traditional in a Bengali home. Most families have these designs in their houses. Just makesure, you are pairing a beautiful design like this on top.
Colourful Festival Patterns on the Stairs
Firstly, let's talk about the beautiful staircase. It is entirely white and the colours have made the flooring area even more elegant. Such Bengali Alpona Designs are mostly well designed and you can style them in the correct manner too.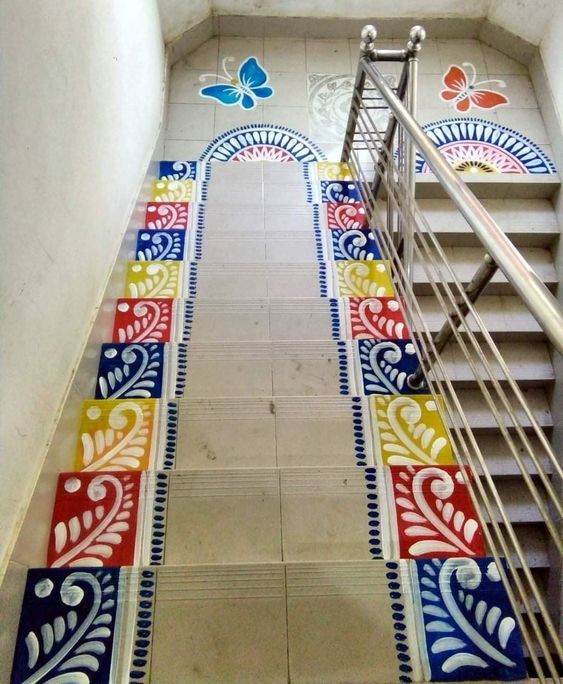 Colours usually make a design better than what it already is. Just makesure, you have painted it properly with measures which have to be taken. Lastly, styling these Bengali Alpona Designs are one of a kind. You can totally paint the colours on your own terms.
Alpana Design and Art Expression:
A good Alpana Design is a very special thing and that literally works for everyone. Another thing that you should style together is the unique blend of colours. Such a Bengali Alpona Design is perfect and it works for everything.
There are many remarkable designs and that is something which works for you. Once in a while, you have to make a good design at the bottom of the floor. Likewise, these designs are the most beautiful options which are perfect and sturdy too.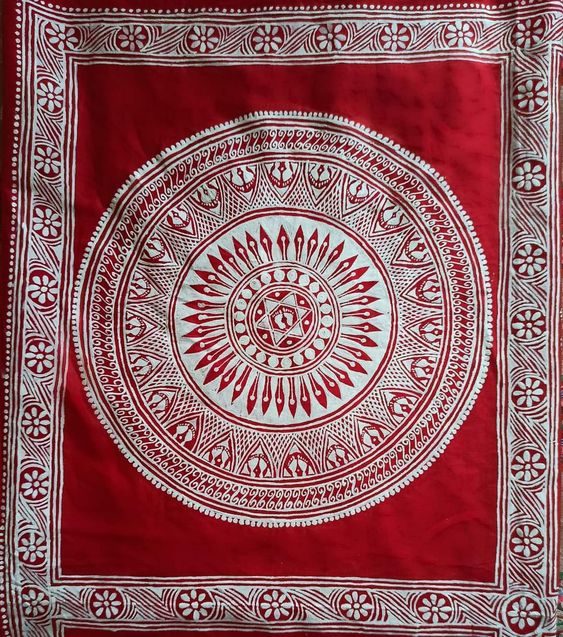 There are many remarkable designs but a good style which makes it very special. Likewise, there are many designs which are remarkable and well-decorated too. Always, settle on the best designs on your big day.
Firstly, there are many designs which are special and remarkable too. Another thing which makes a good Aplona is the designs and styles special. Lastly, these are special Rangoli Designs which are decorated and simple too.
Must View: Rangoli Designs with Dots
In West Bengal, there are many designs but a good Rangoli is very special too. There are good mehendi designs and rangoli styles too. An Alpona Design is very special and that is the reason, why we have it here. Stylish designs are very special.
If you like what we have mentioned above, then do not forget to let us know in the comment section. At myMandap, we are eagerly waiting for our reader's valuable feedback. Plan your dream wedding with myMandap's exclusive content.