The Bengali Wedding Card Writing is not always about the Bride and the Groom's name and their family credentials. It is also about the day, the celebration, and the warmth of love shared between a couple. 
This is exactly why recent Bengali Wedding Card Writings are so different from the ones which we are used to seeing. These are quirky, modern, personalized, and highly selective. 
Honestly, the perfect Bengali Wedding Card is only perfect with the wedding date ad the wedding venue. Most families do not believe in that policy, instead of that, they coin down every little detail of their folks. 
Here, we are about to discuss some of the most unconventional Bengali Wedding Card Writings, which are a win for all. These are modern and everything else that you really need from the Wedding Invitation. 
10 Pretty and Creative Bengali Wedding Card Writings:
Bengali Wedding Cards are nothing but the formal form of a Wedding Invitation Card. It's a fact known to everyone that you are getting married, the card is just a pretext of greetings and an authentic invite. 
Needless to say, it has to be special and distinguished only then it might capture the attention of parents. For the Wedding Card design, their opinion is of prime importance.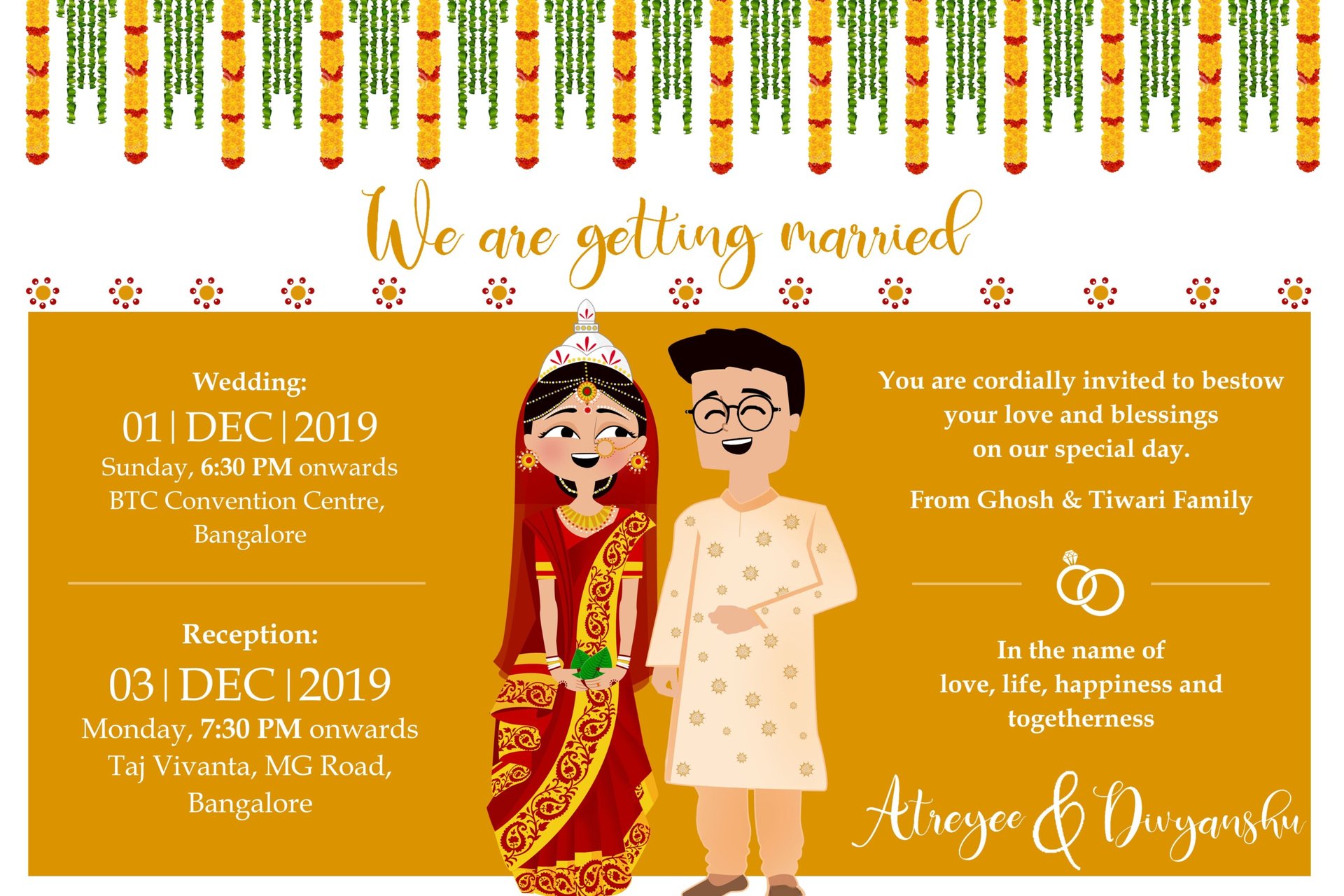 Buy Now
Although it's you are getting married, the Wedding day is also about your family, and their happiness. Inviting guests might be exhausting, and the Wedding Invitation wording is even more tricky. 
To earn you out of that situation, we have derived a list of some of the best Bengali Wedding Card formats, ones that are in your Modern and Quirky team, as well as fulfill all the loopholes of a classic Bengali Hindu Wedding.
View more: Marathi Wedding Card Matter
Postcard Style Bengali Wedding Card Writing
The usual designs for a classic wedding card are all about what you have for the wedding ceremony. I precisely like this particular option for a good and reasonable design. The design of this postcard is eerily similar to any regular wedding card design.
The theme of this postcard is all about the bride and what she is wearing on her wedding ceremony. Depicting a young woman in her early childhood o the journey of her marriage. She is dressed like a bride and is quintessentially pretty.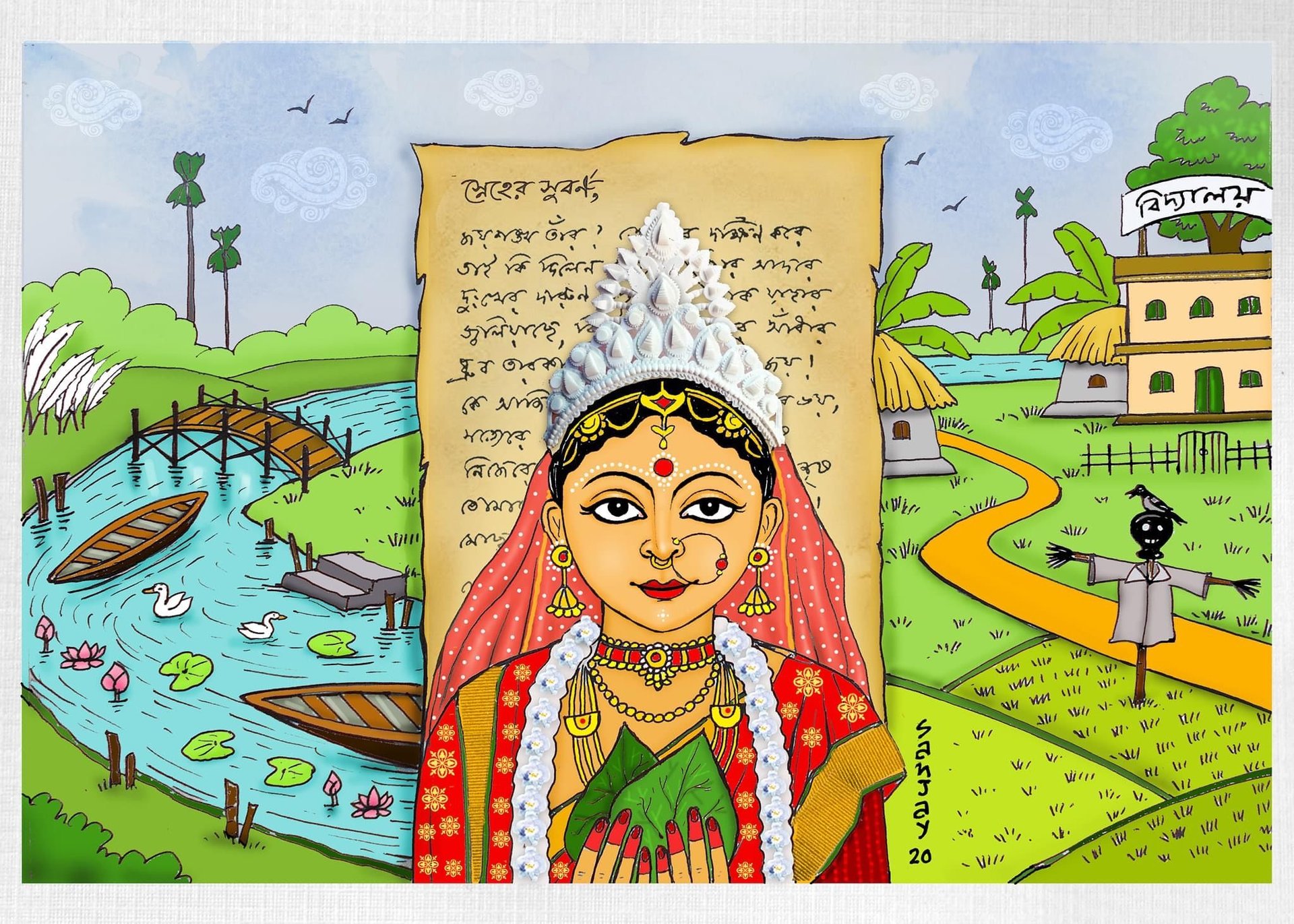 View More Designs
This would be a really memorable card design for someone who has seen her growing up into that beautiful young lady. From the days of her playing to being a quintessentially pretty bride.
This spectacular Bengali Wedding Card Writing is simplistic, and that has literally won a million hearts. It is exceptionally beautiful and highly creative.
Scintillating Rituals Bengali Wedding Card Writing
This is a ritual that is quite common for any regular Bengali Wedding Card Writing. It is more like the front cover for your Bengali Wedding Card.
The Card holds a beautiful illustration of a couple, engrossed in a holy ritual of throwing rice in the fire. Well, this is one of the most common depictions of a Bengali marriage.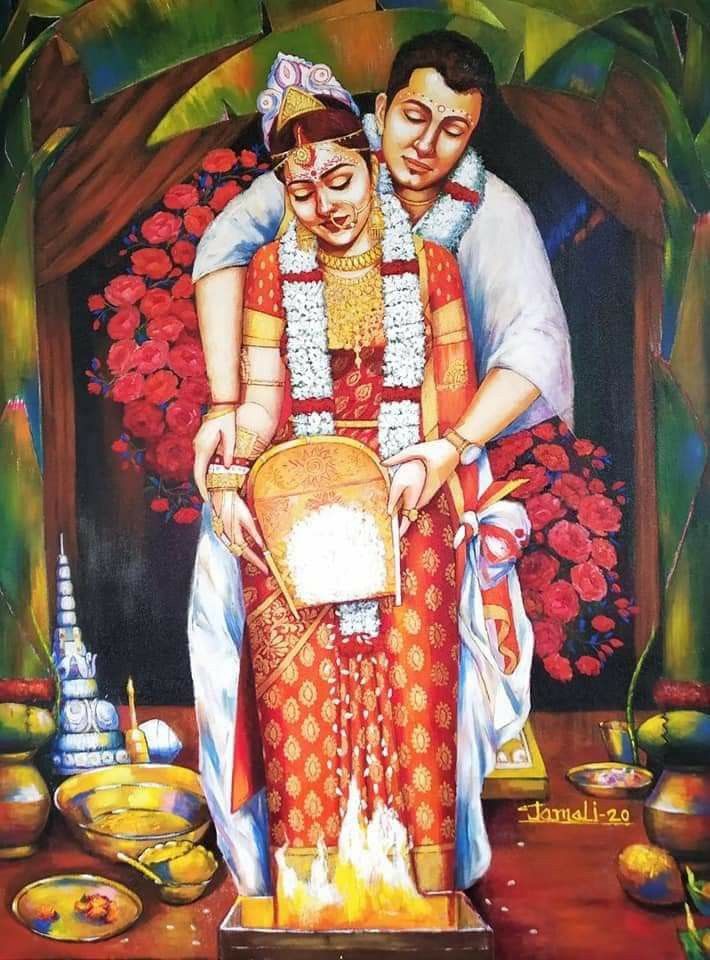 View More Designs
You'll find uncountable clipart emoticons, pictures, and other popular depictions of people engrossed in this beautiful act of good Bengali Wedding Card Writing.
This is one of those pictures, that just need the name and the wedding date. The rest of the card can be as simple and as basic as it should be.
Visit also: Bengali Wedding Card Design Ideas
Haldi Animation Bengali Wedding Card Writing
I love illustrations, especially when it is about Bengali Wedding Card Writing. It is pretty and highly personalized.
Every Illustrated Bengali Wedding Card, makes me feel more included and within the circumference of the Bengali Wedding Card. It is idealistic and highly significant.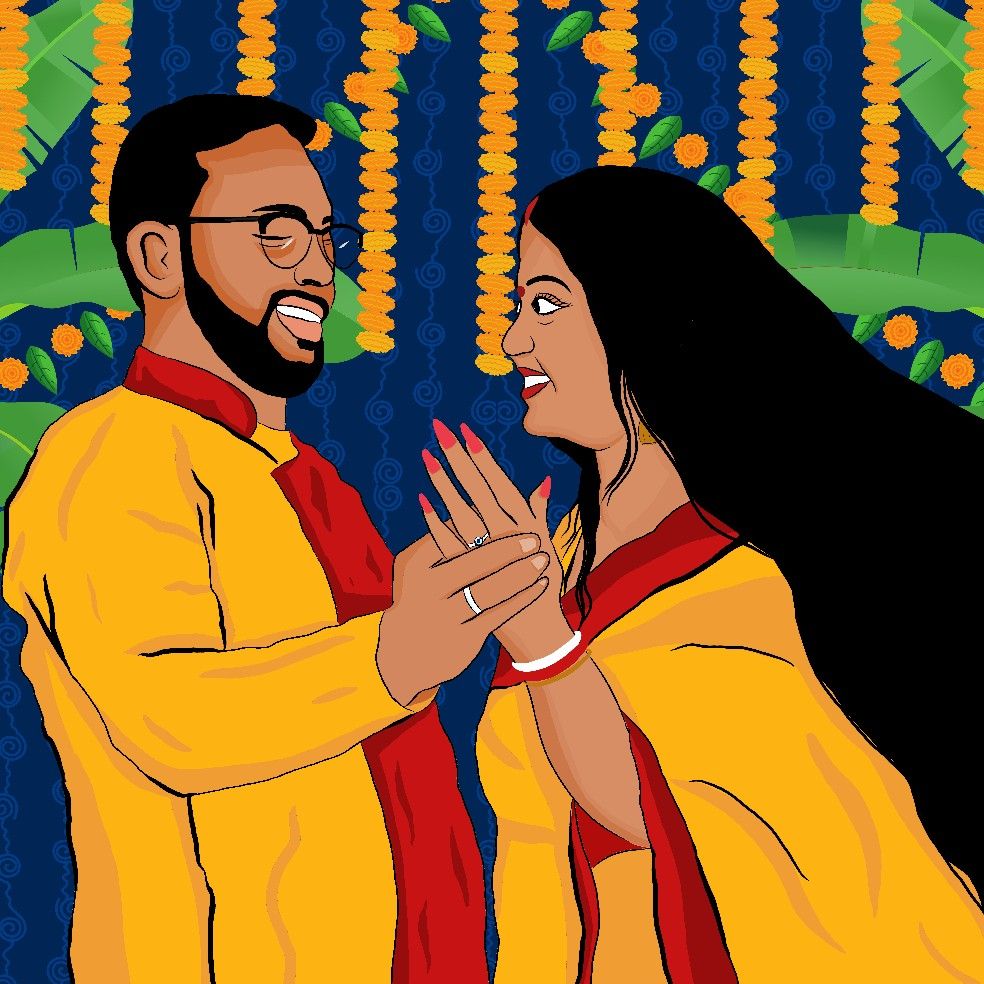 View More Designs
This is not just any basic Bengali Wedding Card Writing, it is beautifully curated with the finest fonts, and the person who made this digital art knows his work quite well.
Especially this is one of those classic Bengali Wedding Card Writings where the couple is not in their Wedding attire, but the significantly different Haldi outfits.
'Save The Date' Bengali Wedding Card Writing
If you are in a dilemma which should be your design for the day? Always settle for options that you know would sine with your wedding attire.
This is one of those classic Bengali Wedding Cards that can hardly go wrong the way. More than a traditional Wedding Invitation, it is like a formal Digital Card.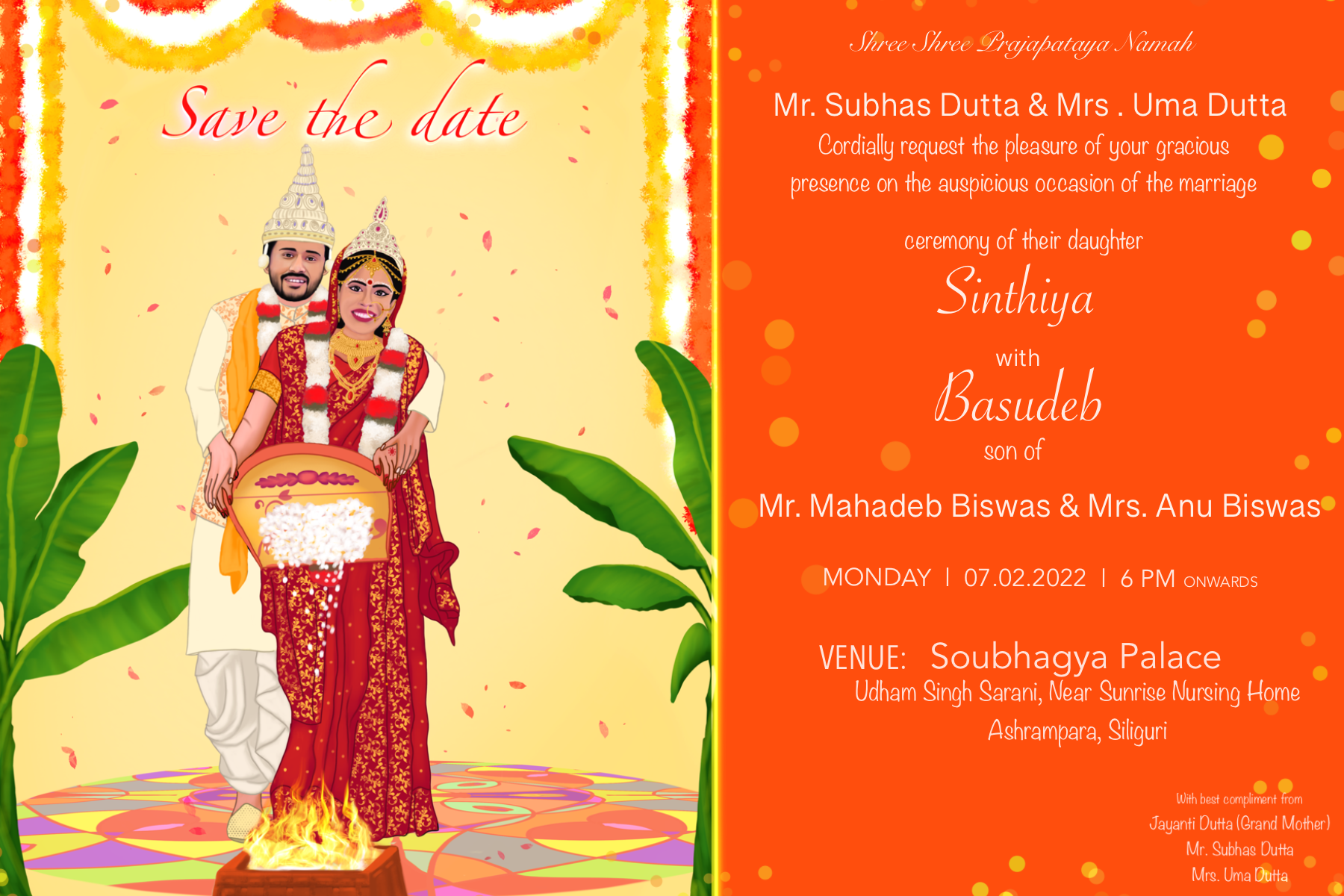 View More Designs
Which the changing norms of society, digital wedding ard is now a literal thing. and it actually makes the wedding card better and highly appreciated.
Like most other wedding card formats, this has a good old depiction of a couple in their usual wedding ritual. It has their wedding date, names, wedding venue, and other little things.
Subho Bibhaho Bengali Wedding Card Writing
The yes,  good old message along with your good old memorable mage depiction. All can see is, that this is a real-life depiction of a couple who has been illustrated.
This is a greeting card like Bengali Wedding Card Writing, something that would never get old. The card has a realistic image of a man and his fiance.
View More Designs
Their names are written in a beautiful Bengali font, with Anubrato, and Sanjukta. I personally think this can be a good old wedding banner as well.
More than anything else, it is pretty and highly appreciated. I found this one realistic and extremely basic. Two things that you can always count over a wedding card.
Check also: Wedding Card Matter in English
Jamini Rai's Women Bengali Wedding Card Writing
Jamini Roy is a very famous Bengali Artist, and her signature Look is the idealist Eye look. The long stretched ey you see on this picture.
Well, that is practically all that you really need for a good and beautiful Bengali Wedding Card Writing. It has the simplest depiction of a woman.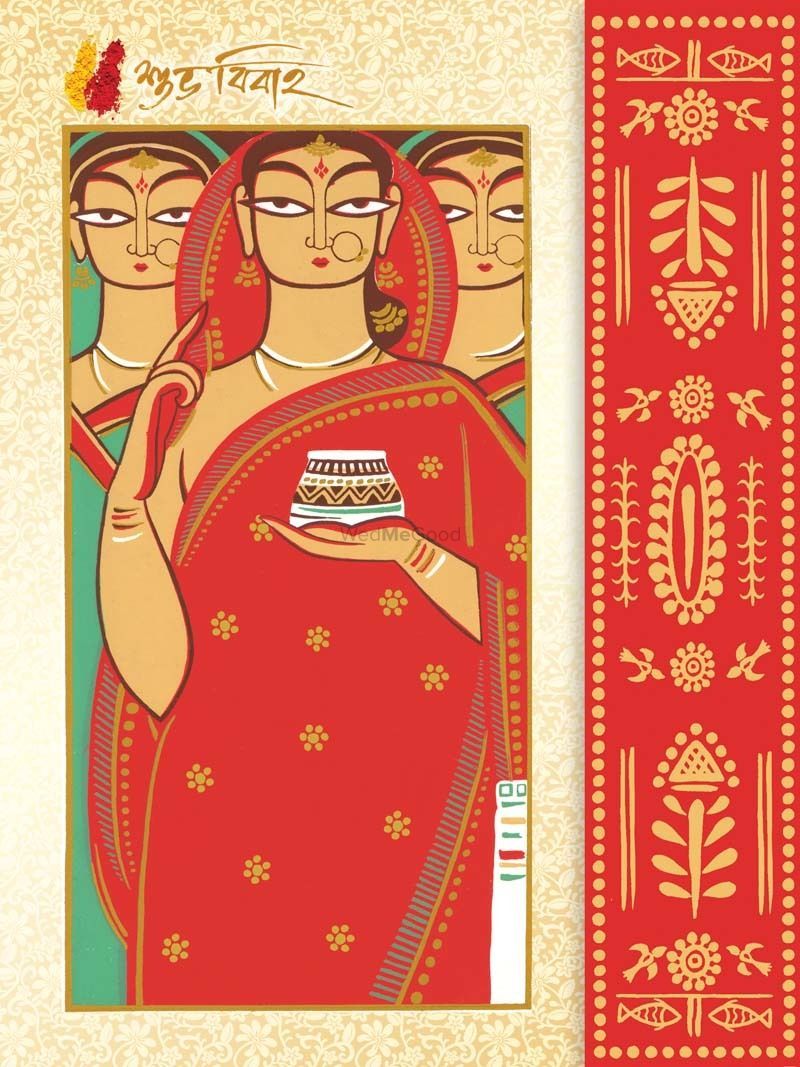 View More Designs
Most of her artworks are surrounded around feminine beauty. and she is acclaimed worldwide for this classic endurance.
This particular Bengali Wedding card design is all about that selective genre for women and a beautiful bride. I found this one extremely basic, and cool.
Bengali Bride Bengali Wedding Card Writings
I found this particular illustration perfect for Bengali Wedding Card Writing. This would not need an explanation, just the postcard would do.
Some might find this slightly sinister, which is the night backlight and the half-crescent moon but I found it extremely pretty.
View More Designs
It is quintessential, well-organized, and highly appreciated. The look on the bride's face is slightly less merry, and that is literally very attractive.
To those couples, who like their Bengali Wedding Card Writing to be quirky and different from the ret. then surely this is your win and go.
Bride's Subho Drishti Bengali Wedding Card Writing
How does a Bengali Wedding Card Writing even make its way to this beautiful design? All we know about these cards is they should have the basic credentials.
The modern formats for Bengali Wedding Card Writing say there are hardly any rules for choosing the design and the final format for our wedding card. It is practically about your loved ones.
View More Designs
The people who are at the receiving end are your own family members, whom you have seen and entrusted with growing up.
These are people who want to see you like a bride, fully dressed to be a woman entering into holy matrimony. No wonder this card is just the right representation of such an emotion.
Must check: Wedding Card Matter in Hindi
Illustrated Bengali Wedding Card Writing
Less than a card, and more like a template. This particular option for Bengali Wedding Card Writing is just that in a different pattern.
The bride and the groom are engrossed in a 'Khoe Fella' ceremony in Bengali. They are actually throwing puffed rice in the pre of Holy Fire.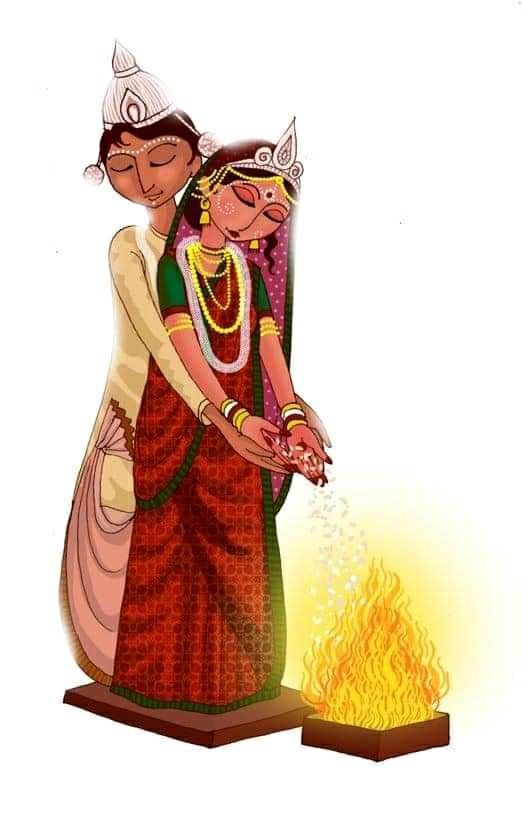 View More Designs
Which literally becomes the witness of the ceremony in such a sweet and auspicious manner. The format of this wedding card is extremely holy, and to make it even more special.
You can literally incorporate this beautiful clipart in the most unconventional way, to make the best Bengali Wedding Card for everyone.
Bengali Wedding Card Writings Envelope
Wedding Stationery is a thing and this particular Bengali Wedding Card Writing is just perfect for any Wedding Season Greeting. It can be your template and the design for the Wedding Card.
Your friends and family members would be delighted to get their official Bengali Wedding Card in a pretty envelope like this. It is undoubtedly beautiful and your other person would be happy too.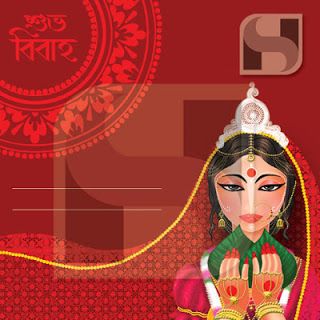 View More Designs
No matter how many Sarees you buy for the guests, the Wedding Invitation should be allocated according to the needs of the people. It should be in the name of the eldest member of the house.
A modest Bengali Wedding Card design with the right color and the right pattern. That is probably something we all want from our wedding card design. Creative and modern at the same time.
Conclusion
The official Bengali Wedding Invitation is nonetheless about the marriage. It should have your name, wedding venue, and obviously the date.  
As these things actually complete a Formal Wedding Invitation, one needs to put that at least along with the name tag on the envelope. Mentioning a Bengali Marriage Ritual List is not at all compulsory. 
Instead of that, the Bengali Wedding Card Writing should be about the Wedding Ceremony only. The right font and the right colour are extremely important for all Indian Wedding Cards. 
Indian Wedding Invitations usually do not have elaborate decoration designs, or anything else. It is all about the couple, their love, and their intimate wedding plans. Never forget to mention the Wedding Reception Venue.  
The Special day is about the couple and their dream wedding. No wonder that has to have scintillating images, quirky wedding cards, and obviously a worthy Wedding Budget. 
At myMandap you can plan your dream wedding with your family members.  Make the prettiest greeting card for the big day, and buy wedding accessories too. Wedding planning is now easier with myMandap.