First, let's stop thinking about the Right Hair Color for Dusky Skin. And. start counting the best shades. No matter how different your Skin Tone or eye is. Every shade looks good on the wearer. 
Why worry about your skin colour when you just have to choose the hair colour? The Right Hair Color for Dusky Skin. Well, that is completely dependent on the person wearing it. 
You have to build a layer of confidence before choosing the final look. You can wear an Electric Blue hair colour and Kill the Look! It's just your confidence which makes the final look. 
Indian Skin is very different from other Asian Skin Tones. You won't see a woman wearing bright colours in India. The reason is quite simple. We're a country that grew up believing in the most shallow beauty standards. 
Let's break the bar and change these stereotypes about Hair Color for Dusky Skin. Here, we have enlisted all the Hair myths one has about a Dark Skin person. 
Stop Believing in These Hair Myths for Dusky Skin!
We have huge complexes about ourselves. Most of the time women think they're not worth it and that is certainly about the way they look. This is not at all true right? Looks are the last thing we matter. But certainly, there are colours which look a little better on you than it is supposed to on someone else right?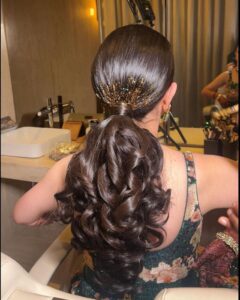 The problem with Hair colour is you have to decide upon it with so many other options. This is about how you present the look and how that is made following the rest of the attire. Once in a while, something like this is all that you need. It is about the basic things which make it so much better and put together too. 
Check More: Dusky Skin Tones in India
Best Hair Color for Dark Skin Tone
Red Hair Color for Dusky Skin
If you ask about the right and a very different color then red is something that you can try on. Firstly, this colour is pretty awesome and sleek at the same time.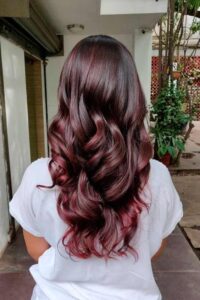 Most brides wear a simple ombre red colour that complements the bottom of their hair. To get the right red colour dye, you have to get fine colouring.  
Hair Color for Dusky Skin is something which complements the natural skin tone. And, black is that natural hair dye that complements almost every dark person.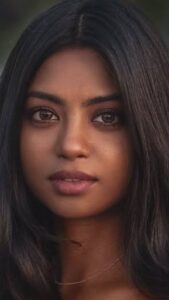 Naturally, Indians do have black hair. And, if you have started getting grey hairs then black is the best and the most natural cover for your grey and white hairs. 
Brown Hair Color for Warm Undertone
Unlike other popular colours, there are some beautiful wedding colours too. Hair Color for Dusky Skin includes a fabulous dark skin shade. This is that slightly different brown shade.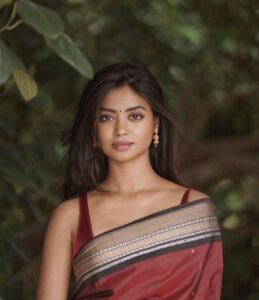 It is neither dark brown, nor reddish brown. But the most basic brown colour complements the face in the best possible manner. 
Blonde Hair Color for a Cool Skin Tone
Unlike brown and black colour, blond is particularly a type of colour which doesn't come naturally to Indians. Instead blond is a colour which rather comes to western people.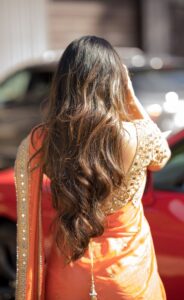 To make it work for a Hair Color for Dusky Skin, one can get pretty blond streaks as hair highlights. This includes a strenuous amount of bleaching and rebonding of your natural hair. 
Dark Hair for Indian Skin Tone  
Indian skin tone looks best with darker hair colours. This is evident for most brides in India. People opt for a colour which is different from the rest of the look and it has a shade which makes it way better.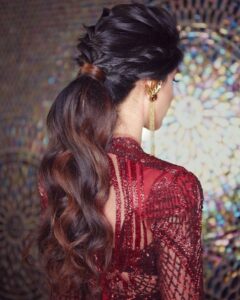 All you have to do is find a shade which complements your skin and the rest of the look at the same time. Lastly, these colours are all about the person wearing them. They can opt for something dark as well as something light too. 
Also, View: Lipstick Shades for Dusky Skin
Best Hair Colour for Grey Hair  
At the end of the day, the best Hair Color for Dusky Skin is the one they feel confident and good about themselves. Firstly, the look should include pretty details and then it should have details which make the bride look the best.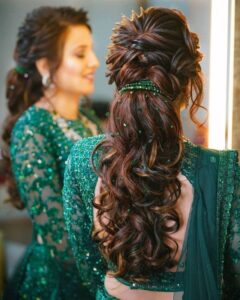 Once in a while, these colours make the person wear them the way she wants them. The best colour is the shade she feels best about herself, and something that would make her happy and confident too. 
Ash Brown Hair for a Cool Tone 
Some believe that ash brown isn't the Hair Color for Dusky Skin. That is not at all true, instead, this is a colour which looks good on someone of the colour.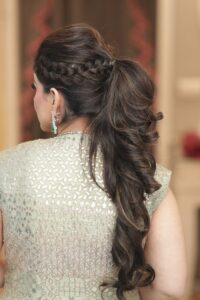 These shades are properly used in India. You can wear it on your special day and that is a look at all times. You can wear such a unique style on your special day and that would make the rest of the look. 
Dark Brown Hair for a Warm Undertone 
There are pretty good undertones and colours of the same variety. Firstly, these colours are way better in comparison to the rest. All you need is a good colour and the rest of the look would be well decorated too.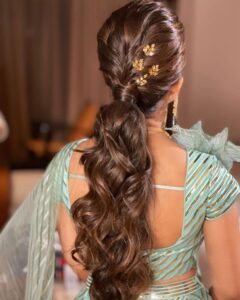 Firstly, a good shade is well decorated and then it is about the designs which are picture perfect and well decorated. All you colour have to do is work with the best possible patterns and the rest of the look is as simple as it can be. 
Check Out: L'Oréal Hair Color 
Curly hair with Chestnut Brown Colored Hair
Most women wear the most exotic shades on top of their heads. These colors are quite beautiful and they are way better in comparison to the rest. Firstly, a Hair Color for Dusky Skin is something that you can settle for.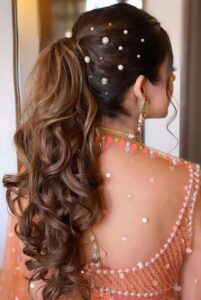 Curly hair has a dusky pattern which is way better than the rest. All you have to do is wear pretty hair and the rest is all you need for your special day. Just make sure, the colours work with your style. 
Read also: Semi-Permanent Hair Color
Natural Hair Color for Healthy Hair 
 The best colour for Indian skin is something that they're born with. Yes, this colour is something which works best on Indian skin too. Yes, these colours are simple and dark too. 
Natural Hair Color for a Dusky skin tone is a perfect shade. Lastly, you can wear a pretty Hair Color for Dusky Skin which makes you feel confident and put together about yourself. 
As women we underestimate ourselves and that is something we can work on to improve. The above-mentioned Hair Color for Dusky Skin includes the most fabulous colours and shades. These shades are something a darker person is going to rock. 
Good hair colour always makes a stylish wedding outfit. These types of styles are always a safe choice. Here, you can make the most out of the basic things. Just make sure, you're wearing similar shades and colours which are way better than the rest. 
Once in a while, we all need the right outfit and the right accessories to set the look. This is a little more than just the added accessory. Instead of that, you're dying your hair to a different colour. 
It would enhance your skin tone and elevate your complexion into something that you genuinely like and admire about yourself. Such colors are always a smart choice and they're beyond any particular color pallet. 
Check Out: Indian Wedding Hairstyles for Short Hair
If you found the right colour for yourself, then you have to visit your hairstylist and then get the hair done. Such colours are best worked on a pretty hair length and the stylist would do the same on your hair. 
If you like what we have mentioned above, then do not forget to let us know in the comment section. Also, check out our other blogs about wedding fashion and styles. Lastly, Plan your dream wedding with myMandap.