The Wedding Entrance Decoration has to be perfect. Indeed, this is the first impression one gets from your Wedding Decoration. Which is exactly it has to be picturesque. 
The Wedding Entrance Decoration involves a series of details, which are supposed to be in the theme of the arrangement. It should be welcoming, and it should narrate your Wedding. 
In some cultures, the word 'Welcome' is a compulsion for the Wedding Entrance Decoration. At the same time, in some other Indian cultures, the name of the Couple is aligned oolong the top of the Gate. 
This is the beauty of a Wedding Gate. It is subtle and extremely altered according to the Wedding Ceremony. Here, we have gathered some of the classiest and most beautiful Wedding Entrance Decoration Inspos. 
Top 10 Beautiful and Subtle Wedding Entrance Decorations:
There are a series of things that make a grand Wedding Entrance Decoration. It stands with a Flower decoration, and it ends with the presentation. 
No wonder a good Wedding Entrance Decoration has to be picture-perfect. This is where, many take pictures as wedding guests, and also this is where they enter through.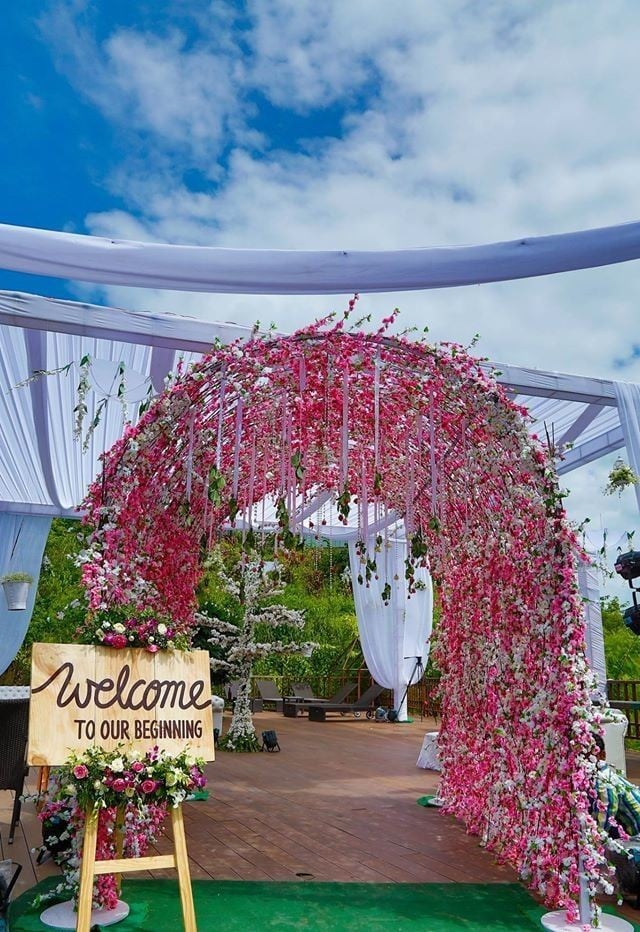 This is one of the many reasons for decoration for the Entrance. The opening gateway is beautifully organised with the most beautiful and colourful flowers, leaves and lots more. 
Honestly, this is one of the many things, which makes and breaks the theme of the wedding ceremony and that is exactly why it has to be well organised and unaltered. 
Must check: Simple Haldi Decoration
Whimsical Pink Roses for Wedding Entrance Decorations
I'm a big fan of Whimsical Arts, they are better in every little way and manner. First of all, it is beautiful and quite quintessential.
Secondly, the curtains which are placed on this wooden frame are just out of this world. It is decorated with some floral bouquets, the best in this world.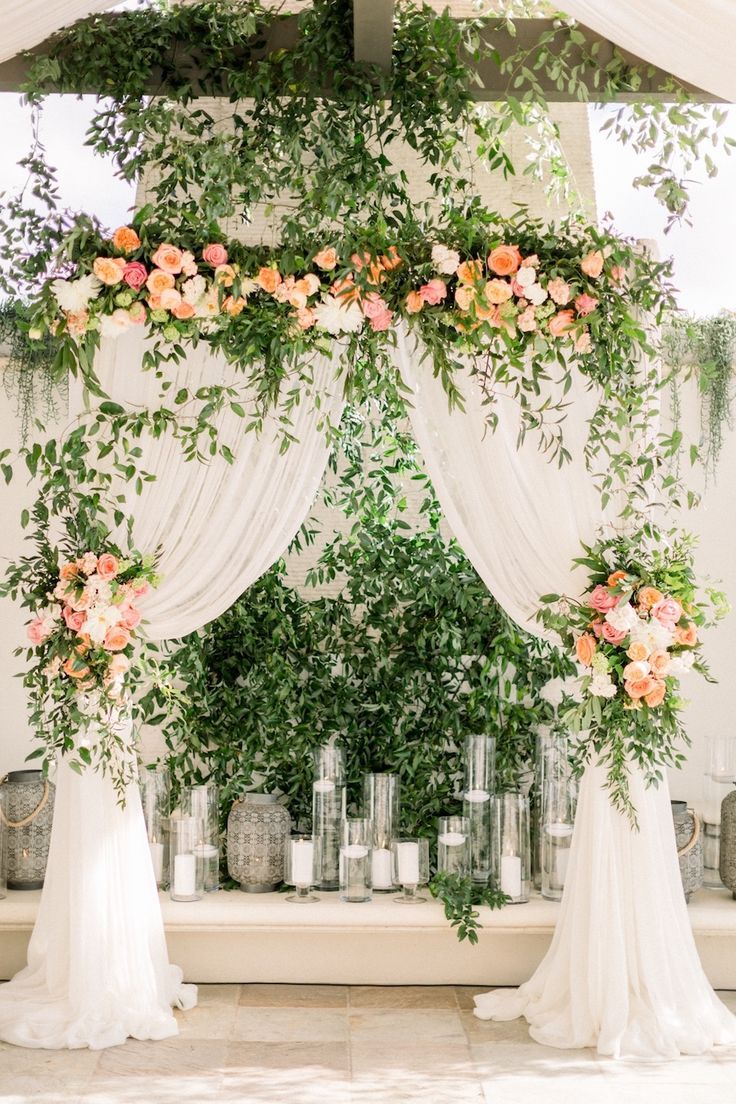 This is a unique pattern, the whimsical combination of flowers along with white curtains is an epic choice. You would be baffled by the pictures you get from it.
More than just a Wedding Entrance Decoration, it is a theme which can never go wrong. Trust me, you can always have an entrance like this for the big day.
Must Check: Simple Car Decoration
Champaign Arch Wedding Entrance Decorations
Wedding Entrance Decorations in the colour rose gold, are undoubtedly beautiful. This is something we all like and cherish for the wedding day.
The colour Champaign is versatile and it looks well with every other object in the room. A chandelier, or a light of the same colour family.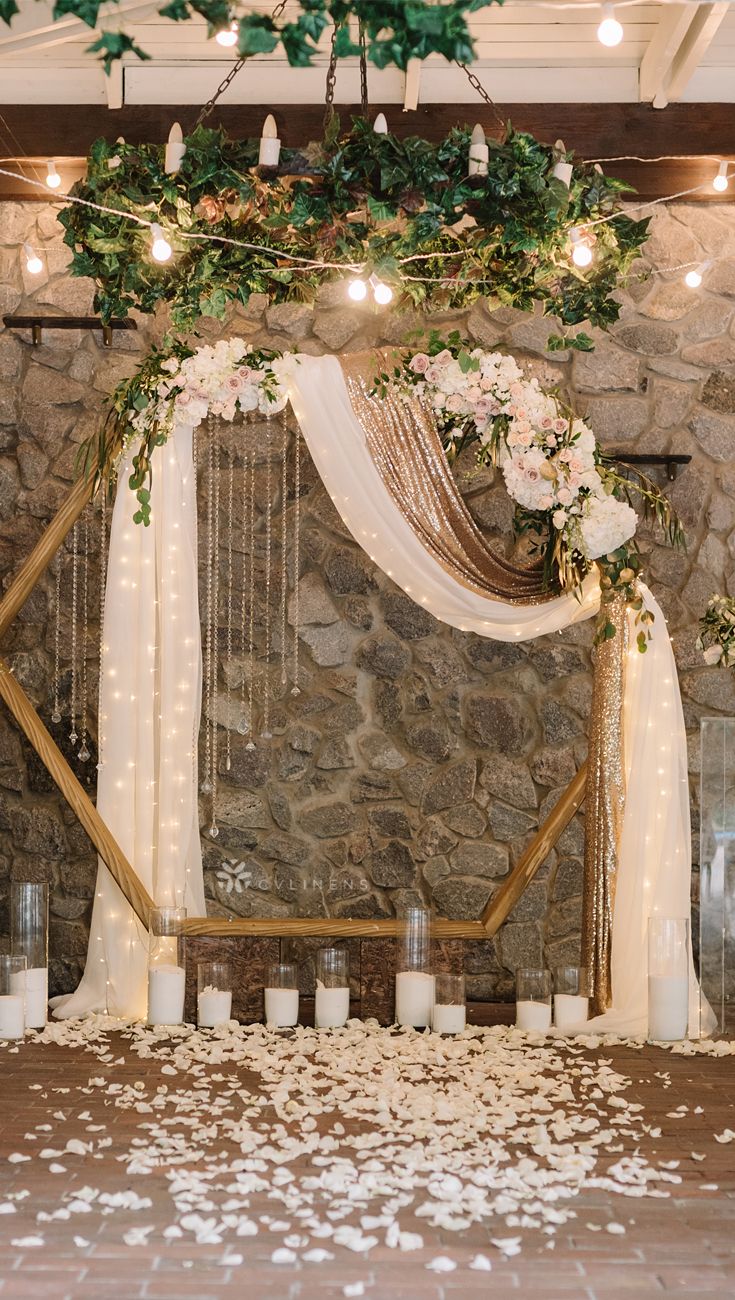 In a way, these Wedding Entrance Decorations are modern and simplistic at the same time. You wouldn't have to add much to it.
That simplistic wooden arch is doing the job on its own, and those candles have made the place highly simplistic too. It is a beautiful piece of art, and I personally love it.
View more: Haldi Backdrop Decoration
Tropical Wedding Entrance Decorations
I have seen many Bohemeina Weddig Decor Templates, and this is one of such amazing Wedding Entrance Decorations. It has a Midsummer Vibe.
Firstly those Lightstands are undoubtedly pretty awesome, and the Green pavement is completing those white sturdy lights. In a way, this is a complete piece.
Those lights are beautiful, and those little tropical leaves have added a lot of substance to the details of the image. This is a highly distinguished design.
Subtle, simple and extremely elegant. This is my favourite among all the summer ones, it applies to all wedding standards.
Open Doorway Wedding Entrance Decorations
I'm a big fan of greenery, and if you give me a chance I would surely make half of the decoration turn into a piece of Greenery.
The beautiful backyard of this Wedding Venue is out of the box, and something like this only looks good if you have added the right thing along with it.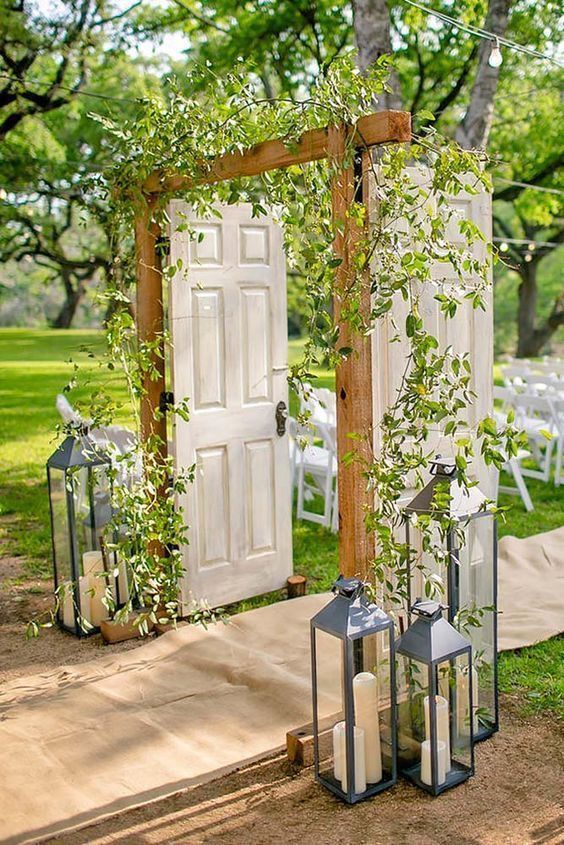 In this case, the doorway is working wonders for this beautiful Wedding Decor. First of all, the candle stand is quite pretty and this adds a lot to the decor.
Those hanging plants have made the rectangular Door frame even better. This is giving me a Summer Tropical Wedding Vibe.
Check more: Wedding Decoration at Home
White Canopy Wedding Entrance Decorations
The colour white is quite beautiful, and it has been my favourite for a long time. It can make any Decor come out in its best possible form, in the most unique manner.
Canopy arts are exceptional pieces of art, they make the ambience more glorious and better. This is one of those ideal things which completes the interior decor.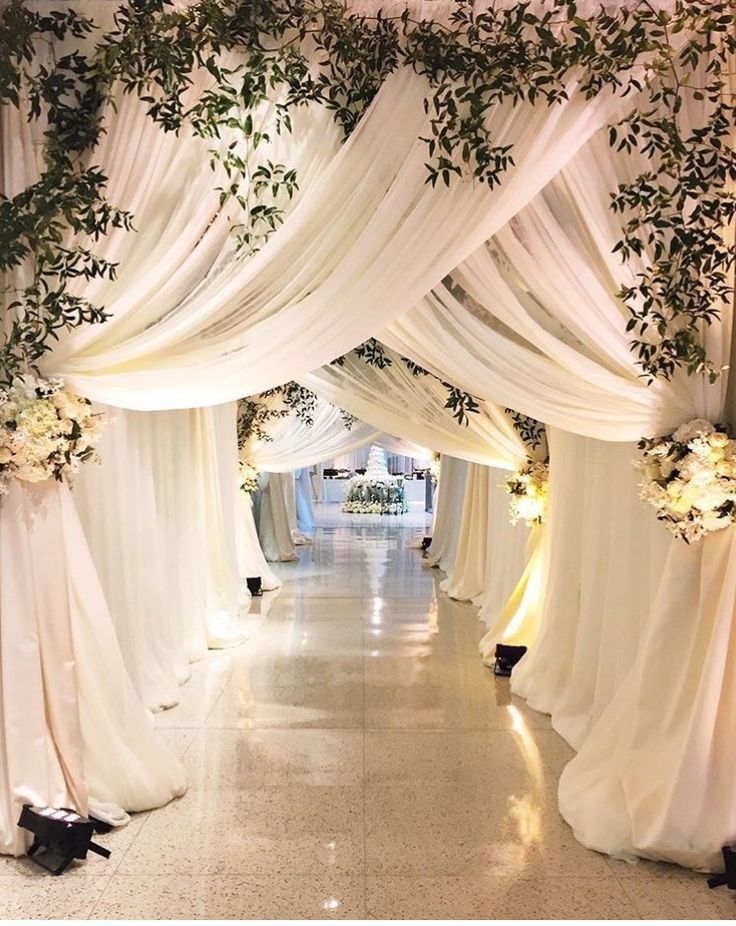 A Canopy decoration like this is an example of a good white interior pavement. This is the alleyway to the Banquet Hall, and it certainly needs to be pretty.
The colour white is only complementing to the beauty of this exceptional design, it is pretty and regular and it is designed in a very professional manner.
See related: Pelli Mandapam Decorations
Half and Half Wedding Entrance Decorations
The things which are decorated with the theme of two special Wedding decorations are always better than any other Decoration theme.
It is special, and it has the best in both worlds. Starting with the most beautiful curtain shaped wooden frame, to the most beautiful floral decor.
This is a rectangular decoration, that has the most beautiful White Curtain hanging from one end. While the other end of the wooden rack has Flowers and leaves.
This is like a midsummer look for the doors back. Such a beautiful wooden rack is always better as a choice for Wedding Entrance Decorations.
Floral Pedastal Wedding Entrance Decorations
Flowers are your best friend if you are planning on the Wedding Decoration. Most wedding decorations in India, are arranged with the prettiest flowers.
Roses are some of the best accentuations needed for a good and valuable interior decoration. They can turn the tables for any simple Decor.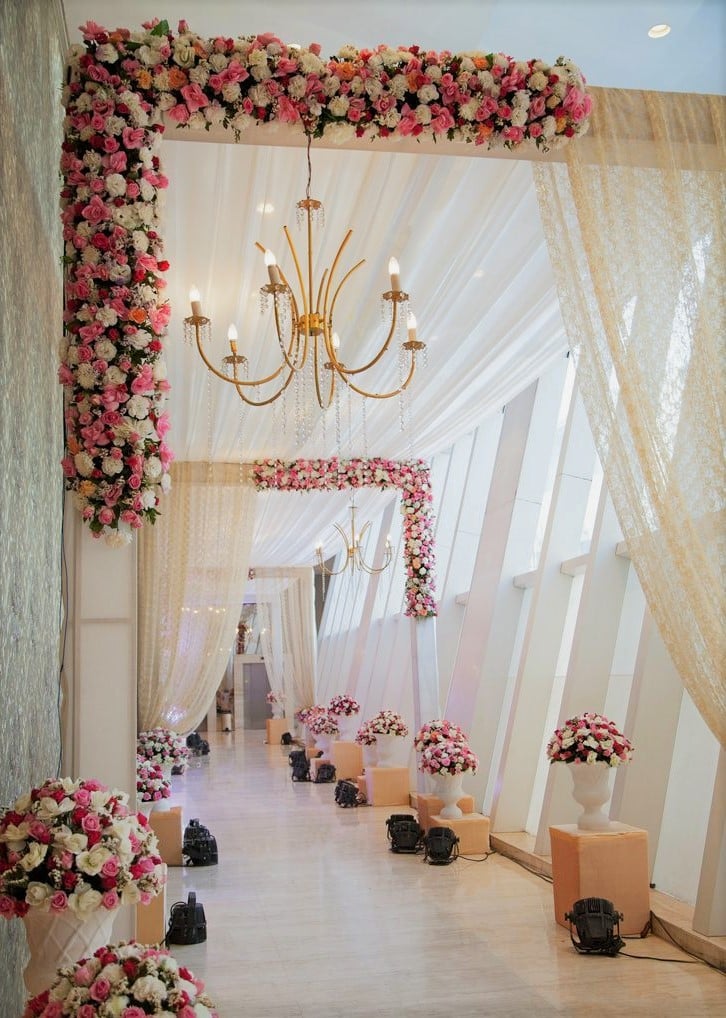 This floral pedestal decoration is one of the many examples, of why you need to have flowers for the Main Gate Decoration. It literally makes the place prettier.
This is something that we all want for your Weddig Venue, the entrance gate should have a formal pedestal like this. Which is pretty well-organised, and beautiful too.
Peach Draping Wedding Entrance Decorations
Peach is a colour which is not so common for an Indian Wedding Function. Most Indian Weddings have darker-coloured curtains. This is a beautiful Wedding Entrance Decoration.
Colours like Red, Maroon, Blue and pink are of examples Indian Wedding Draping. But Peach is a unique shade, for such an occasion.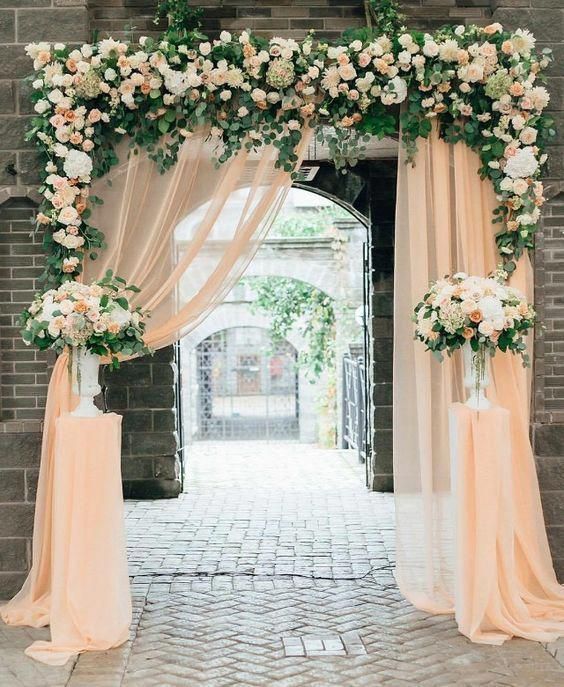 Wedding Entrance Decorations like these, are surreal and nominal. You really don't have to worry about anything else, if the entrance is so pretty.
The floral arrangement at the top of the row is equally beautiful. It is extremely elegant, colourful and highly tricky as well. This is one of the best options for an Indian Wedding.
Read more: Reception Flower Wedding Stage Decoration
White Tent Style Wedding Entrance Decorations
The Entrance Decoration of this particular Gateway is shaped like a tent. It has the prettiest Tent, with the most exceptional Floral Arrangement.
The colour of the tent is pretty beautiful, this is a white coloured Tent which is exceptionally pretty if you ask me. The shade and the pattern are perfect for White Weddings.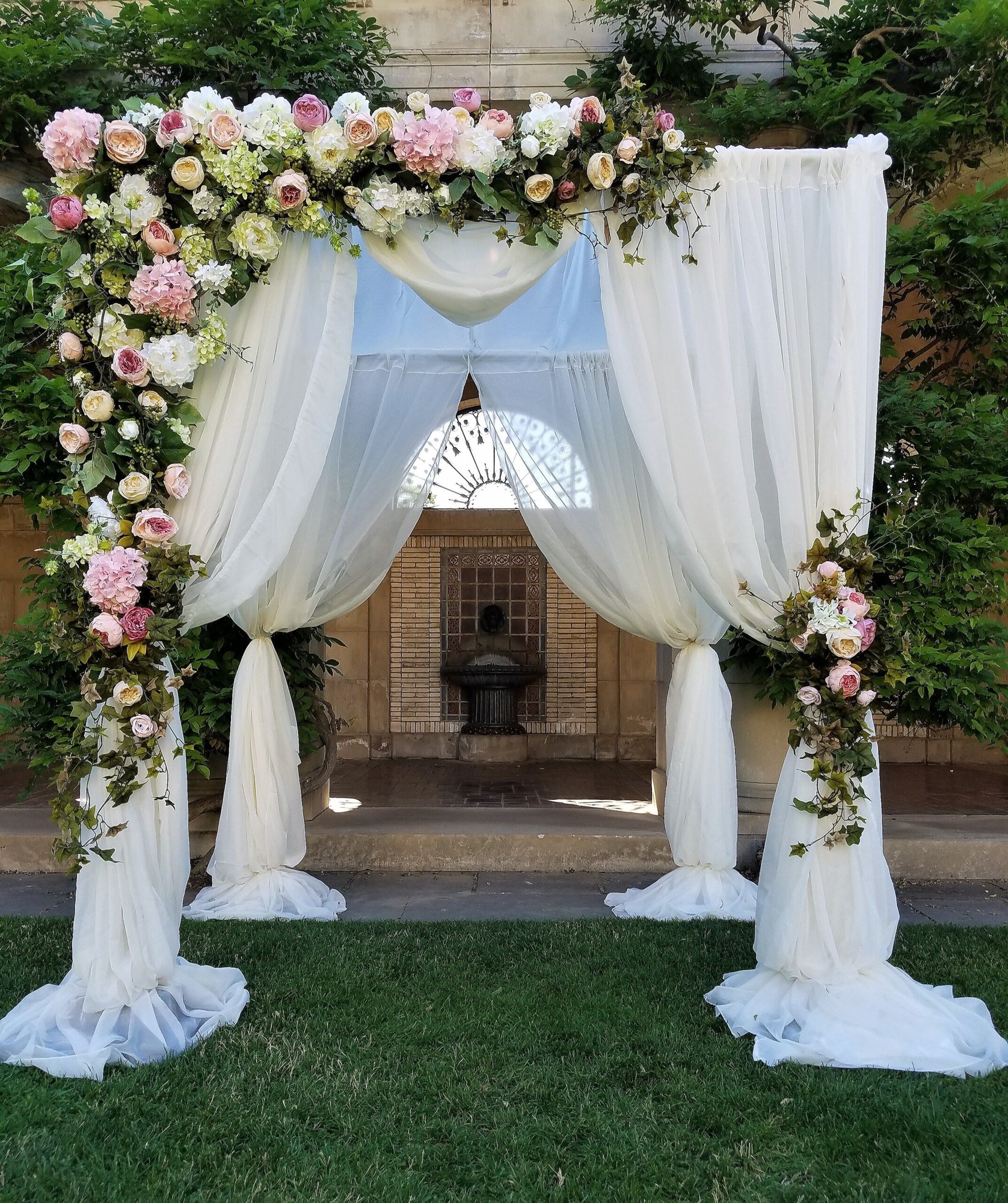 This is one of those wedding Decors, that is inspired by Western Weddings. Mainly curated for couples, who want their Wedding Decoration to be Minimal.
Less is more, and it is one of the best examples proving such a point. It is undoubtedly pretty and quite attractive too. The white curtains have shaped up really well.
Pastel Pink Curtains for Wedding Entrance Decorations
The pastel shade is one of the most elegant colours for regular outfits and even decoration. I think Pastels became trendy in recent times.
It is termed as a billionaire shade for two most important reasons. Firstly pastel is a cute colour, which has gathered attention recently.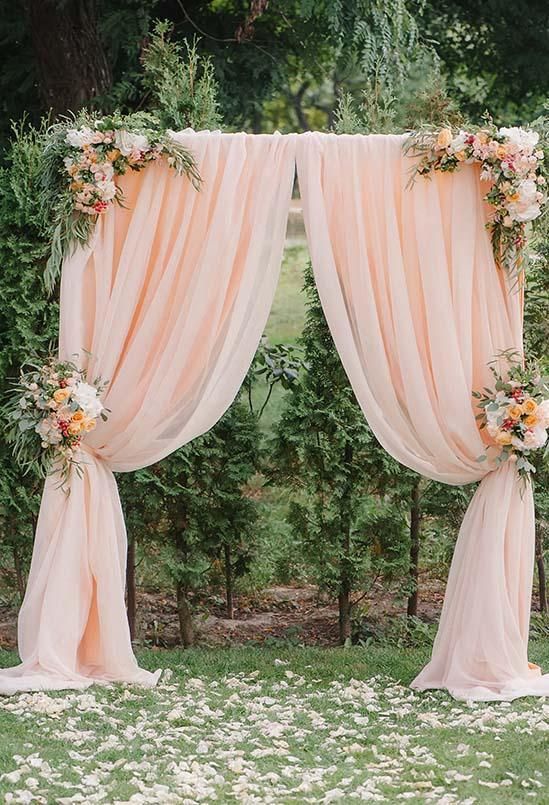 And secondly, I have hardly seen a single person who hates Pastel Pink for Wedding Entrance Decoration. It is subtle, elegant and delightful.
Three of the most important combinations, which is essential for the wedding ceremony. Besides being a good option, this is a really beautiful look as well.
The most important part of any look dwells on the two most important things. The type of wedding venue, and the event which calls for it. 
Wedding Entrance Decorations are moderately pretty, beautiful and somewhat mundane. You get to play with colours that complement one another. 
This is the beauty of the Wedding entrance Decoration. Make sure, your Wedding decorator has received proper information about your choices.
That is exactly what you want for the day and it suits the wedding venue. The Wedding entrance decoration should be collaborative with the Decoration template.
At mymandap, you get to browse through a wide variety of decorations, and other themed kinds of stuff. You can literally plan your dream wedding in the most elegant manner.
Wedding Fashion, Stage decoration, Food and lots more. Do let us know in the comment section, we are eager to hear from you.