Anyone else remembers getting excited about collecting the Bengali wedding menu card  from a biye baeri as a hobby? Well I still have my collection stashed in a bag somewhere. Over the years the designs have changed a lot, from simple cards to pens to some of the more outrageous options. ( Believe me when I say outrageous, I heard about someone who apparently got their menu printed in the form of Aadhar cards )
Getting menu cards for your wedding is not just to announce your menu for the night in a fun way but also a chance for you to take your wedding theme forward. Given below are a few ideas we have for you. –
1. The Classic red and gold Bengali Wedding Menu card
You can never go wrong with classic red and gold at an Indian wedding. With elegant cursive gold lettering and dark red/burgundy background, this one although a much-used colour scheme, is always a good choice.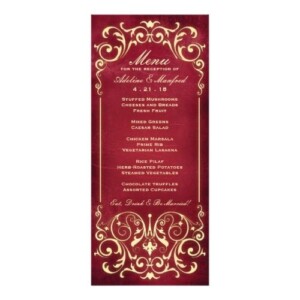 2. Simple white with floral squiggles Bengali wedding menu card
White traditionally is not a colour associated with weddings in India but as concepts become more and more influenced by cultures, white has found its place among wedding colours. A white Bengali wedding menu card with a floral line drawing in navy or red will look extremely beautiful.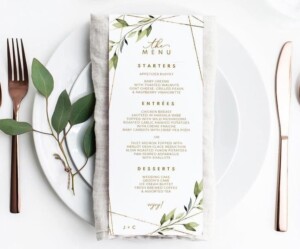 3. Black Bengali wedding menu card with white mandala patterns
Once again an unusual colour for a wedding. But trust me it's hard not to fall in love with the sheer elegance that this design exudes.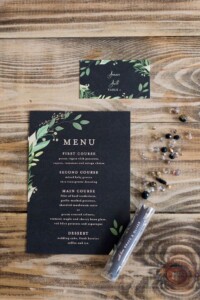 Also See: Latest Shadi Card Designs
4. Custom made Calligraphy Bengali Wedding Menu card
Custom calligraphy on your Bengali wedding menu card can make it feel very intimate and warm. You can go for different colour options and additional accessories like ribbons or rhinestones to make it look even prettier.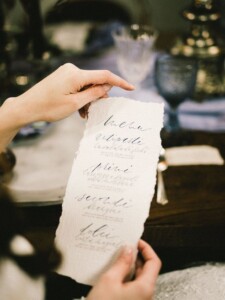 5. Sage green menu card with golden wax seals
If you lay this out in front of your guests and they're not squealing in admiration, it's time to get new guests. Jk. Point is, nothing can be more chic and fancy than this.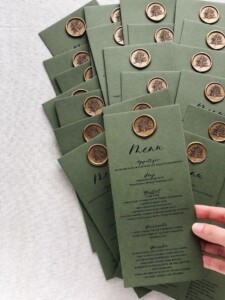 Check out: Wedding Card Matter in Hindi
6. Add a little bit of flora and fauna to your card ( Well not fauna but you get it )
I take back when I said nothing can be chicer than this, turns out you can make wax seals look even better by adding dried leaves, petals or tiny twigs to it. It makes the entire setting look so much more aesthetic.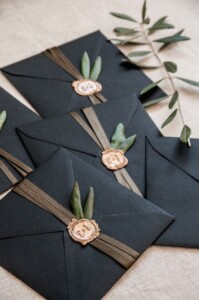 8. Rustic Menu Card on wood
If you're holding a rustic-themed wedding there can be no better way to go about it than it. White minimalistic Bengali wedding menu card pasted or artfully tied to the wooden rectangle and antique-looking stands to prop it up.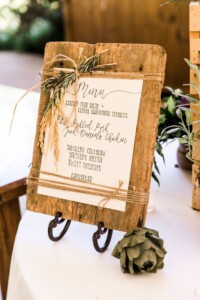 9. Chalk on the Blackboard Menu card
Chalk on Blackboard is always a very classic way to present your menu for the wedding day. It's old school and aesthetic. Depending on how you decorate the chalkboard you can switch the aesthetic from minimalistic to boho to bling.

Wedding Menu Card FAQ:
Should I print menu cards for everyone or have one per table?
This one's quite simple. If you're planning on having paper cards, it is better to print one for every guest who sits at the table. But if you're going for something more solid like wooden boards or blackboards then one per table will suffice.
Should I use individual menu cards if we're serving a buffet or family-style meal?
Menus are essential for family-style meals, for buffet dinners instead I'd suggest large wooden board or chalkboard menus around the place.
What kind of information should I include on my menu cards?
Include the dishes you'll be serving for the night and their ingredients to help people out with allergies.