In whichever part of the world you are, inviting your wedding guest with a shadi card is like a wedding law that every couple must follow.
Looking for that perfect wedding invitation card that matches well with your Indian wedding theme or the aura that you plan to set, the struggle is real.
Now, stop fussing over this because God has sent us to help you choose your ideal shadi card. Yes, your prayers have been heard. We have brought you a list of 50 trending wedding card designs that are quite unique and off the charts lustrous. 
List of 50 latest Shadi Card designs for your Big Day
3D Ganesha Placed Artfully In Royal Blue And Gold In A Shadi Card
Royal blue is the color of loyalty, faith, and trust. If that's what you are looking for in a wedding card design, then you should definitely go for this shadi card and invite your loved ones to witness your special day.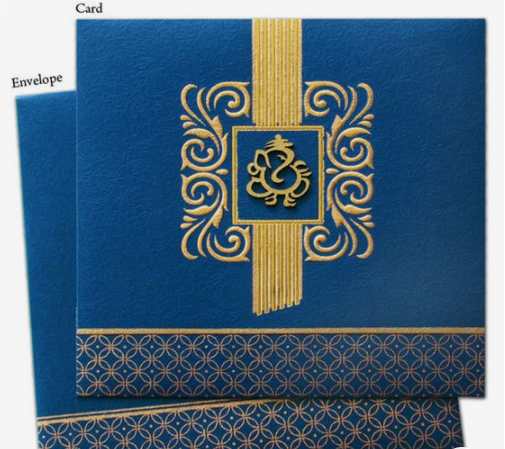 Purple Laser-Cut Bottom With Metallic Golden Ganesha in A wedding Card  
Laser-cut shadi cards are in trend nowadays. It gives a pretty creative look and the metallic gold Ganesha in the oval-shaped gold design is quite typical for an Indian wedding invitation card. 
Read more: Lagna Patrika Marathi Designs
Designer Flap In Shimmery Blue & Gold Artwork In A Shadi Card
A frontal designer flap in a shadi card is never going to be out of fashion. Take a look at this stunning wedding invitation card in royal blue and golden shades of shimmery patterns and artwork. Simplicity at its finest, indeed
Gorgeous 3D Laser-Cut Proposal In Shades Of White & Gold In A Wedding Card 
Why not make the most precious moment of your life the theme of your shadi card? Let your relatives and family get a glimpse of the love you two have for each other through this photo-realistic wedding invite.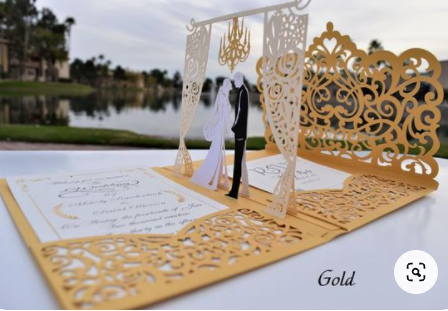 Rustic Brown Doors With Sleek Flower Art In Gold In A Shadi Card
Have a look at this outstanding Hindu wedding invitation card design. The sophisticated off-white envelopes contrast really great with the shiny golden artwork. The overall color combination looks stunning, right? 
Shimmery Golden Patterns Framing A Metallic Ganesha In A Wedding Card 
For a plain and simple shadi card with subtle elegance, this will be your go-to design. The metallic Ganesha framed artistically by glinting gold patterns makes this look like an ideal wedding invite for a typical Indian wedding. 
Read more: Bengali wedding Menu Card ideas
Classic Design In Rectangular Blue In A Shadi Card
A rectangular-shaped wedding invitation card has been in a craze since time immemorial. If the craze is real, then don't miss your chance and tag along. This Shaadi card design is for couples who don't prefer much artwork and wish to keep it unembellished but supreme.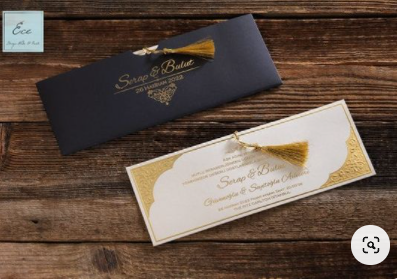 Elegance Tied In A Knot In Shades Of Gold In A Wedding Card
Look at those gold patterns shining elegantly in the shadi card and the knot tied with a sheer golden ribbon make this whole card design an exemplary wedding invite. 
Door Locked With A Bow Knot In A Shadi Card
This golden shadi card designed like a door which is tied in a synthetic knot is quite classy, right? Even the shimmery art embossed in gold right in the middle of the doors gives a glamorous look to this wedding invitation card. 
Must Check: Wedding Invitation Card Background
Laser-Cut Door Cover With Royal Blue Envelope In A Wedding Card
If you are looking for an eye-catching shadi card then you can certainly go for this one. The gold laser-cut door covering artistically the royal blue marriage invite will be enough to tell your relatives how stunning your wedding is going to be.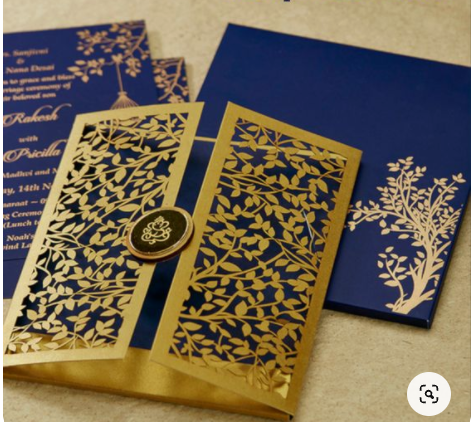 Simple Traditional Hindu Wedding Invite In A Wedding Card
Be it the bride or the groom-to-be, wedding couples admire and adore the Indian traditions and customs that are set by their ancestors. And to show that respect, this shadi card design will be your perfect choice!
Bells Of Happiness Ringing In Peach In A Wedding Card
Who doesn't love a pretty shade of peach-pink? With all the shimmery bells designed gracefully on this shadi card, it charmingly declares the arrival of happiness in both of your lives. 
Also check:  Naming Ceremony Invitation Cards
Red Laser-Cut Lotuses For An Invitation Sleeve in A Wedding Card
Have a look at this partly covered white wedding invite. The laser-cut red lotuses give a photorealistic aspect to this exquisite shadi card design. It's the hint of gold that gives the glow to the overall wedding card. 
Gorgeous Temple-Cut With Shimmery Gold Artwork in A Shadi Card
This astounding shadi card design is to die for! The temple-cut design bordered in gold and the beautiful artwork are what make this card idea a wonderful pick to invite your loved ones on your wedding day. 
Heavy Golden Artwork With A Hanging Tassel In The Front in a Wedding Card
Well, who doesn't love a mandala art that is too designed on their shaadi card? Right, everyone does. The tassel hanging in the middle of the flap just completes the whole glam look of the wedding card invite. 
Octagon Swirled & Tied With Braided Rope Tassels in a Wedding Card
Have a look at one of the most latest wedding card designs in India for wedding couples who want to do it all top-notch and unique. Be the talk of the town with this pink octagon-shaped wedding invite swirled and bound by the tassels.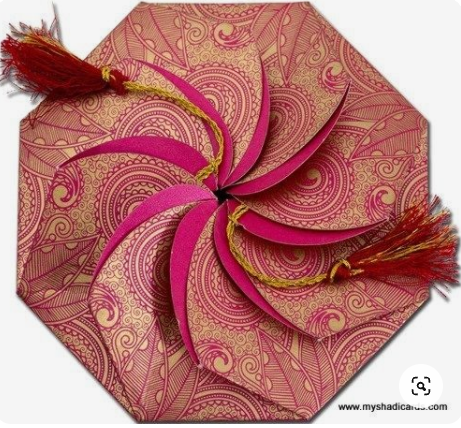 Semi-Circle Door Envelope Sealed With Your Initials in a Wedding Card
Seal your shadi card with the initials of yours's and your beloved's. Quite dramatic, right? But don't worry, everything is fair in love and war. So, go for this colorful wedding invitation card and declare to the world how strong of a bond you two have. 
Peacocks Embossed In A Stunning Wedding Invite In A Wedding Card
Peacocks represent honor and royalty, both of which are needed in an Indian wedding to make it look grand and authentic. Honoring the wedding vows and promising to never let go of your partner's hand is what this shadi card is all about.
Ergo, to give meaning to your spiritual idea, choose this wedding invitation card design!
Classic Indian Bride-Groom With Metallic Art In A Wedding Card
To all the black and white lovers out there, we have something for you! With a hint of red here and there and the golden metallic artwork skilfully done, this shadi card is an epitome of Hindu wedding vibes. 
Brooch Embellished With Pearls Holding A Wrapped-up Synthetic Ribbon In A Wedding Card 
Giving a Pearl-y gift-like appearance in hues of white and pink, this brooch pinning a wrapped up ribbon looks very princessy. Now, no bride is less than a Princess. So without further ado, go for this pink shadi card design!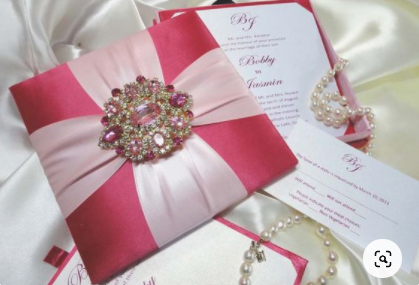 Leafy Laser-Cut Front Flap In Silver Shine & Gold In A Wedding Card  
Silver and Gold being the symbol of purity and perfection, this efficiently laser-cut leaf art makes this wedding invitation card look pristine and elegant. This card design will give an impression to your relatives of how flawless your wedding day is going to be. 
Top-Class White Wedding Invite With Golden Metallic Art In A Wedding Card
Looks luxurious, doesn't it? If you are looking for a shadi card design for your lavish wedding, then this one will be perfect for you. Simple but classy, that's what you will be implying as your wedding theme on your big day. 
Vibrant & Lively Shadi Card Sealed With A Small Flower-Flap Design In A Wedding Card
You might think it's another one of those typical Hindu wedding cards, but you are wrong my friend. The handmade flower flap designed artfully with shiny gold patterns makes this wedding invitation card rank among the latest in India.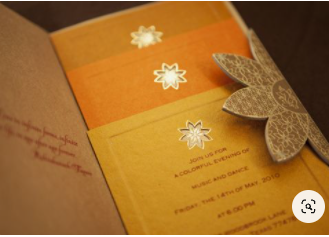 Shahi Wedding Scroll In Royal Blue & Gold In A Wedding Card 
Are you hosting a Royal Wedding in the princely states of Rajasthan? If yes, then no shadi card will suit you better than this one. This easily goes with the theme and the mood you plan to set on your wedding ceremonies like Mehendi & Sangeet. Nothing screams royalty than the color royal blue. And the gold scribbling on it is what makes it ideal for a grand wedding invite. 
Wedding Box Wrapped In Blue & Sealed With Brooches In A Wedding Card
Have a look at this sleek marriage box. The blue fabrics sealing the box and the pearl brooches pinning it gives an impression of a grand door of a royal palace. Wedding boxes instead of Wedding card invites have been a B-Town celebrity thing for the past few years. So, why not choose one for your extravagant wedding too?
Chic & Creative With Metallic Art & Tassels In A Wedding Card
This one right here is a flagbearer of an Indian-style wedding invitation card. Look at the creativity and the vibrancy on this shadi card!
The metallic art is just beyond flawless and the way the whole thing is designed, it's no less than sheer excellence. If you are a fan of Indian art and crafts, then go for this card design and you will have no regrets.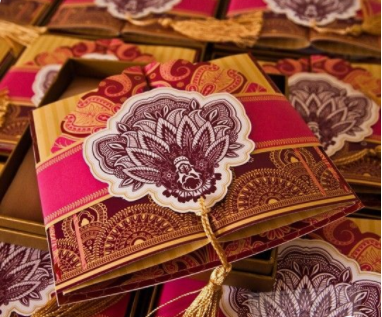 Shimmery Laser-Cut In Frontal Bottom Flap In A Wedding Card
Looking for a gracefully designed shadi card that is equally fashionable and modish? Well, your search can end here. Take a look at this matte finish off-white wedding invitation card that has a laser-cut flap in the bottom. 
Aesthetic Tri Fold Wedding Invite In Sage Green in Card
A three-fold shadi card never goes out of style. The book-like appearance gives an inkling of your new journey with the wedding invitation card being the first chapter of that story. The card design is a bit aristocratic, but that's what makes it so special!
view more: Wedding Card Matter in Hindi
Golden Metallic Mandala On Teal Colour Base in the Card
This semi-mandala art in metallic gold is so enchanting, even the inscription on the other half balances it exquisitely. Don't worry you will have the full mandala art on the envelopes.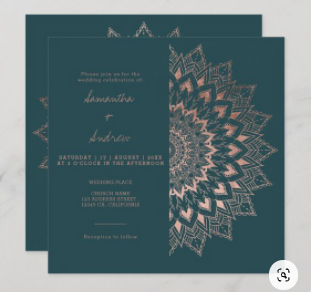 Antique Gold Scallop Lace Over A Shade Of Purple in the Card
If you are looking for a vintage shadi card for your theme wedding, then this delicate fabric wrapped around the bottom of a purple shade wedding invitation card will be an outstanding option for you. The design is marvelous! 
Mandala Door Knob In A Square Royal Blue Wedding Invite in a Card
It's not an ordinary door-style card, the mandala art in metallic gold made in the middle of the royal blue shadi card is what makes it stand out. 
Innovative Oval Window In The Front in a Card
Take a look at this see-through oval window on the front. The golden art border around it makes it look like some royal mirror, doesn't it? For an out-of-the-box idea for your shadi card design, this one will be an excellent choice. 
Adorable 'Band Baaja Baaraat' In Bright Pink In A Wedding Card
The one thing that is special about a typical Hindu Wedding is the Baaraat that dances its way to the Bride's place or a wedding venue. We all love it. That's what the shadi card is all about. I agree it's very cute and pretty.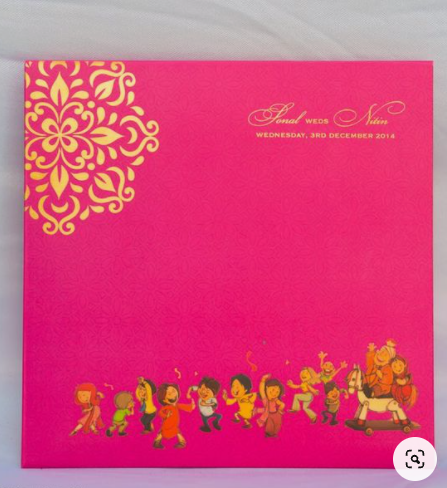 Grey Floral Embossments With Lined Sequined In A Wedding Card
This greyish artistic wonder defines uniqueness and creativity. The Floral art and the white chumkis lined below it make the shadi card look so magical and an inspiration for many wedding invitation card designers. 
Two Hearts Brought Together By Destiny In A Wedding Card
This sleek and simple shadi card has two laser-cut hearts tied together in a white bow knot. Printing your names on the insides of these hearts will be a bit dramatic but equally romantic and kind of sweet. If that's the mood you plan to set on your wedding day, then go for this card design!
3D Ganesha Perched On Hues Of Gold In A Wedding Card
This beautiful shadi card looks grand and elegant in every way possible. The metallic patterns are so gracefully done around the 3D Ganesha that it gives the wedding invitation card design a divine aspect.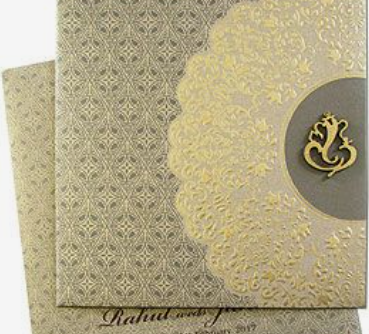 Pink Matte Finish Wedding Invite With A 3D Lotus In A Wedding Card
Undoubtedly gorgeous. This shadi card in deep pink has a 3D lotus stuck to it on the front side with two more lotus in metallic art on both of its sides. Symbolizing the love you two have for each other, this wedding invite will set the correct vibes on your wedding day. 
Also see:  WhatsApp Wedding Invitation Trends
Bride-Groom's Initials On A Framed Square In A Wedding Card
Red and Gold are among the most common color combinations that most Hindu couples go for in India. It signifies good fortune, wealth, and prosperity that one looks for after their dream wedding. 
Black Block Prints In Pink Side-Curved Flap In A Wedding Card
Have a look at this princessy style shadi card design. The block prints in black and white are so artsy that it gives a glamorous appearance to the whole wedding invitation card.
Modest Bride Hiding Behind Her Wedding Invite In A Wedding Card
I mean the idea is enough to make people admire your creativity. This shadi card is one of a kind, truly!
Tiny Bride-Groom Photo Riding A Camel In A Wedding Card
Never seen such a quirky shadi card design, have you? The cute little pictures of you and your beloved will make the whole thing a fancy Indian wedding invite. 
Two Half-Moon Petals As Blue Front Flaps, Wedding Decor
Take a look at this stunning shadi card in shades of blue and pink. The golden metallic art of peacock feathers over the blue flaps looks so enchanting. It's hands down a brilliant wedding invitation card!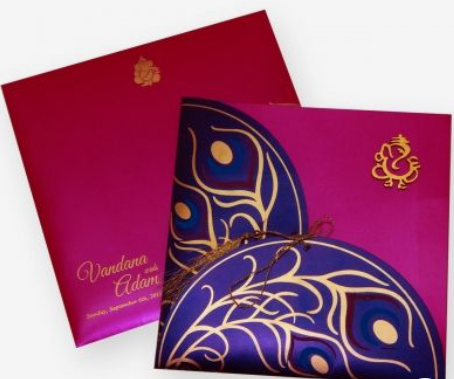 Bridal Palki Design In A Wedding Card
Wish to keep your shadi card plain and simple but not dull and boring? Well, your wish has been granted. This photorealistic palki design placed in the middle of the pink wedding invite will give you your favored vibes.  
Mystical Wedding Invite With A Hanging Tassel In A Wedding Card
Now, this is not a typical Indian shadi card that we normally see at a Hindu wedding. The 3D chakra and the tassel hanging from it give the overall card design an avant-garde look. 
Shiny Metallic Flowers Tied In A Knot In A Wedding Card
You must have given the women of your life, your mother and your soon-to-be wife, flowers. So why not print it on your shadi card? Your beloved will be elated with joy, trust me.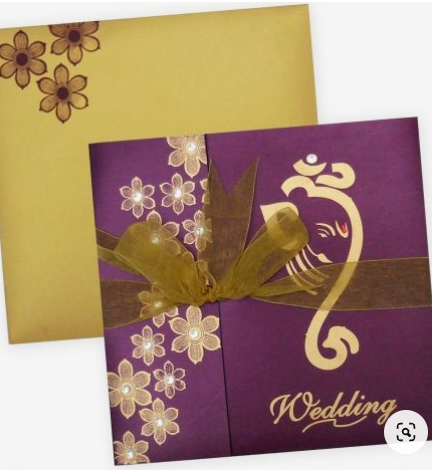 A Cherishable Memory In A Wedding Invite In A Wedding Card
For an unconventional approach, this shadi card idea will be really cool and amazing. Your cute little moments together captured in black and white, for the world to see, it's quite exciting, to be honest. 
View more: Wedding Invitation Quotes
'Old Is Gold' Indeed In A Wedding Card
There's no shame in being old-fashioned. Rather it's admirable that people are still classic from the hearts. This shadi card will help you prove the beauty of simplicity to every one of your relatives and loved ones. 
A Pair Of Peacocks Declaring The Date  In A Wedding Card
Nothing beats red when it comes to weddings. This shadi card design has some pretty embellishments and metallic art patterns skilfully embossed, making the peacocks look gorgeous.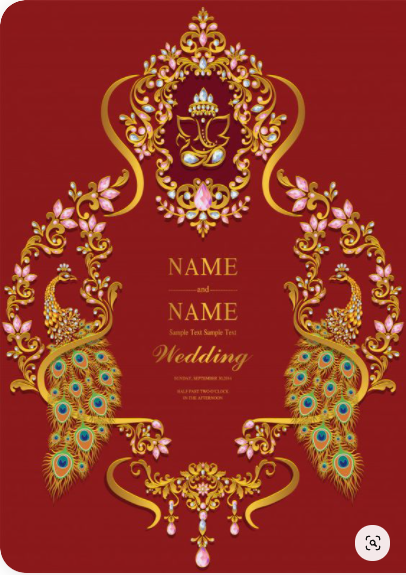 Knotted Like A Booklet  In A Wedding Card
This turquoise shade shadi card with silvery metallic art is designed like a booklet. The knot binds the wedding invitation card together so that we can flip through the pages. It's quite impressive, right? 
Bride-Groom Welcomes You At Their Door  In A Wedding Card
What better way to invite your loved ones than this Indian 'Atithi Devo Bhava' themed shadi card? This wedding invitation card design will be a perfect choice for someone who craves some awesome hospitality and will deliver the same on their wedding day. 
For each and every person who is planning their wedding, these are some of the latest shadi card designs that are trending all over India. Regardless of what language you choose your wedding invitation card to be in, be it Hindi or Urdu, at least you will get the ideas from these spectacular designs. 
So go right ahead and choose one from all of these gorgeous options.