The Dhoti Salwar Suits is a choice, which makes all other ethnic wears fall afar. This is a beautiful Kurta Dhoti Pant, which is a significant attire in many Indian communities. 
A perfect Party Wear, and a beautiful Suit which can even be your Bridal Attire. That is the speciality of a classic Dhoti Salwar. 
This is the wedding attire for many Indian communities, along with the Punjabi and Sikh Brides.  The fabric and the print of the outfit are utterly beautiful.
All Indian Women want this to be their attire for at least of the mentioned events. So, let's find out what are the best types of Dhoti Salwar suits.  
Top 10 Beautiful and Pretty Dhoti Salwar Designs:
The perfect Dhoti Salwar should have a design which is reliable and has a bridal pattern. It should have a dupatta and a design which is all about Minimalism and outright beauty. 
Among everything else, this is by far my favourite topic to range over. These Dhoti Salwar Suits are unconventional, and extremely trendy too.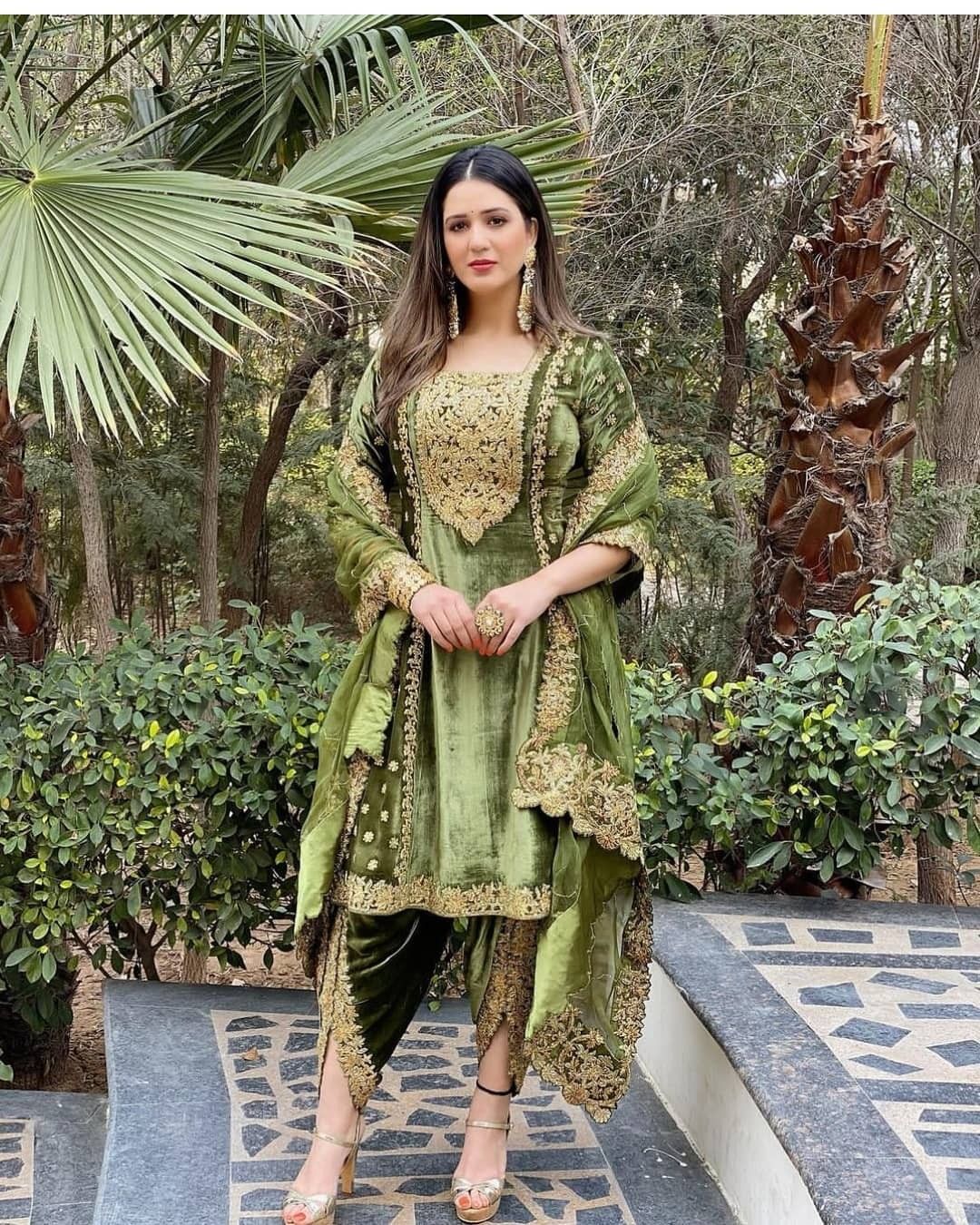 Here we are about to describe and unroot some of the classiest options for Dhoti Salwar Suits and other amazing Dhoti Salwar outfits. Starting with the most beautiful Bridal range. 
These are specially curated according to the needs and categories of the people. Like whatsoever you need for the day. Starting with the prettiest Dhoti Salwar.
Punjabi Bridal Dhoti Salwar in Red
I've always had favourite shades and colours. Among them, pink is always my favourite. It is selectively pretty, amorous and hundred per cent original. 
And red is one of those classic colours that makes your Basic Dhoti suit better and accentuated. No wonder brides love to wear red for the big day.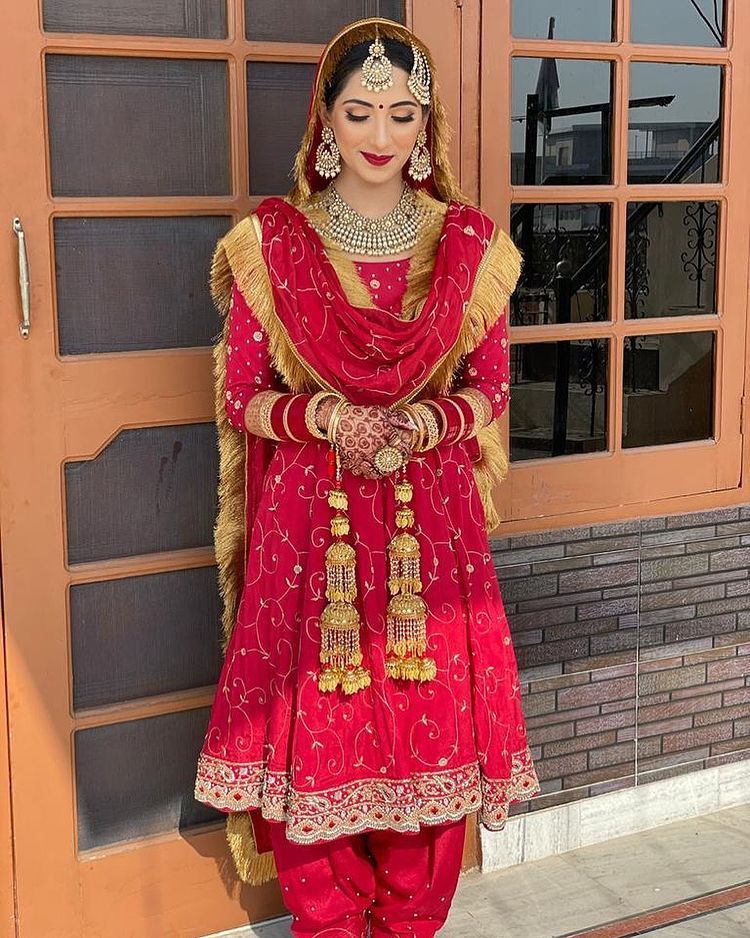 Not only red, some brides even prefer wearing pink, and green for their Bridal Dhoti Salwar. This is extremely basic and my favourite at the same time. 
Why do I have so much love and affection for Pink and Green? Well, it is perfect for the wedding ceremony. The shade red hardly looks bad on a single person.
check also: Marathi Wedding Dress
Haldi Wala Dhoti Salwar
The beauty of Yellow is original, ethnic and versatile at the same time. This is one of those ideal shades which are preferred for the Haldi Ceremony. 
Irrespective of the culture or the community, the bride usually wears such colours for the occasion of the Haldi. It is termed as lucky for the bride to wear Yellow for the Haldi.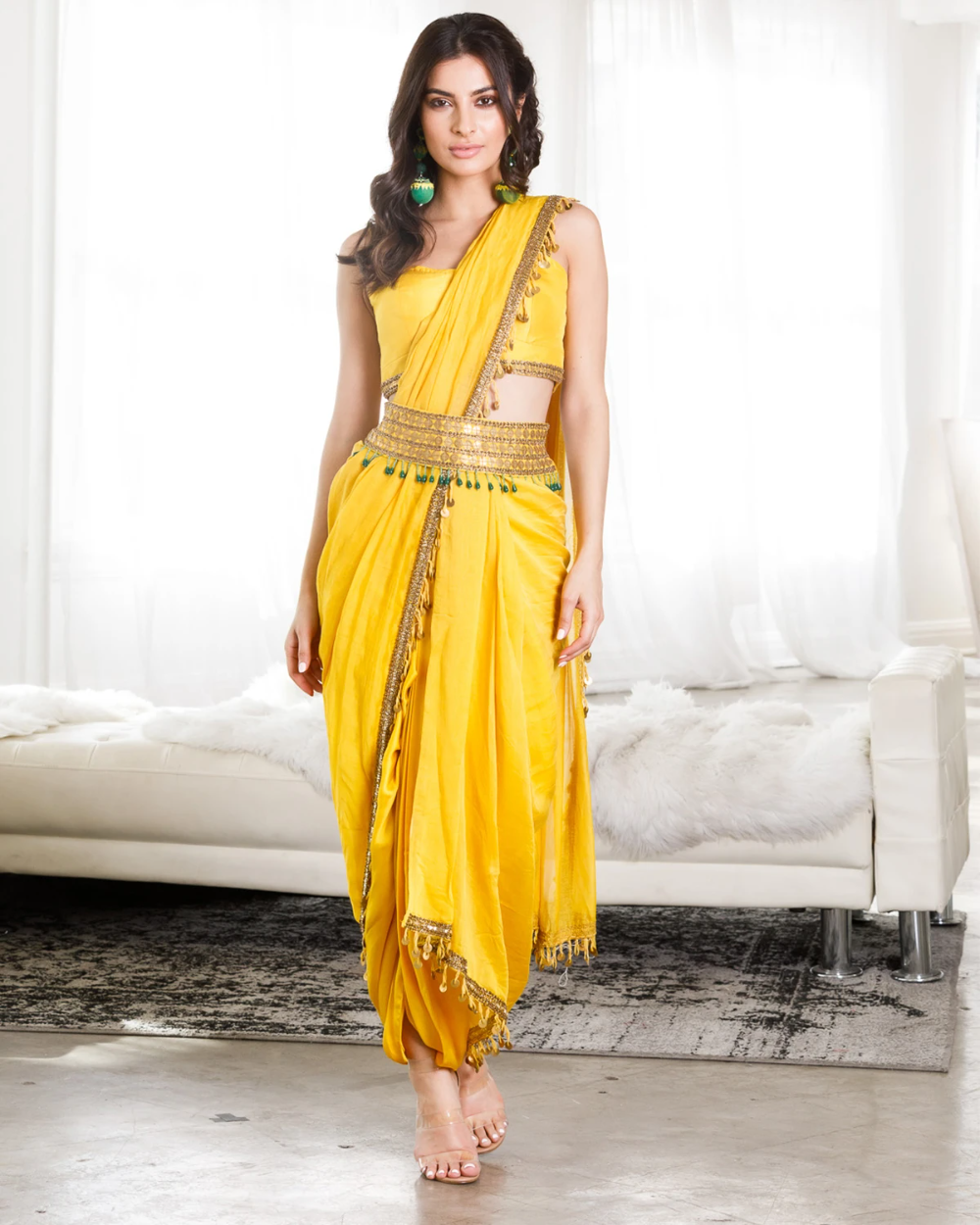 This particular Haldi Salwar Suit is particularly customised according to those certain norms. It is preferred by everyone. The Haldi Wala Bridal Dupatta is always embroidered with the best threads. 
The Haldi Wala Dhoti Salwar Suit is more than enough. It is beautiful and everything one needs for the wedding ceremony. It is something that we all need and want. 
Check out: Jodhpuri Sherwani suits
Anarkali Style Dhoti Salwar
If you aren't sure, exactly what to wear then go with designs and patterns that work familiar with the design paradigm. This is one such amazing Dhoti Salwar Suits. 
It has the prettiest Dhoti Style, Patiala Pant, more than the Salwar itself. One of the most common bottoms worn for Punjabi Brides.
It is distinguished, extremely beautiful and quite surreal too. If you ask me personally. I think this is one of the most beautiful outfits.
This goes well with a cool and well decorated bridal Dupatta which has been decorated with the most beautiful and organised sequin work.
Ivory White Dhoti Salwar
This is one of such unique designs which has been my favourite for years. Now, the colour is distinguished and it reminds me of Alia Bhat's Bridal Saree.
Yes her, sequin ZardoziSaree was in the Ivory Shade. It was extremely beautiful and elegant too. The colour is exactly similar to that particular pattern.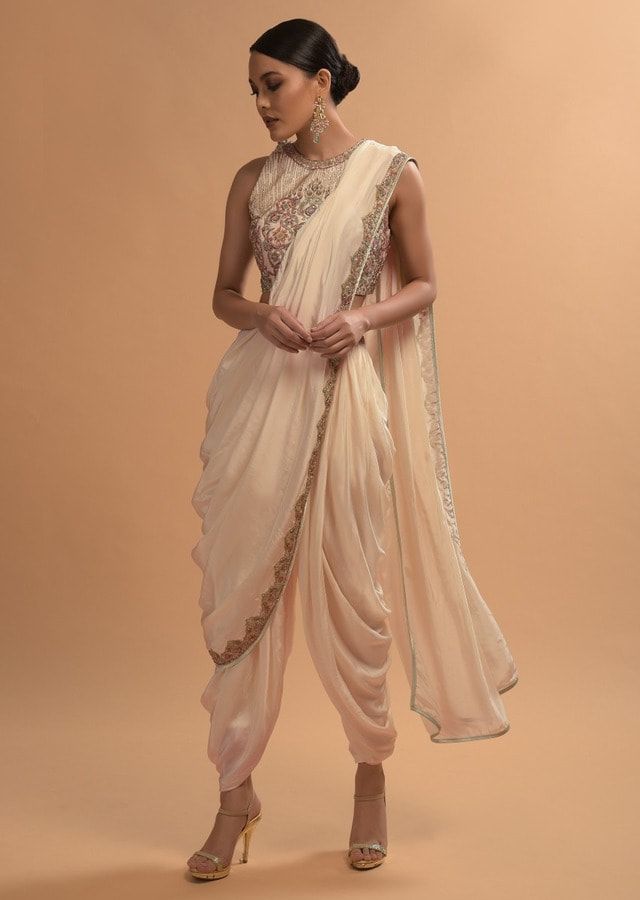 This is one of those ideal looks, that makes a whole lot of difference in terms of your basic Bridal attire. This is pretty and quite appropriate too.
I think this is one of those classic attires that can always be chosen for your bridal deck. It is pretty and had the full potential to be a part of someone's bridal closet.
Emerald Dhoti Salwar in Indo-Western
More than any basic attire, this one looks like a Saree and that has changed the game for this particular outfit. It is beautiful and has the most subtle work.
The colour is appropriate for a bride to wear, and that has won over a million other hearts. The solid green shade is extremely pretty.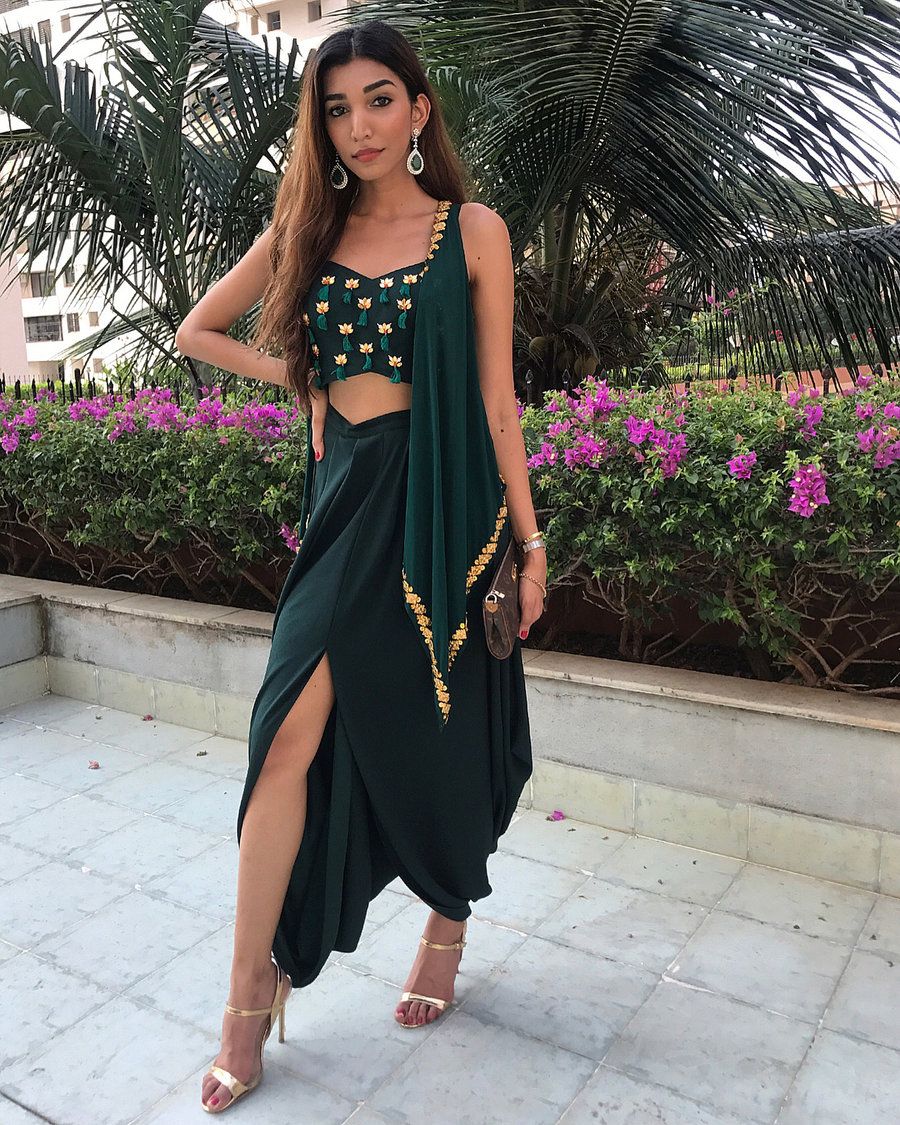 This would look fabulous with y your typical Green Bridal Duypatta or any other Bridal accessory of the same type. This is meant for the Cocktail bash.
If you are not sure, what to wear for the Cocktail party or the evening Sangeet Party, then this is the Dhoti Salwar which is meant for your Party Look.
See related: Dhoti Saree Styles
Indo-Western Dhoti Salwar
The beauty of Indo-Western Dhoti Salwar is just out of the world. This is perfection and it is as basic as any other outfit. The beauty of this outfit is just what you need. 
The quintessential Dupatta is making the rest of the outfit extremely basic and out of the world. Honestly, this is everything that you need for a perfect Bridal suit.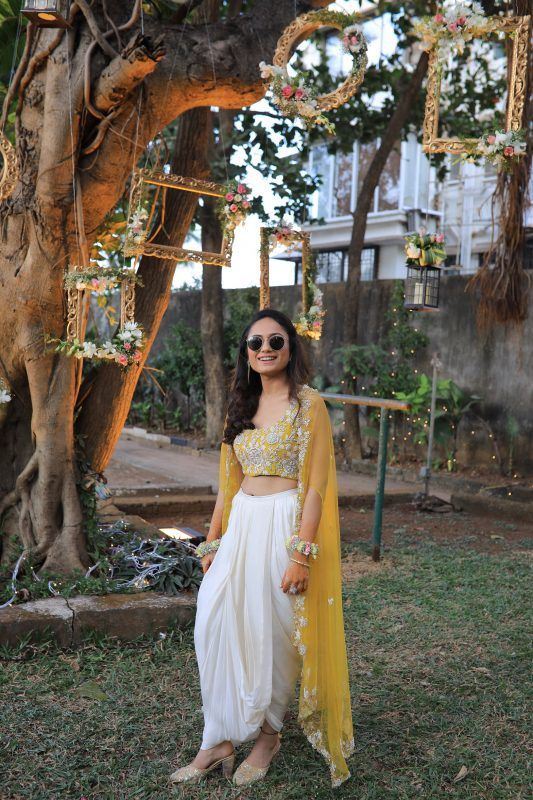 Certainly has the most well-fitted outfit combination, and has the best outline on the overall apparel. This is one of those dresses that is hardly forced out of fashion. 
Rather this is one of those unique fashion choices that we all love, cherish and want to wear at our wedding ceremonies. 
Prussian Blue Dhoti Salwar
The Prussian Blue shade is out of the world. And it makes a whole lot of difference in terms of any basic outfit. The colour of it has changed the entire outlook of the outfit. 
It is undoubtedly the best place to have any look in place. The beauty of Blue makes it highly preferable for any Bride.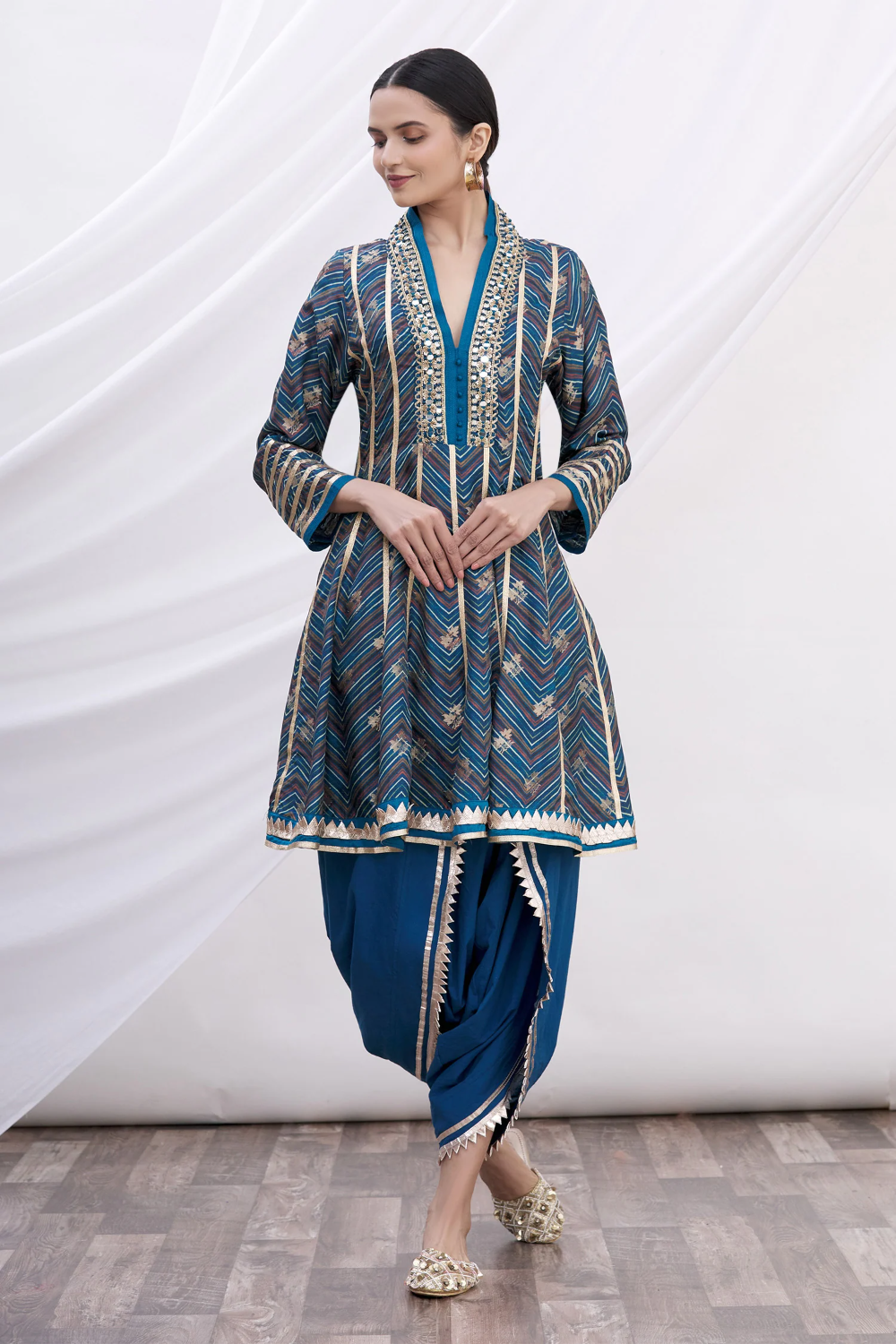 The colour blue is more than enough for any combination. It makes a whole lot of difference for the bride herself. The colour blue makes it highly appreciated, and perfect. 
Blue is neither too dull nor too basic for anything. If you are in preference of something in the middle row, then this is the perfect combination for such a bride. 
Yellow Patiala Dhoti Salwar
Anything in Yellow, and is absolutely the best for Haldi Ceremony. The Dhoti Salwar is the most moderate Suit for the occasion of the Haldi ceremony. 
The colour of the suit is out of the world. And it has elevated the look of the Dhoti Salwar to a completely different extent. This is the speciality of any basic outfit.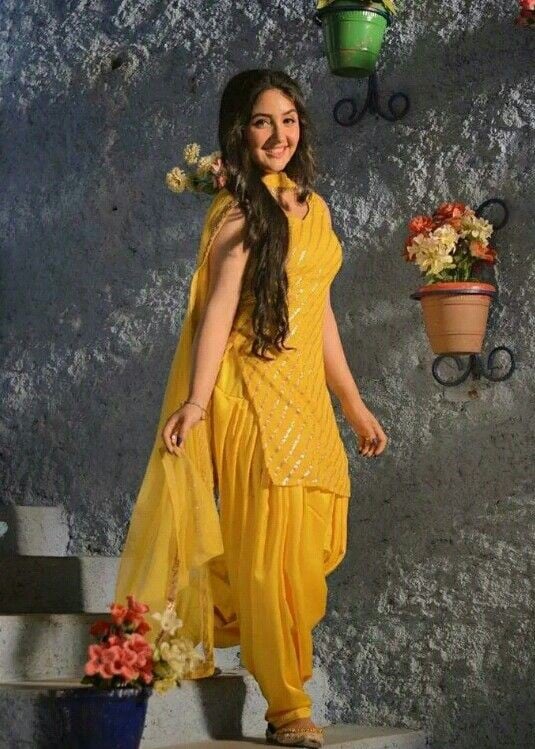 You can elevate it with the main basic Haldi wala Dupatta Or even any other bridal dupatta of the same colour family. 
The Haldi Outfit can be anything and everything irrespective of its type, or its main design of it. You should style it according to your personal choice of accessories. 
Floral White Dhoti Salwar
Floral arts are delectable pieces of art. Certainly, they create an outfit like a dream and make your Dhoti Salwar a perfect piece of outfit for the wedding ceremony. 
Although the wedding day might sound like an inappropriate place to drape a Floral Saree but trust me, this is a really good option for the wedding day.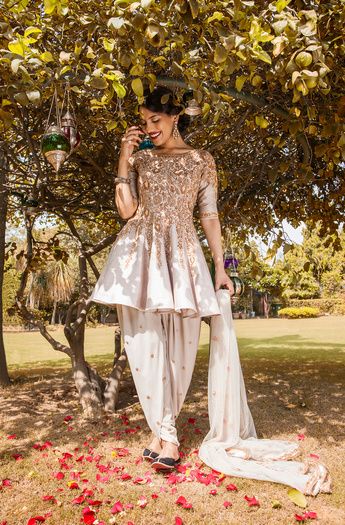 The floral white print on the is perfect and it makes any traditional outfits better and more appropriate for the Cocktail Party. 
The Dhoti Salwar Suit made out of white is great, and the decency of this suit is more than enough for the wedding ceremony. A white Salwar piece like this is more than enough. 
Fushia Pink Dhoti Salwar Suits
Fushia is a classic shade, and it hardly gets old. It is quintessential, pretty and quite dolled up too. If you like something in Pink, especially in Fushia it should be a part of your sangeet outfit. 
This is one of those shades, that make your little to fewer outfits highly decorated. It is well organised and has a beautiful finish. I have an affinity for pinks, and it is my dream to wear them for the big day.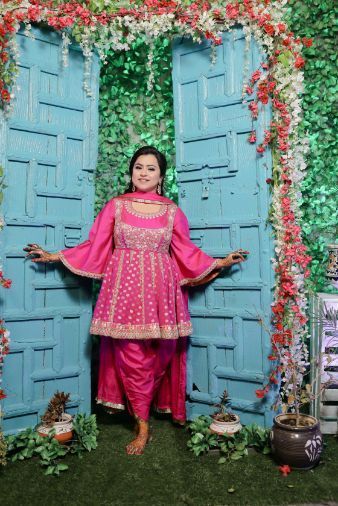 Some of us like pink over many other shades, while some prefer not to wear pink at all. That is the selective opinion, and it varies from one person to another. 
By the end of it, it is entirely you who wears it for the wedding ceremony. So it should also be about you in person, that's why a Dhoti Salwar Suit is your bae. 
Conclusion
At the end of every list or every tabulation, it is you who wears the outfit. So it needs to be picturised accordingly. If you are comfortable wearing any particular fabric, then so be. 
It is essentially about your selective comfort and the way it should work for the wedding day. No wonder there are uncountable options for colours, shades and designs. And you can always add your imagination to it. 
Outfits are how you describe your style. Whether you want that to be basic and dull, or as glam as a tube light. By the end of it, it should be about you and only you. 
No one gets to choose your images. Neither do they get the place of imagination. By the end, the outfit should be how you like to style your own Dhoti Salwar Suit for that particular event. 
Well, these were some of the classiest options for good old Dhoti salwar suits. If you found the right fit, do not forget to let us know in the comment section. 
At myMandap, we are eager to hear from you. Whether you like something or not, just drop your opinion. Here, you can plan your dream wedding, with the best style, decoration tips and all the most amazing food.