A Bengali Wedding Totto is a delectable spectacle. You find some of the best wedding tray decoration styles at a Bengali Wedding. Starting with the Gayatri-Haritdra Totto, from the Groom's side. To the Fulsojja's Totto from the Bride's family. A Bengali Biyer Totto list has some of the most essential gift ideas.
The Bengali Biyer Totto Decoration is mundane, but here we have curated some really unique and modern ideas for your good old wedding ceremony. These are some of the best styles from West Bengal. Here, we go, with what you need for a Modern Bengali Wedding Totto. 
Top 10 Bengali Biyer Totto List Things and Elements:
The groom's family sends their Bengali Biyer Totto list, right on the wedding day. While the Bride side Bengali Wedding Totto comes on the day after the wedding ceremony. These are such Bengali wedding rituals, that you must follow according to the Hindu Wedding traditions.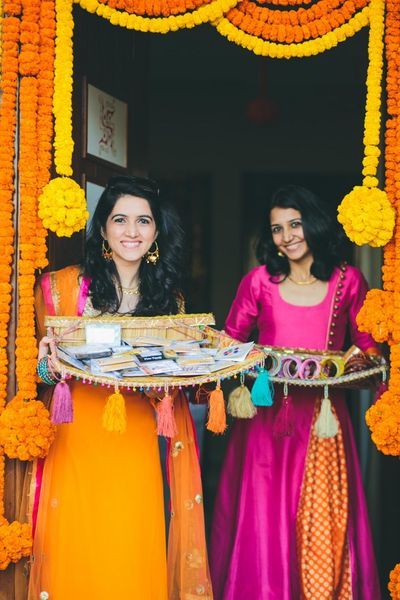 The Bor Jatri brings the Gae-Holuder Totto on the day of the wedding. Right before the Brides family arranges for her Haldi ceremony. This ritual is known for all its glory. The Bengali Bride and her family get the most exciting gifts with that amazing Bengali Biyer Totto List. 
Check Out: Bengali Marriage Dates in 2021-2022
Tuttosuchi for Bengali Biyer Totto list
The Tatta Suchi is one of those ideal lists, which comprises everything that is needed for a fabulous Bengali Hindu Wedding Trousseau. This is one of those ideal Bengali Biyer Totto lists that holds the name of each gift, with the name of the recipient.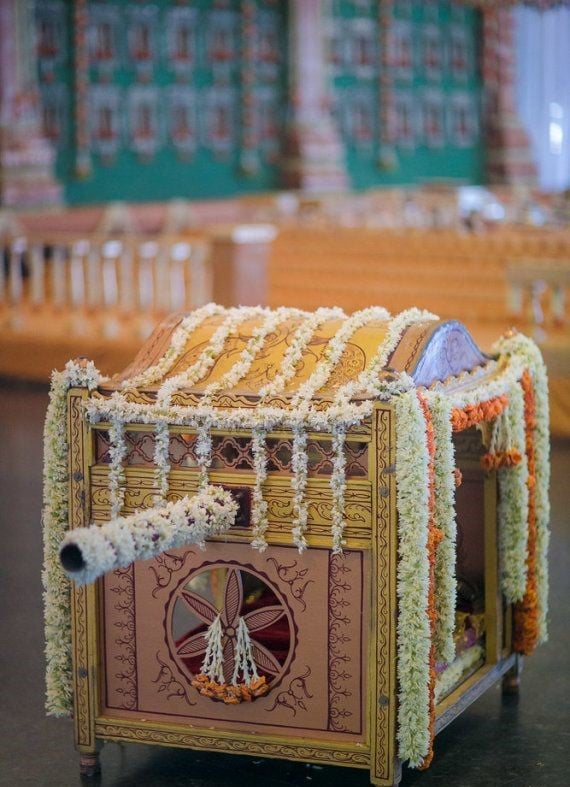 Yes, that is exactly what you have to know about the appropriateness of the Tatta Suchi. This Bengali Biyer Totto list comprises exact numbers and works as a form of contents list. The Bengali Wedding Totto obviously has things for the bride, as well as her family. So, this works as a well-formatted content list. 
Visit more: Wedding Tray Decoration
Fish as Kulo Morjada Bengali Wedding Totto
The tradition of sending a fish is mostly a Bengali Hindu custom. In a Bengali Marriage Ceremony,  the caste system paradigm has the construct of sending whole fish as a souvenir to the family. The one on the higher spectrum of caste enigma, receives this presence. While the family on the lower cast enigma sends the fish.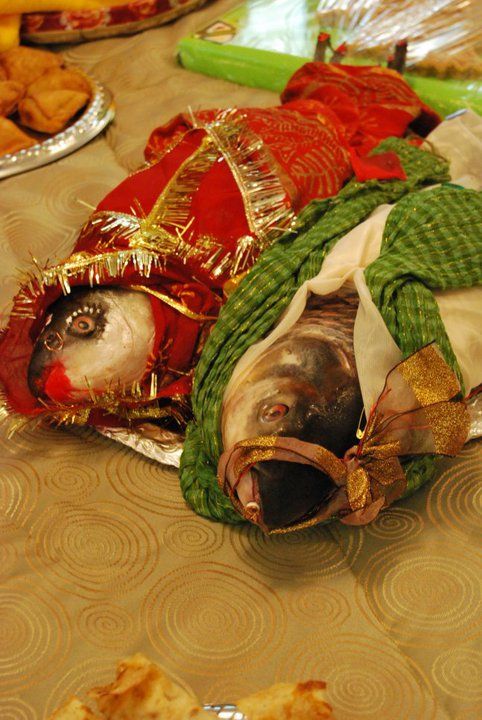 As a traditional Bengali Wedding Totto, this undoubtedly does not call anymore. We have to select other ways of being polite, docile and accepting towards all people. Irrespective of their caste or religion. To me, this tradition is good until you bring this rightist prop[aganda of segregation.
view more: Flower Jewellery Ideas
Bangle and Bracelet Tray for Bengali Wedding Totto
Bangles are a girl's best friend and trust me, we all want our Bengali Wedding Totto to be filled with these exciting bangles and bracelet sets. The curator has gathered some of the finest designs for bangles, and bracelets in this particular tray. This is more like a circular basket, which is filled with these fun presents.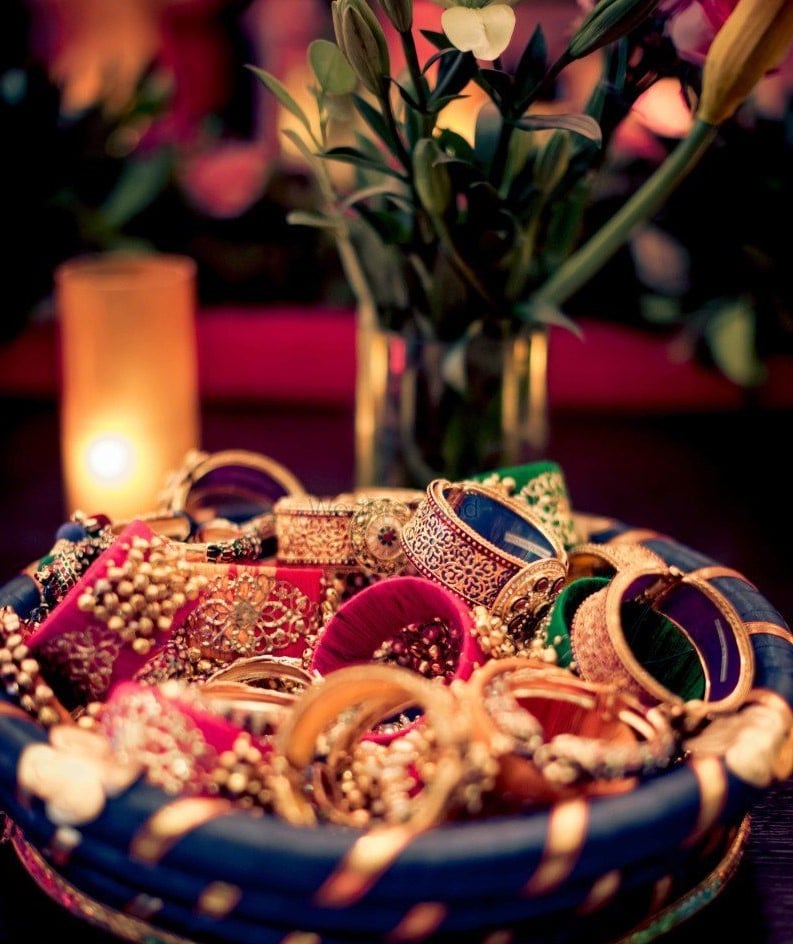 Some families in East Bengal, have the tradition of bangle keeping for their Baran Dala arrangement. These bangles are evenly distributed amongst the family members, and also kept aside, especially for the bride. Mostly the bride's set is red and green in colour.
The Necklace Tray for Bengali Wedding Totto
If we're talking about jewellery, then let's just start with the most important ingredient inside a pretty well organised Bengali Wedding TottoBengali Wedding Totto. Which is none other than a simplistic necklace design, starting with some of the best jewels and extravaganzas.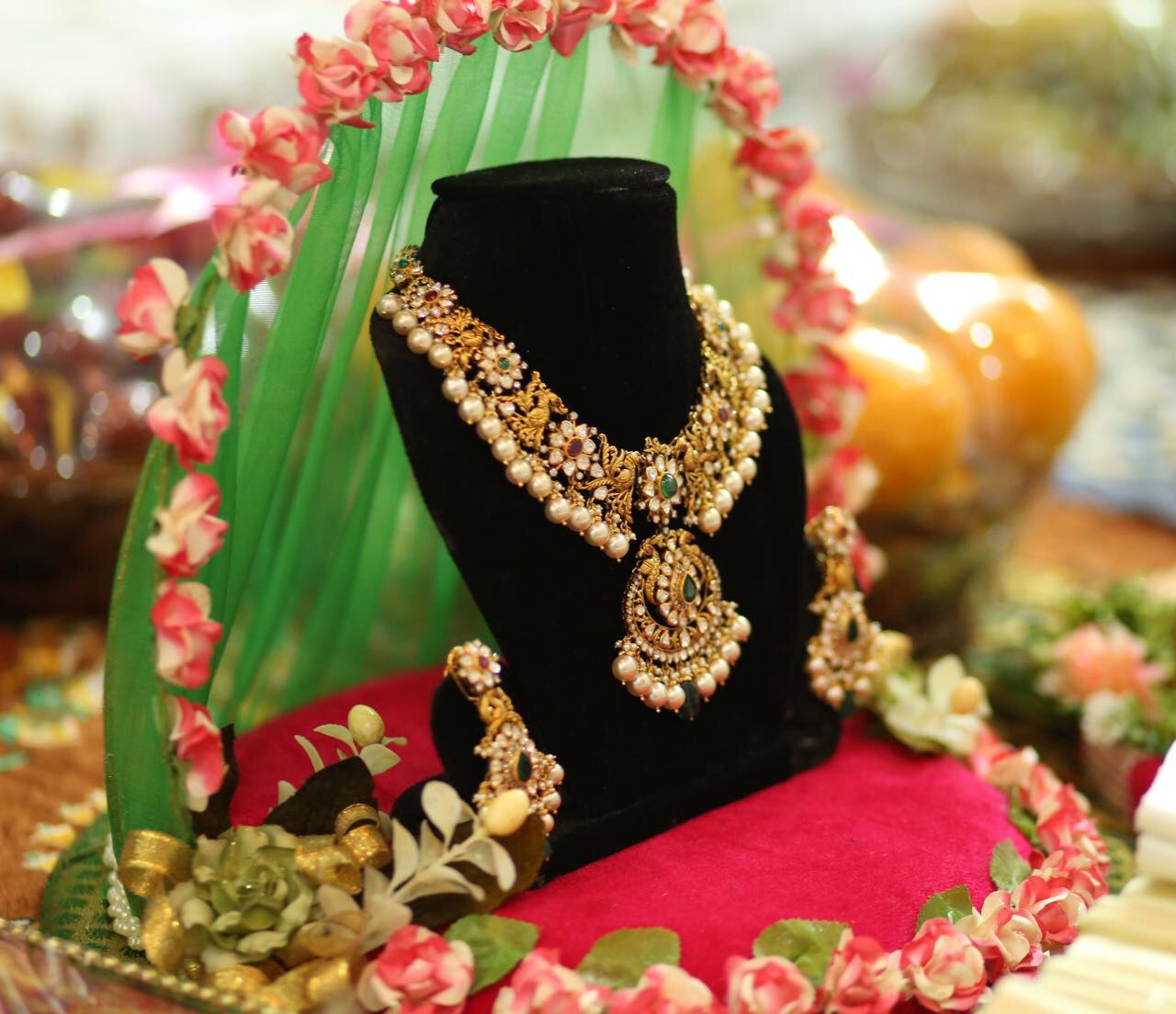 This arrangement for a Bengali Biyer Totto Decoration happens to be quite eye-catching and pretty. This is one of those really pretty bridal sets, which has decorations made out of flower petals and leaves. Although this must be artificial the look of it, makes it even more appreciated.
See related: Bengali Wedding Rituals
The Sweet Bonanza for Bengali Wedding Totto
Sweets are not just a part of every Bengali celebration, but trust me this is one of the most essential Bengali Wedding Totto. Even if the families haven't spent much on the attire scheme and the amazing gifts that they have purchased for the other family. The tray for the sweets and snacks is all packed up and well decked.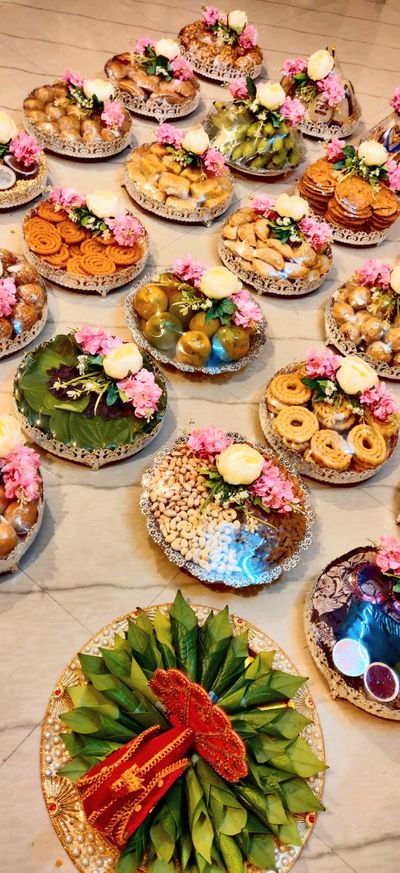 The sweets are dry, tasty and quite pleasant too. The tastes can matter between the most famous 'Padda Nimki' or the snack biscuit, which is shaped and striped like a Lotus leaf. Secondly a very pretty plate, of 'Chom Choom' and Sandesh and obviously one pot filled with Rosogollas.
Check also: Wedding Tatta List for Groom
Toiletries and Cosmetics for Bengali Wedding Totto
This is one of the most detailed Bengali Wedding Tray decorations. This includes a full arranged set of toiletries, soaps, and cosmetics. Specially curated for the bride and the groom. The tray which consists of gifts for the bride is mostly well arranged with flowers and other such decoratives. While the one meant for the groom has his special needed bath and body works.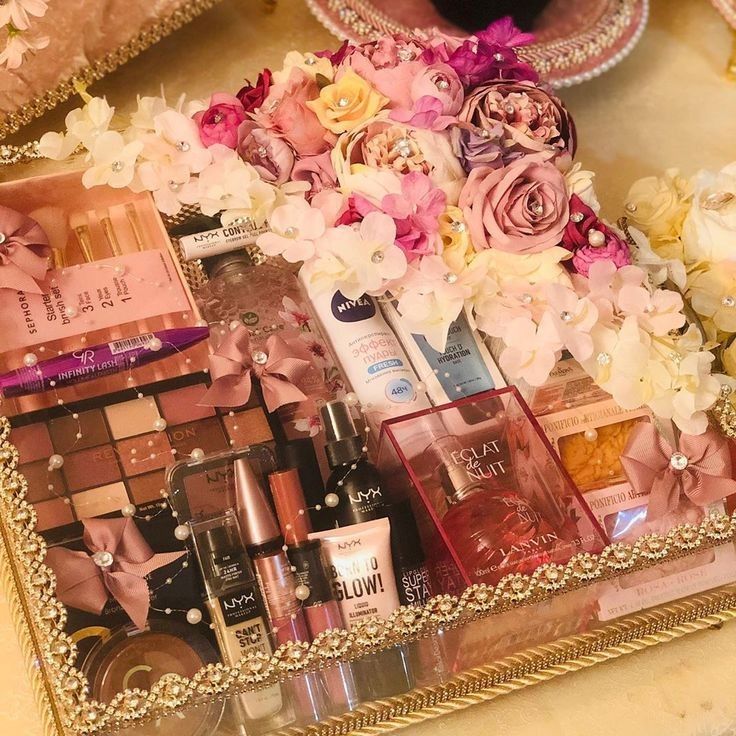 At some weddings, the day is separated as the quantity is overlapping for the required cosmetic set. While there are so many options for lipstick colours, nail paints, foundation shades, and lots more. There are other wonderful pieces of accessories too. Some sets have eye shadow shades, powder, perfume, highlighter, and lots more.
Shoes for Bengali Wedding Totto
Shoes are not just a need for the day, but also important for a perfect wedding trousseau. Both families curate gifts and present for the groom's family with some of the best inclusions. Starting with the most amazing Birkenstock, heels, sandals and lots more. These shoes and footwear designs are nothing but a slight notch for the joy of post-wedding rituals.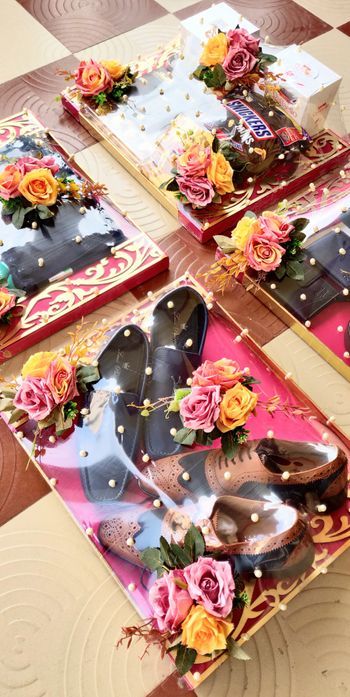 A Bengali Marriage Ceremony is most intimate. But the tradition of Totto arrangement is undoubtedly auspicious, detailed and quite nicely organised. This is one of those slightest things, that makes a big difference for the rest of the day. Well, here we have the Bengali Wedding Totto trays, that are selected specifically for shoes.
Handbag Collection for Bengali Wedding Totto
Handbags, clutches, wallets, backpacks, and many other articles of baggage is included in the list for Bengali Wedding Totto. This is one of those categories that you can't really skip, but your heart wouldn't let you spend much on this amazing set.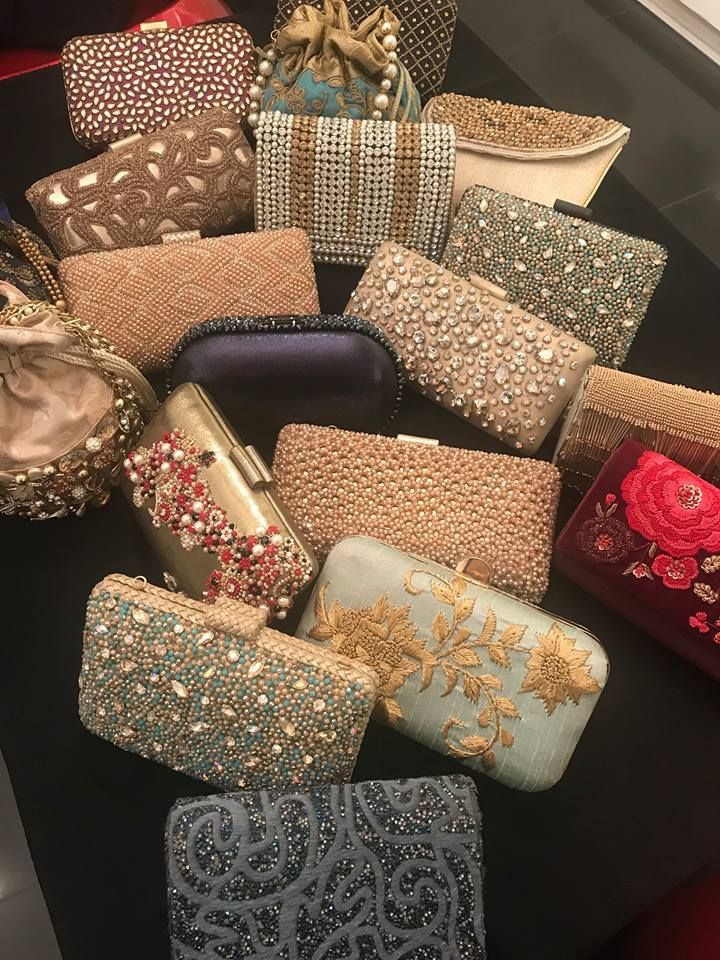 The bride needs her special clutch with her Bengali Bridal look, as well as for her post-wedding Married woman look. These clutch designs are mostly the ones that go well with your post-wedding rituals. Besides that, the tray also has some really pretty designs for other things like Belts, cufflinks, and lots more.
Clothes and Garments for Bengali Wedding Totto
Clothes are an irreplaceable section on the list for Bengali Wedding Totto. There are fabulous clothes for every close member of the family. Starting with the couple's parents, sisters, brothers, first cousins, uncles, aunts, Grandmother, Grandfather, and many more.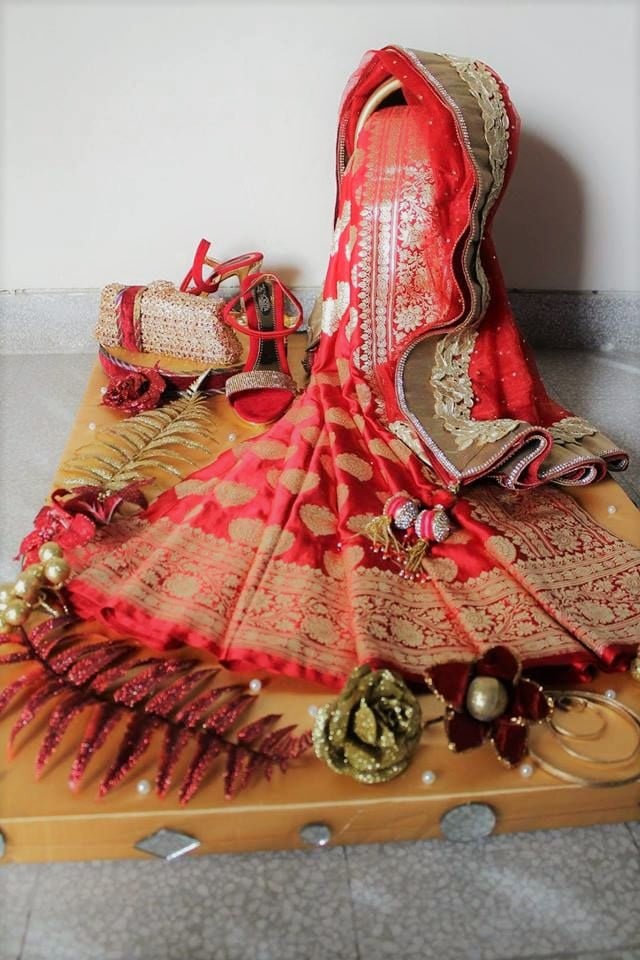 In Bengali, we call such gifts Namaskari. Which is something that the groom and the bride share on both ends. The groom's family sends it to the bride's house. While the bride's family carries it to the groom's place too. These are some of the best rituals, that makes everyone feel included in the marriage.
Fruits and Edibles Bengali Wedding Totto
This might sound slightly funny to you and many others. But we have a special section for fruits in the huge criteria for the Bengali Biyer Totto List. These have to be fresh and quite adjustment, like you, can't really skip this for your big day. Apart from being a fine pat, the groom's family, as well as the brides' share a decent place for fruits.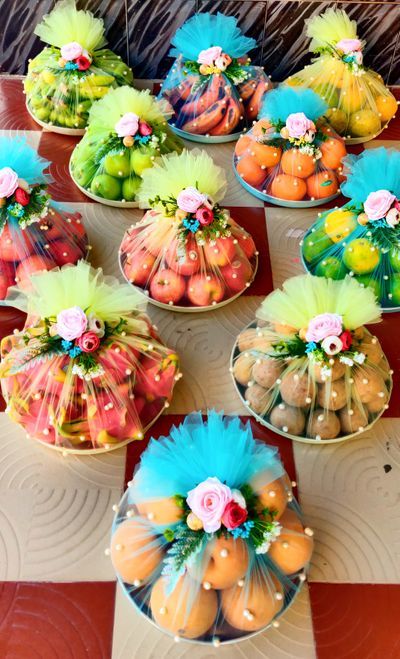 Many families even curate a list for vegetables as well, but that isn't as attractive as fruits in the list. Here, we have gathered some really colourfully decorated fruit baskets. Which went as a special Totto for the Groom's family, from the bride's end.
See Related: Wedding Car Decorations Under ₹5000
Modern Bengali Biyer Totto Decoration Styles:
So far we were discussing the various items in a finely curated Bengali Wedding Totto. Now we are about to discuss the various styles, and designs in a list Bengali Biyer Totto Decoration. These designs are specially curated for the best and most unusual fashion statements. Do not worry about how it turns out until you have these in your mind.
A few really well cut decorative papers, can make the best out of any wedding Totto design. here, we have fathered the top five, Bengali Wedding Totto designs. Find out, yourself. This has been arranged in a manner, that you are bound to like the Bengali Biyer Totto Decoration.
Rectangular Gloss for Bengali Biyer Totto Decoration
Starting with the simplest Totto trays, this has been professionally curated. Some of the most beautiful Bengali attributes are making the decoration more impeccable and highly appreciated. Such a Bengali Wedding Totto Set happens to have all the things required to make the rest
This particular arrangement has been curated on top of a narrow wooden frame-like structure. Trust me, this is one of the best Totto trays out there. FIrstly you can use all the parts in your own opposite manner, without worrying about most other things.
Section-wise Bengali Biyer Totto Decoration
The decorator has arranged this tray in the most uncommon manner. Firstly they have used a fresh boxlike space for dry fruits, and spices. And secondly, they have gathered the most out of the basic things. This particular technique is known for its amazing layout, and the speciality lies with the material.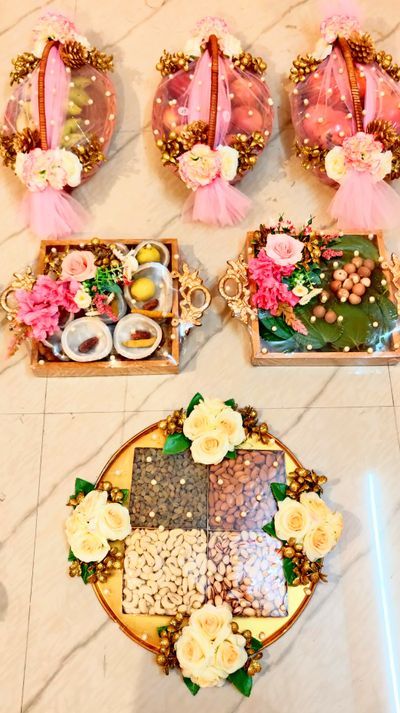 Apart from being a really pretty space, this arrangement has been on top of the list. There are many decorators, who shall choose a similar design for the groom's end, as well as from the bride's end. Besides that, there isn't anything else that you can do about it.
Rustic style Bengali Biyer Totto Decoration
This is a kind of Bengali Biyer Totto Decoration, that has been ruled out as the best and the safest choice. The designer has gathered some of the best designs on top of the list. The trays are white in colour, while the rest fo the ambience is quite simple and basic  too.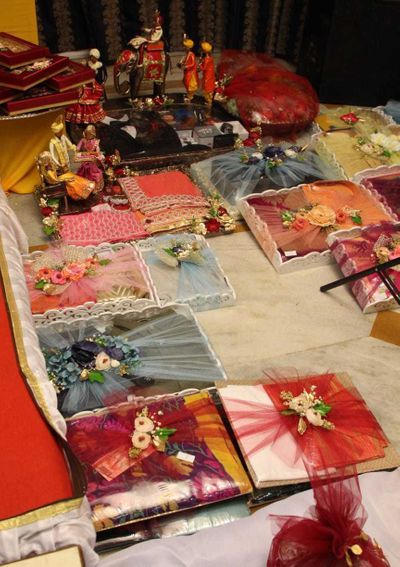 Besides being a really suitable choice, this particular design has everything else needed to call it a picture-perfect Bengali Wedding Totto design. You can hardly miss out on any one of the mentioned stuff with it. As a Bengali Wedding Totto this is rustic, and quite affluent too.
Georgette and Zardozi Cover for Bengali Biyer Totto Decoration
The designer and the arrangement are fancy on a single scale. This particular genre of Bengali Biyer Totto Decoration lies around the concept of Gota Patti's work, and obviously Zardozi's work too. Being such a selective design, it has everything needed to highlight the space.
More than a simple design, this is a kind of Wedding arrangement that lies at the top of the list for the best. The designer has managed to gather some of the best flowers, to make the trays even more presentable and well designed. Apart from this, there are many other things that have to be taken care of.
Ribbon Style for Bengali Biyer Totto Decoration
This particular tray is arranged in the most basic manner, but the ingredients are really very pretty. Obviously, such Bengali Wedding Totto designs aren't as overrated as the ones we have spoken about before, these are more natural and basic. You will find at least five different variations of these designs at your local store.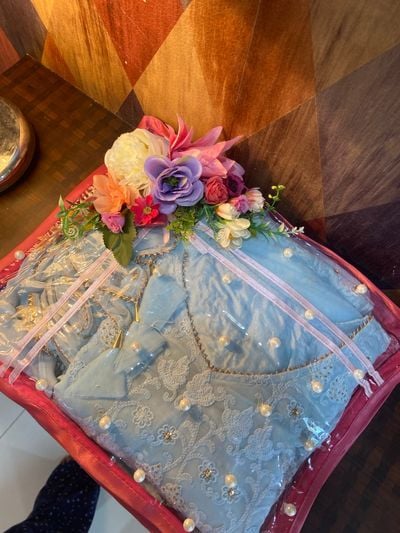 But the decoratives which have been used to decorate the top of the tray is really surreal. Starting with the most simplistic narrow place and a covering bag. This entire Bengali Wedding Totto has been decorated with the most beautiful and exciting ribbons and pearls on top of it.
A Bengali Wedding Totto is selectively neutral, and it doesn't really depend on any selective form of Bengali Biyer Totto decoration. On the other hand, it can range between a lot more exciting and fun designs. You send gifts to the bride's place and trust me nothing goes better when everyone is happy with what they are getting inside the beautifully arranged tray.
The first and foremost tradition of packing such amazing gifts is not just a thought, but a reality in today's world. You can hardly keep your hands away from these amazing Bengali Wedding Totto. Grab your gift, with the utmost joy and send it like you want to gift it to someone really close.
At myMandap, we've got the best posts about Wedding Traditions, decoration, food items, dishes, and lots more. Check out our recent post to find out fun and exciting things about Wedding attires, and bridal fashion.