Your wedding car decoration should signify how happy and delirious your life is going to be from the moment you wed your soulmate and start a new chapter in life. We all know that no culture or religion is an exception to this one ritual. 
The bride leaving her family back to live happily-ever-after with her groom is both blissful and nerve-racking. To make this ride more joyful and jubilant, we have brought you a few stunning wedding car decoration ideas that will make your heart smile and your eyes shine. 
Ideas for Wedding car decoration: 
Hanging flowers wedding car decoration
This idea of hanging flowers is quite a unique design for wedding car decorations. It will look more beautiful if multiple colours of flowers are used all over the car decor. 
The floral arrangement holds onto you, as you speed away with the love of your life might be a bit filmy but that is what every couple wants their wedding to be, right?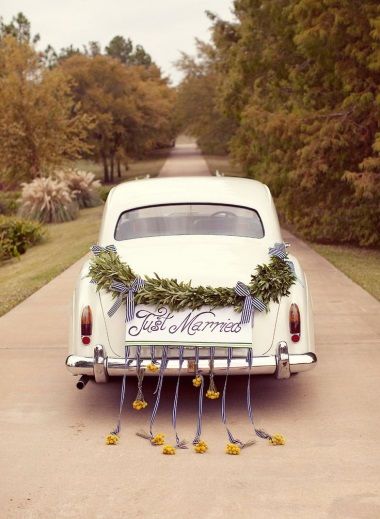 Design:
The petals shedding and leaving a trail of all the negative vibes that you will be needing to get rid of is enough of a reason to go for this particular wedding car decoration. 
Check More: Best Wedding Decoration in Kolkata
Classy-white car decoration
Thinking of a colour that will represent the 'new beginnings' of your lives? Well, you can't stop thinking because we already have the perfect answer prepared for you. 
Apparently, white is your colour. It is the colour of peace, happy beginnings and spirituality. Ergo, white roses with some pale yellow ones will be your best option for wedding car decor. Have it made in a clustered bouquet style and it will look stunning!
Design:
With this car decoration, make it known to the whole world how elated you are to begin this new phase of your being with your lovely life partner. 
Must Check: Simple Car Decoration
Little teddy bride-groom car decoration
Want to go for a cute look for your wedding car design? Do not worry we have got you covered. These two little teddy bears disguised as little bride and groom are going to make you all mushy and gooey. 
Complementing it with some pink colour pom poms, this decoration will give your wedding car a totally adorable look. Make sure it is a white or any light colour car as it will give it a more enhanced effect with all the pinks and the cute teddies. 
Design:
Never lose innocence despite all the hurdles and the negativities in life. That is what this particular wedding car decoration will entail and if you are looking for the same, then go for it without thinking twice!
Also check: Luxury Couple Watches for Weddings Gifts
Lavender-love wedding car decoration
If you or your partner has a thing for lavenders, be it the colour or the flower itself, then you are in the right place. Lavender is the flower of grace, serenity and devotion, which will be a perfect fit for your wedding day. 
Giving it a more vibrant and refreshing look, this wedding car decoration is going to be drawing every eye in awe and reverence. Look at these two beautiful images, we have one with lavender-coloured roses and one with the lavender flower with all its beauty!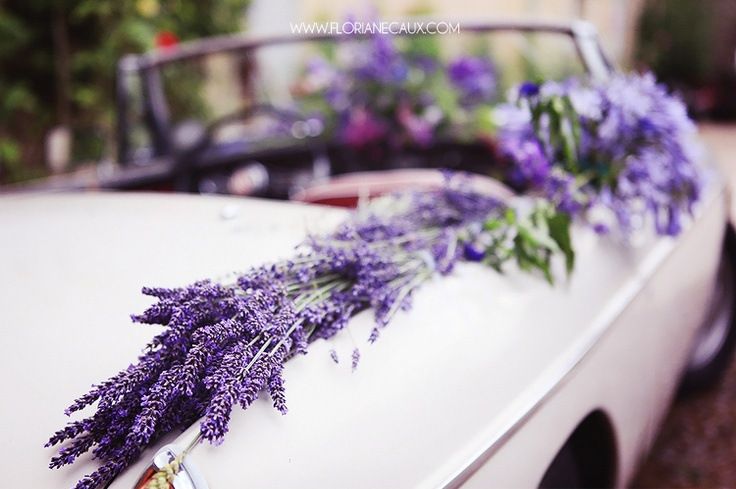 Design:
Pairing it with some white roses and draping the car with the same lavender shades of tulle fabrics will make it look more stylish and lively. And in the case of lavender flowers, their remarkable beauty wreathed all over the car is enough to do the needful. 
Obsessive Pink-hues Wedding car decorations
Using a vintage car and decorating it with gorgeous pink flowers with varying shades is every couple's dream for their wedding day. Just look how aesthetic it looks!
The car has to be white or equally pink or it will dull the overall wedding charisma. Roses of pink hues are quite common for Indian weddings but the way you are styling it will be the game-changer.
Design:
Moreover, it will complement even better if you and your partner decide to dress pink or accessorize yourselves with anything pink on your wedding day. 
Remember 'The Virushka Wedding'? Well, you will look no less if you go for this idea with this particular wedding car decoration design. 
Visit also:  Wedding Stage Decoration
Orange and yellow colourful car decoration
To give an impression of how colourful your life has become and will continue to be because of the man you love and respect, this orange-yellow floral wedding car decoration will definitely help you.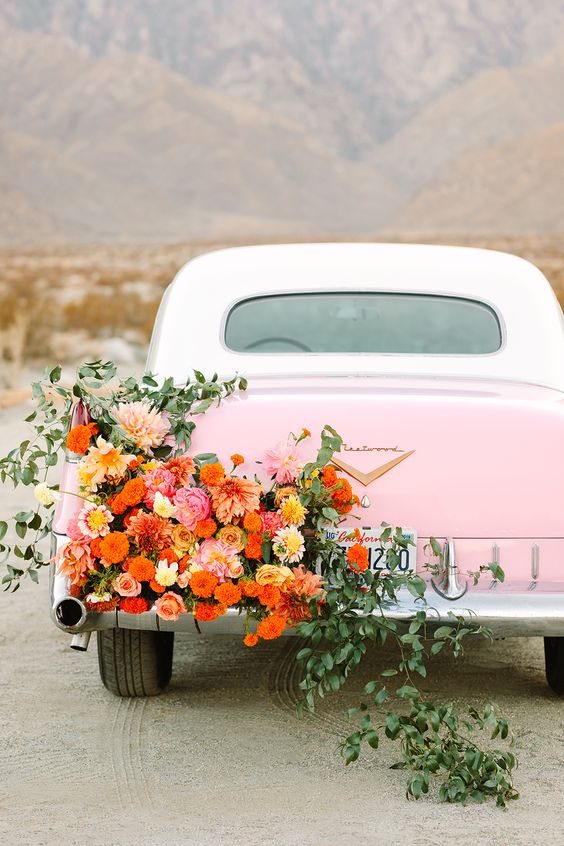 Design:
This design will be best for day weddings, giving your ride a full-of-life appearance. Might divert the bride from being all emotional and instead of admiring how jolly her wedding car looks!
Seems unreal, I know. But so is this wedding car design! You can easily surprise the groom with this vivid car decoration at your wedding. People will stop and stare at this godly perfection and piousness of this whole floral car design. 
Must Check: Wedding Car Balloon Decoration Ideas
Confessing-LOVE wedding car decoration 
Being proposed by your soulmate and wishing to do the same but bigger on your wedding day? You will not get a chance better than this. Yes, we have for you an amazing wedding car decoration design to help you confess your love in front of the entire world after you tie the knot. 
Showcase the fondness and affection you have for your partner with this 'LOVE' written and styled with red roses to intensify the overall look of the wedding car decoration.
Design:
Designing it with pleated red tulle fabrics and some matching balloons will certainly give you your perfect and desired end result. It will overwhelm your partner and will undoubtedly make him more emotional than you on your 'Vidai'.  Just kidding, all the very best for your wedding day! 
Check More: Ganpati Decoration
Ravishing-White car decoration
If you are among those who favour anything that is black and white, then have a look at this gorgeous wedding car decoration design. 
White flowers are a sign of calmness therefore the black car gives it the perfect contrast that denotes that life is full of ups and downs but with your partner beside you, it is going to be a much better ride.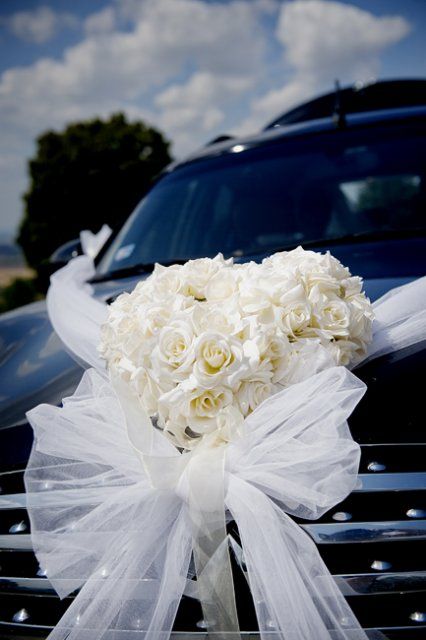 Design:
This bundle of white flowers made in the shape of a big heart with white tulle fabric styled behind it gives it a very divine-like aspect. So, do not hesitate and go for this particular wedding car decoration idea. You will face no regrets. 
view also: Naming Ceremony Decorations
Blue-white heart wedding car decoration 
Have a look at this stunning design for wedding car decoration. Want to have your love stand out in front of the whole crowd? Then this design idea is just for you. 
Draping the car with matching tulle fabrics or pleating gives it a more gorgeous look. Here we have a bundle of blue and white roses formed in a big heart shape. You can choose to replace the blue with some red roses to make it more romantic. 
Decorating the top of the car with the same pair of roses and instead of a cherry on the top, using two big heart-shaped rings will surely give your wedding car a royal-like appearance. And nothing beats royalty, right? So, go for it!
Check out: Car Decoration for Birthday
Floral roof-line car decoration 
This wedding car decoration idea is among the finest! Lining the sides of the rooftop with this aesthetic floral design will give your wedding car a very pretty appearance. 
Design:
Adding a clustered bouquet style flowers in the front of your wedding car with two floral garlands instead of tonne fabrics will make it look really attractive. Just have a look at this wedding car decoration done with pink and white flowers, doesn't it look fantastic? If you were looking for car decoration ideas similar to this then you finally got your perfect match! 
Check now: Ganesh Decoration
Bottom windshield wedding car decoration
Simplicity at its finest! Yes, this wedding car decoration is one of the simple ones but is most elegant if designed artistically. The floral decoration at the bottom of the front and back windshield, be it a vintage car or a normal car, will certainly make your wedding car look lovely in bright daylight. 
Design:
The same goes for a night wedding, it all depends on the choice of colours you are going for while picking the flowers. Also, for a more artistic elegance, you can add a wreath of beautiful flowers at the back of your wedding car with 'Just Married' scribbled at the centre. Do not worry we will show you the design, you will love it. So, without thinking any further, go for this fantastic wedding car decoration and make them all admire your artistic sense. 
Thus, pick any one of these aesthetic car decoration ideas and take a ride to the next chapter of your life. Best wishes to you and you're beloved! To know more about weddings and other events, do not forget to visit myMandap.