The Balloon Decoration can change any decoration from zero to a hundred. When you think about a Birthday Party, Balloons and a cake are an absolute compulsion. You cannot skip on any of that stuff. 
Rather it actually sets the real mood of the entire event. And, you have to try at least one of the following decorations that completely accentuate the beauty of any party. 
15 Best  Balloon Decoration Ideas for Special Celebrations:
The importance of decorating with a ballon is quite essential. Like we said earlier, a balloon changes the mood for the event. Call it is wedding function or even an anniversary party. 
The decoration states the mood for that particular event. Suppose you need any basic decoration for your Baby Naming Ceremony, it can be done with flowers or any other thing.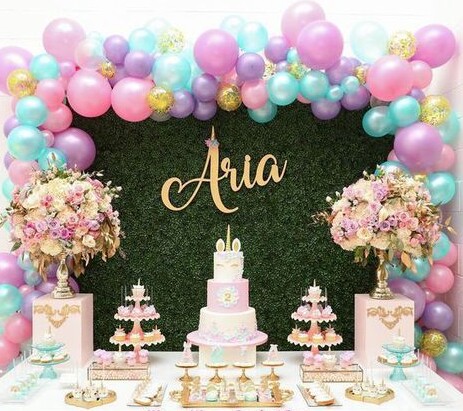 Here, we have curated some of the best decorations with a Balloon and other slight decoratives. 
Pastel Balloon Decoration in a Golden Ring
Some colors are always pleasant to watch, and content for any occasion out there. Especially the pallet of millennial pastel colors. The sweetness of these kinds of pastels suits every decor. 
The interior decoration of this room is quite sound and little with the rest of the ambiance. The pastel colors balloons are highlighting the rest of the decoration in the best way. 
Idea:
The best part about this decoration is the placement of the balloons. The decorator has curated those around a beautiful and shiny golden ring. 
View more: Naming Ceremony Decorations
Classic black  Balloon Decoration for B-Day
With the apparent glimpse of the room, it feels like a real theatre. The classic black balloons are giving me the literal 'Deja Vu' of the Midsummer Night's Dream. 
Black is always elegant, trendy, and really very versatile. It goes well with almost every little detail and supposedly suits most of the occasions that require a Balloon.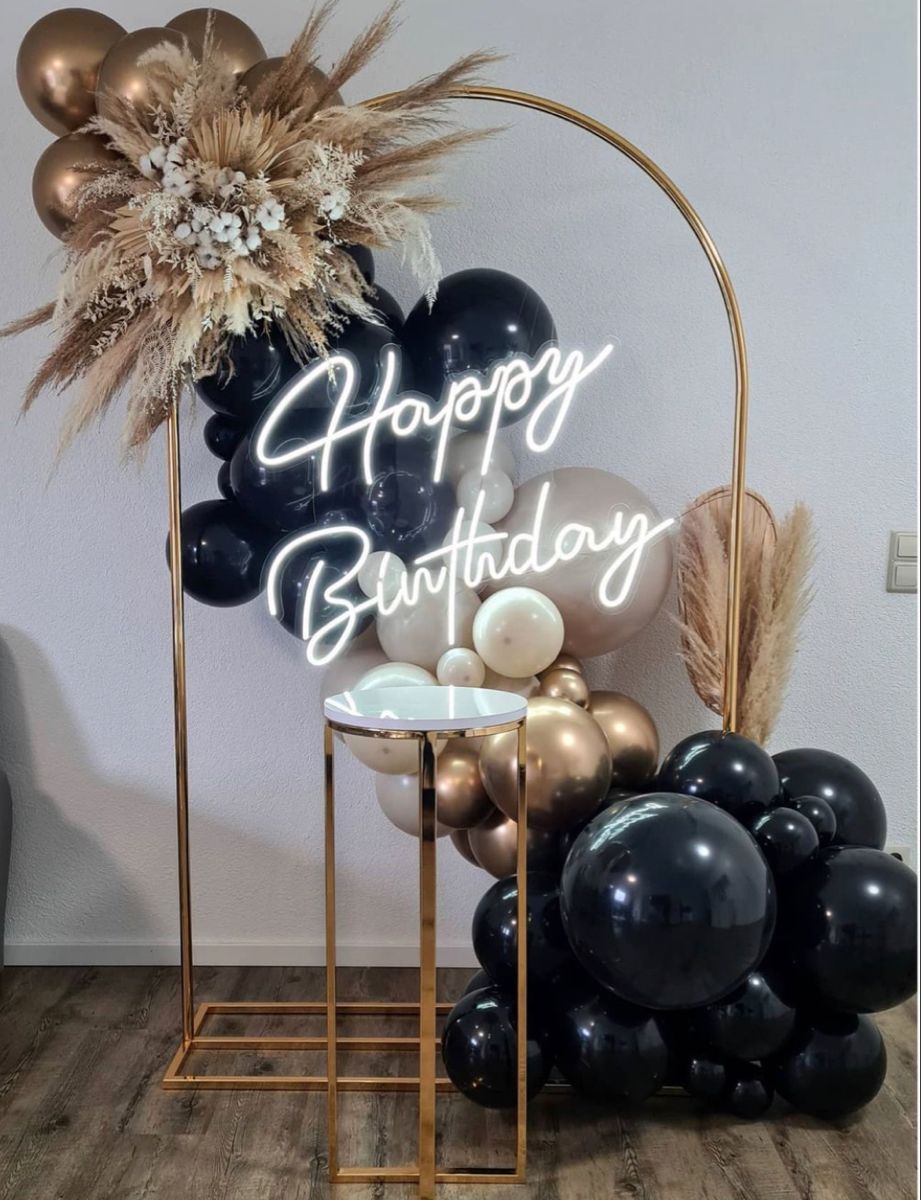 Idea:
I wouldn't at all be surprised if someone chooses to put up only black balloons for their big day. As black is certainly one of the most elegant colors for everything. 
Check: Low-Cost Simple Wedding Stage Decoration
Crystal Blue Balloon Decoration for 2nd Birthday
This particular Balloon arrangement is somewhat Blue eccentric and is speaking to me with the most beautiful tone. I've hardly seen people who have a dislike for blue. 
This is one of the most surreal colors, that has a separate fanbase. Likewise, using blue to decorate any particular place can never go wrong. Rather it is a great choice for birthdays.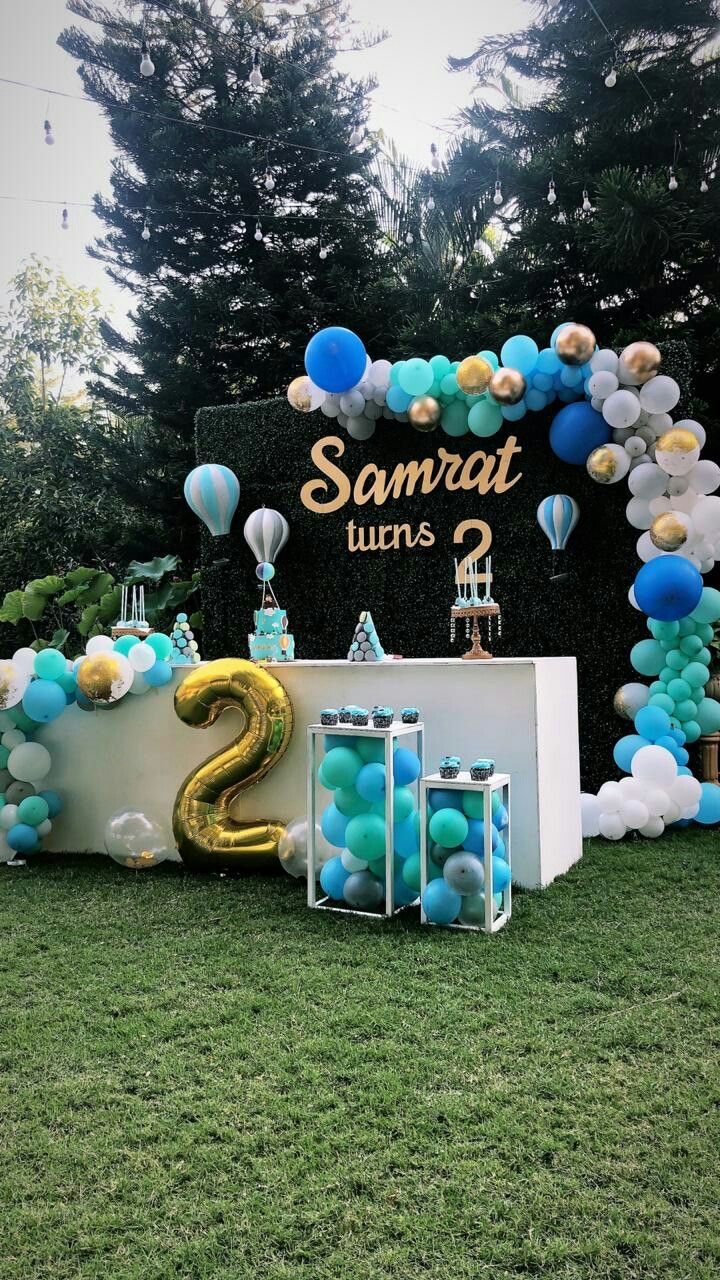 Idea:
This is someone's second birthday, that is exactly why it has been so beautifully decorated for the little person. Though there isn't any norm for blue, selectively this can be a boy's birthday. 
Visit also: Creative Ganpati Decoration Ideas
Neon Lights with White Balloon Decoration
The room has been decorated with some really pretty little decoratives. Among which balloons play a big role, with additional neon lightings that are popping out through this image. 
Apparently, a decoration like this can hardly go wrong, and surprisingly I would want to have this one for my next birthday. That preppy neon light is like the cherry on the cake.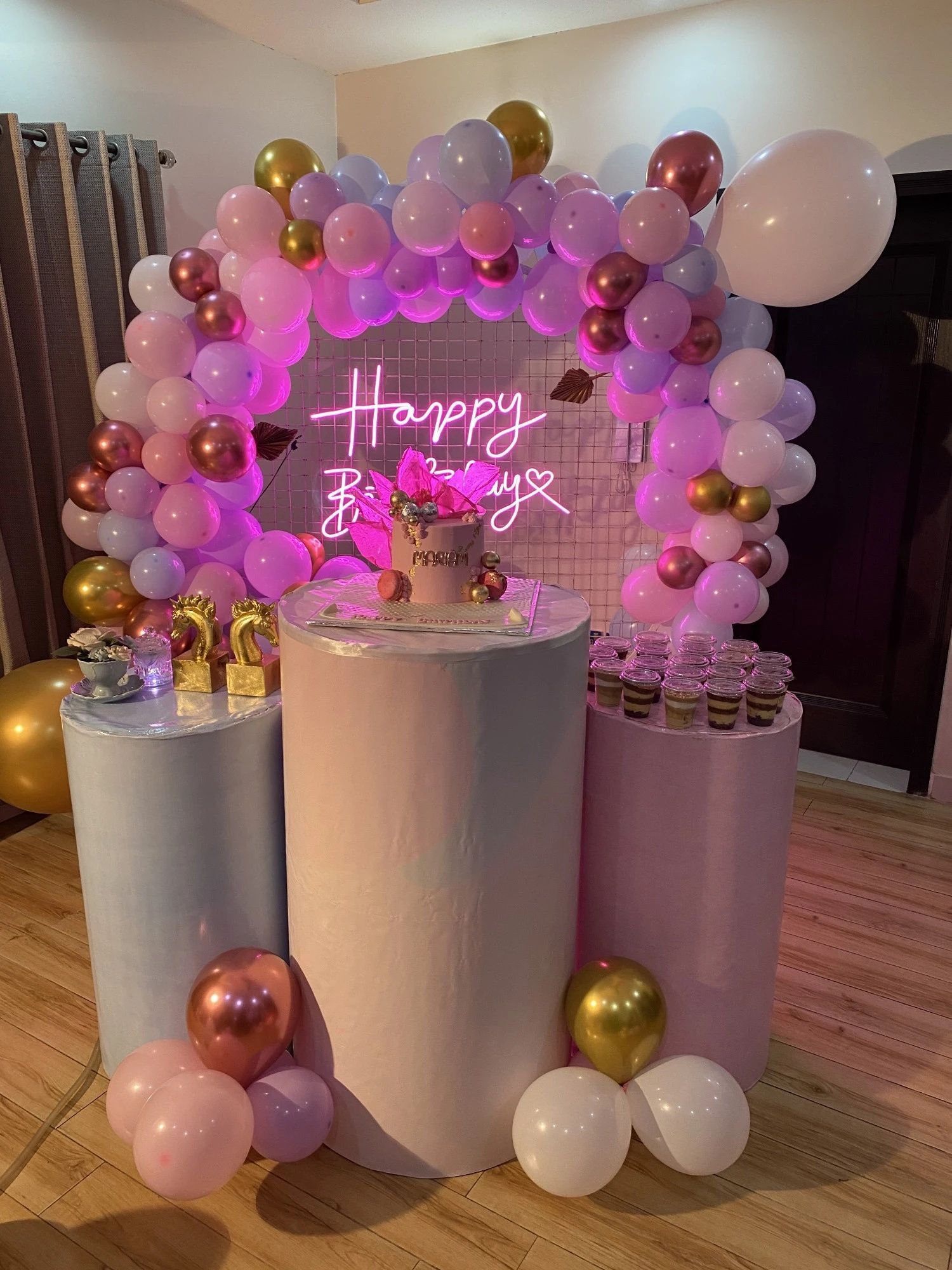 Idea:
Together all these decoration ideas are creating the best of its kind, and to be very honest you can't agree more that you also want this for your special day?
Check more: Mehendi Decoration Ideas
Shiny Pink Balloon Decoration for Wedding
The balloon arrangement needless to say has some really pretty little details. Which highlights the beautiful birthday cake. I apparently cannot get over how pretty, those shoes are. Which has been kept over the Birthday cake as a form of ornament.  
The balloons are the perfect setting for the ceremony. The entire arrangement gives me the ordeal of a memorable evening that has been bewitched with some really pretty things such as those little cups.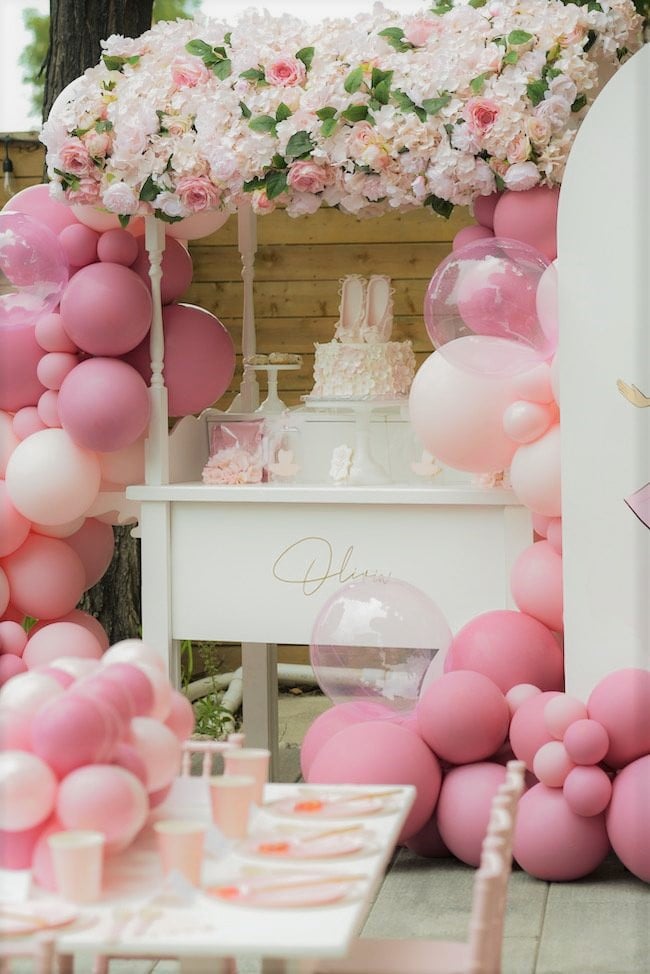 Idea:
The best part about these balloons is they are highly customizable too. You can put these at a fancy baby shower or just a simple birthday party. Depending upon the perfect setting of the event. It has all sorts of possibilities and ambiguities too.
Check more: Engagement Stage Decoration
Bottle Green Balloon Decoration with Gold
The beautiful golden arch is the main support for his particular balloon arrangement. In fact, all those different colored ballons have been stabilized on top of that ring-shaped dome.
Although it is quite sleek and slim, the look of it reminds me of a posh event, that has been decorated with the fanciest details. The green and other pastels colors are a subtle reminder of minimalism and aristocracy.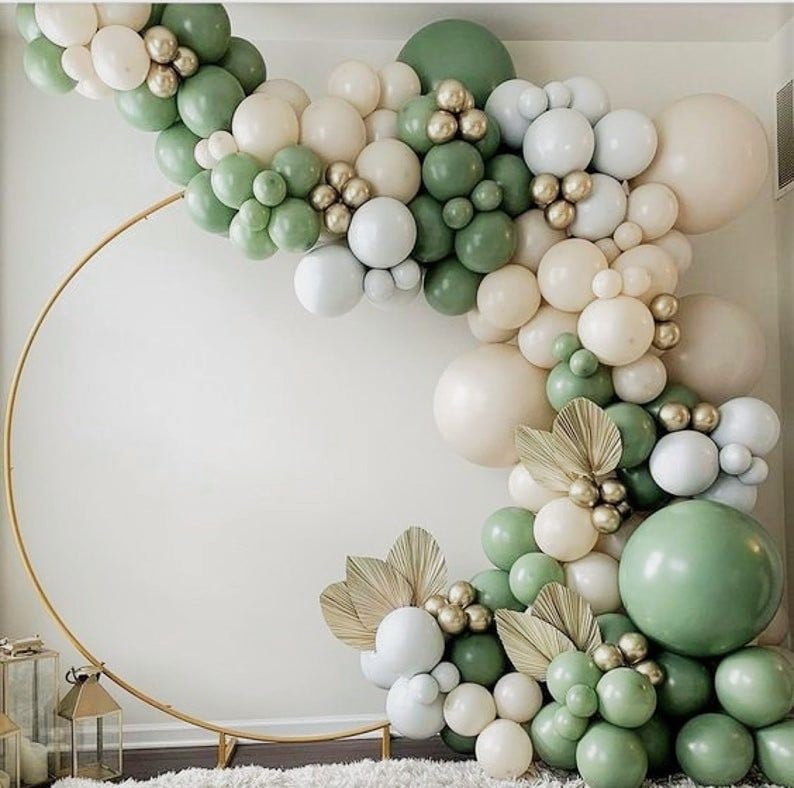 Idea:
The decorator has placed the entire balloon decoration at the corner of the room, with some really pretty attributes of a lantern and also some golden-colored leaves and balls. This is perfect for any family function too.
Pink Balloon Decoration with Roses
The first thing that comes to my mind after this particular design is, like 'WOW'. The entire arrangement is calling out my name, and the entire vibe is perfect for any birthday, or even the anniversary party for the special year.
The gorgeous ceremonial room is decorated with a beautiful and well-cushioned Ottoman or sofa set. The rest of the room is painted white and has the decoration of a fancy birthday party. The rose bouquet is the cherry on the cake.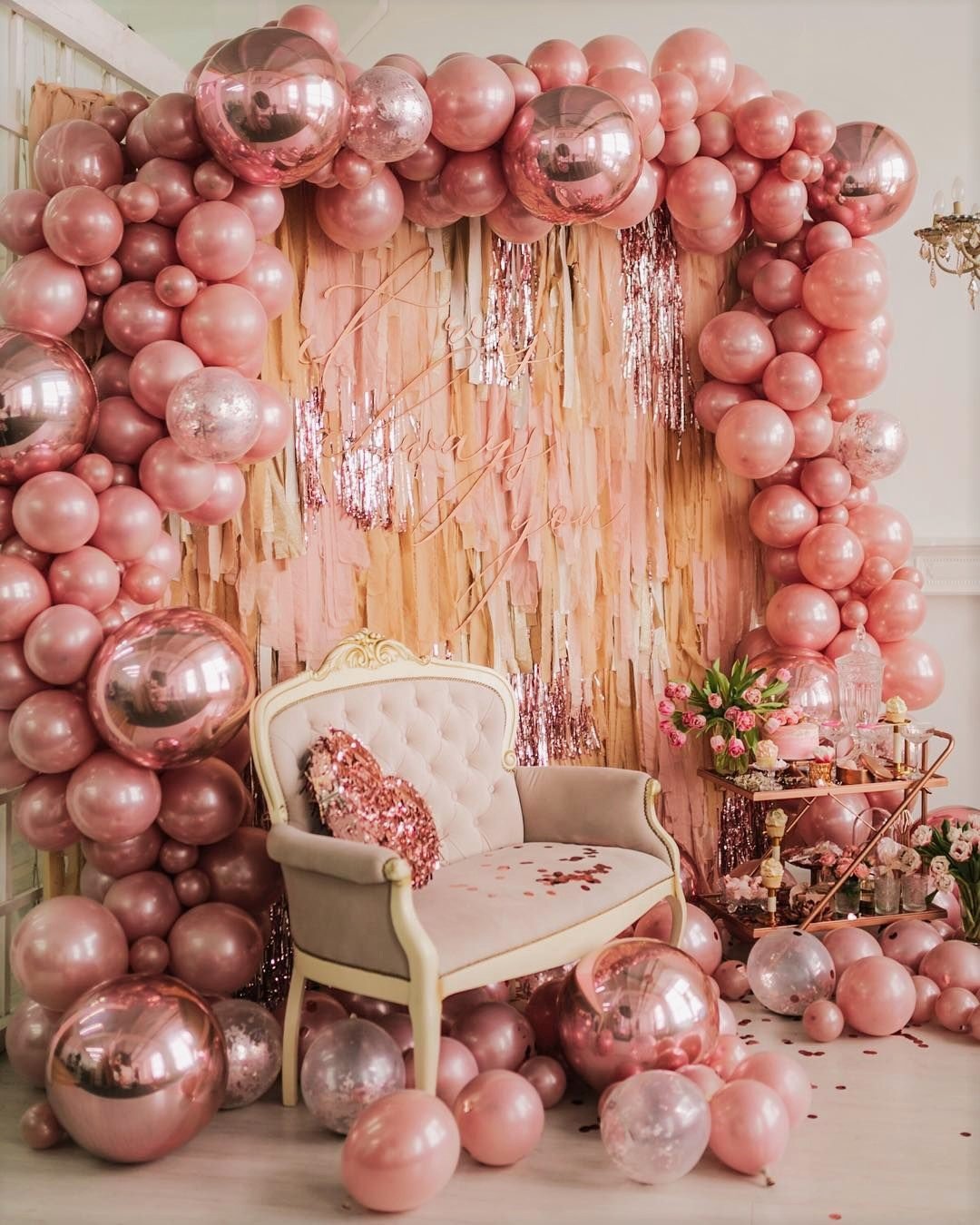 Idea:
What else do you need, when the entire event is fabulously decorated with fancy pink balloons? Not just basic and dull ones, but actually trendy metallic balloon decorations too.
'In Frame' Balloon Decoration for Baby Shower
This is one of the trendiest forms of decoration in recent times. Especially for the balloon decoration, which is quite well managed with flowers and other forms of decoration. The little frame is adding up to the modern vibe.
The fame is common for wedding ceremonies, more of a Haldi, or a Mehndi ceremony thing. But the balloons are giving the perfect idea of something refreshing, and new. Just the best decoration for your little one's baby shower.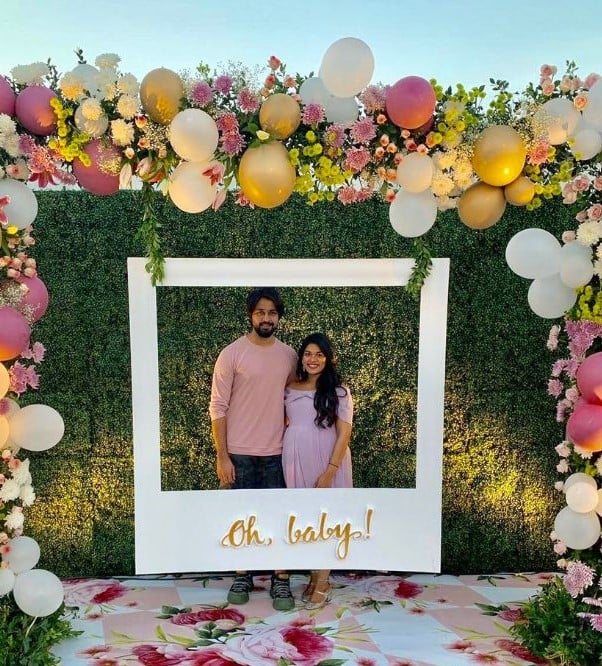 Idea:
I'm baffled with how this entirely turned out for the event, and how beautiful the room decoration is. More like the base of the room, it white balloons as well as the related quote of 'Oh Baby!'
View also: Modern Wedding Stage Decoration
 Balloon Decoration flying to the Roof
Needless to say, the first thing which might come to your mind after seeing this is, 'it must be the 31st night party. Well, there are endless possibilities for a simplistic room with flying balloons right? That is exactly what has happened here.
The motive of these balloons is quite simple, and it has been used to magnify the beauty of this room's decoration. Apparently, this has to do a lot with most of the decoration in our everyday part.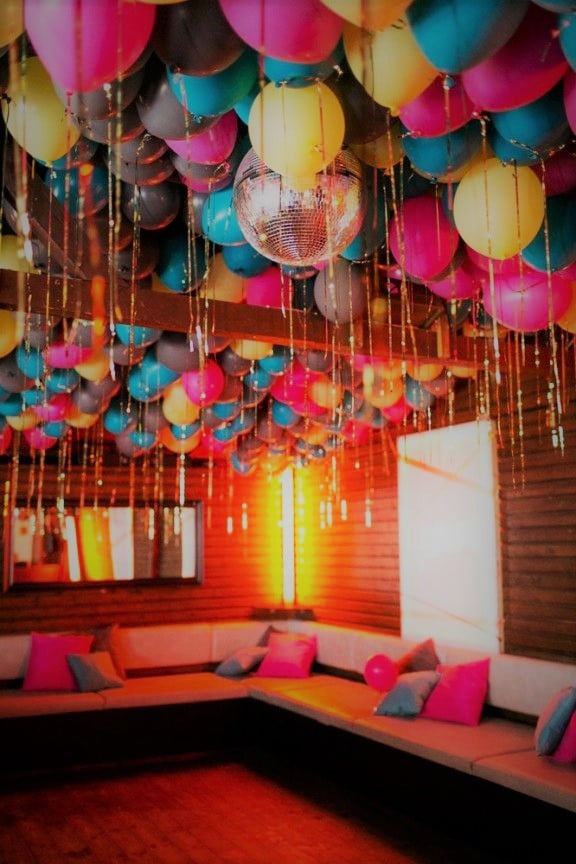 Idea:
This balloon decoration is entirely personalized for the wedding ceremony. I apparently can not get enough of this beautiful theme. It is a perfect guilty pleasure for your bachelorette as well as the special big day.
Rain Balloon Decoration for Little Baby
This is ambiguous, and quite flamboyant too as a basis and well-decorated balloon decoration. The colour combination is a subtle reminder of goods, and also the purity of child earth.
Without a doubt, this is a children's birthday party and I'm personally in love with the way it turned out. The gorgeous colour combination is quite narrative and transparent too.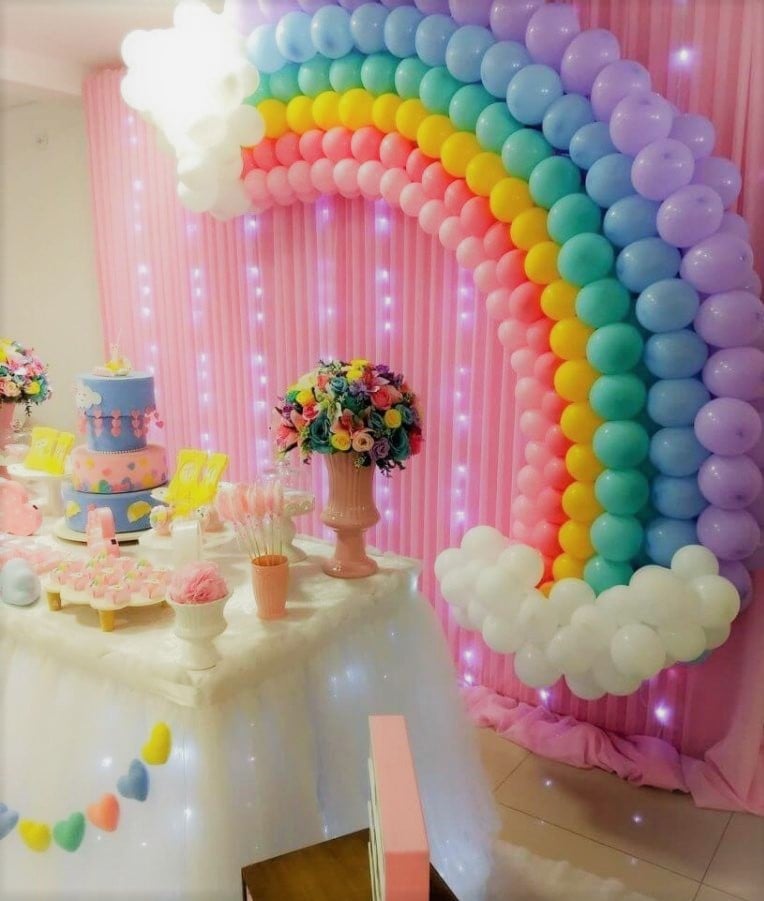 Idea:
No Metallic balloons have been used in this theme, rather only pastel-colored balloons are the main subject of decoration. Apparently, there aren't all the colors that are used in a rainbow but it is more like a pastel parent of a beautiful rainbow.
The '30th Birthday' Balloon Decoration
Inclusive as it can be, this is a perfect 30 year old's dream. A ballon decoration with some of the most beautiful colors, designs, and really ambiguous designs. This is somewhat a beautiful nostalgia from my childhood days.
Certainly, this will make a woman of that stature extremely happy and playful. She has received one of the most surprising presents, which is filled with the goodness of nostalgia and memories. Personally speaking, this is beautiful!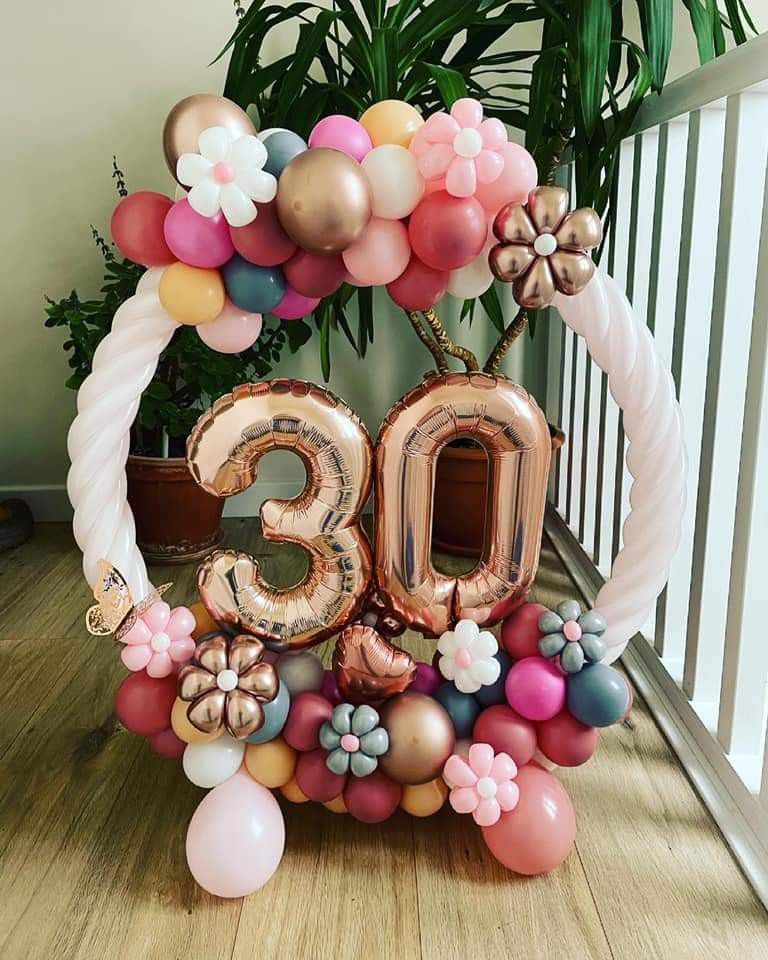 Idea:
More on the teeny-tiny flowers that have been made with balloon decoration tricks. I have no words to explain how pretty those little details are.
Multi-Colored  Balloon Decoration for Birthday
The beauty of decoration is always prevalent, and quite ambiguous in terms of the arrangement as well as the way it is separating the rest of the decoration. I personally cannot get over the colors. 
Beautiful pinks, ravishing blues, and some of the best yellows and other typical pastel shades. Like what else do you need for your wedding ceremony?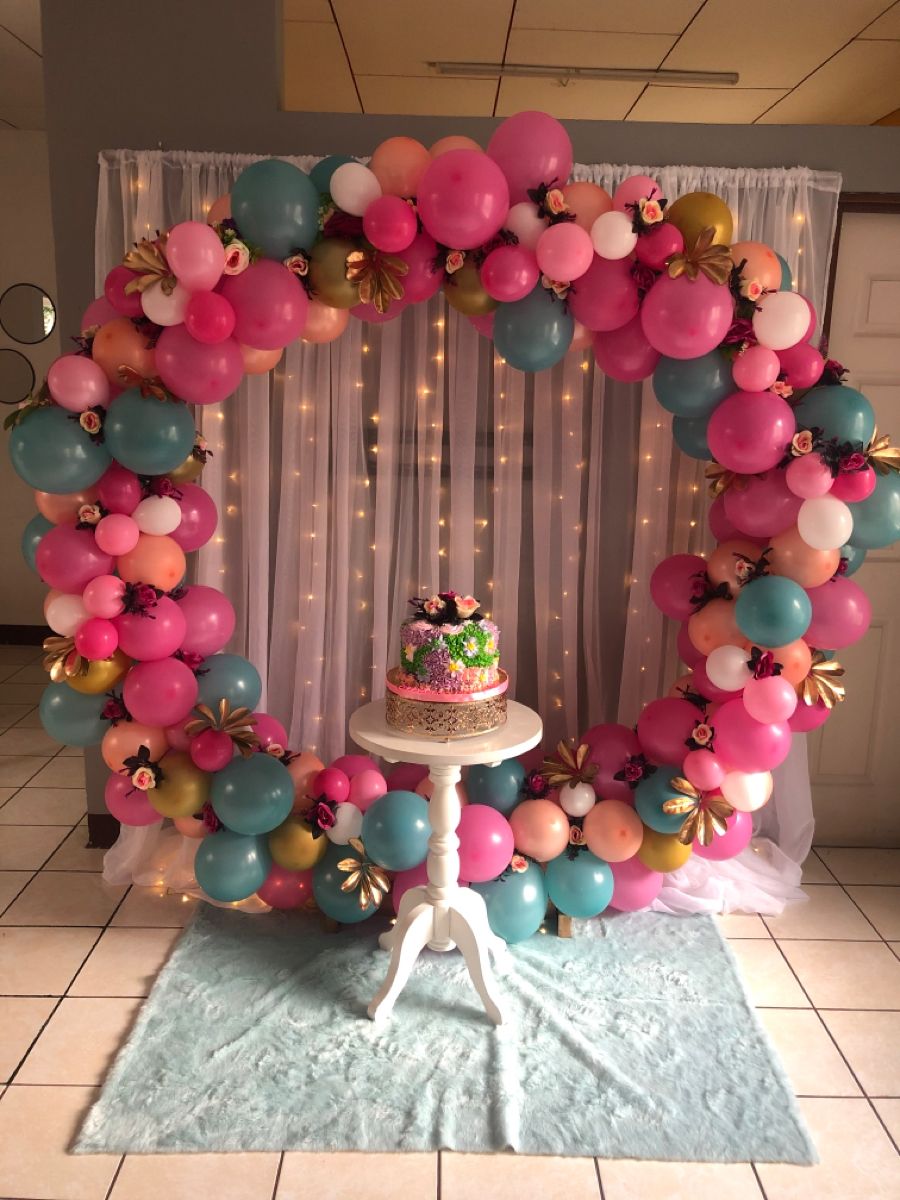 Idea:
A perfect wedding ceremony, with some of the best decoration themes. This is like a picture without any filter, showing the best of all types of balloon arrangements. 
Also see: Wedding Stage Decoration
Multi-Colored  Balloon Decoration for Birthday
In this particular form of balloon decor, there is a base where the decorator has kept a beautiful piece of purple board. As a little birthday decoration, you would hardly want something else. 
Apparently, a good venue would hardly need something else from their basic decoration. Here, we have some of the best and most unconventional forms of birthday decoration.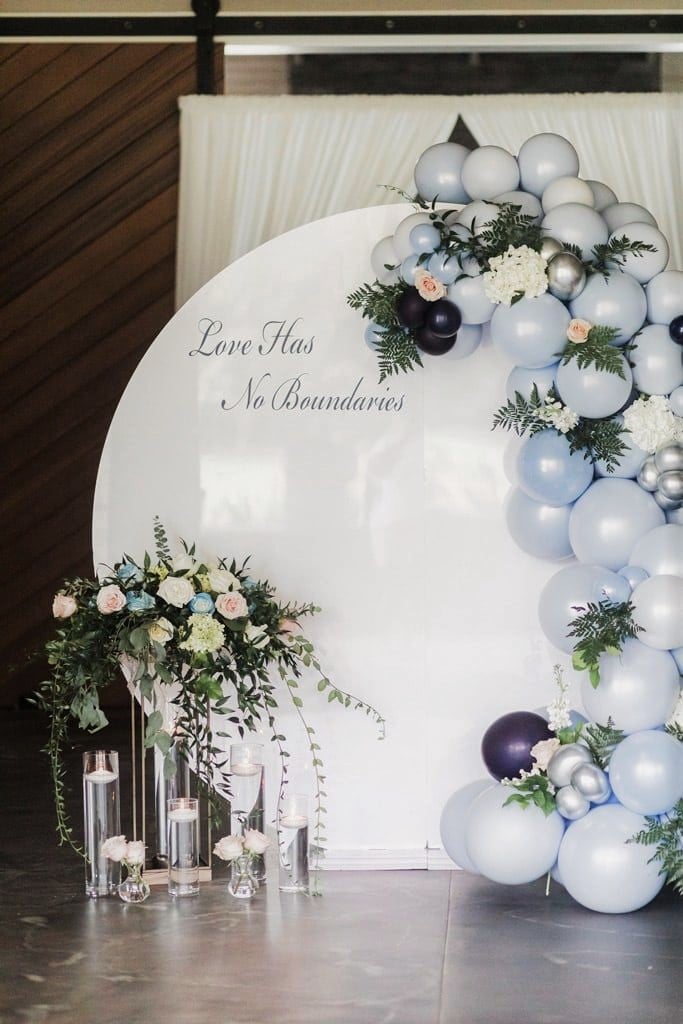 Idea:
The idea behind such a beautiful decoration is the ideal combination of a simplistic quotation, with that of a really beautiful pastel color as the background. 
Ice Cream Mascot Balloon Decoration
This is a Mascot simply made out of multiple balloons. A mascot is quite common for birthday parties and other events. Often a person becomes a mascot for any special event. 
An event like a tournament, or a special function calls for a mascot. At birthday parties these kinds of special emblems are made with the help of flyers and balloons.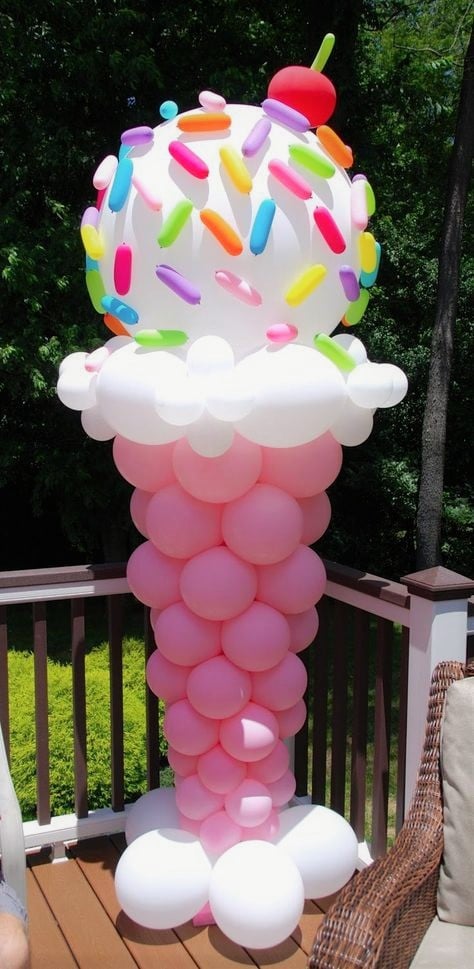 Idea:
As a simplistic balloon decoration, you might expect more than a little mascot from it. That is exactly what has happened here. 
Read more: Wedding Car Decoration Ideas
Purple and Pink Balloon Decoration
The basicness of this Ballon decoration is the main attraction. You aren't bothered much with the extravagant detailings, as the subtle purple color is shining high in the mentioned images. 
Apart from managing high defined lighting, and an easy background, putting up a couple of Ballons can never get too old. Here, the combination of pink and purple is out of the world.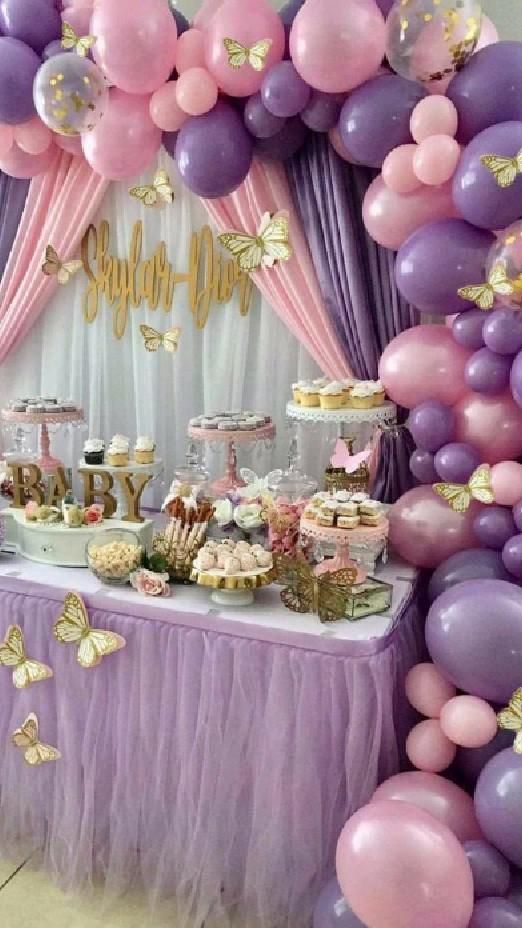 Idea:
The main decoration idea of this beautiful theme is the magnificent lavender purple color. You can't really say no to this particular theme of decoration. 
These were some of the best Balloon decoration ideas, which would never go out of fashion. You can choose the one which suits priority the most. 
To know more about such fabulous decorations and other such innovative ideas, visit myMandap. We create the most informative blogs, for weddings and other events.