The Ganesh Decoration is one of the sweetest little things which happens around the festival time. Not just for the beautiful occasion of Ganesh Chaturthi, but on a daily basis at every home. 
A similar joyous occasion is consummated with the festival of lights, which is around the time of Diwali. 'Dhanteras Puja' where Ganesh decoration is meant to attract wealth and prosperity. 
Such little things have a deeper impact on the tweety-tiny Indian traditions. Surprisingly there are many ways of decorating your home Mandap, as well as for other Ganesha Pujas. 
Here, we have the best Ganesh Decoration Ideas for your home as well as the 'Mandap'. 
Top 10 Ganesh Decoration Ideas for Next Year:
A good home, with some decent Vastu, would always have the Puja Room in the North. That room would definitely have a beautiful idol of Ganesha, with aa his glory and little details.
A beautiful face, with a trunk, two big ears, little teeth, one of which s half broken. And, the glorious little tummy of Ganesha. All those features complete him, and his well suited  
Read also: Ganpati Decoration Ideas
Ganesh Decoration in Pink Flowers
A simplistic outdoor Ganesh decoration would have to have a little more detail than the ones which are augmented indoors. Like this particular Ganesh has a beautiful little deity face. 
And, the decoration is mostly happening around the background. Marsala Pink Flowers have been used to make hangings for the wall behind the idol of Lord Ganesha.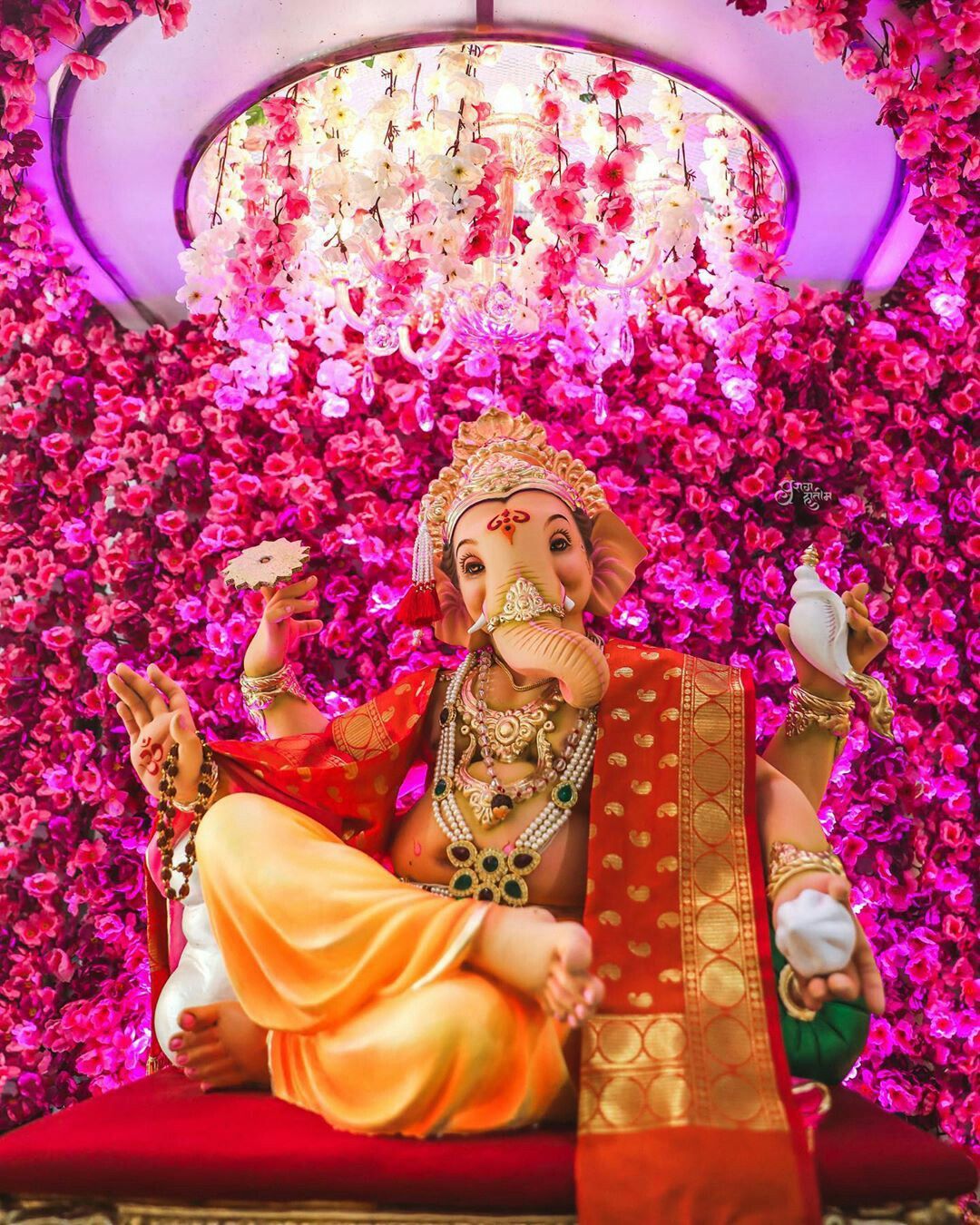 Idea:
Although we are talking about decorating your Ganpati Decoration for Hom, certainly this genre is applicable for the occasion of Ganesh Chathurthi too.
Bronze Ganesh Decoration with Rose Garland
You can't agree more with me, that this is one of the most beautiful Ganesha structures that you have seen so far right? Especially with the elegant golden color?
That is the main attraction of this deity, he has been painted in a really pretty pink paint which is apparently giving me the vibes required for a basic Rose Garland.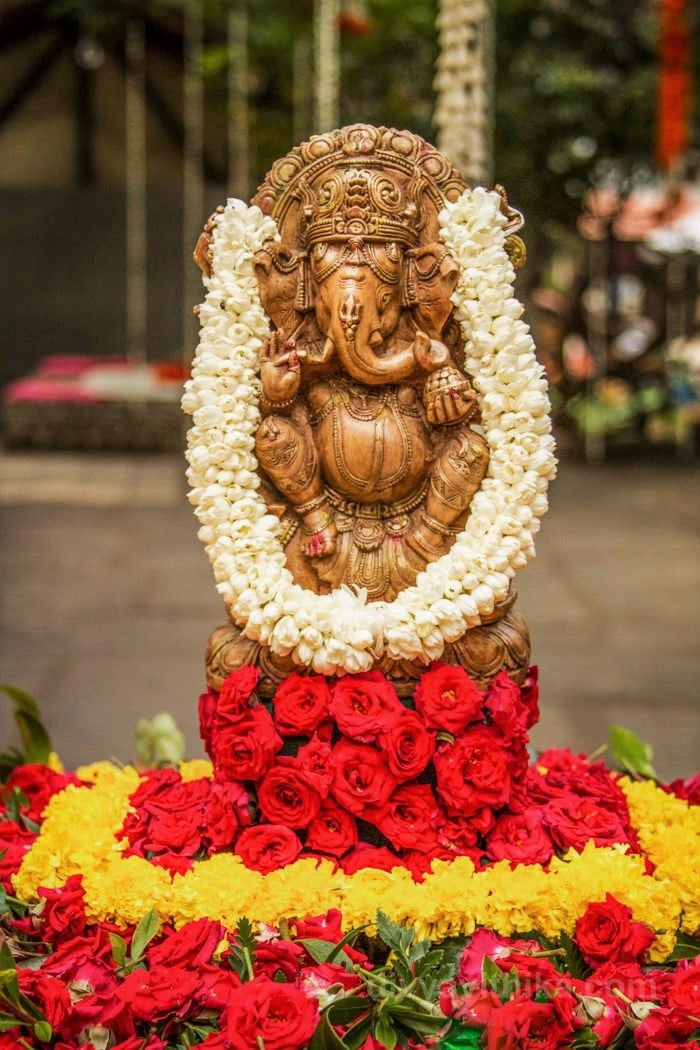 Idea:
This particular deity has been decorated with flowers, and 'Sidhi' only. The bottom portion has been decorated with the best.
See more: Best Ganesh Decorations
Ganesh Decoration in Modak Shaped Mandap
Do you know who is more close to Ganapati? Musakraj, or Devi Parvati? The answer is, none of them can combat his love for Modak. And, he reapers only the ones made by his Mum. 
Sp all the Marathi ladies try to prepare the best Modak they can for their little childlike, 'Bappa'. Whose happiness is of top priority to all these beautiful ladies in India.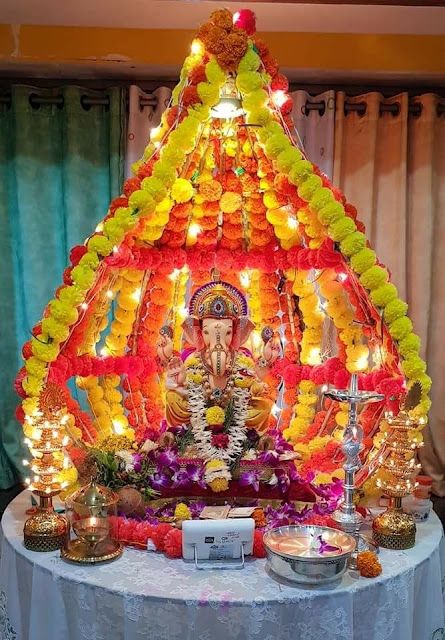 Idea:
That is exactly why the background of this particular Ganesh Decoration has been highlighted with Modak's as the backdrop. 
White Ganesh Decoration with Marigold Flowers
He is there in all his glory, here the Ganesha has been decorated with his favorite flower of all. The beautiful little Marigold lush. The ones which are typically given to a Ganpati deity. 
This is a typical Maharashtrian household decoration. Every little detail in this particular image is given the right household vibe, starting from the posture to the flower arrangement.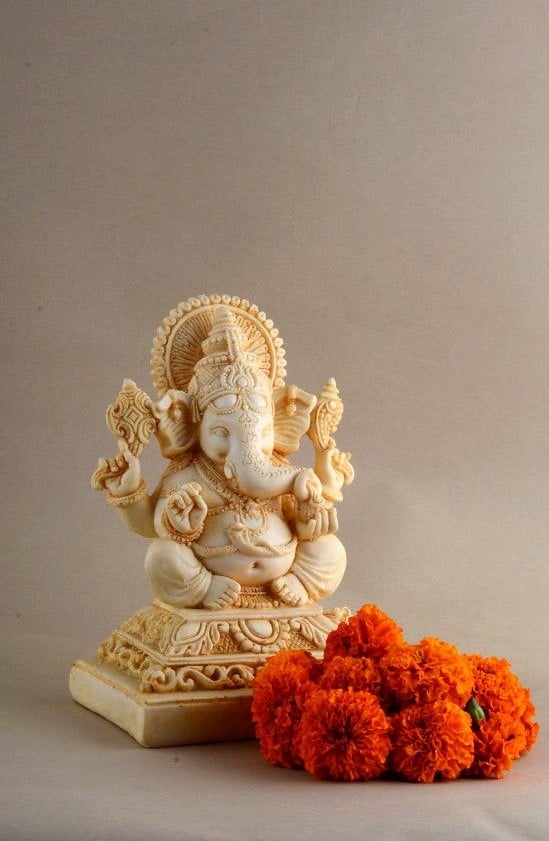 Idea:
This is a perfect Ganesh Decoration meant for your home. I cannot have more of this particular Ganesha. He is the cutest and the most appropriate one too.
Ganesh Decoration with Idol Headdress
The headdress of this Ganesh Decoration is extremely flamboyant and to be very honest, he is speaking to me in that particular Marathi Dialect. 'Kae Zala Bai?', and I love it. 
The little green 'Pagri' is somewhat making him look even more innocent, and his childlike smile is extremely beautiful and surreal. I have a special weakness of this particular Ganpati Decor.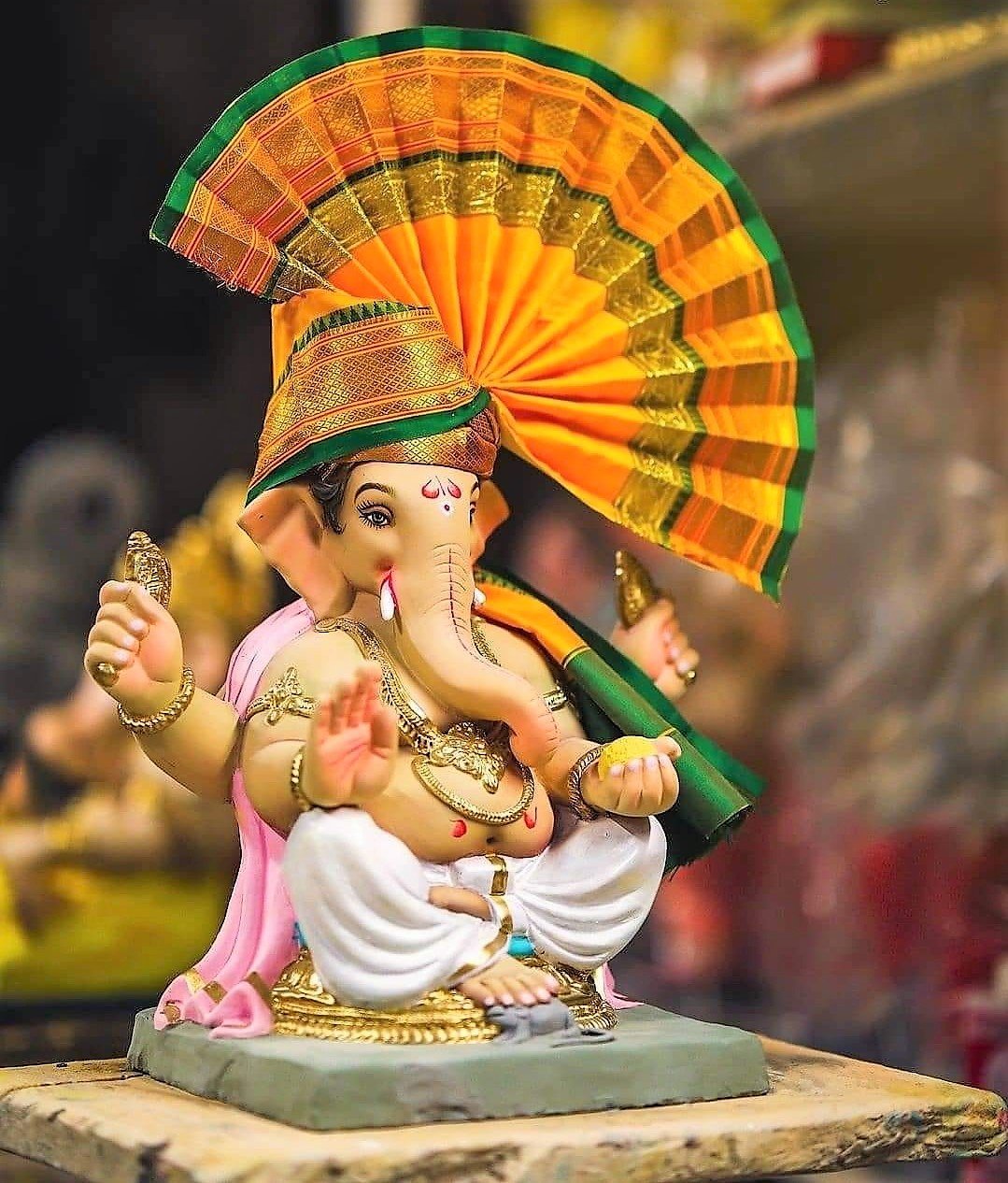 Idea:
The entire portrayal and the arrangement of this idol are extremely beautiful and quite perfect oo. I personally do not have any complaints about this particular decoration.
view more: Wedding Car Decoration
Mangalam Background Ganesh Decoration for Home
You cannot deny with me, you know what actually a Mandala is. And, even better know what it has to do with decoration. This is one of the most commonly formed designs in India.
Specifically used for backdrop designing, Mehendi, and rangoli arts. The most popular forms of Mandala arts are the round ones, which are easy and can be filled with multiple colors too.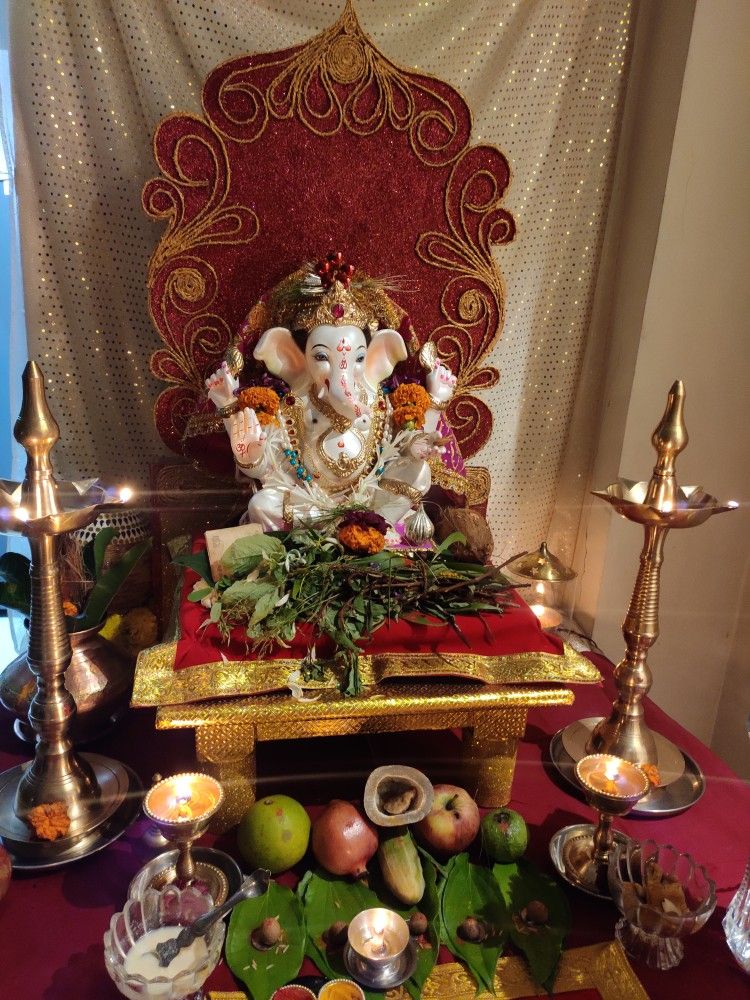 Idea:
The Mandala behind the idol of Ganesha isn't exactly round here. rather this is a  pretty little Mandala that has the shape of a pretty little leaf.
Pink Bouquet Outdoor Ganesh Decoration
The decoration of this arrangement has some of the most beautiful ones. The decorator has eloquently curated some of the most beautiful flowers to form such an awesome bouquet. 
The first thing which comes out of my mouth when I see this arrangement is, 'Wow' how did he turn some mundane little flowers into such a beautiful and wonderful floral arrangement.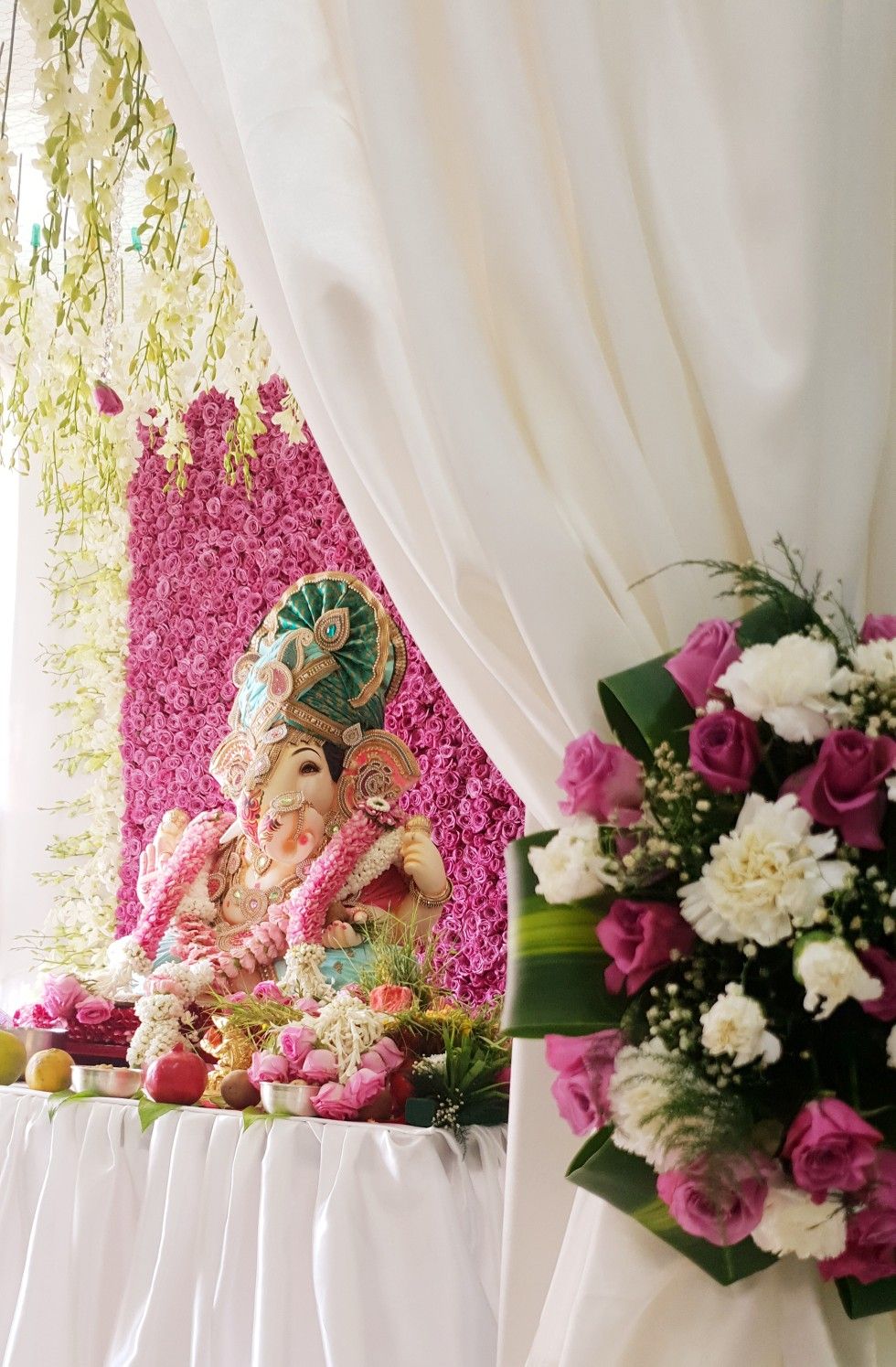 Idea:
The little Pink details of this Ganesh Decoration are quite ambiguous to me. I cannot express how beautiful it looks with those subtle pink roses, and such pretty flowers bouquets too.
Ganesh Decoration in sitting posture
This particular Ganesh Decor has some of the most excavating detailings that complement the rest of the idol. This Ganesh is sitting with his legs folded, and all in glory. 
The beautiful idol of Lord Ganesha is sitting like a king, and you wouldn't wait for a second to fold your hands and bow respectfully to the magnificent gesture of the deity.
Idea:
The main attraction of this entire Ganpati Decoration is the vibrant combination of colors. What else do you really need on the good occasion of Ganesh Chathurthi?  
Also see: Wedding Stage Decoration
Outdoor Ganesh Decoration in Vibrant Colours
The best part about having some good colors is it never becomes out of fashion. The fancy background backdrops are the main attraction of this particular Ganesha Decoration theme. 
This is more appropriate for outdoor decoration themes. Where there is enough space for putting up the best of all colors. As a regular decoration, it has all the features.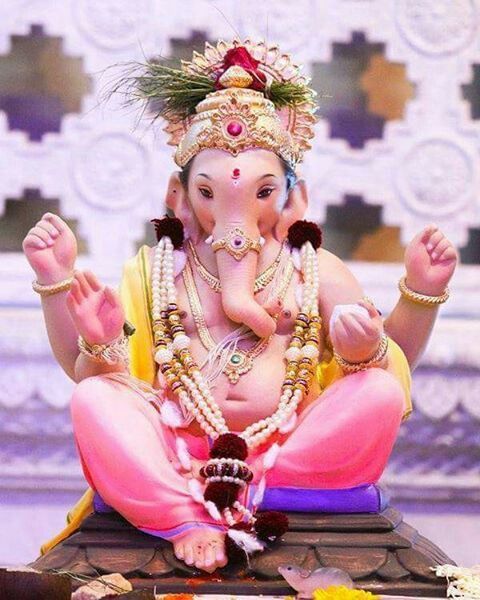 Idea:
His divine posture is reminding me of all the good things, that surrounds a home. This is a 'Magala Manglik' version of Ganesha.
Ganesh Decoration with Dragon Flowers
As a Ganesha Theme, it is quite relevant and in trend. Dragon flowers became quite trendy in recent times, and it is actually looking quite picturesque. Perfect for such a festival. 
These kinds of decoration themes are common in Indian houses, where there are multiple brains working together. These flowers more or less suit every Idol or even the background.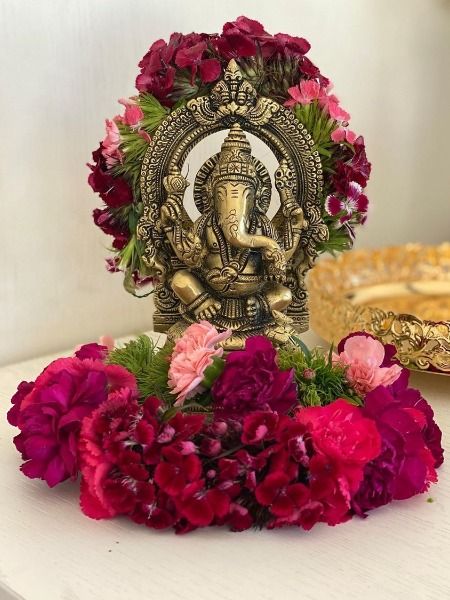 Idea:
Extremely remarkable and prominent as it is, the beauty of such deities is flamboyant and perfect for a home that worships Ganesha on daily basis.
These were some of the most conventional forms of Ganesh decoration types, you would never be bored with how it goes well with the rest of the room. Choose yours according to the theme. 
The one which goes well is the decoration forest of the room, and you have sufficient of those decoratives. To know more about such decoration, and other types of events visit myMandap.