A Lagna Patrika Design is mostly fixed to the standards and conventions of that distinct community. Supposedly that is not the Norm, as people go all rouge with their own versions of Wedding Card Background Designs. Well, we've curated some of the best Lagna Patrika Designs for you!
Top 5 Quirky Lagna Patrika Design Ideas for the Perfect Indian Wedding Background:
The more unconventional you go, the better it would perform among the Invitees. Believe me, you choose any one of the following Lagna Patrika designs, and that would bring you the honour of the coolest cousin among the other five-two. But choosing the one is a bit fuzzy, like which one suits your plan or how much are you planning on spending for the invitees. Without blabbering any further, let's get into the basics.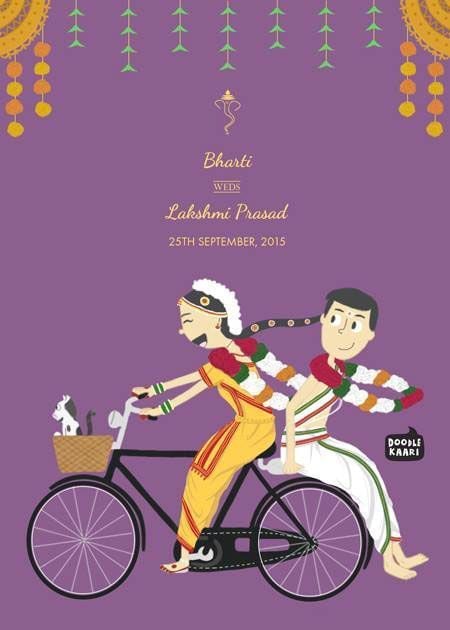 Buy Now
The Urban Animated Lagna Patrika Design
The animated ones are always the best, and the fabulous bright colours make them even more beautiful. It is more like a treat for the eyes, where you get a little 'Bitmoji' of you and your better half. What else do you need, when there is a good mix of traditional captions and quirky cartoons in the same wedding card.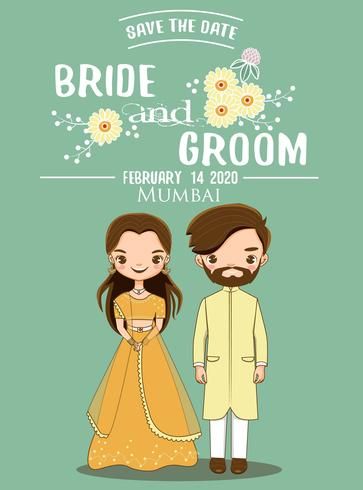 View More Designs
Check out:
Bengali Marriage Dates in 2021-2022
Lagna Patrika Design in Three-Dimensional Quill Work
A well-stiched handkerchief, that is further elevated with additional beauties. This particular design reminds me of the three-dimensional fancy that a simple card can bring. These ones are for those who are ready to spend well on their Lagna Patrika designs. In fact, a simple card like this can bever never go wrong, your card would be the coolest of all.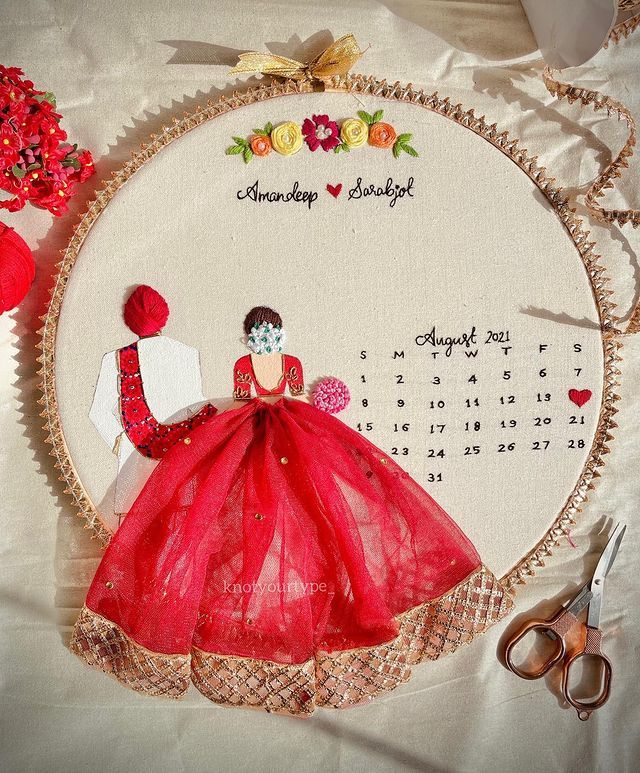 View More Designs
Chique Lagna Patrika Design in Wedding Pink
This is more like a Digital Lagna Patrika Design, which is perfect for sending over WhatsApp and other social networking sites as well. You can additionally create a separate segment for your better half's family, and one for yours. Even better if the design is altering, and well explained. It can even be altered with some special quotations and captions. 
View More Designs
Modern Lagna Patrika Design with Floral Intricacies
Floral intricacies are always special and surreal. Like you can completely choose your space, without worrying about the other portion of the card. The Lagna Patrika Design in here has really intricate floral details that is accentuating the Pinkish beauty of the rest of the Invitation design. I would highly suggest this one for people who are fond of Modern Invitation Card designs, with a touch of tradition added to it.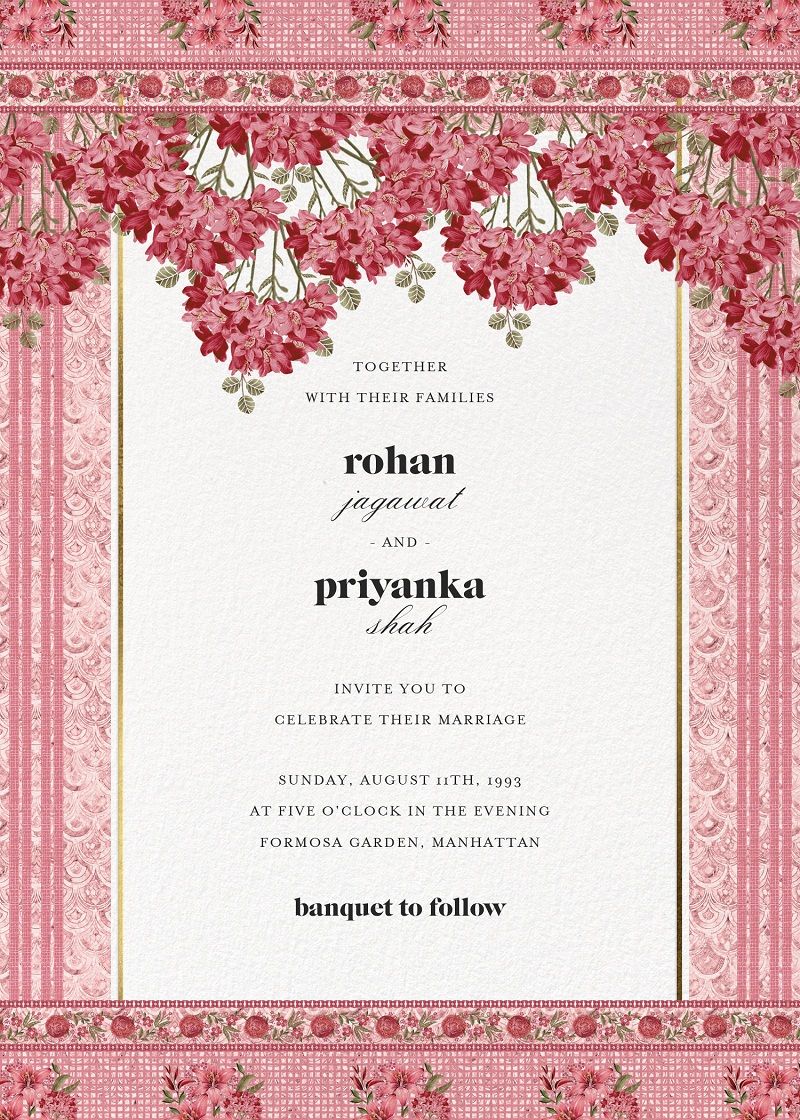 View More Designs
Read more:
Lagna Patrika Marathi Designs
Night Blue Lagna Patrika Design in English
Specifically, the main beauty of this card design lies solely with the foundation. Although this is extremely basic. But the fond has a language of its own. It is rather narrating a beautiful message of love, and warmth that is complementing the main Lagna Patrika Design. Like you can completely choose this design for your E-Card, as well as the one for your offline card.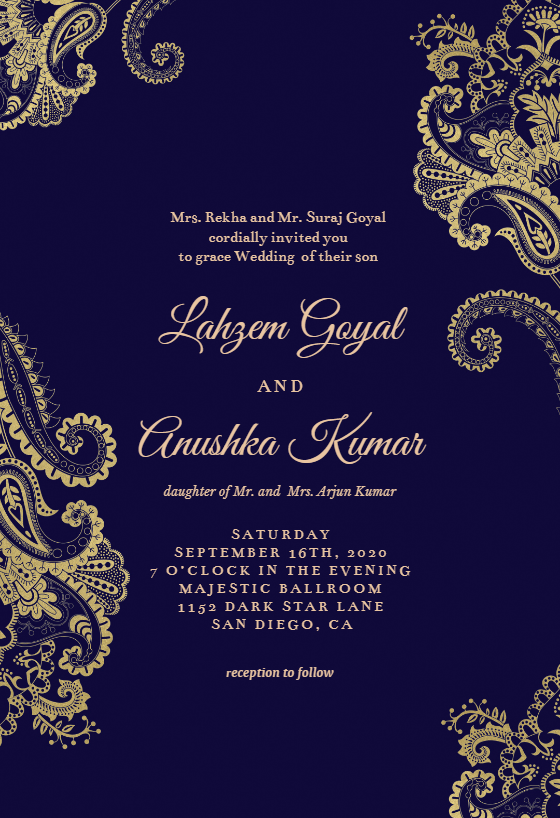 View More Designs
Check also:
Wedding Card Matter in Hindi
Traditional Royal Indian Wedding Card Background:
These traditional designs are nothing but a subtle reminder of culture. Few people prefer keeping it old, and traditional. These cards are specifically for such guests and families. The following Lagna Patrika designs are colourful, old-fashioned and pretty all at the same time. You would never mind ahead to book this design for your big day. In fact, these designs have all the necessary attributes required for a traditional wedding card.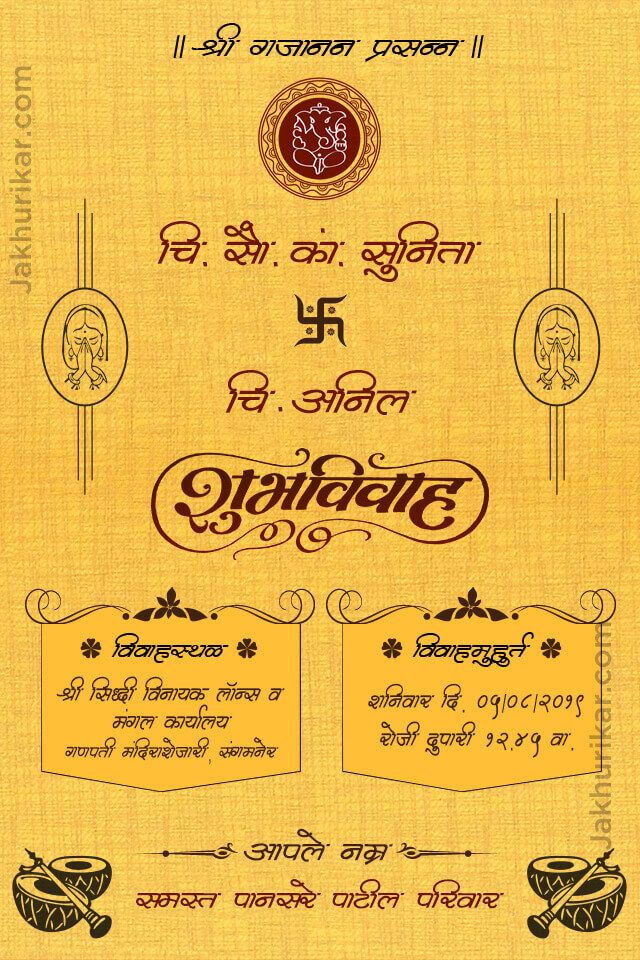 View More Designs
Purple and Elegant Lagna Patrika Design
Purple is undoubtedly elegant, right? Well, that is the main attraction of this card design. In fact, the purple base of the card is hierarchal to the rest of the Manglik Stuffs that is used as a method of accentuation to the Lagna Patika Design. The middle portion of the blank design consists of the message, and the corners do have the frame. While you will get pretty clipart of Ganesha on top of the card.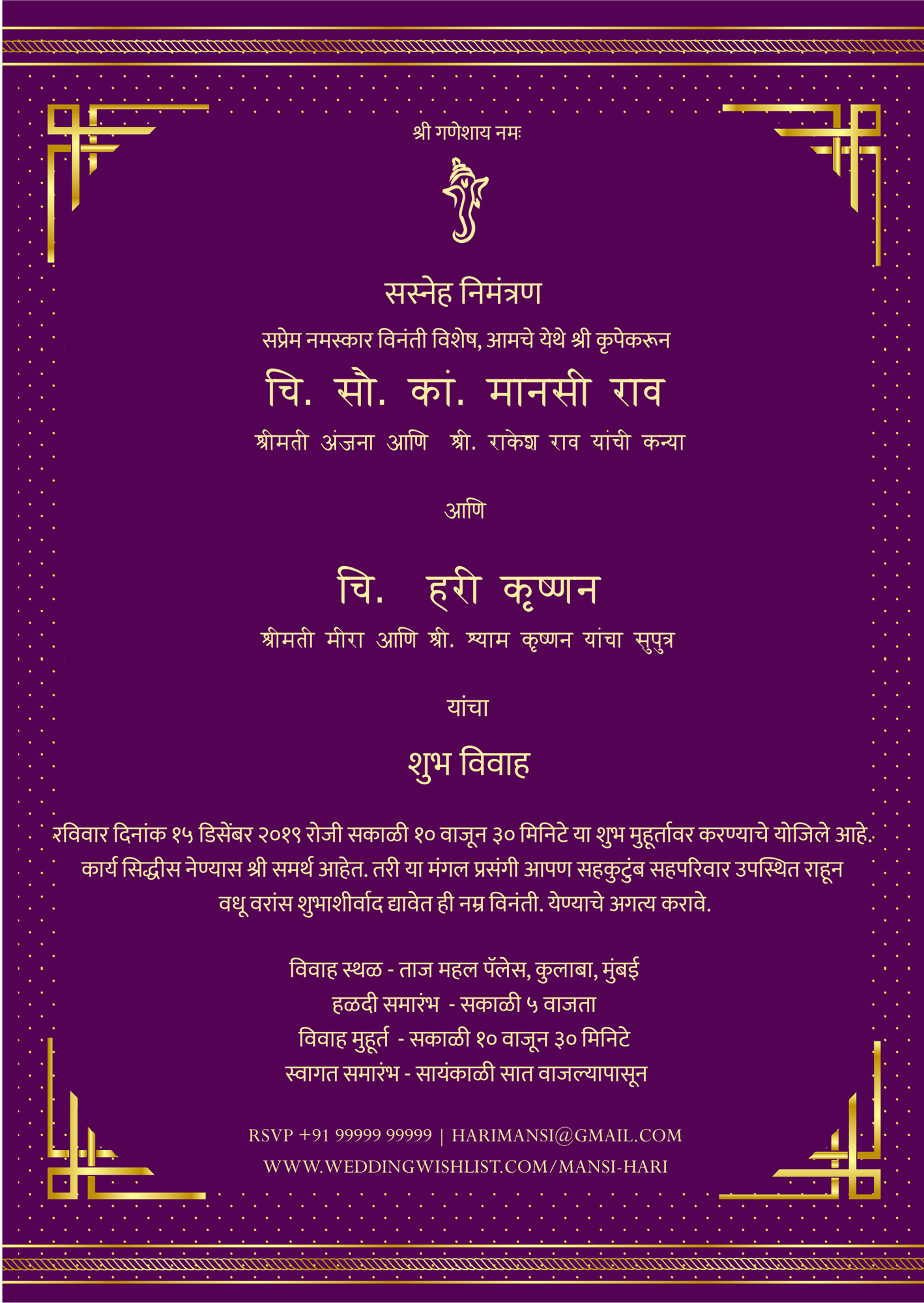 View More Designs
Must Check:
Wedding Invitation Card Background
The Classic Ganesha Lagna Patrika Design
This is the classic Lagna Patrika design which is commonly sent out by all Hindu families in India. They never go out for any other card design, rather this is their favourite design. The simplistic yellow background colour, and the pretty Sankrit fond. Together this beautiful red and yellow combination is bringing a lot out of this Royal Indian Wedding Card Background.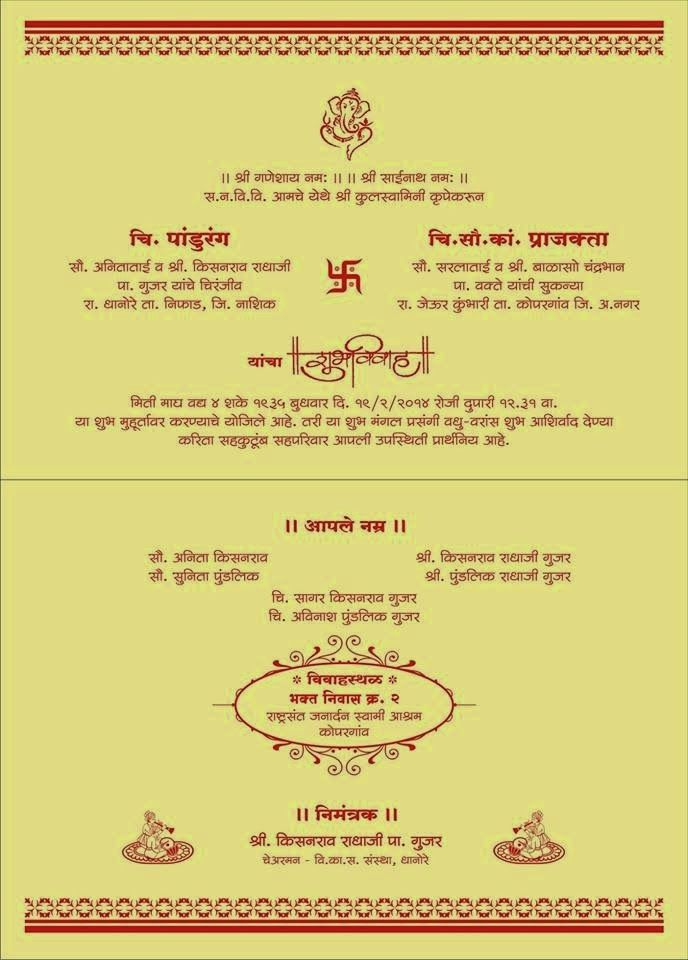 View More Designs
Must Visit: Bengali Wedding Card Design
Lagna Patrika Design with Pre-Wedding Photograph
Well traditionally using images, and pictures are not quite a lot traditional. rather this is a new age trend used commonly by people today. But that is not entirely true, and you can absolutely do whatever you want unless the text is old-fashioned and traditional. So, the main concept of this card design is to use a basic baseline, with some beautiful flower intricacies, and subtle illustrations too.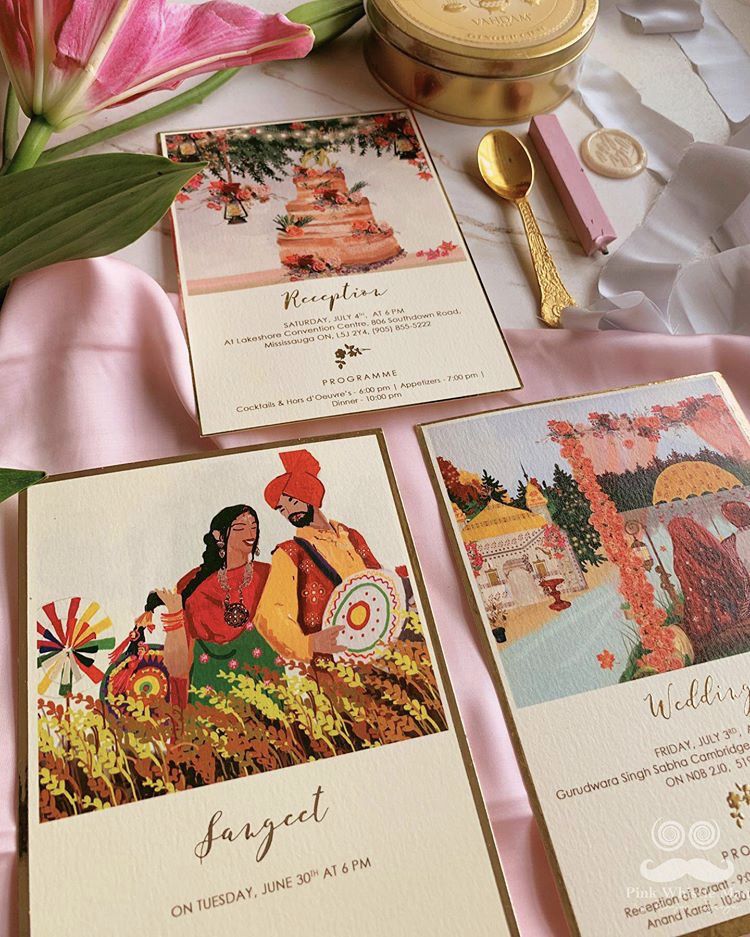 View More Designs
Traditional Announcement Lagna Patrika Design
This is an announcement style, and to be very honest this is more like a Lagna Patrika Background Hd Marathi style. The pattern is colourful, and the language is lucid and quite a bit basic too. The top-notch illustration of Ganesha on top is like a cherry on the cake. You can never go wrong with such beautiful designs for the big day.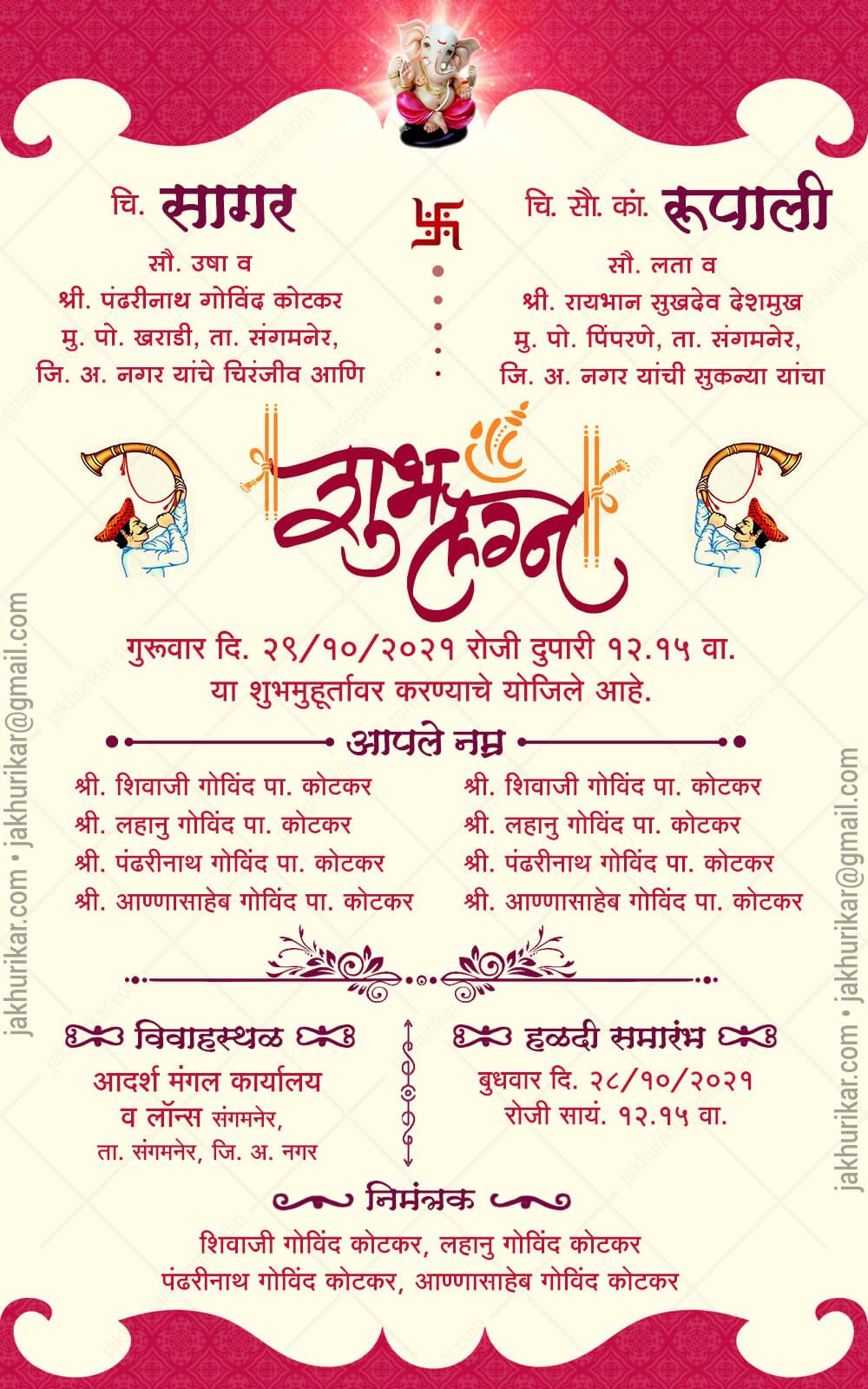 View More Designs
Aesthetic Lagna Patrika Background Hd Marathi
Well, a Marathi Lagna Patrika Design is supposed to have the image of Chatrapati Maharaj Shivaji, and obviously Lord Ganesha too. Lagna Patrika Background HD Marathi styles like these are commonly found at every wedding juncture. You can choose this brownish background design, if your are going with a lighter coloured fond.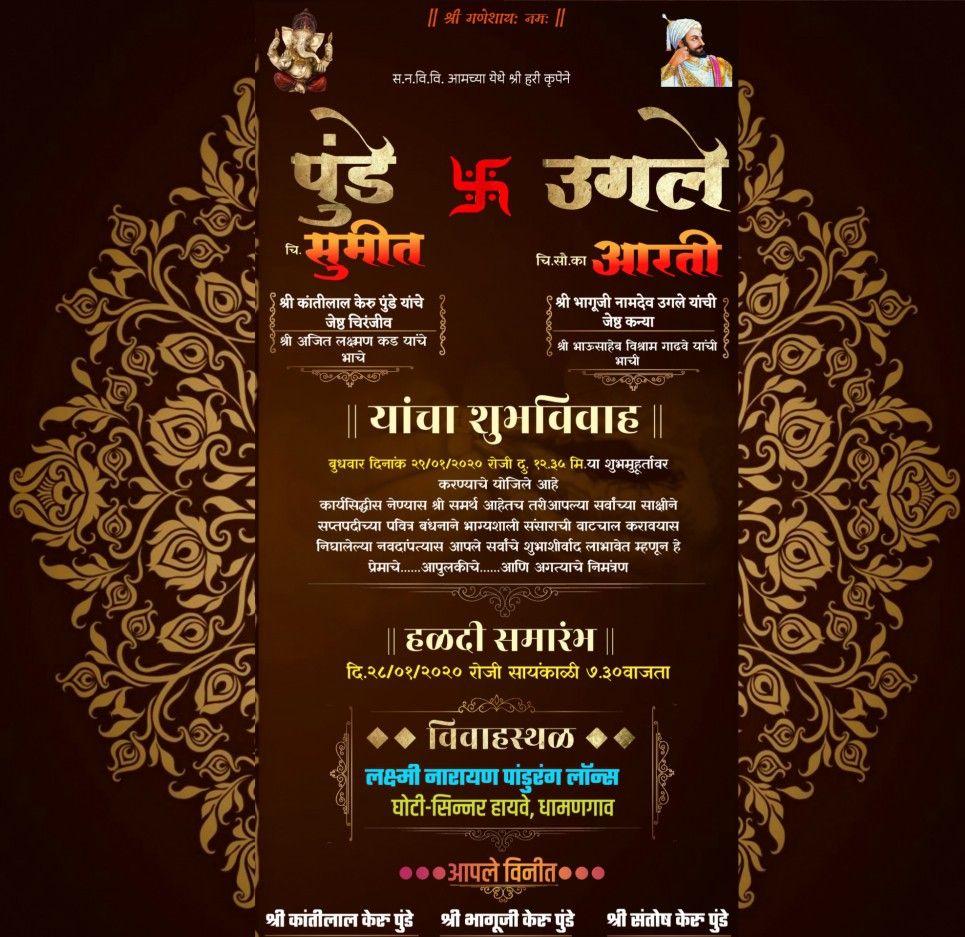 View More Designs
Also see: Wedding Card Matter in English
Five Best Blank Indian Wedding Card Background Lagna Patrika Design:
Apart from all the best Lagna Patrika Design ideas that are used as an example for one wedding or the other, the following ones are entirely blank. Like the viewer can use their own creativeness to choose the text or the rest of the designs that e required for completing a  Wedding Invitation card. The designs are basic, and lucid at the same time.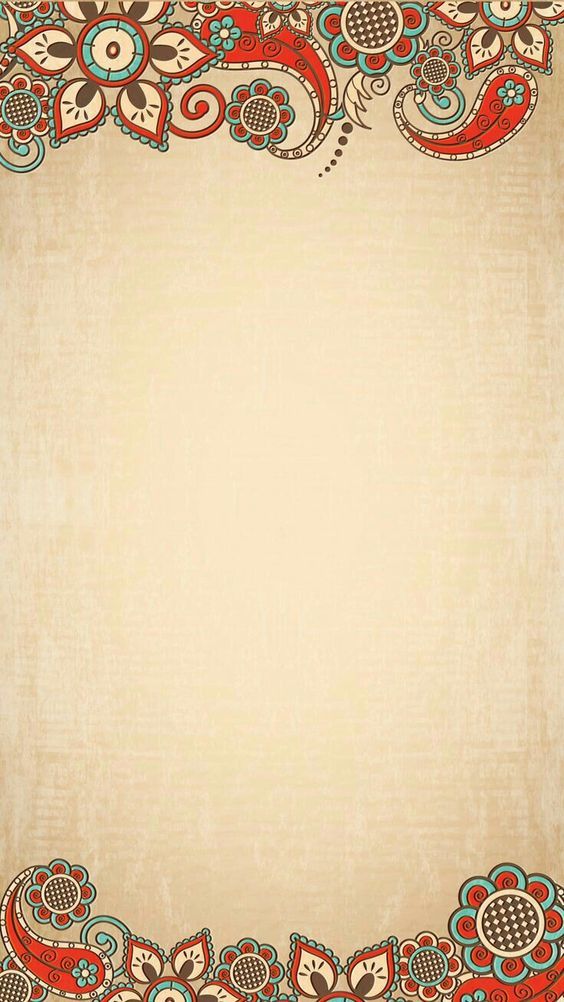 View More Designs
Flamingo Couple Blank Indian Wedding Card Background
These flamingoes are a subtle detailing for this modern Lagna Patrika Design. The card is bordered with a beautiful range of temple frames, that has additional geometric detailing added to it. This card can be your perfect base, for the typical E-Invitation that you are planning on for your destination wedding ceremony.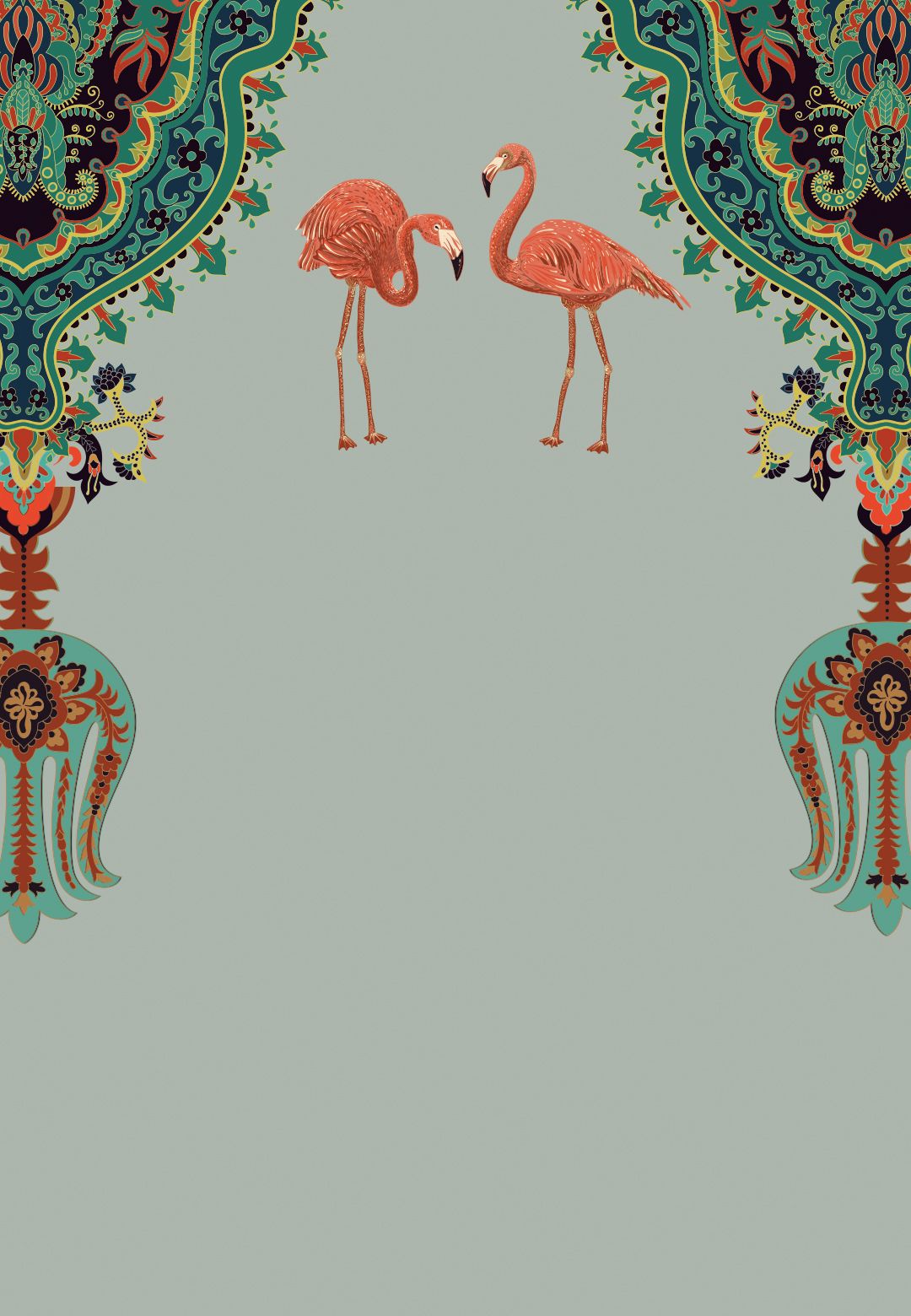 View More Designs
Floral Feasta Blank Indian Wedding Card Background
Flowers are a couple's best friend, right? Well, this is just the one meant for you. If the entire decoration of your wedding is surrounded around the concept of floral endeavouring and arrangements, then this one is meant for you. Perfectly blended with a standard geometrical set of lines, that is further accepted with some beautiful flowers to it.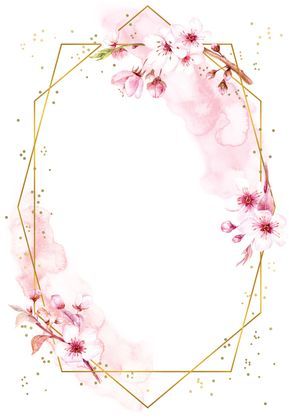 View More Designs
Marsala Brown Patrika Background
I'm personally a big fan of Brown and Red colours. And, Marsala is actually a mid-way shade of browns and reds. This Maroonish textured shade is appropriate for Lagna Patrika Designs too. Here, we have a beautiful wedding card that is having a Golden coloured fond, and a beautiful chain-shaped frame around the card. The top of the card is having a Lord Ganesha Illustration, as well as a beautiful floral base down card.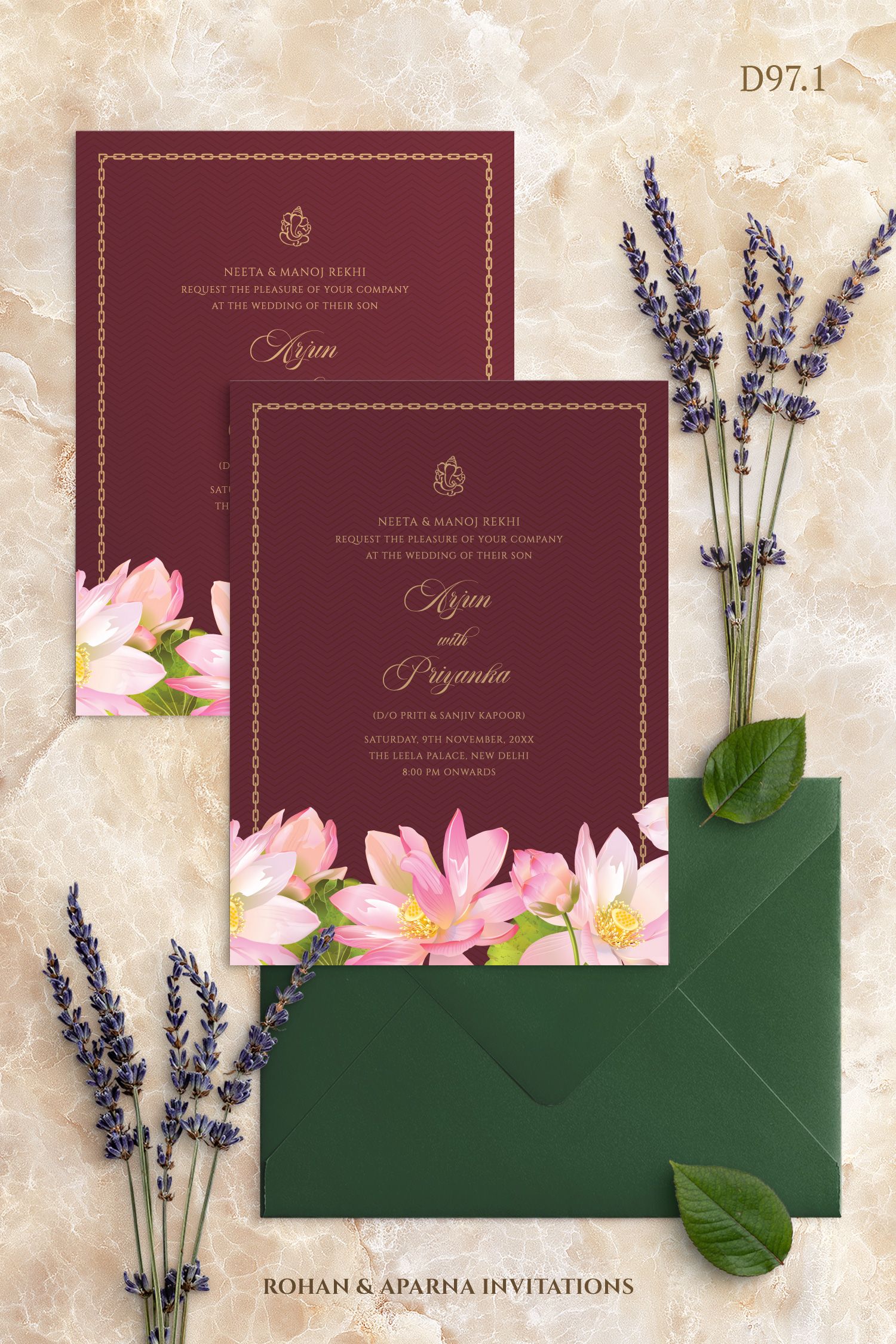 View More Designs
Mustard Yellow Royal Indian Wedding Card Background
The top of Lagna Patrika Design is having an Asian Mandala art that is reminding me of all the good decorations in an Indian wedding. The beautiful Mustard Yellow colour has an open pallet, which is perfectly fine for red coloured fonds. You can choose your language wisely, but Sankrit 0r Hindi based versions would look the best.
View More Designs
Digital Lagna Patrika Background in Violet -Blue
Apart from all the above options, the purple and silverfish Digital Lagna Patrika Background is the best. This is familiarly perfect for the festival of Diwali, or even the wedding invitation card. I would suggest that you should choose this postered styled design for your wedding ceremony, specifically as an E-Card version.
View More Designs
The Lagna Patrika Design is probably the last thing you worry about. Certainly, this rings the final bell for the Big day. Actually, this is how you announce your wedding to the rest of your guests. That is the reason why it has to be special and well accumulated. To know more about such fascinating facts Weddings and other such events, visit myMandap.