The Black Phulkari Dupatta is not one of the aesthetics, we are used to seeing for a Wedding Ceremony. Infact, Black is a highly frowned upon colour, when it is to the Wedding Attire. 
We usually go with shades and colours which are more present and imbibed to the culture of India. It is about wearing colours representing nature, like Red and Maroon representing Fire. 
Pink and Pastel shades represent the Seasons, Green for Earth and Blue for Water. At the same time, Black is not one of the colours for the Realms. Black is not an ideal shade for a Phulkari Dupatta either. 
Infact, some people treat black as an unlucky colour for Wedding Rituals. Many even opt out of wearing shades which aren't as glorious. Here, we are about to break all those stereotypes about black. 
Why should you wear a Black Phulkari Dupatta?
With all those reservations about colours and choices, we all end up with a colour which falls under that particular paradigm of choices. A good Black Dupatta is a need and not just a want. 
This is precisely why you need to have the right Black Phulkari Dupatta. It is not just well decorated and ornamented, it also has the prettiest Phulkari Work.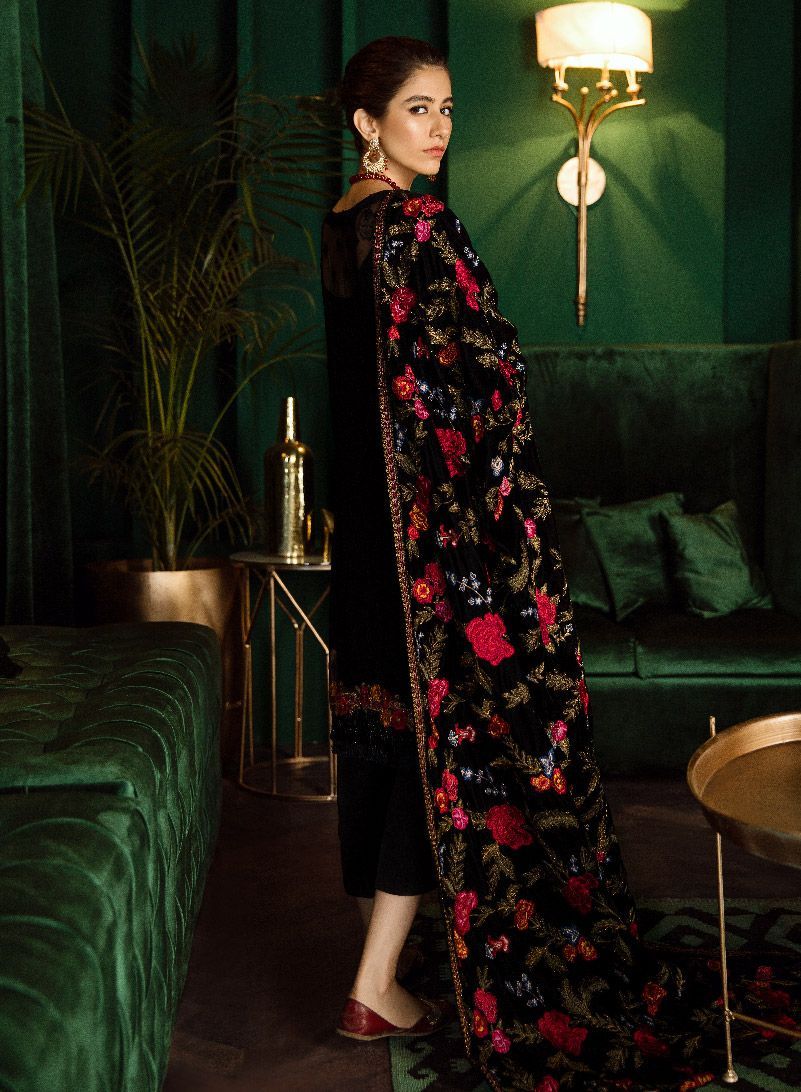 In our previous blog at my mandap, we discussed the various Phulkari Dupatta designs and this is just one of the many types of Dupattas. It has the prettiest Black embroidery, with the most royal handloom work. 
Among all these options for Black Phulkari Dupatta Suits, I think this is one of the best Bridesmaid's Wedding outfits or the typical wedding guests outfit. Let's jump into the bets Black Phulkari Dupatta Designs. 
Check also: Suit with Phulkari Dupatta
Gujarati Mirrorwork Black Phulkari Dupatta
Indian Brides adore themselves in the most beautiful designs and patterns. Which is worn not just for a Bridal Saree and a Lehenga, but also with a beautiful Salwar Suit.
The convention is to make them look extremely beautiful and significantly pretty. The bottom portion of this lehenga is similar to the Black Phulkari Dupatta.
As a Bridal Dupatta, it is not the ones which are worn over the head, as a headdress. On the other hand, this is more like a Bridal Dupatta for the side, a part of the attire.
The base of the dupatta is similar to most other outfits, while the body has been covered with the most beautiful patterns and designs from the state of Gujrat.
Maharani Gota Patti Black Phulkari Dupatta
Such Black Phulkari Dupatta is delighted to wear, it is extremely gorgeous and has the most beautiful base for a good old outfit. I prefer this over most other outfits worn but the bride.
Although she is wearing a Salwar suit, but the design is extremely beautiful. This is a bridal Salwar suit, which is quite popular in Punjab and Kashmir.
The bottom portion is a basic Patiala Salwar, while the top portion has been elevated further out with this beautiful Silk Bridal Dupatta.
The Black Phulkari Dupatta is extremely gorgeous with those ideal and pretty rose patterns. This is one of the best options for a Newlywed
Red Rose Applique Black Phulkari Dupatta
If you are not sure about what should be worn for the wedding, always chose something good and popular. Such a design is known for its glory.
This is one of such amazing designs which should be a part of your bridal closet. It is significantly decorated with the most beautiful threadwork.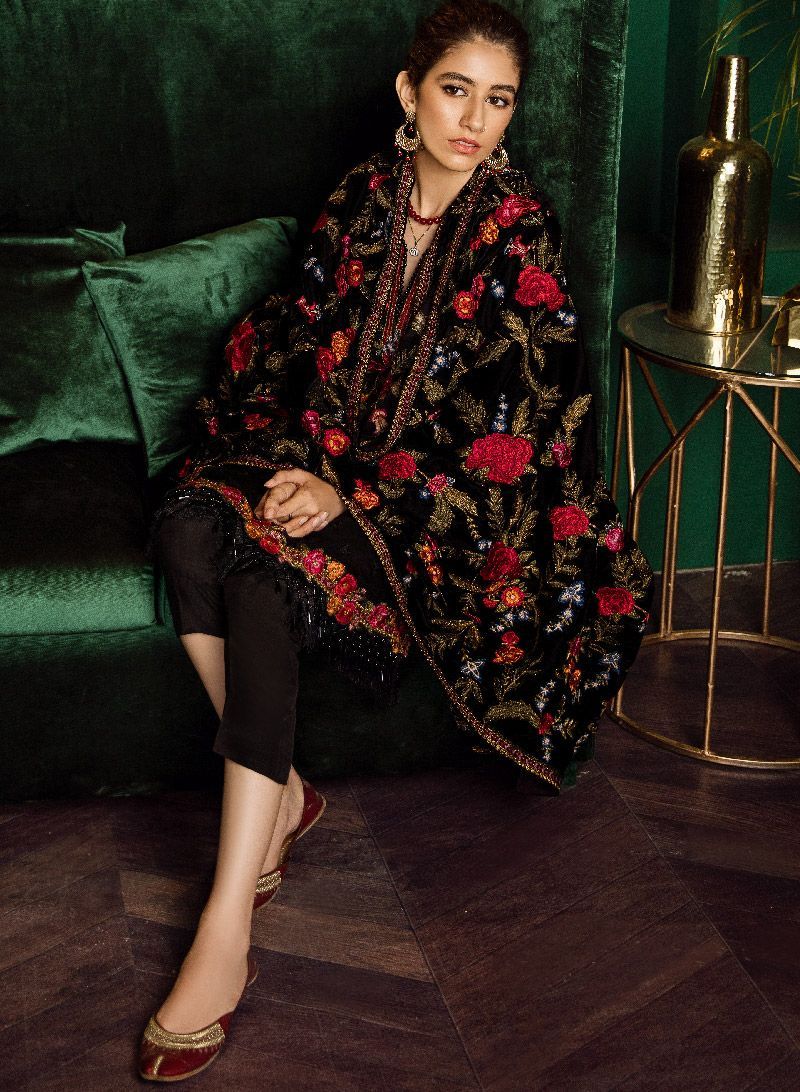 These designs are quite popular in India, and they are known as applique designs. This is one of the wisest decisions for a good old Bridal attire.
You can always wear this one for good old bridal attire. This is one of the best options for someone who is wearing attire for their Post-Wedding functions.
Must check: Beautiful Phulkari Dupattas
Net Zari Black Phulkari Dupatta
Yes, you can also make a different pattern for your outfit. Mainly a bridal dupatta is expected to be made out of silk and georgette.
A Black Phulkari Dupatta can also be made out of chiffon and other synthetic materials like Net. It is airy and has the base for a pretty Phulkari work.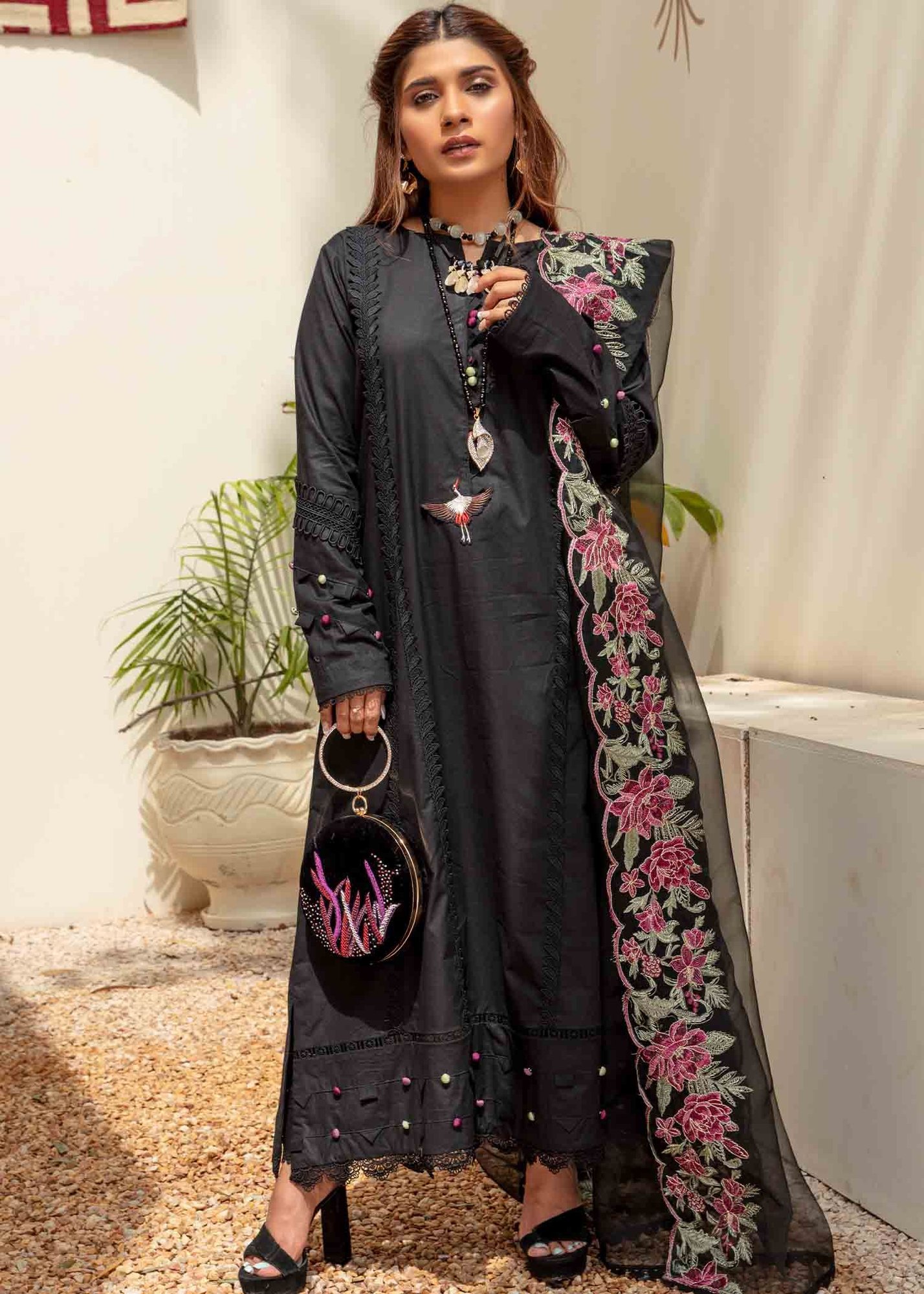 I prefer Net material over many other patterns for Bridal wear. It is significantly beautiful and has a super sleek material of its own.
This is one of the best designs for a good and self adjustive Bridal dupatta. The embroidery is made out of silk threads, which makes it even more delightful.
Geometric Black Phulkari Dupatta
Geometric patterns also fall under the category of Phulkari's work. It is slightly different in terms of shape and style but it is eerily simple for a designer outfit.
The pattern of this particular Bridal Dupatta is super silky and it has the most beautiful designs on top of it. I find this dupatta better than anything else.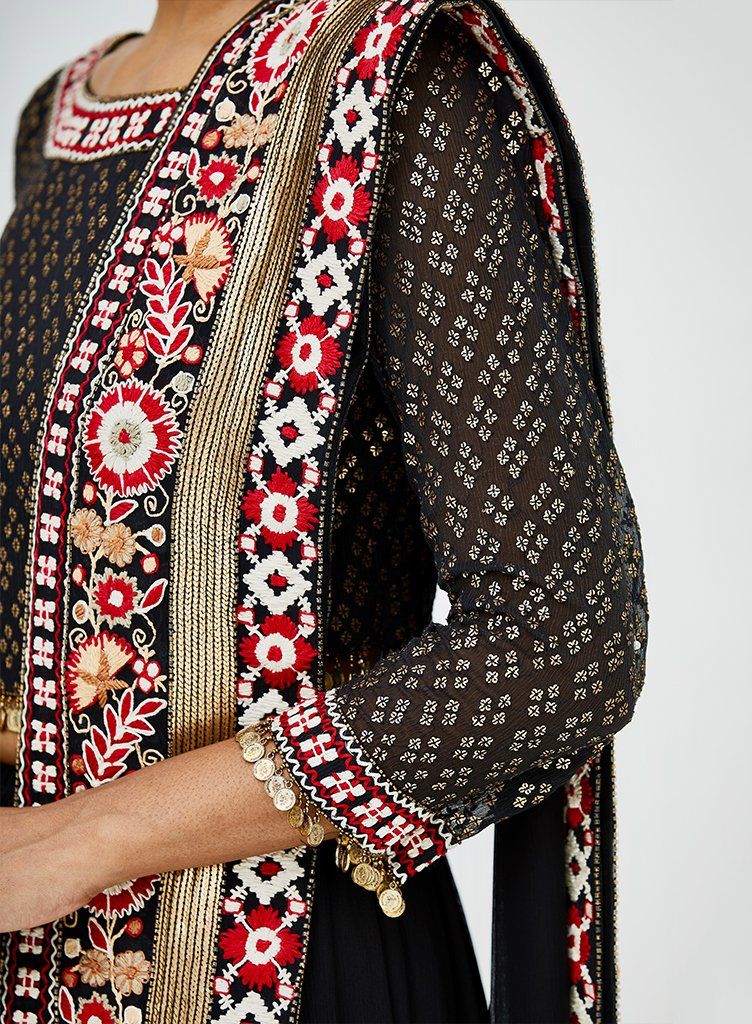 If you are not a big pan of Floral prints, then choose this pattern for your ideal Black Phulkari Dupatta. It is pretty awesome and would suit any Salwar Suit.
Make sure, you have the right pattern of colours like red, green, white or pink. Colours and shades complement the base colour of black.
Silk Black Phulkari Dupatta
Silk is an ideal fabric, it is glossy and very welcoming as a fabric design. I prefer silk more than anything else. When it comes to choosing the base of the design.
A Black Phulkari Dupatta is quite beautiful, and it has th most beautiful embroidery too. More than anything else, it has very fine silk handwork.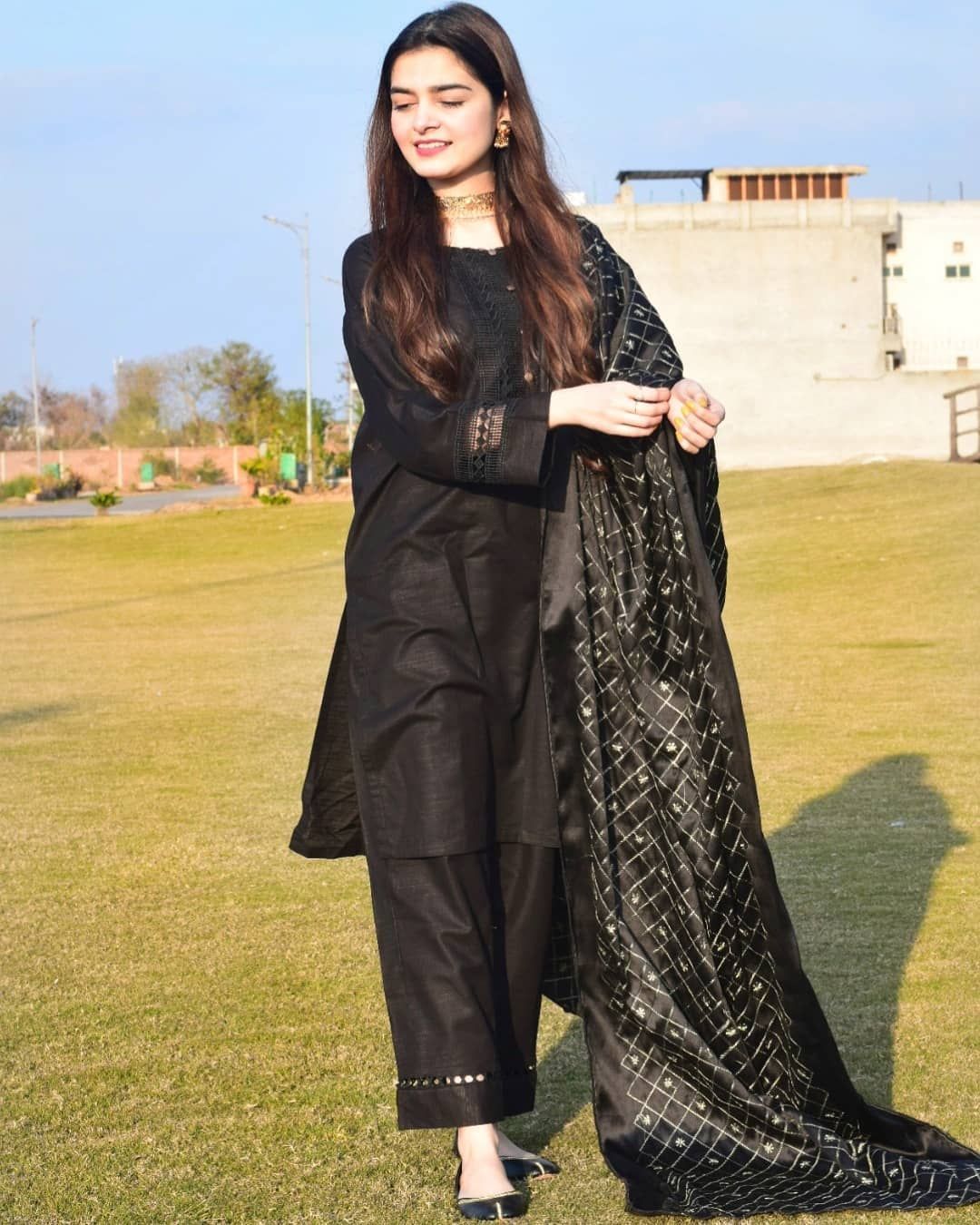 I prefer silk more than anything else, I find it much better for a Phulkari Dupatta especially when we are finding a pattern for a Bridal Outfit.
Silk is quite popular in South India, with such a great variety of options for Muslin, Kanjeevaram, and many other popular materials for a Black Phulkari Dupatta.
Aari Embroidery Black Phulkari Dupatta
Black is one of the prettiest shades for a good old Arri embroidery work. Well, Aari is slightly different from many other popular stitch works in India.
This is one of the ideal stitchings which makes it so much better and even more redirected and beautiful. Honestly, this is one of the best works.
I prefer Aari's work more than anything else out there. It is quite beautiful and has a very pretty and shiny texture on top of it.
A Phulkari Dupatta has the most beautiful work, which makes it so much better in terms of a Dupatta and pretty bridal work.
At myMandap, we have blogs about other related Phulkari Dupattas. Please visit other blogs like Weddingwire and WedmeGood. They also have amazing blogs about various Phulkari Dupattas.
Block Handloom Black Phulkari Dupatta
I like this design more than any other option for a Bridal Dupatta. First of all, this isn't a Bridal Dupatta, secondly, it has the most beautiful Phulkari Work.
The pattern of this particular form of Phulkari work is slightly different from the conventional patterns which are quite popular in Punjab.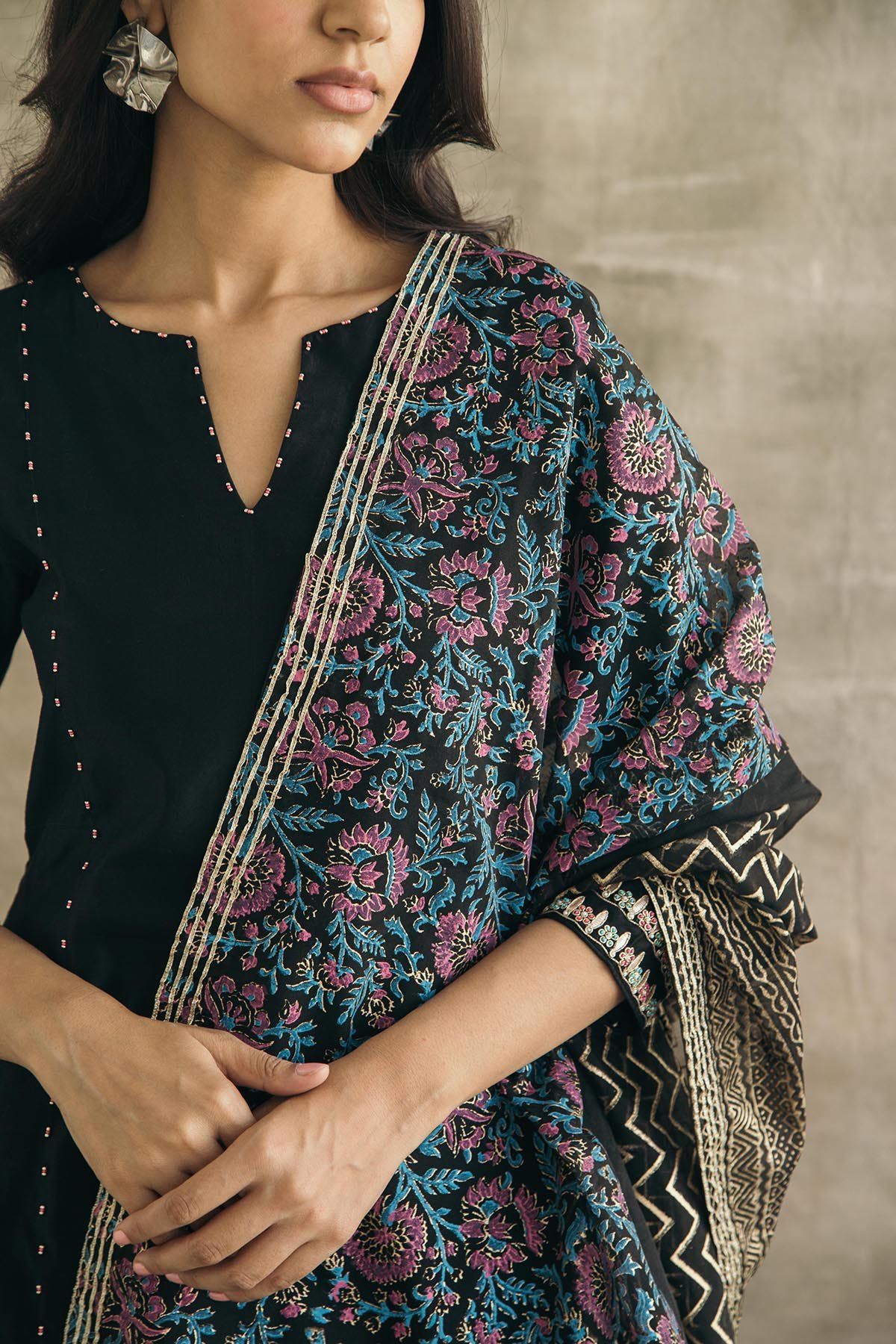 As discussed earlier, Phulkari patterns are supposed to be well decorated, embroidered and elevated following the pattern and the design of the base.
The Phulkari work of this dupatta is made out of block prints, not just any block print but a proper design for a good old Bridal Dupatta.
Kashmiri Pashmina Black Phulkari Dupatta
Black is a beautiful colour, especially when paired rightly with a beautiful pashmina fabric. The Pashmina embroidery is fabulous on its own.
The base colour is black, while the rest of the BRidal Dupatta has been decorated with the most beautiful Red and Green Phulkari Embroidery.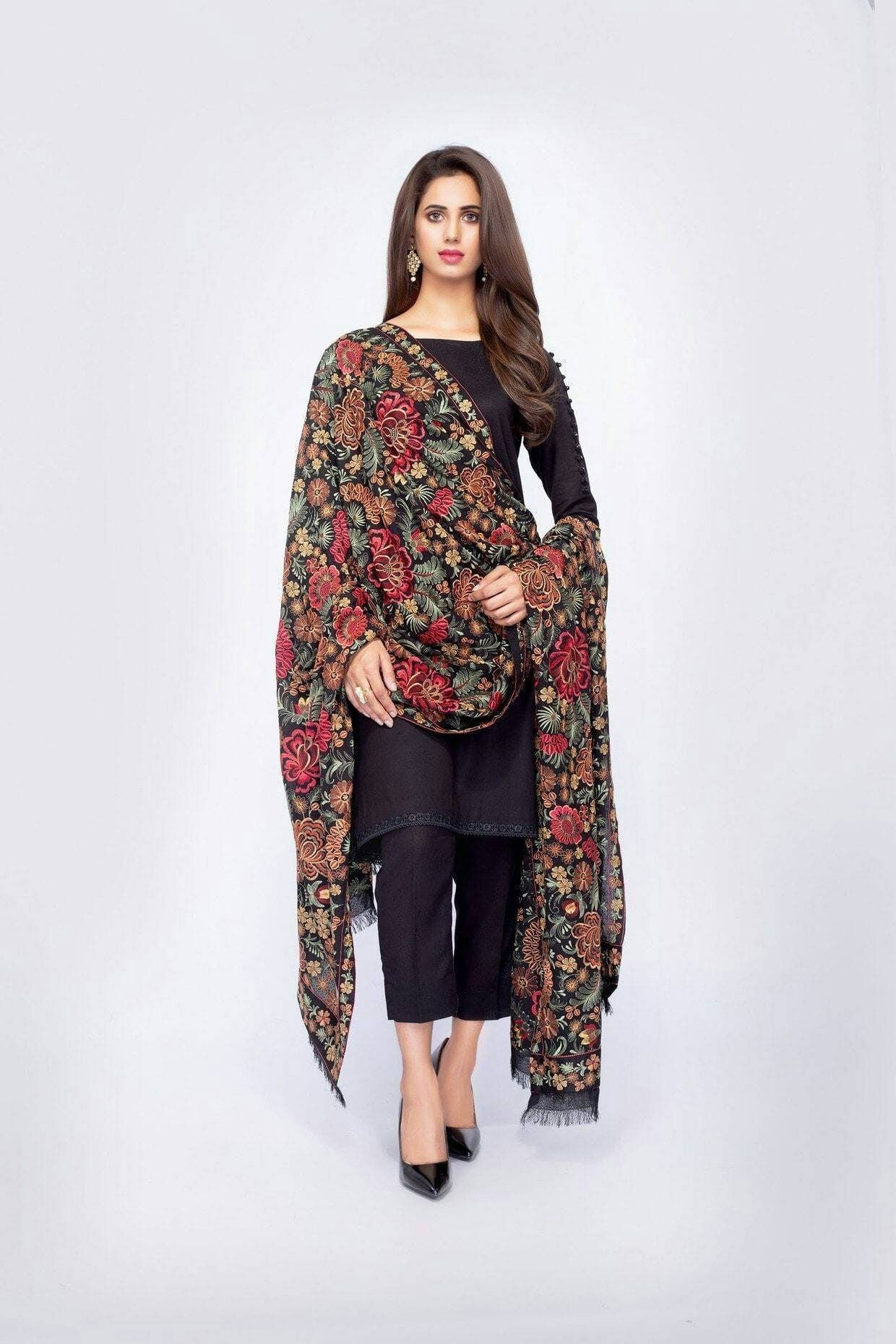 The entire design is a proper resemblance to a good old Kashmira Pashmina, which is one of the best fabrics from North India.
As a matter of fact. Pashmina is a really beautiful fabric when combined with a pretty awesome design for a Black Phulkari Dupatta.
Zardozi Black Phulkari Dupatta
A black dupatta is a class, and it has the potential to turn any look upside down. The best part is the style and the uniqueness of the dupatta.
I find it exclusively pretty. It is super duper hot, and it is one of the best outfits in the world of Bridal Accessories. The unique colour is quite subtle too.
The colour of this outfit is quite pretty and it has the prettiest embroidery on top of it. The best part is the bottom embroidery which covers half of it.
The entire Salwar Suit is covered with pretty awesome sequins which makes the material of the outfit even more significant and beautiful.
Stylish Black Phulkari Dupatta are a privilege. Getting hold of the original Phulkari Work is like a win for everyone. We want our attires to be quintessential and picture-perfect, which starts with the right Shade. 
Black is one of the most loved and admired colours. It is said and believed that Black makes you look three times thinner and better. Being a Plus-Size person myself, I believe in that wisdom. 
Anything which makes my shape better and more appreciable is up in my alley. I want that to be in my closet. That is the reason why you need to have some good Black Phulkari Dupatta. 
Not only Phulkari but some good black dupattas are a necessity for a woman's closet. Pairing this up with your classic Lehenga, Patiala Salwar Suit or any other type of outfit wouldn't be that hard. 
At myMandap we have some of the best fashion choices, which can be a part of Couple Wedding Fashion. They are exclusively fashionable, trendy and super hot. 
Here, we have some of the best options for Wedding Fashion, Decorations, Food and lots more. In a way, a complete wedding with the best of all the worlds.