The engagement invitation card ideas can be life-changing when it comes to planning your big day. As engagement is the first major step towards your 'happily ever after', hence it is just as important to ensure that it is just as good. Especially now, since every aspect of our life needs to be 'Social media' friendly, it better look good too.
While planning an engagement party can take up all your time, attention, and energy; finer aspects like the party invitation need to be addressed as well. But why is it necessary to give attention to the Engagement Invitation Card at all? Well, to start with, this is the very first impression that the guests are going to have about your 'relationship overall'. The Engagement Invitation Card need to be pretty, informative, and most importantly unique.
As mentioned earlier, this is the party invitations require to be 'pro-social media' hence, it matters what you put up there. Also, more couples are opting for the invites to have non-traditional themes; this essentially means that the invites need to include something exclusive to the couple alone.
So, what are the top engagement invitation card ideas to opt for? Well, we at myMandap are here to offer you some of the best ideas to choose from. These are the latest, modern and unique; to immediately woo your guests the right way.
The Comic Strip Engagement Invitation Card Idea
This is so cute you would surely want to save it forever, long after the festivities are done with. The 'Comic strip' engagement card idea includes a cute animation theme that depicts your relationship idea.
The best part is that this is cute and funny and also allows your guests a sneak peek into a segment of your life. for this engagement invitation card idea, you can use several templates; a marketplace where you met, a mall, the movies, at home, or simply an anecdote that is your favourite. Simply create animation-Avatars of both of you and write your dialogues on the comic bubbles.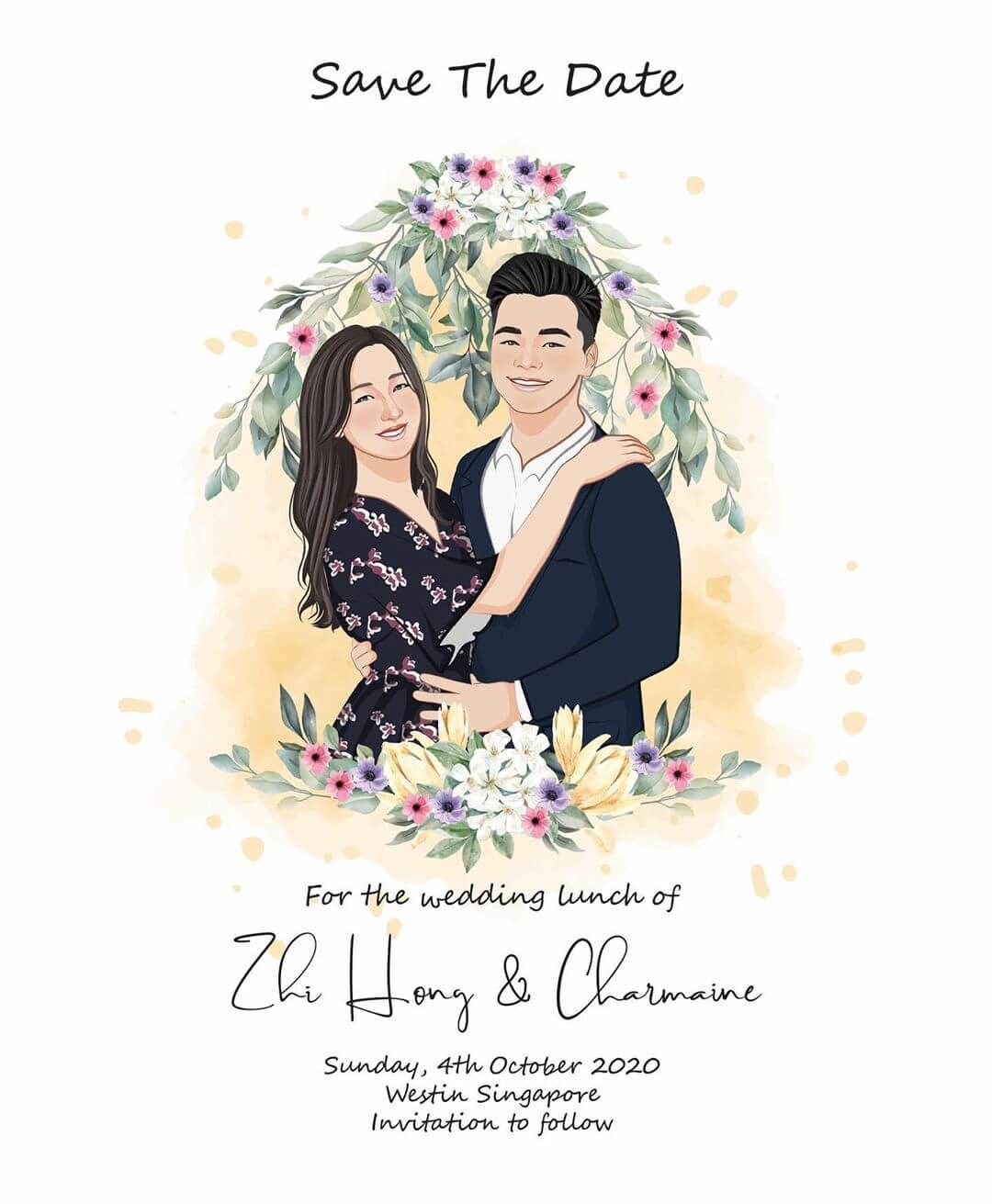 As for the physical aspect of the card itself, it can be two-fold, three-fold, or even a single depiction. However, be sure to state your event details well within the card, so that it is not lost in all that 'comics'!
Caricatures Engagement Invitation Card Idea
This could be an extended idea of the 'comic-strip card' idea, but quite different nonetheless. This engagement party invitation card is all about depicting your favourite Movie scene or poster with an animated version of the two of you.
If you like to keep it as real-inspired as possible, you could get a simple photo shoot done with the two of you as your 'reel-time' versions. Now, get this depiction on the front of your Engagement Invitation Card with a quirky font style, which can be Bollywood-inspired.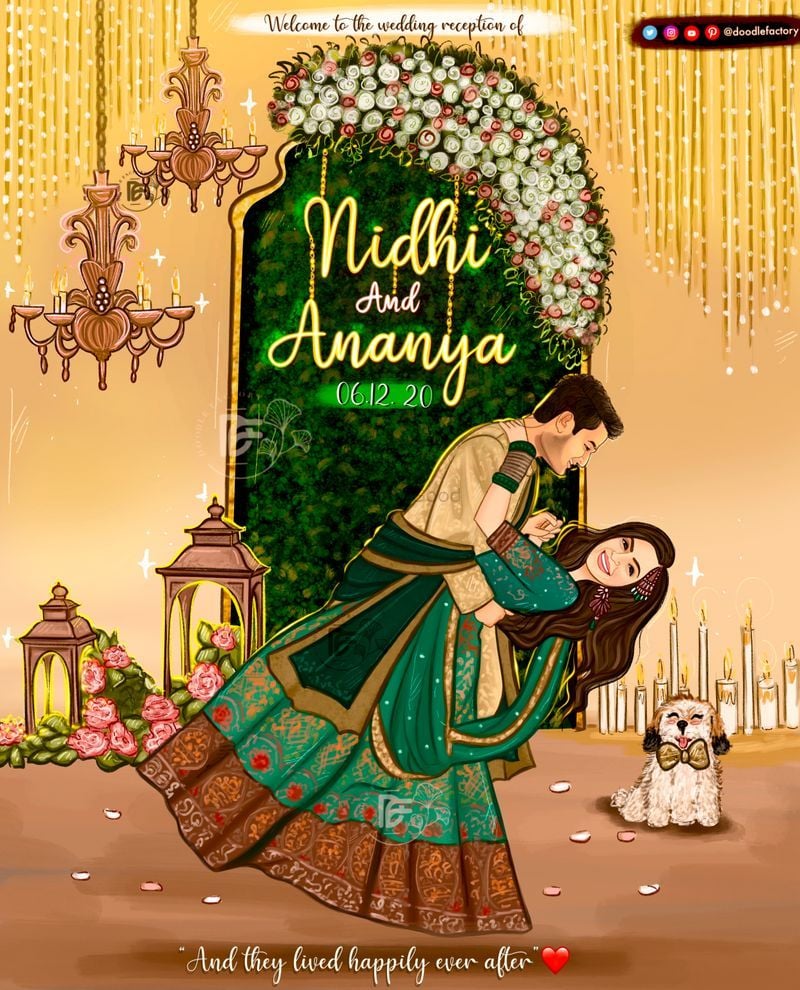 Some of the super-cute ideas include two people under the umbrella ( Shri 420), The classic Titanic Pose with the two of you on a ship-like setting (Titanic), The King and Queen (Jodha Akbar), and many others.
Check out: Trendy Engagement Invitation Message Ideas
The Laser-Cut Engagement Invitation Card Idea
This engagement invitation template is both simple and sophisticated and one of the raging favourites in the current times. This comprises intricate designs done using the laser-cut technique. This design is usually done on all-White invitation cards, with letterings done over the inner folds.
However, you can select your very own choice of colours for this engagement invite. However, the overall appearance of the card is simple, informative, and whimsical. The design on this one can be either a simple 'Mandala-like' or any of the Indian patterns, as they look just as good. However, you are free to select your very own inspiration; after all, it is your big day.
The Video Engagement Invitation Card Idea
As we have stepped knee-deep into the digital era; it is only obvious that we go for the platform. Also, the free-from-paper source movement is catching the current wave; hence it is only sensible that you send an Engagement Invitation Card to your guest list via a Video link.
However, this is just as creative and cute; as you do have to put your favorite idea together. Compose and compile a sequence with the two of you, all complete with the animations, or real clips of the two of you; much like a minuscule film that is stating the details of the wedding in a loving manner.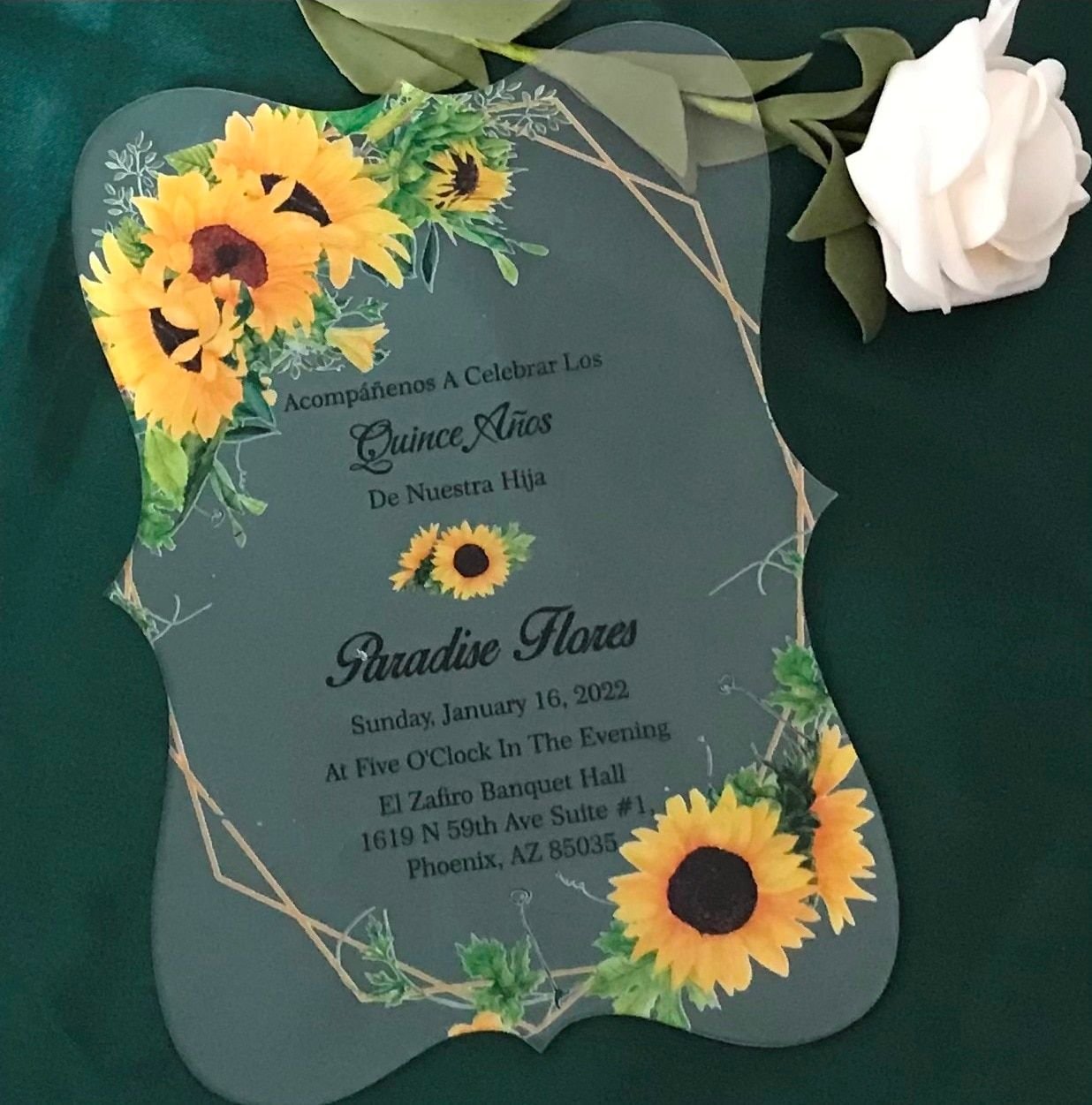 The other version of this invite is to have a sequence, much like a physical card, but over the video. This includes your details and the kind of design you would like to opt for.
The Puzzle Engagement Invitation Card Idea
This is both cute and quirky and a wonderful way to announce your big day. Why not have your friends put together the pieces of your 'puzzling Engagement Invitation Card'? Here you place cards within a box that are shaped like jig-saw pieces. However, the puzzle pieces are the simplest possible to put together kind of creation; maybe it is a simple four-piece puzzle that can be 'solved' even by a two-year-old!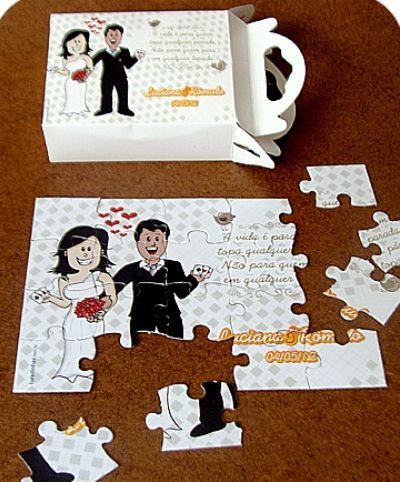 However, the final effect of the entire aspect is an engagement invitation card with details of the event stated. A wonderful surprise that is meant to be un-boxed by your friends and family to reveal a message.
The 'Ticket' Engagement Invitation Card Idea
Wish to get all the more quirky? Well, why not follow the Movie ticket, Passport, boarding pass-theme Engagement Invitation Cards? This is a perfect invitation to ensure that you remain in the memory of your friends and family for a long time! The entire quirkiness of the theme makes this invitation idea so much fun.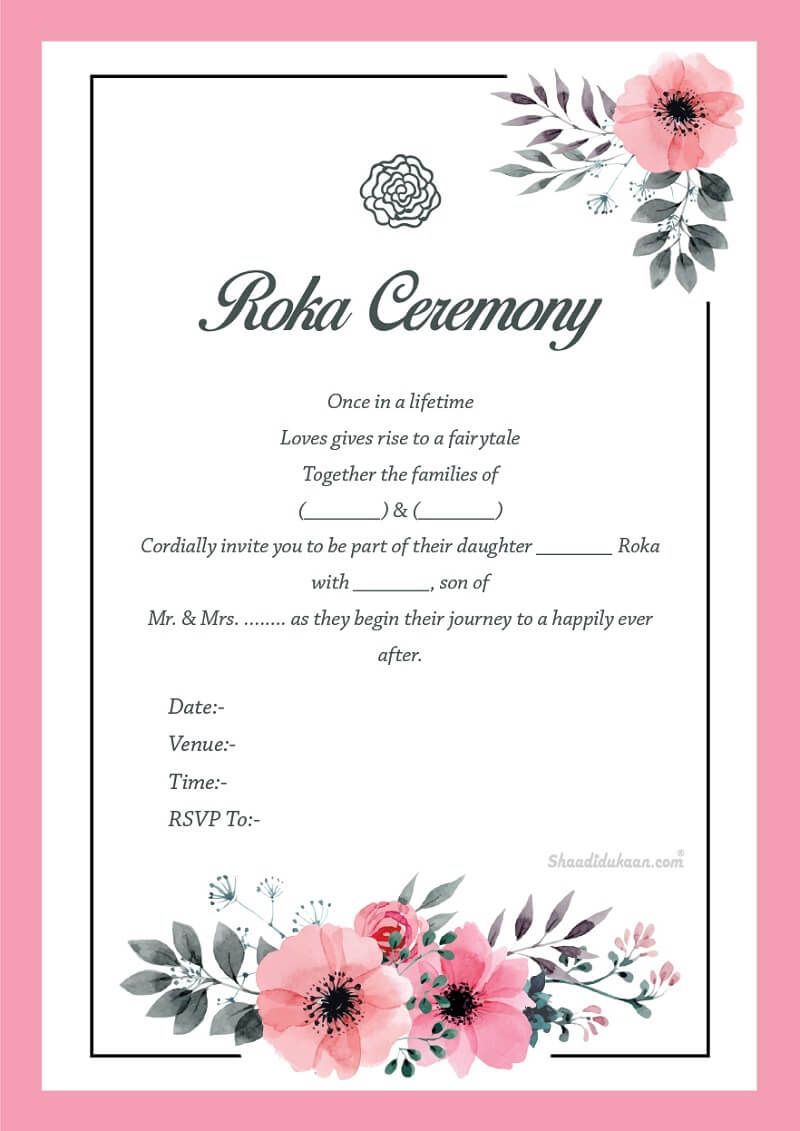 As for the details, these need to be in a font that resembles the one we usually see on the tickets themselves. The idea will surely have your loved ones fall into splits with laughter and surprise! Not to forget, that your invitation is sure to make a place on the mantles of many homes for a long time to come.
The 'Box' Engagement invitation cards Idea
This is much in trend in the current times and is quite celebrity-inspired. however, this idea can easily be used for other events as well like for bridal shower invitations or even birthdays.
The idea of the box invites is quite simple. This comprises a box where you have placed together some goodies for your guests, along with a card with the details. This does not have to be too over-the-top, but as simple as you wish for it to be. The Engagement Invitation Card comprises a cute little wooden box with engravings if you are up for it. Inside, you can place a few goodies; chocolates, scented candles, flowers, a perfume bottle, and your invitation.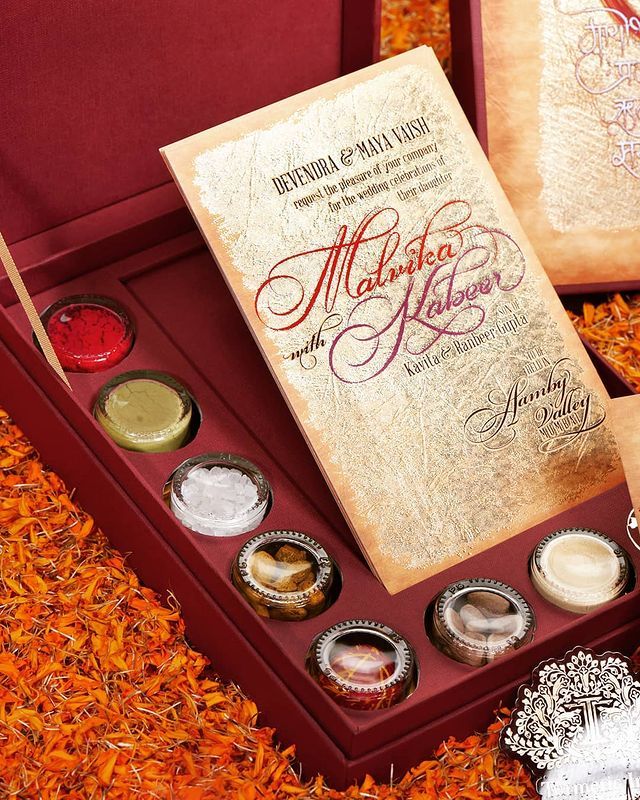 If you are willing to, this can go a couple of notches up with more indulging items placed within like; idols, exotic chocolates, bath and luxury cosmetic products, Coffee Powder, and more.
The main box of this engagement invitation card itself is meant to be pretty, cute, and attractive. You can have your initials painted on the top or engraved for the same. One thing is for sure, your box will make it to the group of precious things of the house it travels to!
The Flipbook Engagement Invitation Card Idea
Why not have your friends flip through a tiny cute little book to know what you have planned for your big day? A great idea, we say; where you create a small flip book with the two of you over the pages depicting your cute moments.
This can carry images chosen by the two of you or simple messages and notes that convey your invitation to others. However, the templates can be varied with different ideas as per your taste. The tone of this Engagement Invitation Card can be romantic, funny, traditional, or cute; as you like it.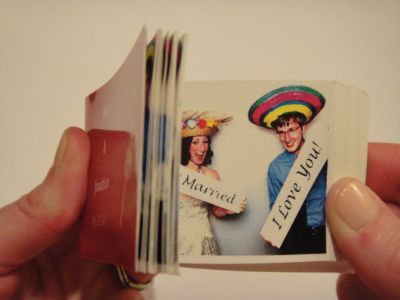 Now, your guests, simply have to flip through the book Engagement Invitation Card and get the message about your engagement ideas!
The 'Photo' Engagement Invitation card Idea
This is the time and age of the photo shoot, for almost all prime aspects of our lives. So, it would be a great idea to get a photoshoot done with the 'proposal day' on showcase. This need not have to be something extravagant or glamorous, just a simple few clicks with you and your beau sealing the deal with a proposal.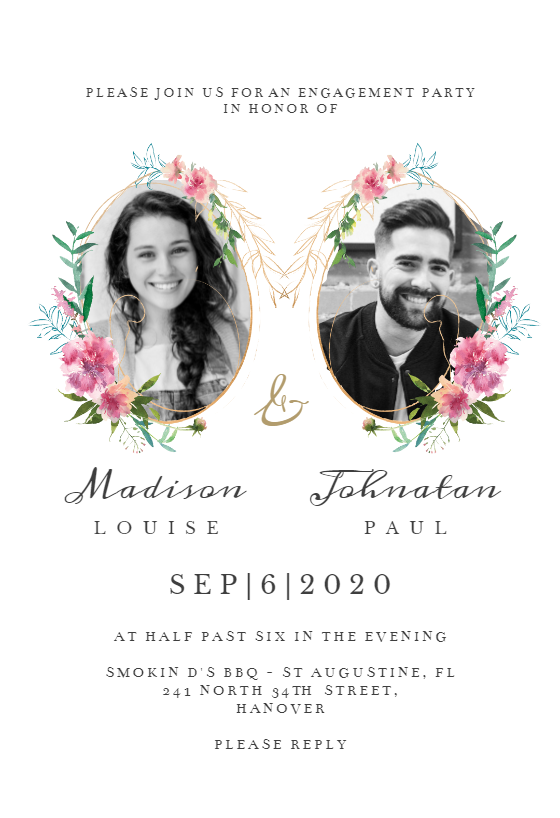 What's more, you can also use your phone to get some great picture moments of yourself together and simply print them out to create an engagement invitation card idea. Use the photos, the best of the lot, over the cards, and have your names printed just below. The details of the event can be printed within the folds.
Go Traditional Engagement Invitation Card Ideas
Are you one of those who love the classic old traditional invitation ideas? Well, many of us like the traditional version of the engagement invitation card ideas that are sure to hit the right cord with the rest of the crowd too. Most of the elders from the guest list are sure to love the idea no matter what.
This comprises a two-fold traditional card idea, with a chosen pattern or design on the top. The details of the event are printed within the folds where the time, date, and venue are displayed. As for the front cover theme, you have a wide variety of ideas to choose from.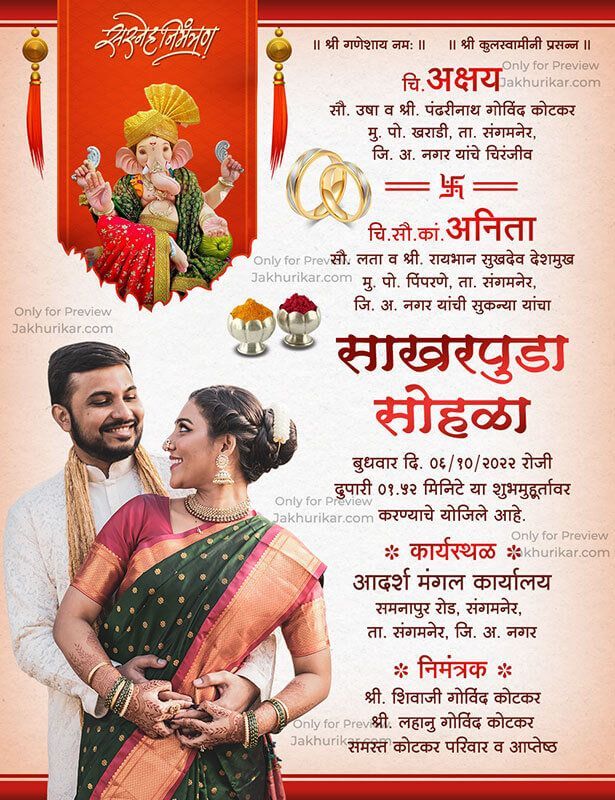 This could include the floral theme, the Champagne Goblets clinking together, the traditional spiritual or religious motif designs theme, the classic red and gold printed design, or even the 'Real-pressed flower theme on top'.
The Messages for the Engagement Invitation Card ideas
While we have spoken at length about some of the most striking designs and ideas for the Engagement Invitation Cards, let us take a look at some of the best messages that you can have written or printed within:
"I am going to take step towards building a life with the woman I love and I need many prayers, Come on my engagement wish me the best of luck! "
"God is good because He gave the sign. We are now ready to announce our official status. So join and attend the party we set for our friends and family Who made our relationship more fun and exciting!"
"Finally I am getting hooked for life. I hereby invite you all to the engagement ceremony with the woman who finally hooked me down. I would eagerly await your presence, with gifts of course."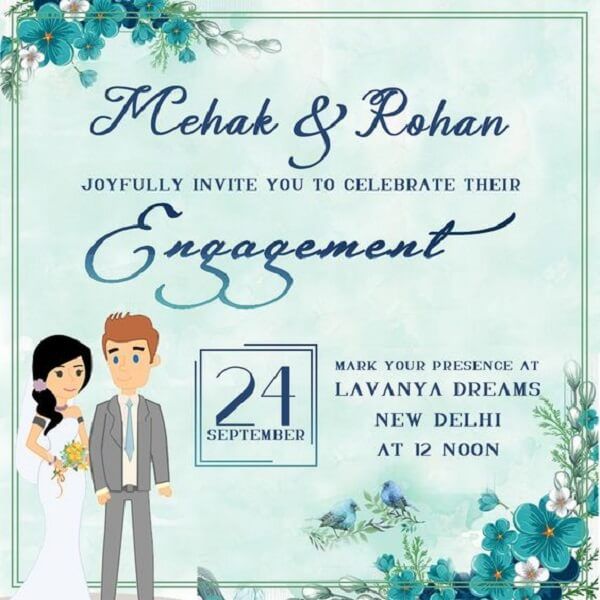 "Days became weeks, Weeks became months, And our love grew stronger, So I popped the question, And she said 'Yes', Today I'm happy to invite you to our engagement ceremony."
"It's finally that time of the day, Join us as we take our first step towards marital bliss, We'd love to host you on our engagement day, Be there.
"From the first moment, our eyes met, We knew this joyous day would come, Announcing our engagement, We have found the love we have been seeking our whole lives, Come and be a part of our engagement ceremony as we embark upon our new journey together."
"Two hearts very much in love are getting united and making a promise to be in love forever! Save the date as you're invited to our engagement"
These are some of the top engagement invitation card ideas for you to choose from. As the engagement is the prelude to your final wedding announcements, hence, it is just as important.
We are in an age where 'acceptability' is the main trend. Hence it is required that we think 'out-of-the-box' and come up with some of the best ideas for our invites. This is important, as your invitation is the 'showcase' for how fun your event is going to be for the guests; hence it is essential that it better be good!