The Gaye Holud Bengali Haldi Look is all about cherishing the beautiful occasion of the wedding ceremony. The Gaye Holud, also known as Haldi in Hindi is the Ceremony of Turmeric and sandalwood. The Bride and Groom have to be covered in a thick paste of Turmeric, on the day of their Wedding. 
Surprisingly the Gaye Holud Bengali Haldi Look is extremely picturesque, and the results are incredible. The Brides' Gaye Holud Saj or the Groom's definitive indifference to it. The Gaye Holud look is a compulsory Bengali Wedding thing. And, here we have gathered some of the best Gaye Holud Bengali Haldi Look Ideas:
Top 10 Gaye Holud Bengali Haldi Looks:
I believe, the Gaye Holud has a deeper significance in the Bengali Cultural Root. No wonder, these ceremonies are cultured properly with the most elegant colours and rituals. For a proper Gaye Holud Bengali Haldi Look, you need to have the right adjustments and the right amount of accessories.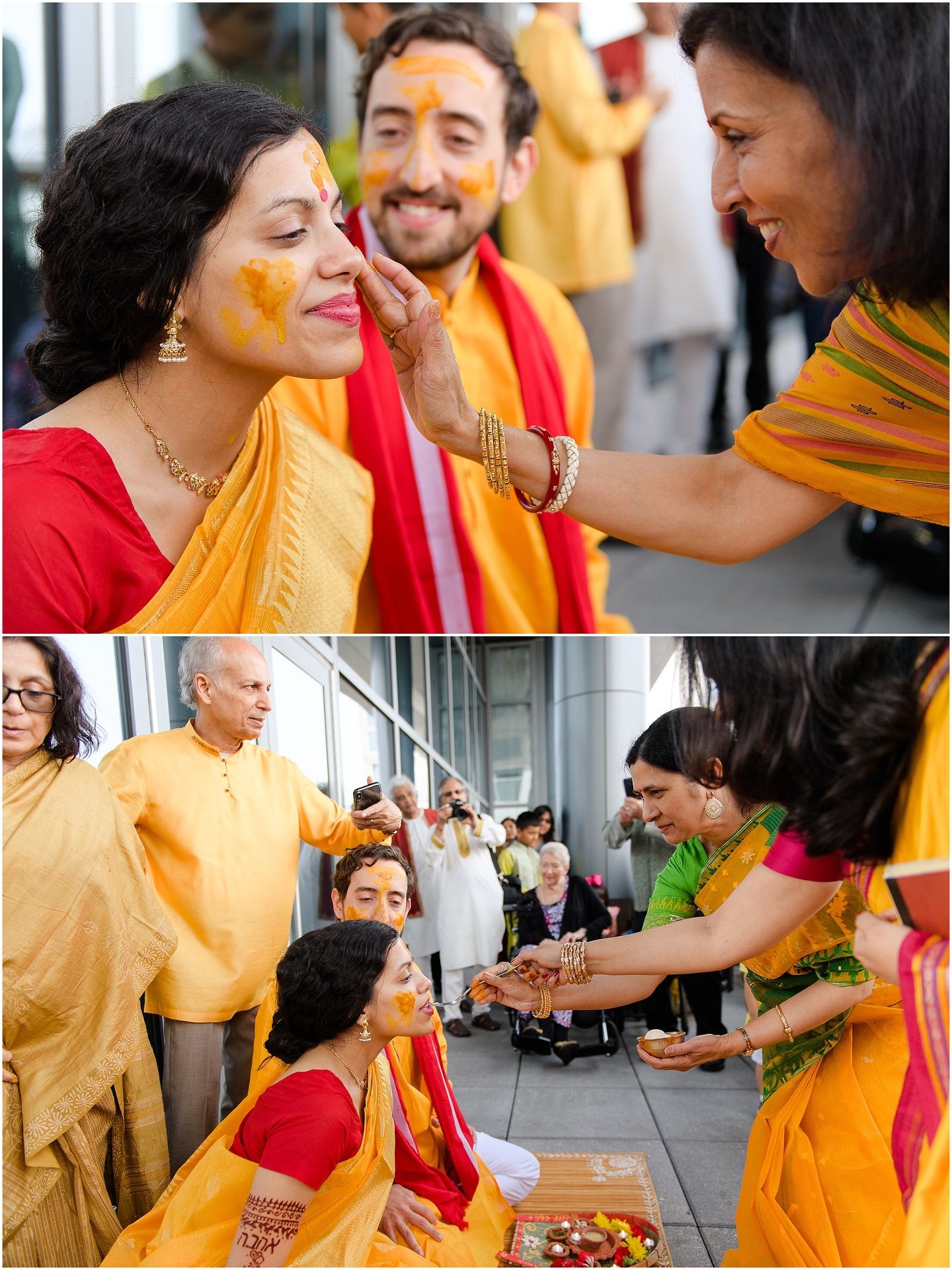 The Gaye Holud Bengali Haldi Look should be all about the shade Yellow and colours that complement it together. No wonder, this is a kind of Bridal Look that goes well with anything and everything. Here, we have gathered some of the most common Modern Gaye Holud Pics for Brides, Grooms and couples together as well. 
Traditional Gaye Holud Bengali Look
Simplicity always wins hearts, and it is always the safest choice for any bride out there. Especially because she is wearing the most beautiful and unconventional blouse along with that pretty Georgettes Saree. Yes, the entire bridal combination is speaking to me aloud about the various incorrect components for a Gaye Holud Bengali Haldi Look.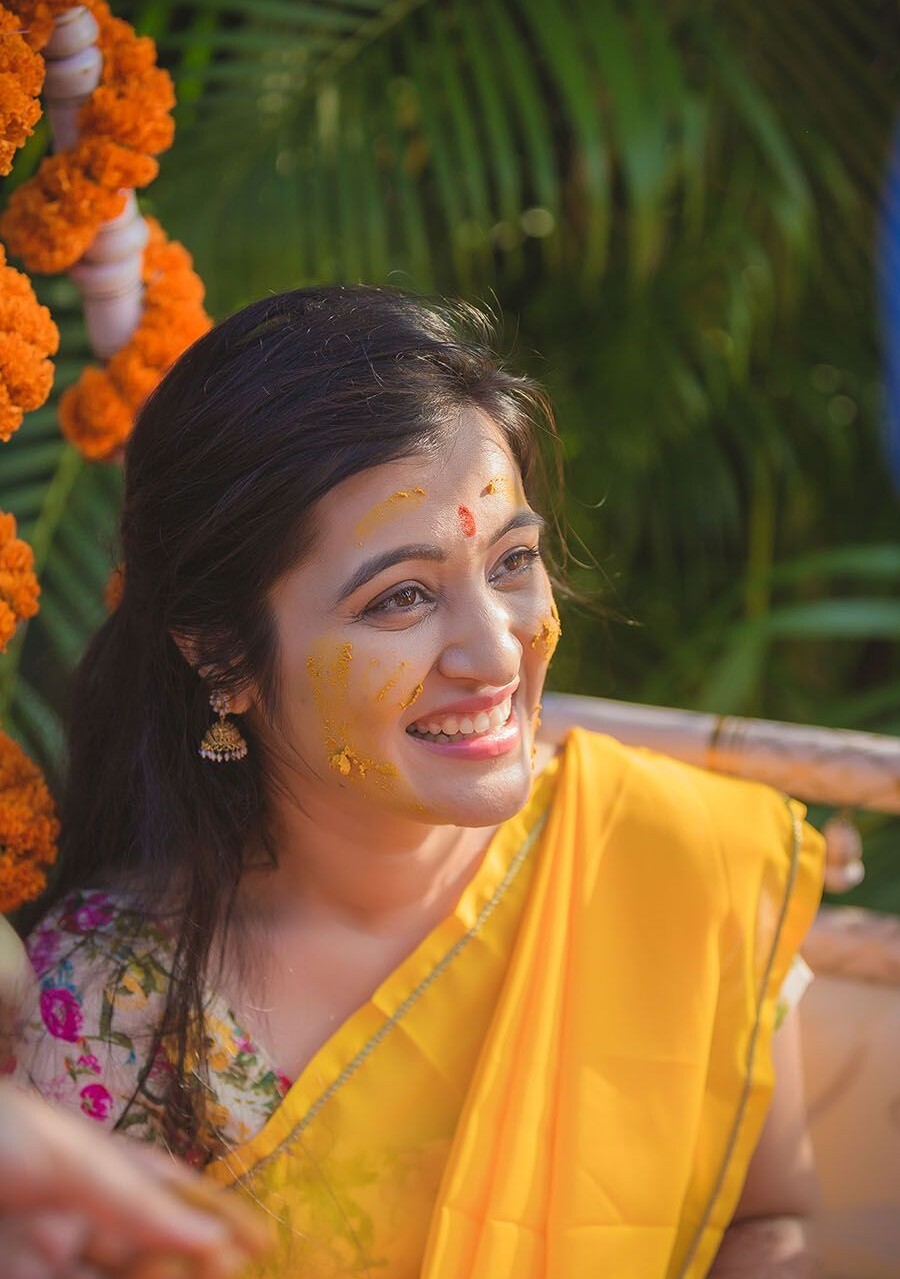 What is making this particular outfit, better and more susceptible for the rest of the day is actually its uniqueness. The way she is wearing this is that see-through yellow saree, along with that pretty shiny golden Jhumkas, and a well-embroidered Zarikari blouse in floral print.
Visit more:  Beautiful Wedding Kalash Decoration
The Floral Modern Gaye Holud Pic
I know, many would say floral ornaments is not really a very Bengali thing to do. That doesn't mean, you can skip on it compulsively. If your heart wants to pair the bridal outfit with the most beautiful and elegant yellow floral jewellery then so that be.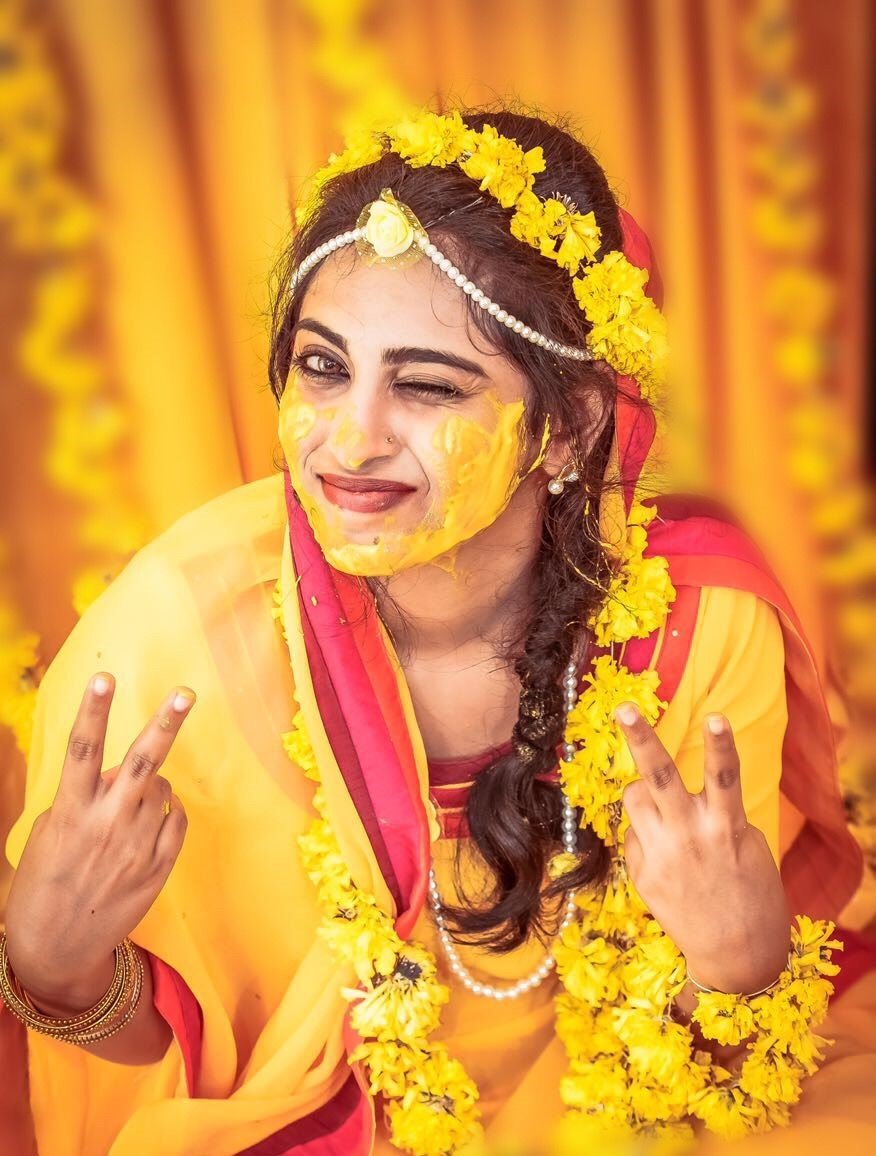 She is wearing a really subtle yet elegantly worked on Floral Jewellery set for Haldi. The rest of her outfit is really simple, and that is the main attraction of this Gaye Holud Bengali Haldi Look. Yes, the minimalism in her look is speaking a different language of beauty, and Bangaliana. 
See related: Bengali Wedding Rituals
White Flower Hairstyle Bengali Haldi Look
There are many people who might find this exclusively undesirable as a picture for the wedding ceremony. What if I say, this is a kind of Gaye Holud Bengali Haldi Look which holds everything in its own uniqueness? She is wearing a Floral Jewellery set, which is obviously made out of artificial floral intricacies.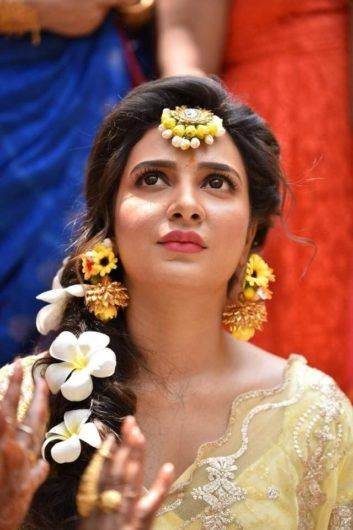 What makes this better, and more acceptable is the fabulous combination of colours in this particular image. She is wearing a really simplistic Yellow Saree, but not the one we are commonly used to seeing. Not a mustard coloured Saree, but a Saree in the pastel-coloured family. This is one of those typical attires, that hardly goes out of fashion.
Check Must: Bengali Bridal Poses
Hands-on the face Modern Gaye Holud Pic 
More than just simple attire, it is everything else that one needs for their Haldi Ceremony Album Pictures. First of all, she is wearing the most beautiful and ethicized Maang Tikka on the centre of the forehead, and the rest of the image is like the cherry o the cake.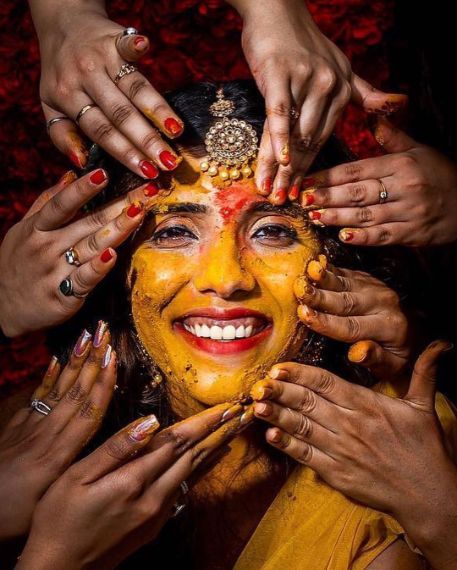 Starting with the fabulous ornamentation to the exclusive border region, this image has everything else to make this a really good choice for the wedding ceremony. Her bridesmaids have placed their hands all over her face, to make it looks like a properly made sun. Trust me, this is one of the best choices for the big day.
Check out: Best Haldi Decoration Ideas
Simple Gaye Holud Saj for Bride
What works best for such an amazing Gaye Holud Bengali Haldi Look? That is water, and the pictures that come of it are exceptionally pretty and well designed. She is not doing much in this particular image right, but can you say that she isn't wearing the most beautiful ornament or the most beautiful attire in this particular picture?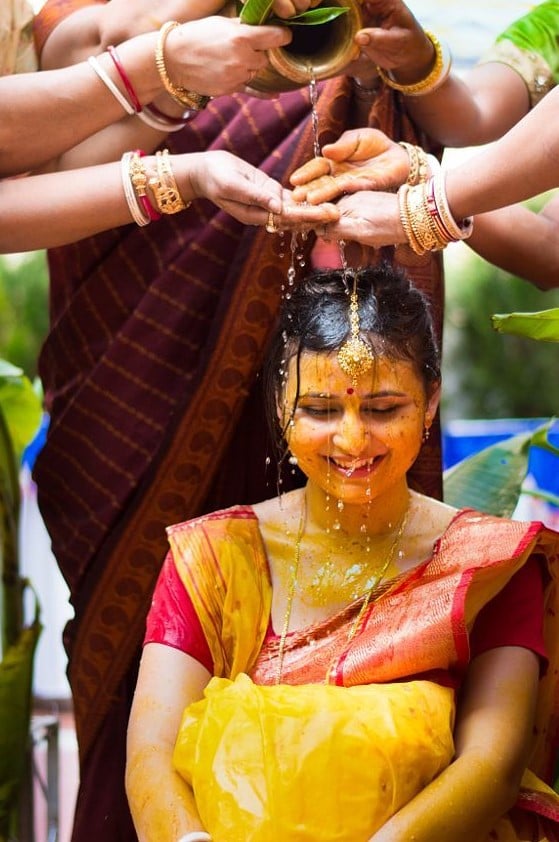 The answer to all those questions is, a big 'yes'. Yes, she is wearing a fabulously pretty ethnic Bengali Saree for her Gaye Holud Bengali Haldi Look. And, she has kept the simplicity and minimalism to the next level by incorporating such pretty well designed Golden ornaments at the end. 
View more: Bengali Wedding Garlands
Bengali Bride in Tantt Sare Gaye Holud Look
Starting with simplicity to the most elegant bridal pieces of jewellery. This particular bride has paired the most beautiful ornament with her quintessentially curated handloom Saree. Along with the sweetest little Flower Jewellery Set for Haldi, she is wearing a pretty well-decorated and ornamented Handloom Tant Saree, which comes from the weaves of Bengal.

The twist of ethnicity with the combination of Traditional Bengali is a really good and acceptable choice for a Gaye Holud Bengali Haldi Look. She is all dressed in the prettiest Saree and the most unconventional Green Bangles. It might be common around the rest of the country, but in Bengal, this is uncommon to wear green bangles. 
Check More: Haldi Flower Jewellery Set Ideas 
Groom in Red Kurta Gaye Holud Look
Everything in this picture is speaking about the versatility of the event. Starting with the Red Kurta, to the ethnic background of the groom. This particular Gaye Holud Bengali Haldi Look is actually making the rest of the image more versatile, and separable.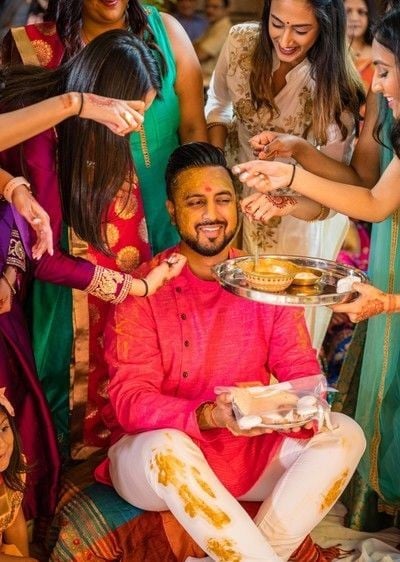 I have many grooms in their most unconventional Wedding outfit, but his particular combination stands out more than ever. He is dressed in a really well assembled Red Cotton Kurta, which is considered the best choice for Groom these days. Gaye Holud Bengali Haldi Look, is completed with the pretty white Pajama Churidar Trouser. 
Must Check: Beautiful Flower Jewellery Ideas
White Kurta for Groom's Gaye Holud Saj
White is one of those colours, that makes anything better and more relevant and perfect. Exactly like, this particular Gaye Holud Bengali Haldi Look is shining high in this category for Gaye Holud Bengali Haldi Look. The groom is dressed in white, while his family members and friends are busy putting color on his forehead.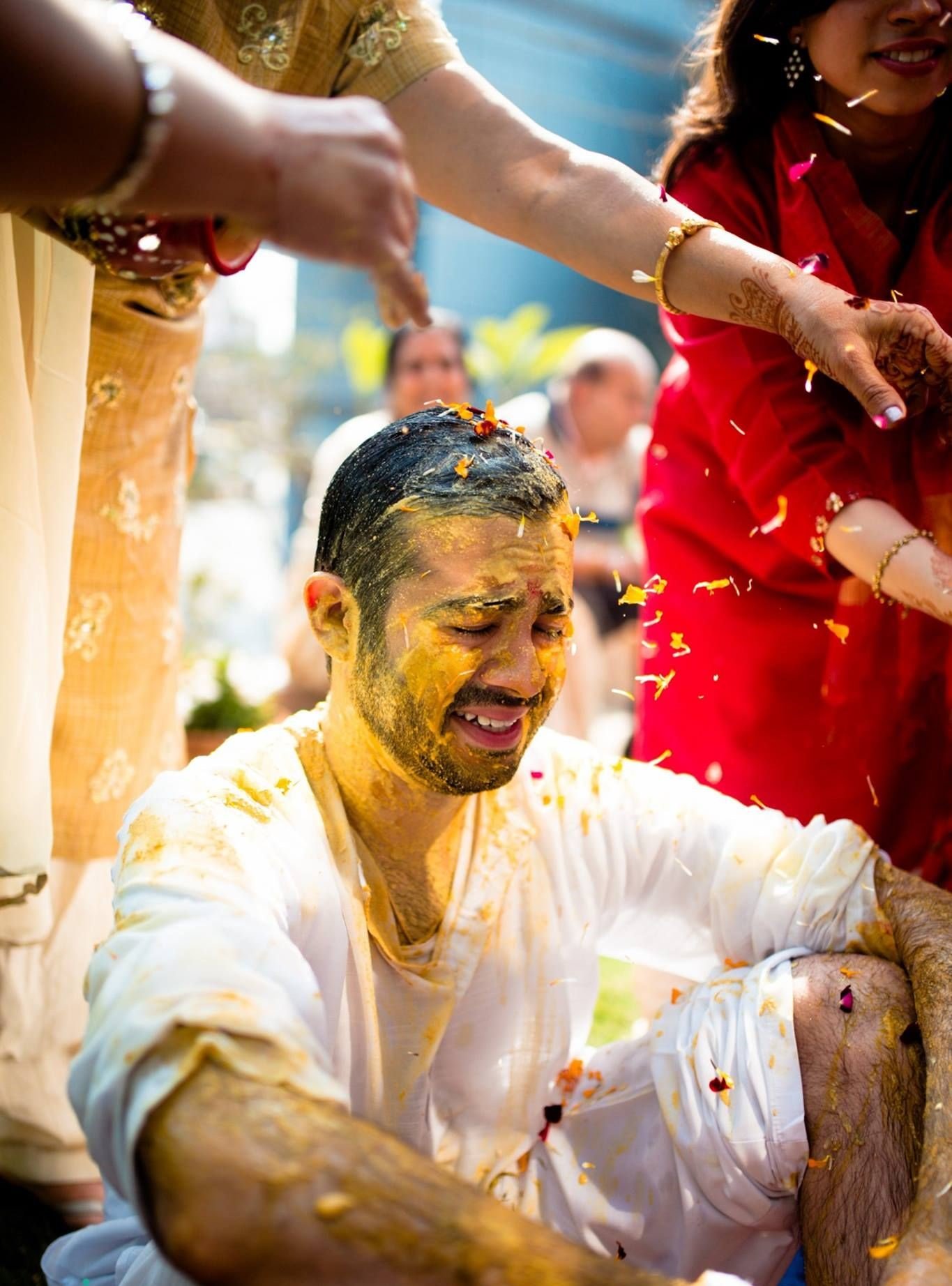 As a matter of fact, the entire combination speaks on the beauty of nature, and the quintessential relevance of humility. He is sitting on the ground, while everyone else is busy putting the beautiful turmeric on his face. Such a Gaye Holuder Saj would stay in my head for a while.
Collaborating Couple's Modern Gaye Holud Pic
Colour Coordination is a fairly simple ritual for Indian weddings. We cannot say, they have purposefully selected the colour of the attire as Yellow. Rather, I can say this particular theme of colour looks really well with your Gaye Holud Bengali Haldi Look.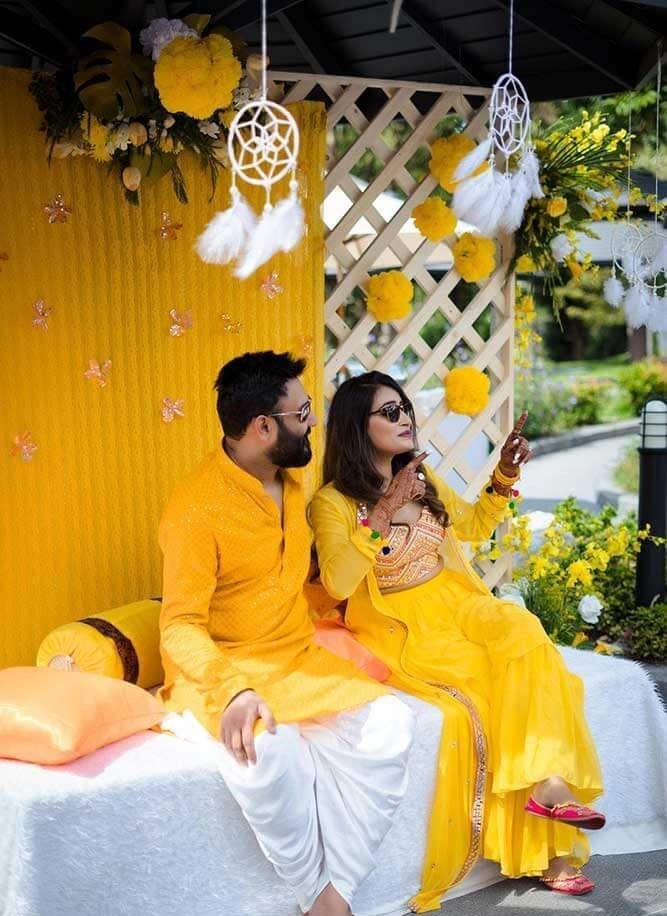 Colour-coordinating outfits are one of the best choices. that makes anything better, and far more attractive. As a  Gaye Holud, it has everything else to make this a fairly impressive choice for anyone who wants to keep his or her outfit cool, and quintessential at the same time. 
Read more: Most Beautiful Haldi Photoshoot
The Water Splashing Gaye Holud Bengali Look
The love of water, and Haldi goes side by side. This particular image features a Bengali groom dressed up in a traditional checked red and white Gamsha from West Bengal. He is wearing a simplistic white camisole shirt, and an ethnic Bengali Dhoti. Together this combination is making him even more time-honoured.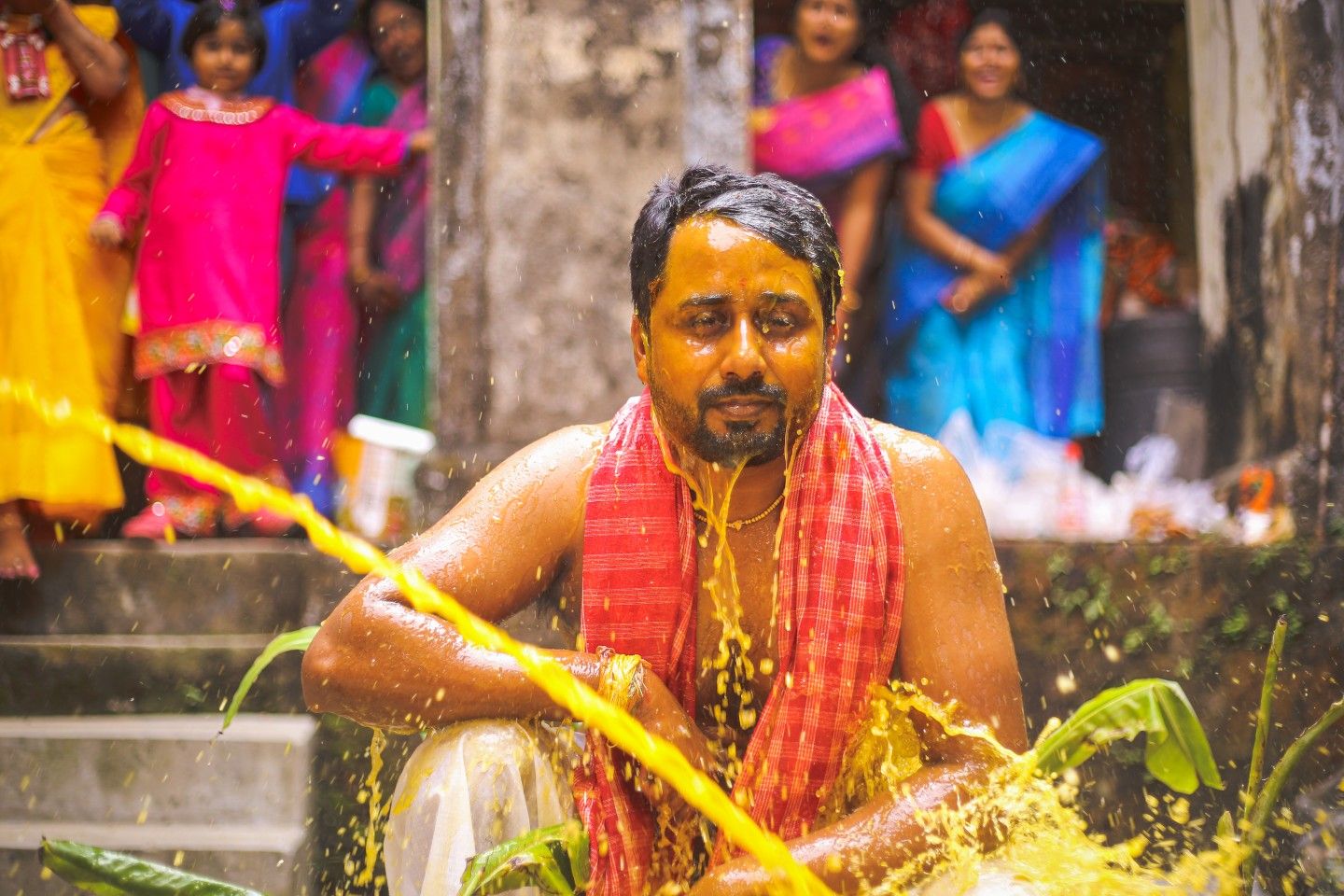 His attire is speaking a lot about the deep-seated Bengali culture. His beautiful White Dhoti is a plain canvas for the exorbitant yellow shade of Turmeric. What makes it, even better is his welcoming smile which is making the total Gaye Holud Bengali Haldi Look better and more lively. 
The Gaye Holud  Haldi Look has to be traditional, and there is no other way out through this sear. The Bridal Attire or her accessory should not be the problem in the image. Every shade of Yellow plays a key of wonder in this particular ceremony. This is exactly why one needs to wear this pastel shade. 
Apart from being, a fairly good option, the Haldi Ceremony is the key to getting the best and the most Modern Gaye Holud Pic. The options that we had for Gaye Holud Look are varied, and you wouldn't have a single complaint about the way it turns out at the last. Get the best Haldi Ceremony Shots with your own uniqueness. 
Well, this is all that you have to know about your wedding day. Starting with the exorbitant decoration to the prettiest outfit.. To know more about weddings, and other associated events simply visit myMandap. We have a whole bunch of detailed blogs about Wedding fashion, Accessories, Rituals, and other such associated events.