Choosing a wedding mandap has always been a tricky task. But, it can be made easy by deciding on the theme of the wedding mandap that you are looking for along with the ambiance that you want to create. Your venue appears to be the only one that your guests would remember for the next few years. Before selecting your wedding mandap, here are the few tips that you need to keep in mind.
1.Don't Book your Venue in the First Go
You might be tempted to finish the work off, but select at least three wedding mandap that fit your choices, and then you can write down the pros and cons of each. This would make the process easier.  Finalizing one at the very first instance seems to be a stupid idea!
2.Take Pictures of Each Venue
Take pictures of each venue and their wedding mandap decorations. But, you shouldn't limit yourself to not only that but also the things that you liked or disliked at each venue. You should also take the picture of the venue's exterior so that you don't get confused between them!
3.Pick Colors or Themes for your Wedding Mandap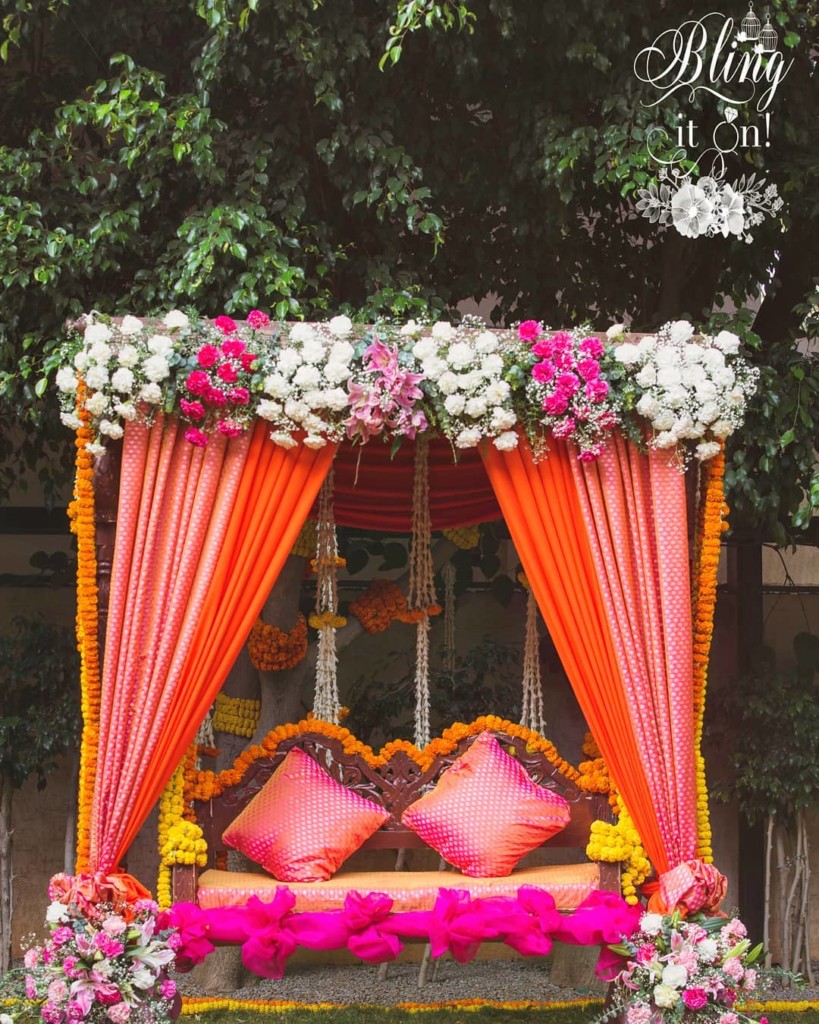 The theme or styling of your wedding day happens to be influenced by the wedding mandap that you've chosen. Often it might happen, the colors that you've chosen are completely in contrast to that of your venue. It is always ideal to choose your colors and themes for a more cohesive look. Think of your wedding decoration in the long run before deciding.
Visit Also: Best Wedding Decoration in Kolkata 
4.Pay Special Attention to the Lighting 
If the wedding mandap is too dark, it can make it tricky for your photographer to capture all of the details that you worked so hard to plan. You'll also need to find out whether the wedding stage design you're considering offers additional lighting services, such as uplighting, intelligent lighting, or projected gobos in-house, or if you'll need to hire an outside vendor.
5. Wedding Venue Packages
There may be some wedding stage ideas that don't provide full services and charge less. To ensure you have everything included, enquire about food and beverages and compare the prices.
View: Pre-wedding shoot in India
6.Date Flexibility for your Wedding Mandap
You can either choose your venue first or pick a date first. In the former case, the date will follow on the basis of availability, in the latter case, it is mostly seen to have limited options. At the end of the day, you have to choose either your favorite time of the year to get hitched or nab your dream wedding mandap.
7. Learn Venue Policies of your Wedding Mandap
When you are looking for potential wedding mandaps images, clearly understand the policies such as what is included and whatnot. For instance, if you are tying the knot at a beautiful historic estate, make sure they have upgraded electrical systems, or else you'll have to bear the cost of installing generators as an added bonus.
8. Have Backups in case of an Outdoor Wedding 
Before booking, get to know the plan for your wedding stage decoration and work on it. Ensure you have a backup ready, especially in the case of an outdoor wedding. If you don't have a backup consider some other wedding stage decoration or hiring a planner.
View also: Modern Wedding Stage Decoration
9.Estimate the Number of Guests
Since not all places can adjust to a wide number of guests, you need to choose your Indian wedding mandap carefully. Almost every wedding mandap design will have a guest count so it becomes easier for you to decide on the venue. Try to keep the guest count minimum.
10.Decide the Budget for your Wedding Mandap
Sit with your fiance and decide on the budget, how much to spend where in order to fulfill your vision. Keep in mind all possibilities, jot down the estimation of every single detail. In short, prioritize all things along with last-minute expenses.
11.Detailed Planning of your Wedding Mandap
First things first, pen down everything that you want from the wedding mandap design. Decide the time, your bridal look, chance possibilities and everything else. If you want, appoint a wedding planner and hand it over to the appointed person about your requirements.
12.Ask for Referrals for your Wedding Mandap
Many wedding venues, which have wedding mandap design, have great relationships with past clients who would be more than happy to let you know about their experiences. Ask about the service — was anyone difficult to work with? Or did they go above and beyond to ensure the event was a smashing success? How was the food? Was there anything they wish they would have done differently?
 Check more: Adi Dhakeswari Bastralaya Bridal Sarees
13.In the Case of In-house Catering
If the venue, where the wedding mandap design is prepared, offers in-house catering, inquire if you can do a tasting before the wedding . Bring your parents to get their opinion.  You'll also need to make the venue aware of any special dietary restrictions. Drink preferences may come into play as well: Are you and your guests' connoisseurs of the vine, or are craft beers more up your alley? There's no need to break the bank on a premium bar if you won't be pouring fancy cognacs and vodkas.
14.Transportation Spaces for your Wedding Mandap
Keep the comfort of your guests in mind. This detail regarding your Indian wedding mandap decoration ideas is for creating a positive guest experience. Make sure there is enough room for your guests to park their cars without having them to walk miles to and fro the ceremony. Check at your local hotels to ensure there is every possible comfort arranged for them.
Visit Also: Anjali Jewellers
15.Curfew Policies of your Wedding Mandap
According to some of the venue policies, which many wedding mandap decorations adhere to, it implies the time when your party has to stop. Most of the venues would impose noise restrictions. If you are the dance-out-whole-night couple, and music is your priority, then certainly you have to remember that some venues do come with particular restrictions.