Bengali weddings are the epitome of grandeur and majesty. From food to wedding decoration in Kolkata, everything is carefully crafted and curated for the best results. The decor sets the tone for the wedding, it's the primary factor in deciding the theme and mood of the entire ceremony.
From the kind of flowers you want to deck the halls with, to the lighting fixtures and even the signages, everything falls under wedding decoration in Kolkata and before you start planning the decor for your dream wedding it's very important to read up and get a clear idea.
The very first thing you need to do is get a general idea of what you want the wedding decoration in Kolkata to be like,  it'd be wise to look into a few themes and the decor you'll need according to them.
   1. Bollywood-themed wedding decoration in Kolkata
Wedding decorations in Kolkata often draw inspiration from Bollywood. There's no way a Bollywood buff would give a Bollywood-themed wedding a miss. There's also so much more to this theme than just taking playlist inspo from Bollywood music, you can incorporate Bollywood-themed centrepieces, wall hanging etc into your venue. 
   2. Bohemian-themed wedding decoration in Kolkata
A bohemian wedding incorporates a lot of unique elements within a matching colour scheme. Dream catchers, macramé, sheer cascades of white, pastel rugs and a matching lounge area are some ideas you might want to consider for a boho-themed wedding decoration in Kolkata.
   3. Rustic Romantic themed wedding decoration in Kolkata
Not very far away for a bohemian theme but also fairly distinct is a rustic-themed wedding. This is more about earthy hues and elements. You can incorporate twigs, branches, foliage, lace and jute into your design. You can even add wooden furniture to the venue for a complete and polished look. A rustic-themed wedding works with Kolkata's aesthetic very well. 
   4. Tropical-themed wedding decoration in Kolkata
 Topical-themed wedding decorations in Kolkata would very much be in harmony with the city. In the winter and early spring, Kolkata's wedding conditions are just perfect for an outdoor wedding and what theme is better than a tropical one for the outdoors? Go for a colourful palette and include elements like fresh flowers and fruits. A very good idea would be to also include a themed bar with all the tropical drinks on the menu. 
   5. Gardenia-themed wedding decoration in Kolkata
Gardenia/forest-themed wedding decoration in Kolkata especially is a treat to watch. You can transform the wedding venue into a garden in the lap of nature or you can actually choose to host your wedding in a resort with beautiful gardens and trees around. Make use of floral hangings and sheer white curtains to enhance the look even further.
   6. Fandom-themed wedding decoration in Kolkata 
This is an interesting one for people who've grown up loving certain franchises. For example Feluda or Harry Potter or maybe Game of Thrones-themed wedding decor. You can incorporate assorted merch and fandom-related decor into the wedding decoration and make it even better by playing the theme music while your shaat pak ( hehe jk or am I ) 
Now that you have an idea of the theme you want to go for, it might be time to look at the decor essentials –
WEDDING DECORATION ESSENTIALS 
    Wedding signage, labels and printables :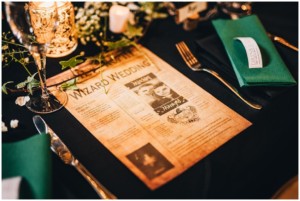 Hastily made Laila weds Majnu thermocol signages are way out of style now. It's time to add a more professional touch to your signages and other printables. Whatever your aesthetic maybe you can usually find a style that suits you, either on e-commerce sites or your trusty wedding haats of Kolkata. Not just that, you can also find several Instagram small businesses selling high-quality customised products at affordable rates.
    Flower decor :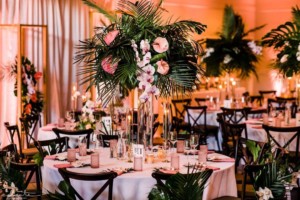 Flowers are a must at any wedding and even more so in a Bengali ceremony. You will need flowers for the rituals and for decoration purposes. Often customers have concerns regarding the pricing as flowers can be on the costlier side, in those cases always remember that your floral decor doesn't have to be real. Except for the flowers needed in the ceremony, nothing has to be real. You can very easily achieve the look of fresh dewy flowers using plastic ones, it's the more cost-effective and sustainable option.
Also Check: Wedding Planner in Delhi
   Mandap Decor: Wedding Decoration in Kolkata
In a standard Bengali wedding, there are three mandaps. –
Gaye holud er mandap – These are usually simple and lightweight mandaps, focusing on yellow and sometimes, orange. The mandap can either be of yellow cloth and bamboo or for a more artistic touch you can opt for genda (marigold) garlands (real or plastic) for a very desi, very minimalistic yet elegant look.
Must Check: Simple Car Decoration
 Sangeet mandap – Although slightly less popular, sangeet mandaps are still a fairly common element in wedding decoration in Kolkata. Since these usually involve a lot of movement (did you mean: gorgeous ladies dancing to London thumakda), it is essential to make the sangeet mandap spacious. Also unlike the Gaye holud, a mandap for a sangeet is not as monochromatic, it's colourful, dramatic and dazzling, holding up the vibe of the event.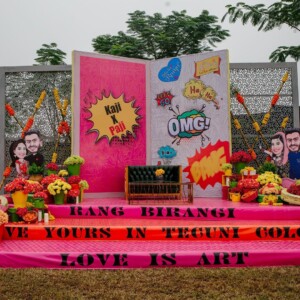 Biyer Mandap – The big finale of mandaps, a Bengali wedding mandap is of course the one that requires the most effort. This mandap is where all the main rituals take place, from sindoor daan to shaat pak. It is the centre of attraction in the entire wedding decoration in the Kolkata scenario. Work on the buyer mandap according to your taste, keep it close to your aesthetic, and make it elegant, arresting and beautiful. Since a yagna takes place here, I think it'd be a great idea to have some ventilation systems in place for this mandap. At the same time, it is also very important to invest in proper lighting setups in and around the biyer mandap, given that most of the photos of the marriage are taken here. 
 Photo Booth ( optional ) – It doesn't strictly fall under mandaps but since the decor materials are fairly similar, I'd put this here. The concept of photobooths is becoming increasingly popular in weddings. It gives the guests a place to click their pictures and is in general a fun thing to add to your wedding venue. I'd suggest you match the aesthetic of your photo booth to that of the theme of the wedding.
     Lighting fixtures :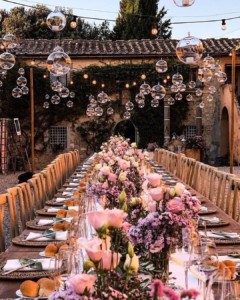 Lighting is one of the key players. It can either make or break the entire wedding decoration in Kolkata. Lighting fixtures inside the wedding hall and those outside need to walk a thin line between well-lit and gaudy. You can always check out Pinterest boards for inspo. A few popular ideas are –
fairy lights on the path leading to the gates of the wedding hall.
disco lights ( not too many though, just enough to add that glitz and glam.)
another very popular idea is having huge chains of fairy lights cover the entire building from top to bottom.
General tips for when you are deciding on your wedding decoration 
It is very very important to decide on your budget for the wedding decoration in Kolkata beforehand. The plan fans out according to your budget and not having a clear idea of that is going to hold back the process.
Location / Venue of your wedding
The location or venue of your wedding is another big factor that decides what decoration you should go for. Like suppose, you're having your wedding at the beach, there are certain elements which can't be arranged on a beach, or maybe a place, like say a museum or a palace where you won't be allowed to nail your signages to the walls or alter and potentially damage the existing architecture in any way. It is advisable to keep in mind all of this before selecting a theme for your decorations. 
Season and weather conditions 
The weather conditions and season play a very important role in deciding the sort of decor you should go for. For example, for a summer wedding, you'll prefer a lighter colour palette and airy breezy elements incorporated in your decor. During rains, you'll want to opt for an indoor venue and outside decor that'll withstand the occasional light drizzle, similarly for winters, the colour palette will move over to the darker part of the spectrum and the decoration elements will be more solid and bright.
Make sure the theme and decor speak to you. Rather than having an outlandishly grand wedding that you can't really connect to, always put in the time to work on a theme for your wedding decoration that you and your partner can see yourself getting married in.
In a similar vein to that of the previous point, work on creating inspiration boards. You'll find plenty of styles, themes and decor ideas on Pinterest and Instagram, go through them all and create a collage of ideas that you like.
Often planning an entire wedding by yourself can get too stressful and without the necessary experience, you might have to face a lot of unforeseen issues. The best way to sort this out would be by hiring a wedding planner. Have a thorough talk with them and try to convey your vision to them, you can also make an inspiration board for them.
Budgeting tips while selecting decor for your wedding –
This might come as a surprise but in some cases, especially the smaller bits of decor like candelabras, candle votives and mason jars are better bought than hired. They can be easily sourced and you can also reuse them for your reception and other parties.
Hire a pro wedding planner 
Hiring an experienced wedding planner doesn't have to be as costly as you think. You'll just need to dig around for a bit and you'll find someone who has the required vision and expertise and also offers their services at an affordable rate. Hiring someone who has been in this business for a while will know certain cost-cutting techniques, like where to source the materials from at a cheap price, where to hire good and affordable technicians, what practices to avoid and what to follow etc.
Find a way to incorporate the architecture of the wedding venue into your wedding decoration in Kolkata 
Work your designs such that they incorporate the architecture of the venue, or if it's an outdoor one, the natural elements.