The necklace design is some of the most sought-after aspects when planning a wedding look. The necklace is one of the most important and prominent pieces of jewellery that catches the eye of onlookers.
As it defines the neck, highlights the attire, and also enhances the overall 'appearance' of the individual wearing it.
But, we have come a long way from the regular 'goddess-like' necklace designs favoured by the traditions in our country. Not, that these are any less beautiful.
But the modern bride has a different taste, hence the jewellery designers have embarked on a mission to ensure that there are quite a few attractive options for new-age brides as well.
As we are talking about necklace sets and more, it is necessary to understand that there are individuals with varying tastes. Hence, we must take into account multiple options that ensure to keep everyone is happy. Jewellery and gold go hand in hand, but some people love a detour now and then.
Hence for such individuals, there is a vast variety of options in coloured gems, diamonds, and others as such to select from. These are also in consideration of the fact that, now, the millennial bride has a firm and clear say over her bridal look.
Hence, her bridal jewellery must be in-sync with the rest of her attire and taste. So, what are the latest trends in necklace designs for the year 2022-2023? Well, we at myMandap bring to you some of our top recommendations:
The Gold Matt Necklace Design Idea
There are many, like myself included who are not big fans of the 'Blingy Gold'.Our idea of Gold is subtle and sober with a hint of sophistication to it. The Matt Gold is one such option for the bride who likes her jewellery to highlight her, and not the other way round.
The contemporary design in the collar necklace is a perfect idea for a classy idea. Especially, if you are the one who is going to be wearing an off-shoulder dress, then this is just the right kind of pick for you. The Collar necklace design in matt gold is a perfect excuse to feel like a princess on your D-Day.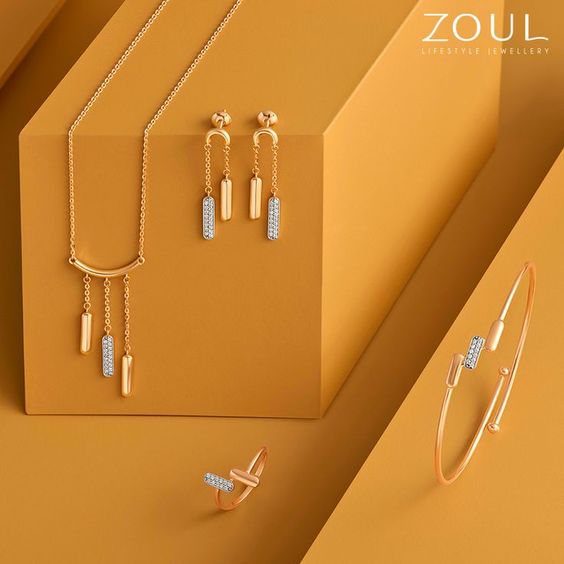 The designs are variable and trendy, yet have a tinge of tradition to them. You can ensure that the rest of your jewellery can remain simple, as your necklace is the star of the show.
Check Out: Amazing Bridal Necklace
The Pendant Necklace Design Idea
This is one of the latest trends in necklace design ideas and makes for a perfect fit for the contemporary bride with a taste for 'unique'. The design comprises a regular necklace pattern with multiple rows, except it also features a beautiful tear-drop Pendant shaped locket-like dangler in the centre.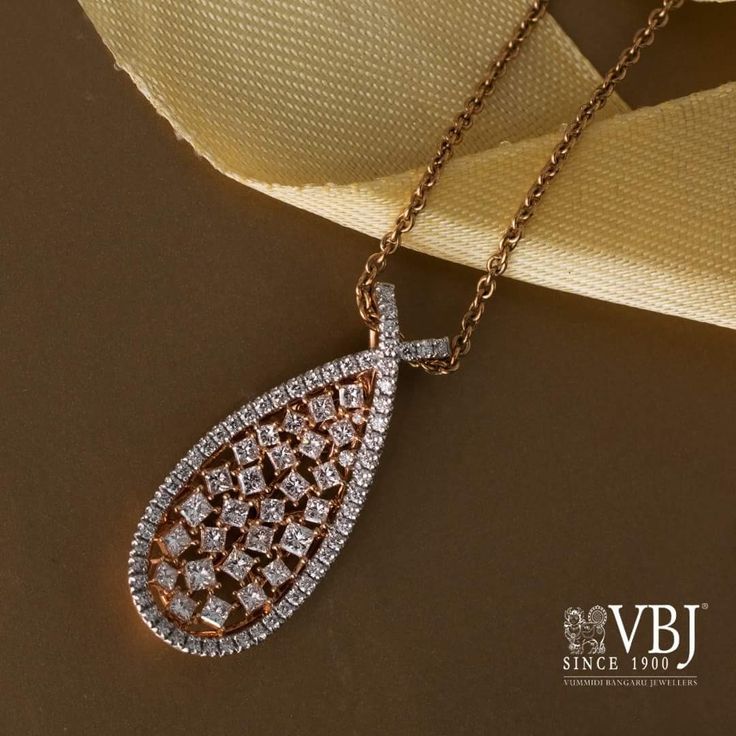 The Pendant of this Necklace design can include precious stones embedded within the tear-drop design. This offers a rather attractive-looking gold necklace, with a modern twist to it. The best part is that you can design the Pendant to be as small or as large as you might want it to be.
The Minimal Gold Necklace Design Idea
As mentioned earlier, there are different styles for each of us, and not all of us prefer a gaudy look. Hence, for the Minimalistic taste in jewellery, we have the Minimal latest gold necklace design.
This is as it sounds; a basic yet classy necklace design in combination with earrings to be worn for simple functions and events. These are lightweight and beautiful to feel and look at, embedded with gemstones if you like a 'pop' of colour to go with it.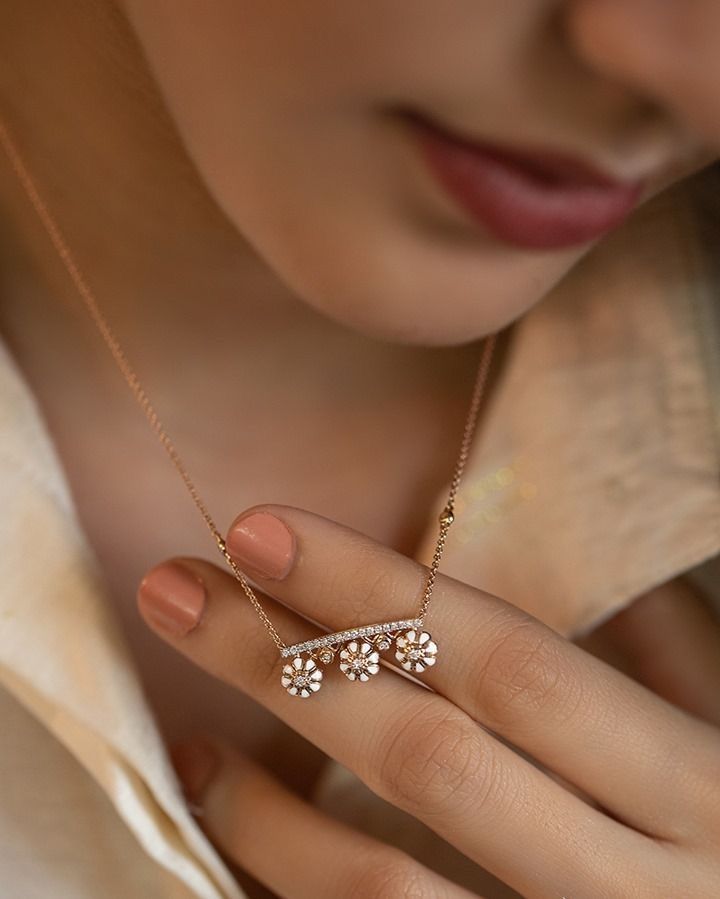 The Minimal gold necklace designs are made with the idea to suit most of your outfit choices. This could include both ethnic and modern attires. Hence, these are designed to also be sturdy with a secured clasp that is easy to put on and remains intact throughout the wear.
Check More: Amazing Rani Haar Designs
The Old School Necklace Design Idea
As mentioned earlier, there is a piece for every taste. Hence, the traditional design in yellow gold makes for a great choice. These are evergreen patterns that are never quite out of style. Also, the traditional necklace makes for a piece of perfect heirloom jewellery that can be inherited by the next-gen bride.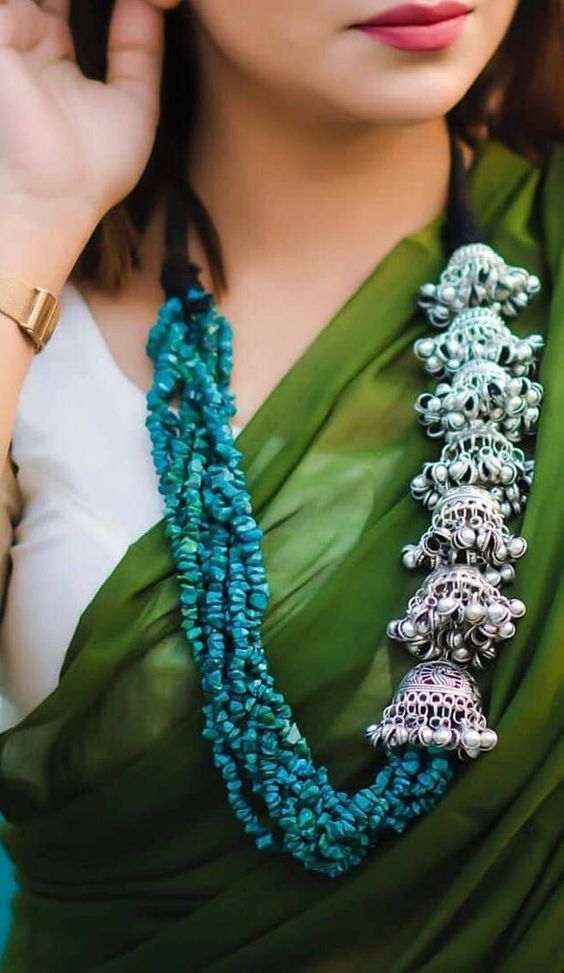 The patterns on this one are classy yet traditional, where very Ethnic and Indian Motif designs are favoured. Also, these are mostly designed to be structured on Solid gold, yet a few gemstones or diamonds always make an appearance now and then.
The traditional necklace design is coupled with earrings as well, which makes for a complete bridal look.
Kundan Necklace Design Idea
Nothing is more regal than the Kundan designs. Timeless, elegant, and oh-so rich, the Kundan patterns are a bridal must-have. These are also passable to be accepted as contemporary designs that can be worn with various outfits.
The best part about the Kundan designs is that these can be clubbed with various coloured stones. Be it White, multicoloured, or the classy green Emerald. The Kundan pattern is a much-favoured jewellery art among the Marwari community and has been loved the world over.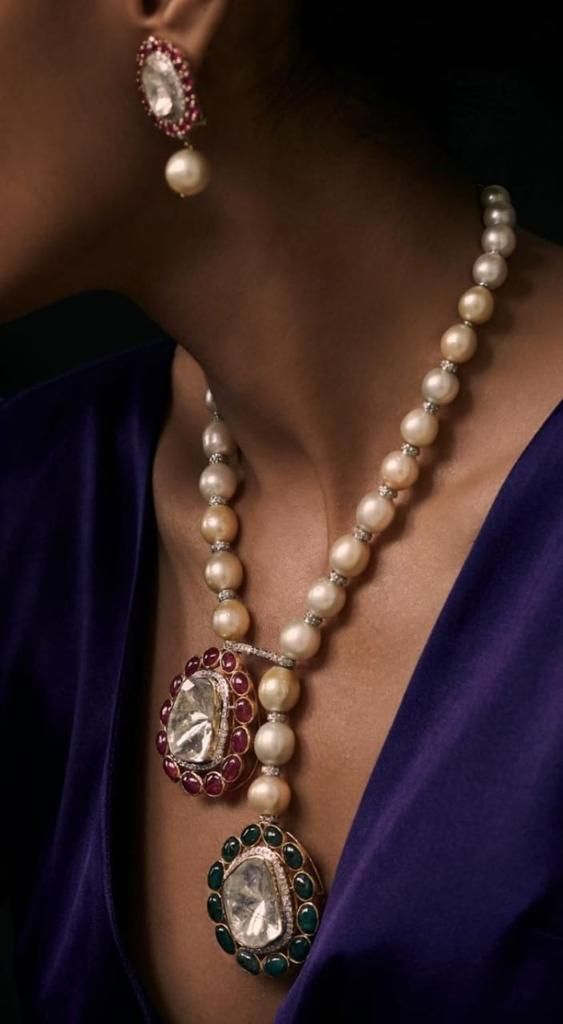 The pattern and the design of the Kundan jewellery are a perfect fit for a bridal collection or also as an heirloom collection.
Check Out:  Gorgeous Bridal Payal Designs
The Princess Necklace Design Idea
We cannot still get over the beautiful regal jewellery collection won by Aishwarya Rai in the movie 'Jodha-Akbar'. It screamed pure royalty and has since become a major cult favourite to this date.
Essentially the design comprises the much-loved Princess necklace pattern that has been a favourite worn by royalty in the past and the present as well. This necklace design is a full-form idea that encompasses the entire neck and upper chest area. Hence, almost covers much of the front area of the wearer.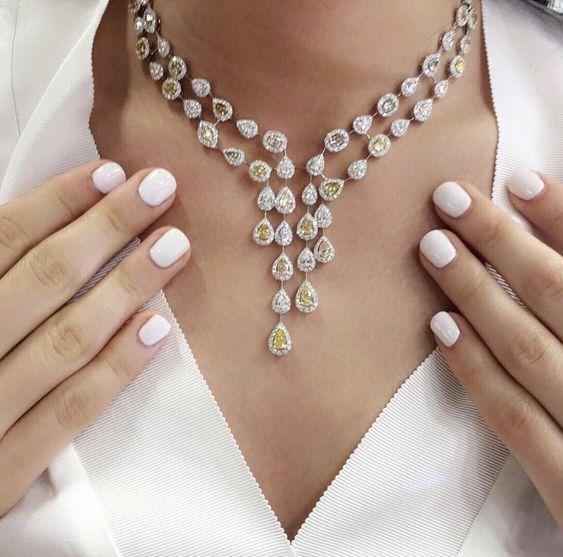 The Princess necklace design starts from the very base of the neck, collaring it and spreading along in a dome shape. This can either have 'bendable portions' to it or be structured to form a singular piece. Likewise, the earrings and the cuff bangles also make for a complete look.
Multiple-Chain Necklace Design Idea
Sometimes, more is less. Many individuals love the multiple-chain necklace trend. This comprises more than two necklaces that have been infused together to create a single necklace. The overall look is more like a goddess necklace idea, except this is a single piece.
The best part about this is to be able to get away with the appearance of having more than one gold chain worn together. complete your look with matching bangles and gold earrings.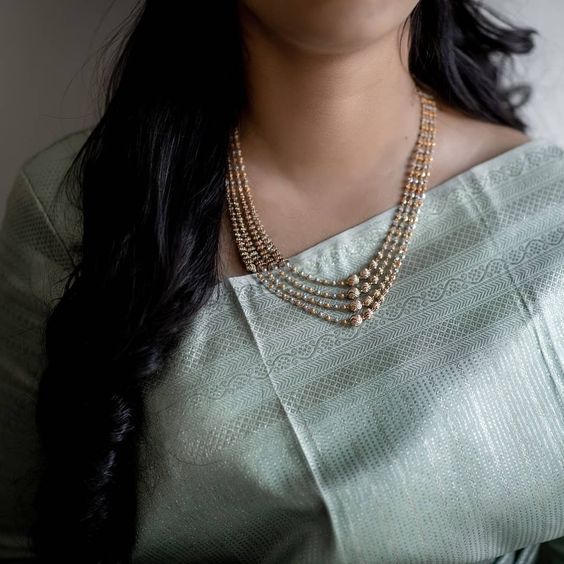 While you could opt for a piece of single Gold-toned jewellery, however, others like to mix-n-match the Glossy tones with the Matt tones. This offers a unique-looking trend that stands out and manages to go with all your dress choices.
Check More: Amazing Bridal Vanity Box
The Spike Necklace Design Idea
This is one of the most trendy designs so far and works well with being passed off in both contemporary and traditional jewellery choices. The design is rather a cool-looking piece with a regular necklace design that features the statement spike-like designs emerging from the very edge of the pattern.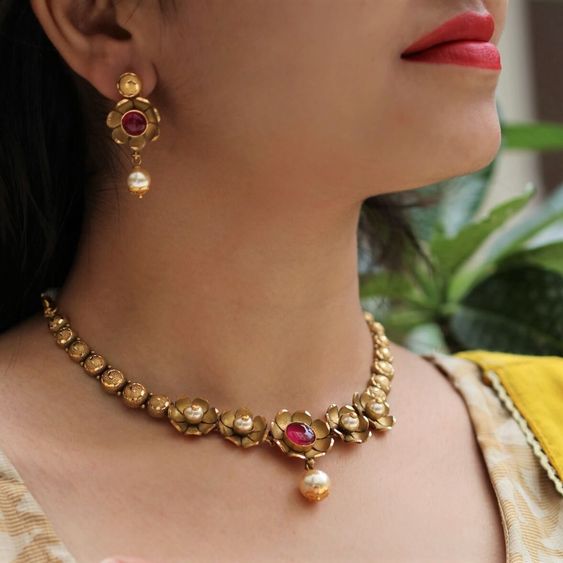 The Choker Necklace Design Idea
The Choker is yet another great bestseller design that can hardly go wrong with anyone. This offers more like a 'Golden Collar-like' design worn on the neck. The Gold metal used in this can either be made of a Glossy finish or the Matt finish.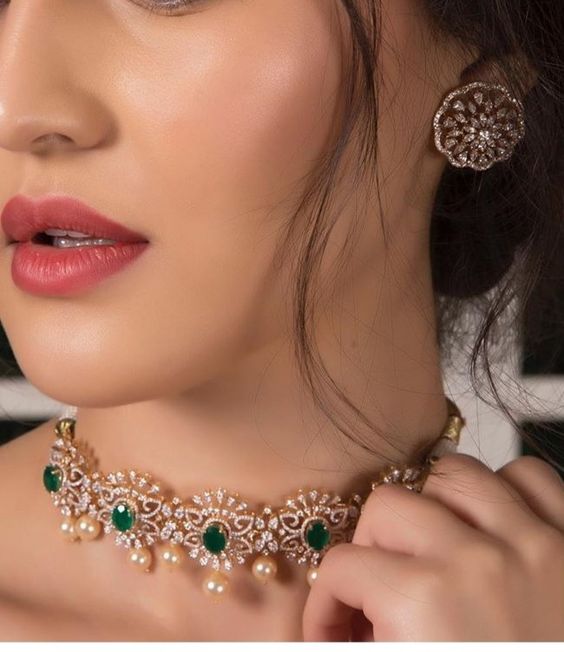 The Choker necklace idea can comprise two or more rows of gold chains merged to form a single piece. The overall look is that of a cool-looking necklace worn in a 'hugging' manner close to the neck. Club this up with matching earrings and bangles.
Also View: Best 15 Pearl Bridal Jewellery Sets
The South Indian-Inspired Necklace Design idea
Here the design comprises a shorter necklace and a longer necklace as well.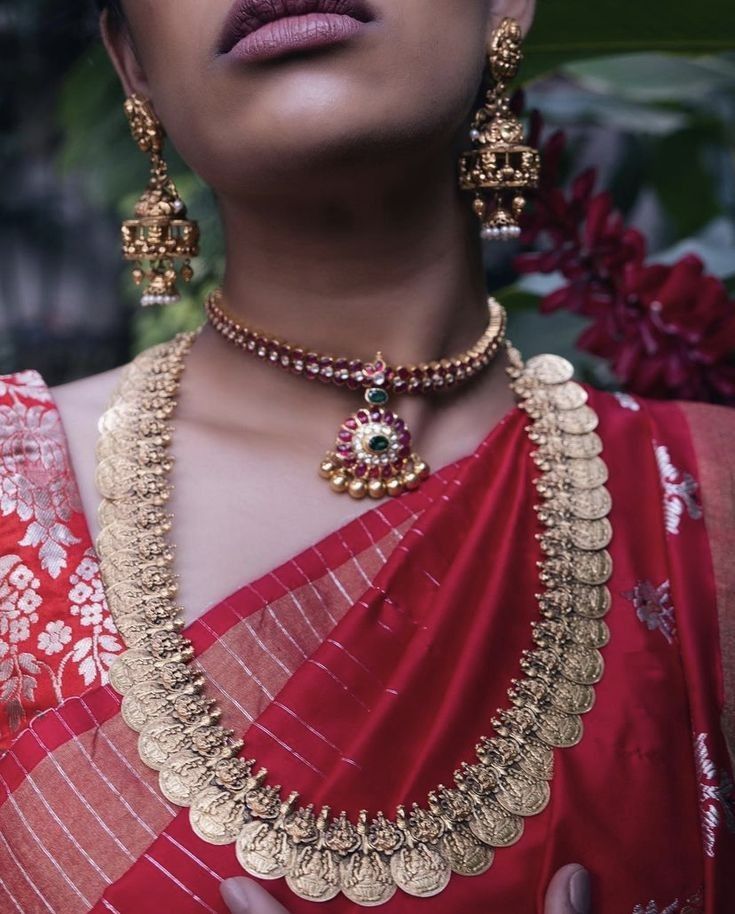 The design is a traditional South Indian classic jewellery that has typical motif patterns. While the designs are generally medium to large patterns, however, these are also small and fine designs. With tiny dangling pendant-like designs, the entire look is rather alluring.
The Necklace is an integral part of bridal jewellery wear. 
In the current times, necklace designs have become more and more trendy, thus adding to the ever-expanding customer base. This comprehensive list offers a choice of various trends that one can select from.