Rakhi making ideas is an art, and it is the sweetest thing sisters do for their siblings and cousins. Well, how to make rakhi? Yes, might be a question to many and to solve such problems we have some hacks. 
Easy Rakhi making Ideas, for sisters who forgot to buy one or just want their design to be special and personalised. To solve your query, myMandap has found the easiest ways for Rakhi Making at Home. 
Rakhi Making involves a series of things and processes. You have to use your own creativity for their beautiful tradition and ethnic custom. Traditionally Rakhi is a symbolic thread representing Protection and love. 
This is a token of love from the sister to her brother and sister-in-law. A token of love, representing togetherness and the sigh of being together for one another. 
How to Make Handmade Rakhi Designs?
Rakhi making can be as easy as putting some threads together, or as hard as making an artificial flower from scratch. No matter what, Rakhi making at home is always fun. 
It is like doing something for your sibling on your own and gifting that as a symbol of your love and affection for their safety and well-being. Most Rakhi-making processes involve a series of patterns.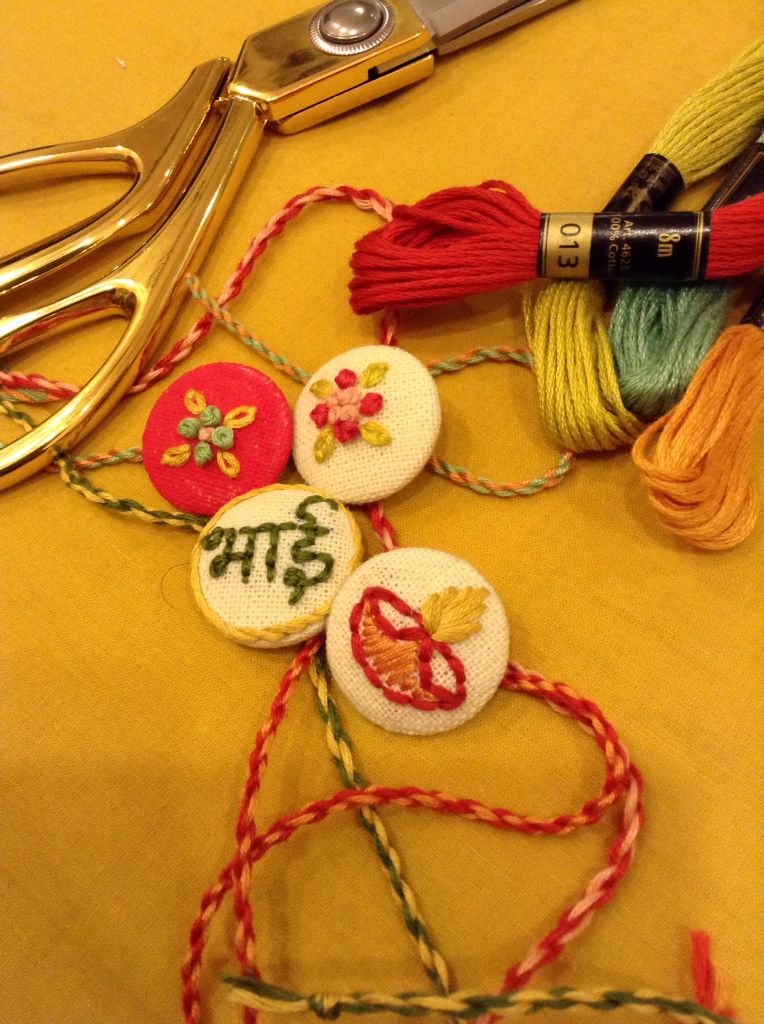 Things like beads, threads and jump rings play a role in the vivid process of easy rakhi making. Some even use cotton balls, threads, wool, mirrors, stones and other little things for the decor process. 
How to make Rakhi at Home? Well, here you can take inspiration from handmade rakhi designs. These are easy rakhi-making processes, which makes them so popular in and around India. 
Learn about some of the Coolest Rakhi making ideas:
How to make Rakhi? Take ideas from our super cool designs, which would surely cater to your want for a good and self-explanatory Rakhi Design.
Besides being a good option, homemade Rakhi Designs are easier than they seem. How to make handmade rakhi designs? The Question itself answers the clause.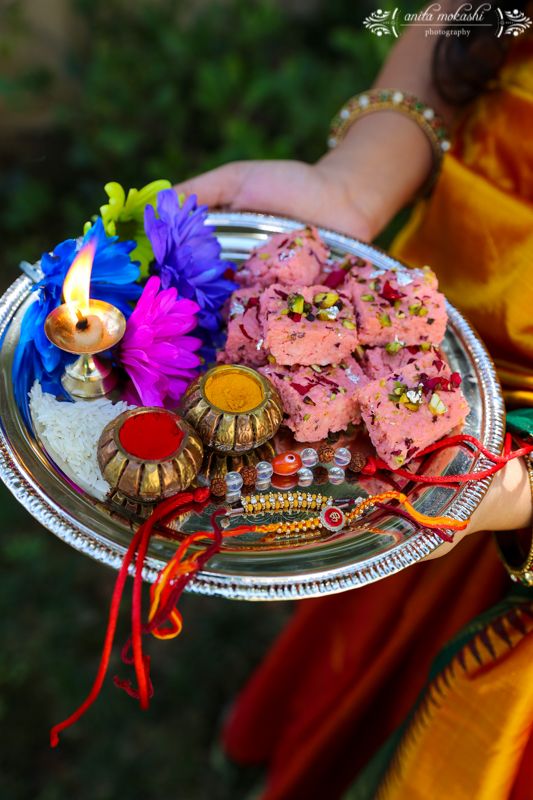 How to make rakhi at home? Here, we are about to decipher some hacks, tricks and tips which would head you to some of the best and easy rakhi-making tricks. 
Subtle themes like peacock rakhi-making ideas and many other themes are a part of this accumulated blog. Learn how to do and create such amazing designs. Here we have some cool ideas for rakhi making at home. 
Must Check: Rakhi Online
Bhaiya Embroidered Rakhi Making
This is a beautiful design for a simplistic Rakhi pattern. It is highly simplistic and original, and that has a very trendy pattern too. To make these amazing Rakhi designs, you just need to put with some pretty Applique designs.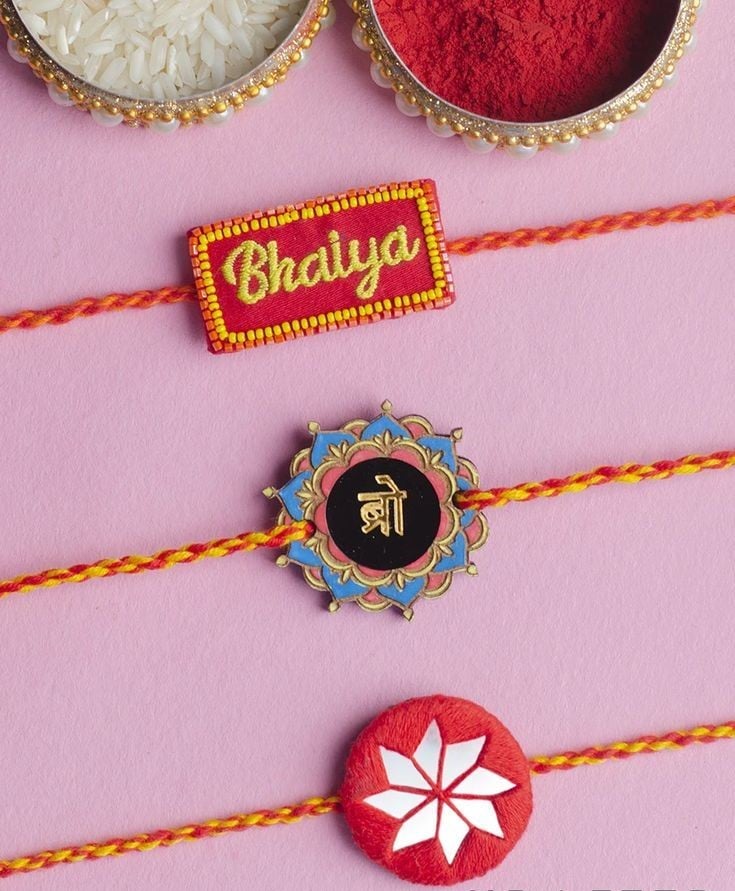 If you are good with threadwork, then you can make it on your own. If not, before Raksha Bandhan you can find these amazing designs widely in the market. They are exceptionally pretty, highly appreciated and very trendy. Such designs are better than anything else.
Extra Buys:
Colourful Appliques
Colourful threads
Woollen strings
Traditional Red Beads Rakhi making
If your sibling is into DIY things, then he or she is totally going to fall in love with this particular pattern for rakhi making. Honestly, it is like any other rakhi design which is the main attraction of such amazing patterns.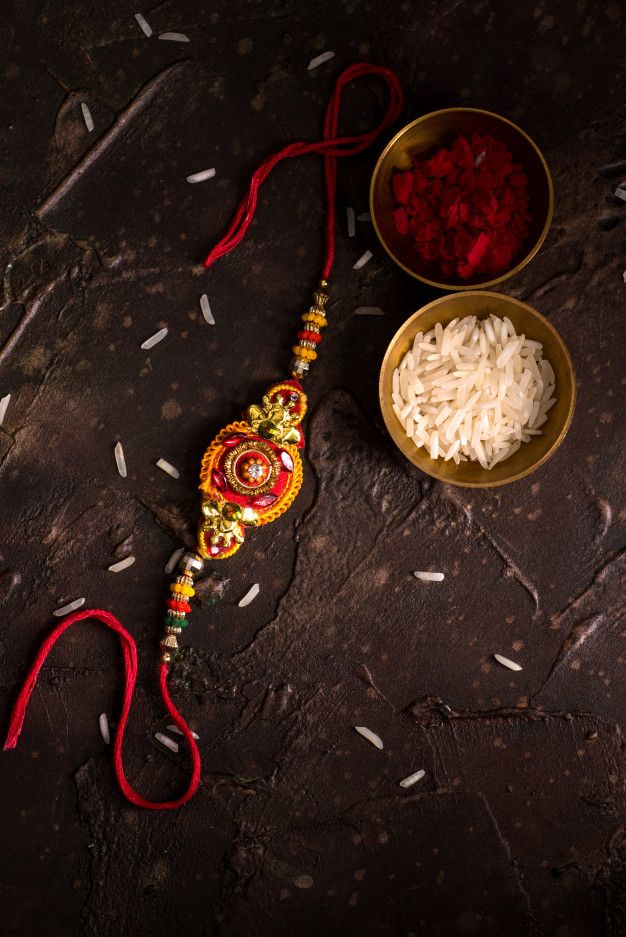 It's never too hard to use previous years' products and rakhi designs. Just cut the middle motif out of the design and that would make the best pattern for the Rakhi design. It is extremely simple and that has made the design even more prominent.
Extra Buys:
Colourful Beads
Red and Orange Threads
Mud Motifs
Evil Eye Embroidered Rakhi making
This is a beautiful design, and it is quite trendy too. If you ask me, I have my full heart for a design like this. It is extremely basic, naturalistic and auspicious. Evil Eye Rakhis are very expensive and mostly unavailable.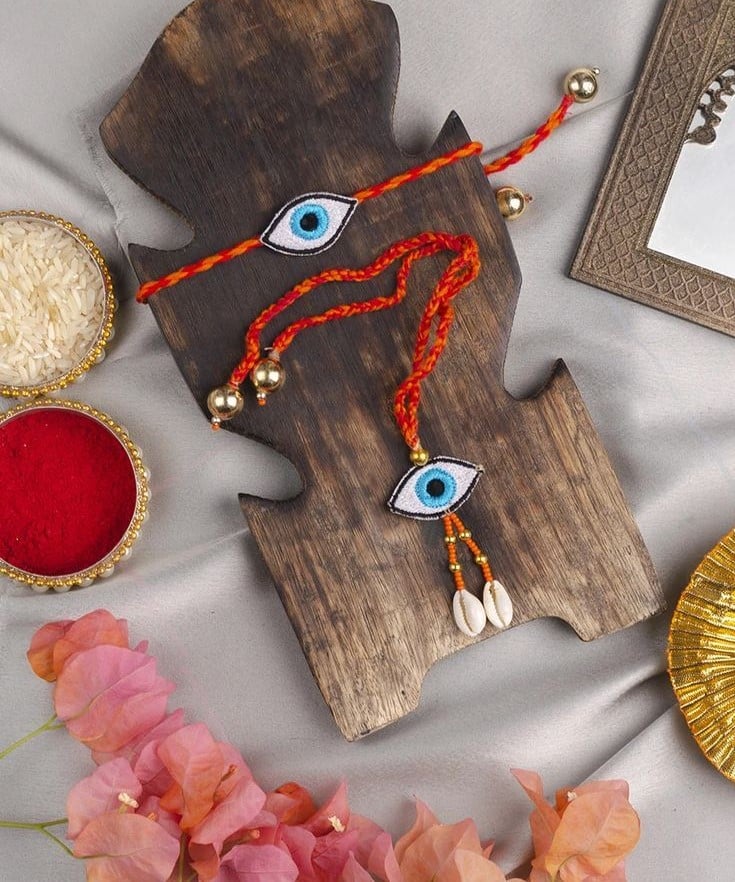 The best part is, that you can totally make it on your own. You just need to paste some appliques together and your Rakhi making would be completed within moments. Starting with some simplistic threadwork and other little details which completes that.
Extra Buys:
Trendy Patches
Sea Shells
Threads
Golden Balls
Shell Flower Embroidered Rakhi making
I'm a big fan of designs which hardly take more than an hour to complete. This is one of such amazing designs. You can make some than ten such Rakhis within the span of 10 minutes. All you need is a cardboard sheet and some teeny-tiny pieces of paper.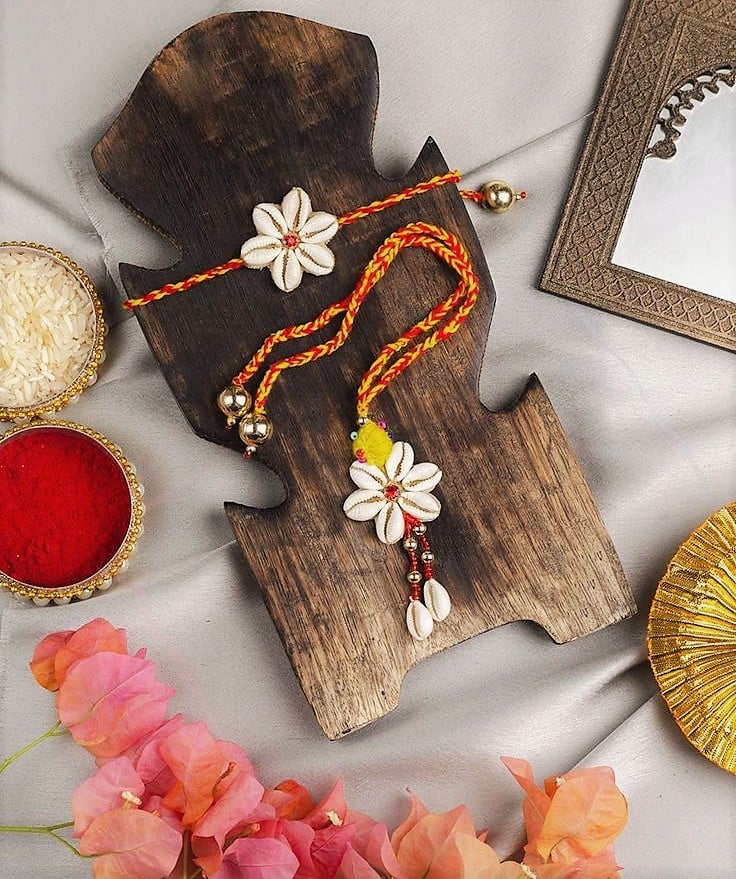 For this Rakhi-making process, you need to work on some sea shells. Paste and attach them together and make beautiful motifs together. Trust me, your brother would be baffled by the results and this is one of the best designs for it.
Extra Buys:
Sea Shells
Strings
Golden Balls
Cardboard Sheet
Bhaiya & Bhabi Rakhi making
I have my full faith in designs which hardly take more than an hour to complete. This particular set is extremely easy too, you only have to work with some little hangings, and some other Meenakari work ornaments.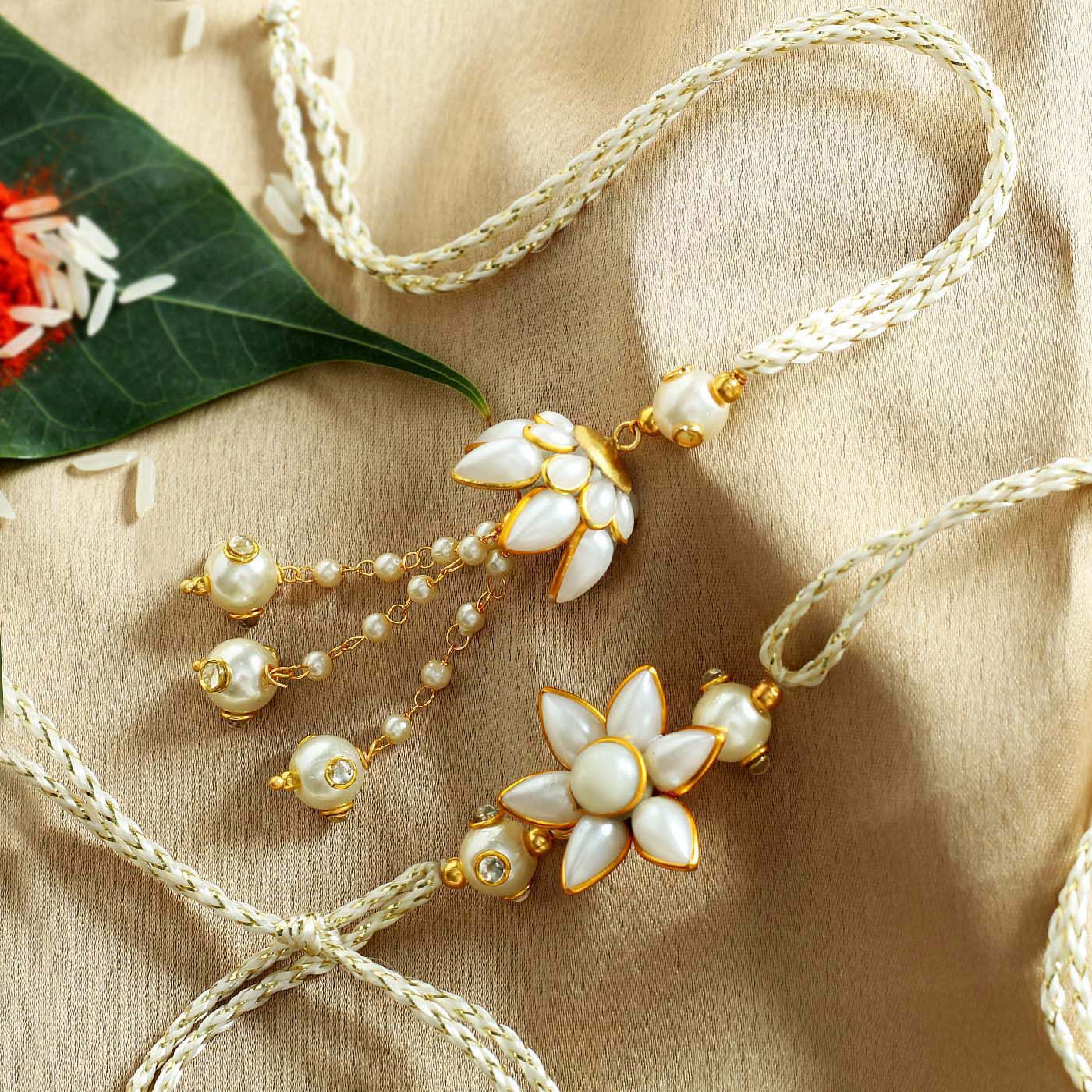 That would take a long way to complete and the designs are pretty awesome too. This is one of the best designs for Rakhi making, it is easy and highly professional by the look of it./ It is easy to complete and it would hardly take more than an hour to complete.
Extra Buys:
Pearl hangings
White and Beige Strings
Waterfalls
Meenakari Motif
Kundan stones
See also: Silver Rakhi Designs 
Kundan Work and Pearl Rakhi making
If you can carve out this beautiful design on your own then kudos to your artistic skills. Otherwise, I have two hacks for making this beautiful Kundan work centrepiece. You can use cardboard for this Rakhi making.
The other process involves just using a simplistic old locket which has some out-of-the-loop from your necklace piece, or earring. Such things work pretty well for Rakhi designs like these.
Extra Buys:
Round Kundan Piece
Red or Pink Wool
Small Beads or Pearls
Exquisite Red Stone Rakhi making
I'm totally in love with this Exquisite Rakhi design. It is exceptionally pretty, and well decorated too. To deal with this pretty Rakhi Design, you need to work with what you already have. Like an old locket or a broken earring.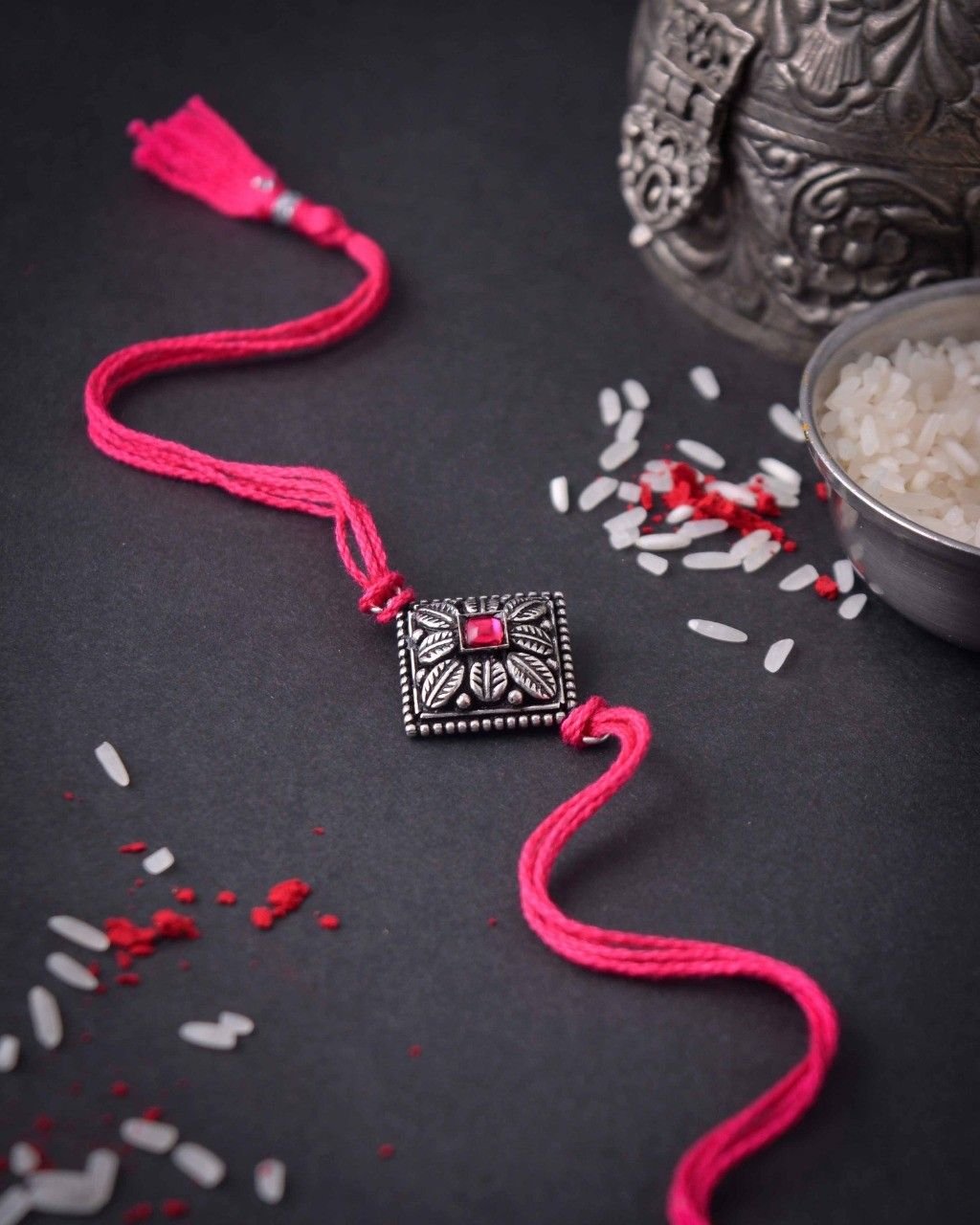 Yes most of us have such spare jewellery, right? Like a broken locket, or a beautiful earring in which you have only a single one and the other old one is lost. Use that motif to crave out this beautiful and professional Handmade Rakhi Design.
Extra Buys:
Red Stones
Red or Pink Wool/Strings
Silver Motif or a structural piece
Quirky Resin Work Rakhi making
This is a professional style Rakhi-making process. To make this beautiful design of Rakhi, you have to collect a few items beforehand. And to perfect it by the end and make the best design, you have to run a few errands with Epoxy Resin.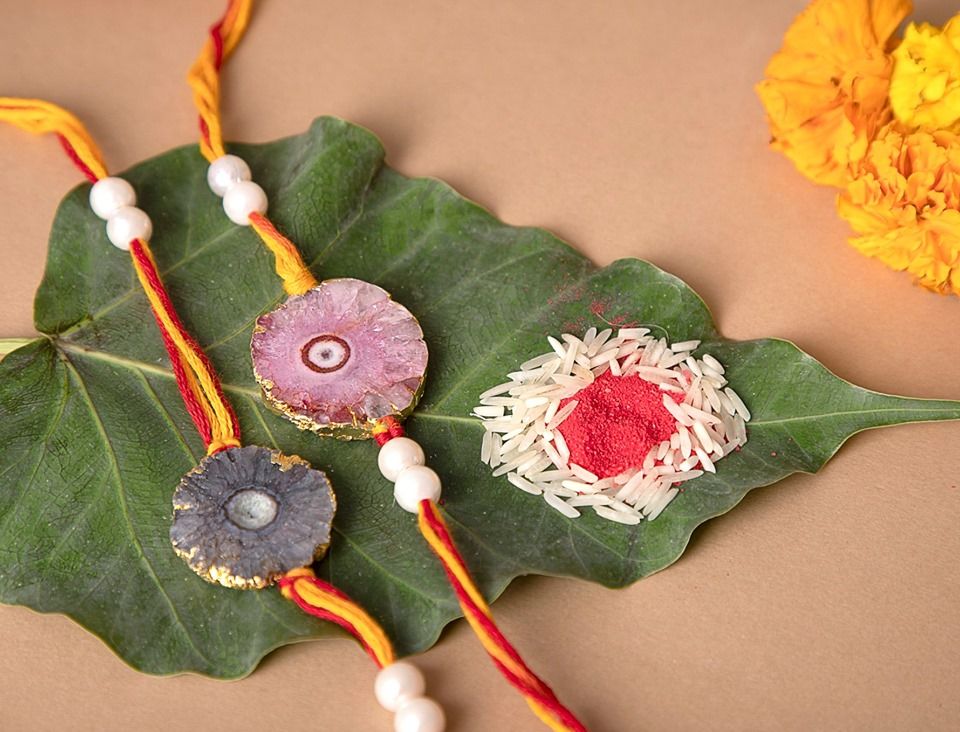 That is exactly why I called this a slightly professional project for Rakhi making. You have to work with an Epoxy Resin solution to work with this beautiful, celestial design of Rakhi. It is pretty professional and highly skilled.
Extra Buys:
Epoxy Resin
Colourful Wool
Water Falls
Gold Flakes
Pearl Band Handmade Rakhi making
The Pearl band is far more exciting and it takes you to put up with the best patterns and exceptional designs too. This is a really pretty and attractive design. The base pattern is completing the side strings in a very nice way.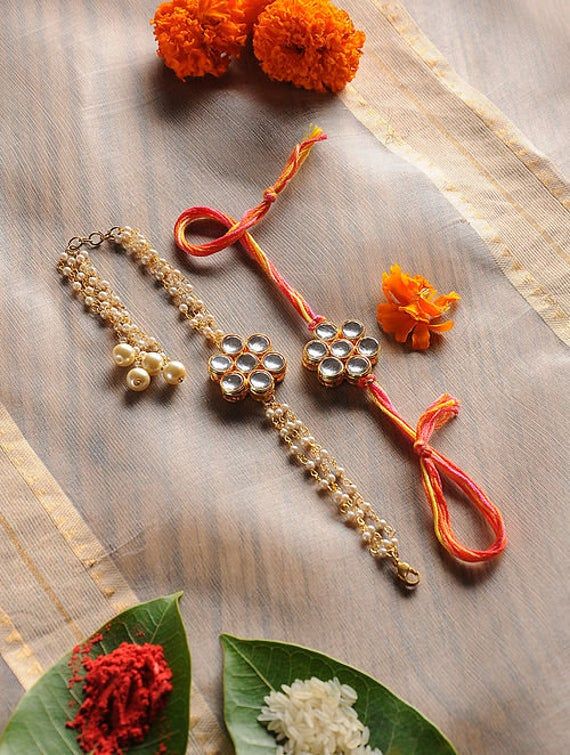 To make this pretty awesome Rakhi Design, you have to deal with two things. Firstly the base pattern is simply made out of a cardboard sheet, and the side strings. If using pearl strings, make sure they are attached properly.
Extra Buys:
Pearls
Pearl Strings
Red and Yellow Thread
White Kundan Stones
Cardboard sheet
See also: Silver Rakhi Designs 
Kundan Stone Rakhi making
If you like this design then let me tell you something. It is a super easy design. All you need is some stones and some golden frames and that would make this beautiful Rakhi Design.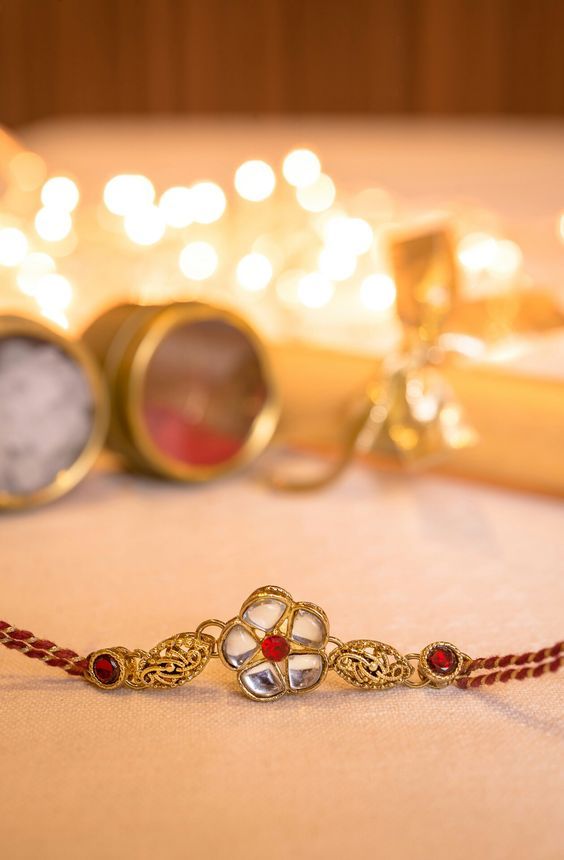 To prepare this exceptional Design for Rakhi making, you need a glue stick and some collectables. Trust me, this is an exceptional design for a Rakhi meant for the elder brother.
Extra Buys:
White Kundan Stones
Red Stones
Golden Frames
Red Strings
Honestly, Rakhi making isn't as hard as it seems to be. It is an extremely easy task. All you need to do is collect some valuable items beforehand.
Things like strings, threads, mirrors and many other little items play a deal in accumulating such amazing designs. These are super cool, and highly creative fashion.
I believe handmade gifts usher a better feeling than gifts which have been purchased from a store. Believe me, Rakhi making isn't hard at all.
It is joining some ideas together to form a beautiful design at last. It can hardly go wrong, and you would find uncountable ideas for such designs as such.
Well, these were some of the coolest and the most modern ideas for Rakhi making, if you found the right option for yourself then let us know in the comment section.
At myMandap we have curated some of the coolest ideas for Rakhi Designs and also some very innovative ideas for other fashion statements. Follow myMandap to learn more about daily hacks and decorations.