A Sabyasachi Sherwani is a Luxury Delight. Owning one for the Wedding Ceremony is a pride for all Indian grooms. Sabyasachi Sherwani for Groom is a Deluxe Outfit Collection. 
Exclusive designs by Sabyasachi Mukherjee a prominent fashion designer. Elaborate Bridal, as well as Groom's Fashion Choices. Sherwani is one of the most common outfits for Indian Groom. 
And a Sherwani by Sabyasachi is not a need but a desire we all have. Getting super inspirations from Deepika Padukone and Ranveer Singh's wedding to Anushka Sharma and Virat Kholi's Wedding. 
The Sabyasachi Sherwani Collection is a wonderland for Indian Grooms. Someone who is searching for an exquisite Wedding Outfit. For all your queries about the various Sabyasachi Sherwani Styles, we curated some of the best options. 
Who Is Sabyasachi Mukherjee?
Sabyasachi Mukherjee is a man, of Indian Fashion. He made some of the best Wedding Outfits for a generation. We know it is a Sabyasachi sherwani price, Sabyasachi sherwani collection from his classic Bengal tiger monogram. 
Yes, a Sabyasachi Sherwani or a Lehenga has to have his classic Bengal Tiger motif emblemed into the outfit. That is the craziest thing we have ever mentioned at myMandap, but these are Fashion Labels. 
You pay the Sabyasachi sherwani price for two reasons, prestige and the popularity it has gained from the Hush Hush Celeb Weddings. Owning a Sabyasachi Sherwani, and wearing it for a wedding is a Bollywood Trend. 
He earned his name in the year 2006, from his Sring Summer Collection at the New York Fashion Week. Since then, a Sabyasachi Collection is a name we all want for our Wedding Attire. 
Check also: Dulhe ki Sherwani
The Udaipur Collection Sabyasachi Sherwani
For a Sabyasachi Sherwani, the Udaipur Collection is the classiest. The entire collection holds some of the most indigenous fabrics of India.
Including prints, and weaving techniques which are made out of handlooms. To sustain the culture of handloom, Sabyasachi Mukherjee dropped his Udaipur Collection like a bomb.
Although the original motive behind this amazing couture wasn't about handloom and Indian Weaving. The Udaipur Collection by Sabyasachi is all about Roayl Weddings.
The Indian Royal Wedding Couture has a vivid touch on the culture of India. Suh weddings, where people go for utterly royal locks, that Kings and Queens wore.
Royal Anarkali Sabyasachi Sherwani
Why should Girls have all the fun? Well, that is something, we all like to say when this is a legit Kurta from the Royal Collection by Sabyasachi Mukherjee.
As a Sabyasachi Sherwani, this is pretty awesome. The fabric of the Kurta or the Jacket which is worn above the Anarkali is Velvety.
While the bottom Kurta or the Anarkali suit, which is worn beneath the Velvet Jacket is made out of Pure Silk. Such couture is quite common for Kings and Queens.
And, Sabyasachi has emphasized the Royalty aspect of the fabric. This is a beautiful suit which should be a part of your Wedding Closet.
View also: Rajputi Sherwani Jodhpur
Floral Embroidery Sabyasachi Sherwani
Floral prints and fabric stitching are favourite things for most Sabyasachi Sherwanis. Yes, most of his Lal Mati collection suits are in Florals.
By Floral, we also focus on the fact that most of his outfits have a touch of Phulkari which is an indigenous stitch work from the Phulwari district of Punjab.
It is a prolific example of what should you wear when you have a liking for floral prints. It is beautiful, epic and extremely elegant.
Such Kurtas are quite common in India and many weavers frame this print for women as well. That is the beauty of Sabyuasachi's works he makes neutral clothes.
Pastel Mint Green Zari work Sabyasachi Sherwani
Pastel Green is one of the most epic shades worn by Grooms in India. This is a style, developed mostly from the Udaipur collection of Sabyasachi.
A Sabyasachi Sherwani which is similar to this has to be from that collection. It is simple, original and quite basic. Few of the most important ingredients for a Groom's Attire.
This is one of the most elegant suits, which are worn daily. Infact this is the type of suit that we all would like our Groom to wear.
Associated with leaves and carnations. This is a floral embroidered Jodhpuri Suit, which is extremely elegant and has the prettiest work to it.
See more: White Sherwani Suits
Silk Sabyasachi Sherwani in Pastel
The colour of this Sherwani is Pink, and this is very different from most other Sherwani Styles coined by Sabyasachi Mukherjee.
Pink is not one of the most masculine shades, or that is the least thought about Pink. It is more of a woman's colour. That completely changed with this amazing combination
At myMandap, we have other related Sabyasachi blogs. Do not overlook other blogs like Weddingwire and Shaadidukaan. They also have amazing blogs about various Sabyasachi Sherwani.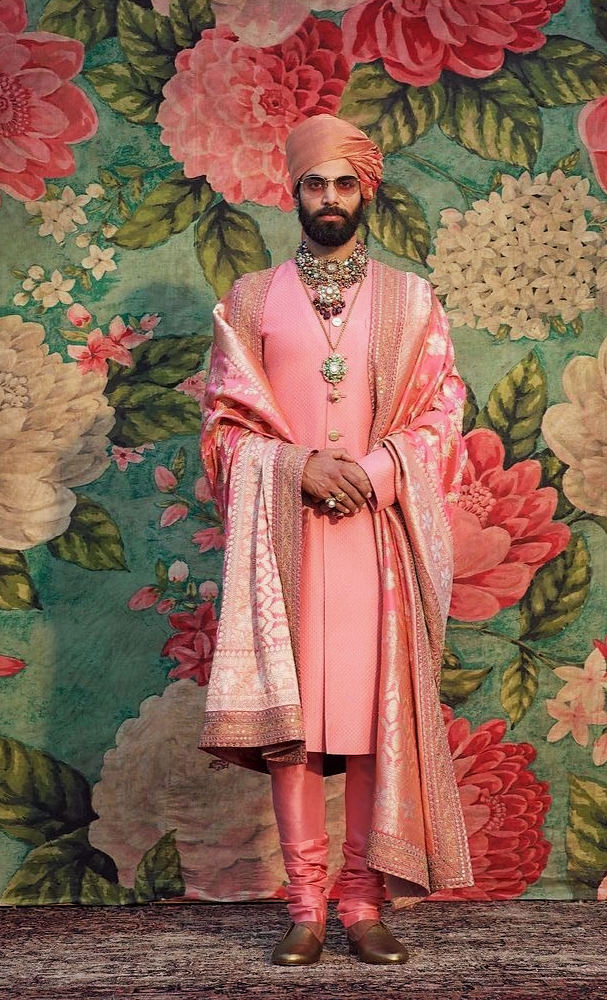 Sabyasachi made a beautiful Sherwani set, that too in Silk. The entire Sherwani is made out of Silk including the utterly beautiful Shawl kept on the side.
The Sherwani is simply in velvety Silk, while the Shawl is made out of Benarasi Silk Material. This is worth every penny, for something that likes to break stereotypes.
The Red Mati Collection Sabyasachi Sherwani
The Red Mati collection by Sabyasachi Mukherjee is one of the class outfits, ever made by him. This collection includes super cute and classy outfits.
Including some of the prettiest patterns and clusters. This has a modern touch to it. Although this was made with the idea of native India.
The structure of this Sherwani Suit is quite beautiful. It is colourful. And it has some of the best textures too. The bottom wear is made out of floral prints.
Such a collection by Sabyasachi is a style on its own and you have to count on this as an outfit which can be worn during the evening of the Wedding Reception.
Must check: Blue Sherwani Ideas
Ivory Angraksha Sabyasachi Sherwani
Ivory is a safe choice when you are choosing a Sherwani. I think I don't have to mention who else wore a super cute White Sherwani for their Wedding Ceremony.
Well, it's none other than the most adorable couple, Ranbir Kapoor and Alia Bhat. They wore a classic Ivory-coloured Couple Attire.
It's not confirmed whether they wore a Sabyasachi Sherwani and Saree. The pattern was eerily similar to the mentioned Sherwani suit of this couple.
It is very beautiful and has the most elegant suit work. Just like the embroidered Shawl, which the Groom has taken on the side of the Sherwani Suit.
White Jodhpuri Sabyasachi Sherwani
White is a safe choice, it can't ever go wrong. Not just for any accessory, but for the Groom's outfit too. Many might call out White, for being an inappropriate shade.
White is one of the most beautiful shades, especially when you are talking about Sherwani and Suit sets. The pattern of this White Sherwani is slightly different from the regular ones.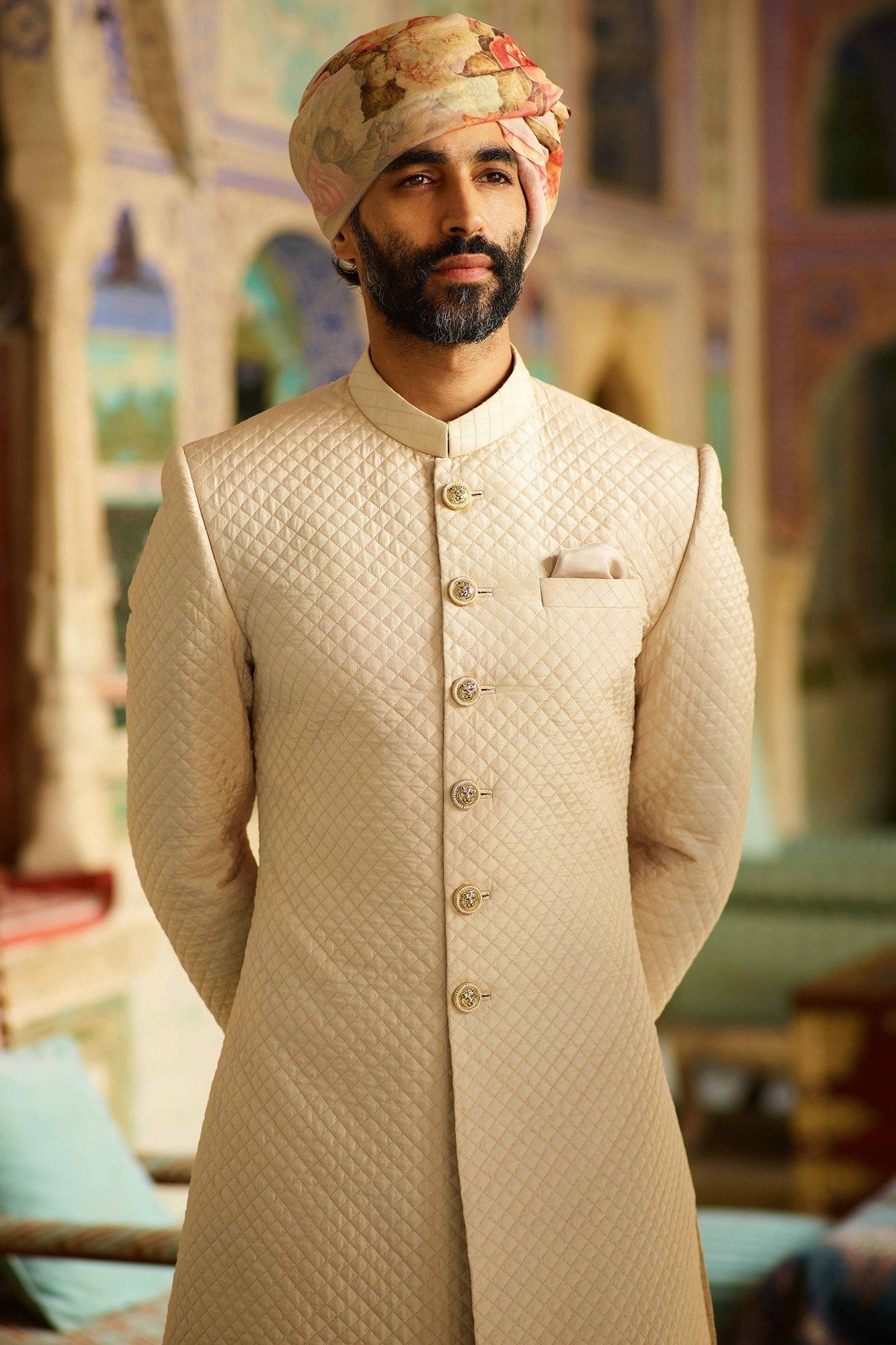 As a Sabyasachi Sherwani, this has a square texture, where the entire fabric has been pin-tucked in the shape of regular squares.
Such outfits are quite popular in India, and Sabyasachi has made this even more prominent and significantly special with his unique gesture.
Jodhpuri Dress Sabyasachi Sherwani
The Jodhpuri Dress is a Royal costume and it was a very trendy outfit back in the day. Sabyasachi brought out the glamour of this Dress through his classy suits.
Yes, Sabyasachi Sherwani is not one of the most regular Kurta Suits that we are used to seeing. But it has an eerily similar glam which makes it highly appreciated.
The Kurta Dress which the groom has worn above is shaped like an Anarkali Dress. It is wide, long and elegant. Such dresses for men, are common around Gujrat.
Many Gujarati Grooms, wear such dresses along with their Dhoti Pant, and similar Raiwari Pagdi. This is the theme of this particular Sabyasachi Sherwani.
Visit also: Jodhpuri Sherwani Suits
Ice-Cream Pink Sabyasachi Sherwani
The only thing I remember about this groom's outfit combination is that they are dressed just as strawberry ice cream. Well, not in a bad way.
This is a big thing, for any men's outfit. Men hardly wear pink, and it is termed pretty much feminine in all terms. Whereas for a Sabyasachi Sherwani, that is just the norm.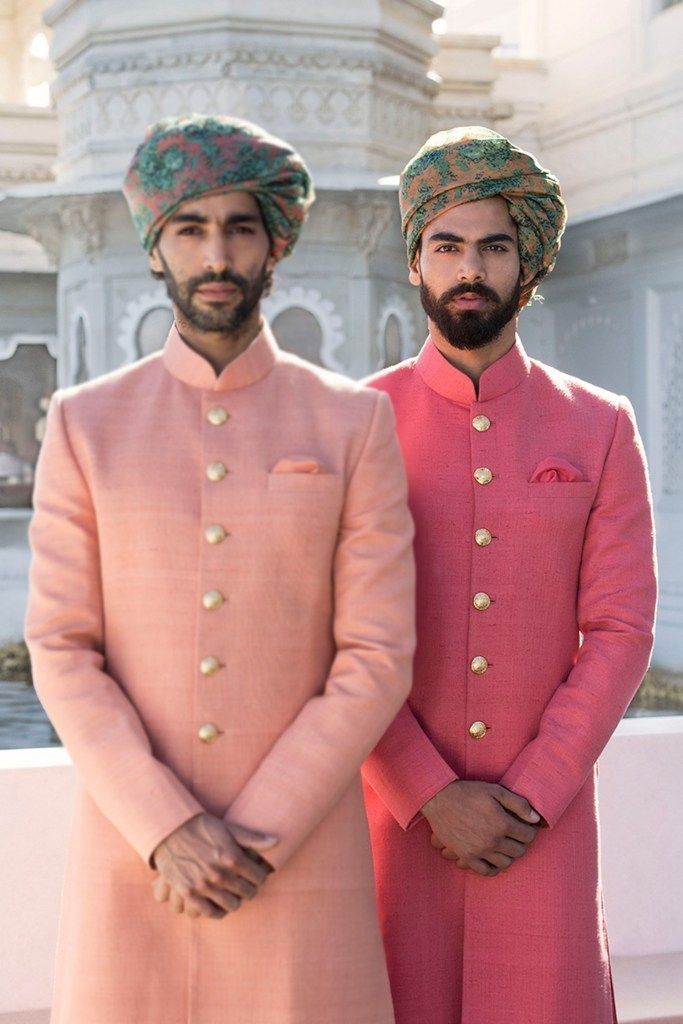 Men's outfit has to have no colour boundary. It can be anything and everything, one wants to wear. It can be as dark as it goes, or even very light.
For a Sabyasachi Sherwani, you will find unlimited neutral shades. These are more summer shades, specifically drawn for Pride Month.
Which was your favourite Sabyasachi Sherwani among all the mentioned ones? I think my heart went for that exquisite floral work Sherwani. Even if not for a Sherwani, that s pretty good for Women's apparel. 
That is a pattern which would look fabulous for my Lehenga. If you are planning on spending a couple of lakhs for your Wedding Lehenga, then Sabyasachi is the perfect name for all Designer outfits. 
The best part is his unique ideas about what to use for Weddings. Sabyasachi has a unique style of designing, which makes him different, from many other fashion designers. 
His choice of fabrics works really well for every groom. He makes outfits according to the body type and the texture of someone's skin. And, that makes Sabyasachi a trendsetter.
At myMandap, we have spoken about many other popular fabrics and designs that have made their way recently. Remember these outfits are basic. and it's you who makes it shine.
Popular fashion trends, Wedding Wears, Decorations, Wedding Themes, Food and lots more. Find everything you want just at myMandap.