Wedding Garland is a style which is exceptional and distinguished. A wedding is complete with one, not just as an accessory for the wedding pair, but also as decoration for the rest of the venue.
 It is about a few of these little things,  which make an Indian wedding ceremony even more glamorous and best from across the world. The pair wear a wedding garland, an integral ceremony from the big day.
 There is this one particular ritual,  which calls for the bride and her groom to exchange floral garlands.  These floral arrangements are one of a kind,  and they happen to make your ordinary bridal-wearing look even better.
 Significant wedding outfits,  for an ideal and glamorous attire. At myMandap we always bring out the best in Indian couples, which are styles of all styles too. Here, we have enlisted the Top 15 Wedding Garlands for D-Day.
The Best Flower Wedding Garland for your D-Day:
There are custom floral garlands and related products on your special day. Most Wedding garlands are made with beautiful fresh flowers. Precious florals do make your Wedding Mala even better. 
What is a Wedding Mala? Well, it is none other than a floral garland exchanged during traditional wedding rituals. In Bengali culture, we call it, the ceremony of 'Malabodol' and in Hindi or North Indian culture, it is called the 'Varmala' Ceremony.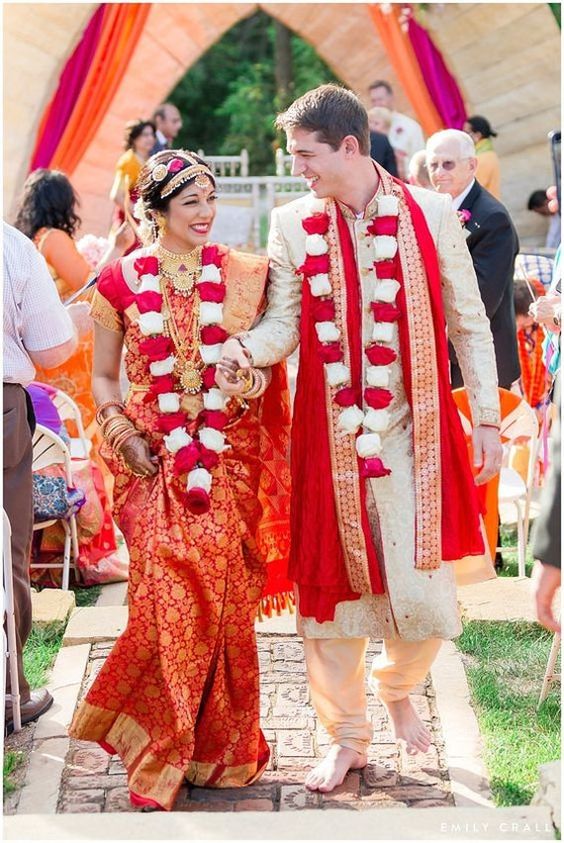 If nothing, it is a very precious ceremony. It is something very special. Firstly the ceremony is surreal and then you can witness the beauty. Just makesure, you have the ceremony right at the beginning. 
All rights reserved to the Husband and Wife. You'll get countless additional information stating the ceremony on the day. Just makesure, you take inspiration from the current pictures. 
This is exactly why we have enlisted and curated the best Wedding Garlands and floral decorations for you. If you're finding trouble deriving a good wedding Mala, then you are at the right place. Lastly, choose the best Wedding Mala for your special event. 
Check Out: Flower Rangoli Designs
Top 15 Beautiful Fresh Flower Wedding Garlands and Decor Ideas:
Madurai's Fresh Flowers for Wedding  
The city of Madurai is famous for its fabulous wedding garlands. Firstly these garlands are very different from most other designs. Firstly, these are really beautiful Wedding Mala designs. Once in a while, we need a Wedding Garland like this.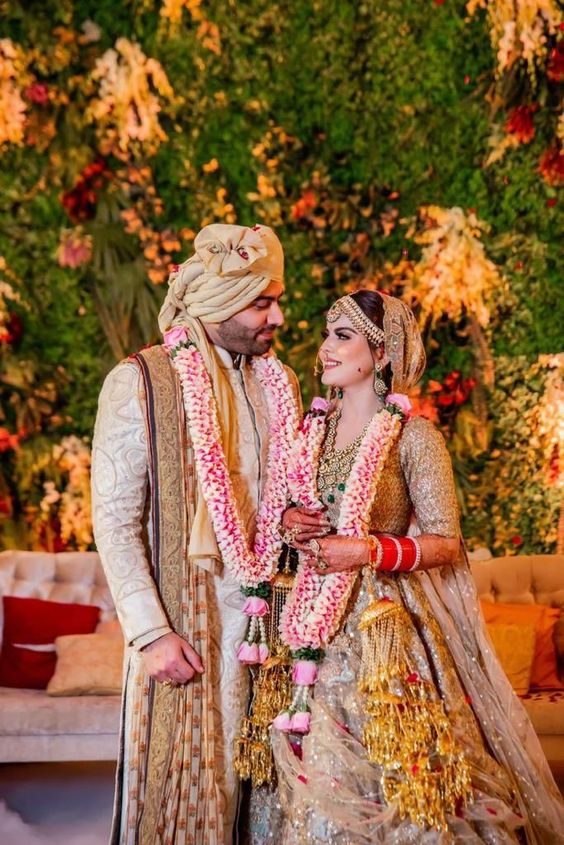 These are some of the best options which are made the good so bright and prominent. Just makesure you're dealing with beautiful surrounding and that makes the look even better. Once this is the thing you need. Lastly, wear the Garland you want.
Red Roses Garland for Marriage
To be honest, I find regular Wedding Malas very different from most other designs. Red roses are always safe as a wedding option. I find it way better than most other designs.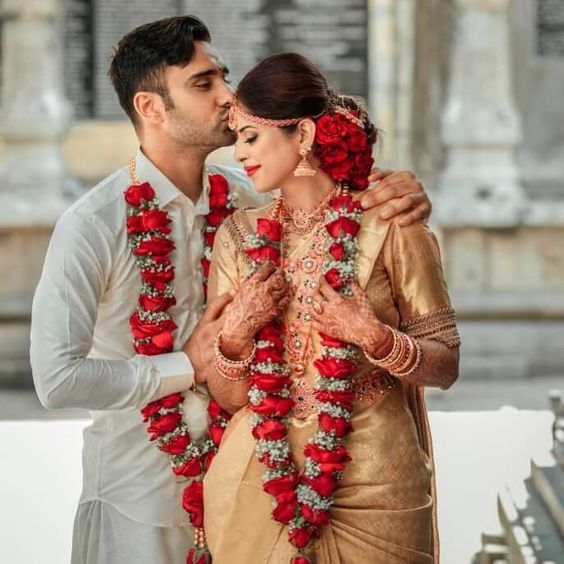 The colour red is very special to everyone. Experimental colours make any ordinary suit better than what it is. Just makesure, your attire matches the wedding garland well. These are some of the most basic garlands which are very special.
White Rose Garland and Bouquet
There are hardly any people who aren't fond of pink and red roses. Pink roses make wedding garlands better and perfect on your wedding day. Just makesure, you're styling it correctly and that would set the day.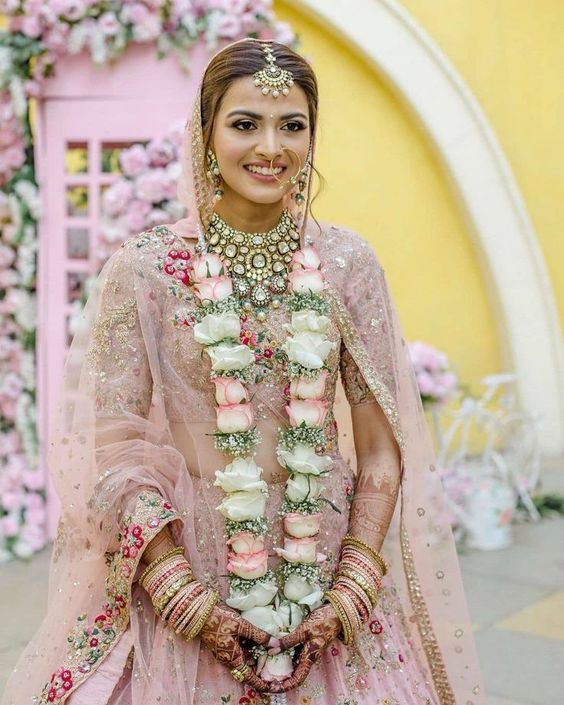 Such a simple Wedding Mala is a theme which makes any wedding garland better than the rest. Lastly styling it the right way is an essential part of the day. Once in a while, it is a delight for all Indian couples.
Pink Rose Petals for Wedding Garland 
Rose petals are perfect and they make beautiful Wedding Mala on your big day. There are exceptional combinations, when it comes to roses in a range of colours. there are elegant white and pink roses which are beautiful and fantastic at the same time.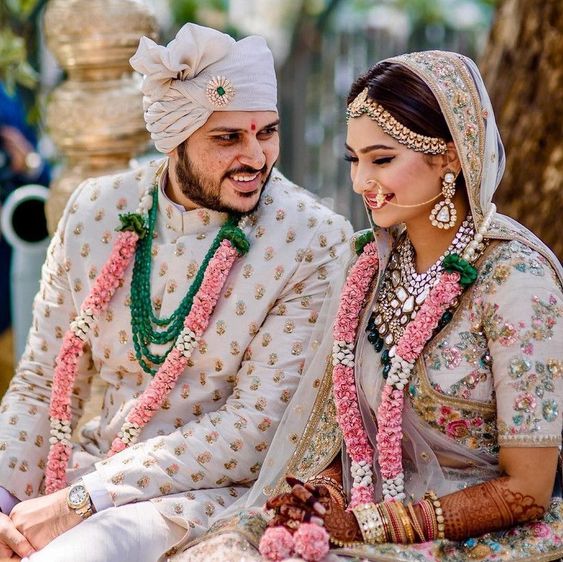 Just makesure, your garland has a range of flowers arranged side by side. Once in a while, it is a compulsory thing for everyone. You need to have these pretty flowers struck together for your wedding day and that would eventually make the best design.
Blush Pink Floral Garland for Bride
Floral garlands are beautiful wedding jewellery sets. they make exceptional wedding outfits and garments at the same time. Just makesure, you have options like these on your list. Firstly these are pastel pink roses which are in the colour Blush Pink.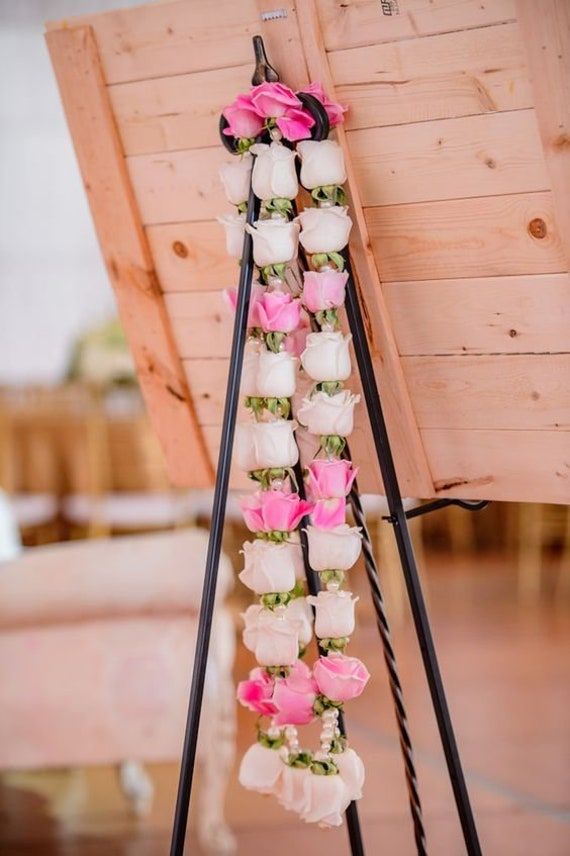 Then it comes to the organised design which is stylish and elegant at the same time. Makesure, your outfit is also in the same colour range. It would look immensely good if you have colours like these.  Lastly comes the various patterns.
Also View: Wedding Flower Decorations
Roses and Greenery Garlands
Red roses are always my favourite flowers when it comes to beautiful wedding garland designs. It is about this combination which is simple yet so stylish and special. Firstly it is a traditional flower for most wedding Malas.
It is a little usual but very beautiful. Brides who opt for Red Wedding Lehengas and Sarees wear Red and White roses on your big day. These are the best and the most stylish ones. Lastly, these are very beautiful designs for your big day.
Floral Arrangement with Eucalyptus and Ribbon
Although this isn't just a beautiful floral arrangement this isn't a garland. It is a simple wedding galrand combination which is simple, stylish and very elegant at the same time. Once in while it a compulsory part of your wedding day.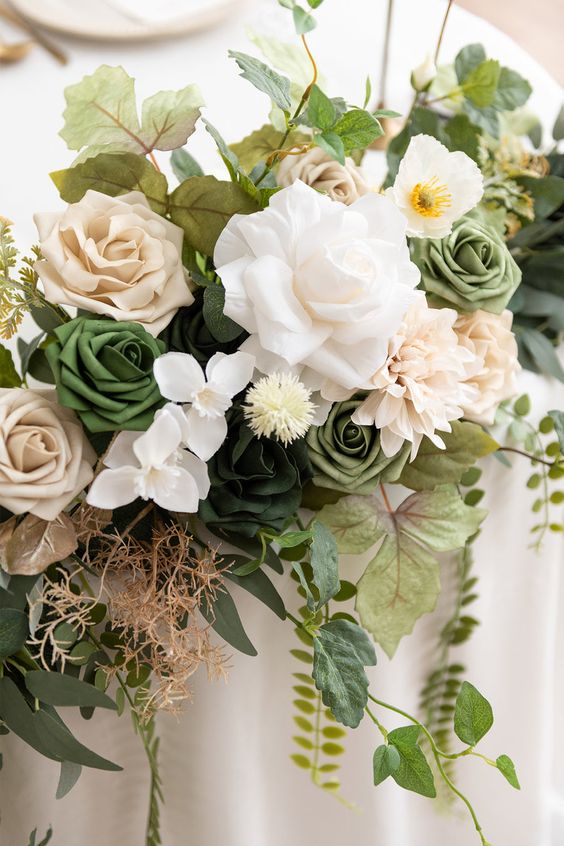 Here we have white flowers with multiple green leaves and other simple patterns too. This is a perfect wedding floral arrangement which would work like a wonder as a table arrangement or a simple stack of flowers
Flower Garland with Orchids 
Roses are quite common as flower garlands and that is very special. Firstly this is a very special design then it is a beautiful wedding garland that is decorated with precious Indian blue and purple orchids. These orchids are a little expensive.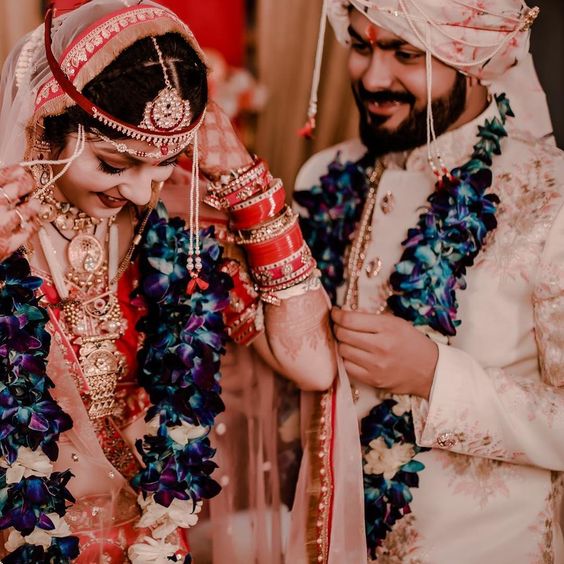 But who doesn't like a little expensive flower garlands on their wedding day. It is well decorated and special at the same time. Just makesure, you wearing a beautiful Jewellery set and earrings along with this pretty set.
Lotus Flower Wedding Garland 
Once in while we need something special and beautiful at the same time. This is one such beautiful Wedding Mala which is decorated with some of the most beautiful flowers and other decorations too.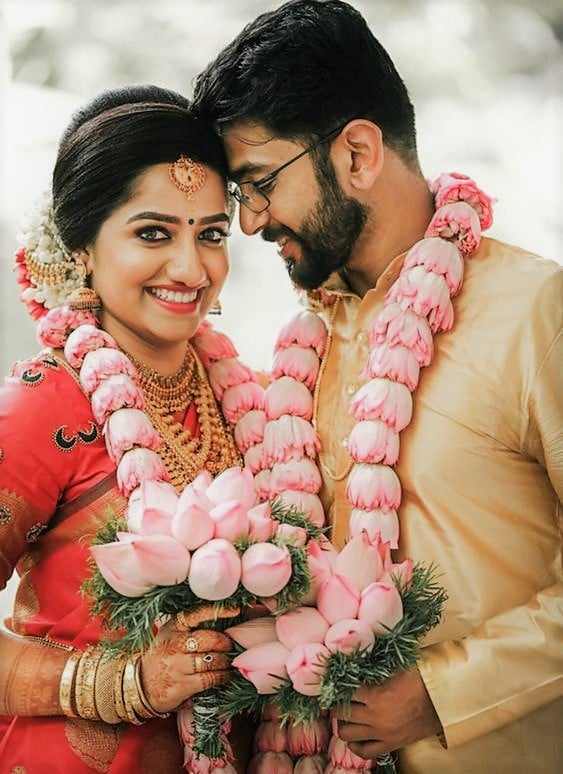 This couple is wearing beautiful Pink Lotus flowers. They are holding a simple bouquet in their hand as well as a similar Lotus Wedding Garland. Lastly these are exceptional bridal and wedding Mala designs.
Simple Garland with Hydrangea for Wedding Decor
There are hardly nay good options, when it comes to choosing a good design. This is a beautiful wedding Garland that is elaborated with some of the most simple things. Just makesure you are decorating the flowers in the correct manner.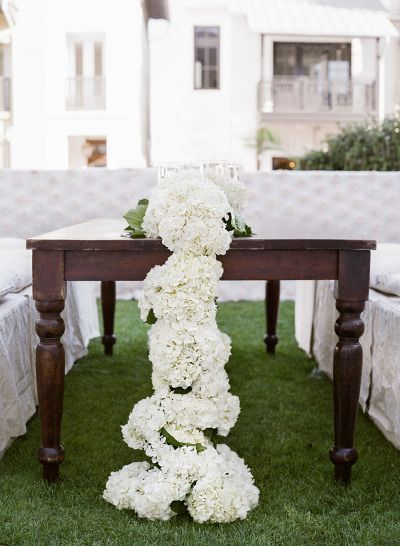 It has the potential to bring up a entire room and Hydrangea is always the most popular wedding decoration flower. This can be confused upon with most other white flowers. But the aura is very different for these beautiful Wedding garlands.
View More:  Wedding Garlands Rose Petals
Jasmine Wedding Mala in White Color
If we are talking about wedding Garlands, then we have to mention Ranbir Kapoor and Alia Bhatt. They nailed it with everything about their wedding outfit. Right from their Wedding Garland to the special things.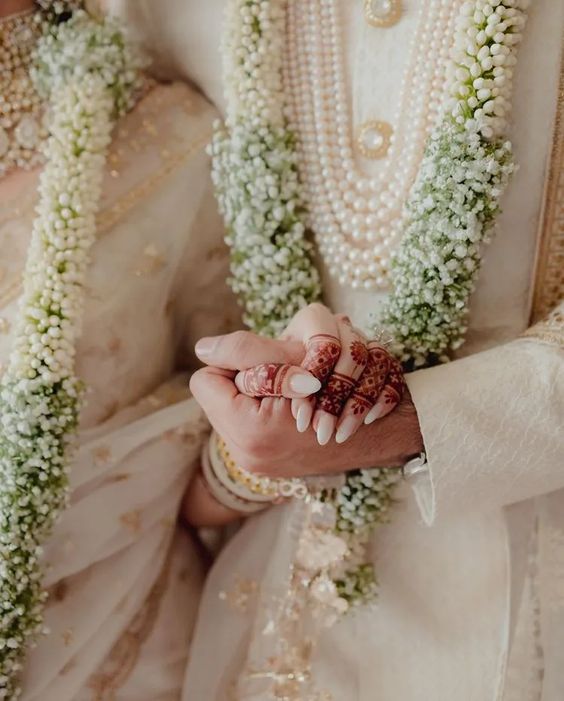 This is a simple Jasmine Wedding Garlands which is stunning and white. Obviously White flowers are very different form the rest. Just makesure, you are dealing with he correct decoration's on your wedding ceremony.
Wedding Jaimala with Pastel Pink Flowers 
A wedding Mala is one of the best options when it comes to choosing a good design. Just makesure you're pairing the perfect oufit on your wedding day. There is a simple Wedding Garland that has the traditional Jaimala design.

There are beautiful red and pink roses scattered together in a holy combination. There are stylish white and pink flowers, which are arranged together as one in a form of leaves and other pretty intricacies too.
Traditional Yellow Wedding Garland
There are uncountable wedding garlands, but traditional ones are always the best options. It is extremely special and gorgeous at the same time. Just dress up in your manner and that would set the look for you and your partner.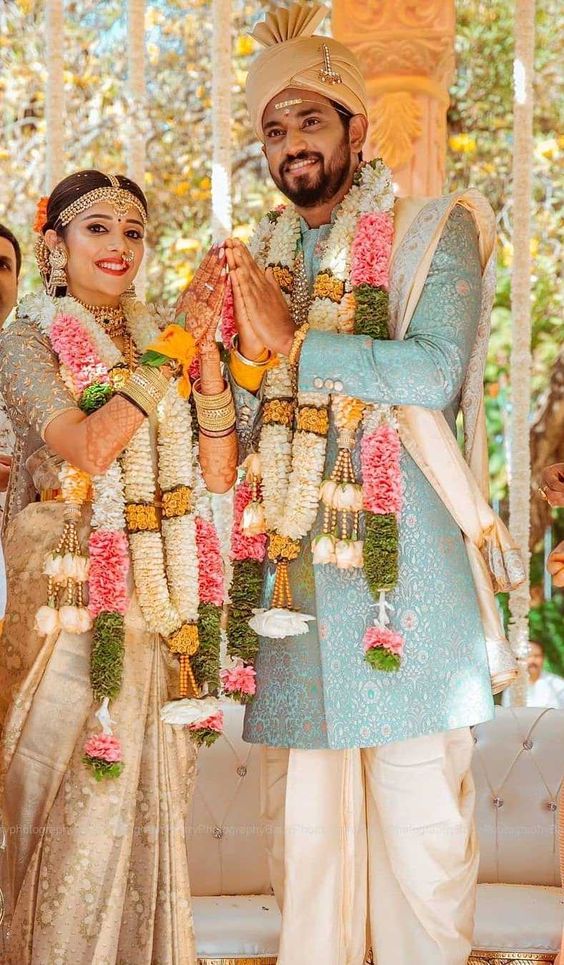 There are pretty yellow, white, pink and red flowers engrossed in this beautiful wedding Mala. Lastly, style it correctly for your wedding ceremony. Just makesure, your flowers are fresh and bright on your wedding day.
Wedding Style Mala with Flowers and Leaves
There are beautiful designs which make a wedding garland so immensely popular. It is a beautiful floral garland that is decorated with beautiful leaves and other intricate too. Lastly, it comes to the combination.

Just makesure, the flowers you choose match the wedding attire. It should perfectly go well with the rest of the outfit.  Otherwise, it wouldn't look good. Lastly, pair the right ornaments in the place which would make it perfect.
White and Red Flowers for Wedding Decoration  
A good combination can bring a gorgeous wedding garland. Here, we have one such pretty combination. Firstly let's take about the precious bride and groom. They are looking glorious in their beautiful wedding attires.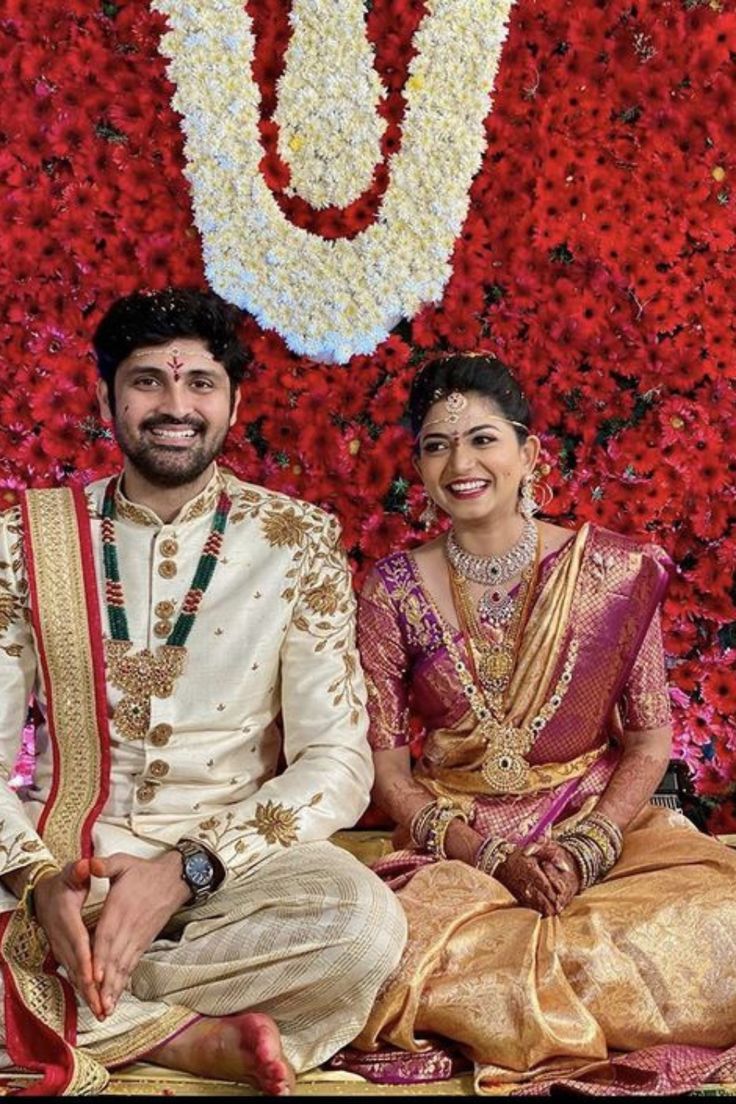 Here, we are complementing the floral background decoration. The decorator has accentuated the entire background with beautiful floral details. Lastly comes the unique combination of red and white flowers. Once you need this decoration theme.
Wedding Garland and Wedding Venue Decor:
In addition to Wedding Garlands, you also have to decorate the tabletop. Flowers are the best means of decoration. Pretty candles and beautiful floral arrangements are made in pretty ways. Proper care for your ideal floral bouquets. 
Just makesure, you order good flowers which would come in handy for the day. Stylish flower garlands elevate your look in the smartest way possible. Wear the most beautiful wedding garlands and that would elevate the look.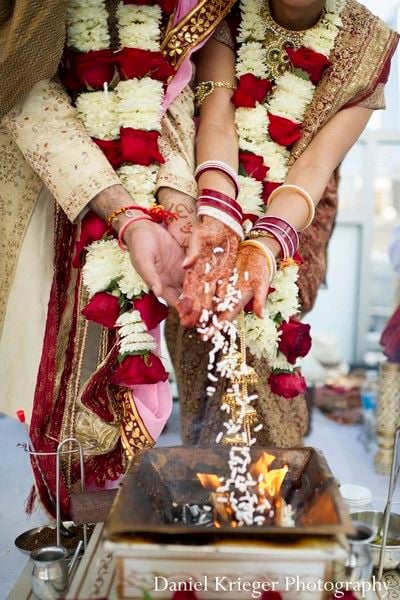 Firstly let's talk about the options you have. There are beautiful roses of a variety. Then comes your precious Jasmine and orchids. Everything makes beautiful wedding garlands. Just makesure you have the right design. 
Lastly, style the wedding mala with the perfect wedding outfit. In the end, it is up to you. How do you feel about styling it? According to me, you should always style the wedding outfit correctly. 
Must View: Bengali Wedding Garlands for Varmala Ceremony
Like these beautiful wedding garlands, there are many other popular wedding dresses. There are beautiful sarees, lehengas, ornaments and other popular ornaments. 
If you like what we have mentioned above, then do not forget to let us know in the comment section. Infact, at myMandap, we are eagerly waiting for your valuable feedback. Plan your dream wedding with myMandap.