A Wedding Nauvari Saree is a very popular Marathi Bridal Look. Women love Silk Sarees, especially a style of their state. Wedding Paithani Silk Sarees which is of your colour choice. 
The right  Wedding Nauvari Saree Look comprises grace and elegance. Firstly is the Silk Fabric which makes the blouse and the Bridal Look so special. Once you choose a Silk fabric Saree there is no other second choice. 
A Wedding Silk Saree look is the best option for elegant designer blouse designs and gold jewellery sets. You have to take care of a good Silk Saree meant for parties. We love a pretty Cotton Saree and a nice Jewellery set right?
A woman's love for a cotton Nauvari saree look and a pretty Silk Nauvari Saree of their favourite colour. A bride wearing her perfect Wedding Nauvari Saree and the attire of your dreams. 
Lastly, let's jump directly into the best options. Here, we have pretty Wedding Nauvari Sarees perfect for an Indian Bride. 
What Saree do Maharashtrian Women wear?
A Marathi bride wears many wedding jewellery sets, but the main look should have a pretty wedding Nauvari saree. Yes, Maharashtrian Brides wear Nauvari Sarees. It is a beautiful Saree which is nine yards long. 
Usually, normal sarees are just five yards long. Marathi Brides wear a different type of Saree look. The Nauvari Saree is that classy and elegant option. Here we have mentioned all those beautiful and graceful Wedding Nauvari Sarees.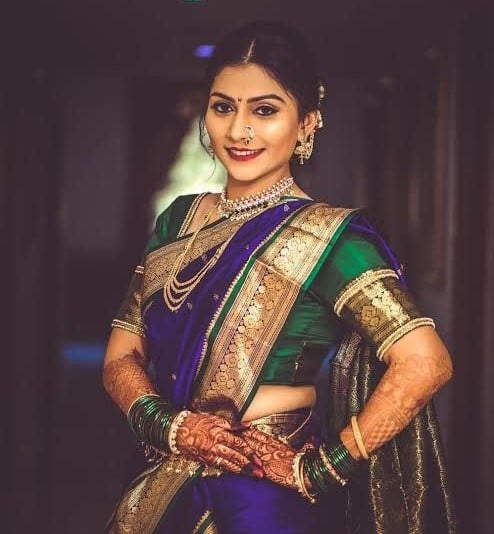 Just makesure, you have the right Saree. A beautiful Marathi Bride and an ideal look. The bridal look should be something, she likes. Lastly, the Bride should like the draping style. 
It should be something which makes the bride comfortable. Paithani Silk Saree or a beautiful Benarasi Saree, whichever the bride likes for her look. 
Must View: Bridal Paithani Sarees
Traditional Style for Maharashtrian Bride
Weddings are incomplete without good attire. Marathi brides always keep things traditional. This is an exceptional design which has beautiful floral motifs. These motifs make the ordinary design better than the ordinary part.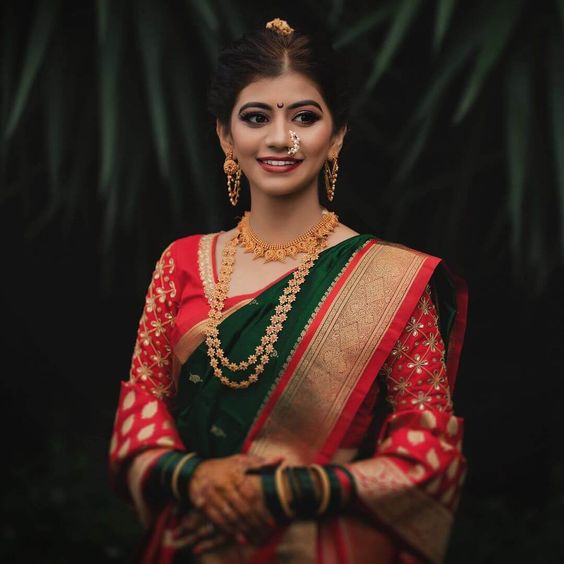 The classic green colour makes the ordinary border way better. These types of Silk Sarees are decorated. Traditional wedding attires like these, are simple and very stylish. To make it work, you should style this outfit with the right Blouse Design.
Paithani Saree for Marathi Bride
A classic Paithani Saree has many things which make it special. Among these peacock and floral motifs are the most common things. The ordinary look makes it better than anything else. These Sarees are simple, exquisite and well-decorated.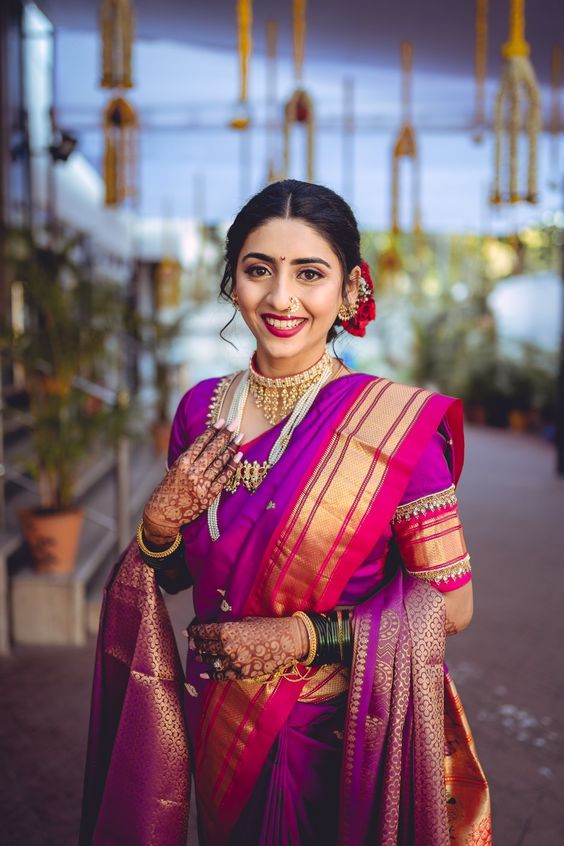 Ideally, Brides wear their Paithani Saree 0n the wedding day. It looks perfect with a good Pearl and Gold Necklace. This Sarees are usually draped along the side of a Maharashtrian Bridal Shalu or a Stole.
Silk Saree with Wedding Nauvari Saree Pallu 
A Nauvari Saree has a very long pallu which is draped in the most beautiful warrior way. A Silk Saree which is like this is a simple drape and it should be styled like a Bridal Saree. Wedding Nauvari Sarees in the most beautiful Silk fabric.
Marathi Brides usually wear Green or Purple as their Wedding attires. A Purple Saree with pretty Green glass bangles. This is a very elegant combination and it is immensely popular in Maharashtra.
Traditional Saree Draping Style 
I love traditional sarees which are all about draping them most unconventionally. This tradition makes ordinary wedding outfits way better. A simple saree draping style makes it way better by the end.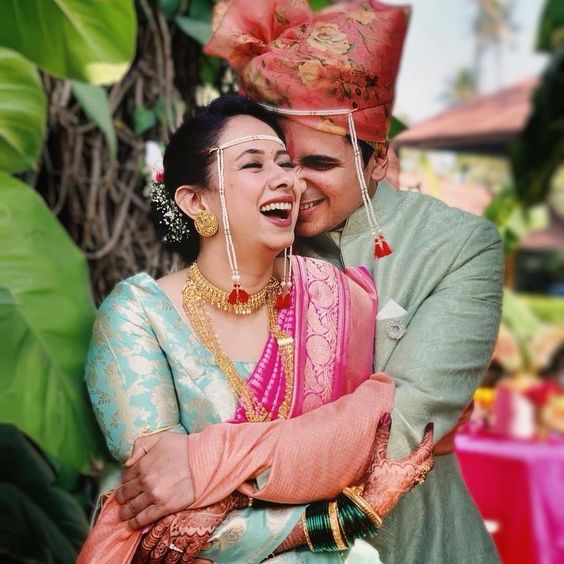 The colours are subtle and the design is fairly simple too. Just makesure, you are choosing colours which match well with the Groom's outfit too. Lastly, this is a combination which sets well for both.
Check Out: The top 10 Gorgeous Bridal Silk Sarees
Green Colour Attire in Marathi Tradition 
The colour is an essential part. It makes an ordinary outfit better and more attractive. Firstly this suit is classy and well-organised too. You can style this look with anything.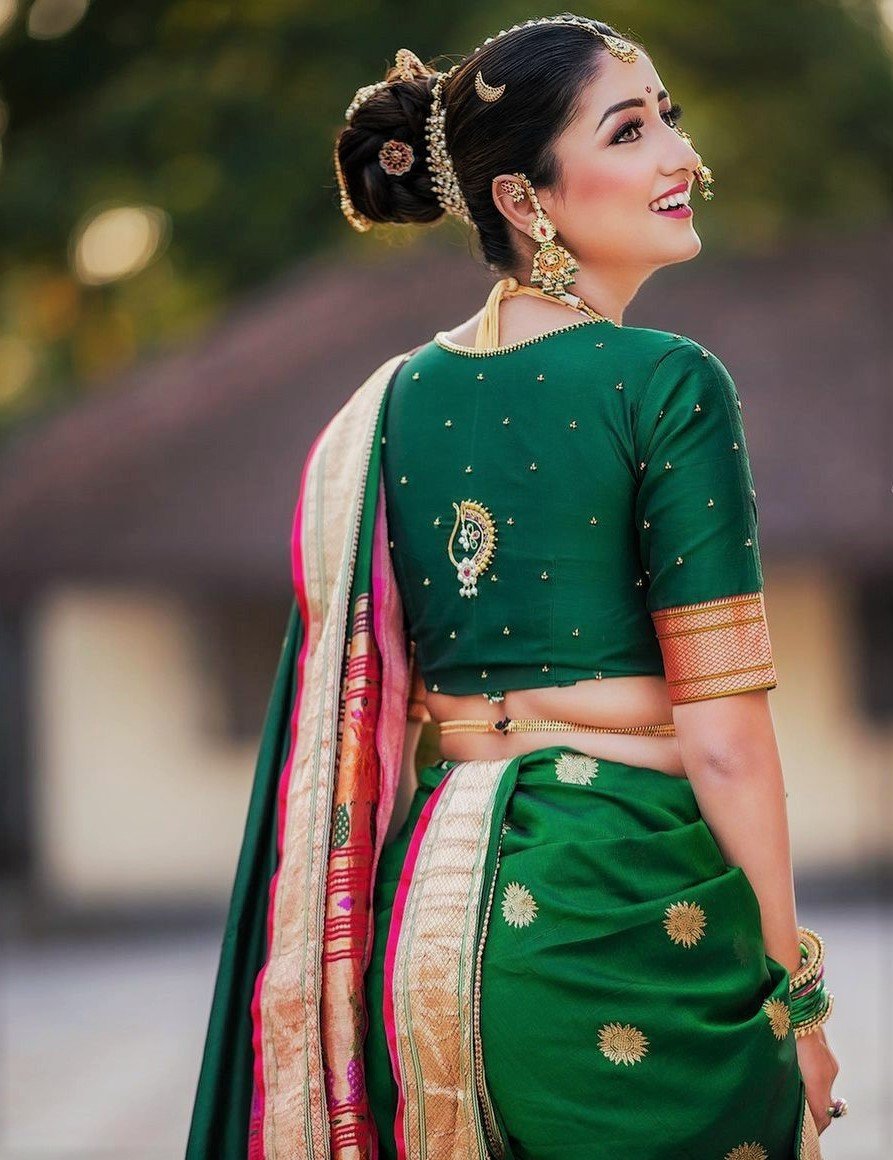 This Saree is stylish and remarkable. The details on the border make the ordinary wedding saree way better. Lastly, this look is traditional and classy. Just makesure you have the right ornaments.
Wedding Nauvari Saree in Silk Fabric 
A silk saree is always better than something unattractive and basic. Wedding Nauvari Sarees with the perfect embroidery and pattern. Just wear something like this which is a little more than ordinary and has the right design.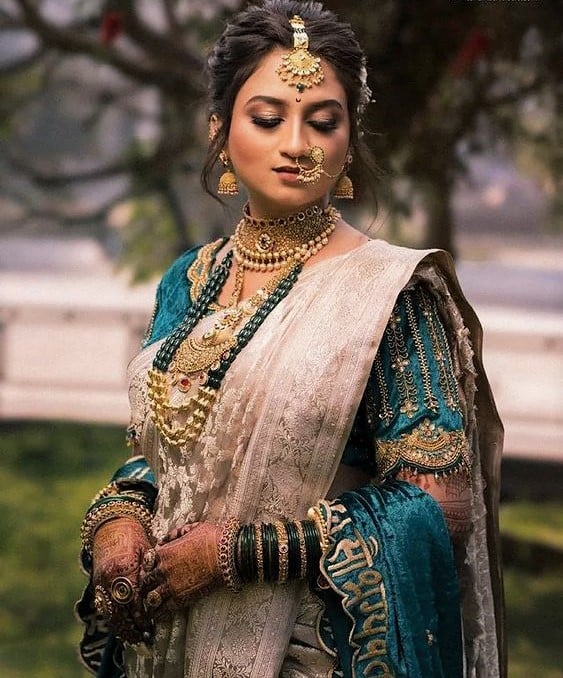 The blouse she has paired is eerily remarkable. Just make sure you are wearing good embroidery. Once in a while, we all need a blouse design for the day. Lastly, these Wedding Nauvari Sarees are perfect.
Red Saree for Traditional Look 
I can mention this enough but red is my favourite colour, especially on the wedding day. Red Wedding Nauvari Sarees make the most remarkable wedding attires. Firstly these Sarees are stylish and then it is the remarkable embroidery.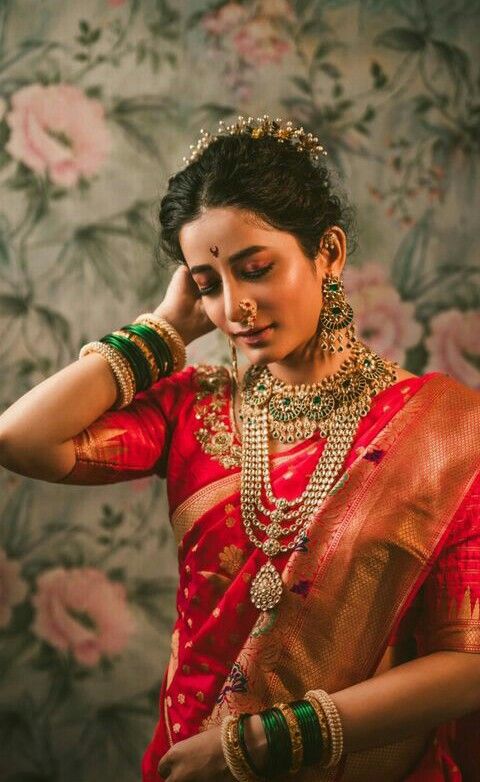 The border colour is especially well decorated and stylish too. Red-Color Nauvari Silk Saree that is filled with meenakari stitch work. Lastly, wear something which makes you feel special. Once in a while, we all need a Wedding Nauvari Saree like this.
Gold Jewellery and Silk Saree for Indian Women 
Wedding Nauvari Saree in the right colour and the perfect ornaments. Bridal Gold Jewellery sets are the right ornaments. You can style a Silk Saree like this with any Gold Necklace and earrings. Just makesure you are wearing Green bangles.
Yellow sarees are typically worn on Haldi day and that is something perfect and stylish. Once in a while, a style like this is remarkable and special. Lastly, wear the perfect wedding bangle set alongside the side.
Check Out: Adorable Green Bridal Saree Ideas
Peacock Patterns on Nauvari Saree 
The colour blue is quite popular and especially on Silk Sarees. These colours usually depend on the wearer. Just makesure, you have the right colour and the right design which is special and recognisable.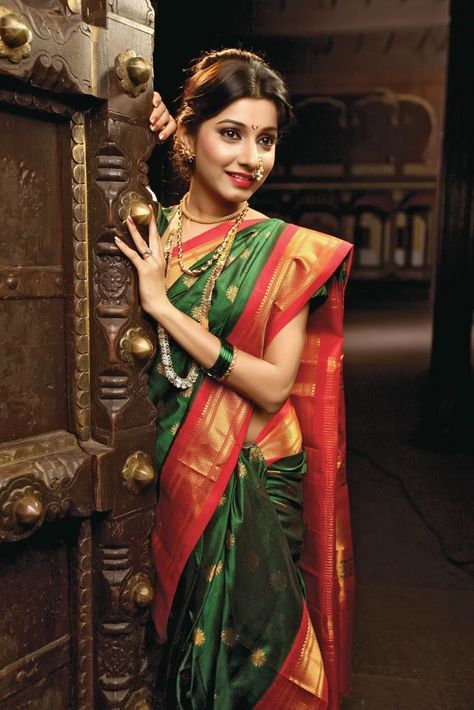 Green is the main colour theme and there are two essential parts. Once in a while, you need green and red bangles like these, Just makesure, they're well arranged. Lastly, this is a perfect style and beautiful attire.
 Wedding Nauvari Saree with Simplicity and Elegance 
Simplicity and elegance can make any ordinary wedding outfit better. It is about these stylish Nauvari Wedding Sarees that have the best embroidery. Simple and stylish wedding embroideries with the best and the most beautiful designs.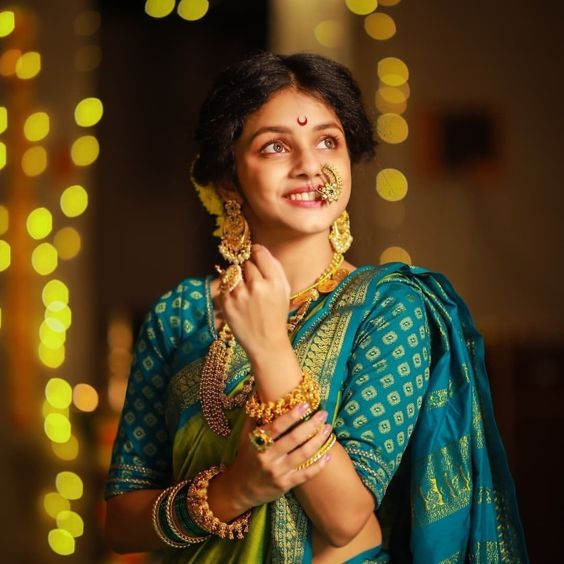 The sea green colour is a shade between blue and green. Particularly a colour between green and Peacock blue. Just make sure you pair the right accessories together. Lastly, this style is remarkable and special.
Wedding Nauvari Saree by Manish Malhotra 
Manish Malhotra is a prominent name in the world of fashion. Firstly this style is simple and beautiful at the same time. Wear an attire designed by him and that is everything you need.
The pink colour is beautiful and the golden embroidery is special too. Just makesure you have styled all the colours well. Once in a while, this saree is a must-have. Lastly, Manish Malhotra's work can never go wrong.
Royalty Colors for Wedding Nauvari Saree
I'm a big fan of beautiful and Royal attires. This is a significant Nauvari Saree with the most remarkable designs. Trust me, you can have this one. Royal outfits are stylish and simple.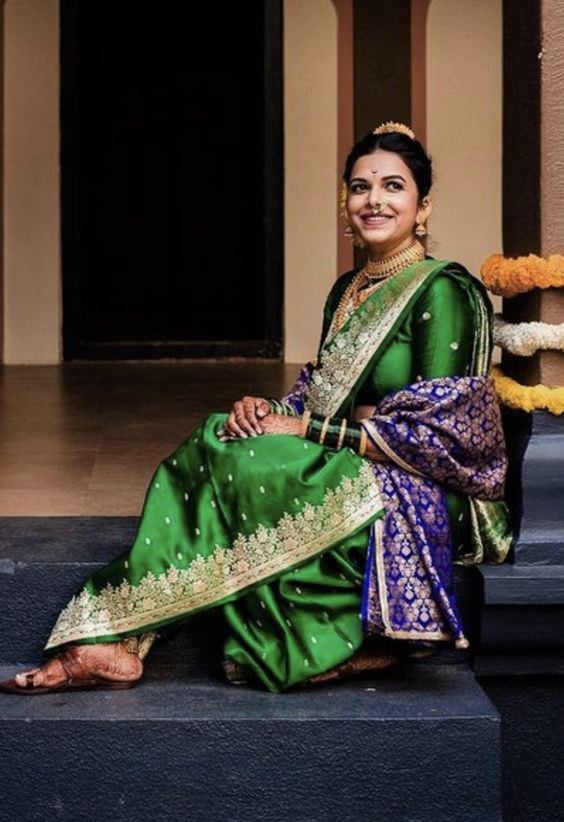 Firstly the green colour is significant and stylish. Just makesure you can style the dress according to any style and design. Lastly, these styles and sarees are perfect for the wedding day.
Check Out: Beaming Hot Dhoti Saree Styles
Bridal Fashion in Cotton Cloth 
The stylish design of the Saree makes it picturesque. Bridal fashion has to have Sarees like these. Just makesure, you are wearing Wedding Nauvari Saree like this on Haldi Day. Cotton Sarees are soft and that makes a great choice.
Although this is a cotton and silk blended Wedding Nauvari Saree. Once in a while, we need a saree like this. It is a blended wedding saree which is soft and cosy. Lastly, wear something like these and have the best pictures.
Party Wear Sari from South India
Trust me, this is a great choice. A stylish print with the right party wear seeks style. Firstly this is a remarkable design that has a perfect design. Stylish embroideries and the right design on the side. Wedding Nauvari Saree and perfect wedding attire.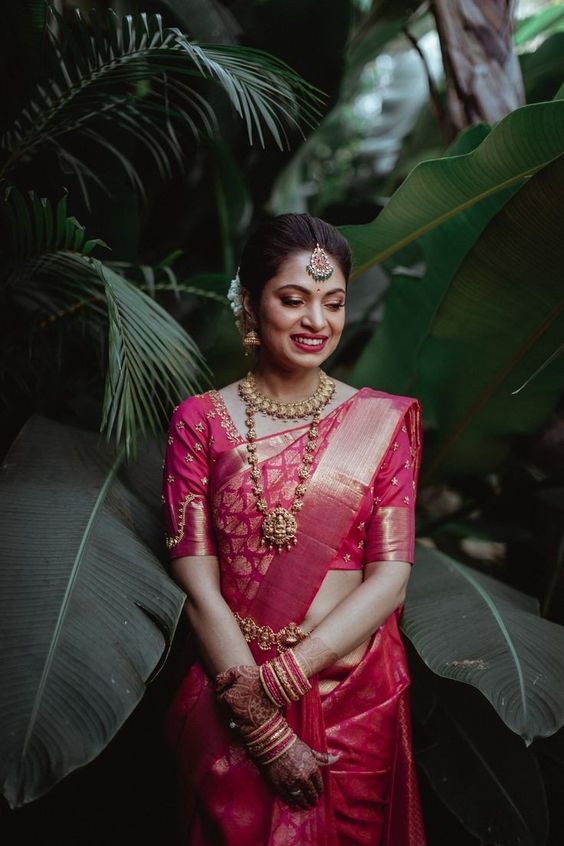 The base colour is pink and that makes it picture-perfect. These Wedding Nauvari Sarees have embroidery like any other traditional South Indian Saree. Lastly, it looks like a Kanjeevaram Saree from Tamil Nadu.
Banarasi Saree with Blouse Piece Design 
Women have a wide variety when it comes to Wedding Sarees. It is a beautiful style with the most remarkable design. Firstly it is a beautiful Wedding Nauvari Saree that has the most simple stitchwork and embroidery.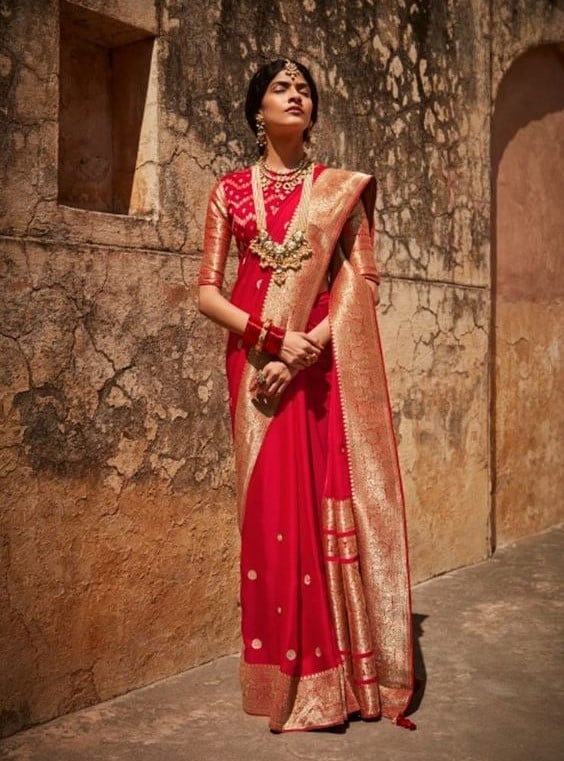 Trust me, this is a Saree which is worth it. Just makesure you're wearing a Saree design like this. The golden embroidery on the border is stylish and the design is pretty. Lastly, this should be your wedding attire.
Inspiration from Indian Culture Wedding Occasion : 
A bride should have the best. After all, it's her wedding day. Firstly you have to buy a good Nauveri Saree which suits her style. Then an attire which she likes. Lastly, the bridal closet should have amazing sarees like the above. 
In Indian culture, brides always wear Sarees and Lehengas. Just makesure, you are buying the correct outfit. Without the right outfit, the wedding is incomplete. A Nauvari Saree is the best choice.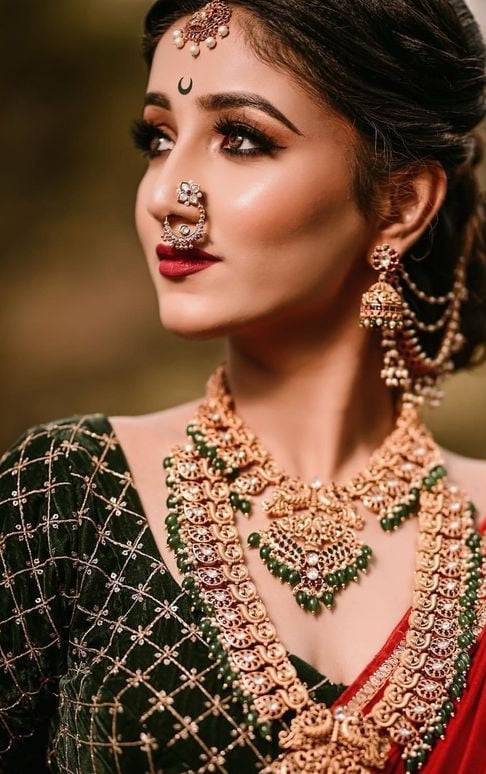 The Marathi brides always wear Paithani Nauvari Sarees. The long and broad saree is exceptionally pretty. The draping style is very different too. North Indian Brides wear their Sarees a little differently. 
Marathi Brides wear their saree like a Queen. A woman who is set to win a war like a true warrior. A Nauvari Saree which is simple, styles and exceptionally beautiful too. 
Check Out: Benarasi Saree for Bengali Wedding
Like a Wedding Nauvari Saree, there are many other popular designs. Firstly we have pretty good wedding fashion options. Once you choose something from uncountable options. Lastly, these bridal fashion choices are perfect. 
If you like what we have mentioned above, then do not forget to let us know in the comment section. At myMandap we are eagerly waiting for your valuable feedback. Plan your dream wedding with myMandap.