An Anarkali Kurti with Dupatta is an attire ideal for your Sangeet Ceremony. This is one of the most captivating outfits which is neither as bulky as a Lehenga and a Saree nor too blunt for a Wedding Attire. 
Anarkali Gown with Dupatta is a similar attire, with a sizeable volume. The surrounding length of the Gown is more extended and broader than the usual Anarkali Kurta. 
A wedding ceremony needs more than one type of attire. You just can't have Sarees and Lehengas, other options are a necessity too. Anarkali Kurti with Dupatta or a Sharara Suit is just a few of the many chances. 
Here we have coined down some of the most beautiful Anarkali Kurta Set with Dupatta which is appropriate for the wedding ceremony. These, are exclusive fashion choices for the big day. 
10 Exceptionally Pretty Anarkali Kurti Suit with Dupatta:
An Anarkali Kurti with Dupatta is more appropriate for a Muslim Bride. I'm saying such a thing for two reasons, firstly a Sharara Suit or Anarkali Suit is traditionally a Nawabi Attire. 
Hence, the origin of this attire goes back to the time of the Muslim Kingship. Especially if we travel back to the Mughal period, where you hear the famous love story of Salem and Anarkali.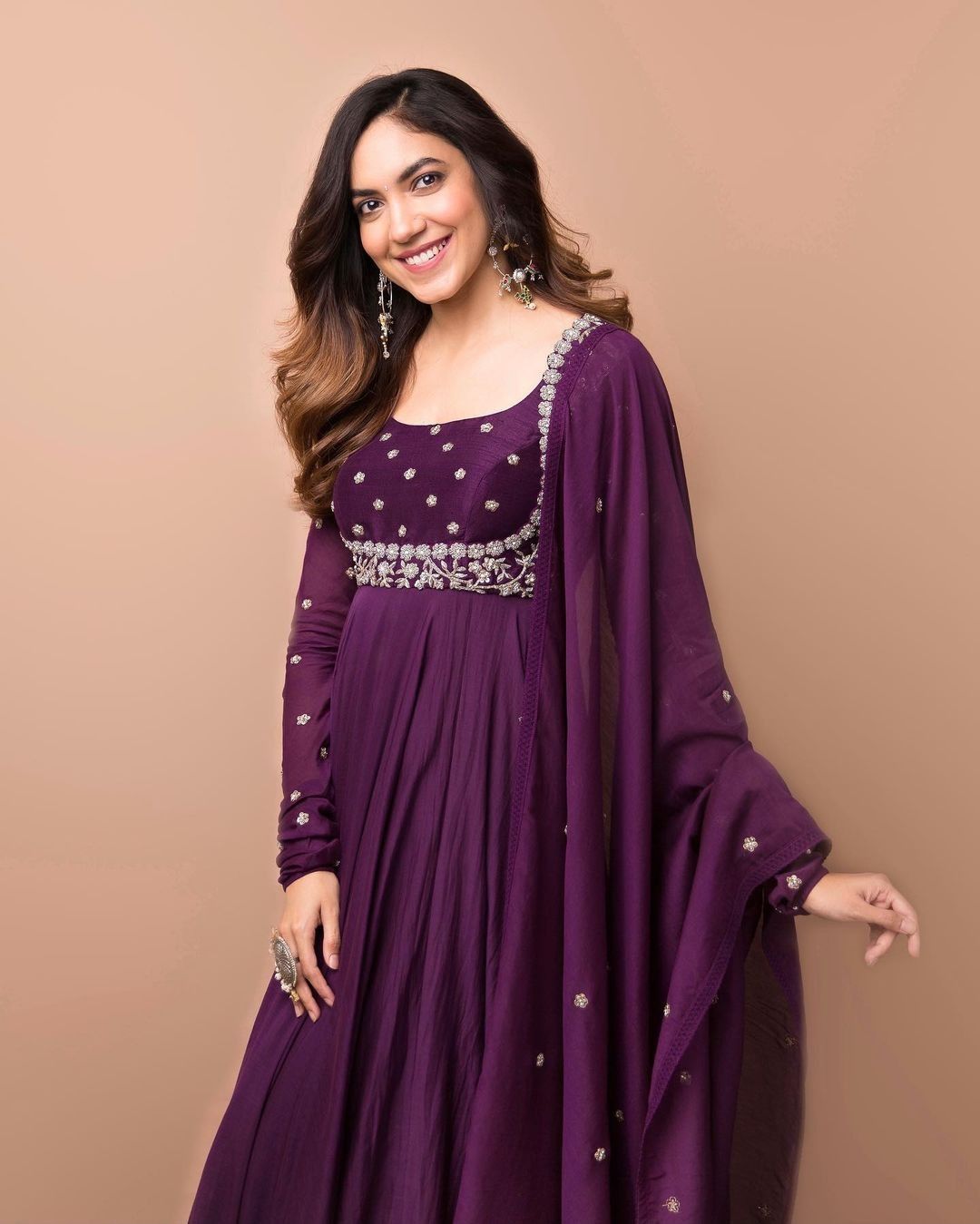 King Jahangir, the Son of King Akbar has a love affiar with the Mughal Courtesan Anarkali, a.k.a Nadira Begum. She wore this fabulous Anarkali Kurti with Dupatta during her performances. 
The Anarkali Kurti with Dupatta that we know for its beautiful Straight Cut Kurti style came from her wardrobe. All her suits, came to be known as 'Anarkali Suits; and today we are about to talk about such beautiful Dupatta Set and Kurtis. 
Must check: Dhoti Salwar Suits
Hibiscus Red Anarkali Kurti with Dupatta
I was always a big fan of Hibiscus flowers. It is an aura which makes these flowers even more attractive, exquisite and stylish. I find floral colours extremely elegant.
And, the red aura of a Hibiscus flower is just the right bling of colours which is needed for a stylish Anarkali Kurti with Dupatta. It is dark, and you get to wear it like a queen.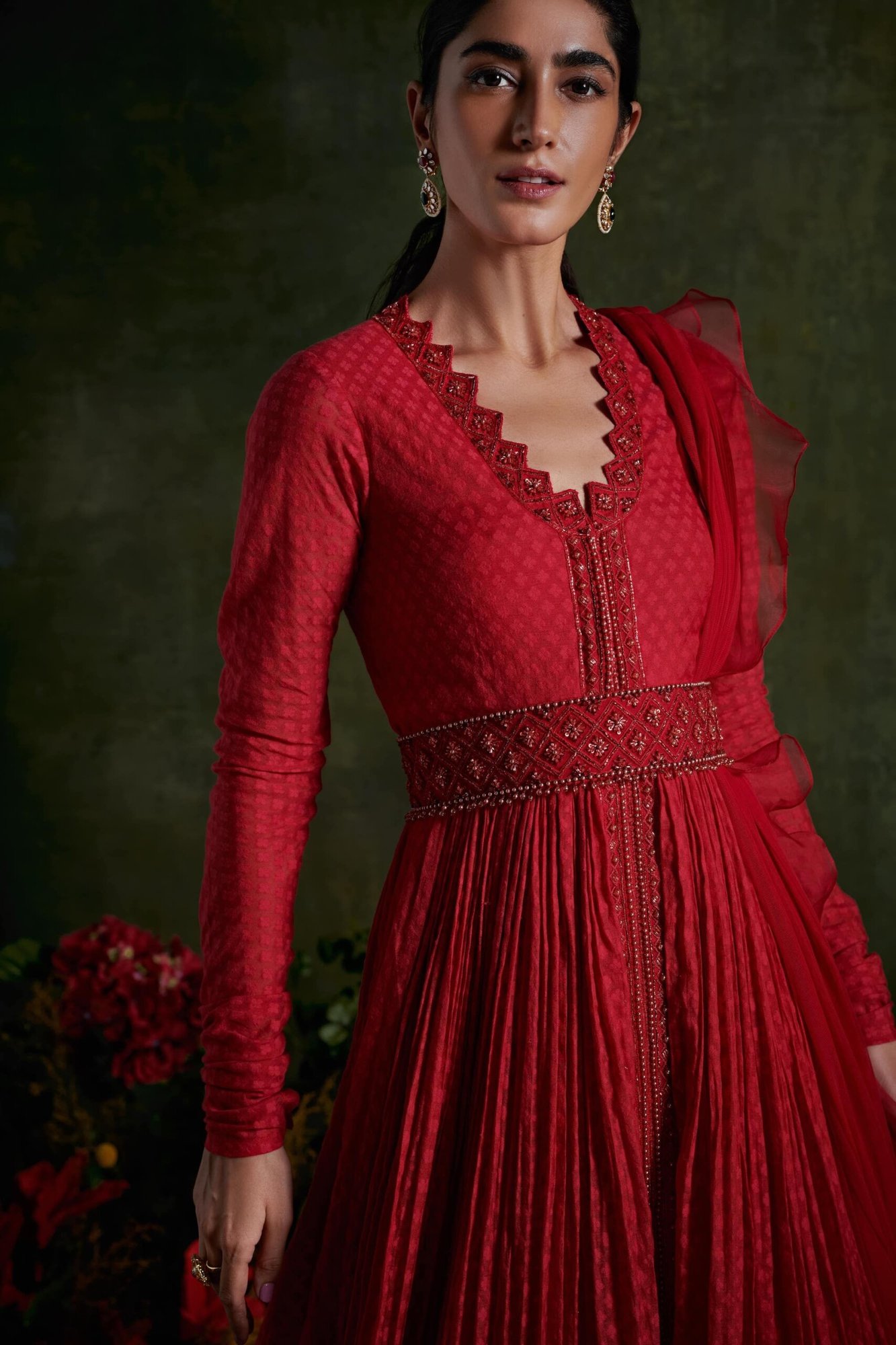 The full sleeves of the Anarkali Suit are quite beautiful, infact this is one of the most beautiful colours for a Bridal attire. The sleeves are nicely embroidered with beads.
Apart from that, the suit has been decorated with the prettiest frills and pleats that cover most of the v-necked shape of this beautiful suit.
Nitya Bajaj's Purple Anarkali Kurti with Dupatta
We have heard a lot about Nitya Bajaj's work as a prominent fashion designer. She is known for her glamorous bridal apparel and the exceptional Anarkali Kurti with Dupatta.
It is beautiful and has the most colour. Most importantly this particular Anarkali Kurti with Dupatta has the prettiest Purple or Violet colour.
It is expensive, drooling hot and has the most beautiful mirrorwork which we might need for a good Bridal outfit. If you ask my favourite, then she gets all the points.
The colour is mind-blowing, and so are the design and the pattern of the dress. It is one of the coolest Anarkali kurta sets with dupatta.
See also: Crop Top Lehengas
Hot Pink Anarkali Kurti with Dupatta
Among so many shades for Anarkali kurta set with dupatta, this is the most expensive of all options. Even if it isn't pricy, the look is quite rich.
If you find an outfit for the Sangeet party, it is the best of all options. It is not as enchanting as the rest, in terms of the saving factor.
The neck is closed, with the boat neck shape. And the side embroidery is covering the entire sleeve arena. As an Anarkali kurta set with dupatta this is not as open and sexy.
This is more like a modest Anarkali Kurti with Dupatta with the best of colours. This is perfect for a Bride who is asking for a Sangeet Party dress.
Tarun Tahiliani's Silk Anarkali Kurti with Dupatta
We are all familiar with his name. Yes, I'm talking about Tarun Tahiliani, one of the most popular bridal fashion designers in India.
He is known for his exquisite work in the fashion industry, especially the ones made especially for brides. Among everything else, Tarun is known for his choice of colours.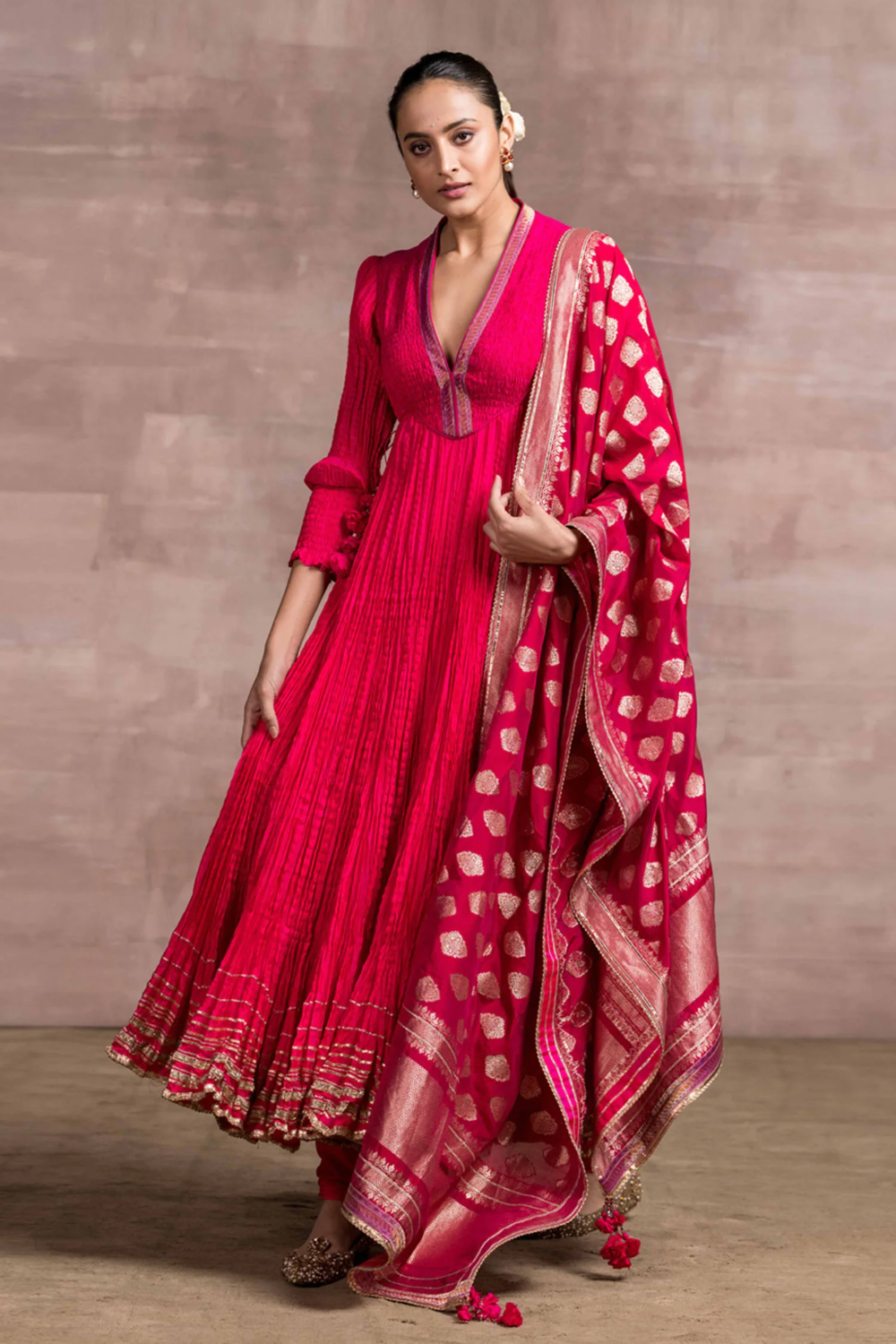 The wide length of the Anarkali Kurti with Dupatta is what you need for a good dance performance, and Tarun's outfit has well bling of everything.
For me, this is one of the best options for Anarkali Kurti with Dupatta, not because a popular Fashion Designer has made it or because it is glamorous, but for the volume.
Also check: Banarasi Dupatta Draping
Rani Red Palazzo Anarkali Kurti with Dupatta
Rani shades are amorous. They happen to have the most ethnic look added to them. I find the colour red extremely well decorated for the bride.
Especially the Rani Red or the queen's cherry shade. It has the most beautiful colour combination, with the most obvious and naturalistic pattern.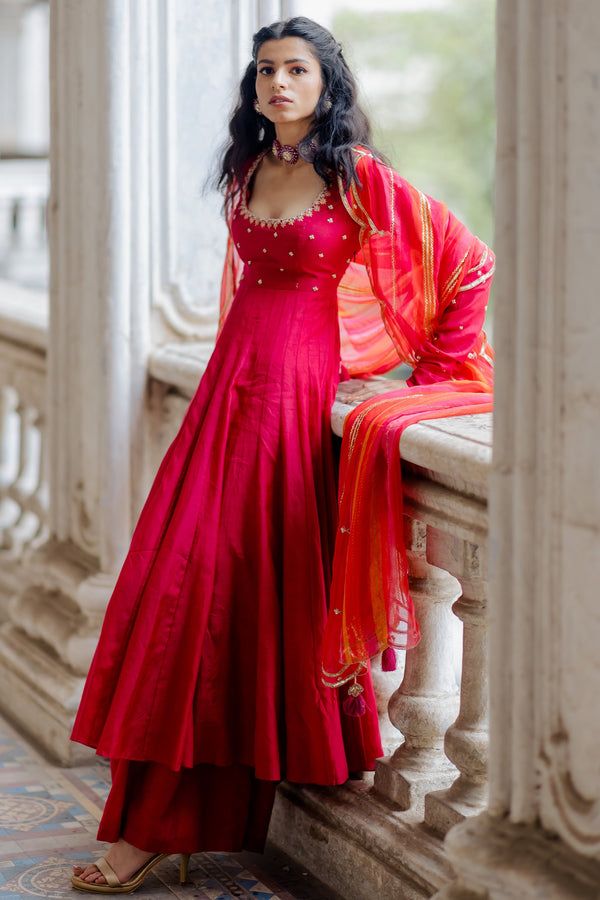 I find Red colours fit for everyday looks. They curate a look, which is neither too basic nor too blunt. It is more like a bride's shade.
Similarly, when you are dressing up for the Wedding rituals, a red coloured Anarkali Kurti with Dupatta is not just a good option, but the best one too.
Lilac Net Anarkali Kurti with Dupatta
The Net sleeve suit is always better in terms of appearance, and also in terms of style. The neckline of this outfit is wide enough and has beautiful embroidery work.
Besides being a good option for your Sangeet night outfit, or the date night parade. It is a significant fashion choice, which can be a part of your Roka too.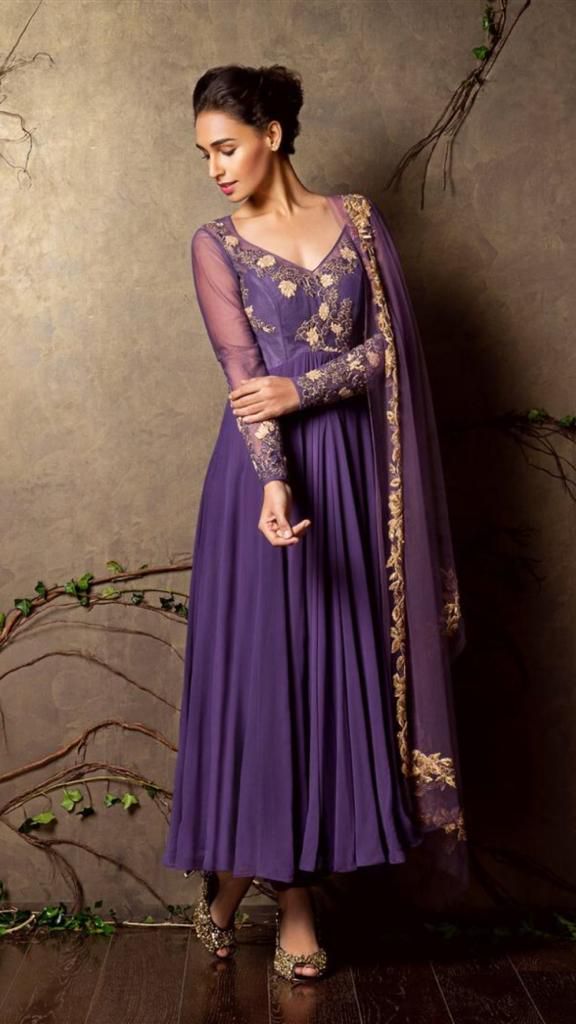 Brides usually do not wear such blingy outfits for their Toka Ceremony, they want a suit which is colourful, and well pleated at the same time.
For such instances, this is one of the best Anarkali Kurti with Dupatta. It is in the trendiest colour Lilac, which is a variant of Purple, Pink and Magenta.
Read more: Pink Banarasi Lehenga
Magenta Full-Sleeve Anarkali Kurti with Dupatta
I'm a big fan of the colour Magenta. To me, this is one of the most exceptional shades, which makes an outfit even more glamourous and stylish.
The colour Magenta is one of the most magnificent shades. It looks good, and it is ideal for women of all age groups. I find Anarkali Kurti with Dupatta in the colour Magenta exquisite.
At times, this shade is overwhelmingly good. It is dark, glossier and has the most expensive touch to it. The plaintive accessorization works well for colours like these.
Most importantly this is a colour which looks too basic, and you might wonder what else you get inside these deep undertones.
Night Blue Velvet Anarkali Kurti with Dupatta
An Anarkali Suit has a long bottom length. It has a beautiful sideway length and shade, which is made typically out of blue colours and patterns.
The style of this amazing Night Blue Velvet Anarkali Kurti with Dupatta is subtle, especially for the fabric which is forming the bae of this attire.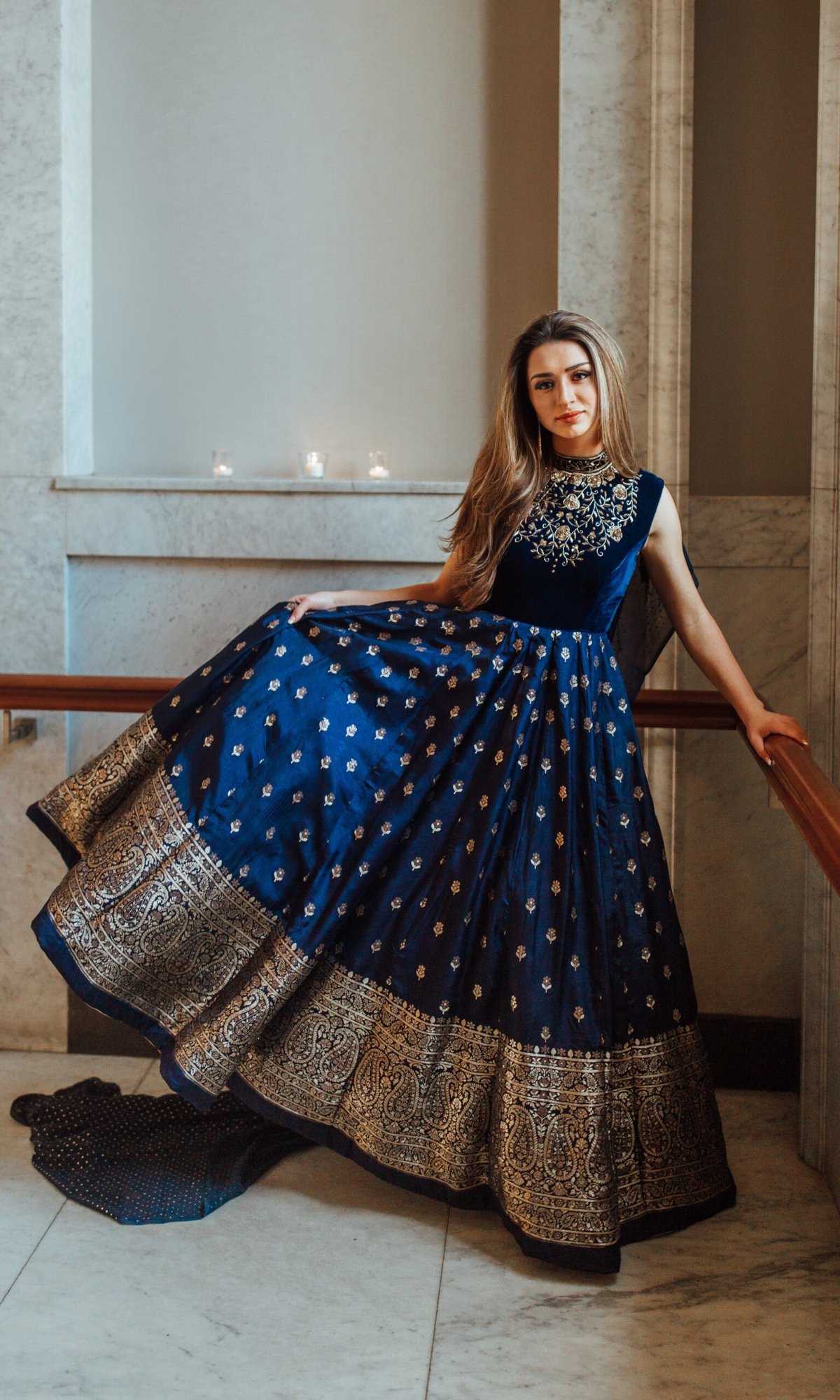 The night blue colour is out of the world, and the velvety texture is just adding further to the classic blue colour of the dress. The golden embroidery is pretty too.
To me, this is one of the finest options for wedding apparel, the ones which are picture-perfect and perfect for the little rituals that come into play.
Off-White Mirrorwork Anarkali Kurti with Dupatta
The Anarkali Kurti with mirrorwork is one of the best attires in the wedding market. It has a transcending comfort and elegance at the same time. The one in his picture is appropriate for a Muslim Nikkhah. 
The Off-White colour is pure, and it reminds me of purity, significance and the good things in life. Popular searches, show most people who are finding Anarkali Suit with Dupatta, are finding a good Chikankari or Mirrorwork fabric. 
This isn't just my personal opinion, but a mirrorwork kurta looks the best along with a good Chiddon Dupatta. When it is a Bridal Anarkali Kurti with Dupatta, the embroidery and the length of the latter are more than the usual ones. 
A Bridal attire has to have a beautiful print or significant embroidery. Without those two, your customer reviews would be unsatisfactory and incomplete. This is why you need to have the perfect product suiting all your needs. 
Phthalo Green Georgette Anarkali Kurti with Dupatta
There are countless party wear options in Emerald Green and bottle green. While the Phthalo Green is specially meant for exclusive Bridal Fashion wear. Crazy options for fabulous Salwar Suits and many other outfits. 
A Silk Kurta is easy to style when you are choosing the outfit for the wedding ceremony. On the contrary, a Cotton Kurti isn't that easy to pair with. For that reason, we often choose Silk and Georgette when it comes to Bridal Attire.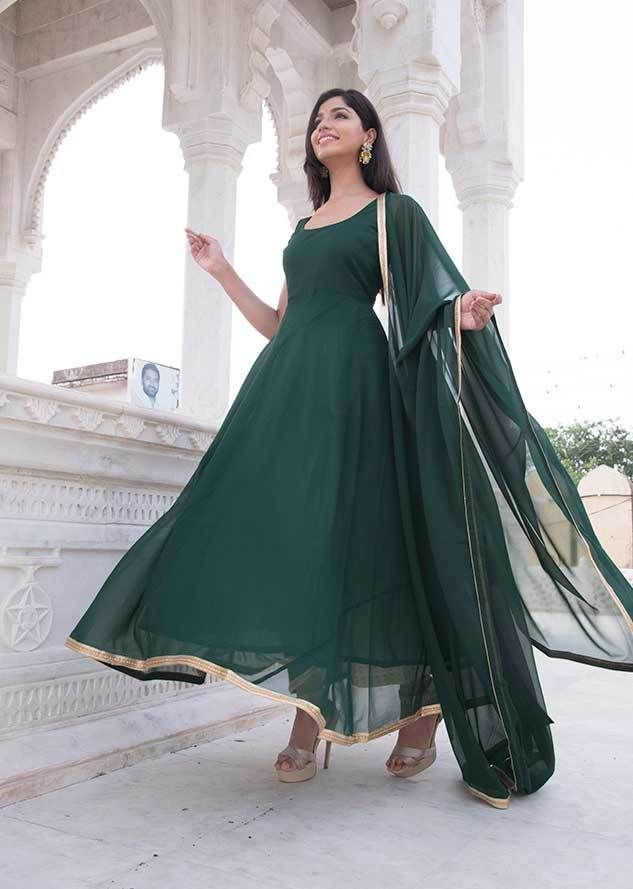 This particular Anarkali Kurta Suit with Dupatta has a chiffon-like material. In a way, this is very blunt but you have enough place to redecorate it for the wedding ceremony. A Salwar Suit with a dress-like material is a pattern. 
And this is just one of such amazing combinations. You can wear this on for your special occasion, like some Post wedding events. This is even good as a collection for other Bridal events, like Roka and Tilak Ceremony. 
Anarkali Kurti with Dupatta is one of the most noncontroversial alternatives for a bride. There are many debates, about which is the right outfit, and what should be worn for the Wedding Ceremony. 
In reality, there is no one right answer stating the perfect Bridal Attire. While some Brides feel comfortable wearing their conventional Saree for the Big day, some others feel more for the Designer Lehenga Choli. 
This is the beauty of our country, there is diversity. Which is celebrated all the way through. Not just for attires, but for cultures and rituals too. An Anarkali Suit for the Bride is one of the best options. 
This is the latest trend to wear Anarkali Kurti with a Dupatta for at least one of the many wedding rituals. Ethnic Outfit options are vast, and an Anarkali Kurti with Dupatta is a perfect design for festive occasions. 
A wide range of Bridal collections might make shopping slightly more time-consuming. This is why myMandap has enlisted some of the trendiest fashion options for women. 
Shop according to your choice, and learn about all related products from myMandap. Starting with exclusive pieces of jewellery, decorations, and whatnot. myMandap is the one-stop destination for all your wedding needs.