A Bengali Pola Design is a unique ornament. Needless to say, it is worn on the wrists and the design is exceptionally gorgeous yet minimal. Usually, Pola Bangles are typically worn by Bengali brides. Especially married women after their wedding ceremony. 
Pola Bangles are typically red bangles with intricate designs and gold work. Such bangles are ideally worn with another beautiful white bangle which is known as 'Sankha'. Now, Sankha is a bangle made out of White Coonch, a living shell from the sea. 
On the contrary, Pola isn't a seashell but it is also made out of a living thing. Once you see a Pola bangle, just look at the vibrant red colour. Pola Bangles are made out of Red Sea Coral stones. 
Just makesure, the Pola you are buying is authentic and has been fetched from the best Coral. Bengali Brides always wear these beautiful Red Bangles with a pair of White Sankha Bangles on both wrists. Here, we have enlisted the best designs of Bengali Pola Designs. 
Why wear Sankha & Bengali Pola Design?
If you ask me about good Bengali Wedding Bangles, then out of ten chances I would tell you a million times, that Sankha Pola is typically the most beautiful Bengali Bangle Design. 
It is typically decorated with precious Golden intricacies and over-the-top when you're working with the best. There are many elegant Gold bangles which are worn with the best ones.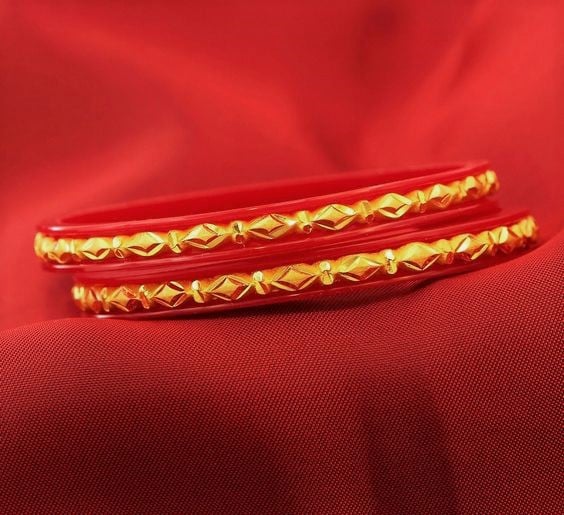 If anything you can always find a good style of utter elegance for your wedding date. Firstly you can follow this tradition no matter what. It doesn't matter which is your place or culture. 
To get good material for your Bengali Pola Design, you need to go to a good jeweller. There are different designs that you can purchase for your special occasion. 
Just makesure, you wear the most beautiful Bengali Pola Design for your Big Day. There are uncountable good Bridal bangles but these are the best options. We have the latest collection of the best metal Pola bangles with the most exclusive offers. 
Check Out: Bridal Silk Thread Bangles and Kangans
Top 12 Bengali Pola Designs for your Wedding Day:
Sankha Pola Bangles Set
Firstly, there are many popular and stylish Bengali Pola Designs. What makes a Sankha Pola Bangle so special? It is none other than the blend of White and red bangle combination. Bengali Pola Designs are better than anything else.
Just makesure, these Bengali Pola designs are made on top of the red bangle set with a pretty gold intricacy. These bangles are clustered most beautifully. Here, we have styled these bangles in the best way possible.
Bridal Jewellery Bangle Set 
Such a pretty Bangle set is remarkable and stylish too. Just makesure, you are working with the most beautiful design on your big day. These bangles are easily wearable on any occasion and style too.
Firstly, you should wear a Red Bangle Set with an ideal set of Gold bangles. What makes it so special? Well, it is none other than the unique blend of colours. Here, the golden intricacy has made the design so much better.
Diamond Bridal Bangle for Your Loved One
If you are asking for my opinion then I love Diamonds. Firstly, diamonds can be made any wedding jewellery set better. Just makesure, you are working with a design that sounds best for you. Lastly, it is the best style.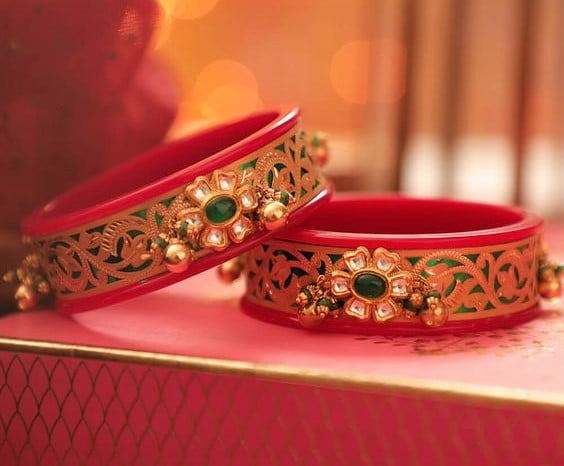 Such bangles have diamonds and Kundan work. I prefer Gold and Diamond bangles over any other design. Just makesure, you're working with a style which pairs with the rest of the look. Pretty Necklaces, earrings and other major designs.
Green Bengali Pola Design
I prefer Green bangles over anything else. Trust me, you can make any wedding necklace better with your instincts. Such Bengali Pola Designs are traditionally the most beautiful design. Lastly, these Green bangles are better than the rest.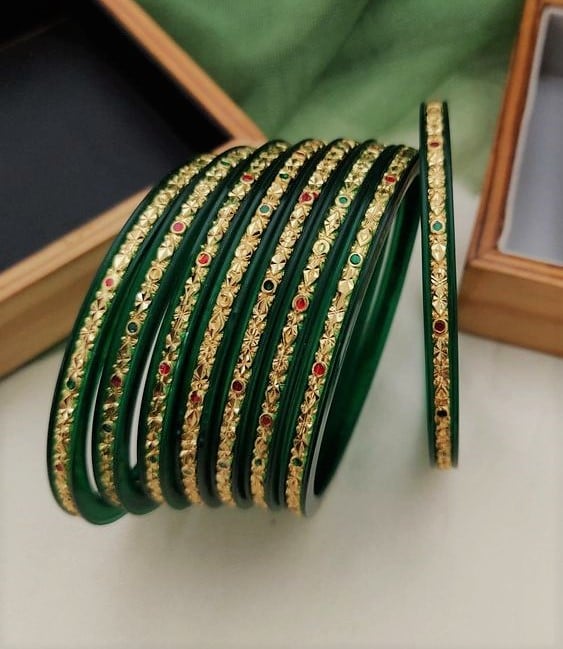 Such bangles do have a pretty frame and a design which make them special. Once in a while, this is the best option too. Lastly, you should always style it with a good Gold Ring that is broad and special. Just makesure, you choose a good design.
Gold Bengali Pola Design for a Bride 
Bengali Pola Bangles are very different from any other choice. Firstly, there are pretty designs on the Bengalo Pola Bangle and it also has pretty Gold Intricasies. Just makesure, you are working with the most pretty style.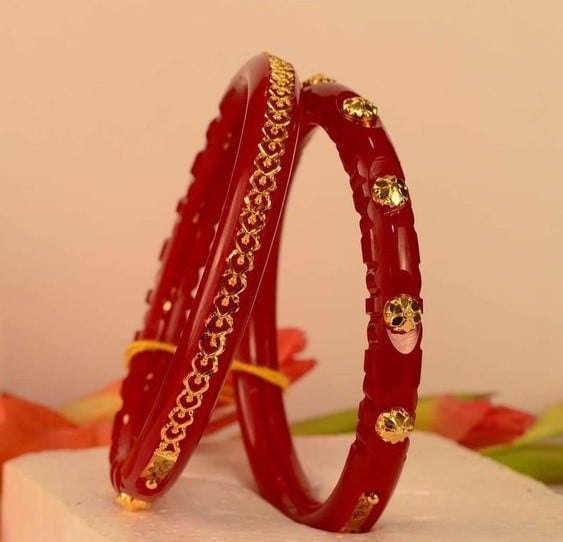 There are exceptional designs and then comes the unique colours. Here, we have pretty Bengali Jewellery sets. Lastly, this is a very stylish wedding bangle which makes it a very special wedding ornament for a bride. Once you need a bangle set like this.
Check More: Bridal Bangles with Names
Yellow Gold Bridal Bangles with Red Bracelet
Traditionally brides should always wear something they like and prefer. These Bengali Pola Designs are a few of such styles. Firstly, these Pola Bangles are a combination of Red and Green Pola Bangles. Once in a while, you need a good design like this.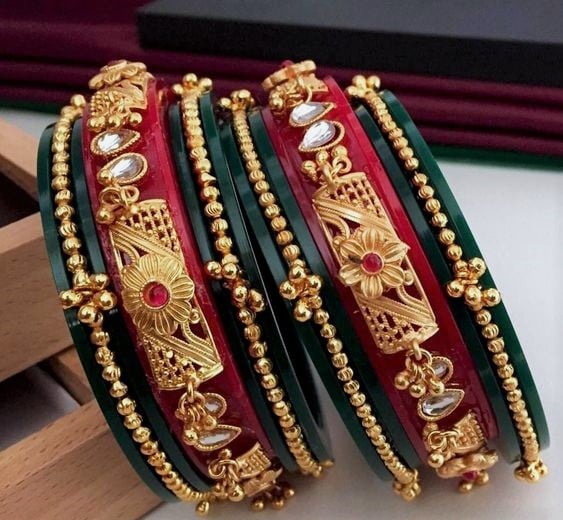 Just makesure, you are pairing a few extra golden bangles on the side to make the hands, even more, put together. Once in a while, these are the best bridal ornaments. Lastly, pair a good necklace and earring set with these amazing designs.
Traditional Bengali Pola Design
If you're looking for a good Wedding Bangle, then you are totally at the right place. these are extremely simple, yet stylish wedding bangles. It has stylish gold intricacies and details which makes it special.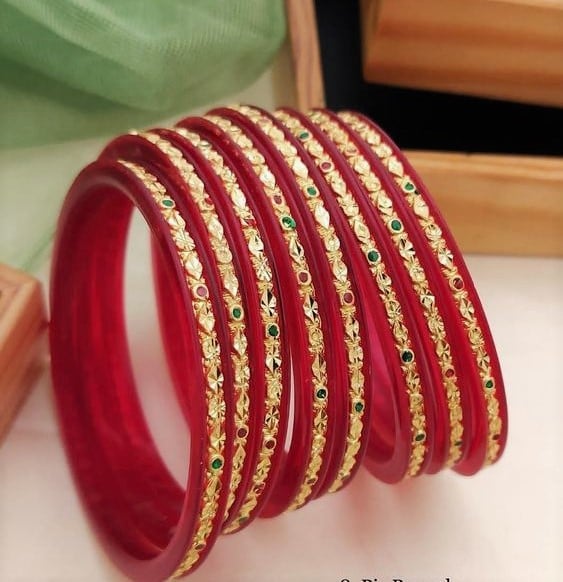 The fine gold work has made the bangle even more special. Just makesure, you're wearing a pretty white Sakha Bangle and some subtle Gold bangle with it. This is an amazing Bengali Pola Design which is totally in fashion. Once in a while, this is a must-have.
Colourful Bangles for Punjabi Wedding 
These Bengali Pola Bangles are a tradition and you have to wear these amazing wedding bangles. Firstly, these bangles are very simple but they have a shiny base. Some brides wear plastic or glass bangles on their hands. Some people prefer Gold Bangles along the side.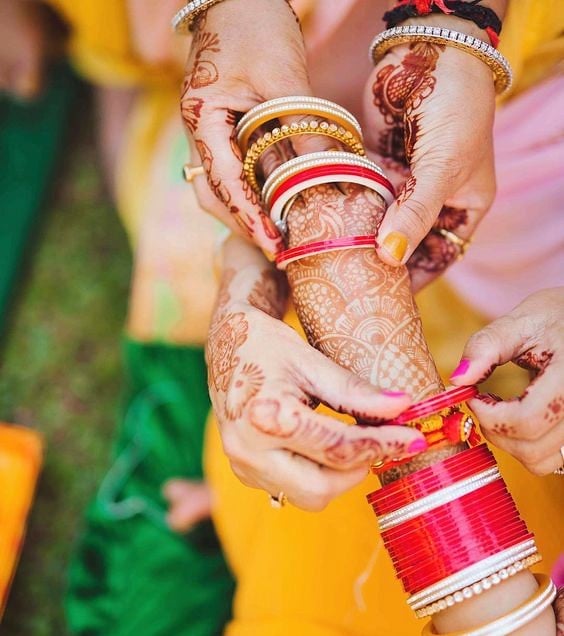 Just makesure, you are styling with a good design on your D-day. Bengali Pola Designs which are decorated and styled accordingly. Lastly, you should style these bangles with a good necklace ad a pair of earrings too.
Red Glass Bangle Jewelry 
If you're looking for a good wedding bangle; then a glass bangle is a good style. These bangles are very simple but elegant. Simplicity is the main elegance. Here, the red bangles pair best with Gold Bangles and the perfect Gold Engagement ring.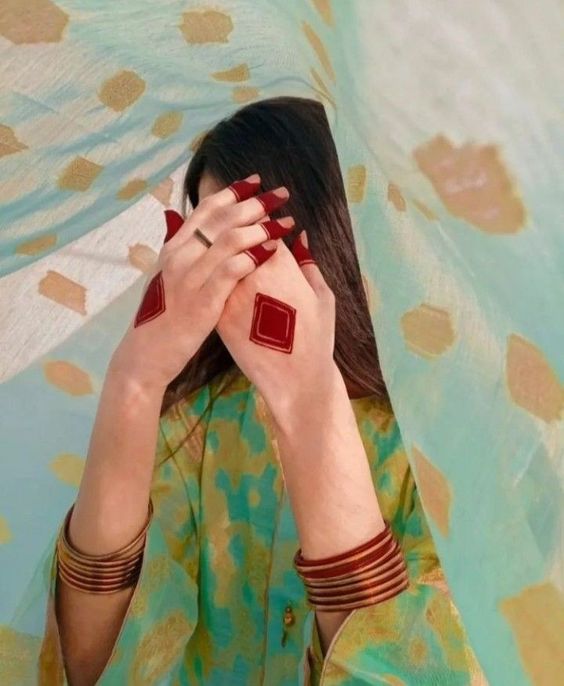 Red bangles are pretty and they make any simple style better. just makesure, you are wearing a pretty design of Mehendi and Henna on each hand. Style these designs with your creativity with these Bengali Pola Designs.
Pola Bridal Bangle with 925 Silver
Firstly, 925 Silve3r is a very precious metal and they make the best wedding bangle sets too. Such a simple bangle is better than anything else. Just makesure, you are working with a jeweller who knows how to style on Silver metal.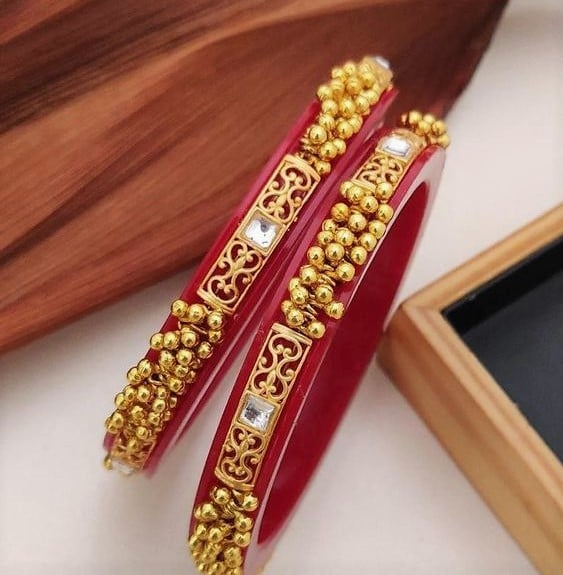 Lastly, these bangles are beautiful and they make the best designs. Firstly, styling these bangles are picture perfect and stylish too. Such bangles need to be styled with good rings, bangles and other pretty ornaments too.
View More: Sankha Pola Designs
Pearl Bangle for Wedding Day
Some Designs are better than others but a style is always better than anything else. Firstly we have a pearl bangle set which is made with white pearl stones. Such bangles are very popular in India.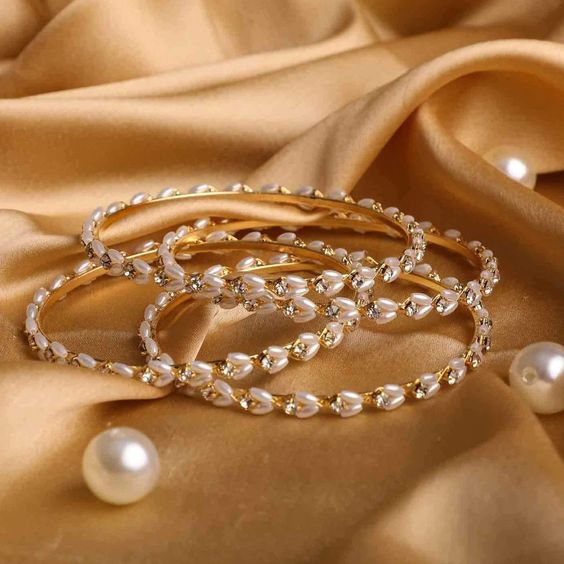 Just makesure, you are styling the design like you want is totally going to set the deal. Lastly styling these bangles are better than anything else. Such a simple pearl bangle is a subtle and surreal choice.
Bridal Bangles with Pola Bangle 
There are beautiful Bridal Bangles with Pola Bangle designs but this is a very beautiful option. Firstly, a Pola Bangle is always the safest choice. Just makesure, you're working with the best Red Pola Designs and White Sankha Bangles too.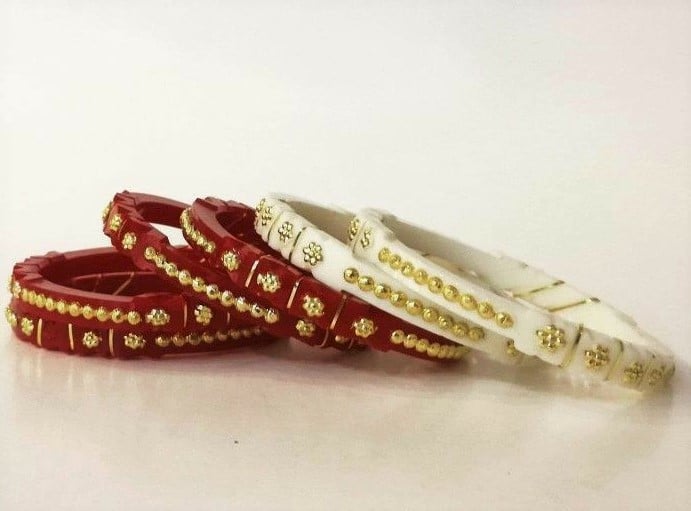 I do prefer designs which are intricate and subtle. Such bangles are always the best option. It starts with working with a good design and then it ends with a good choice. Just makesure, you are styling the most beautiful design.
Online Delivery Vs Offline Shopping:
 There are beautiful details that make a Pola Bangle special buy a good design on Sale. Every ita its itinerary. Just makesure, the size and the style are exactly what you want. 
The latest news for the Best Bridal Fashion and all rights reserved to the latest designs. There are uncountable designs with the best-related products. While purchasing online you get the comfort of your home.  buy any Bengali Pola Design from any store with your ideal American Express, VISA or Mastro Card too. Firstly an online store would immediately email it to you with the updates of your purchase.
Lastly, the print picture of your Bengali Pola Design does matter in the end. Just makesure, you can handle the good style on your own. Such Bangle sets are always the best option. 
Must View: Best Gold Pola Ring
If you like what we have mentioned above, then do not forget to let us know in the comment section. At myMandap, we are eagerly waiting for your valuable feedback. We make the most exquisite wedding functions for our viewers.