The Gold Pola Ring is a recent wedding trend. Most Bengali Brides are choosing Red Pola rings on their wedding day. These rings are simple and a great choice for Wedding Days. 
A bridal product which makes a Marriage. Almost all Bengali brides do wear pretty bangles and bracelets on their hands.  Pretty Shaka Pola Bangles and fabulous rings too. 
Women who have these Bangles in their Jewellery Box, do not need anything else. These are really fine accessories which are picture-perfect. In Hindu tradition, wearing a Gold ring and red bangles is an integral part. 
Beautiful custom rings in the Color Red. Pretty Shanka White Bangles and other similar accessories. Just makesure, you have them all. Here, we have differentiated between the best Shankha Pola Bangles and Gold Pola Rings. 
Sankha Pola Ring Vs Sakha Pola Bangles:
Bengali Brides have to wear a Shakha Pola Set after getting married. This is an integral part and this tradition is utterly simple and beautiful. Sankha white bangles are made out of White Seashells also known as Sea Cohardernch. 
These white conch shells are a little harder. Firstly white bangles do make pretty bangles. But a red bangle or Pola is not made out of Coral stones. Instead, they are made with red synthetic material. Just makesure your Gold Pola Ring is beautiful and well-decorated.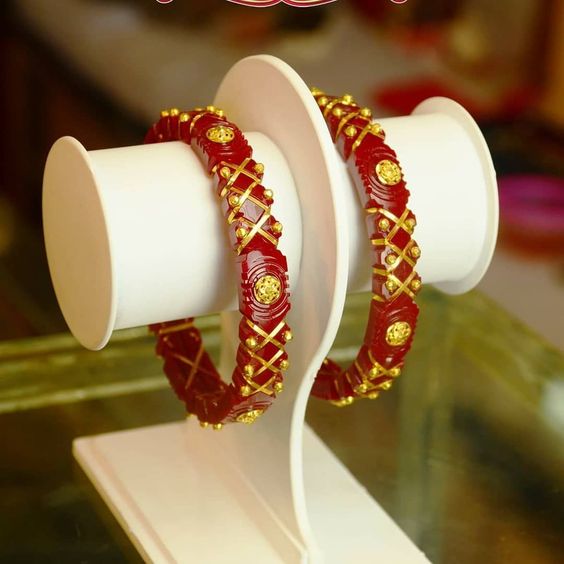 The actual product is beautiful and that speaks a lot about it. A Gold Pola ring is subtle and has the most intricate work on top. Shakha Pola rings were popular for a while. While Pola stone rings gathered popularity in recent times. 
Women who like red bangles would ask for Pola Bangle Set. But if someone isn't as fond of red or heavy bangles, they should style their hands with Pola Rings. Gold Pola Finger Rings are the best of their kind. 
Also View: Senco Gold
Top 15 Shakha Pola Ring & Bangle Set for Hand:
Graceful Curvy Gold Ring
Gold Purity is an important thing. There are many reasons why Pola Bangles are so important. It symbolises fertility in a newly married woman. A newlywed wears these to sustain happiness and prosperity in a relationship.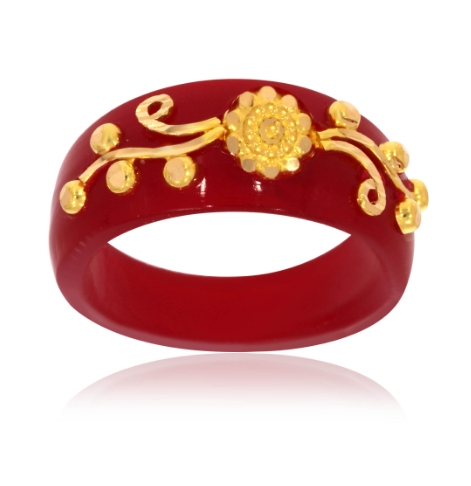 Firstly this is a beautiful wedding ring and then it is about the subtle details. You can even wear these Red Pola Rings to Work. The Curvy Gold details make the synthetic Pola material even better. Lastly, it is about customer service. 
Emblem of Bonding Pola Ring
I'm a big of pretty wedding rings. This is a beautiful embedded wedding ring that is simple yet stylish. I like this more than most other designs out here. What I found special about this design?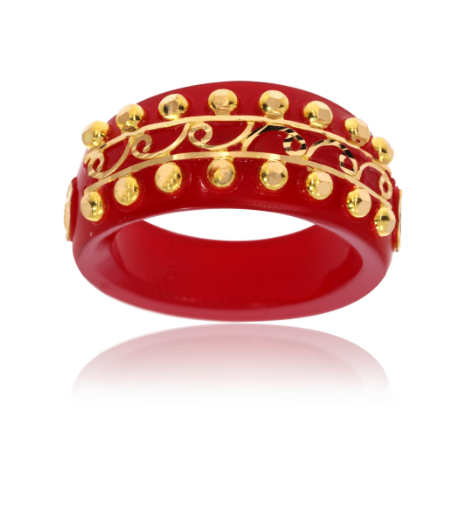 Firstly it is none other than the embedded pattern and then it is the subtle decoration. A Pola ring is always better than most other designs. Gold threadwork is way better than stone on Gold Pola Rings. 
Gold Pola Finger Ring 
I know a billion woman who likes diamonds but there are a zillion others who love Gold. There are beautiful Gold Pola rings which have the most intricate design on top. Firstly it is simple and then it is a beautiful red colour.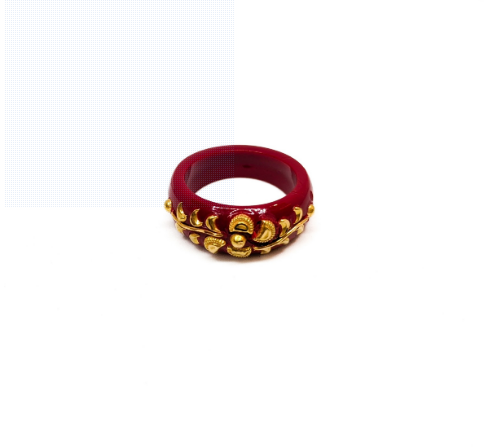 Just makesure the ring you have purchased has everything you will need. These are amazing rings with the most simple decoration which makes them even more lively and vivid. 
Floral Stream Gold Wedding Ring
There are many other designs which make an ordinary design better. It starts with selecting a good design and ends with selecting the style. Gold Wedding Rings are wonderful but it is one of the best parts about this part.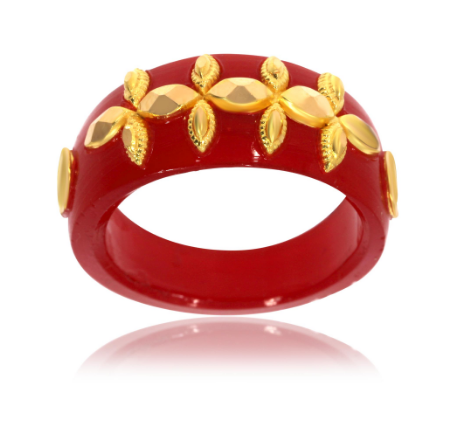 Just makesure, the Pola is good quality and that would seal the deal for you. Lastly, it is a very pretty design as an anniversary gift. Infact, this is a good option for the most part.
Unity in Diversity Gold Ring for Engagement
As a part of the deal, there are some statement ornaments which are precious bracelets or bridal rings. This is a beautiful combination that is simple yet precious. Ideally, such rings are a symbol of prosperity and good luck.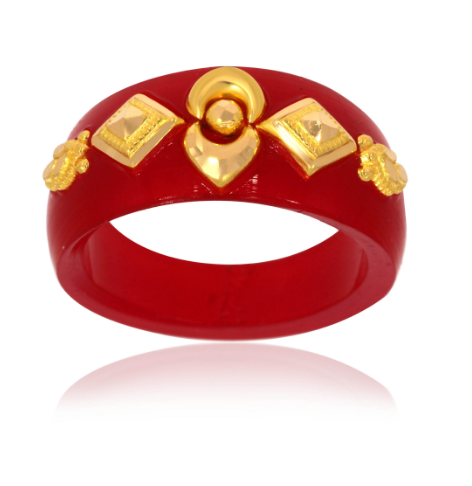 Some women prefer wearing gold bangles on their hands. While some like to keep it simple and wear these pretty Gold Pola Rings. Lastly, you should always style the ring with some good gold rings and bracelets too.
View More: Toe Ring Designs
Blue Pola Ring for Bride 
Red is a popular shade and most Pola bangles and rings are made out of Red Pola stones. The Pola stone is a form of Coral reef which is a symbol of prosperity. Infact most women who wear Pola Stone rings wear red colour.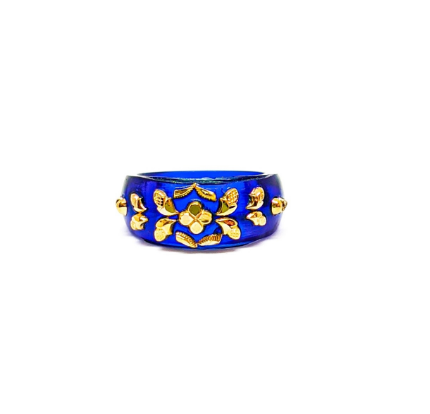 This is a slightly different shade which is unique and very different from other designs which makes it special. Here, we have a special colour and design. Lastly, this Blue stone Pola ring is artificially made and the material is just plastic.
Green Gold Pola Ring 
Like a Blue Pola ring, the colour Green is also very beautiful. Firstly these colours aren't natural and they have been made with artificial means. Green Pola bangles are quite popular in India. Infact a green Pola ring is the most subtle option.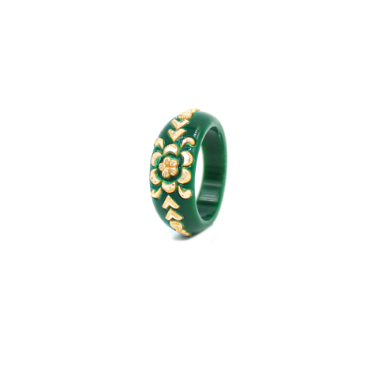 What do I find special about this Green Pola Ring? Well, it is none other than the unique blend of colours. Red Pola Bangles are pretty but green rings are stylish too. Just makesure, you are wearing something you like. Once ina while you need something like this.
Pola Finger Ring Designs 
Firstly let's talk about this Gold Pola Ring. There are teeny-tiny floral details which are very stylish and recognisable. What makes it special? It is none other than the beautiful gold intricate work that is extremely unique and beautiful.
The red Pola ring is utterly simple and beautiful. I have a personal thing for designs that are as pretty as these. Just makesure the colours are workable and they match the accessory. Lastly comes the beautiful gold ring.
Captivating Gold Red Pola Ring
There are many unique bridal Pola bangles but this is a very popular Gold work on an intricate Red Pola design. Firstly this is a very special wedding ring which is decorated with beautiful floral gold ornaments and details. Once try a Gold Pola Ring!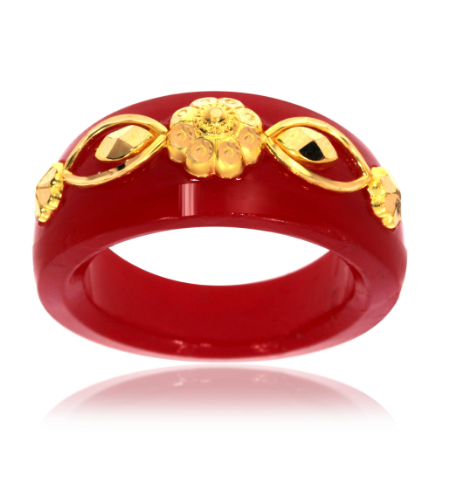 There are beautiful details which make a wedding ring so special. The gold intricate design makes it very special and decorated. Lastly, you can count on this for your wedding day. Once in a while, you wear something like this.
Red Pola Ring with Gold Intricasy
There are many unique designs which are stylish and extremely beautiful too. Trust me, these are extremely beautiful Gold Pola Ring with the most stylish gold intricacy. Firstly the red details make the wedding ring so special and unique.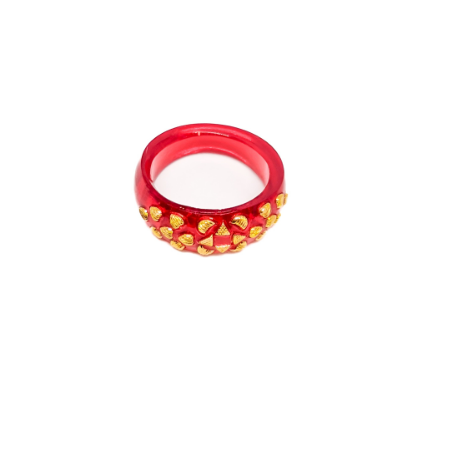 Red wedding rings are some of the finest wedding rings. What makes it special for me? Well, it is none other than the colours that work so magically out here. Lastly, pair a good design for yourself on the wedding day.
Check More: Couple Rings
Marron Pola Stone Ring
Wedding rings are very unique and special. Infact this is one of the most beautiful wedding rings. I have a spacial thing for these unique wedding rings. The maroon Pola stone is a very different and stylish colour too.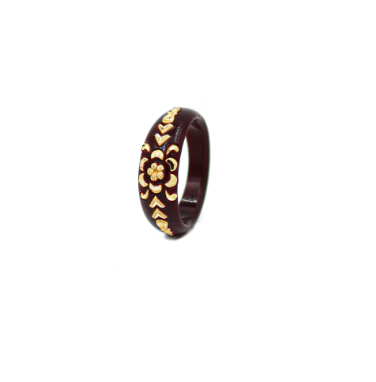 Firstly it gives a brownish vibe to the rest of the weddinf ring. This is a very uniquye wedding ring that you should count on. Style it in the corrwect manner for your wedding day. Just makesure you are choosing the perfect design and colours.
Dual Arty Gold Ring in Pola Stone
Firstly this is a combination of White Sankha bangle and a Red Pola Bangle. This is a dual artistic wedding ring. It has beautiful colours that works like a magic. Just makesure, you're working with the best designs on your wedding day.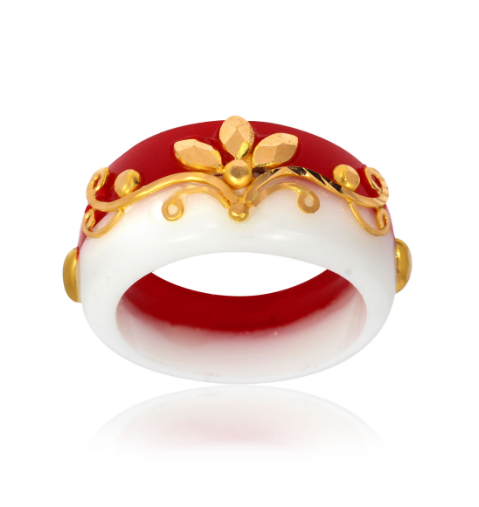 The intricate gold design makes it very special. Once in a while this is the perfect Bridal wedding ring. Style this ring according to your personal style. Lastly comes the unique blend and colours which makes it so special.
Alluring Intricate Gold Ring in Red Pola
Intricasy is the finest design and that makes it extremely special. The gold ring is detailed with the finest designs. Just makesure you have a beautioful gold pattern on top. Firstly this is a beautiful wedding ring that makes it special.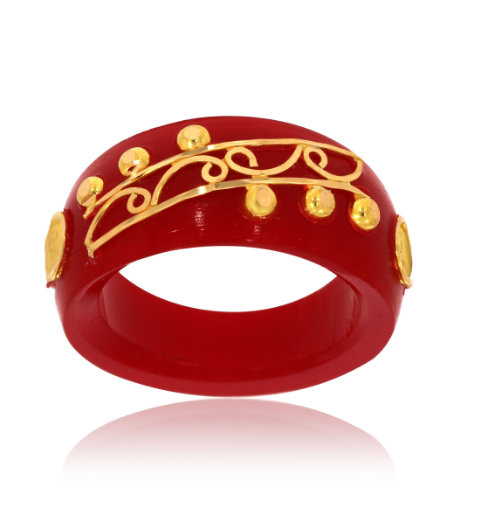 This alluring gold pattern has made it extrmely gorgeous and special. Lastly wear it properly for your wedidng day. Such Gold Pola Rings are perfect. Just makesure you're weairng a unique wedding ring like this on your wedding day.
Blooming Blossom Gold Pola Ring
A Gold Pola Ring should have a beautiful Gold intrictae work on top. This is a simple blooming blossom ring that has the simplest gold work on top. Trust me, this is a unique Gold Pola ring which is the best style for a newlywed.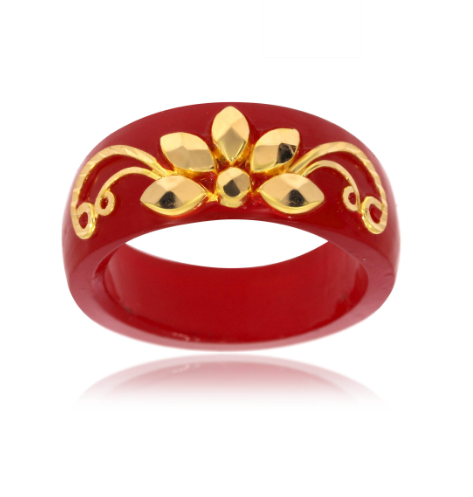 Little goldpeatls and rings make the ring extremely beautiful and perfect. Such a simple wedding ring is one of the best designs. Wear this unique design to your Isle and your partner would be baffled. Lastly comes the unique gold work.
Glim of Star Pola Ring with Gold Intricacy 
Gold Pola Rings are always the most special bridal accessories. In India, most bridal jewellery sets are in the colour red. It is about this pretty ring which is unique and beautiful too. What I found special out here? Once try a Gold Pola Ring with this unique intricasy.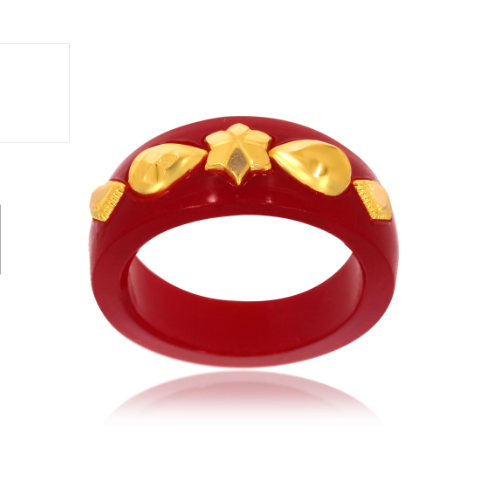 It is none other than red colour. This is a very popular red Pola design with a pretty intricate gold design. It is a 22k gold embroidery that is special. Just makesure, you are buying this from Senco Gold and Diamond, they have the best in the collection.
White Bangle and Red Pola Ring for Women:
 White bangles are very popular and Red Pola Rings are becoming quite popular lately. Infact most Indian brides prefer wearing these bangles over any other accessory. Firstly there were White Sankha Bangles and Red Pola Bangles. 
Then came beautiful Rred Pola Necklaces. Lately, Gold Red Pola Rings have gathered immense popularity. These are very simple  Gold Pola Rings which are a must-have. Just makesure, your wedding ring is well-decorated.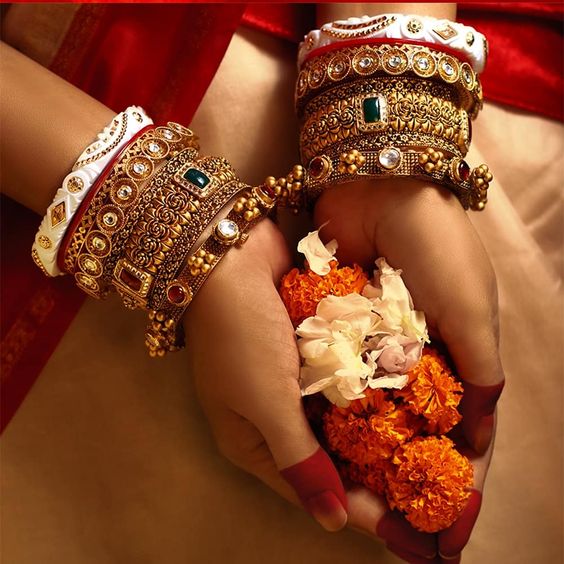 Starting with the amazing designs and the styles which make it special. Such  Gold Pola Rings are utterly inexpensive too. It is always under a 5k budget, which is quite affordable as a bridal accessory. Most wedding engagement rings are quite expensive and they might be as far as 10K. 
But if you were looking for a good and affordable wedding gift, then this is it. It is an immensely beautiful  Gold Pola Ring. Just makesure your design is neat and sleek, otherwise, the ring would be way too blunt. Once try a Gold Pola Ring!
Check Out: Wedding Earrings
Red Pola rings have gathered immense popularity lately. And, I believe it is a way better gift than anyth is inexpensive but not useful. A brtotally style this ing with any accessory and stylish necklace too.  
Like these, there are many other things which make a wedding special. These ary the fanciest ornaments. There are many jewellery sets and accessories. Bangles, bracelets, Maang Tikka, Matha Patti and lots more. 
Here, we have the best ones and these are perfect for a newlywed. If you like what we have mentioned above, then do not forget to let us know in the comment section. At myMandap, we are eagerly waiting for our reader's feedback.