The Bengali Topor Designs are ethnic and traditional as per the Bong Wedding Culture. You can identify a Bengali Couple, from their wedding Photograph. The Bride with her Mukut Design. 
And the Groom with his quintessential Bengali Topor. That is the cultural ethnicity that prevails at all Bong Weddings. You'll expect something and a completely different thing Pops up
While for the rest of the country, a Pagdi is used as a classic Groom's Headdress. Bengali Topor Designs are the alternative that is worn by all Bengali Grooms, for their Wedding Ceremony. 
I believe this tradition embraces the sweet little things which break and make a beautiful Bengali Wedding Ceremony. To elaborate on that we have curated some of the best Bengali Topor designs. 
Top 10 Traditional Bengali Topor designs:
I know this much, that you should always keep up with the traditional norms of your culture. No matter what, that should be a part of your Wedding Outfit. 
For the brides, it is their beautiful Mukut which is like a Tiara, embroidered with flowers and other special paper materials. But when it comes to the groom's outfit, it is the Topor Design.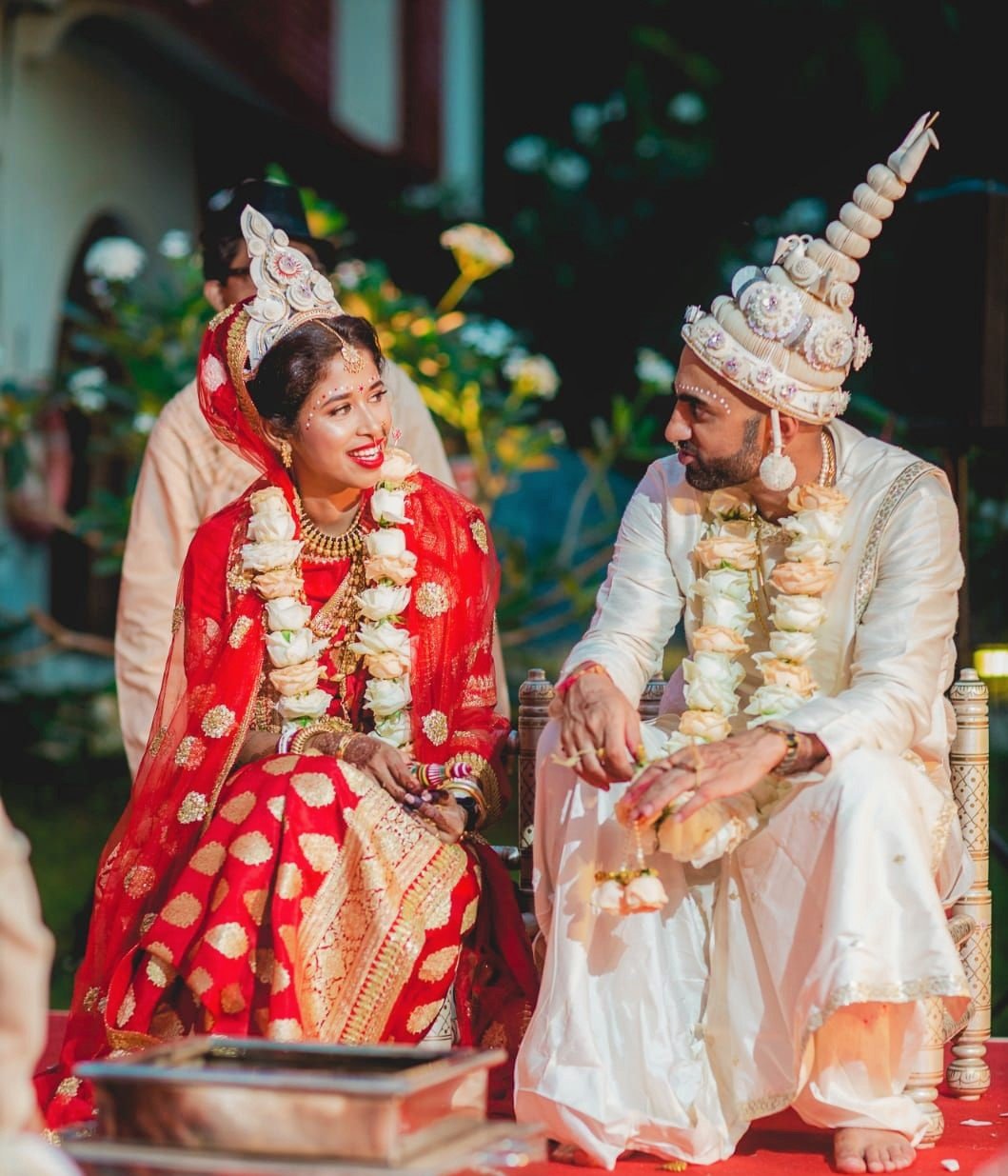 A Bengali Groom is incomplete with a Dhoti, Punjabi Kurti, and their classic White Topor Design. It curates the finest Bengali Outfit and the best Couple Photographs too. 
I feel we should be keeping up with the traditional decorations. Like the Bridal Mukut Design, check that out on myMandap. For now, let's find out some of the best Bengali Topor Designs  
Check out: Bengali Bride Mukut Designs
Classic Bengali Topor Designs
It's you, who makes a look and it's you who wear it for the wedding ceremony. For a Wedding Ceremony mostly, it has to be classic and well organized too. It can't be inappropriate and disorganized.
Like this particular option for Bengali, Topor Designs has the best Pom Pom tassel which has made the groom's appearance even more put in together and well placed.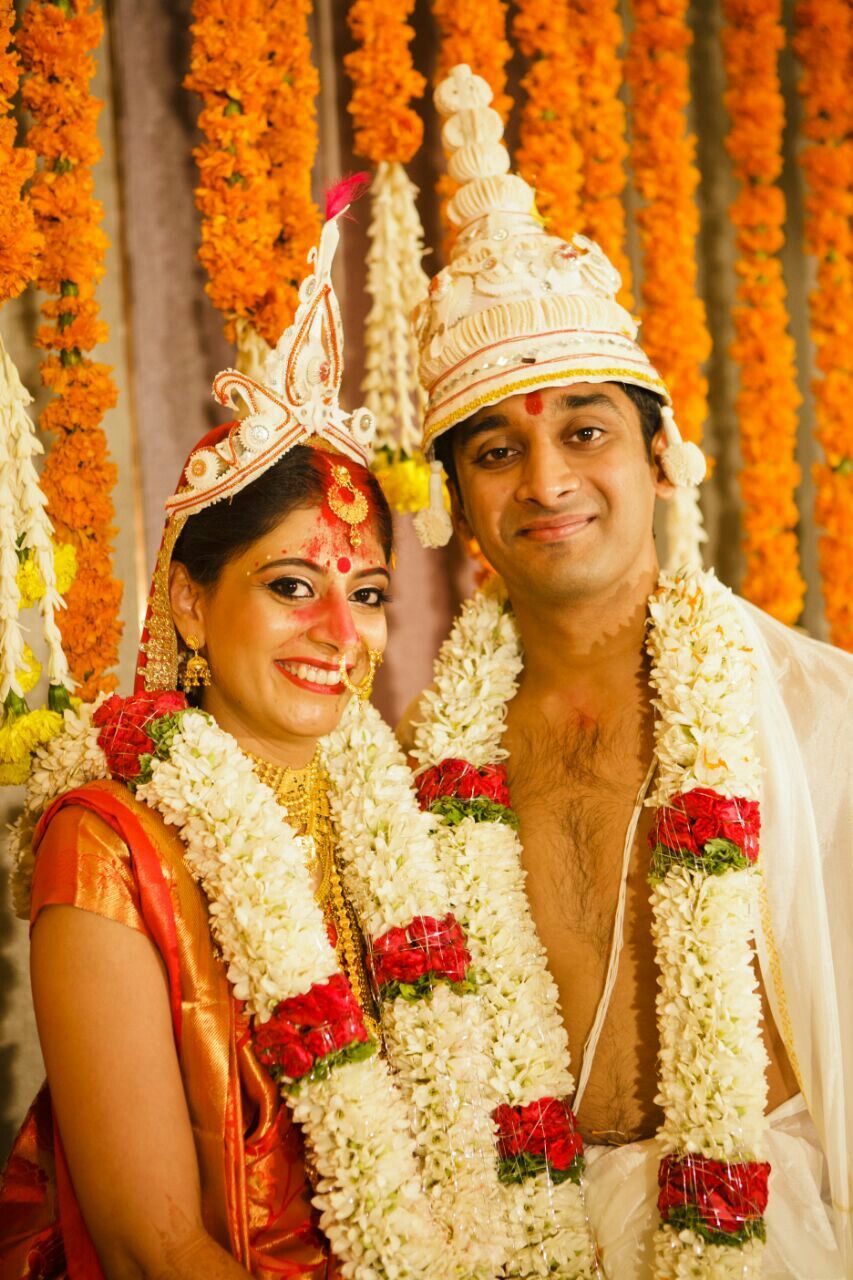 The bride's headdress is similar to the groom's Bengali Topor Design. And that has changed the game for the bride herself, this Couple's photograph is so much better together.
I believe this is one of those elegant styles that make the most for any bridal and wedding occasion. Simplistic, stylish, and always very elegant. You should try it for your big day.
Red Feather Bengali Topor Designs
Although the Bengali Topor Design isn't one of those which we are used to seeing but it is the one we love to wear for the big day. Ideally, a Topor Design with a feather is a classic.
And, this particular Bengali Topor Design has it placed with a beautiful and extremely elegant Red feather. I think this is style on its own and you should wear it for your big day.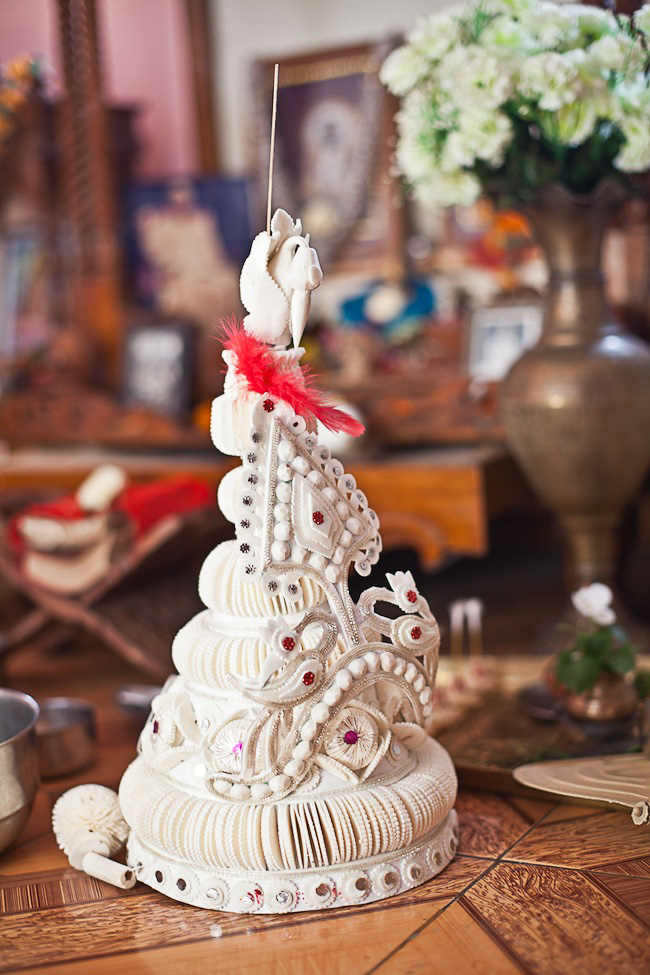 The lower portion of the Topor Design is clustered with round and spherical shapes, and there are other major red dotes that have added further to the beautiful Groom's Topo Design.
It is unique, and the main theme of this particular design is white which has turned the tables for this one. The entire shape and the design reminds me of a 90's hit look.
White Bengali Topor Designs
No Bengali Topor Design is not worn by the bride, rather this is just a headdress that is worn by the Groom only. For the bride, they have their varied designs for unique Mukuts.
Why is this woman wearing a Topor Headress on her head? This is just for fun, and trust me the outcome isn't that bad right? Honestly, this is a perfect headdress for a quirky Bridal image.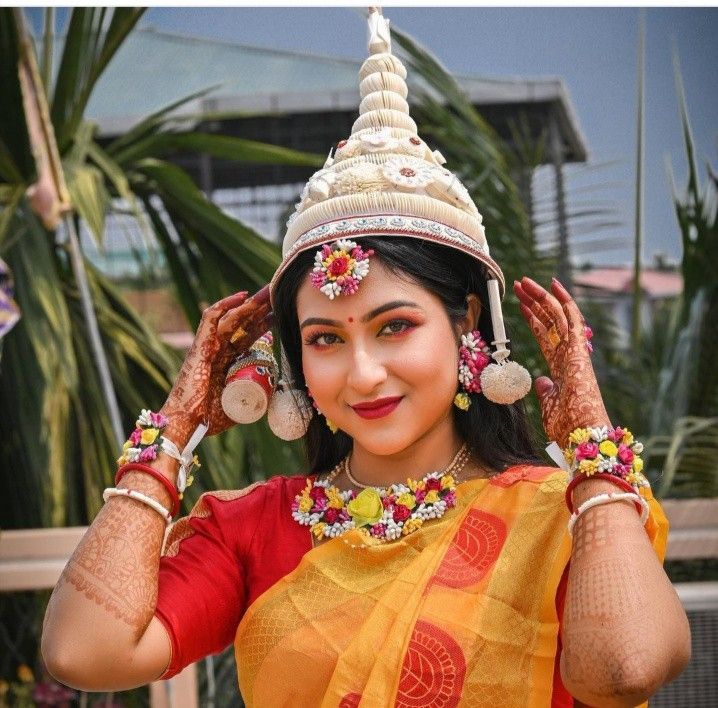 It has everything else needed to make a perfect Bridal Photograph. This has the best colour combination, and the pure white colour of the Topor has made it even better.
I have se4en many classic options, and this is just one of them. It is white, pure, surreal and a unique option for people who love to keep their outfits all traditional.
View more: Gachkouto Design Ideas
Swan Shaped Bengali Topor Designs
Not just for the groom, but for the bride as well. This is a selective choice that makes any Groom's outfit even more vivid and realistic. What is so special about this combination?
Well, it is non-other than the shape of this particular Bengali Topor Design which has made a deeper impression on the person wearing git for their big day. Trust me, this is always better than the rest.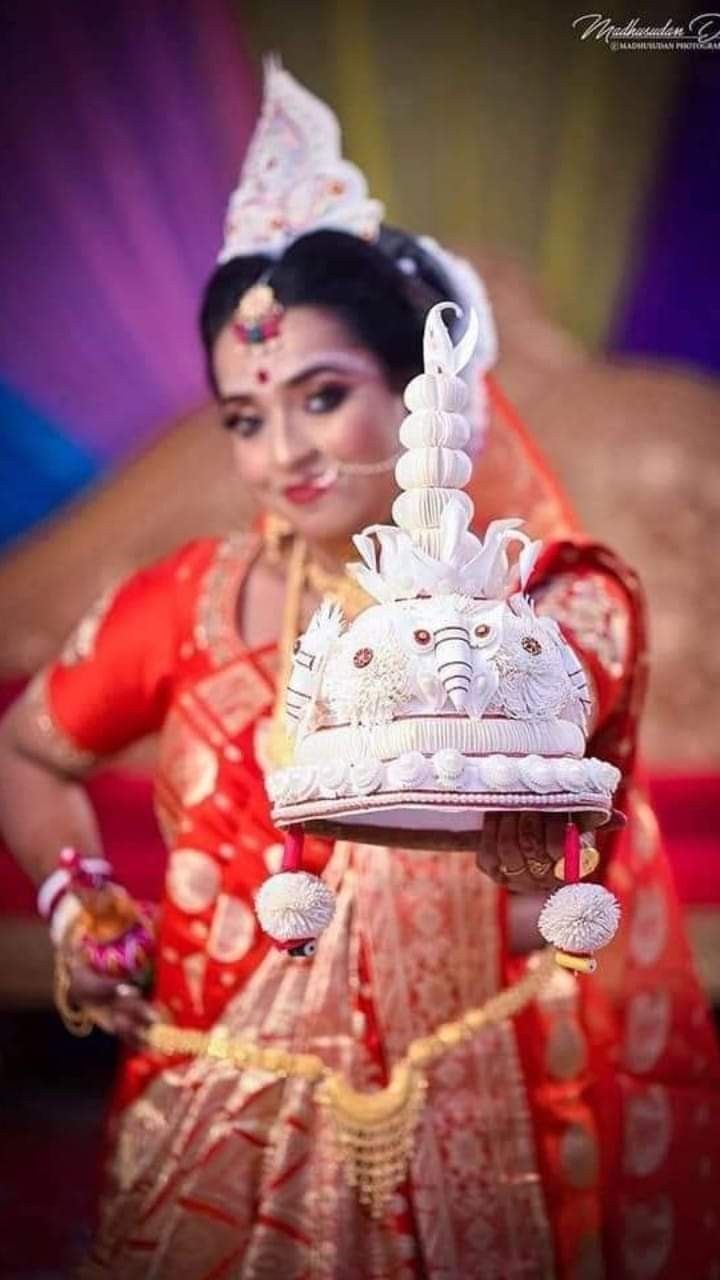 This is shaped like a swan and has the falling pom poms which have made it better for the groom. Honestly, this is a cool option for someone who wants their headdress to be picture-perfect.
Those hangings pom poms have made it even better and more attractive. The colour is pure white, which has made the entire decoration better for the Bengali Topor Design.
Check out: Jodhpuri Sherwani suits
Matching Bengali Topor Designs
Honestly, it is a choice that makes everyone feel complete and distinguished. The matching couple Topor is an idea of its own. Most Groom's tops have a set for the bride, and that completes it.
It is a distinguished style, and it makes everything better for the newlywed. Trust me, you can always trust this for your Wedding Outfit, not only is this a great option for couples but also the pictures were taken.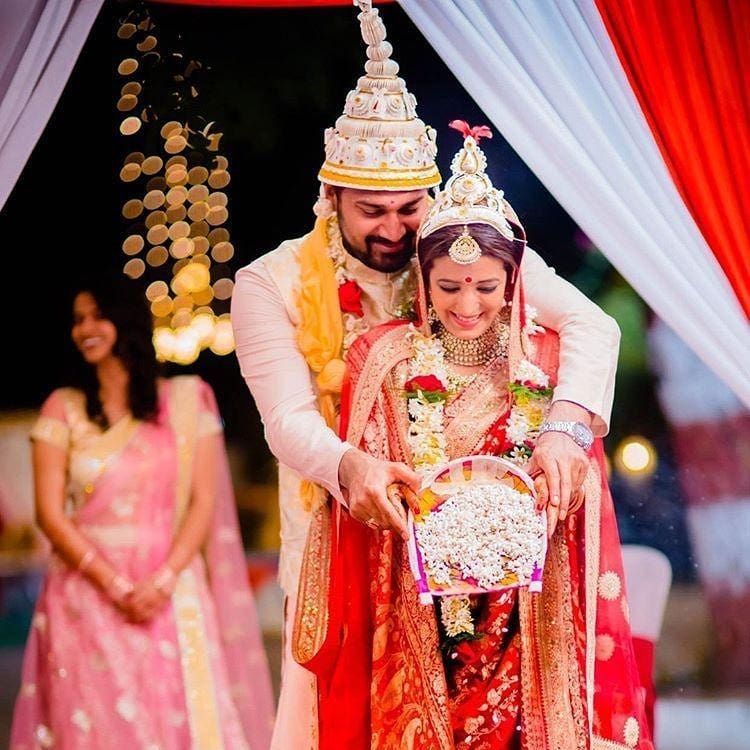 Anything collaborated is always better than non-collaborated outfit options. You get the best colours in this particular range, and it is always better than the unusual ones which we are used to seeing.
This particular one has golden embroideries on either of them and trusts me this is a good choice who wants something golden and glossy for their wedding ceremony.
See related: Bridal Kolka Design
Off-White Bengali Topor Designs
Off-white is a colour that falls between pure white, and Milk White. You can neither call it beige entire nor can you name it White. This is a shade that makes everything better.
Starting with the prettiest Bengali Topor Design to the quintessential Embroidery on the top of it. This is something that we all want for our wedding ceremony. Classic and extremely useful if you as me.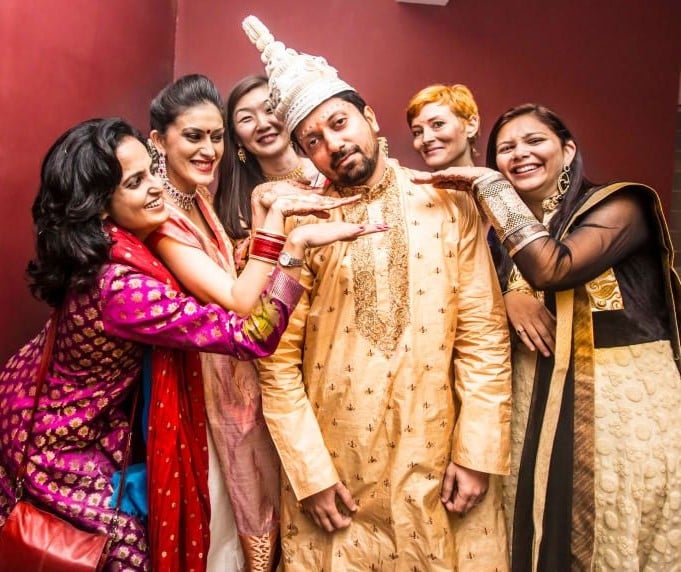 This particular design is similar to all other Topor Styles, except the base colour is different from what we are used to seeing on other Bengali Grooms. And this is also not having a Pom Pom hanging by the side.
This is a style, that is supposed to look well on every other groom, irrespective of their Wedding Outfit, o any other stuff that completes the final Bridal Look.
Red Embroidery Bengali Topor Designs
We all have our choice when it comes to the right Bengali Topor Design, it should be this and that so it suits the final Groom's Attire. Well, it starts with the basic papery material.
Needless to say, if the material of the Bengali Topor Design isn't sleek enough, the design might not be as exciting or as good as it has to be. The one have here, has the unique embroidery made out of the red.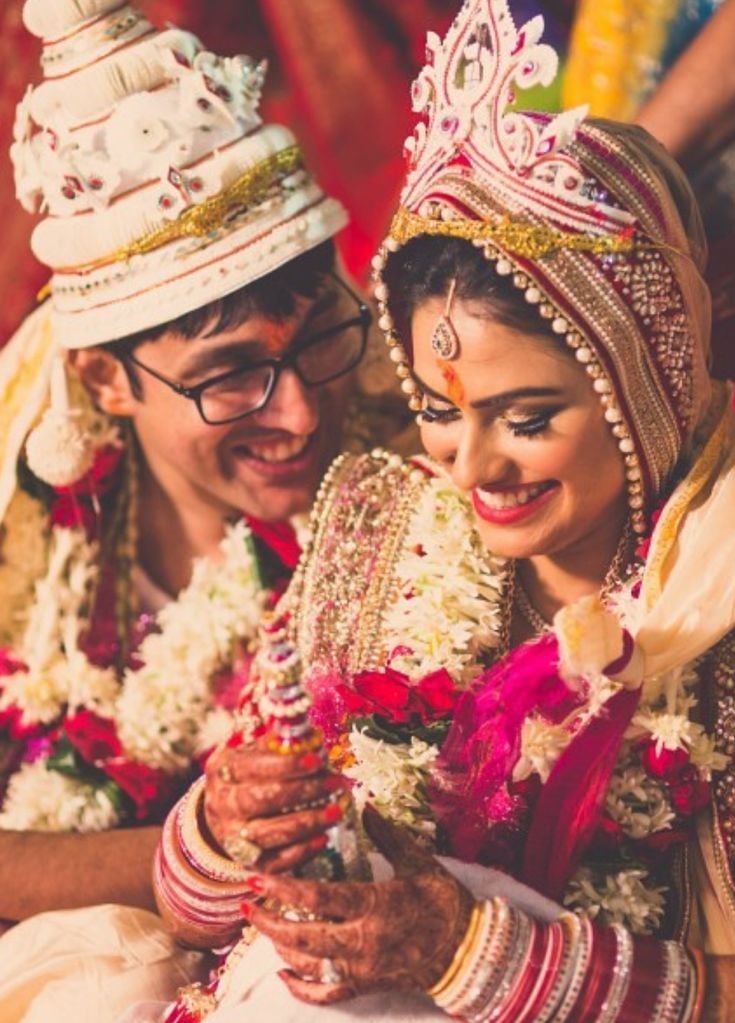 Yes, Red threads and red stitches go a long way when it comes to the right Bridal topor design. It has to be sleek, uniquely blended, and glossy. Without all these things, the Topor is blunt.
And, none of the Blunt Topor Designs goes so well, until it has the right shade or the right structure to settle for. This has the best red threadwork, which is also paper in reality.
Must view: Best Rangoli Designs
Mirror work Bengali Topor Designs
This is one of the modern options for Bengali Topor Designs. Yes, the exterior design of this one has the best decoration and the most beautiful pattern too. 
I think added accessory, is something that a design comes out better. To make the white more glowy and glamorous the designer has added little mirrors to it.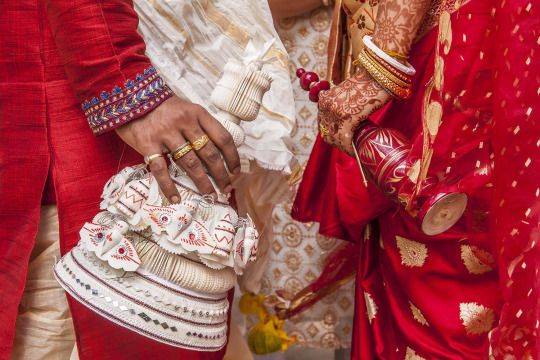 Yes, those are little mirrors that are making the rest of the design better and more beautiful. Honestly, I have seen many but this is a unique Topor Design. 
It starts with minute ornamentation and works until you have it in the right place, and the rest design itself. Going unique is always better than stuffing your head with designs you don't like. 
Must view: Bengali Wedding Dress for Groom
Traditional Bengali Topor Designs
If you are in a dilemma over which is the real Bengali Topor Design, would go with your Traditional Groom Kurta? For such changes, you should always settle for an ethnic design. 
This is one of those classic Traditional Bengali Topor designs. Which is set with the best exterior design. Trust me, you should always go for something like this. Basics always win the match.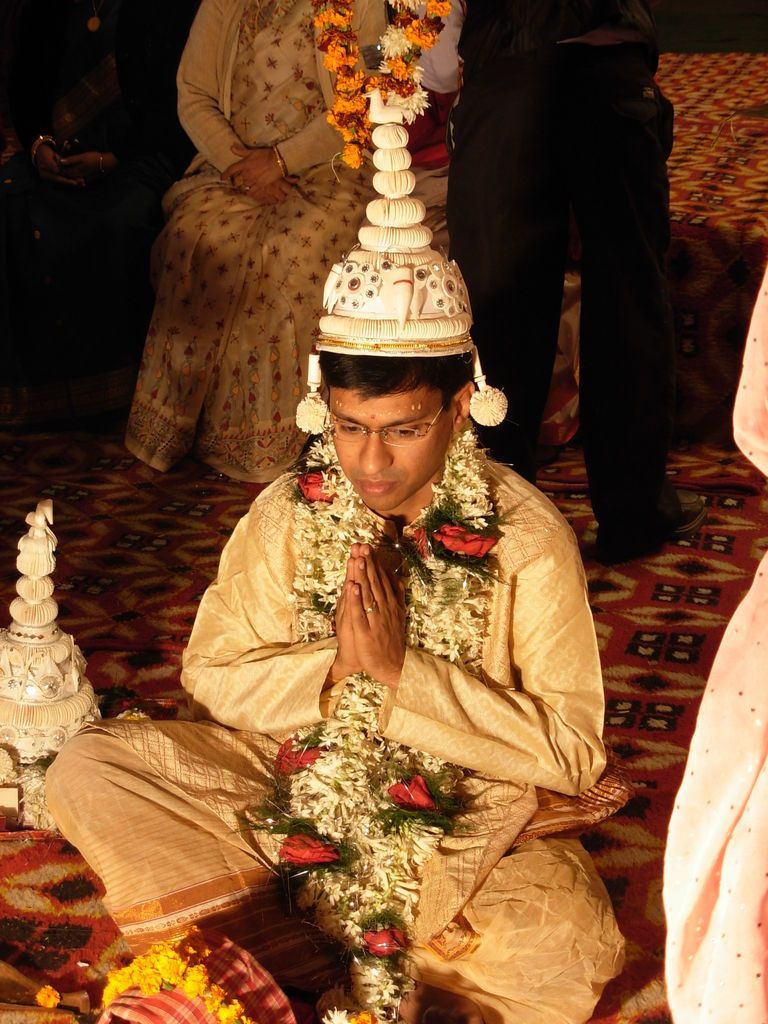 Likewise, a traditional design has lar4eady won a million hearts, similarly, it would also make your outfit come out better, and you will end up with the best getup assortment. 
The one we have chosen as an example of a traditional and ethnic outfit is none other than the classic White Bengali Topor Designs. It is surreal and extremely pleasant for a Bengali Groom. 
Must Check: Sindoor Daan Images
Yellow Bengali Topor Designs
I have hardly seen a second design like this. Not only is the pattern unique but the embroidery threadwork on top of it is appreciable. You can see literal golden yellow threads. 
That is the specialty of a good old Bengali Topor Design. It is unique and versatile and you can pair this with any desired outfit combination. A yellow work Bengali Topor Design is a good choice for a Darker outfit.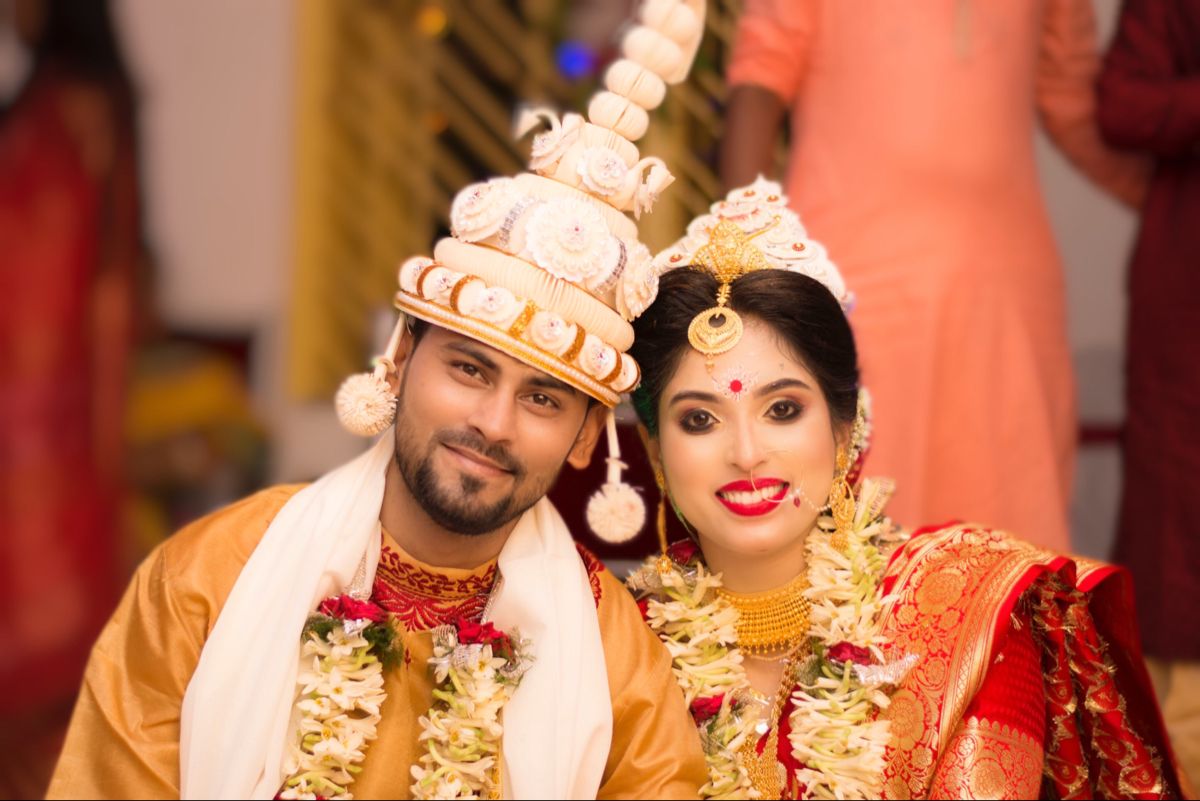 I know many who would agree with me, on this performative matter. A lighter colour accessory, actually goes well with your Dar5ker coloured outfits, especially when you are the guy. 
More than anything, this would go well with the classic Maroon Red Kurta, also known as Marsala. The entire combination would make you look younger and better. 
What happens when you don't wear a good old Bengal Topor Design? Nothing so drastic or cloud-breaking. It is just that, it makes you more Bengali and you would surely look good in the images  
Many might call the cone-like shape more like a Clown's hat, which is a derogatory thing to say about someone's tradition. Instead of that, you should know it is you who wears it. 
This is one of those little things, that curates the best outfit combination for anyone out there. This is like an accessory, which changes the game completely. Honestly, you can have the best. 
Many wouldn't agree with me, in terms of an outfit which has the attributes of a good and collaborativg4 combination. Trust, me this is a good choice. 
At myMandap, we have the best Bridal Mukut Designs as well as some of the most innovative Bengali Topor Designs. Here, you can fill your heads with some of the best options. 
Not only are these options good for the newlywed, but also wo0rk fine for your mundane event. Plan your Dream Wedding at your home with myMandap.