Foot Mehandi design is equally appreciated and ornamented. As a Mehendi style, it has got its own fanbase that has been having this tradition for years now. 
Originally the concept of Henna came from the Middle East, but the beautiful custom of wearing it on legs and hands is totally an Indian thing. I personally love how it accentuates your Anklets.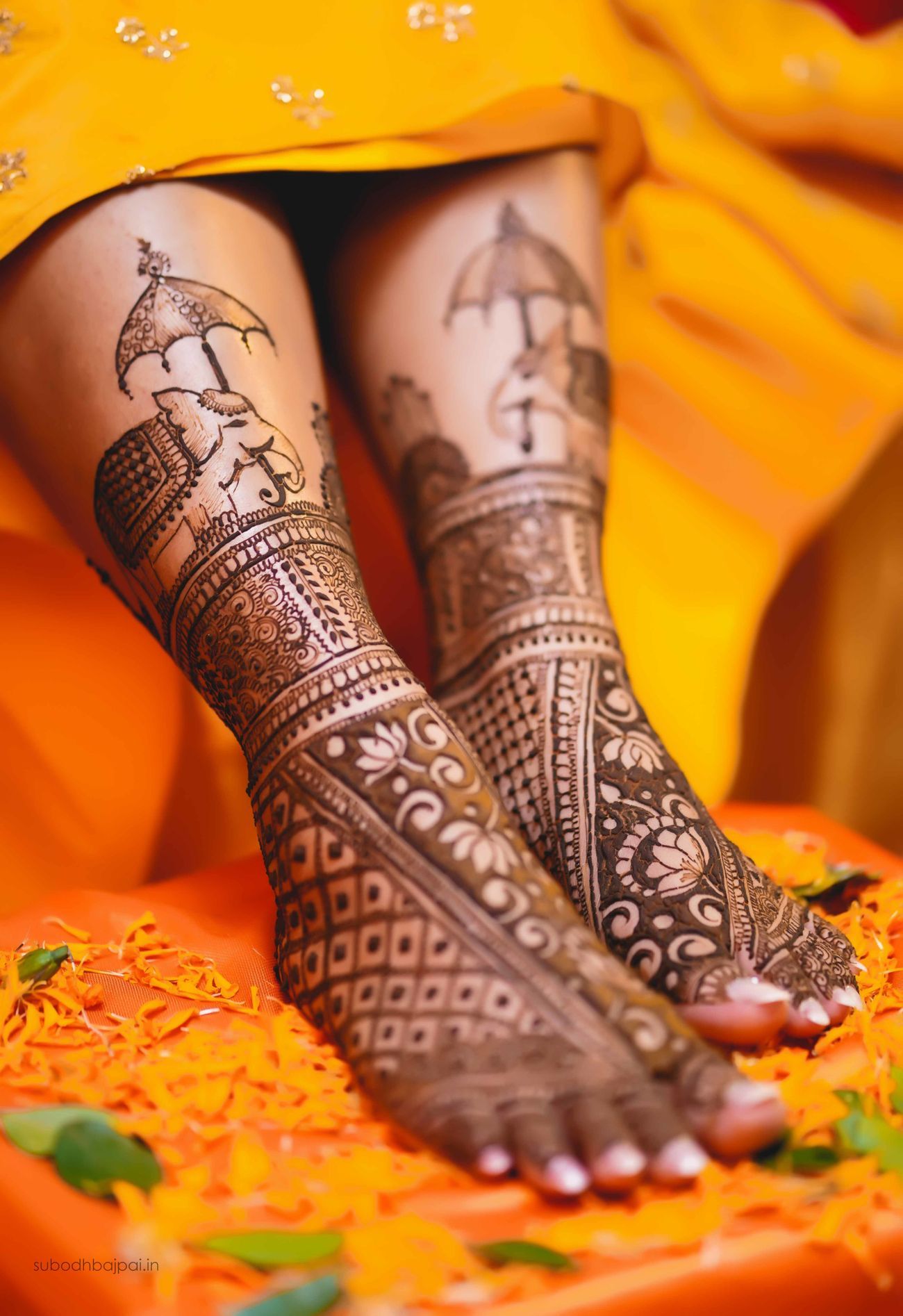 Or the beautiful pair of toe rings, worn by brides typically for the occasion of Marriage. Here we have curated some of the most beautiful Foot Mehandi Designs for Brides. 
Top 10 Foot Mehandi Design Ideas for your Wedding: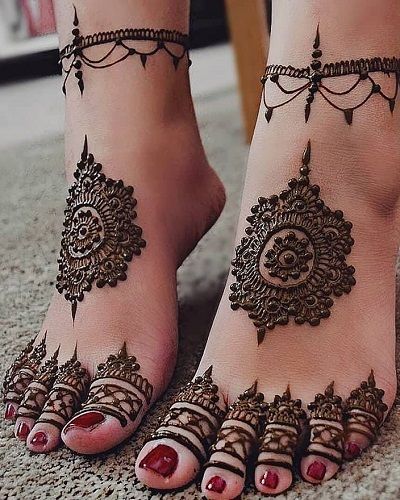 Must view: Toe Ring Designs 
Leaf and Spade Intricate Foot Mehandi design
A Leaf is the most important organ of decoration. Apparently, this has special significance for a newly married couple. It emphasizes their eternal love and ongoing for utmost happiness. 
That is exactly why, having leaves, shrubs, flowers, branches and other details is a compulsion for the bride's Mehandi. Similar things are applicable to the bride as well as Mehendi Ceremony.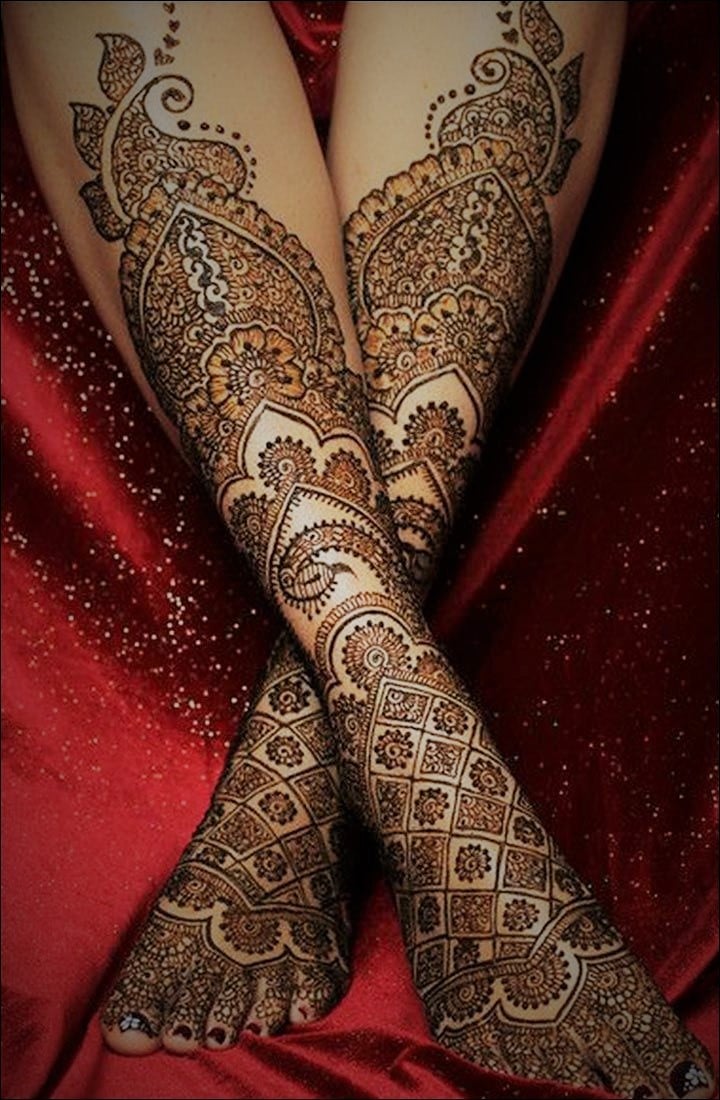 Design:
In that account, you need to put some fancy designs for your Foot Mehandi Design. Most necessarily it has to have a little intricate base and a fabulous range of intricacies. 
The little spade designs are the main attraction of this particular genre of Mehandi design. You can simply instruct your Mehandi Artist to put a few into yours as a little filler. 
Check out: Dubai Mehendi Design
Sleek and detailed Foot Mehandi design
A simplistic Mehandi can never harm anyone. Firstly request your Mehendi Artist, to make a small Mandala in the middle with additional intricacies surrounding the base of the mandala. Here you make a minimalistic design for the feet.
The main Foot Mehandi is incredibly essential you need to worry about the design without a doubt. That is exactly why we have gathered all sorts of information regarding the process of making of this design.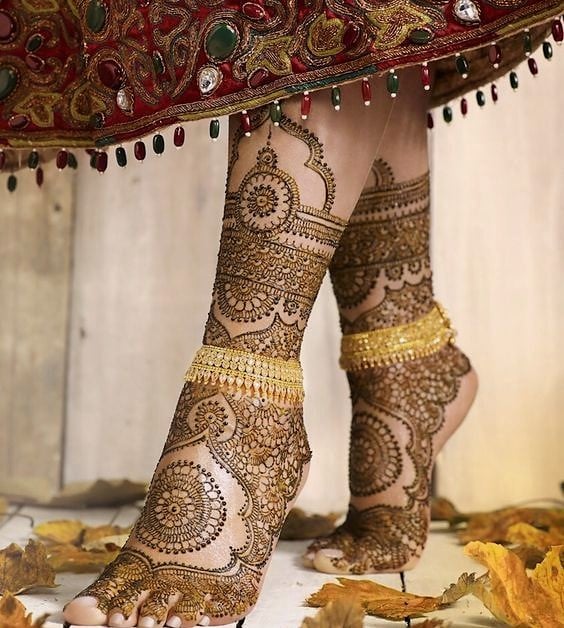 Design:
Firstly a design like this needs to have proper levels of accentuation. You have to worry about the thickness of the design, as it cannot be thicker than a simple sleek line that is drawn on paper.
The Mehandi Artist needless to say has to shape the tube in a way that it puts out only a certain quantity of Mehandi without hampering the rest of the design. They need to cut the tube very small, and thin.
View more: Princess Cut Blouse Designs
Underfoot Foot Mehandi design with Leafs
We are used to seeing beautiful Mehandi designs on the front portion of the feet, but this one is drawn below the foot. What else do you really need when such a spectacular Mehandi is drawn below your foot?
This is mainly for all those images that have to be clicked below your feet as the one clicked during the 'Griha Pravesh Pratha' or the 'Vidai' Ceremony.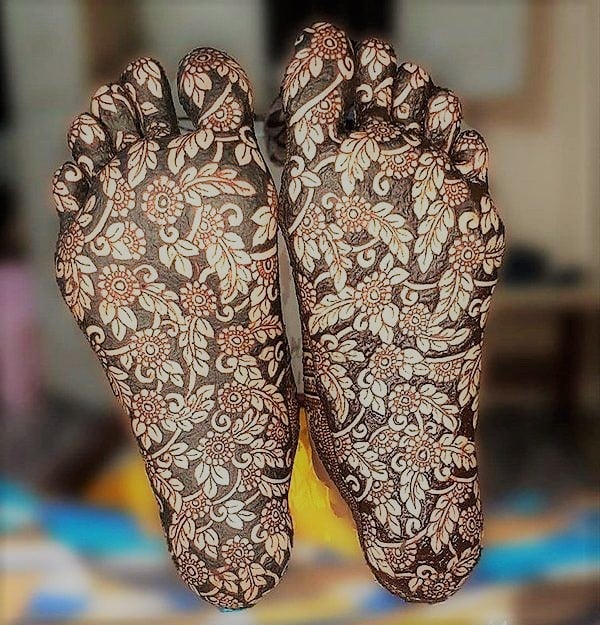 Design:
The main design is mainly surrounded around the theme of flowers and leaves. The Artist has beautifully curated roses and other pretty leaves to make this a completely beautiful design.
The best part about this Mehandi Design is the flowers and leaves that are not filled. Whereas the rest of the area is filled with Henna.
Crisscross Foot Mehandi design
Wondering why we have just a special title for a little technique of Mehandi. Well, this is one of the coolest forms of Mehandi art, that I have seen so far.
There are semi-circle henna arts, that have a halfway mandala art too. All you have to do is, ask your Mahendi Artist to make a pretty Mandala, and accentuate the rest of the art with crisscross lines.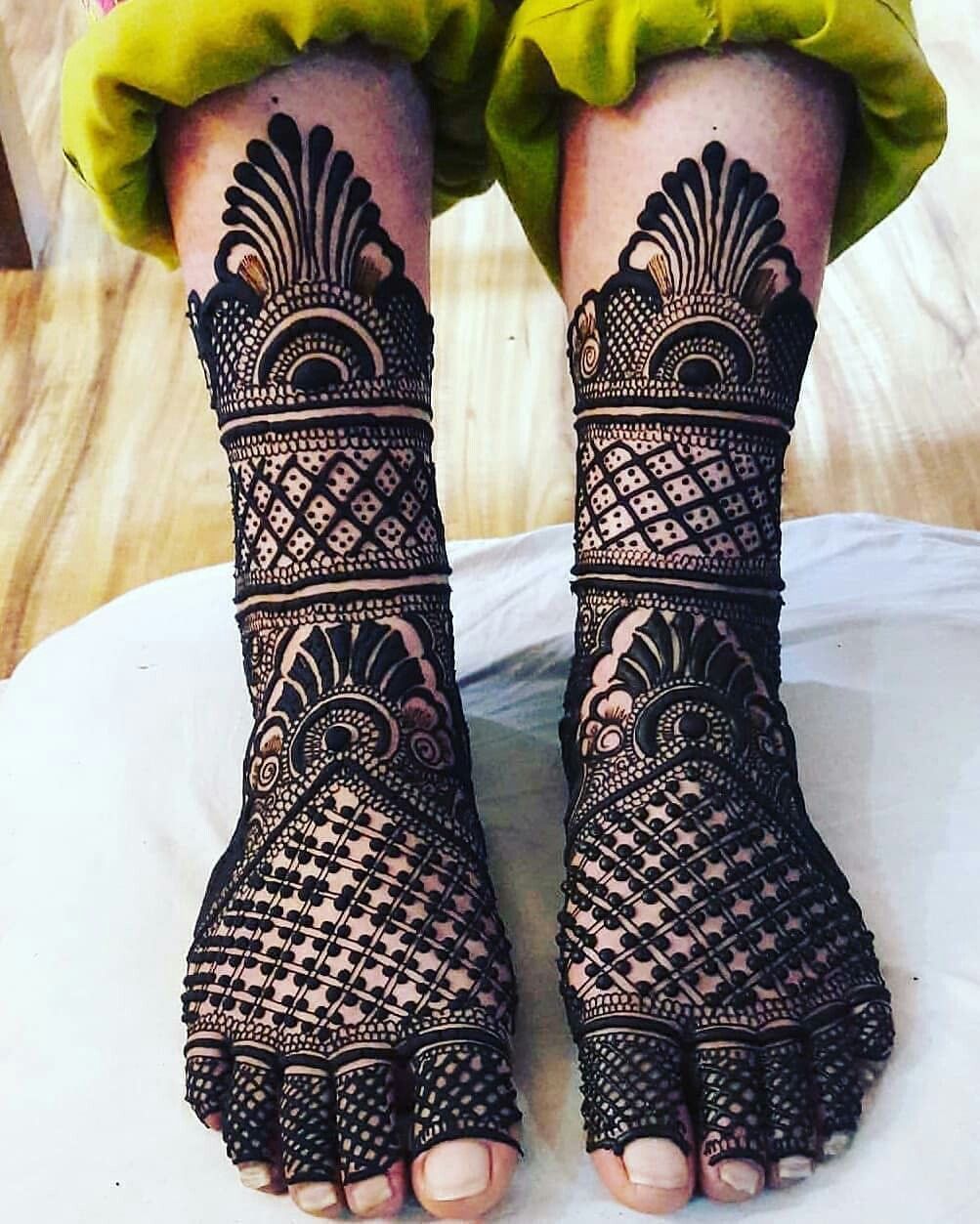 Design:
The little details that fill this particular Mehandi are quite ornamental, and to be very honest I cannot complain for a moment on beautiful these lines help make the most out of a basic Foot Mehandi Design.
The artist has even maintained the lines through the toes, making a proper jigsaw puzzle, around the base of the Mehandi. I would suggest having this one specifically for your own wedding.
Peacock Foot Mehandi design
The main concept of this Foot Mehandi Design is the beautiful Peacock, around which the rest of the decoration is drawn. The decorator has nicely curated a fine line, that makes the body of the bird, without tampering with the rest.
The entire body of the Mehandi art is accentuated with some really pretty 'kalkas' that are helping further into making it one of the best designs. A design like this can never go wrong, and personally, this is perfect for marriages,

Design:
The Bride is wearing red nail polish with her stunning Foot Mehandi Design, and apparently, this is a really pretty look for everyone. The feet are covered with pretty little Mandala art.
You ask me for a Foot Mehandi Design suggestion, well I would say go for it without giving a head for another moment. This would work out for everyone.
Ankle Length Foot Mehandi design
What a stunning Foot Mehandi Design is it, you can simply wear a beautiful anklet with your Mehandi, which is absolutely stunning with all other uncertain decorations that follow.
I personally suggest you wear this beautiful Mehandi for your wedding ceremony without a doubt. It is not just detailed, but quite elaborative too. You can incorporate your husband's name wisely in this particular Mehandi Design.

Design:
This might look like a halfway Mehandi design to you, but it is complete and you absolutely do not need to wear it to your knees. It can be worn until your ankle, and that is pretty too.
This is highly suggested Mehandi Design, for people who prefer wearing somewhat minimalistic, yet elegant for their big day. If you are finding a low scheme Mehandi, then go for it.
Also related: Amazing Kalka Design 
Elephant Foot Mehandi design
The elephant in this Mehandi Decoration is nothing but a beautiful detail that is absolutely appropriate for the wedding ceremony. More than a little to no decoration, this is somewhat like the King's style stature.
You would love to wear such an amazing Mehandi Design on your wedding day. I have a special heart for such amazing designs.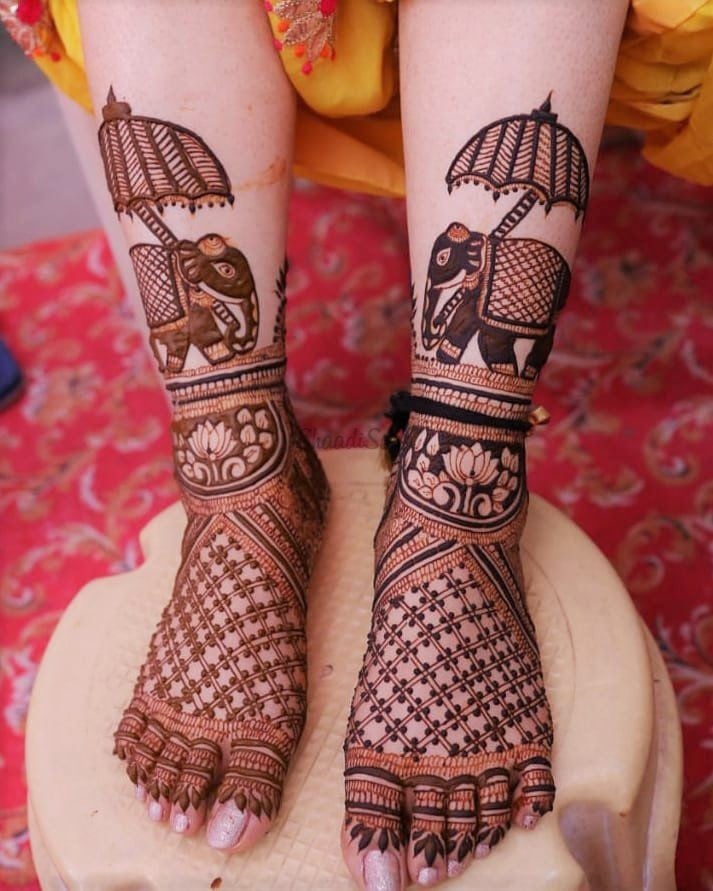 Design:
The crisscross pattern of the Mehandi is outstanding, and to be very honest I have a special heart, for such amazing designs. You can simply add some little details to this decoration.
And also other intricacies that accentuate the rest of the decoration. The Little elephant on the foot is apparently a royal emblem of the rest of the Foot Mehandi Design.
Mandala Style Foot Mehandi design
When you think about a Mandala, two things come to mind. Firstly a beautiful Rangoli, which is made around the time of Diwali, Weddings, and other Indian Hindu 'Pujas'.
And, secondly for a beautiful Mehandi which is a compulsion for a fancy wedding ceremony. Not just the hand, but the foot design too. A Mandala suits all kinds of Mehendis.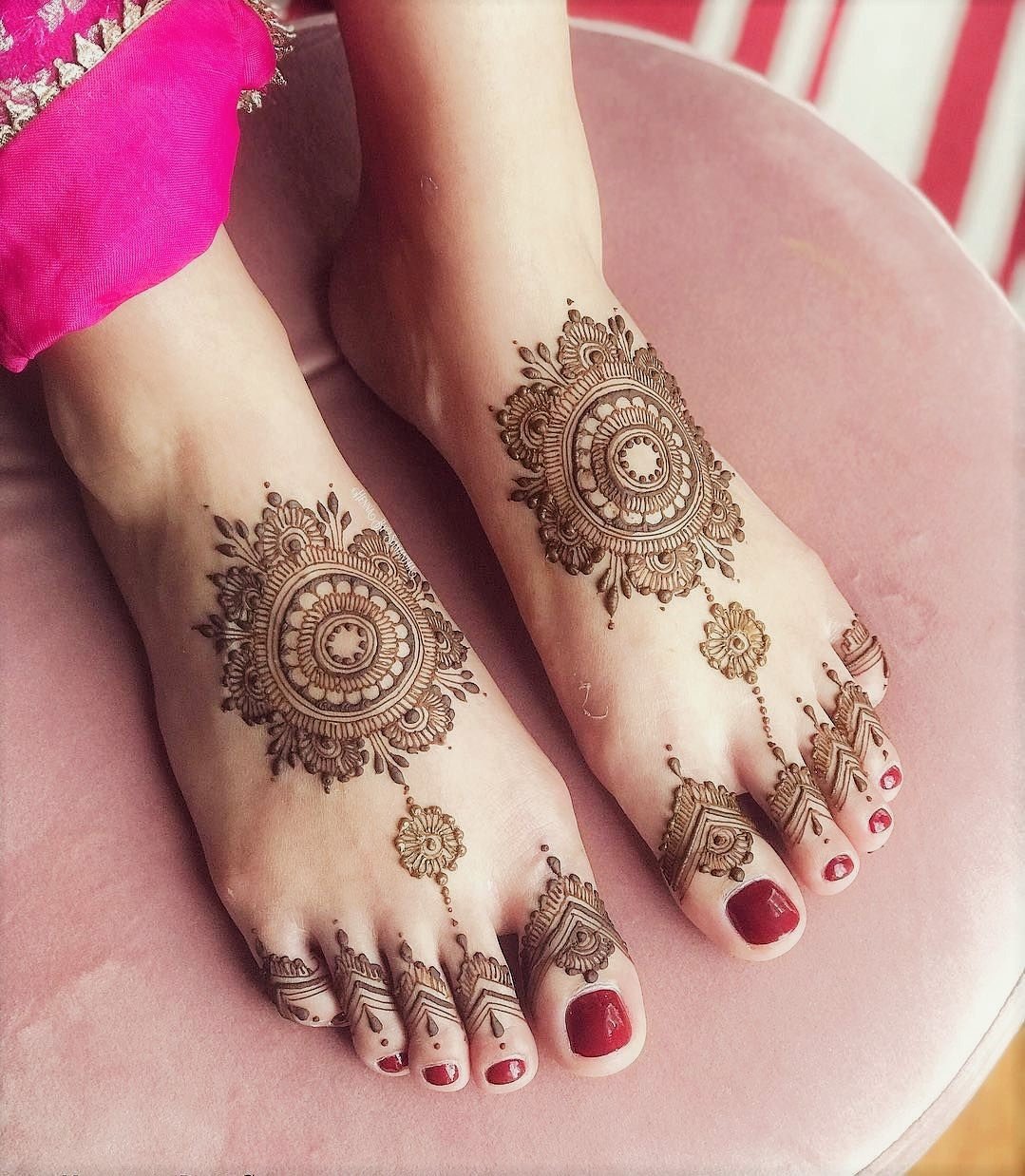 Design:
If this is my Foot Mehandi Design, then I would definitely choose to have a Mandala on the front porch of the feet. Or as a second design down the ankle. 
This particular design specifically emphasizes the base of the knee, with some really subtle details required to highlight a simplistic Mehandi design. 
Foot Mehandi design with Polki Intricacies
How else can a simplistic decoration of Mehndi turn out to be a full-fledged party in the city? This has some of the most intricate details that are somewhat similar to a Poli Necklace. 
I have a special place for Foot Mehandi Designs that are a little more convoluted and well-fashioned. What else can make a bridal Foot Mehandi design elevate to such a pretty one?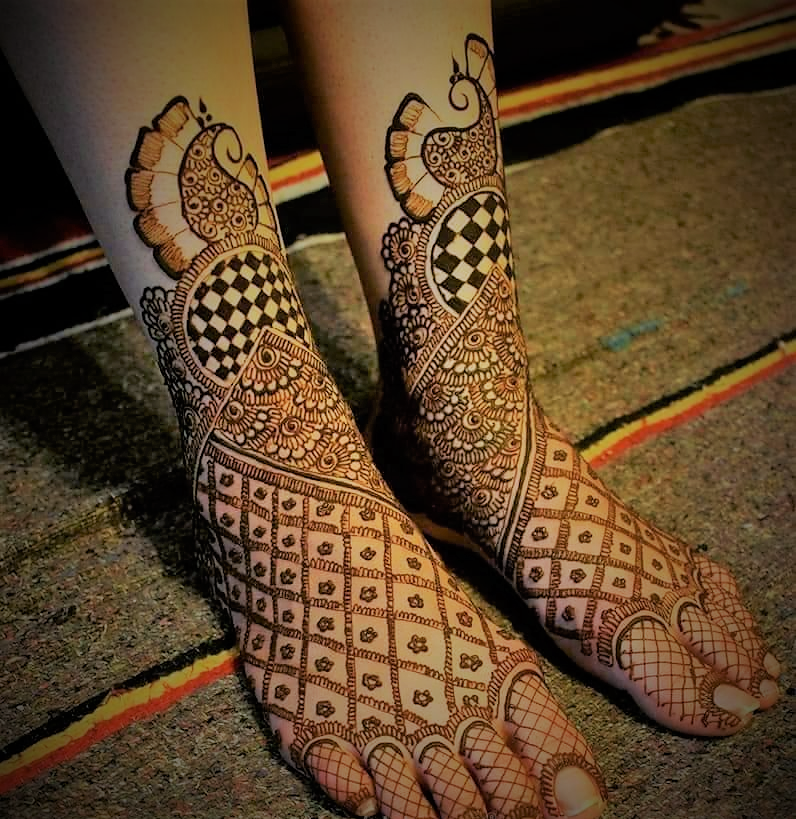 Design:
The design of this has been pretty elaborated detail. This includes some fine lines, that make the final shape of little pieces of jewelry like subtle kalkas and other little things. 
Apparently, a Food Mehndi design with Polki intricacies is a top-notch hit for all Indian brides. Irrespective of their culture and state.
Royal Foot Mehandi Design for Wedding
The wedding Mehendi is extremely special for the occasion. Wearing Mehendi on the feet is meant for the special occasion of marriage. This is one of the key traditions for the big day. 
A basic Foot Mehandi design needs to have some essential attributes to it. You need to worry about the foot, while the rest of the leg needs to be filled with tiny tiny details.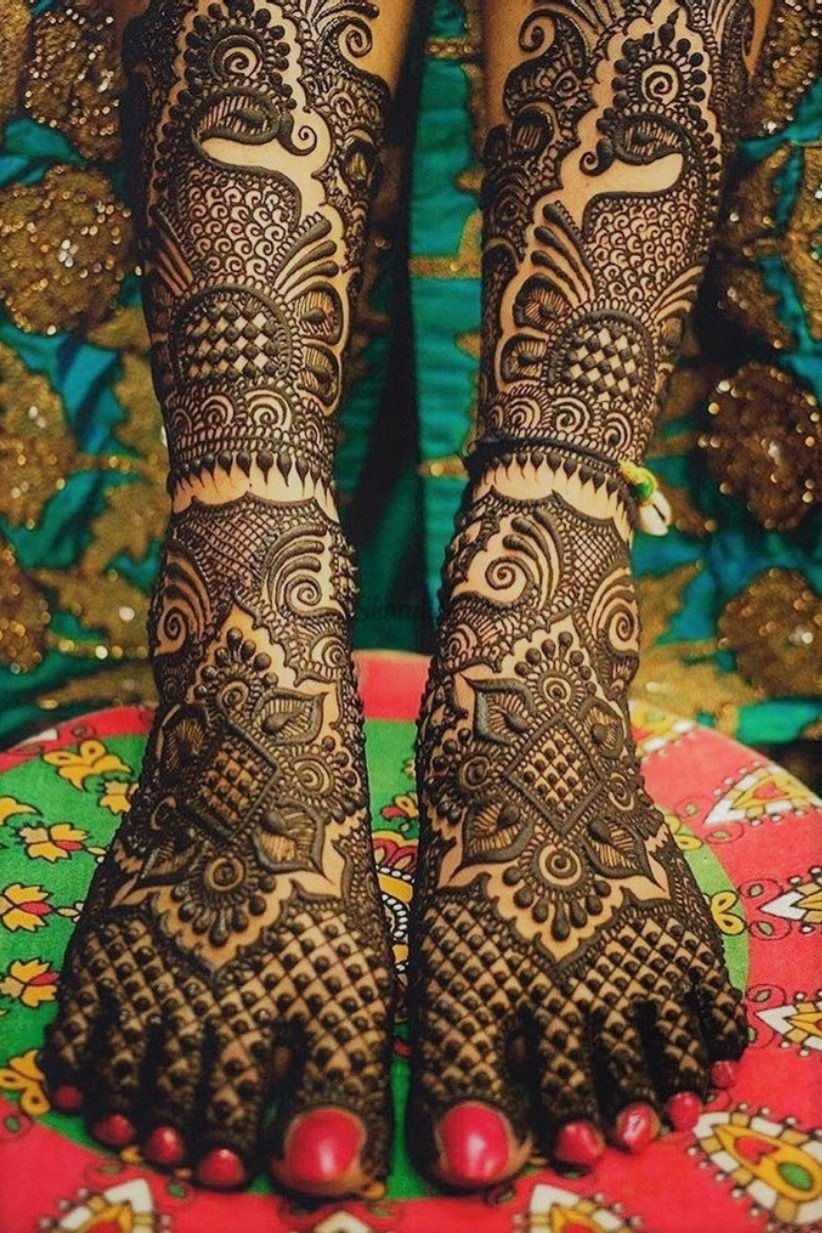 Design:
As a Mehendi design, it has some very important details that complement the foot. There are intricate detailings, which apparently look like the base of a beautiful jewelry piece. 
I personally cannot get over the teeny-tiny embroidery of a square-shaped mandala. What else do you need from your basic, yet extremely elegant bridal Foot Mehandi Design? 
Well these, were some of the most beautiful and unconventional forms of Foot Mehendi Designs. You can choose your design as per the event, and the one which suits your taste. 
To know more about such amazing kinds of stuff about weddings and other related events like Engagement, A Roka, or Haldi, visit myMandap.