A toe ring is a significant part of the bridal trousseau. You need one for the wedding ceremony and cannot skip on that. An accessory which has to be worn on the day of the wedding. 
Most of them are silver toe rings, as it is considered a bad omen to wear something in gold below the torso reason. That is why we have curated some of the finest Toe Ring Designs for you. 
Top Bridal Toe Ring Designs:
Feet jewelry is quite common in India. An Indin bride loves tying all decked up on her wedding day. And, that is exactly why we have such a beautiful array of toe rings and other little trinkets that come in handy for the wedding ceremony. These designs aren't very comfortable pieces of accessories, that can work on a daily basis. Rather these are the ones that are typically curated for the big day.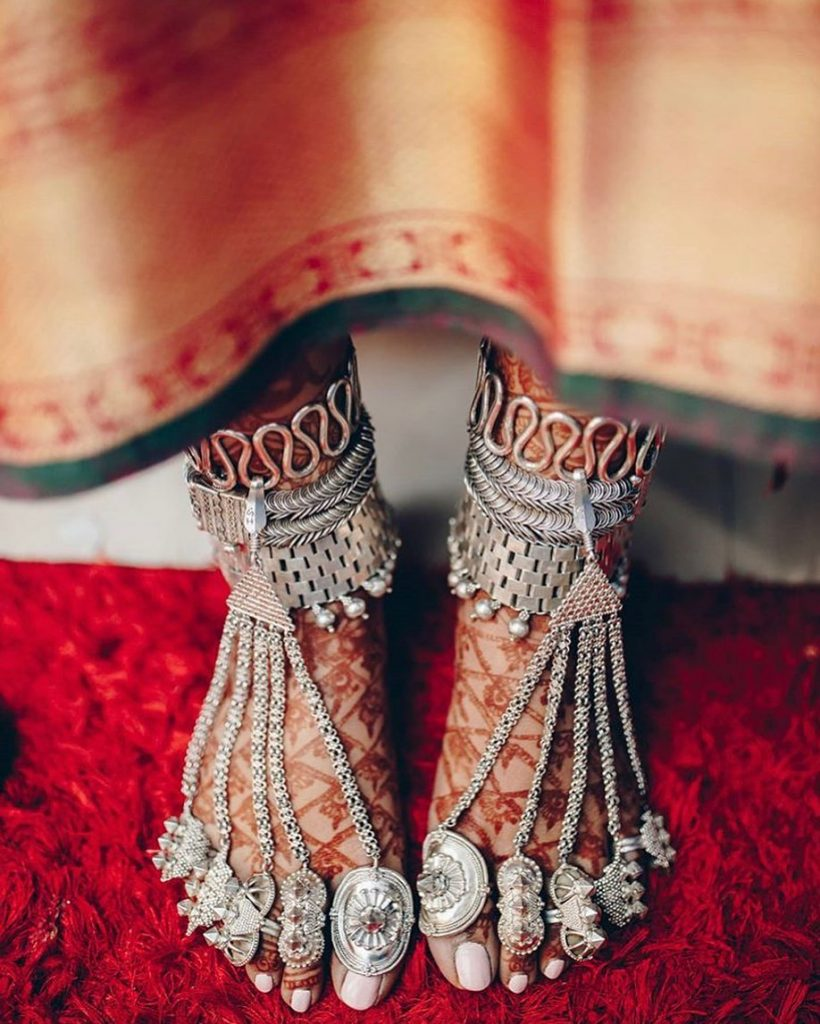 A Set of four Rings, for every Toe
By four, I never meant that you need to have four legs to wear this one. Rather the rings are perfectly designed specifically to be worn on four little toes. The rings are attached to a fine thread of silver, which is absolutely gorgeous.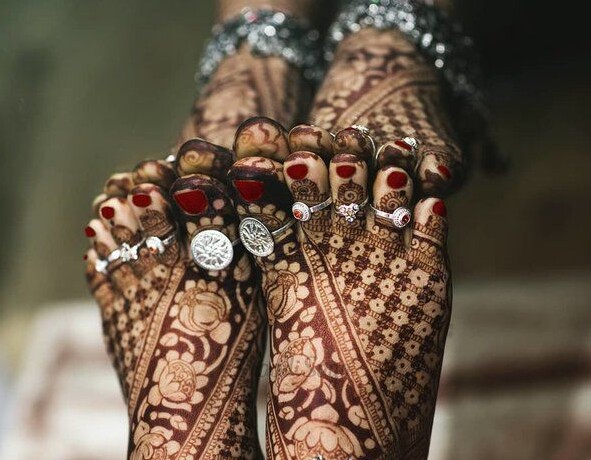 Design:
The best part about wearing this one for the ceremony has to be the fact that your feet are full. In fact, the four little rings are 
view more: Couple Ring Designs
Kundan Bridal Toe Ring Silver
Kundan is my personal favorite, you ask me which one is my favorite. I might not have an answer to that. That is exactly why you need to choose the Toe ring right. The one which can be worn on a daily basis.
Design:
Here, we are considering a Kundan Toe ring which isn't very high-end but cannot be worn on a daily basis too. Rather this is a special occasion toe ring.
Check out: Wedding Footwears for Couples
Adjoined Trinkets Toe Ring
How beautiful is it? This is undoubtedly a Jodhpuri Set. Even better with the gorgeous detailings on the side of the anklets. This is entirely joined together.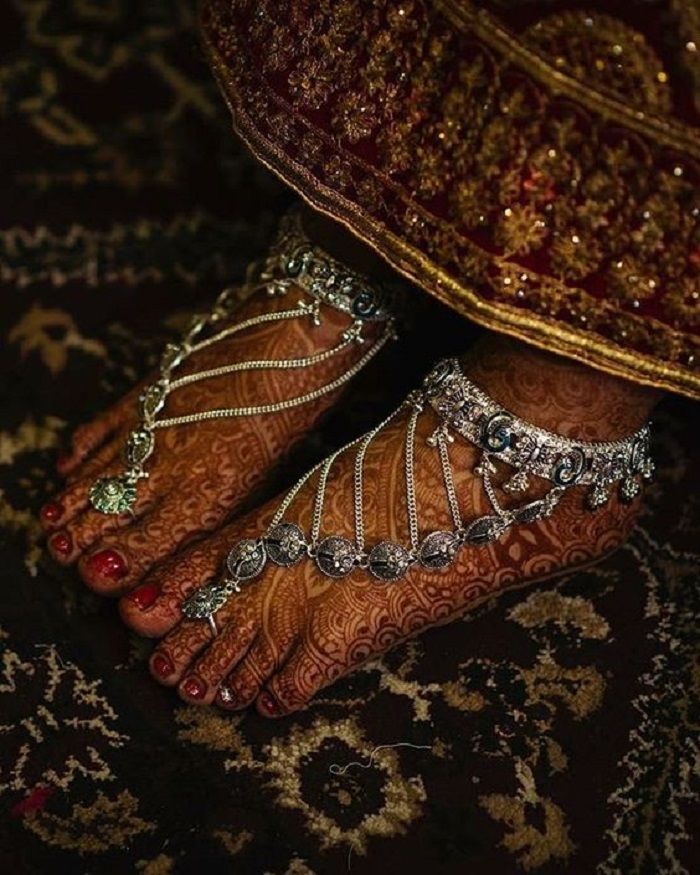 Design:
If you are asking me for a suggestion, then this is just the right ring, for your wedding ceremony. Especially if you are a Marwari Bride.
Check out: Best Foot Mehandi Designs
Chains and joined Toe Rings
This is the selector's piece and even better with how gorgeously the jeweler has curated the Meenakari enameling on this particular piece. The way the anklet is joined with the two chains. It is bringing me the proper vibe of a good wedding.

Design:
I would suggest you choose this one if you are planning to get some extra foot images in your Bridal Album. As this absolutely picturesque.
view more: Senco Gold
Casual Toe Ring Designs for Every day's Wearability
:
A toe ring is one of the most essential accessories for the wedding ceremony. The bride needs to wear one, and that is an absolute compulsion for the concerned rituals. The reasons are solely surrounded by the custom of ornamentation in Indian Weddings. 
Necklaces, pendants, a chain, a pair of Earrings, Anklets, bangles, and rings are some of the major everyday pieces of jewelry worn by brides. The following designs are some of the everyday sterling silver toe ring designs that are not as heavy as wedding accessories. 
Must Check: Dohale Jevan jewellery set 
Minimalistic Bridal Toe Rings
The word minimalistic here stands for the unique style, and obviously the simplistic design of this particular one. Although it is quite ordinary as a second toe's ring, the pattern would leave you baffled. Intricate detailing, that covers the majority of the metal. Wearing such a design is good for people, who like little things like their daily wear of jewelry.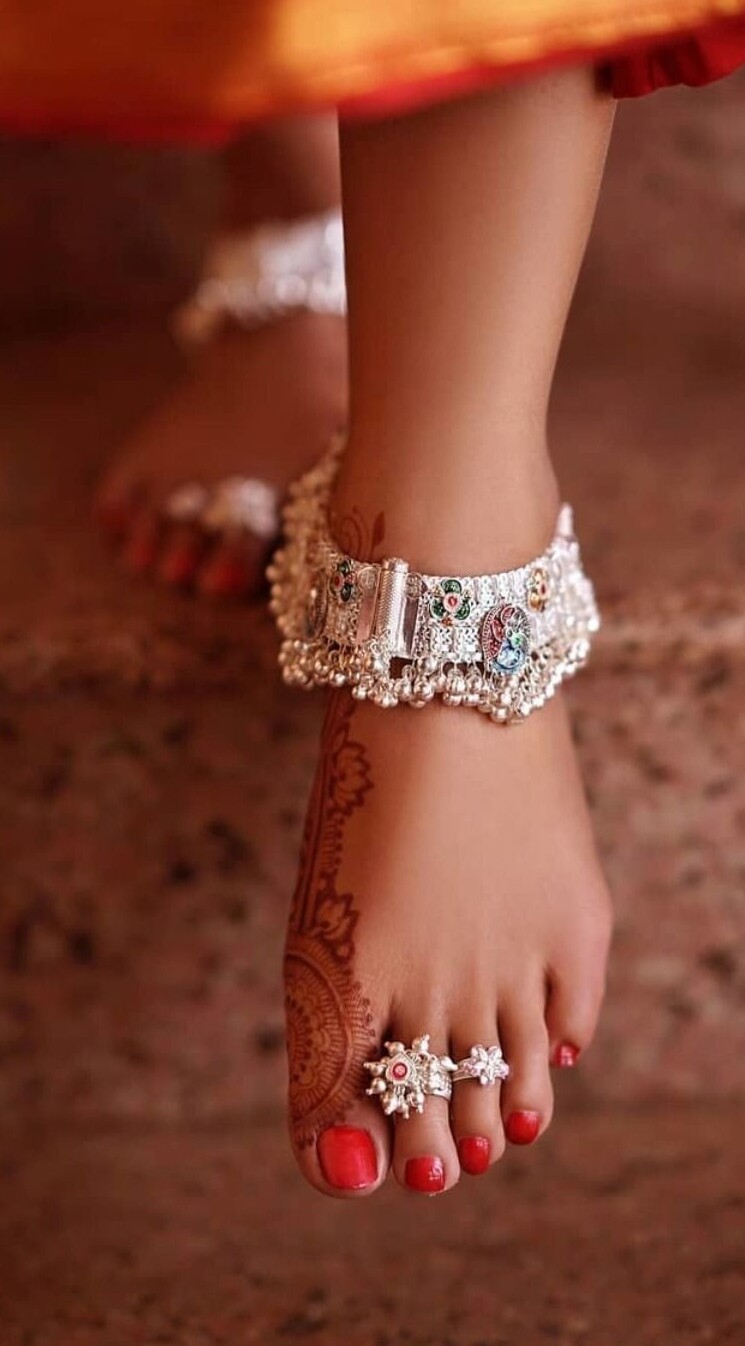 Design:
The main attraction of this design has to be the simple band which is covered with elegant intricacies. The reason why I called this a minimalistic design has to be the tiny little base. Women on the go, love wearing something like this for their everyday ornament. 
Must view: Payel Design
One-Line Silver Toe Rings
The design apparently looks like a tiny bracelet that is wrapped around the toes. This is a well-fitted toe ring that is perfect for newlyweds. Where she is still trying to get comfortable with the daily wearing of ornaments. That is the total idea behind lightweight fashion jewelry. Something that is not as heavy as a proper bridal piece yet something that solves the purpose of daily wear.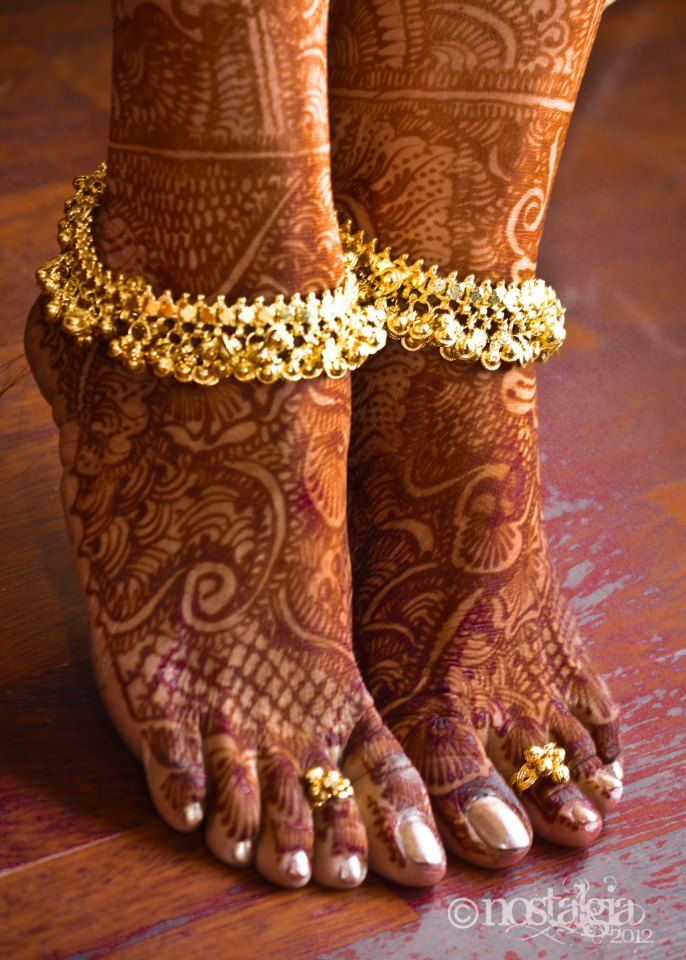 Design:
You need to have this for mainly two reasons. Firstly, the allocating metal and obviously the design which is your main priority here.
Visit: Bridal Mukut Designs
Meenakari Bridal Toe Rings
As a bridal accessory, this is the finest example of a piece of toe jewelry. In fact, the beautiful enameling work on the gold toe ring is like the cherry on the cake. The only ring you might actually be interested to wear after the D-Day. Actually, this particular design is favorable to almost every Indian woman. Irrespective of their relationship with silver ornaments.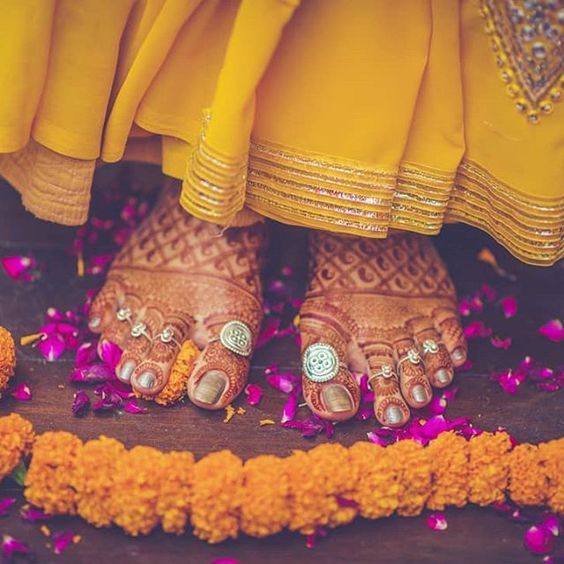 Design:
Basically wearing something in Gold or Silver on a daily basis is considered a Good omen and this is followed by every married woman in India. They wear their ring, and necklace regularly. Plus this particular toe accessory is just an addition to the glam. 
Star Moons and Celestial Toe Rings
As much as I like the Stars, there is nothing more special to me apart from celestial objects. They are a perfect blend of engraving and enameling for a piece of toe jewelry. The design is quite simple, yet very elegant for the purpose of everyday wearing. You wouldn't lay back painting your bare foot nails, after wearing these beautiful toe finger rings.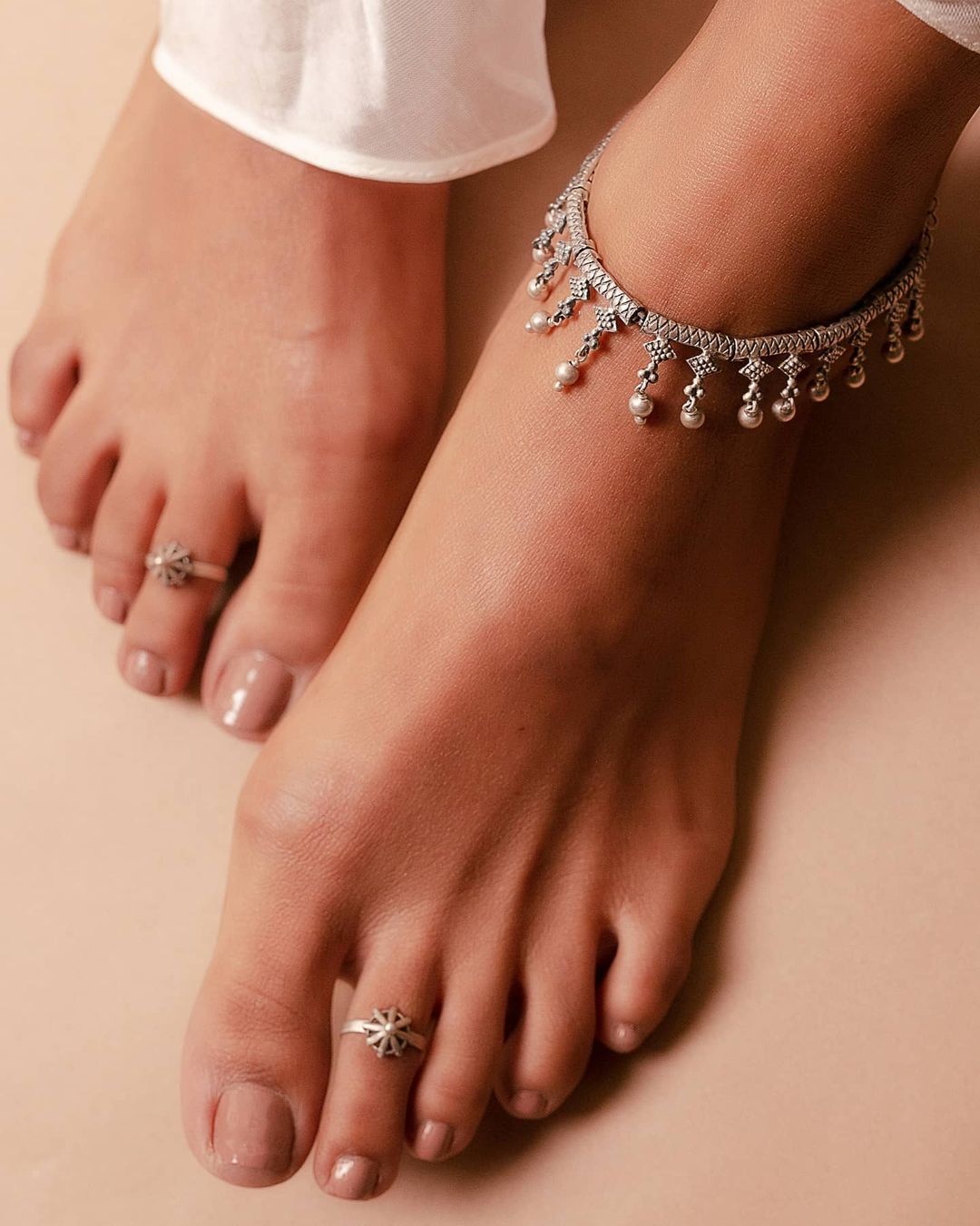 Design:
This one is a perfect piece of jewelry for people, who want their accessories to have a touch of quirk to them. You can pair an anklet chain or a string to accentuate the beauty of this particular design. 
Heart Golden Toe Ring
The tiny little heart is situated in the center of the ring. In fact, wearing one after the wedding ceremony is a great choice. Although, we are talking about daily wear accessories. A heart-shaped or butterfly toe ring sounds like a great option for the nuptials too. This is adjustable, and the size of the ring is quite pleasant.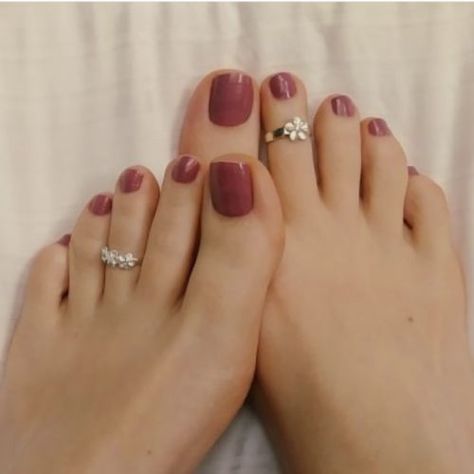 Design:
People who choose this one out for their wedding ceremony, definitely want something small and elegant. This is not just a very pretty toe ring, but also an appropriate one for someone who got married.  
View more: Stunning Bridal Jewelry for Weddings
Intricate Floral Silver Rings
Most of these are similar items like they have some really unique designs and patterns. A floral toe ring is similarly quite small but really very ambiguous in terms of a wedding accessory. You can gift a little floral toe ring and anklet as a pair. This is one of the most commonly worn designs, especially for newlyweds and women who wear these on a regular basis.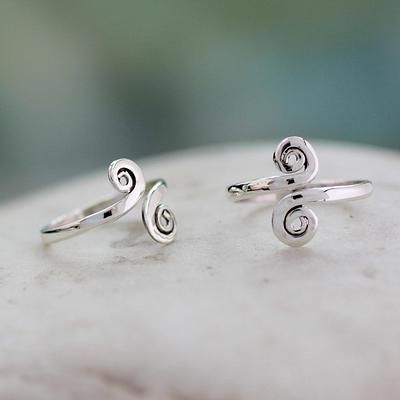 Design:
About the design, the simplicity, and the artisan who created it; this is a piece of art. The beautiful details on the ring make this a really good option for brides in India. 
Gipsy Toe Rings
The Gipsy designs are always very random like you wouldn't miss a chance to wear this one around. This is the sleekest and the most intricate option for a bridal jewelry design. There is more than one ring in this set, and that is the only reason why this is popularised as a gypsy design.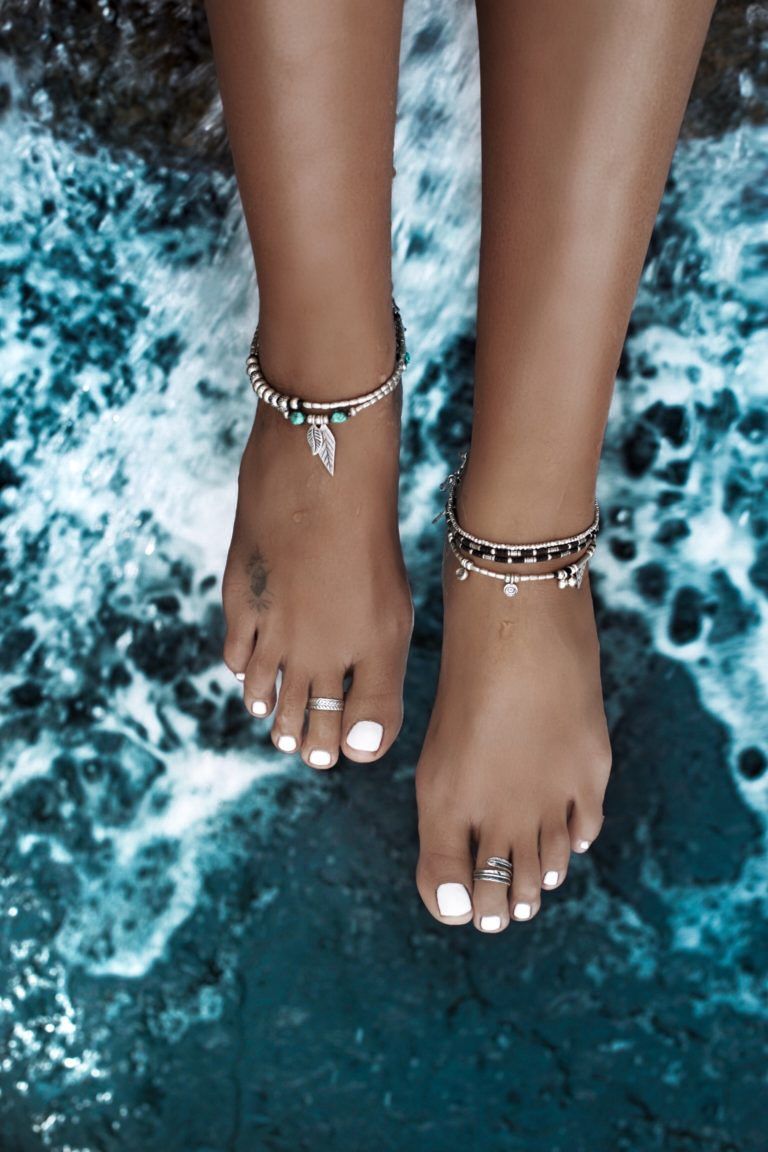 Design:
The basicness, of these pictures, narrates a really subtle story. The barefoot with some really beautiful nail arts, a pair of anklet's and obviously the rings. That is the perfect everyday combination for any woman out there.  
Pearl Encrusted Toe Rings
Pearls are a really beautiful addition to any jewelry. And, a feet accessory isn't much different from the rest. This particular design is not really the one you would choose for everyday fashion but actually for certain special occasions. Not diamonds, or any other precious metal, but some pearl balls.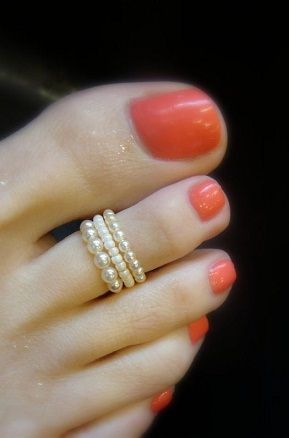 Design:
If not pearls, then these kinds of designs also utilize water balls for their beauty. The base is usually made out of strings, while the top and bottom portions are beautiful white pearls. 
So have you chosen the right ring for your Bridal jewelry set? If not yet choose the right one for your big day. The one which suits your bridal needs and makes you comfortable for the big day too.
Must check: Flower Jewellery Ideas
To know more about weddings and other events, or get some extra bits on your Bridal fashion, visit myMandap.