You say Destination Wedding and we say, why Not? Being a fusion of both Indian And Portuguese cultures, Goa is a smash hit for destination weddings.
The astonishing beach view, the intimacy of the whole arrangement, and of course the delicious seafood are all quite exquisite. Witnessing that dreamy look in the eyes of your beloved while seeing the idyllic array depicting your love for each other on your wedding day is going to be the best moment of your life that you will cherish forever.
Why Destination Wedding in Goa?
We have all seen in the movies those artistically beautiful mandaps in the middle of the beach and the bride and the groom taking their wedding vows with all the waves crashing and the breeze gusting. 
No one in their sane filmy minds will miss such a once-in-a-lifetime chance of having their destination wedding now, will they? Of course not. A Goa beach wedding is like a dream come true for every Indian girl!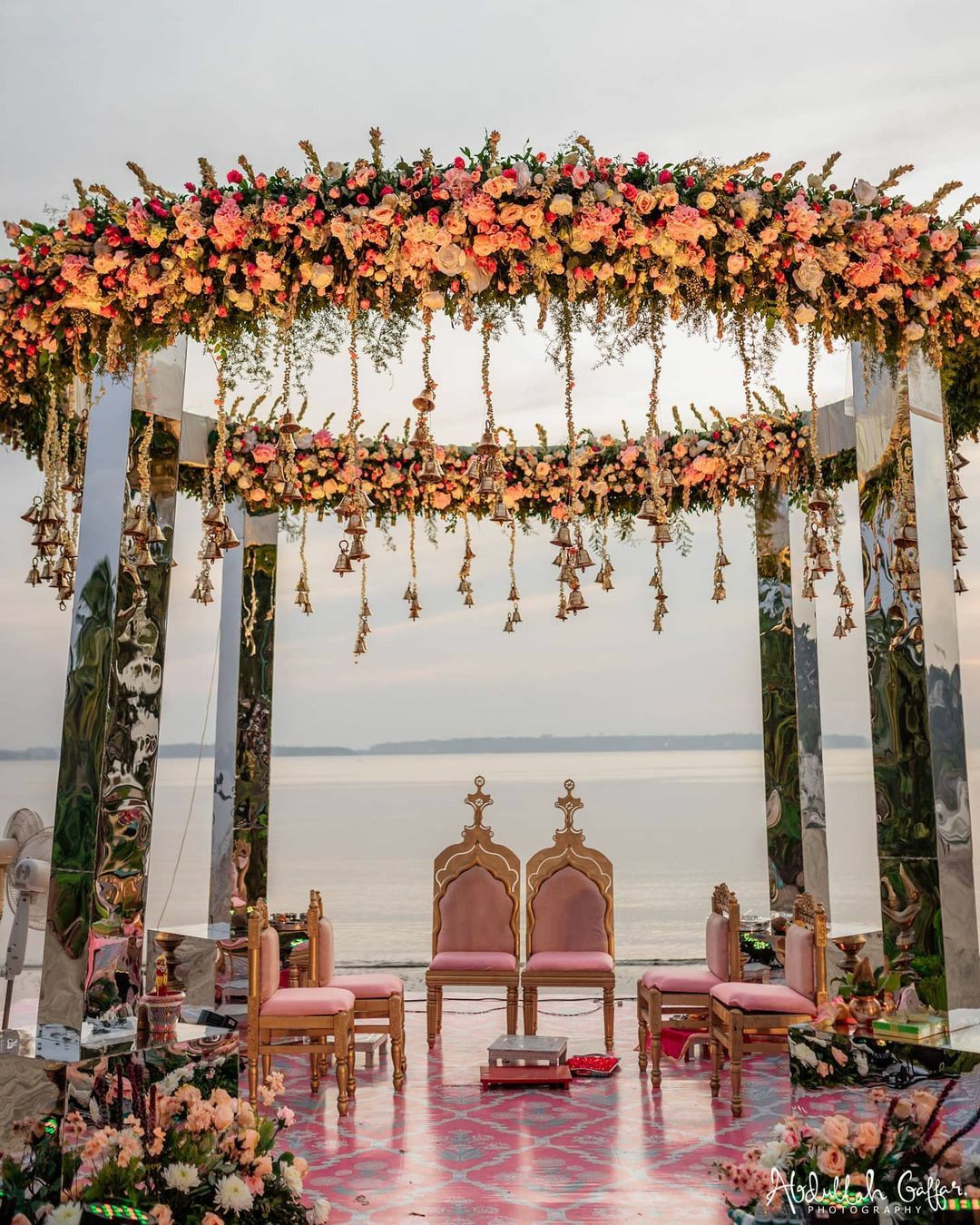 Now if you are a beach-lover, let's see why a destination wedding in Goa is your best choice and what are the things you should keep into consideration before choosing this picturesque location. 
Where to have a Destination wedding?
Your hometown is messed up with intolerable traffic and pollution and people busy with their own work and life, it gets a bit mundane. And you can't afford to have the best time of your life be remembered as mundane, can you? I am afraid not. 
This is the reason why a quick trip for a destination wedding sounds like a very good plan. The serenity of the ocean with the winds gusting on the beach is enough of a reason to prove to you how worthy this place is for a destination wedding. 
You will be in a better and more peaceful state of mind which is a must for this beautiful occasion. Since travelling is the easiest for a destination wedding, be it from any state or a city, it's the most favourable beach location for destination weddings. 
Also see: Destination Wedding in Manali
Who prefers their Destination Wedding in Goa?
Maharashtra and Karnataka are nearest to Goa, if you are a resident from there, you can easily take a cab, bus, or a flight to reach your destination. The journey will be quite refreshing for you and your family and friends. Also, the ones who wish to experience their wedding and 'Seas the Day' with high tides and good vibes can choose this destination. 
What is the perfect time for a Destination Wedding in Goa?
To have cold and cosy weather which will give a more romantic touch to your wedding days, it is preferable that you plan your destination wedding around the middle of November to the middle of February.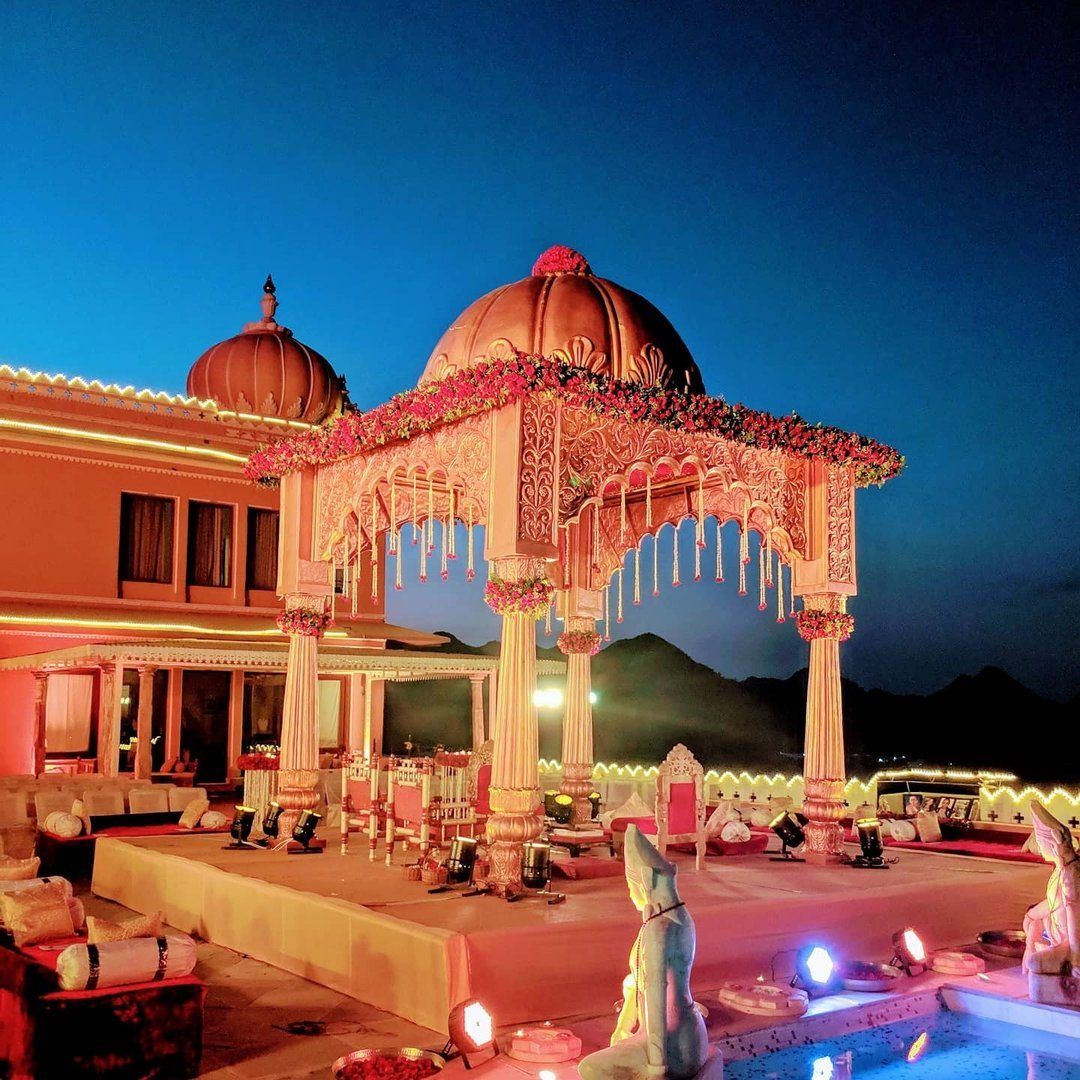 Ergo, if you opt for a Goa destination wedding, plan it in the winter. It will intensify the overall aura of the wedding customs and rituals that you will be going to perform with your partner. 
Goa in the winter is like a jacked-up party that never seems to end. So, if you want your wedding days to be full of buzzing energy and fun, then surely this is your go-to destination. 
Destination wedding in Goa during the summers
If you are concerned about your budget, it is smart to have your destination wedding in the off-season. The rates go down at this time of the year.
See Also: Fort Destination Wedding in India
Tenure for a Goa Destination Wedding
Conventionally, it does not take more than three days for an Indian wedding to last. To begin with the engagement ceremony, many couples prefer to conduct the Mehendi ceremony just after the engagement. And many don't. 
However, if the Mehendi ceremony commences on the day, the sangeet ceremony happens on the night. And in Goa, a party goes on all night, so no compromise on the fun part. 
So the next day the Tilak or Sagan ceremony follows. The Haldi ceremony just starts after that. At night, finally, the 'Saat Phere' is taken by the lovely bride and groom and they start a new chapter in their life. Yes, the perfect moment to hold on to forever!
view more: Destination Wedding Near Delhi
Duration for Destination Wedding in Goa
Keeping a day in hand for your Reception, if you plan to do so there, it will take approximately 5 to 6 days for you to have your destination wedding in Goa. And trust me, every one of your living moments there will be worth it!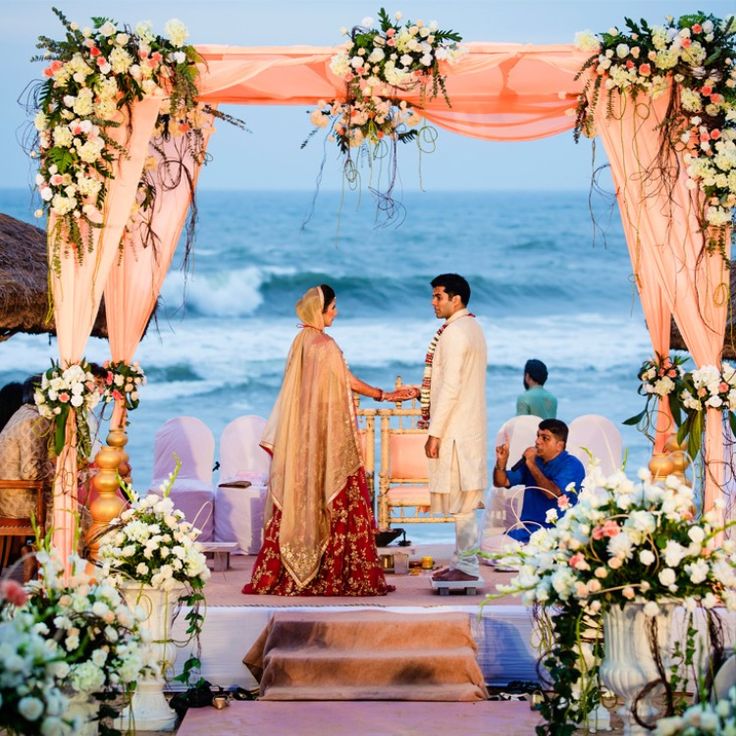 Cost for a Destination wedding in Goa
First, fix your budget. Make a chart and note down how much you are ready to spend at most and on what sections. It is not intelligent to go all fanatical with your destination wedding arrangements. 
Wedding resorts in Goa are just as luxurious and warm as it's cost. If you plan to tie the knot with sand on your toes and the sound of the waves humming at their own pace, you can do so by arranging a marvellous mandap in the middle of all this beach beauty. 
Also, you can have your wedding ceremonies at the venue. Just make sure it has a breath-taking beach view that will be fabulous for your Goa destination wedding. 
Look: Destination Wedding in Rajasthan
Wedding Resorts Cost for Destination Wedding in Goa 
The rental price for conducting events in Goa wedding resorts for a Goa destination wedding starts from Rs 1,00,000 and goes as high as Rs 5,00,000. The food here is quite costly as well. But if you opt for a destination wedding in Goa in the off-season, you will get huge discounts and better offers. 
Destination Wedding in Goa Wedding Packages
For a wedding resort, let's say per day rental price is Rs 5,00,000 and you are staying for 4 days in Goa. With all the food and decoration arrangements on the beach and the travel costs, you have to keep your Goa wedding package budget around Rs 30 – 40 Lacs at most.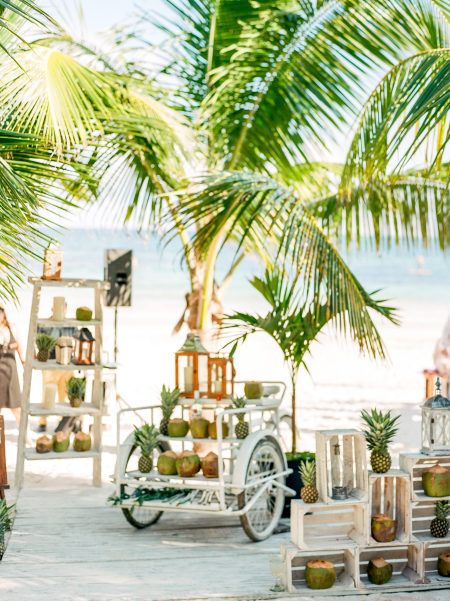 Yes, there are cheaper resorts too and much prettier but you might have to compromise on other things if not on the looks. This is the reason a destination wedding in Goa in the off-season sounds fair if you have a tight budget. If not, then this wedding period of yours is going to be momentous! 
Visit: Destination Wedding Under 10 Lakhs
How to host a Destination Wedding in Goa under 10 Lakhs?
The cost of a destination wedding in Goa is pretty high. If you have a tight budget and do not wish to spend lavishly, then you are smarter than the others. Destination weddings in Goa cost under 10 Lakhs is possible and we will tell you how. To begin with, the most important part on which we spend most of our money is while fixing the wedding venue. Resorts for a Goa destination wedding are costly, but there are some wedding venues that are quite affordable than the rest.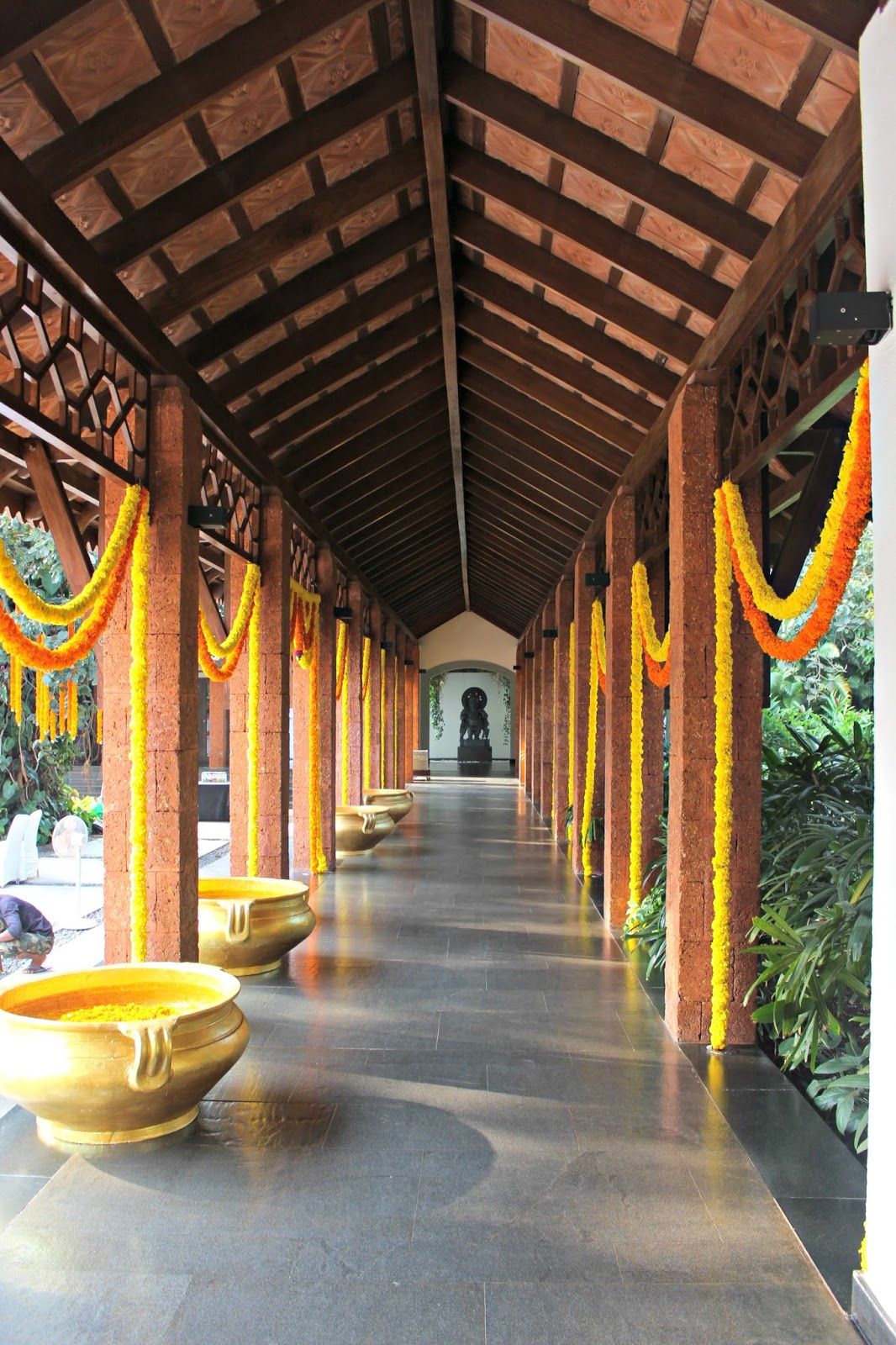 Next comes the decoration and catering costs, now, that depends on your guest list. Destination weddings are for closest family and friends if you are opting for a budget-friendly destination wedding in Goa under 10 Lakhs. 
You can easily get wedding resorts for a Goa destination wedding at some affordable rates in the summers and you would not have to compromise a bit on the beach beauty. If you book for a wedding venue under 4 Lakhs, you can have the same Goa beach wedding, and that is also under your budget. 
See also: Destination Wedding In Jaipur
Food and Decoration for Wedding in Goa
For a Goa destination wedding, there are resorts or catering services that provide food for Rs 700 – Rs 1000 per plate with a guest list of 250. Spending a load of money for food is not an intelligent move. Spend that money on decoration. You standing in a picture-perfect venue is what you will love to see in your wedding album 10 years from now.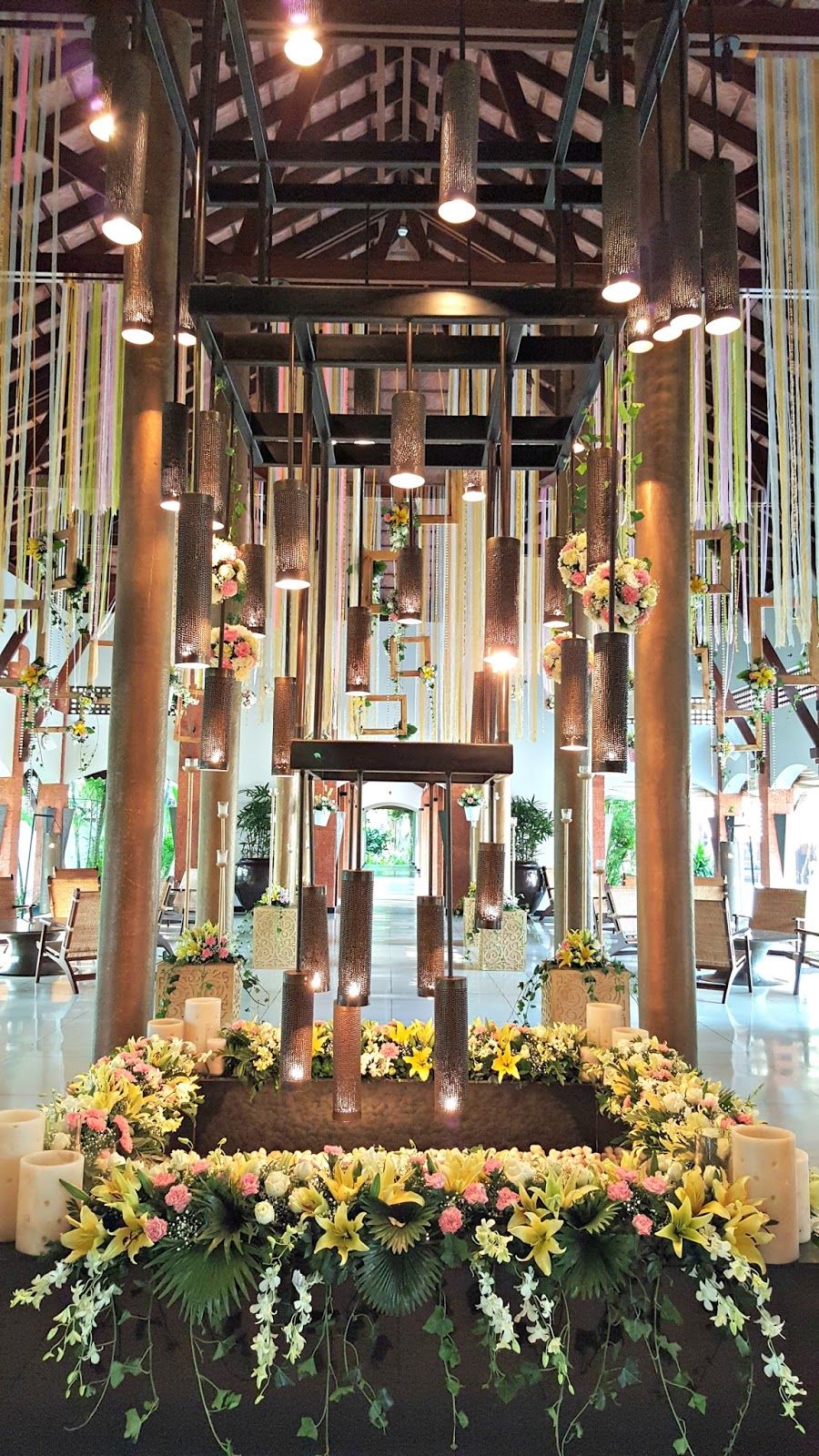 Ergo, if you note down the maximum amount you are going to spend and on which sections, you will be able to have a Goa destination wedding under 10 Lakhs. 
Check: Destination Wedding near Mumbai
Travel expenses for a Destination Wedding in Goa  
As earlier said, you can be in any corner of the world, and still, you can reach Goa very easily. 
→ By Flight
If you are choosing to take a flight for a Goa destination wedding, there is Dabolim airport which is around 26 kilometers away from the capital city of Goa, Panaji. Cabs are available just outside the airport. 
Goa has direct flight connections with Delhi, Mumbai, Lucknow, Chennai, Bangalore, Kolkata, Indore, and Pune. So if you are a native of any of these places, then nothing can stop you from having your dream destination wedding in Goa. 
→ By Train  
Now, if you opt for train travel for a Goa destination wedding, again there is no need to worry. There are two railway stations nearby that will help you make a smooth and safe journey with your friends and family. Madgaon railway station is 38 kilometers away from Panjim and Vasco Da Gama railway station is 29 kilometers away. 
Again, cabs are available. These railway stations are connected with various other railways all around the country which makes it possible for you to reach your destination comfortably. 
→ By Road 
A journey by road is also achievable for a Goa destination wedding as the roads are quite smooth and nicely maintained for a safer and effortless journey. 
Their two foremost bus service operators are Karnataka and Maharashtra State Road Transport Corporation. They provide services from neighboring cities like Pune, Mumbai, and Bangalore. 
→ Travel Cost  
Bus fare starts from Rs 500 and goes as high as Rs 2500. Flight for a Goa destination wedding costs you around Rs 2500 to Rs 4000 per ticket. For train tickets, the price will vary from Rs 200 to Rs 900 approximately. 
Because of this easy travel facility and the stunning beach experience, Goa is well-known for destination weddings. Not a single wedding couple regrets spending the best moments of their lives in this beautiful state in the western part of India. 
Top Wedding Resorts for a Destination Wedding in Goa
Riva Beach Resort for a Destination Wedding in Goa
Settled on the white sands of Mandrem Beach of North Goa, this resort has a breath-taking sea view for a Goa beach wedding. For an impressive wedding venue, this resort will be your great choice that will make your partner jump for joy!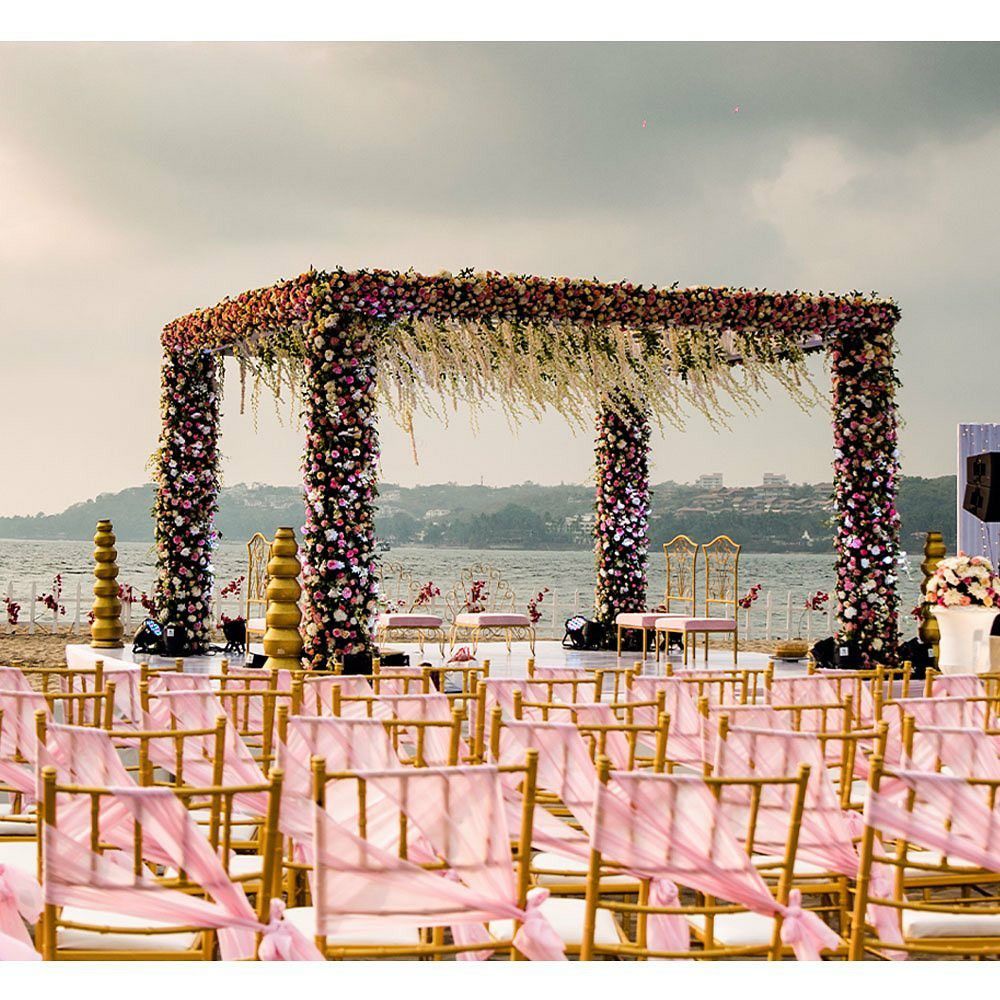 Novotel Goa Dona Sylvia Resort for Destination Wedding in Goa
Located amidst the serenity of the white sands of Cavelossim Beach and the lush green scenery, tying the knot in this resort will be nothing less than a dream.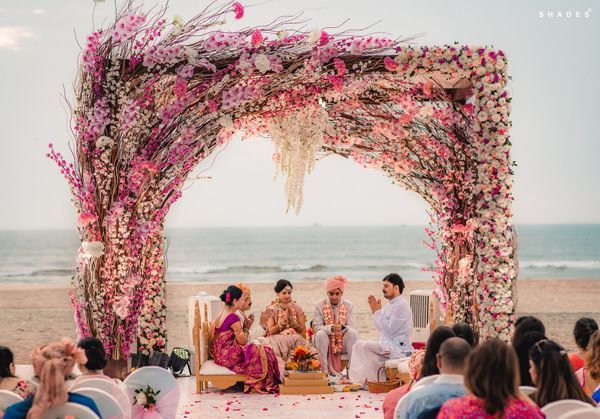 This olde worlde resort showcasing a hint of Portuguese culture was internationally applauded for its architecture. Ergo, to spend your wedding days in a luxurious style just like in the old days, then this resort is apt for your wedding venue. 
Radisson Blu Resort Goa Cavelossim Beach for Destination Wedding in Goa
Depicting a Goan-Portuguese culture with bright colored external walls, this resort is nestled on the rolling sand dunes of the Cavelossim Beach.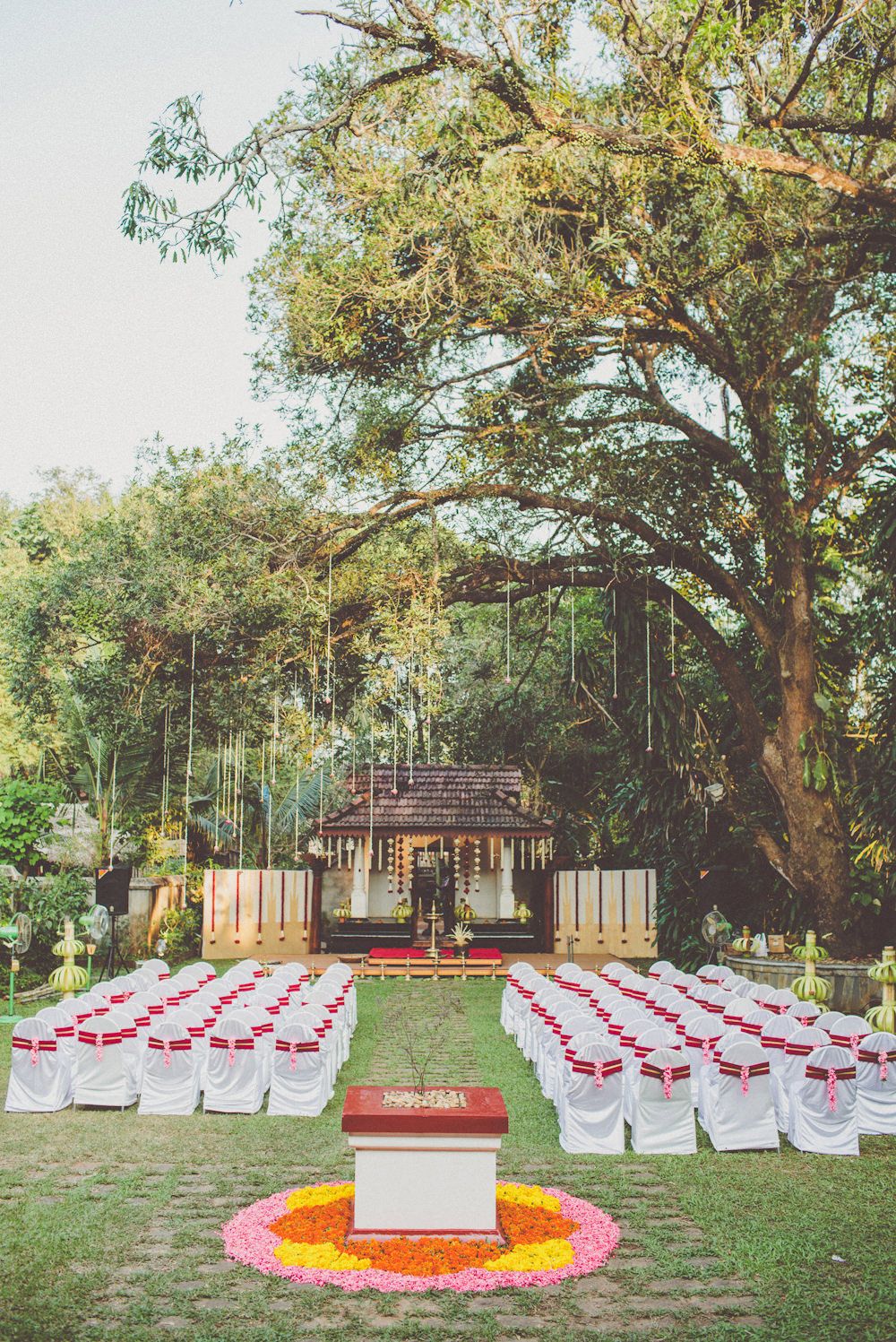 With free high-speed internet and comfortably furnished interiors, this place will be highly suitable for your guests and family. Keeping an eye on the business part and enjoying your wedding will not be a problem for either you or your guests. Witness the excellence of this resort's flawless architecture and you will be awestruck by its beauty!
Check more: Wedding Stage Decoration
Zeebop By The Sea for Destination Wedding in Goa
Looking for a resort with some insanely romantic vibes and a seashore in the front? You got it. Situated on the white sand hills of Utorda Beach in Goa, this resort will be the most intimate and cherished venue for your Goa beach wedding. It even has a beach-facing eating place. Yes, totally romantic!
Alila Diwa for a Destination Wedding in Goa
With a realm of primaeval forts and ancient traditions, this luxurious resort is a perfect blend of modern Goan architecture. Nestled in the middle of lush paddy fields, being here will feel like you are in your own kingdom. 
The lavish interiors of this decor look nothing less than a classic empire in itself. So, for the ones who have always fantasized about having a modern-style aristocratic destination wedding, this resort is just for you!
So, what do you say, a destination wedding is on or not? Of course, it's on. So is your wish for a Goa beach wedding? These were some of the amazing ideas for a fabulous Destination Wedding in Goa. To know more about weddings, and other events do not forget to visit myMandap.