Wearing Matching Couple Bracelets after marriage is quite a norm in India. It has started over a couple of years, and everybody does that now with their own style of bracelet. 
To make matters more relatable and edgy, we have accumulated some of the trendiest matching couple bracelet designs for you and your partner. 
Top 10 Matching Couple Bracelet Designs for Him & Her:
You should know about the two most important stuff related to what a couple should wear. Firstly an ornament is part of their relationship, and secondly, it should be comfortable. 
Like the Engagement ring, the Matching Couple Bracelets have to be pretty comfortable too. It shouldn't be much enduring for the wrists, and a bracelet like this is quite perfect for the big day. 
Question & Answer Couple Bracelet 
Every couple's bracelet has its own unique style and elaboration, trust me you are supposed to fall in love with how it turns out for you and your partner. I believe such an accessory deserves no explanation, especially when it does solve the purpose too well.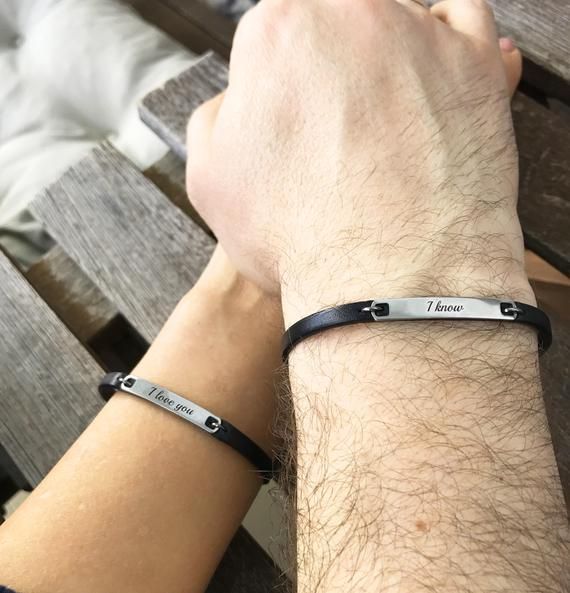 The question pattern of this accessory has the most subtle details. Such an accessory truly deserves to be on top. This particular set of matching couple bracelets is absolutely gorgeous and has some cute, and quirky questions on top of it. 
See Related: Matching Pairs of Couple Shoes
Latitude & Longitude Couple Bracelet
This is a really unique concept in India. I believe this is one of the freshest ideas for making a bracelet for your loved ones. The main concept of this set of matching couple bracelets is to memorialise your first moment together.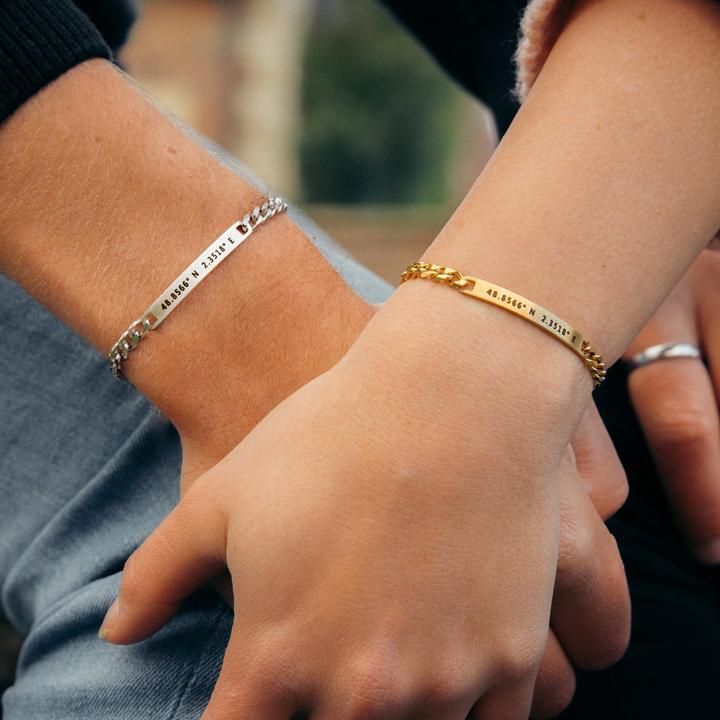 Like saving the date, down the memory lane forever. The day, the time, or here the designer has curated the place where they first met. The latitude and longitude of that place are saved in the design of this bracelet set. 
Name Initial Couple Bracelet
This is a minimalistic bracelet design, and the versatility of this design never gets too old. The designer has simply added the initials of your fiance or partners name on it. If your husband is Abhijit, and you are Anu then either of your bracelets would have the initial 'A'. 
The design is quite simple, and the simplicity is the main attraction of such amazing styles. Not only as an everyday fashion accessory but as a piece of stylish jewellery set for the wedding ceremony too. 
Broken Hearts Golden Couple Bracelet
This isn't really a design that you will wear once you have a broken heart. But the design is somewhat similar to that pattern. The basic design of this matching couple bracelet design is quite versatile, and probably the best one in all the designs.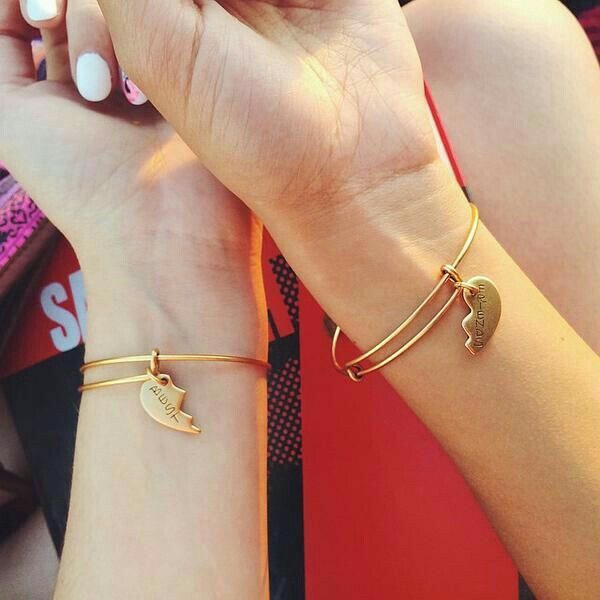 The broken heart pattern has a heart cut in half. Like half a heart for the man's bracelet, and another half on the groom's bracelet. The beauty of this design is just out of the world, and the way it is worn, it is just out of the world. 
Joined Chains Couple Bracelet
This particular bracelet design is somewhat Masculine, instead of being very Unisex. You need to worry about the material, as it can be worn by either for any occasion or event.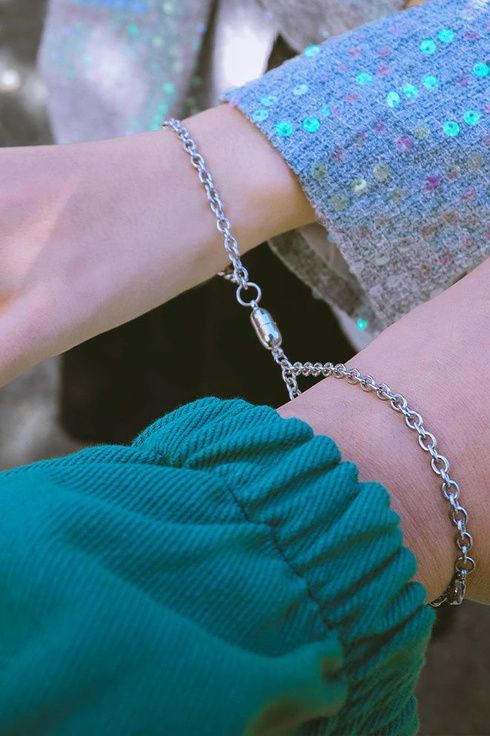 One can even choose to syle this particular design for the most basic events, like an engagement ceremony or even as an everyday couple's accessory.
Emperor Couple Bracelet
This is the most common and basic design for a matching couple bracelet design. Trust me, a little goes along way as the uniqueness of this accessory, is far more attractive than most other accessories out there.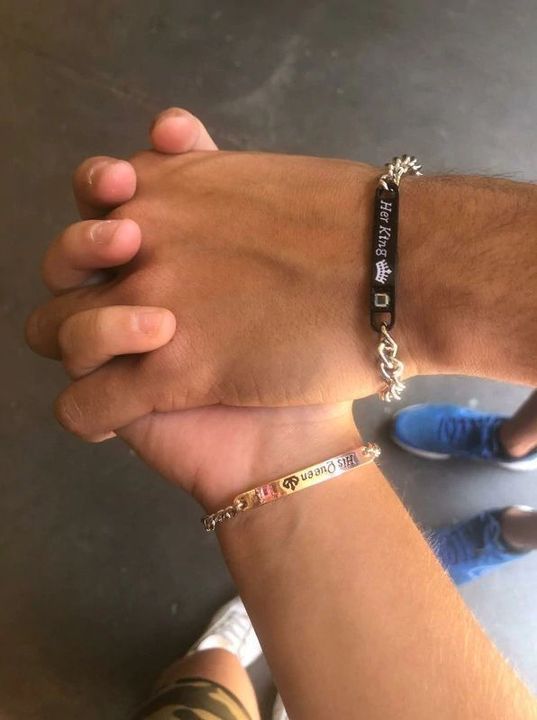 A man can wear this accessory with their fashionable watch design, or even with the most extravagant suit set that they own. I belive such a fashionable piece, deserves to be made more popular.
View more:Luxury Couple Watches 
Mosaic Beads Couple Bracelet 
Beaded bracelet designs are somewhat the most fashionable styles in the list of the best ones. You wouldn't really be disappointed with how these turned out for you and your partner. The beads on this matching set have mosaic beads which are honestly the best.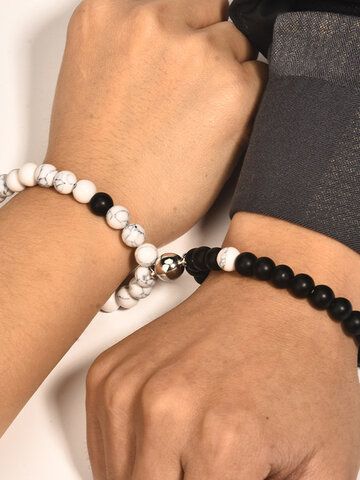 The mosaic beads are making it wearable, and quite flexible too. I believe, the designer has placed elastic bands for weaving such a beautiful couple bracelet design. The pattern of this design is making it even more appropriate and wearable. 
King & Queen Couple Bracelet
This is a really cliche design but trust your instincts. Such designs never go out of fashion, as old is always gold. The design is versatile, and the embroidery on top of it makes it even more wearable and designer.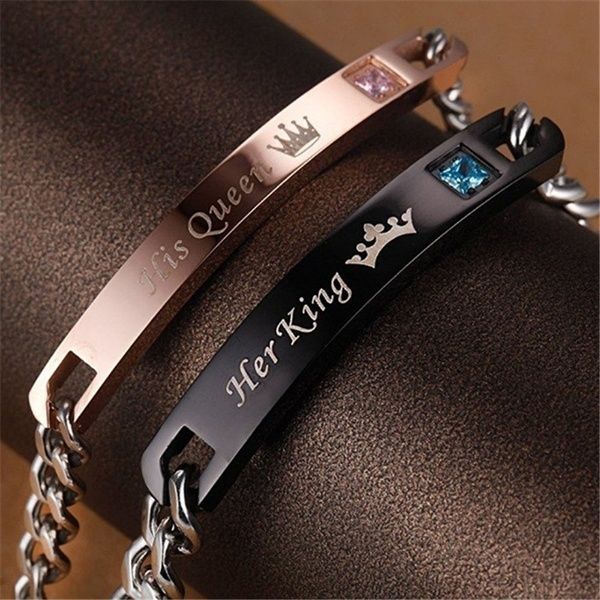 The king and queen concept of this bracelet design is just relevant and in fashion. Recently, this has become quite trendy to wear quotation for the couple's jewellery. This design is a subtle reminder of you and your beloved person. 
Must view: Bengali Wedding Dress for Groom
Silver Band Couple Bracelet
As a Silver Band accessory, you deserve the most beautiful bangle for the big day. Apparently, this particular band has the most beautiful elaboration and classic silver work. Matching Couple bracelet designs like this, are slightly more expensive. 
Plus this is more or less perfect for any Occasion, and you can even wear this one on a daily basis. The appropriateness of this accessory makes it unisex and versatile. I trust all the details on top of the design. 
Zebra Couple Bracelet
Why am I calling it a Zebra design? Well, one of them is black in colour, and the other one is white in colour. This particular combination is absolutely meant for the most fashionable and stylish couple.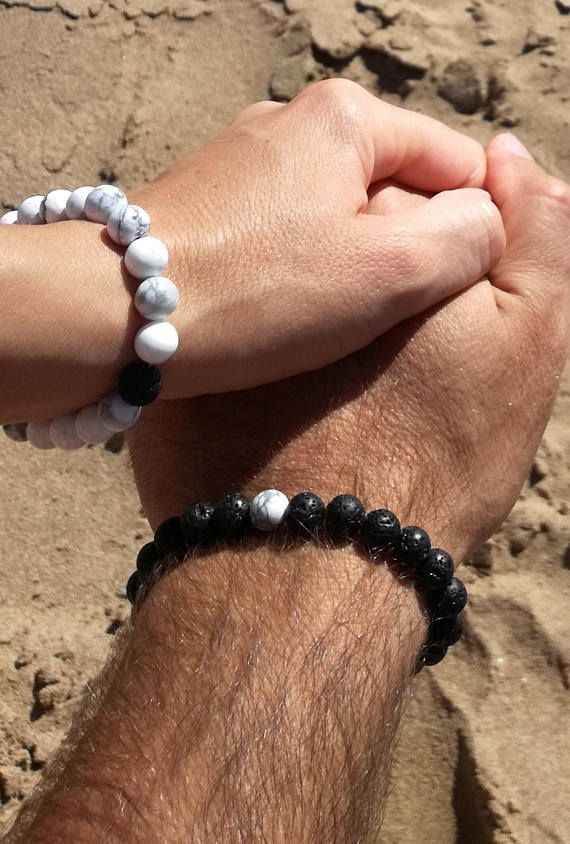 These kinds of accessories deserve no explanation. Firstly it is one of the best colours, and secondly, it is self-explanatory and elaborated. Trust me, this combination can be worn for occasions. Firstly on a daily basis, or even as a bracelet for office wear. 
Matching Couple Bracelet designs are certainly a new thing, but not quite Utopian honestly. When there are so many options for outfits, Matching Couple Watches, and Matching Shoes, then why not invest the right money for a pretty bracelet set. 
This is quirky and completely different from the usual Matching Couple RIngs worn by newlyweds. This is a really new idea and I personally have a special place for such a beautiful ornament. 
Wearing subtle couple rings is quite cool, but a pretty little bracelet is a really fine idea. Get amazing ideas about jewelry, fashion, and other fabulous events just at myMandap.