Matching Couple Shoes is a dream for all Affianced Love-Birds. What else do you really need, apart from coordinating the entire outfit? 
That is exactly why we all need to get one for the big day. But getting the right match for your Couples of Shoes can get a little hasty. That is why I have paired some of the most unusual ones. 
Top 10 Matching Pairs of Couple Shoes for the Big Day:
Colour Coordinating everything is a want for almost all Indian Brides. We want it well-balanced, with the wedding stage decoration and also has to be different from the Ring Ceremony theme.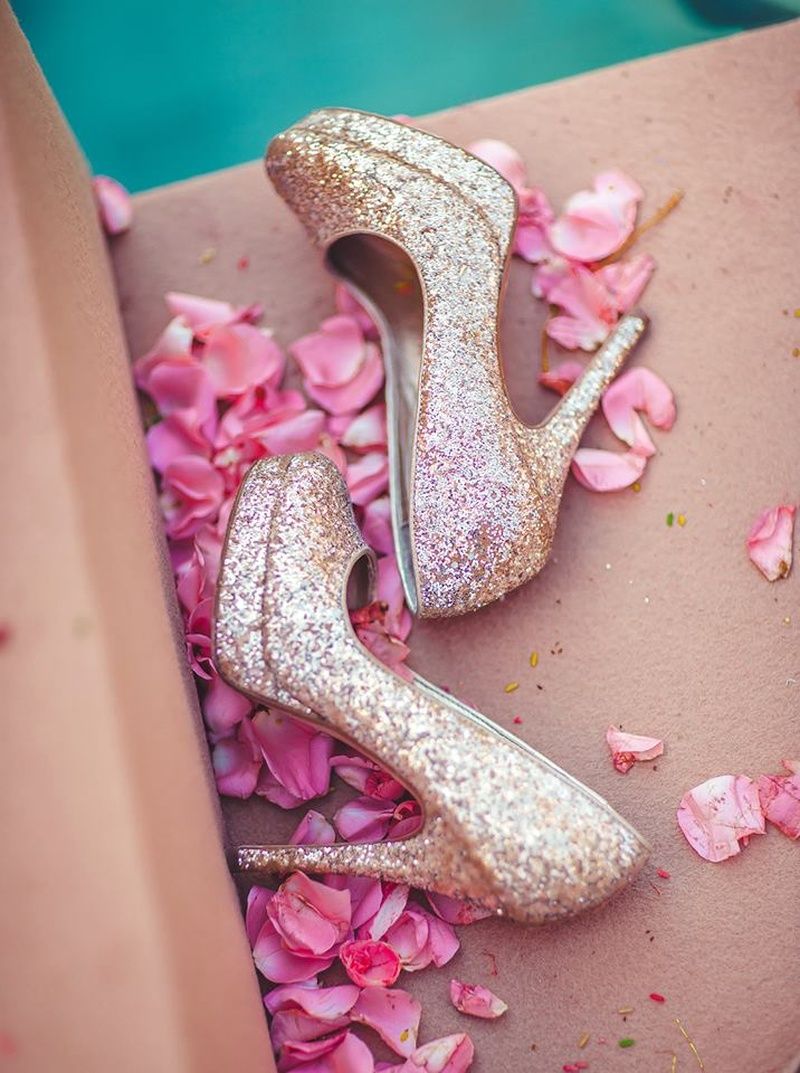 A Couple Shoe is one of those little things that are taken care of at last. That doesn't really mean that it is not of the utmost credential. You need Well-Matched Couple Shoes with every little detail. 
The Desi 'Patakha Guddi' Couple Shoes
You already know this, owning the best Couple Shoes is a dream for all brides. I'm saying brides because let's be real. It's your department, to choose what goes on the day. 
The one we are talking about here certainly has some of the most quirky quotes that you might have witnessed for your wedding ceremony. 
To pair up with such a glamorous shoe, you need to get an absolutely amazing set of shoes meant for the groom. Something that is quirky and customisable at the same time. 
Preferably these Couple Shoes are somewhat different from one another in all terms. Like the way, it is differentiating the designs and the colour too. 
Price: 1599 INR to 2299 INR
Availability: Myntra 
Check more:Couple Rings Desing
Insta-Queen Couple Shoes for Elegance
I'm quite certain that you always wanted your partner to share the similar excitement as you have while planning the entire event? And, even better, when that happened in reality. 
The ones we are talking about here has the perfection of a designers work. This is undoubtedly the most elegant of options that can actually be curated for an Insta-Queen!
To standardize her aura, we have curated one of the finest Indian shoes that can match up with the bride's footwear. This particular shoe is pretty smart, and quite 'haughty' too.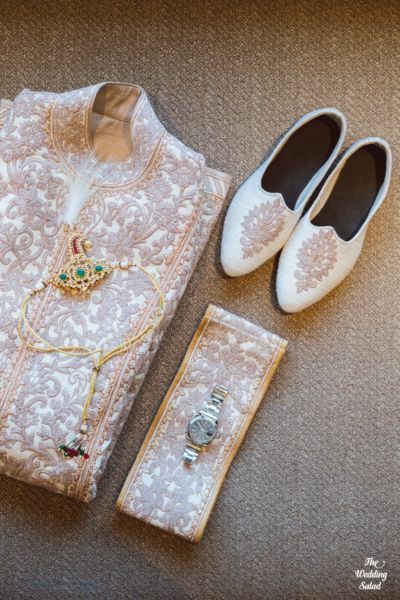 Like your wife wouldn't at all be disappointed if this is your choice for a matching couple shoes. Not only is this a good match, but standard footwear too. 
Price: 2999 INR to 4599 INR
Availability: Mokashino, Metro, Catwalk and Khadims
Also see:Khadims Shoes
The Valentine's Couple Shoes for Wedding
The main theme of this subtle set of Couple Shoes is basically all about the colour red. The designer has maintained the theme for either of the shoes. 
If it is about the brides' footwear, then the lower portion of the shoe is a heel. Needless to say, a heel is one of the finest footwear choices that are typically made out for the wedding ceremony.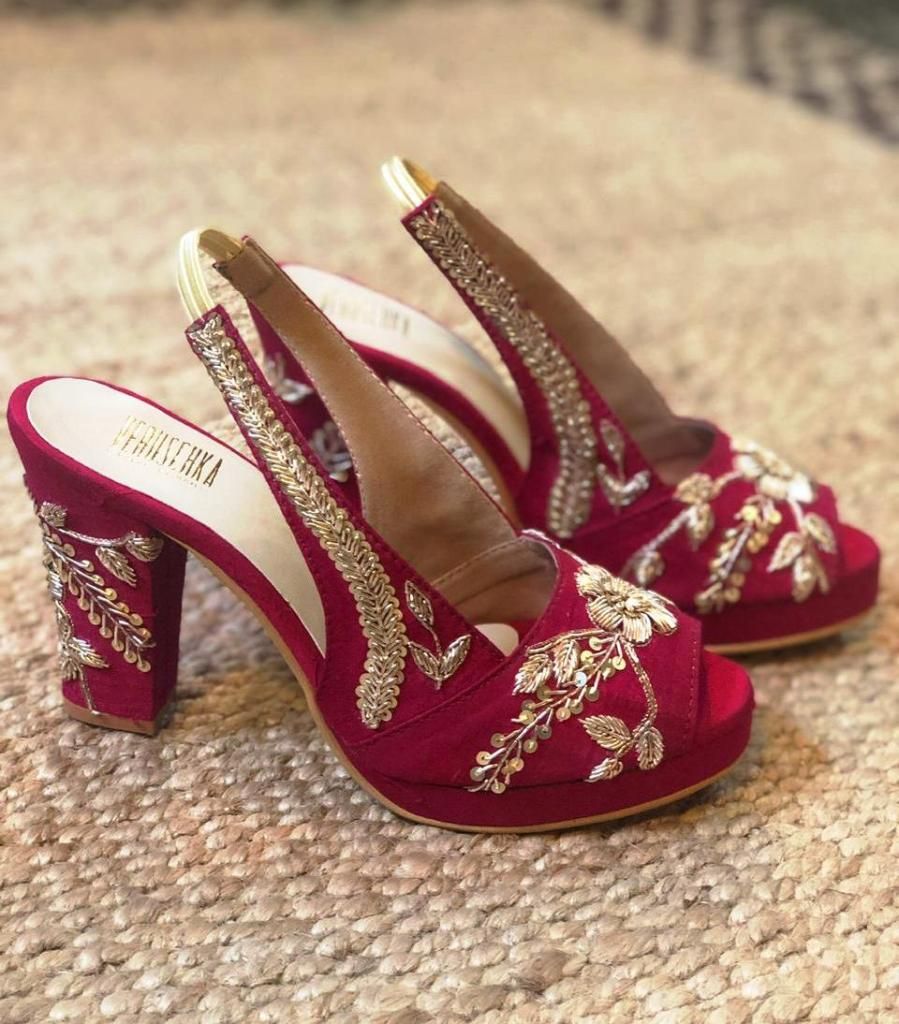 Whereas the pair made of the groom is a sturdy
'Jutti'
. And, I personally cannot express how pretty and smart it looks on men when they wear a
Jutti
with their fabulous Kurta suits. 
This is more like a Mojari for Mwen, which is not just adjustable but also quite elegant. I suggest going a size down with these kinds of shoes, as they can get bigger over time. 
Must Check: Matching Couple Bracelet
Price: 1999 INR to 2999 INR
Availability: Amazon, Inch 5 and Myntra
Royal Couple shoes Made for the King & Queen
This isn't a pair that has to be preallocated, or made right for the empress and the emperor as a set of couple shoes. We have curated these two fine two designs together. Let's be honest, aren't they the best?
Especially when you are considering buying these as a matching pair for the couple shoes. The bride's pair of footwear has fine golden heels, which would definitely compliment her outfit.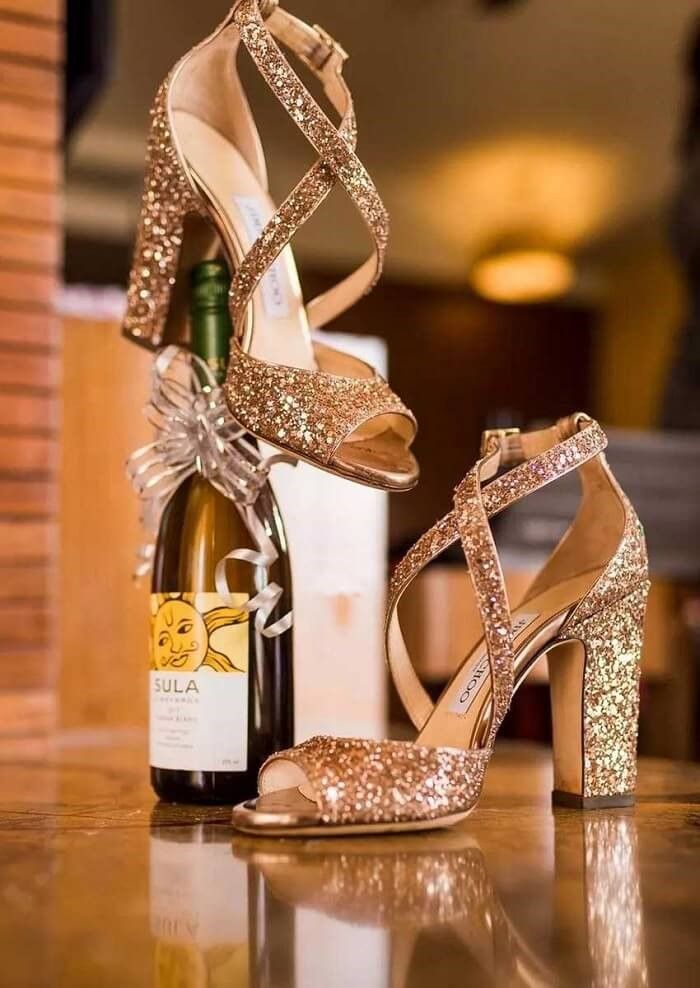 Apart from that, the match is accentuated with the fabulous footwear that has a 'Pagdi' too. Probably completing the entire Indian ethnic outfit for the groom.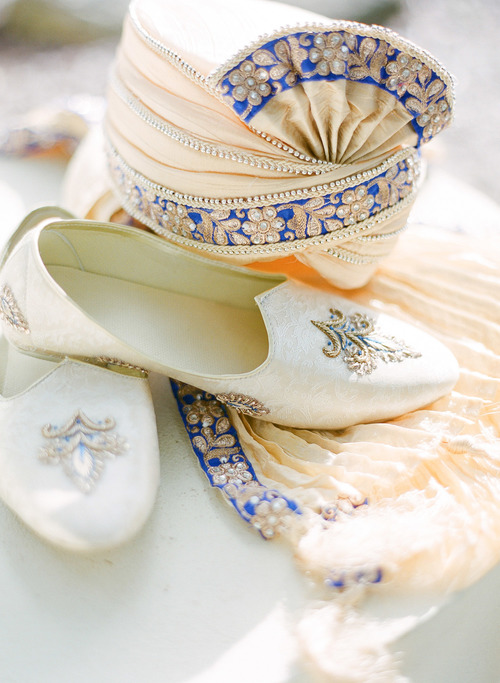 This shoe is a full hundred per cent worth buying, and to be very honest this is a good fit for your post-wedding events too. Elegant, Quintessential and picturesque too. 
Price: 4999 INR to 6599 INR
Availability: Catwalk, Inch 5, and Metro
View more:Couple Watches for Weddings Gifts
Modern and Elite Couple Shoes
Couple shoes like these, are the easiest of all finds. Probably you would get these kinds of shoes at works of lives. Even when searching for shoes at your local Footwear vendor. 
All you really have to do is, be careful about the design and the material that is making the rest of the footwear. The bottom portion of the shoe has to be made sturdy, and the top shinny. 
That's it, apart from that the entire design can be customised with all terms. Like going with a darker coloured suit, or the lehenga skirt can help to make such looks even more affluent. 
 I prefer these shoes over any such footwear design, not only are these couple shoes quite elegant and versatile. But these are budget-friendly, and easily available too. 
Price: 999 INR to 1499 INR
Availability: Amazon, Flipkart, Ajio or Myntra 
Check more: Nagra Juti Style
Jodhpuri Jutti Couple Shoes for Wedding
A shoe like this is not only compatible with almost all kinds of outfits, and occasions. But these are quite comfortable too, you can stay at your own comfort without compromising the look. 
Wearing a Jutti is like being beautiful at the comfort of your own home, all the little details are properly accentuated. If you are already tall enough, then this is absolutely your best fit.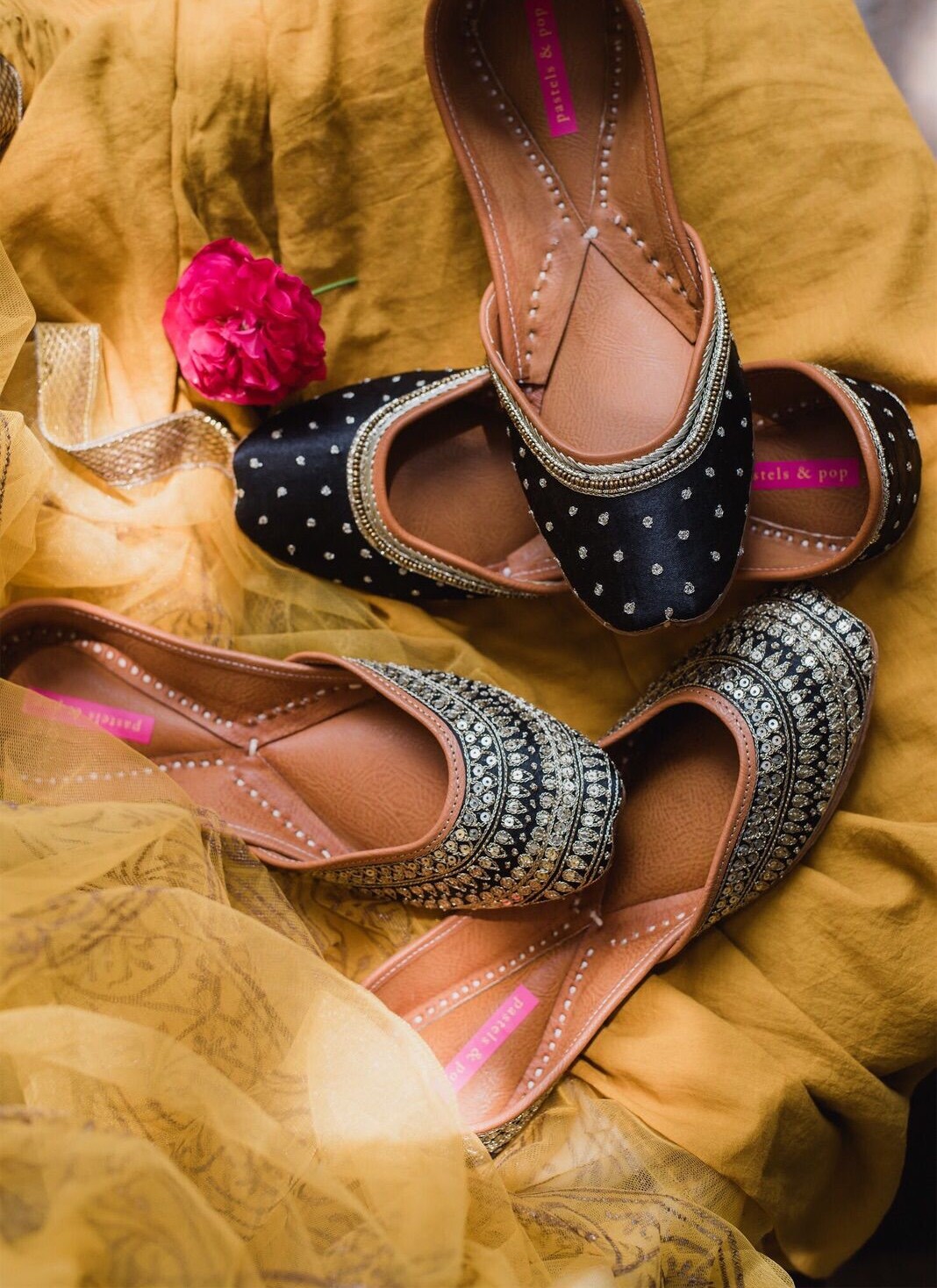 For the bride, the couple shoe combination is somewhat similar to that of a 'Mule' footwear. While the groom's footwear is properly shaped like a Jodhpuri Shoe. 
As Couple Shoes, these are really elegant choices for wedding shoes. I personally would definitely buy one for atleast one compassion, like the Haldi Ceremony or the Sangeet Night. 
Price: 1049 INR to 1999 INR
Availability: Amazon and Flipkart
White and Surreal Couple Shoes
Irrespective of the type of footwear, white shoes are quite surreal for all kinds of events. To be honest, it is even a proper trend for grooms to wear white footwear in India. 
But here, we have curated a set of couple shoes that are both white in colour. It is embellished with little sequin, stones, and other forms of decoratives. Which is perfect for a Bridal Shoe.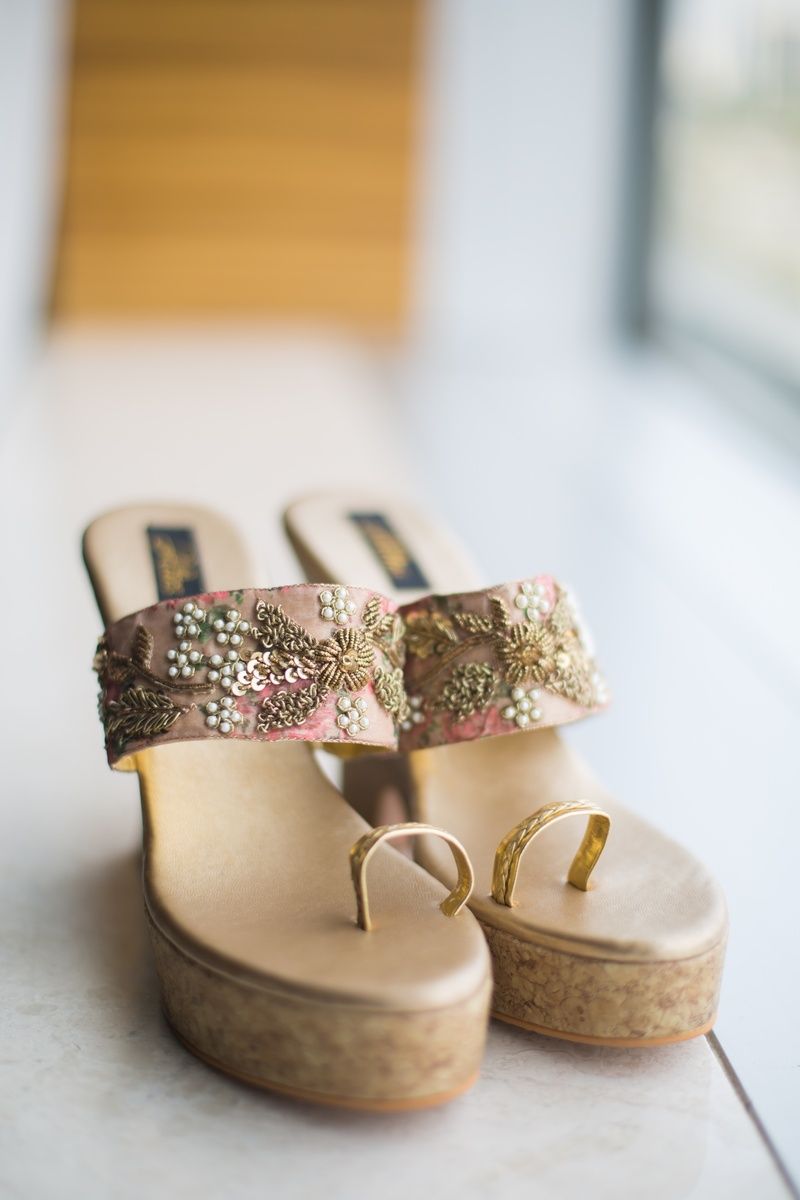 Other than that, the groom's footwear has similar sequins added to it. To make it more matching and appropriate for the wedding ceremony. A couple's matching shoes like this are versatile. 
Such an unrestricted piece of fashion is quite good for a buy, as you can add a lot to it with some more details to the outfit, or even the feet pieces of jewellery worn by brides. 
Price: 1599 INR to 2799 INR
Availability: Myntra and Ajio
Red and Maroon leave themed Couple Shoes
The integral concept of this couple shoe design is solely related to the colour red. The designer has manifested the use of red in all the little features of the shoe. Which are further accentuating the footwear to a different extend.
Ideally, such beautiful designs are specially kept aside for the wedding ceremony. And, I would suggest you should also do the same for your wedding shoes.
Not only the groom's footwear, but the bridal footwear is also red too. Both of their shoes are quite fabulously decorated with a beautiful maroonish texture and has a flat base.
Comfortable for the bride, as she gets to wear a flat-based shoe for her wedding ceremony, and a beautiful 'Nagrai' shoe for the groom, which is made out of velvet material.
Price: 1899 INR to 3009 INR
Availability: Sreeleathers, Khadims, Bata and Metro
Read more:Sreeleathers Shoes
Phulkari Embroidered Punjabi Couple Shoes
The designer has made the shoe with two main manners, firstly keeping the base of the shoe uptight, with the shape of Jodhpuri 'Jutti' and secondly making the lower base look like well-sequined footwear.
The designer has themed it a 'Phulkari' shoe for two most important reasons, firstly stitching inside the woman's shoe, and secondly the embroidery that is happening in the exterior of the groom's shoe.
Not all footwear designs are supposed to be black for the groom, certainly, such a fantastic design wouldn't do any harm to the rest of the couple shoes.

The black base of these couple shoes is highlighted further with a pretty silvery and whites thread design. The threadwork is quite fashionable and elegant at the same time.
Price: 2299 INR to 3499 INR
Availability: Khadims, Bata and Metro
Lavish Empress Couple Shoes
I'm calling this an Empress's footwear, and you'll too. Highly suggested for couples who prefer something blingy and highlighted too. As for footwear, it has all the required features that emphasize a shoe for the queen. 
It is ornamented and has the fanciest forms of decoration that curate a beautiful couple shoes set. Highly suggested for people, who like their footwear designs be all decorated and well-matched.
For making it even more wearable and lavish, the designer has implicated some subtle details to it. Which includes making little flowers, stones, crystals, and other decoratives added to it.
Moderately wedding footwear for brides is conventionally red or pink in colour, whereas the groom's footwear design has some intricate detailing of white and beige to it.
Price: 1699 INR to 2599 INR
Availability: Myntra and Ajio
We are talking about Matching Couple Shoes that are sturdy and Quentessial at the same time. If you do want your shoe pair to be well-coordinated with your partner, then this is your place. 
Firstly make sure, both the shoe pairs have been purchased from the same place or the same designer who customizes them. Not only is this helpful in the long run, but also quite diverse. 
You leave room for customization at all times, and that is why getting Matching Couple Shoes is hectic. To know more about such amazing designs and wedding-related stuff visit myMandap.