Matching Couple Tattoos are a new trend, for most of us. Interesting tattoo designs which explain your relationship vividly, and have a story of their own. These are things that make a decent picture for the day. 
These are extremely pretty things that couples do together for themselves. Husbands and wives, boyfriends and girlfriends, boyfriends and boyfriends, or even girlfriends and girlfriends. 
These are a Couple of Tattoos that explain to you and our partner in a better way. Something which would remind you of them when they aren't around, and a really cute thing to do for them. 
Here, at myMandap, we have enlisted some of the cutest ideas for some really sweet and simple Couple Tattoos for the day. These are matching tattoos for couples who are planning on getting one. 
Top 15 Matching Couple Tattoos and Ideas for the Day:
Love is a statement and buying yourself some matching jewelry might help. Couple Tattoos are magical reminders of your lovely relationship with your loving partner. This is also one of the reasons, we honor a tattoo. 
I know Tattoos are slightly trickier to get. In fact, this is one of the most painful things to get done to your body. Tattoos are permanent wounds and to get one, you have to use a striking needle on your skin.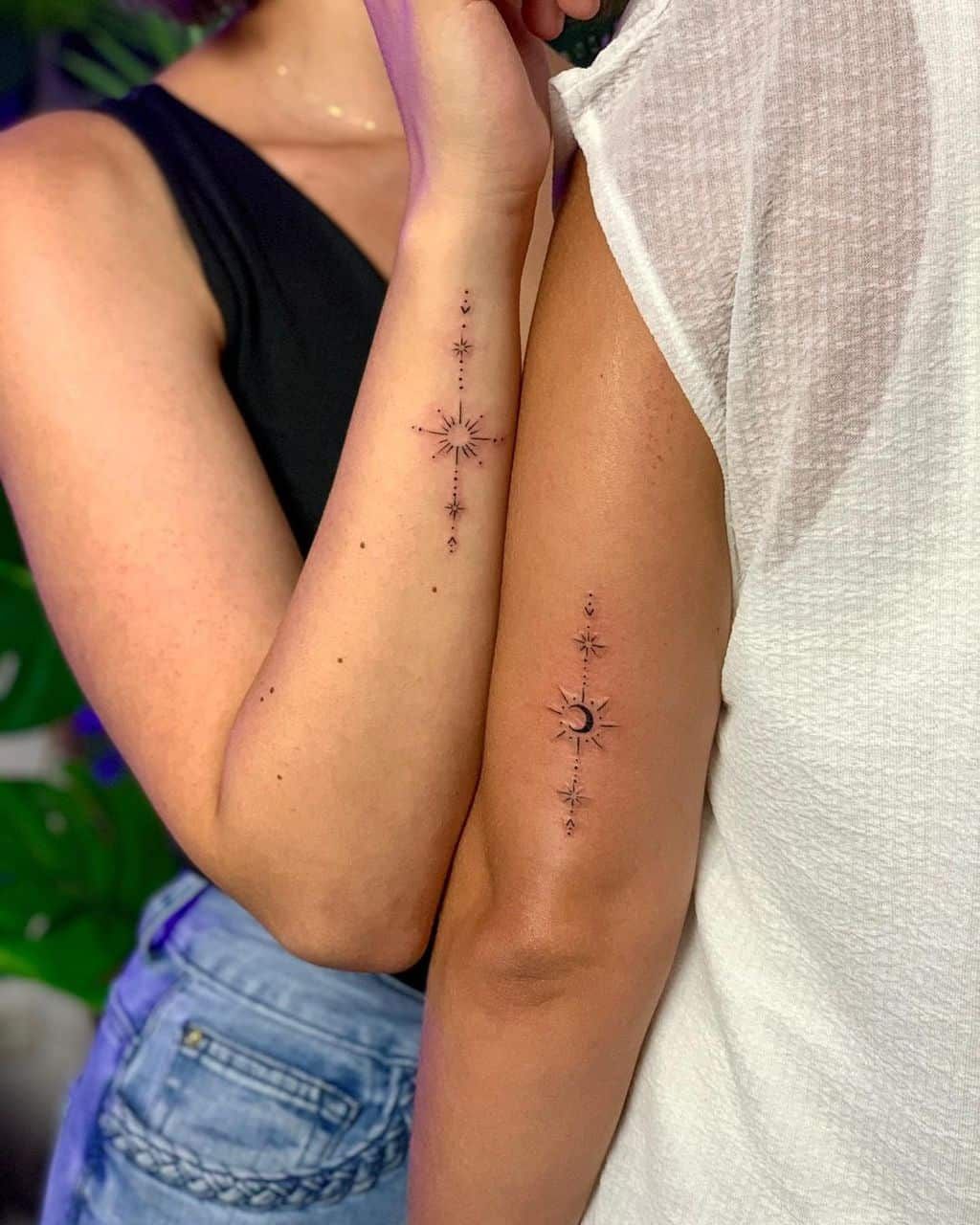 It has to start by making a wound with a small part to another. The Couple's tattoo can be at the same place or even at different places. The main motive behind getting Matching Couple tattoos is to choose a place. 
These are extremely cute Couple tattoos that are simple and professional too. Such tattoo designs happen to have the prettiest style and an accent detail which makes a great deal of difference. 
LOVE Couples Tattoos
There is hardly an emotion stronger than love, and these Tattoos for Couples are some such delightful things. They have inked themselves which matching tattoos that deserve one another.
Breaking the word, 'LOVE' into two syllables. One of them got 'LO' while the other got 'VE'. these are some of the sweetest concepts behind a thoughtful and intellectual tattoo design.
Check Out:  Marathi Wedding Dress for Couples
FOR-EVER Couples Tattoos
Some relationships do last longer than the word 'FOREVER'. These are some of such tattoo design, which narrates the beautiful story and the love of this life and the beyond. These Matching Couples Tattoos are better than most other designs.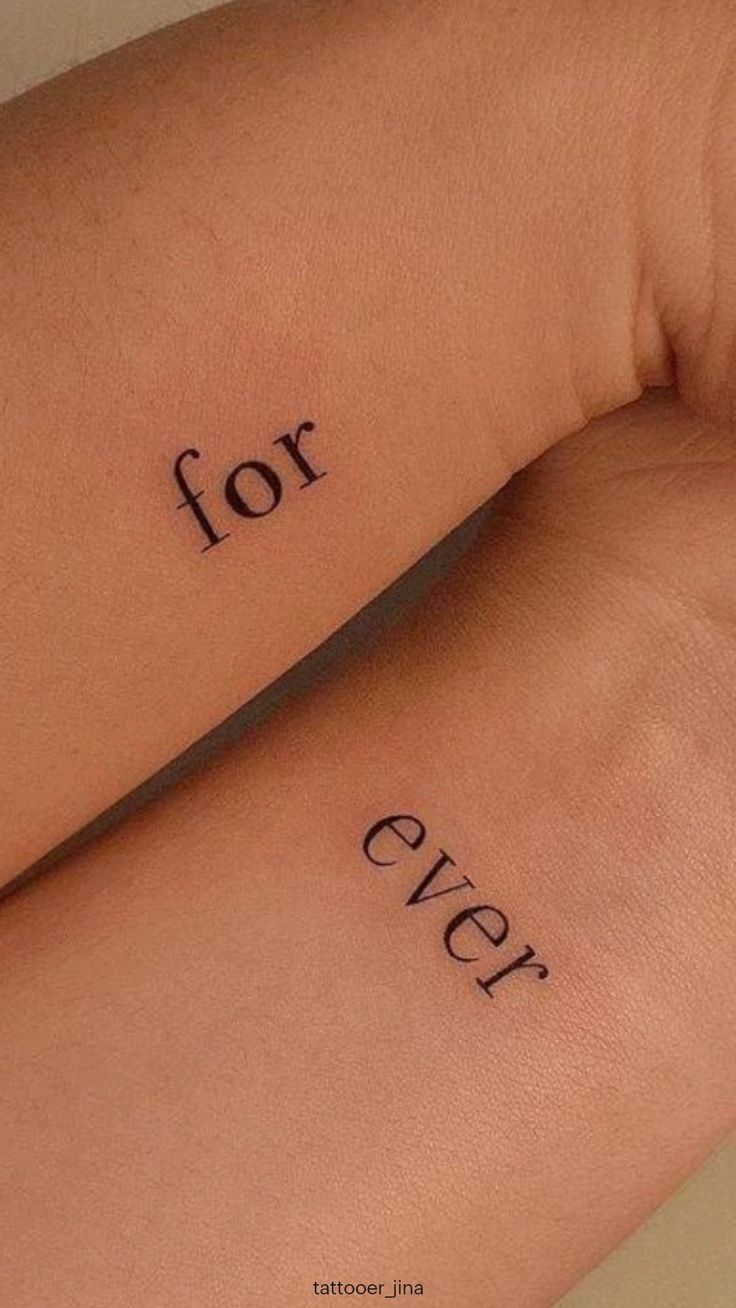 While one of them got 'for' inked into their arm, the other person got 'ever' inscribed in the same place. Such thematic tattoo designs are a classic hit and they happen to have a completely different fanbase.
Sun and Moon Couples Tattoos
As I said earlier, the tattoo should be something that describes you along with your partner in the best possible manner. These are earthly Tattoo designs, which resemble nature in all its glory.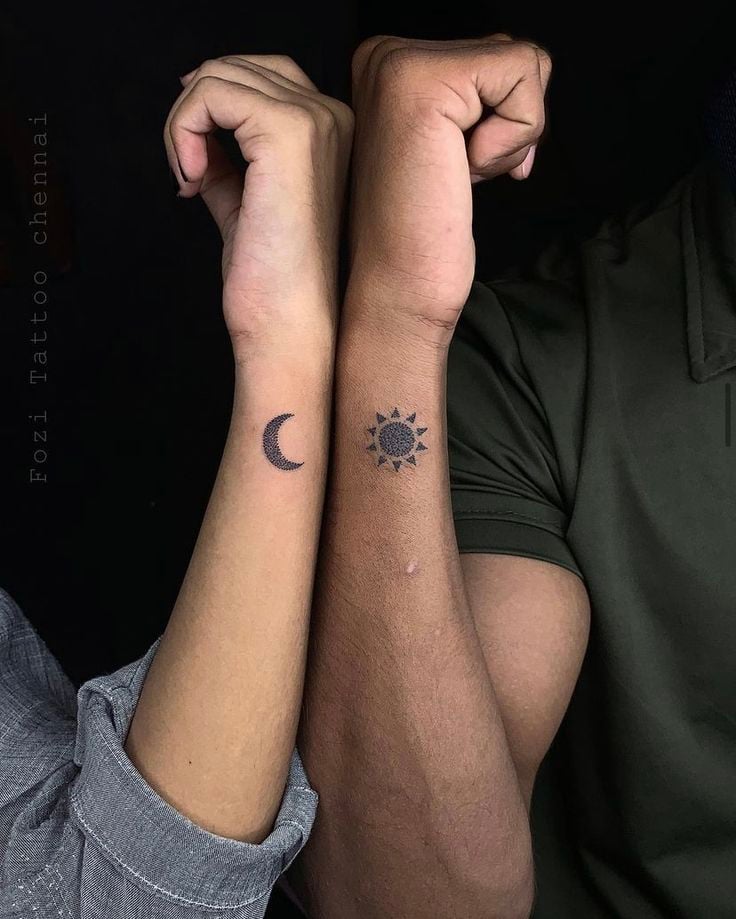 The guy got the Sun inscribed into his arm, while the girl got the Moon. These are tattoos that are extremely personalized in the most beautiful and basic manner. These are probably the best options for first tattoos.
World Couples Tattoos
Like the above-mentioned tattoos for couples, this is another example of earthly art. It resembles nature and the globe, while one of them got half of the glove the other got the same design.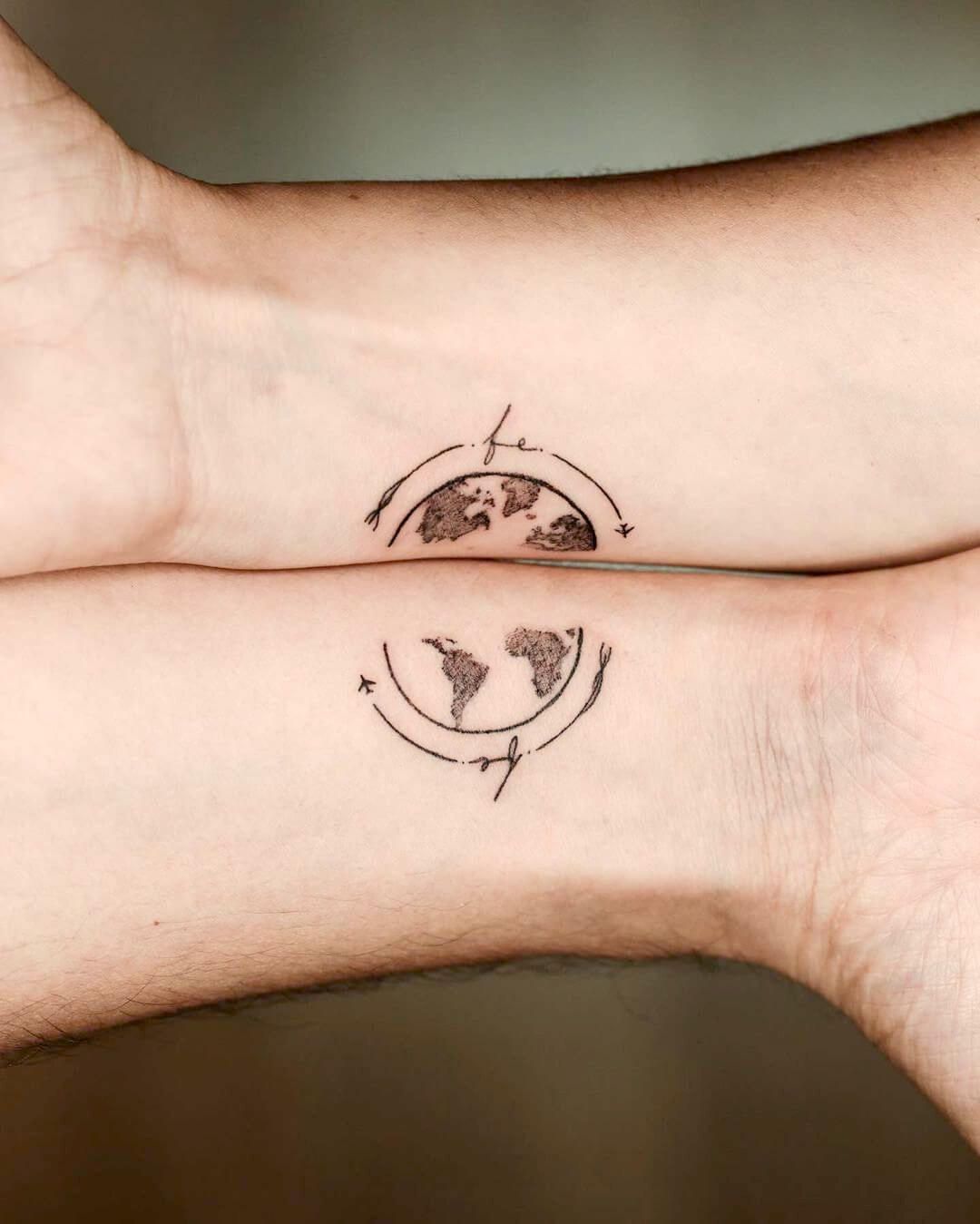 These are identical tattoo designs that would never get boring or unattractive. You should always get tattoos like these for your couple of goals. these are trendy and fashionable tattoos for couples.
Music Lover Couples Tattoos
If you and your partner are music lovers, or you guys meet through a common love for music, then this is exactly the kind of Matching Couples Tattoos that you would be needing for the day. These are music lines, from any playlist.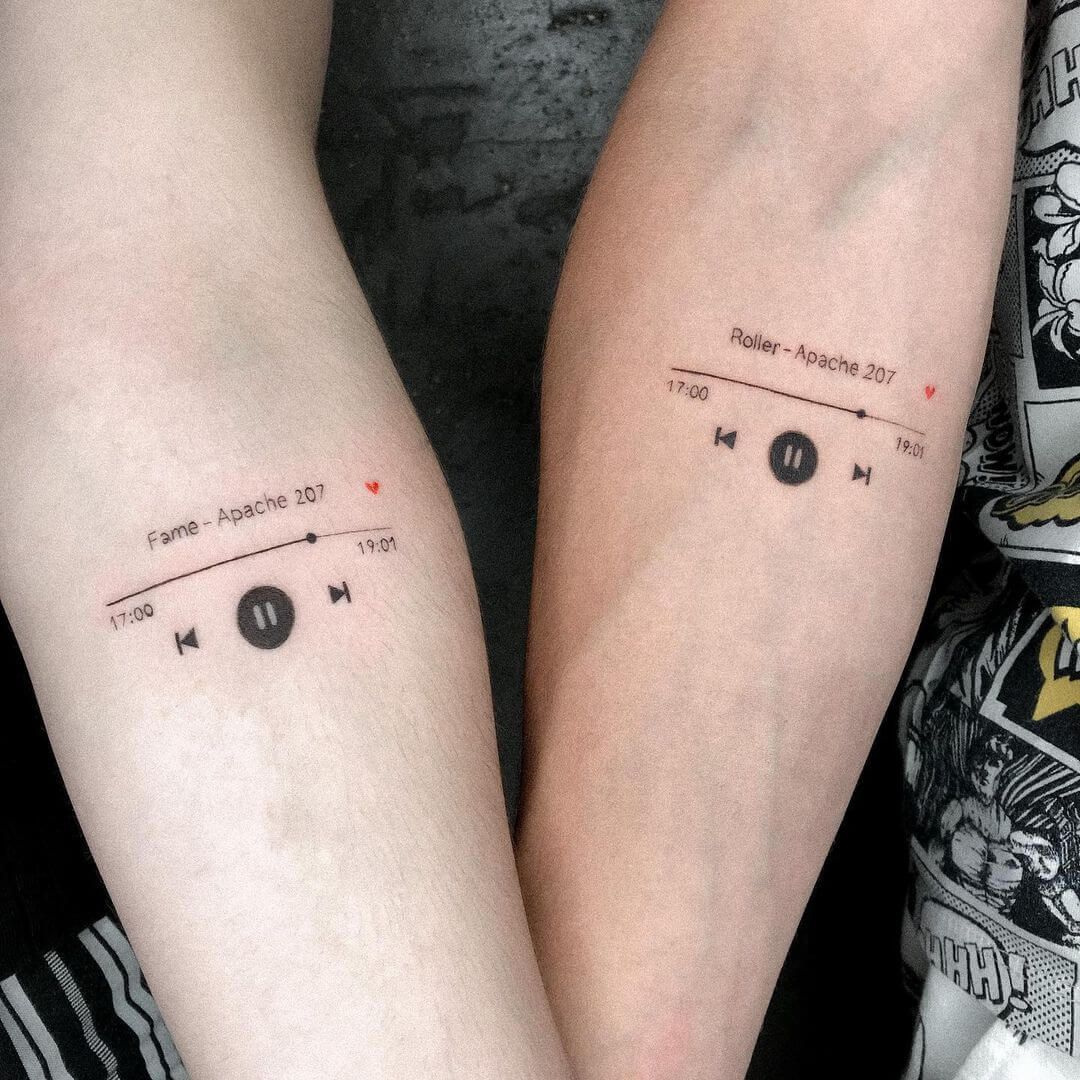 To make it even more customized, you can set the ring with your favorite song that describes you, and people, together in the best possible manner. Such tattoos are extremely creative, stylish, and welcoming.
Heart Couples Tattoos
A tattoo design that has been painted in the shape of a heart, is one of the best things that couples should get for one another. these are some of such elegant and creative Matching Tattoos.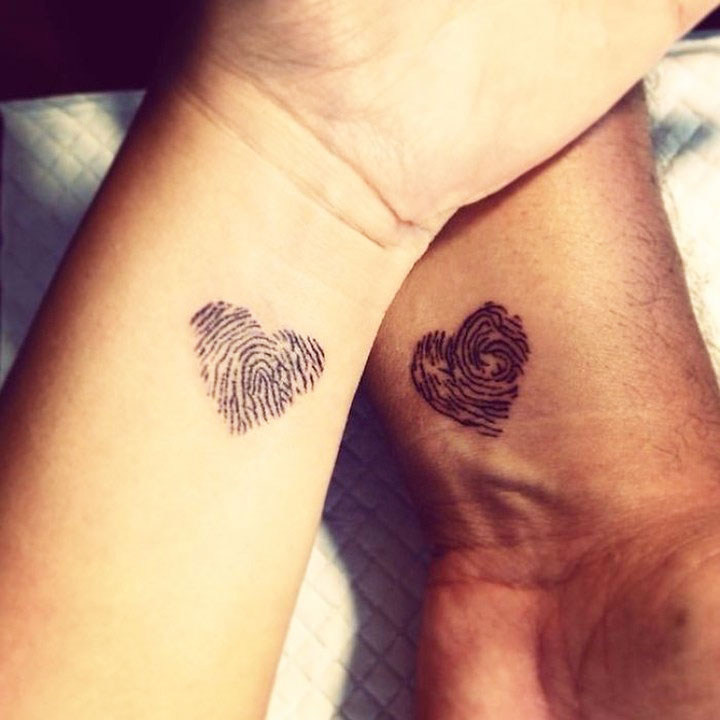 Instead of just getting the shape, they got stylish tattoos with a pretty line of fingerprints inscribed into the art. This can be anything, especially if you are planning on getting a good tattoo design.
King & Queen Couples Tattoos
This is one of the most common styles for Matching Couples's Tattoos. In fact this is one of the tattoos which is chosen mostly by couples only. While one of them gets the queen slab, the other get's the king.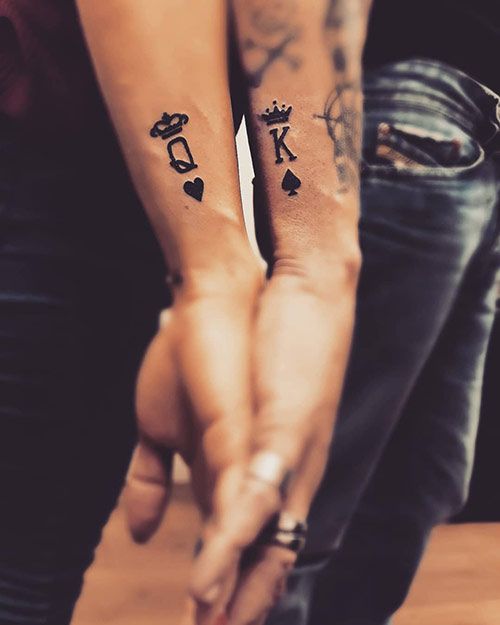 These are card heads, with the initials Q and K. Simply representing the glory of a King and the glory of a Queen. Stylish tattoos that would never go out of fashion.
For Eternity Couples Tattoos
Romantic themes for an edged concept for classy and elegant tattoo designs. Exactly how these Matching Couples Tattoos narrate a story of eternity and the story of the beyond.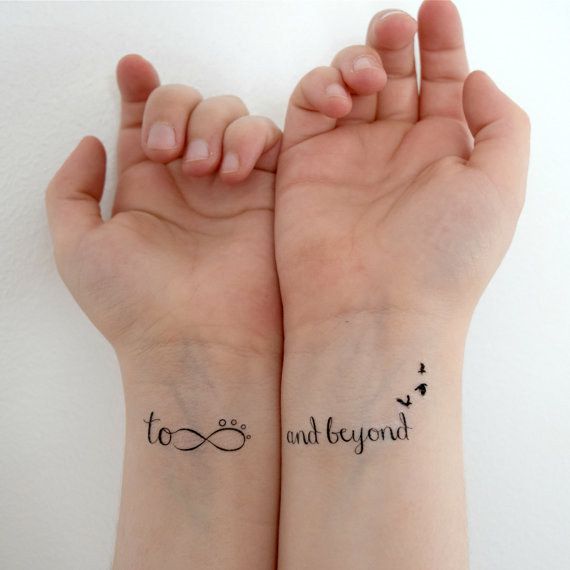 They got tattoos inscribed into their wrists, which narrate a story of being together until they are alive, and the love would be beyond their death too. Such a pretty and thoughtful tattoo indeed.
'Til Death Couples Tattoos
We all believe and promise our lovers that we shall stick by them till the end. Which ends up in one single sentence, 'Till death takes us apart. That is the case for these Matching Couple tattoos.
They both have inscribed matching Couples Tattoos which are identical in shape and font. They went with designs that are simple, elegant, and trendy. Something which works for everyone at all times.
Paper Flight Couples Tattoos
Such a simple and poetic tattoo to get inked for. It has a subtle representation of two heads stuck together in such a romantic yet elegant manner. It resembles whimsical love, which has no end.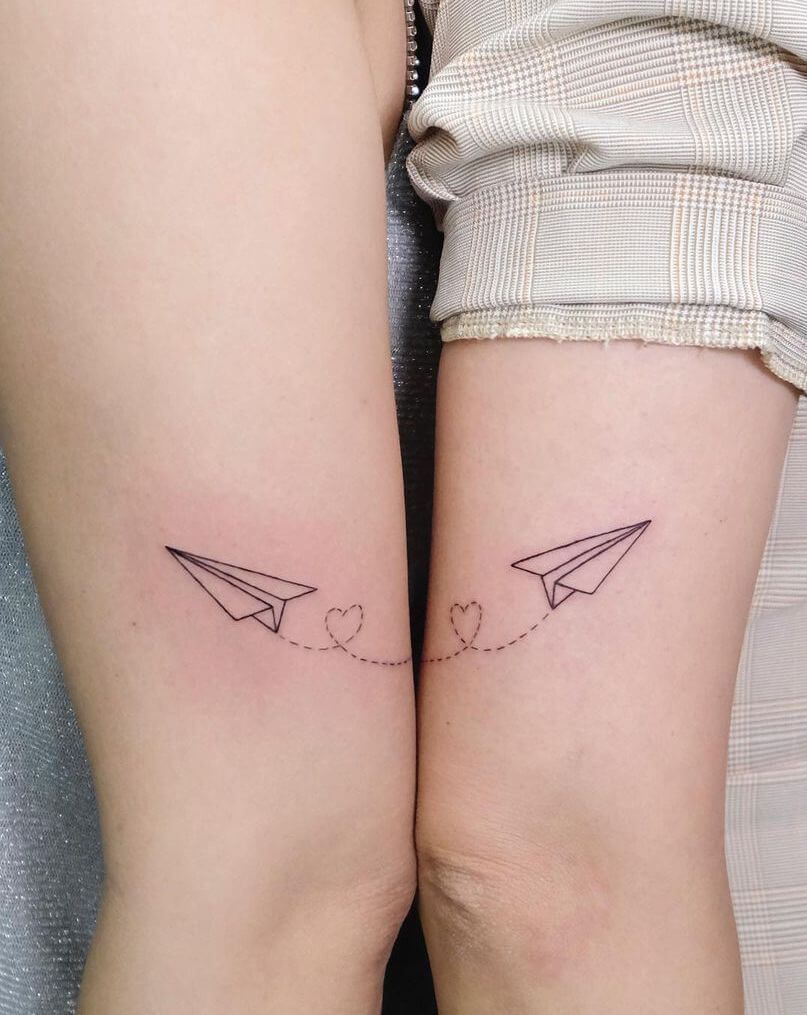 These tattoo artists do have a story to narrate, and getting one for yourself is always a better option than settling for something that you hardly like for the day.
Sea and Mountain Couples Tattoos
If you are getting a tattoo with your partner, it has to be special. This means you need to collectively put something which deserves you, people, together as a whole. Such as this simple concept of the Sea and Mountains.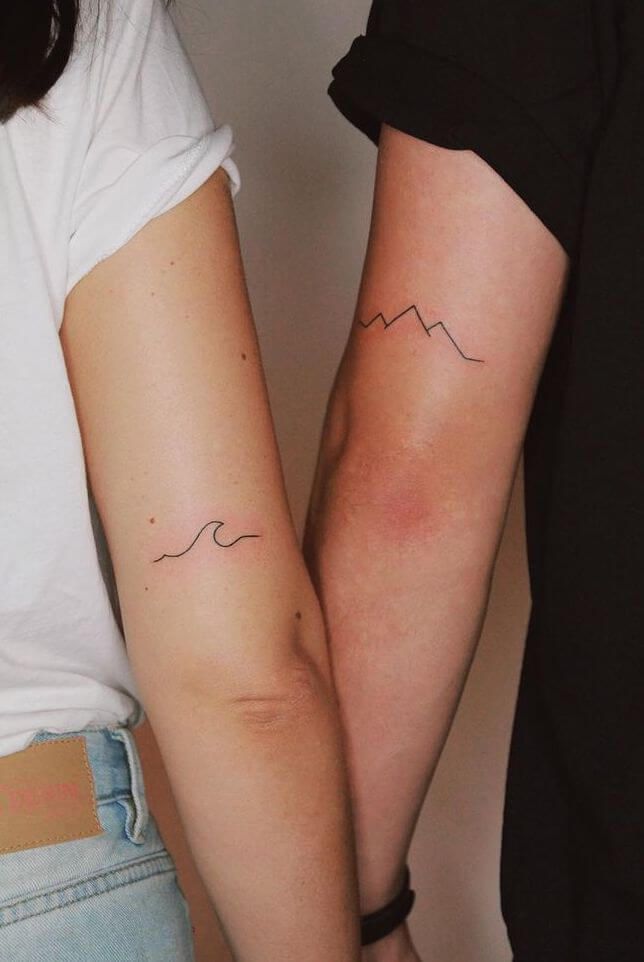 Putting nature in a tattoo design is one of the things which makes a good and homely artwork. These Matching Couple Tattoos have similar fonts of a Sea Wave and a Mountain peak.
Check Out: Wedding Footwear for Couples
Ring Style Couples Tattoos
These are identical tattoos that resemble one another. these are some of the most directive designs for tattoo art, where you can find the same Couple of Tattoos on each other's arms.
These are shaped like rings, and the best part it has been inked on the ring fingers too. This is one that like the sweet irony of till death takes us apart and a promise of a lifetime.
'You are my Person' Couples Tattoos
This is a simple Puzzle tattoo design, which isn't much of a thing when you are looking at it as it is. Rather it takes the shape of something when you are placing each other's hands together.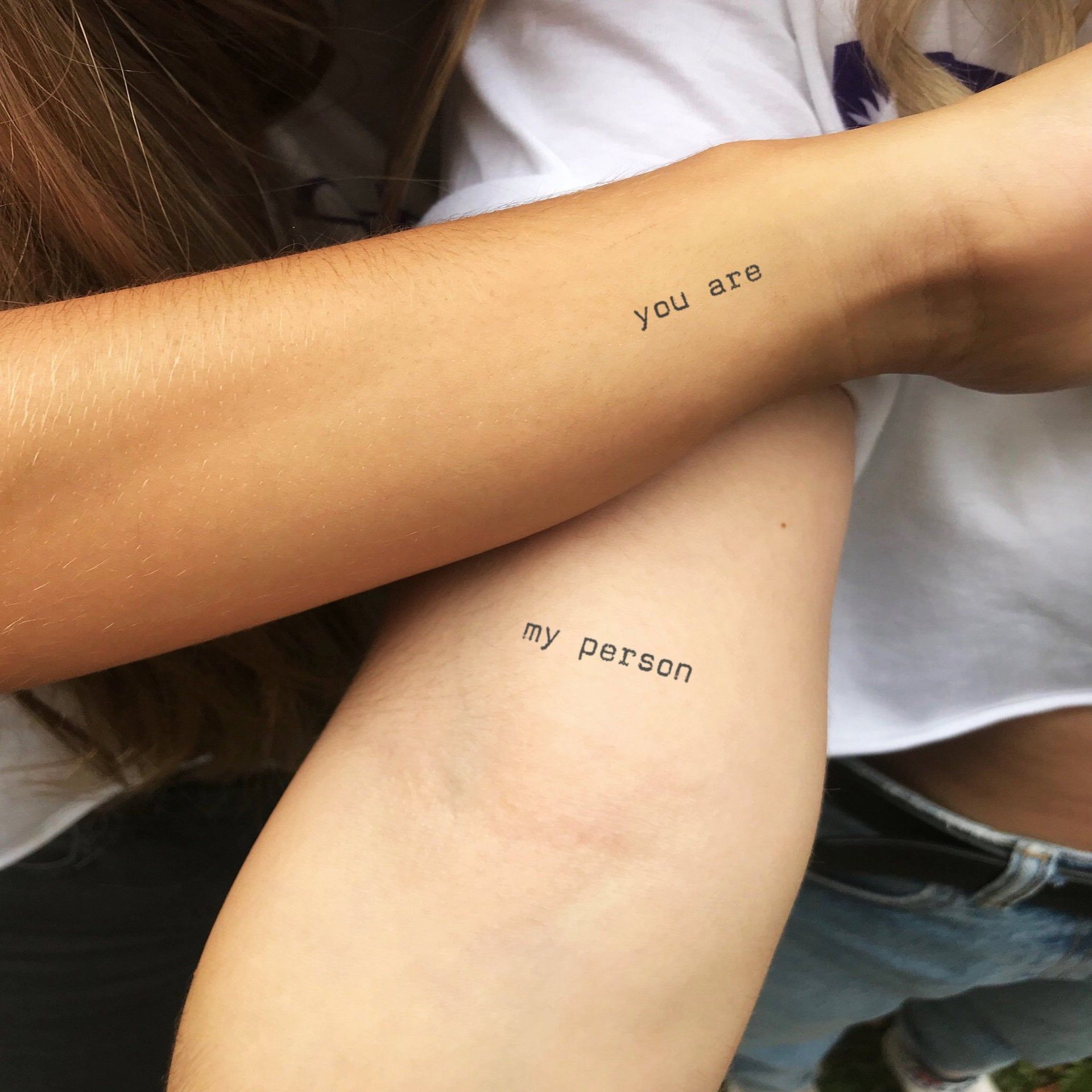 While one has the quote. 'You are the other person has inscribed 'my person. This is one of the sweetest Matching Couple tattoos which you can opt for for yourself and with your partner.
Check Out: Couple Rings Designs 
Finger Puzzle Couples Tattoos
Like love, puzzle pieces are also difficult to sort out. Especially when they are left far from one another. these are a few of such amazing Matching Couple tattoo that forms a space when placed together.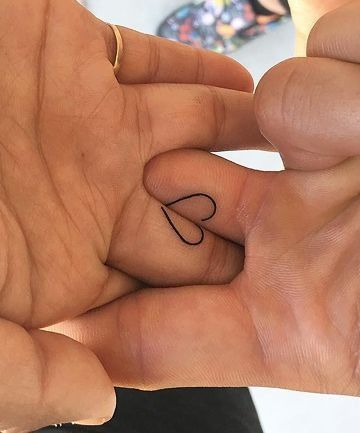 They hardly have any meaning when kept apart, but as soon as you put the pieces together in a row, it forms and takes the shape of something. In some cases, it is words or quotes, that form meaning when placed together.
Lock and Key Couples Tattoos
Getting a tattoo is not a compulsion but most couples are getting these nowadays.  These are extremely simple things that make the best tattoo ideas. A stylish couple tattoo, with a story behind it.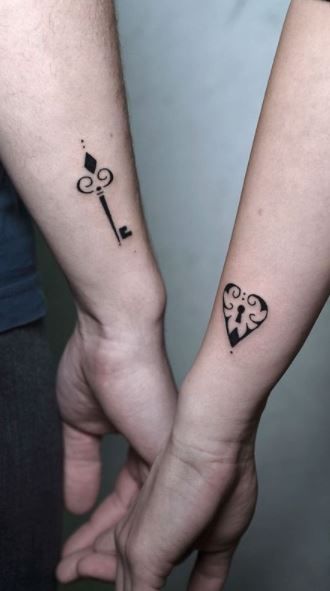 Make sure, you have the right pair for the day. This is one of the best and most stylish designs for the day. Matching tattoos are ideal for the best part. Wrist jewelry looks the best with a fancy tattoo design like a lock and Key Couple Tattoos. 
Yes, pairing Matching Couple Tattoos with accent jewelry pieces is probably the best thing ever. It starts with choosing some nice ornaments for you and your partner to wearing it for the day. 
Make sure you are wearing it with all that you have in the prettiest way possible. It is glamorous, glossy, study and has the best finishing too. Here we have some amazing designs for the day. 
The above-mentioned Matching Couple Tattoos are super cute, cool, and easily workable. Don't worry about the pain, it is worth it. In fact, you can always ask your tattoo artist for a temporary one. 
They'll help you get a temporary tattoo, just to get a hand on it before the permanent one. Trust me, it is all about starting from the basics, which in turn becomes a permanent part of your life, just like the relationship. 
 At myMandap we provide our users with the place for the most memorable things for their partners. Starting with the most amazing decoration to the beautiful wedding ceremony of your dreams. 
Celebrate your dream wedding with myMandap and share your love with us in the comment section. At myMandap, we are eager to hear from our reader's end.