Naming ceremony invitation cards are the next most important thing after you have selected a date for your little one. This is a really important occasion for your Munchkin, and we have curated a list of the most authentic ideas for a naming ceremony invitation. 
List of Naming Ceremony Invitation Card Ideas:
Having your child's first big event in the best way possible is on every parent's bucket list. Irrespective of the theme and manure. Here we have some of the most popular forms of naming ceremony invitation cards that you can incorporate for your little one. 
Traditional Indian- Naming Ceremony Invitation
For your little munchkins naming ceremony invitation, you can always be traditional and bring that classic touch to the ceremony. You can use cards that are Indian-inspired for your invitees. Other than ethnic designs and religious symbolic icons, you can also opt for different Indian cultural languages for the invitation card.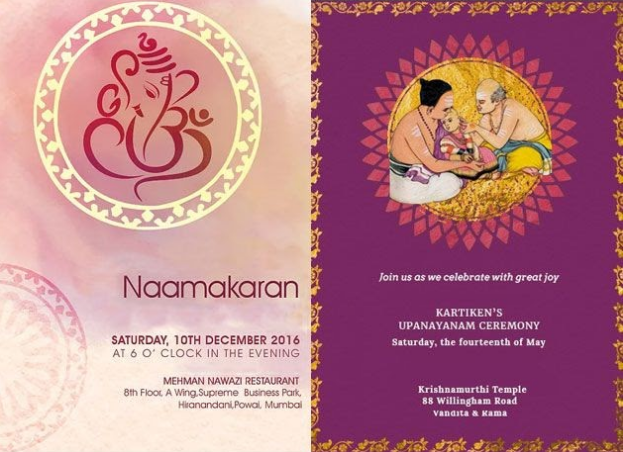 Buy Now
Idea:
The usual 'Swastika' and Manglik card, which is for the goodness of positivity in Hinduism. Or, some other form of 'lantern' or holy symbols, to commute to the traditional format of Naming ceremony invitation. 
Picture Invite- Naming ceremony Invitation
Give a little hint to all your guests with certain cute pictures inspired by naming ceremony invitation cards. What you can do next is when the baby arrives click some amazing cute pictures of him or her. Then you can obviously use one of those cute moments you have clicked of your little one for the naming ceremony.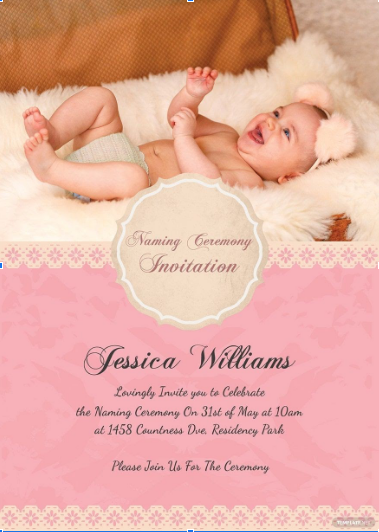 Buy Now
Idea:
Instead of using posterior pictures with the face, use images that show their little 'feet' or fingers. That is somewhat like a little tease towards the guests who have appeared for the cradle ceremony invitation. 
Disney Princess- Cradle Ceremony Invitation
Disney princess is a baby girl's all-time favorite character. You should definitely put Disney Princess as a theme in your invitation templates for the grand day. There are a lot of designs. Opt for a pretty Disney Princess and surprise your guests for the big day of your jellybean.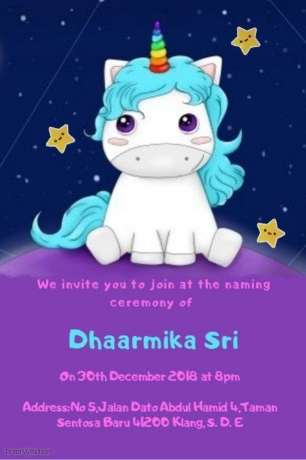 View More Designs
Idea
:
If you have a little boy, dress them up like 'Simba' or any other popular Disney character like Mickey Mouse and Looney Tunes. If you have a little girl, simply dress them up like a little princess for the naming ceremony invitation.
Lord Krishna in Cradle- Cradle Ceremony Invitation
Keeping a baby boy's name after the name of a baby God is not a bad idea at all. For your naming ceremony invitation card, you can always keep that as the theme for all your invitees. You can bring the surprise later on by giving the guests a hint of what your baby boy's name is going to be.
View More Designs
Idea:
The idea here stays simple, for the Naming ceremony invitation cards you'll have to put symbols related to Lord krishna. Like a Peacock feather, or a 'Flute' that gives a hint of the little 'Kanha'.
Also check: Luxury Couple Watches for Weddings Gifts
Cradle Ceremony Invitation
A cradle plays a very important role in a baby's life. So why not use it on one of the most important days of your munchkins. A cradle ceremony invitation card is the perfect design of your invitees.There are ample cradle designs which you can incorporate in your invitation card for the big day.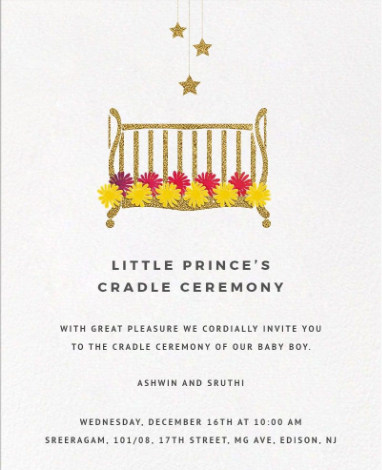 View More Designs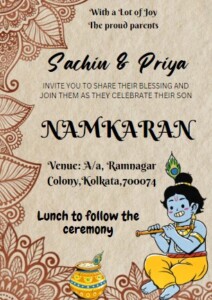 Buy Now
Idea:
Pur pictures, and icons related to a friend Cradle. That signifies the emphasis on a cradle in a baby's life. The naming ceremony card, with the picture of a cradle, is an appropriate option for new parents. 
Nature-Inspired Naming Ceremony Cards
The day you name your baby and introduce your little one to all your friends and family with a naming ceremony card that is inspired by nature. You can be creative and add cute animals. You can also add beautiful flowers that add rights to your theme which is nature for naming ceremony cards.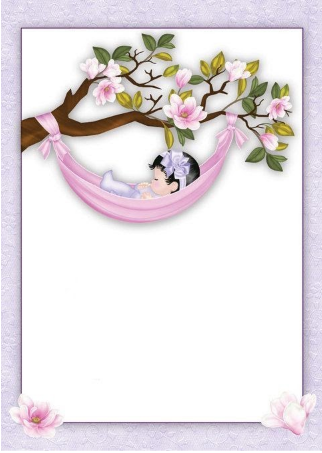 Buy Now
Idea:
Introduce little pictures of animals and flowers that your child likes. If you're a pet in the house use their images in the naming ceremony invitation card. Or simply put up pictures of leaves and flowers. 
View more: Naming Ceremony Decorations
Animated Naming Ceremony Invitation
Babies love animations, animated pictures, cartoons, etc. you can opt for those pretty animated characters, pictures in the card templates for your invitees. This will surely fit the theme perfectly and make your little baby's day the most important one. An animated invitation card will impress your guests for sure.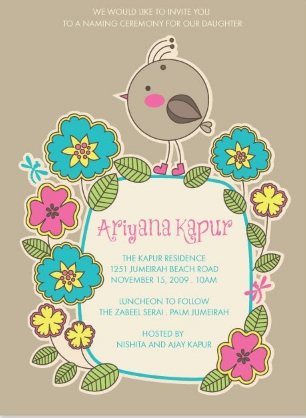 View More Designs
Idea:
Use images for animated cartoons that your kid enjoys watching. These are a very close and intimate connection with your child's favourite attributes. That is a really good option for a naming ceremony invitation. 
Also See: Latest Shadi Card Designs
Baby hands and feet Cradle Ceremony Invitation
A baby's hands and feet are the cutest things and nothing could be prettier than those. For your little one's naming ceremony, you can always use those pretty little hand and feet symbols in your cards which will surely overload the cuteness than it already is. You can take it a step further by personalizing it a bit more. Try taking the footprints and the handprints of your baby and have them featured in your templates. Surely your guests will be in awe.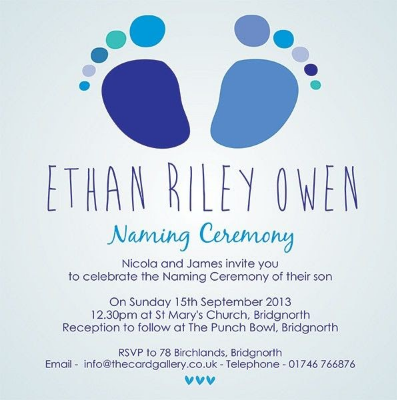 View More Designs
Idea:
Like the picture concept, this is a fairly similar idea but slightly different in terms of execution. The Naming ceremony invitation here has pictures and elements edited out in the card, and not directly the child's image. 
Teddy Bear Naming Ceremony Invitation
We all know that toys like Teddy bears play a big role in a baby's life. Every baby likes to play with teddies. It would be a great idea to use it as a theme in your cradle ceremony invitation templates for the big day. You can be creative and use more designs to make it look more eye-catching for your guests.
Idea:
Your Naming invitation card would have plenty of images and elements of a teddy bear. Not just a teddy, but also other soft toys that your child is comfortable around. This is also a great idea for the ceremonial theme and decoration. 
If you are not interested in a physical naming ceremony invitation for your baby's special day, there's nothing to worry about. Instead of physically sending invitation cards to your guests, just send a Whatsapp or text message invitation with all those fancy naming ceremony message templates. It will look as authentic as those invitation cards for sure.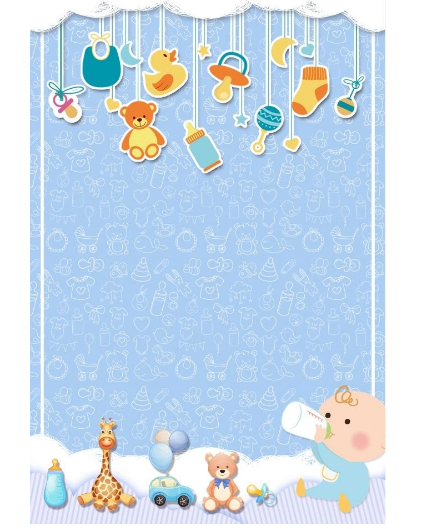 View More Designs
Idea:
Much better if you create an Ecard that has the attributes suggested above. Like a beautiful text that you desire to put up with any of the above concepts. Like pictures, animations, and even invite videos for the electronic Naming ceremony invitation cards. 
 Check  Also: Amazing Wedding Invitation Quotes 
For more such ideas related to naming ceremony décoration and other events visit the myMandap blog. And get access to the best ideas for your big day!