A nose ring is one of the many ornaments and pieces of jewellery worn by an Indian Bride. Classy Nath Designs and styles are under consideration before the wedding day. Brides search through a zillion designs before settling for that one piece of nath design. 
What is a Nath? A nath is a nose ring, which is worn on top of the sides of the nose. It is either worn with a simple nose pin, which is an ideal hook for the nose. Otherwise, it is the same ornament with a chain extension. 
This is one of the main ornaments worn directly up front on the face. It is special, well-decorated and enhanced with special details. What I find extremely good about this design are its simplicity and beauty. 
You can have a lot more common strands which makes it an ideal design for D-Day. Infact among so many options for designs, this is the only ornament which is extremely well placed. Here, we have some of the coolest options for Bridal nath designs. 
Top 10 Beautiful and Elegant Bridal Nose Rings and Naths:
A Bride is adorned with precious ornaments from head to toe. Starting with pretty Bridal Maang Tikka and Matha Pattis, to extremely beautiful earrings and necklaces. Sleek and thick bangles and Kadas, Armlets, Bracelets, Kamarbandhs and finally Naths. 
Every bride wears a pretty Nath on their face for the day of the wedding ceremony. This is one of the accessories which completes the bridal attire and makes her look the best. 
A Nath Design completes the Bridal Look most beautifully. This is one of the classiest ornaments which can elevate your look from a zero to a full-on hundred. 
Elegant styles for classy and simple Nath Designs for the Bridal attire. Here we have enlisted some of such amazing Bridal Nath Designs and Nose Ring designs for the Bridal Jewellery Set. 
Diamond Nath Design
Diamonds are a girl's best friend and there is nothing beyond them. A bridal nath design which has been encrusted with those precious stones, literally the cherry on top of the birthday cake. 
The precious stone is moistly cut, rubbed and created according to the ornament inspiration. If it is an Engagement ring, then there you have Solitaire or Cushion Cut diamonds as an option.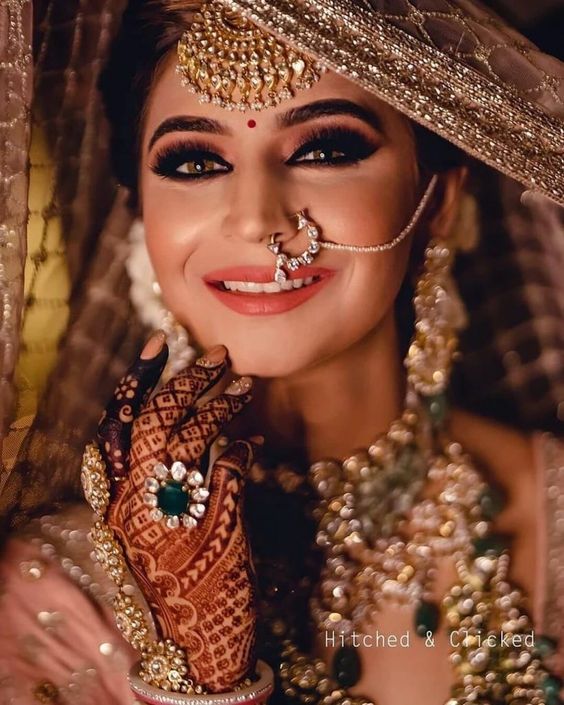 Whereas an earring would require teeny-tiny works of embellishments. On the contrary, a Nath Design would demand bead-style diamonds for the look. 
This is the beauty of such a precious accessory. A woman wearing a diamond Nath, wouldn't need any chain extension. The wedding look would be in place with just the Diamond Nose Ring. 
Check more:Adorable Bridal Nath Designs
Marathi Nathni Nath Design
They do not call it a Nath Design but a Nathni in Marathi.  It is a simple round nose ring which is slightly different from the usual style of nath design. 
This is a Gold Nath Design, which is traditionally in the family for a while. Such Nathni designs are passed over from one generation to the next, making it a family heirloom. 
This became a trend in the last couple of years, where you send a simple nath design for your wedding ceremony. Wide range of designs simplifying the same category. 
Some designs with a few drops of pearls and decorations as such. This is one of the pretty awesome styles, and pairing this look with a crescent moon Bindi can't ever go wrong. 
Pearl Nath Design
Hanging pearls are the sweetest embellishments which make a Nath Design even more prominent. Features like these accentuate a piece of nose ring the most. 
 Pearls decorate a piece of jewellery in the most romantic and pretty manner. This is one of the things about pearl danglings, which are not just cute but extremely pretty too. 
Such a nose ring is one of the most popular designs, perfect for your big day. You can find multiple options for these pretty designs on online shopping websites. 
A product like this is a website favourite. I am in love with these Nath Designs. Which are simple, yet have the bling of some white pearls. 
Tamilian Nose Rings and Naths
The patterns of these designs are traditional and they have embellished bling on top of them. Such golden nose ring designs are encrusted with precious and semi-precious stones. 
Gold Nath Designs with Ruby and Emerald embellishments on top. That is the theme of most South Indian Bridal Jewellery Sets. The pattern is typical of a traditional Temple Jewellery Set. 
What I found pretty about these designs is the Tamilian Culture. While most other communities only wear Nosepins and Nath Designs on the left-hand side of the face. Tamilians have jewellery for both ends of the nose. 
One for the right, one for the left and another one for the middle parting. The middle piercing is called Septum. Such Nath Designs are pretty uncommon in most Indian states. 
Antique Nath Design
Antique Gold Nath Designs are the most popular noserings, common for most Indian Brides. Such lovely ornaments look beautiful and they have very pretty decorations. 
You can gift such beautiful Nath Designs to your loved one. Antique ornaments are mostly made out of Gold, which is undoubtedly a precious metal. Infact most family hand down their jewellery to their younger ones.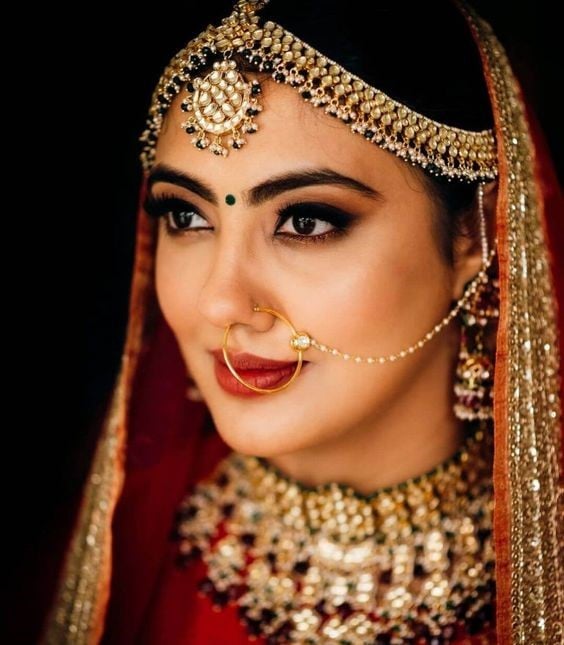 You can get these at any offline Jewellery store. Such ornaments are widely available in forms of authentic ornaments and also as statement jewellery sets. The antique pattern has prominent embroideries on the top. 
 More than just the design, this is a style of all styles. Moreover, you can edit such an ornament for your wearing, like just a nosering, with an attached gold chain or just the chain as a whole. 
Glamorous and Bold Nath Design
The size of this Nath Design speaks for itself. Infact an ornament like this looks more like a bangle than just a Nose Ring Design for the Bride. Weddings are once-in-a-lifetime things, and an ornament like this is worth it. 
The size is huge, and the pictures would stay throughout your life. That is exactly the reason why most Brides might opt for it for their Bridal Nath Designs. The reviews aren't so bad for these.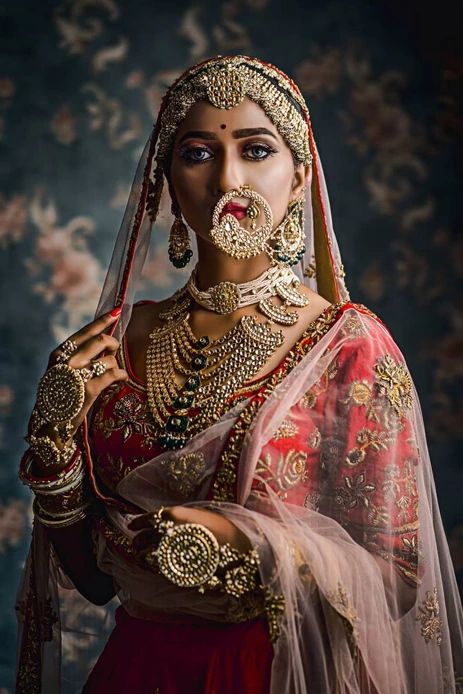 Infact you do get a mixed audience for these. Some people like these over many other designs, while some prefer to keep it simple with a minimal Nath Design. This is one of the simplest yet extremely bold Nath Designs.
Just a Nose Ring design, would bring attention to your face. Infact you can get the most out of it, which would make the best pictures. Bridal Portraits in these styles are the best ones. 
Rajasthani Red Nose Rings 
A Rajasthani Bride wears many ornaments, which include pretty awesome Maang Tikka, Matha Patti, Chocker, Long Maharani Necklace and many other popular designs at the most.  
Such a beautiful ornament set has it all, right from the prettiest necklace to the most beautiful bridal order. This is one of the best things about a Rajasthani Enamelled Jewellery Set. 
Yes, Rajasthan is known for its extremely well-known Meenakari Jewellery Set. This is one of such amazing Nath designs that has been decorated with a pretty layer of hanging red beads. 
Bridal Nath Designs like these, have been decorated with really pretty red stones and when white stones. Such a combination of Meenakari with Kundan art is pretty and quite popular too. 
Rajputana Nath Design
Rajasthani jewellery set, with well-decorated stones, pearls and extremely pretty necklaces. This is one of such amazing Rajputana Nath Designs. This is one of the best designs for D-Day. 
Such a pretty jewellery set became a trend since the Bollywood Film, 'Jodha Akbar'. In the movie where Aishwarya Rai Bachan played the role of Jodhaa Bai who was a Rajpur Princess, wedded to the Mughal King Akbar.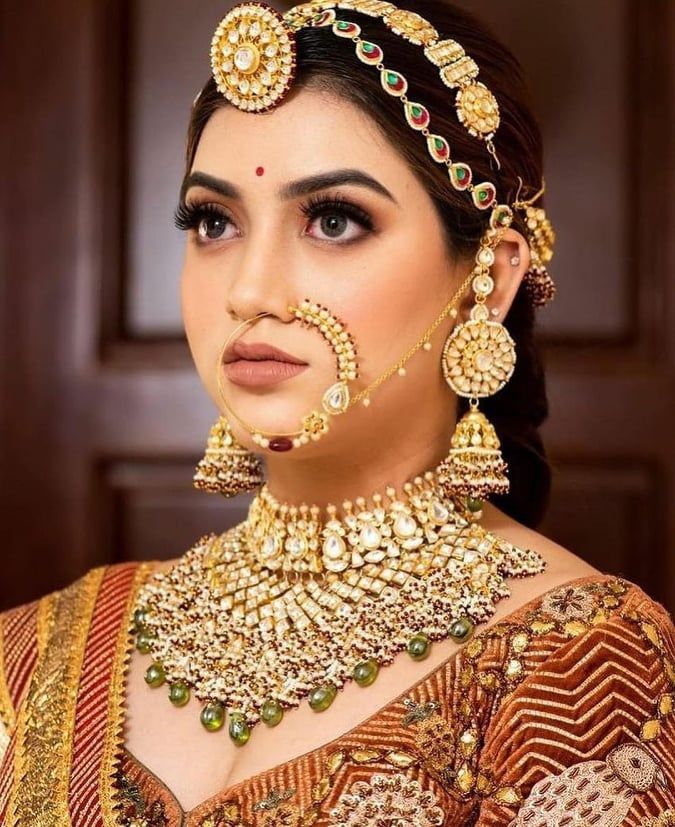 Nath Designs like these are quite popular. Infact these are pretty awesome, where the Kundan work and Meenakari design are used to decorate in the prettiest manner. 
These are some of the best options for D-Day, where the design has been used to decorate the simplest parts of the look. The bridal look is completed with such a pretty Rajputana Nath Design. 
Kundan Nath Design
In North India, Kundan and Meenakari work are quite popular. Kundan Nath design is a beautiful Kundan Nath Design which has pretty awesome white stone and mirrorwork designs encrusted on top. 
This is of the best Nath Design which is decorated with awesome stones and other embroideries on top of it. It is an extremely pretty Kundan Nath Set with white stones.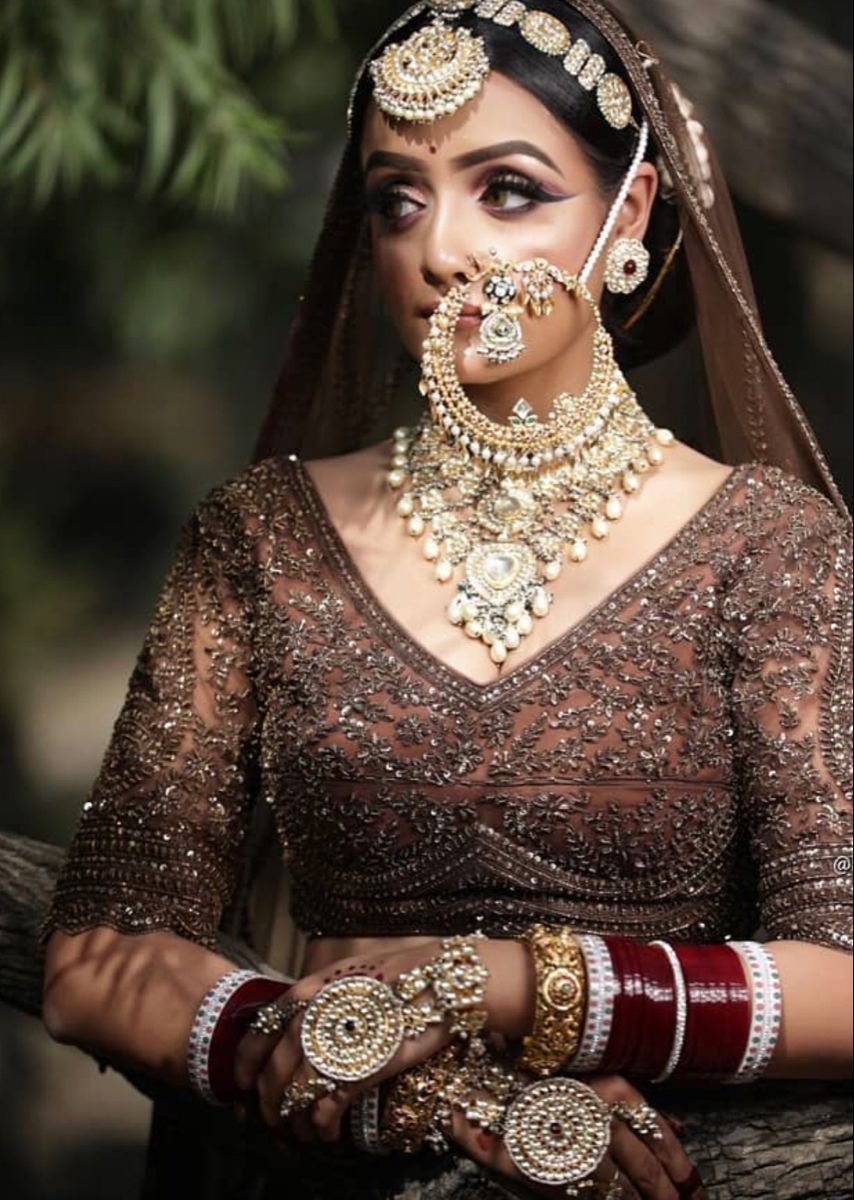 Such a simple ornament can literally can the look from a zero to a full hero. This look can make the face look the best, and you can add the prettiest decorations on top of it. 
A Kundan set with white stones has been very popular too. This is an organized Nath Design, which is perfect for Lehenga, Sharara Set, Gharara Set, Anarkali Suit and other popular Bridal outfits. 
Emerald Green Nath Design
Stones which has a pretty finding has always been my personal favourite. And precious stones are the best possible decoration and are used to decorate the simplest of ornaments and jewellery. 
Emerald Nath's design is one of the looks where the bridal Nose Design can mix and match well with the decoration. This is an extremely well-decorated look that you can match with almost any attire.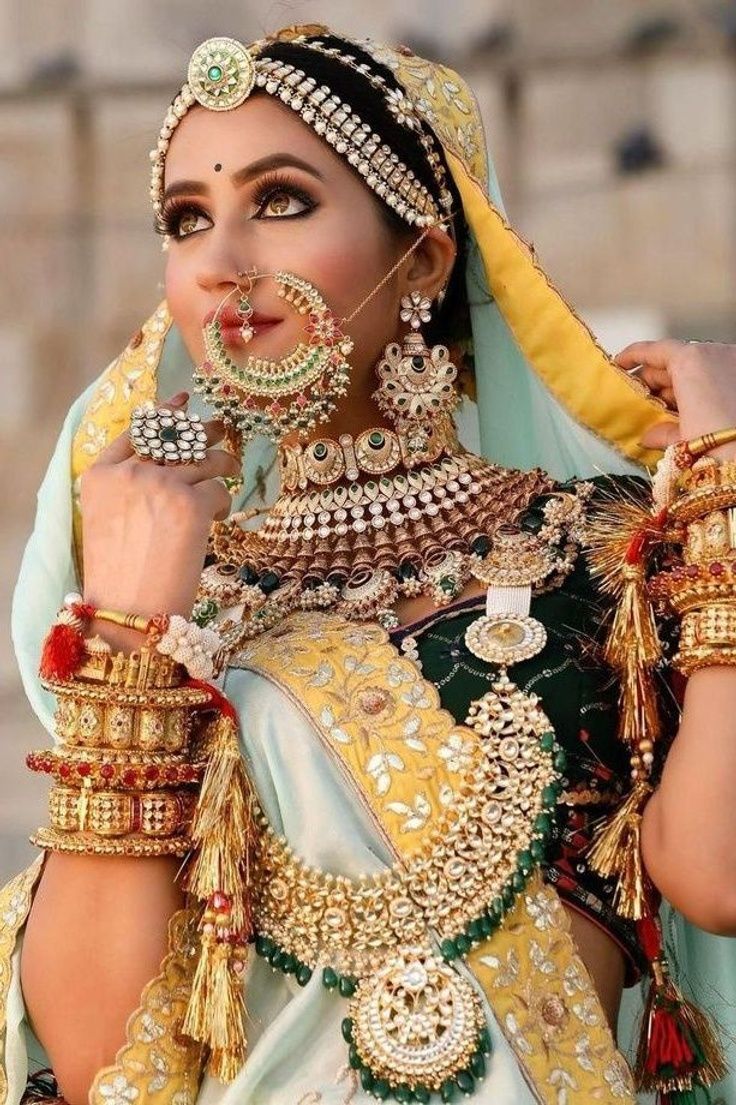 It is one of the styles which can make a simple bridal Benerasi Saree turn into a beautiful look. The best styles for the bride, who is searching for a Nose Ring Design for the Reception Ceremony. 
It's is one of the styles where you can use little ornaments and styles to make the most out of the basic look. You can dress up in your desired suit and dress up into such pretty Emerald Bridal Nose Rings. 
There are many things which make a bridal look perfect. That starts with a full face of confidence and the right smile to seal the deal. Bridal Nath Designs of the same type and style according to the wearer's choice. 
Now the choice of metal depends on the wearer, as mentioned earlier. While some prefer to keep it simple by wearing a traditional Gold Nosepin, the rest might amp up their look. 
Brides wearing fancy Nose Ring Designs with an extended chai, go for a statement piece. Which has been curated by a designer, but has not been refurbished on the precious metal. 
On the contrary, the ones which are made out of gold; are a little less bling and glossy. They are simple and subtle. Something which can be worn again, even after the wedding ceremony. 
The above-mentioned Nath Designs for Brides are the best options. You can find many other popular wedding trends here. Bridal Fashion, Jewellery and even options for the Groom. 
At myMandap you can have the best wedding ceremony of your dreams. If you like the mentioned Nose Rings designs, then do not forget to let us know in the comment section.