Bridal Nath is an enigma. 'Piche Piche Aunda meri Chal vi Na ai' This ever so beautiful folk song released in the year 1987 and made legendary by Noor Jehan specifically captures the essence of the Nath or a Laung. 
The song is a playful request by a young girl to her lover to help find her 'Laung'. It has fallen somewhere and she can't find it. The Gold Nath is precious for the Indian woman. 
The Nose ring is one of 'the' most important pieces of jewellery in any Indian wedding. Wearing the small Nath or nose stud denotes the fact that a girl has stepped on to 'womanhood'.
Likewise, the bridal nose ring and its design are one of the most discussed aspects before the wedding. 
Any bridal look and makeup are incomplete without the Nath. Hence, we at myMandap bring to you the Top 10 Trendy and Modern Bridal Nath Designs for the perfect Bridal Jewellery Set. 
1. The Oversized Bridal Nath
Have you taken a look at the wedding pictures of Saif Ali Khan and Amrita Singh? Did you catch the bridal Nath that Singh was adorning? Well, it was a heritage piece of jewellery and clearly showcased the Indian Tradition.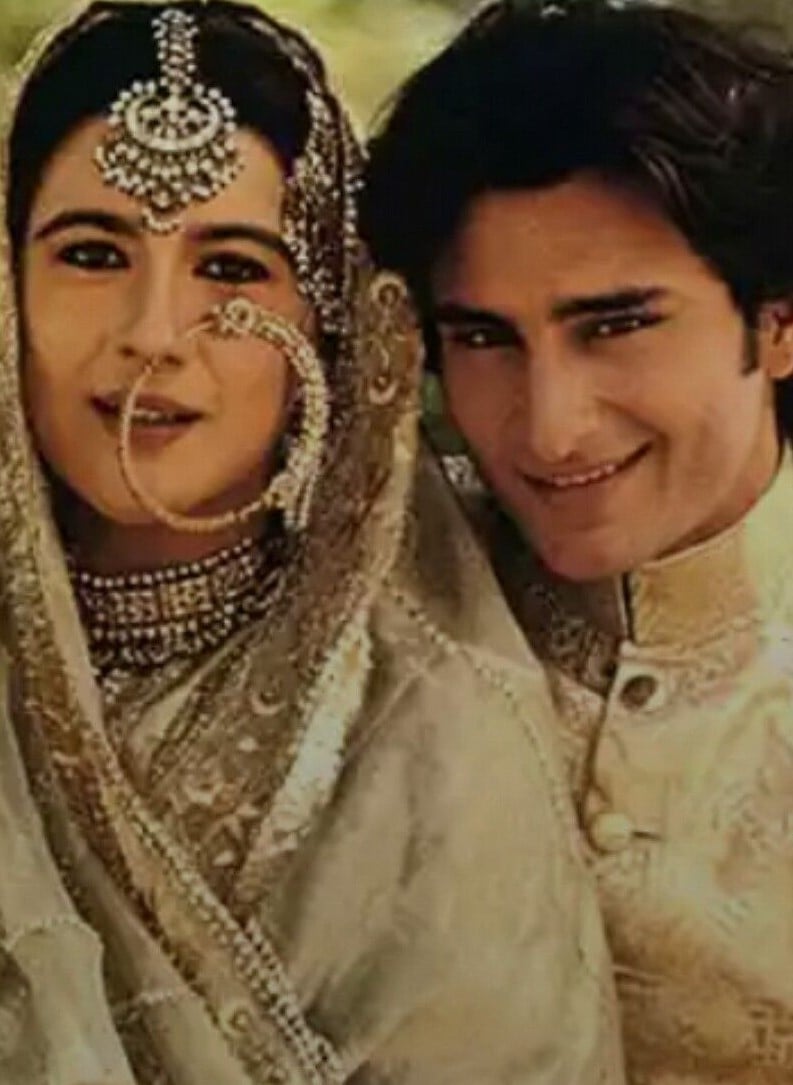 Most people would have considered the intricate design to be 'exaggerated' but it is a statement piece and we cannot agree more. So, if you want one piece of your bridal jewellery to 'stand out, it can be the Bridal Nath Design.
It clearly shows that you love tradition over typical designer ornaments.  You aren't afraid to flaunt it. Oh, yes, it also depicts the fact that you belong to a Royal Heritage, only then such an accessory is liable. 
Check Out: Kalire designs
2. The Small Bridal Nath design
Not someone to go for 'Big'? Well, go small on your wedding day Nath in this case. There are plenty of designs to choose from, in different shapes too.
The petite nose ring is available with different types of precious stones to select from. Most Millenial brides wish for their 'Laung' to be understated and subtle Matha Patti too.
As these are easy to manage, you will not have to spend time fidgeting with them every now and then. Hey did you notice the Sonam Kapoor and her Bridal Nath at the Vannes festival 2013? Well, now you know what we are talking about.
3. The Pearl Drop Bridal Nath Design
We love pearls for the special day. While the Stones are a quintessential part of any bridal nose ring, we love a change with pearls every once in a while. The Pearl drop design is great for bridal jewellery when you can opt for something different.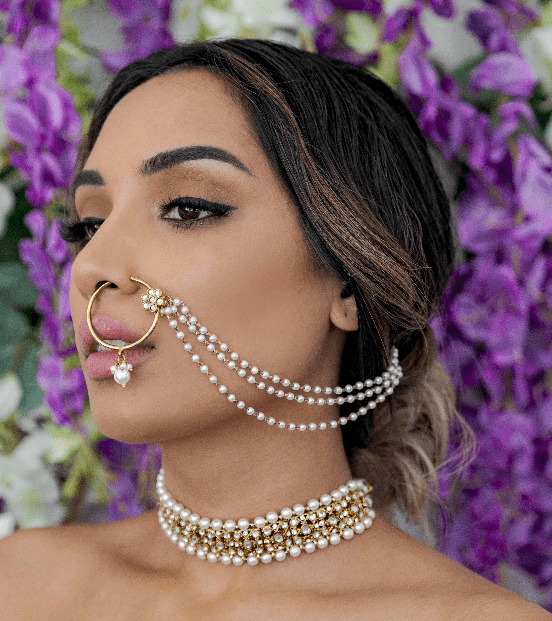 The best part about the Pearls is that they are all-time classics. You can also use the same Bridal Nath for your post-wedding functions and events or even the Mehendi Ceremony. Also, Pearls go with most outfits and look unique at the same time.
Read more: Polki Jewellery Designs
4. The Golden Hoop Bridal Nath
We all love celebrities and their Wedding Invitations. And we tend to follow the trends and latest news that resonate with our aesthetics. Likewise, celebrity weddings lay a benchmark for fashion and style.
The current bunch of Indian female celebs have been able to balance style with traditions the right way. Likewise, the gold hoop bridal Nath design adorned by Anushka Sharma and Deepika Padukone has caught the eyes of the public.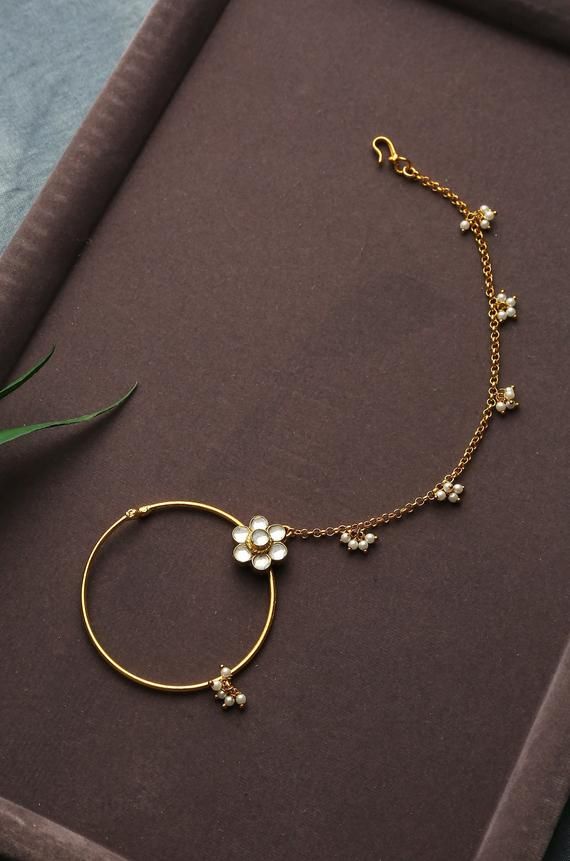 These were large, yet subtle and lightweight. Thus offering ease, comfort, and style at the same time. Go for the hoops, as these are simply lovely.
View more:  American Diamond Jewellery Sets
5. The Maharashtrian Bridal Nath
Watched Manikarnika yet? Well, we loved the exclusive Bridal Nath design worn by Kangana Ranaut to various promotional events for the film.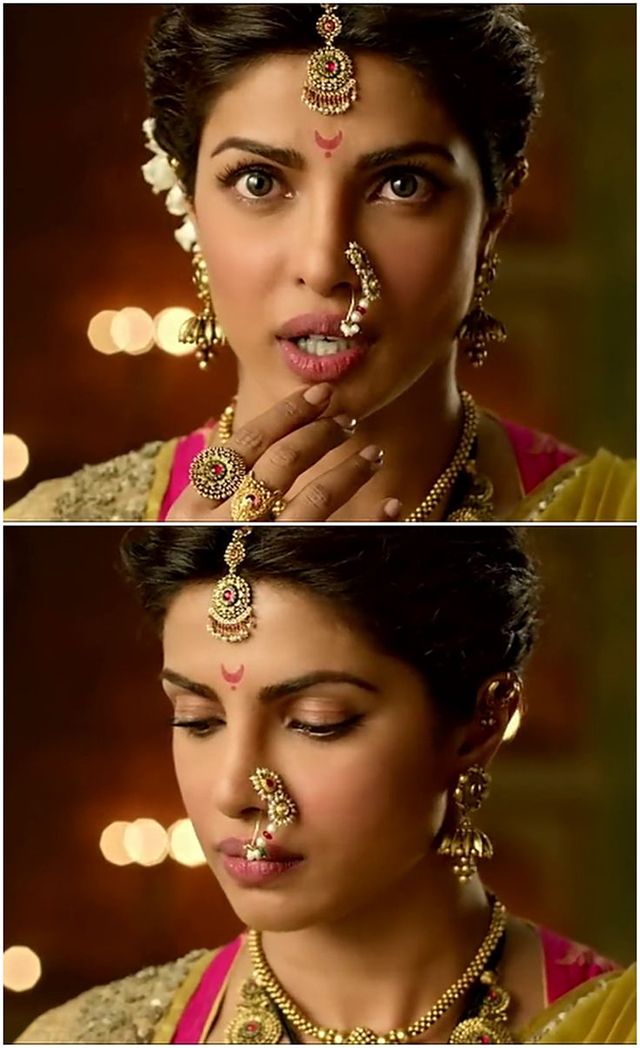 If you like your nose ring to comprise of Pearls, precious stones, and gold all in one place, then this is the perfect jewellery piece for you. What's more, this is my personal favourite, as it is just the right kind of 'flirty' and girly with a dash of tradition to go with it.
6. The Kundan Bridal Nath
We are talking about the legendary Madhubala from the classic 'Mughal-E-Azam'. Remember her nath in the song 'Mohe panghat pe'? While it is tough to concentrate on anything else apart from her timeless beauty, nevertheless, one can take cues from her Kundan nath.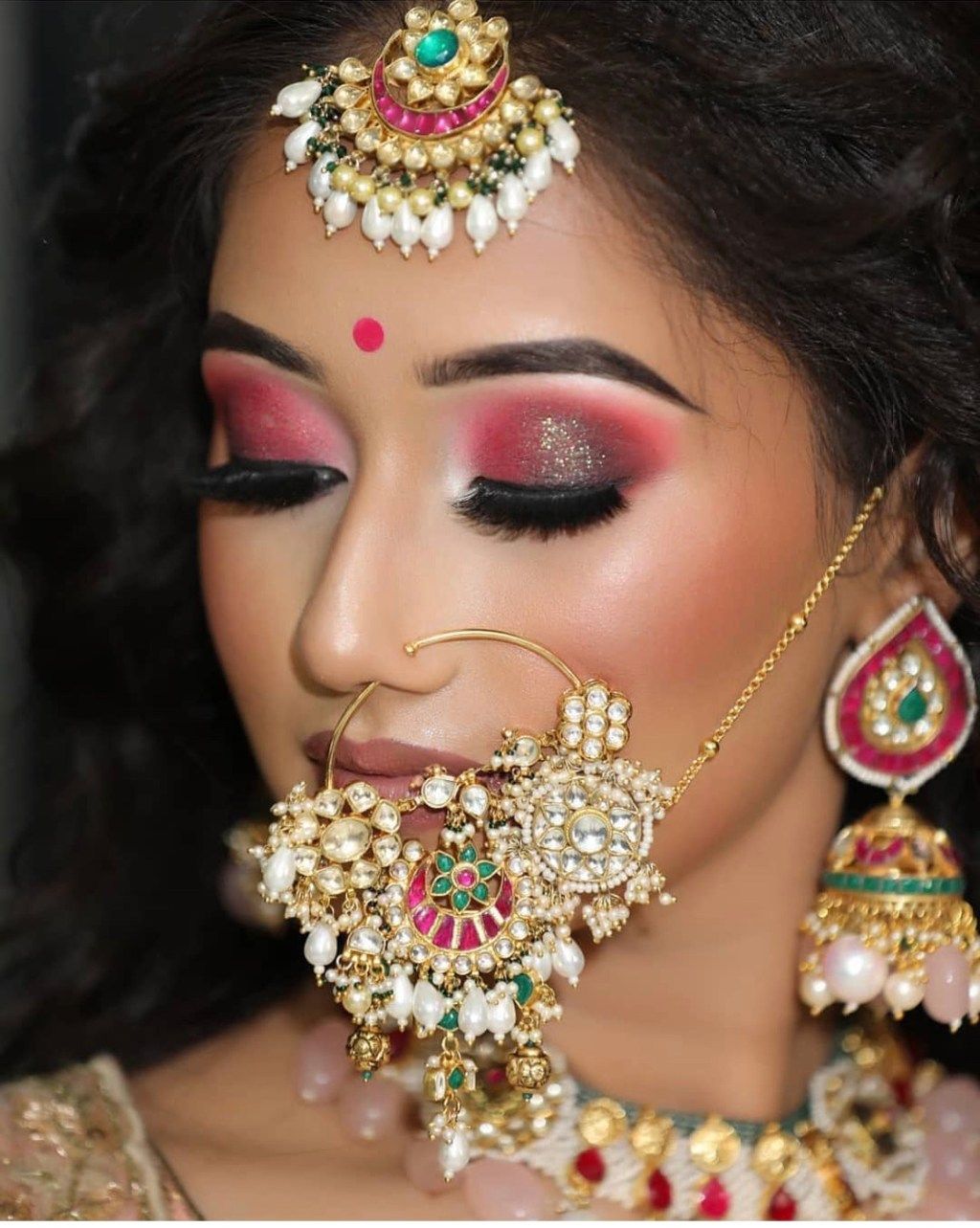 For a married woman, her nath or nose jewellery is just as important as her wedding attire. Hence, it needs to be just as exclusive. Who knows, you might want to pass it on to your daughter or daughter-in-law in the future, so it better be able to tell a 'story'.
7. Bridal Nath with chain
While we are talking about the nath, we need to take just as much care for the chain it dangles from. The chain can be of various designs and patterns. These can be made from a string of beads or a simple sleek gold chain to complement the design.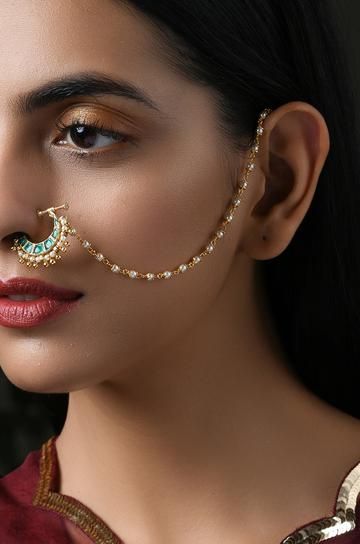 Not many take note, but the chain in most cases offers the perfect look one needs to complete the entire bridal outfit on the big day. There are also Nath designs that comprise more than one chain, thus making it a statement piece in itself.
8. The Nose Pin Bridal Nath Design
Not all of us might favour the Nath or the Nathiya. Some of us prefer the simplicity of the stud. This comprises using stone or a cluster of stones for the perfect look.
This could include Rubies, diamonds, or any other precious stones of your choice. The main reason for certain brides to opt for the stud is that it compliments her specific face shape, her bridal attire, and her taste.
9. The Sabayasachi Bridal Nath
We all love Sabyasachi and the Sabyasachi bride is the epitome of bridal beauty. Likewise, the jewellery pieces adorned are one of a kind and are designed to enhance the feminity of each woman.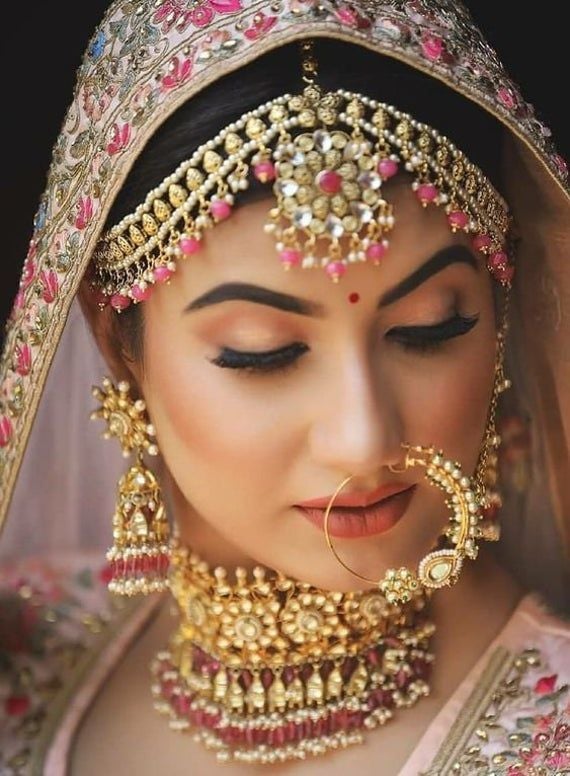 These comprise Pearls and delicate Meenakari work on them that makes them stand out. So, if you are up for this exclusive piece of beauty, be sure to pick just the piece for yourself.
See also: Silver Jewellery Sets
10. Special Encrusted Bridal Naths
The Pearl Encrusted Bridal Nath
These are sheer beauties. The design comprises a couple of pearls threaded into the plain golden hoop of the Nath design. Get the picture? 
These are surreal and look great with almost any wedding dress. Also, you can club this up with a chain with tiny pearls that make for the perfect bridal look.
The Green Emerald Bridal Nath
We couldn't get enough of Neeta Ambani's Green emerald Nath which was the highlight of the event at Akash Ambani's wedding. The nose ring is comprised of a set of green emeralds.
It was exclusive, pretty, and unique to say the least. While not all of us are from the 'Ambani clan' nevertheless, it does not hurt to take inspiration, does it?
Diamonds are a girl's best friend. True and why not? After all, nothing compliments a woman better than the cluster of the most precious stones on Earth. We love the exclusive creation of a row of diamonds along the arc of the nath when it comes to bridal jewellery.
These need to be tiny with just the centre one being a little larger than the rest. A nice sleek chain of tiny pearls in this creation makes for the perfect statement piece
The Stud and Pearl Bridal Nath
Wish to opt for something different from the rest? Well, it is the Stud and Pearl design we are going crazy for. This is all-exclusive for the Millennial bride who likes tradition but in the right amounts. 
This pattern comprises a stud or a cluster of stones that are en-chained with a string of tiny pearls to go with it. A perfect go-to for bridal wear that is not over the top yet pretty enough to be bridal wear.
Conclusion
Nose Piercing and adorning with jewellery are one of the oldest Indian practices. Some historians state that piercing a girl's nose was necessary as it was meant to 'cool down' her temperament.
Another theory goes that it is a prelude of pain endurance that womanhood is to bring about in a girl after the onset of her marriage. 
Whatever the reasons might be, there is no denying that nose jewellery is an important part of our culture.
Likewise, a bridal nath is important and we need to be able to select the right one for ourselves. The nose jewellery is no longer a symbol of submission, but a statement of choice. So, go out there and flaunt yours for the world to see.