Sherwani for Boys is the perfect outfit for children. Yes, that is true after dwelling on a lot of exciting content about Sherwani for Men and other associated Groom's Wedding Attire. 
 We have jumped into the world of Kids' outfits. Not just any random Western or Ethnic Suit, which are used to seeing. But super cute and gorgeous little Sherwani for Boys. 
These are exclusive for little boys, and these Sherwani suits are just meant for their glorious little combinations. These Outfits are fashionable and super-duper adorable. 
I find these Sherwani for Boys exclusively pretty, and such apparels are a perfect fit for their little Wedding Guest makeovers. Why not for the Little Men? When we have such exciting outfits for adults. 
Top 10 Adorable and Cute Sherwani for Boys:
Sherwani Designs are outright adorable. They happen to have the most exciting suit sets, embroidery and the prettiest cut. I'm a big fan of Sherwani Suits, especially when it is made in a miniature form and size. 
These are designs for little men, who like to be in style exactly like their father, uncle, brother or an elder they look up to. These are super cute Sherwani for Boys, which are made most beautifully.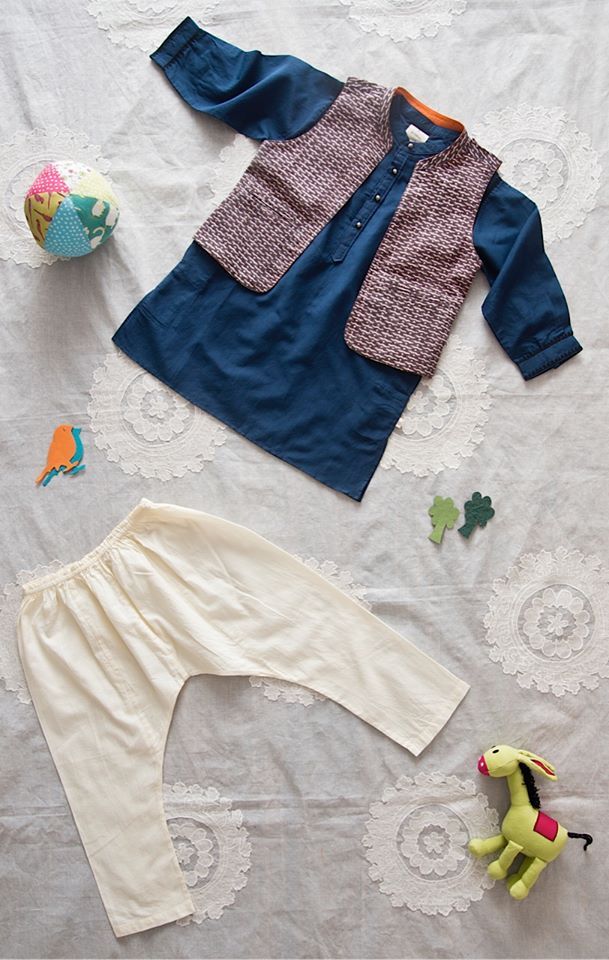 Most children do not feel comfortable wearing threadworks, which are super heavy and touch the skin. They like to wear airy outfits, which is exactly why we have gathered some of the most comfortable ones. 
Why make those little guys suffer, with fabrics that make them uncomfortable. Instead of that always choose a Sherwani for your little Boy, which is cute as well as comfortable for their body. 
Red Sherwani for Boys for Brothers
Red Sherwani Suits are exceptional, they look good on everyone. Irrelevant to one's size, shape or skin colour. The shade Red looks eerily good on everyone.
Exactly how this brother duo, wore the prettiest Sherwani for Boys in the colour red. Apart from their usual Kurta Pajama Set, they are all dressed in the most gorgeous Nehru Jacket.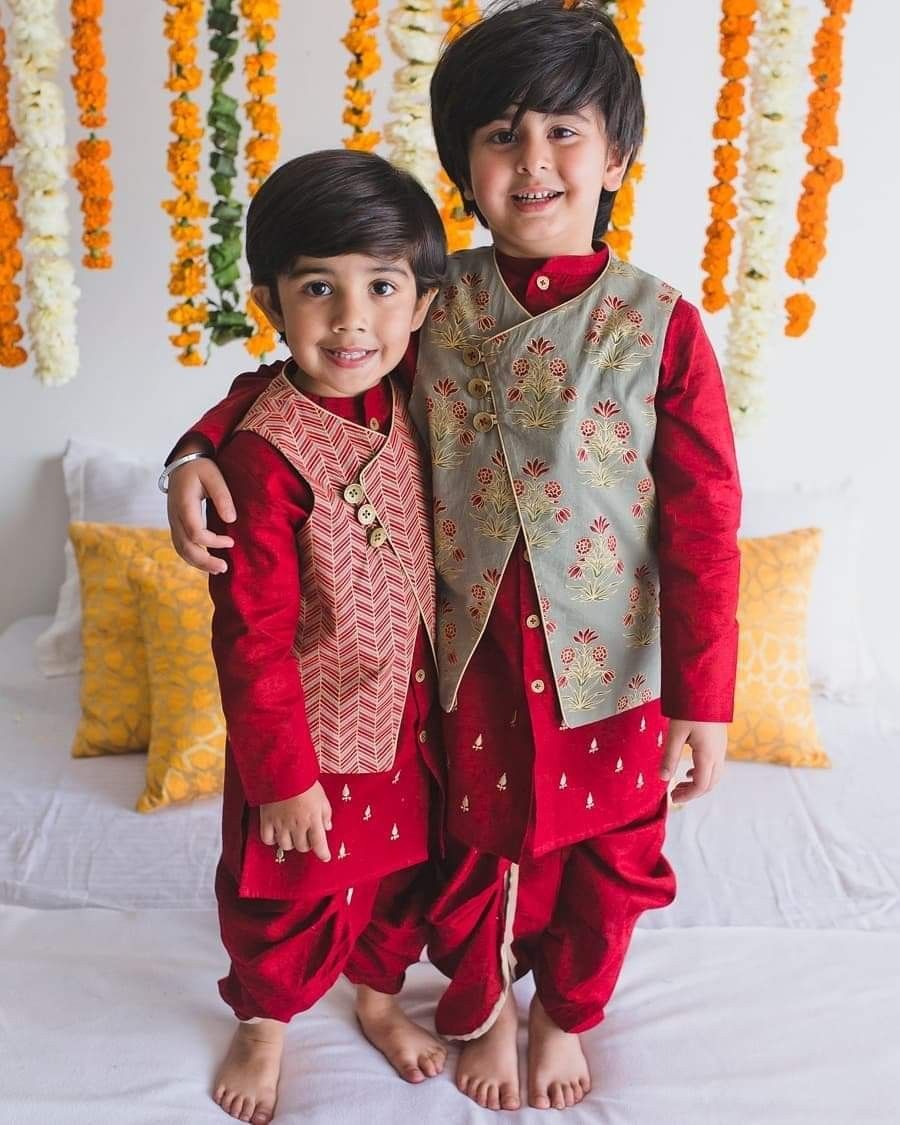 Children dressing up like Adults is the sweetest thing for any person out there. Everyone likes their fair share of such amazing and cute Children's outfits.
It is pretty awesome, and more than just words it has the most beautiful colour and shade pattern. It works like a wonder for the Twins, and brothers from the same age group.
Check out: Black Sherwani for Men
White Dhoti & Sherwani for Boys
'Am I not looking adorable in these super cute White Dhoti pants?' The answer to that is, 'Yes'. The boy is looking extremely well dressed in this combination.
He is a very little guy, probably the youngest one who has modelled for this Blog for Sherwani for Boys myMandap. The combination he is wearing is surreal.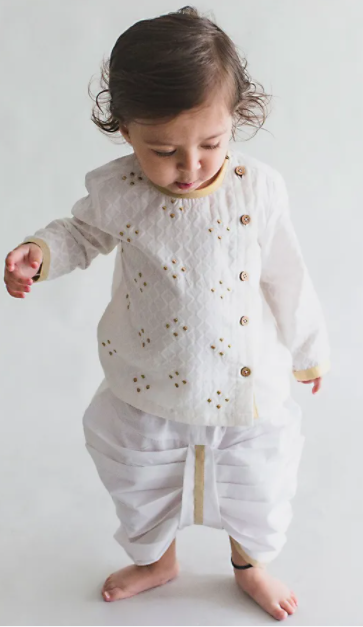 The white colour of the outfit has made his combination even more picturesque and realistic I find such combinations better than most other choices.
The little white dhoti which is the bottom wear for the boy is quite cute. The top wears Kurta, or Sherwani is equally traditional and doll-like for a Child.
Block Print Sherwani for Boys
Yes, cotton Sherwani for Boys is something which we all can count on for little children. As mentioned earlier, children do not like uncomfortable fabrics.
This is one of such amazing outfit choices for the groom. If you are not choosing it for a baby boy, you can always find a similar design at Fab India for adults.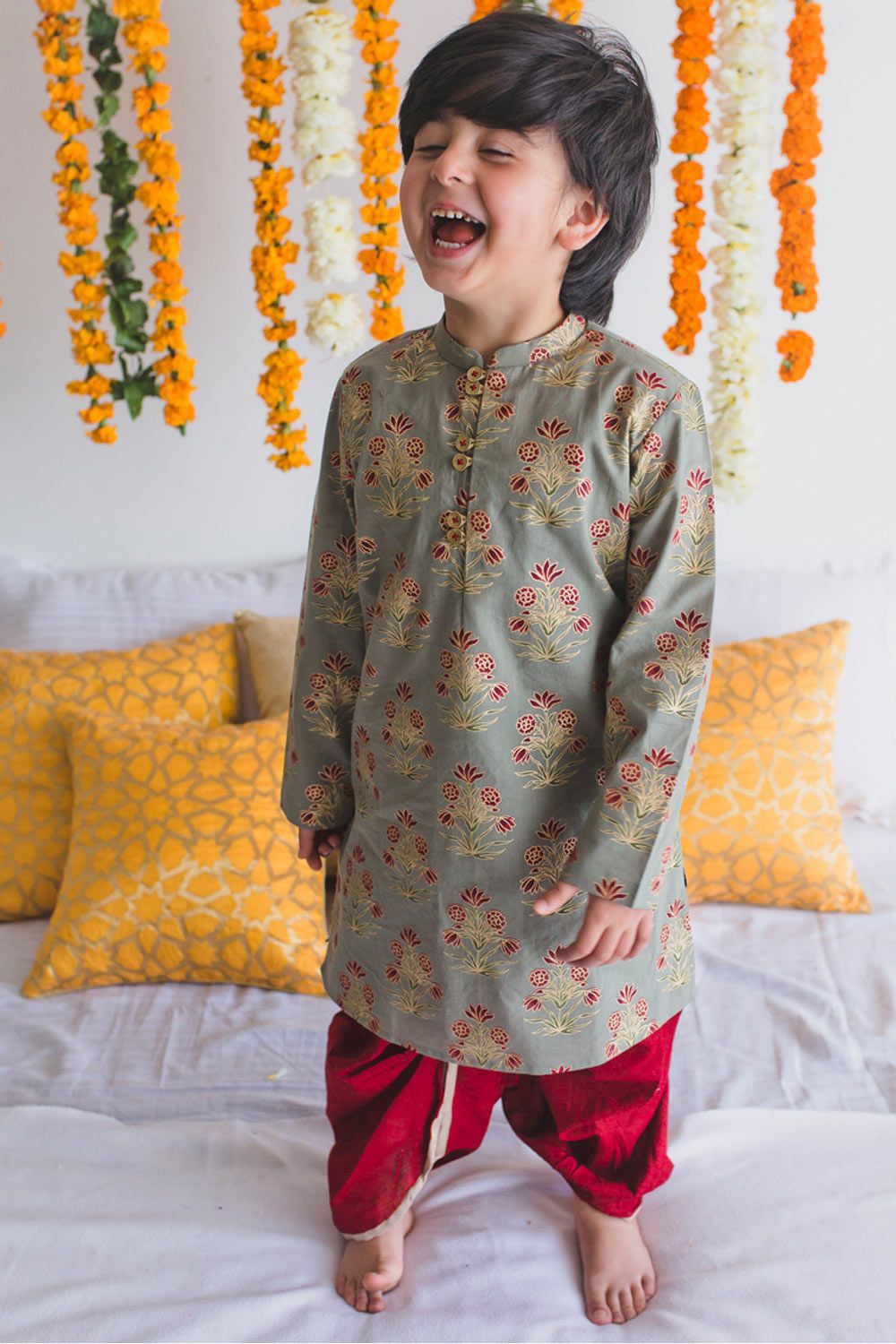 The grey colour of this fabric is outstanding. Besides that, the texture of this fabric has the most prominent block prints, made out of gold foil.
This is a suitable fabric option, and you can always keep this in hand for your little man. It is comfortable and elegant at the same time.
Sherwani for Boys in Velvet
Velvet is not just a fabric for adults but it is a leading fabric for Children's Apparel as well. It is a fun and fussy combination fabric, which is enjoyable for most children.
The one we are talking about has a Velvety fabric, and the top portion of this guy's Sherwani has been decorated with the most magnificent embroidery.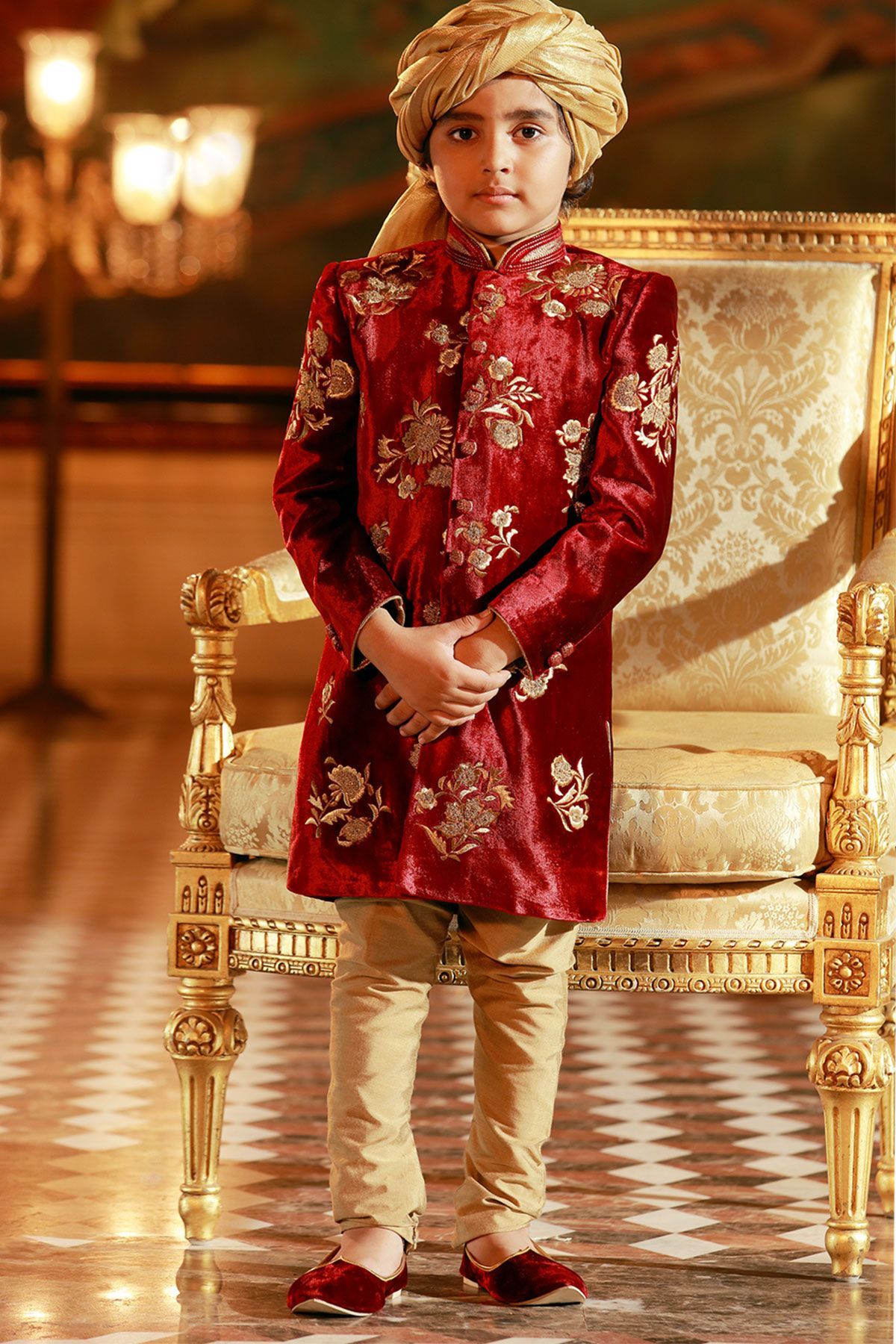 The best part about this Sherwani ahs to be the super cute and fussy fabric which he is wearing as a matching change, with his footwear too.
The tete-a-tete is a prominent look for a groom, and it is quite appealing too. I'm in love with how it turned out for this little man.
See also:  Jodhpuri Sherwani Suits
Green Zardozi Sherwani for Boys
Like the above-mentioned white Kurta Boy, this guy is as young as him. Instead of a Cotton Sherwani for Boys, he is wearing a Silk one.
Shocking right? Most children I know refuse to wear such materials, and it might hurt the natural condition of their baby's skin.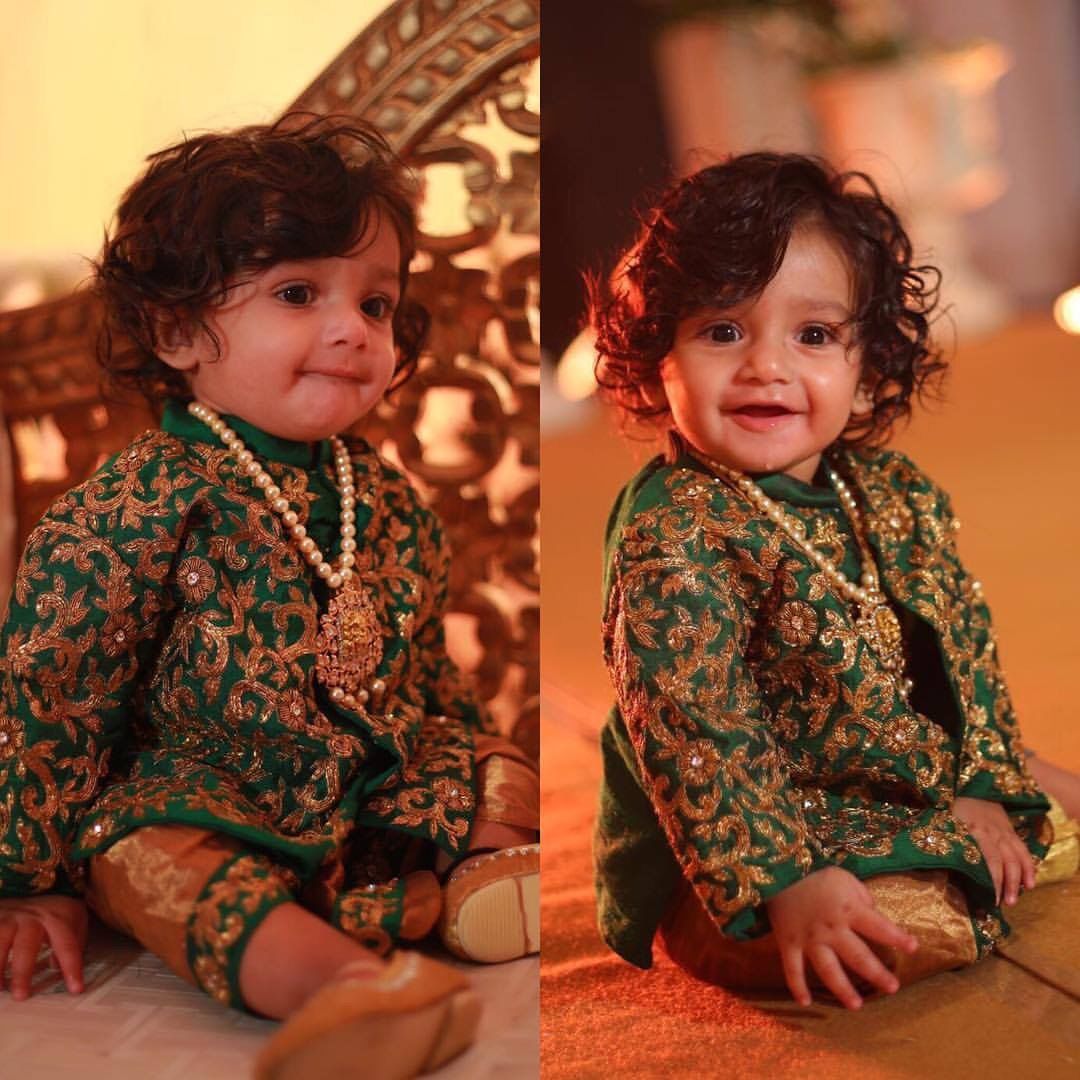 To some extent that is so true for children of this age dynamics. Ther skin is way too sensitive to handle the harshness of Silk and Zarikari's work.
But this is an exception for the Sherwani for Boys. He is wearing a silk Zardozi Sherwani, but the inner lining of the Kurtis is made out of pure cotton, as it is far more breathable for the child.
Father & Son Matching Sherwani for Boys
All parents want their children to be a reflection of themselves. Why not wear the same clothes, and twin outfits and make it a super cute theme?
That is the concept of this Twining outfit mach. The buy is wearing such a cute Floral Sherwani, and his father is also dressed in the same Kurta.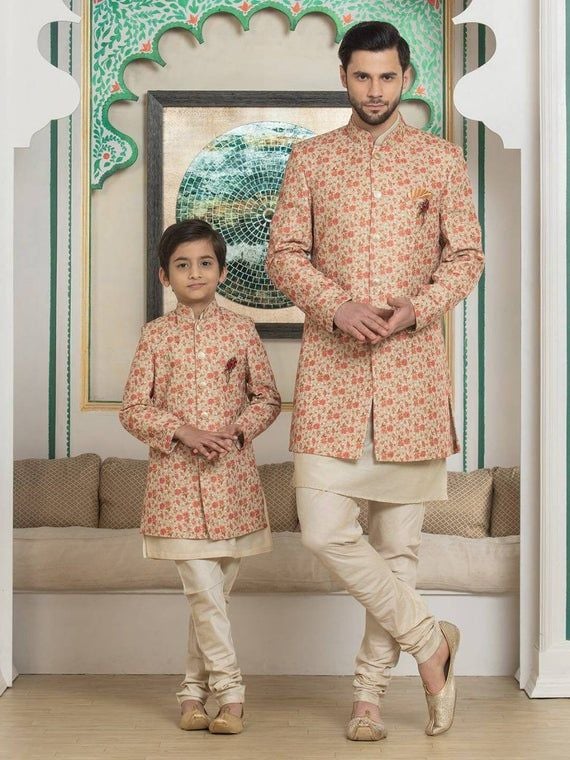 The only difference they have in their outfit is the combination and the subtle details which have made them so prominent. It is the mix and match and size and shape.
The pattern of the shoes, or the Sherwani for Boys. Everything is the same for the guys, it's like the boy is a miniature replica of his father.
Classic Black Sherwani for Boys
Elders, Adults r little children. Everyone looks their best wearing good old black outfits. This is one of the most elegant colours for any outfit.
Black gives you shape and makes you look sleeker in every little way. It gives dimension to the outfit in every little manner. I find this super cute.
The black Sherwani Suit is super cute, the impact is so beautiful too. It is a pretty little suit, which makes a little bi look his best in an ideal way.
The best Patiala pants, with a suitable and similar Sherwani for Boys. The colour black makes you look your best in the most glamourous manner.
Must check: Bengali Wedding Dress for Groom
Royal Red Sherwani for Boys
There are many such pretty Red Sherwani for Boys. This is one of such amazing designs, where the shape and the pattern are just a regular adult outfit.
Instead of having similar designs for all kids, designers use the same pattern and style for the children's outfits too. This is one of the many royal boy outfits.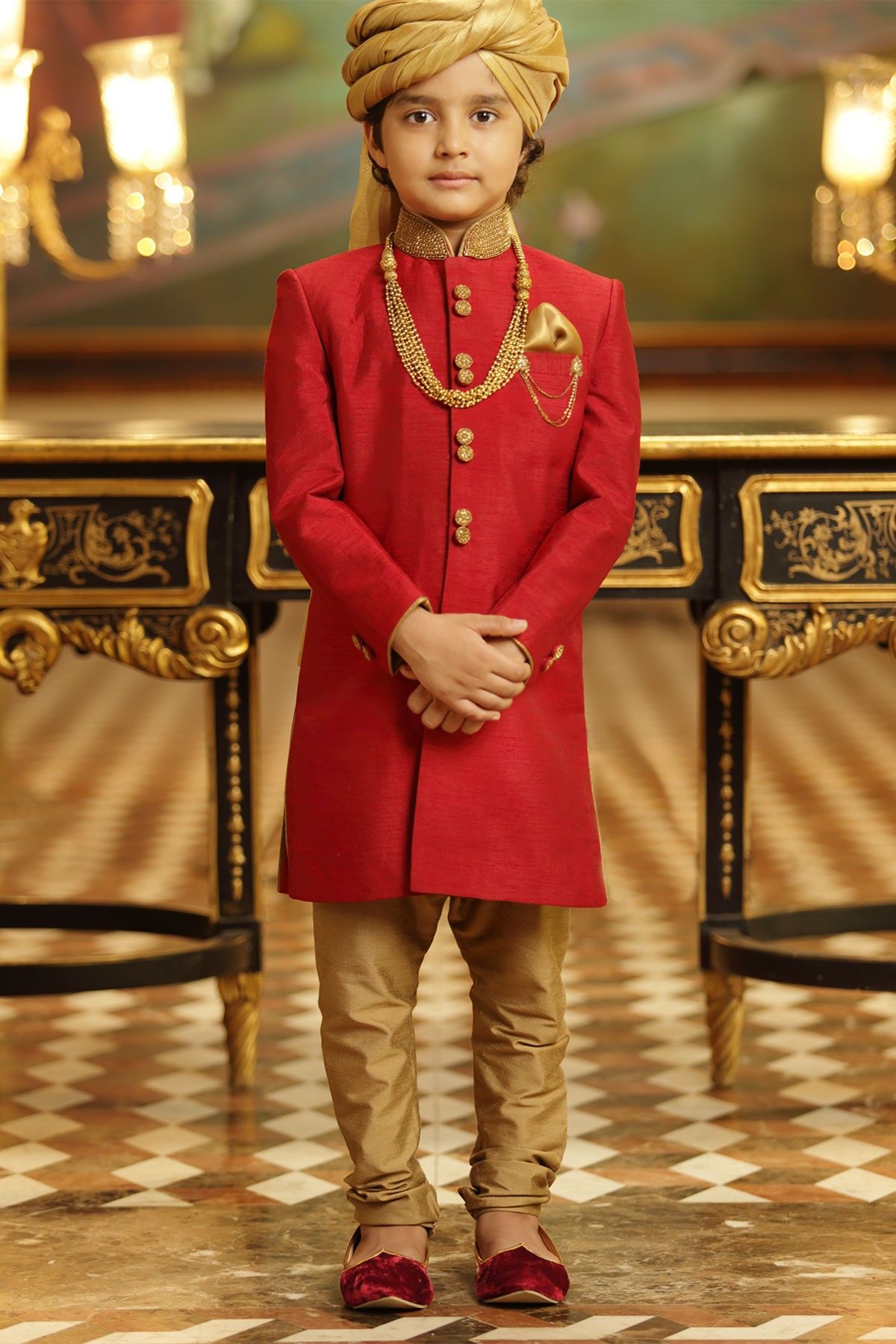 The little guy is wearing a similar Red Kurta, and a Pagdi with his classic outfit. He is looking really smart and handsome for a little boy.
Apparently, he is looking a few years older than his actual age. Which is a want and a desire for all little children, to look older than their real age.
Red Jodhpuri Sherwani for Boys
Red Sherwani for Boys is quite pleasing. I find these designs extremely previous and it happens to have the prettiest little embroidery. The Red Jodhpuri Suit has the prettiest fabric. 
The red colour of this Sherwani Suit is undoubtedly petty awesome and it has everything else needed with it. The little guy is looking very well in this pretty red suit.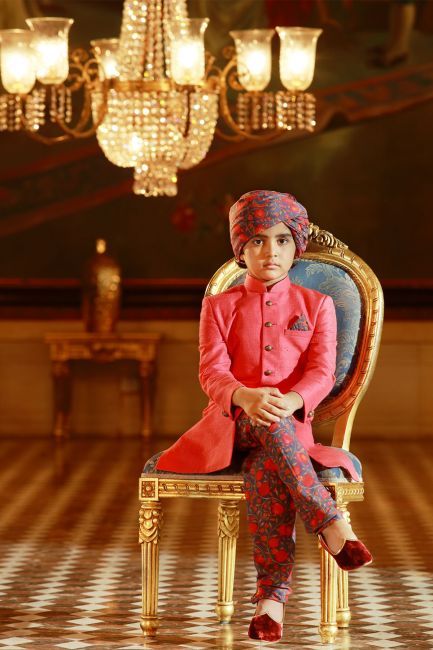 What I like most about his attire, is the little headdress and the associated embroidery which has made his attire even more real and man-like. 
I find his trousers very attractive, it is made out of subtle floral prints. This particular combination is elegant, versatile and stylish for a Sherwani made for a little boy.
Beige Suit Sherwani for Boys
Children look good in all shades and colours, and beige is one of the many which suits their little Sherwani for Boys. This is a beige Sherwani with pretty little trousers and a good Kurta. 
The most attractive part of this attire has to be the adult-like look. The Sherwani for Boys is moderately decorated. This has a Pure Fabric, one of the best fabrics which have been used.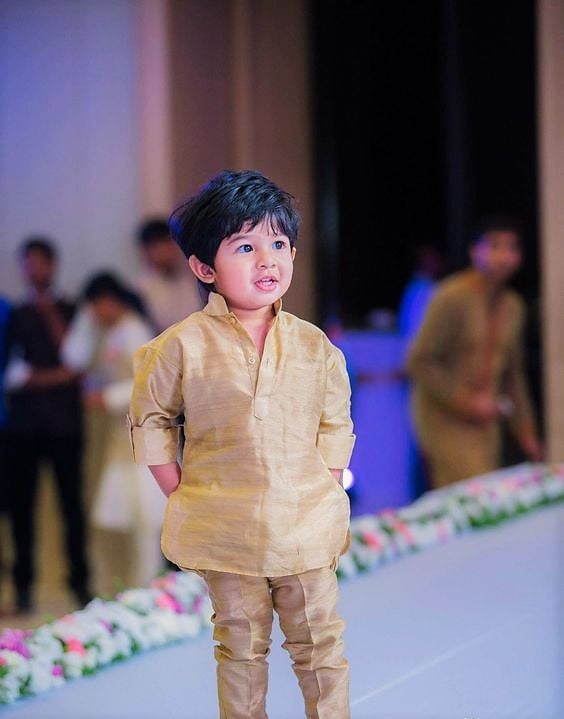 The Kurta part is really simple, and so is the bottom of this suit. I found it extremely pretty, regular and quite attractive too. In a way, this is worth every penny spent.
More than just an outfit, this is a little boy's, Prince Suit. Children who like to dress up like their parents can pair this on with their fathers as well. One of the cutest little Sherwani Suits. 
Every other Sherwani for Boys either has an embroidery which isn't as great for a little boy, or something which won't suit their young skin. Instead of that, it is much better if you choose it prior. 
Like distinguishing the right fabric for your little boy, something which suits their personal style and goes well with their comfort zone. Make sure, they are there for the buy. 
Children are generally very choosy about their outfits, and they don't like wearing something which is too skin-tight or too loose. Instead of that, make them choose their outfit. 
Sherwani for Boys are classic fits, and they have to have a fan base. Such outfits are beautiful, accessorised, and quite pretty too. I find these Sherwani for Boys extremely pretty and quite attractive.  
Adults or Children, both have a similar range of outfits and accessories. At myMandap, we have some of the best fashion trends which are viral, and totally in fashion. 
Starting with the most exclusive Wedding Fashion, to the best decorations for the Wedding Function. Let us know in the comment section if you found the right fit for the big day.