The stage balloon decoration ideas are both much sought after and necessary for any event. Balloons are one such decoration item that can 'lift' the ambience of any event. These are cheerful little pieces of wonder, that have the power to complete the decoration for any occasion and make it special.
But, the latest trends in balloon decor include decking up the stage as well. Not just the birthday party decoration, but also weddings, anniversaries or any such celebrations are incomplete without the balloons in them. Many party organizers have been placed with requests for 'balloon centrepieces as well; where the entire highlight of the evening is the balloon arrangement at the centre of the venue.
We are not surprised by the sudden surge in the interest in balloons for events. After all, our childhoods are attached to some of the fondest memories of balloons in them. Perhaps a favourite coloured balloon, a certain shape, or an event where you had the balloon to make it special. Hence, it is only obvious that you would require to have some balloons around for your special occasion.
So, for your stage balloon decoration idea, we at myMandap have compiled some great ideas that you can consider. Let us take a look at our top 10 stage decoration perks for your celebration:
The Pillar Stage Balloon Decoration
This balloon display is trendy and new as compared to the rest of the decoration ideas. In fact, on rare occasions, the balloon pillar makes for a rather non-childish appearance that can be arranged for all events. Most people complain about the balloons appearing to be childish. But, with the Pillar balloon decoration idea, you can rest assured that it would look classy.
The pillar stage balloon decoration idea comprises binding the latex balloons in circular shapes into a cylindrical stricture by using a pole for the base. The arrangement comprises alternating two coloured round balloons in a spiral shape going all the way around the pole.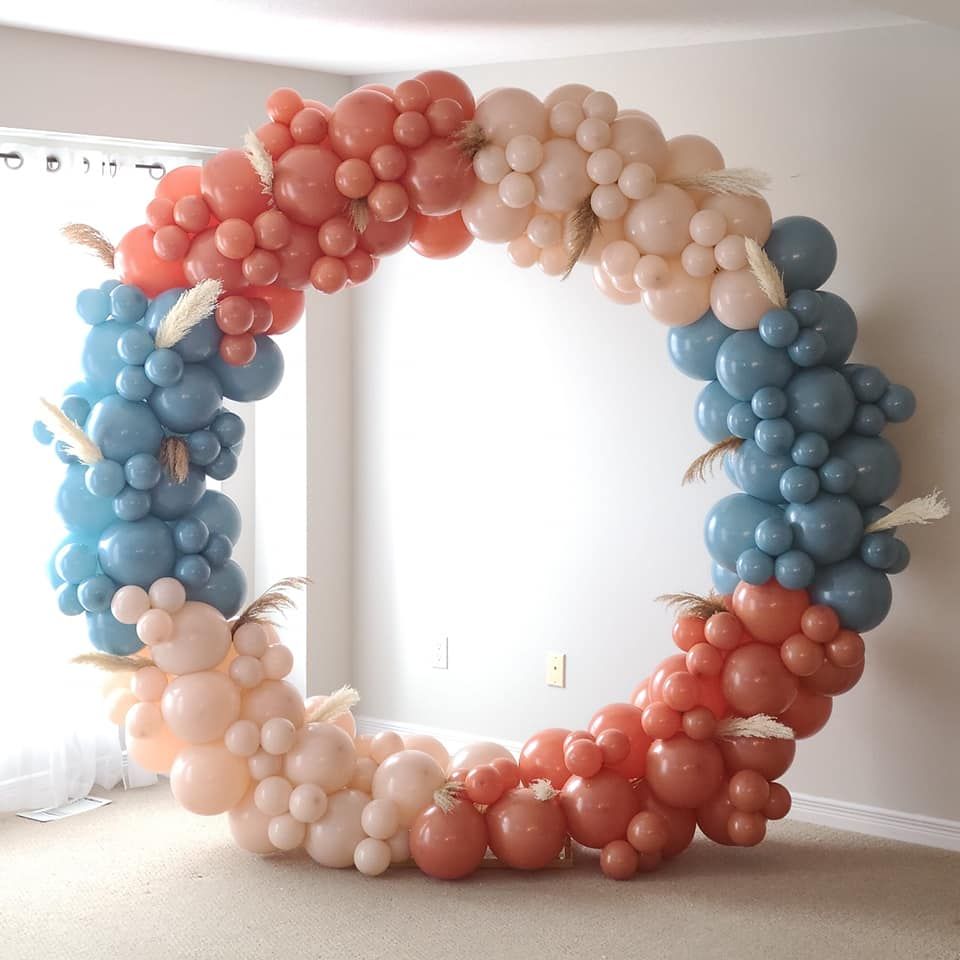 To offer it support and structure, you can fix normal air-filled balloons at the bottom, with the top comprising of Helium-filled balloons to ensure the shape.
You could settle for two pillars and have them arranged on either side of the stage or create a couple of them and have them placed at various spots across the venue.
Check Out: Balloon Decoration Ideas
The Arch Stage Balloon Decoration
The balloon arcs are wonderful and make for a fun-filled decoration idea for practically any event. The idea is to create a beautiful arch comprising of two-coloured balloons alternating in a spiral manner. While you could create the arch using two balloon pillars and joining them at the top; or create a string of pearls where gaps are maintained between the balloons to offering a necklace of pearls kind of appearance.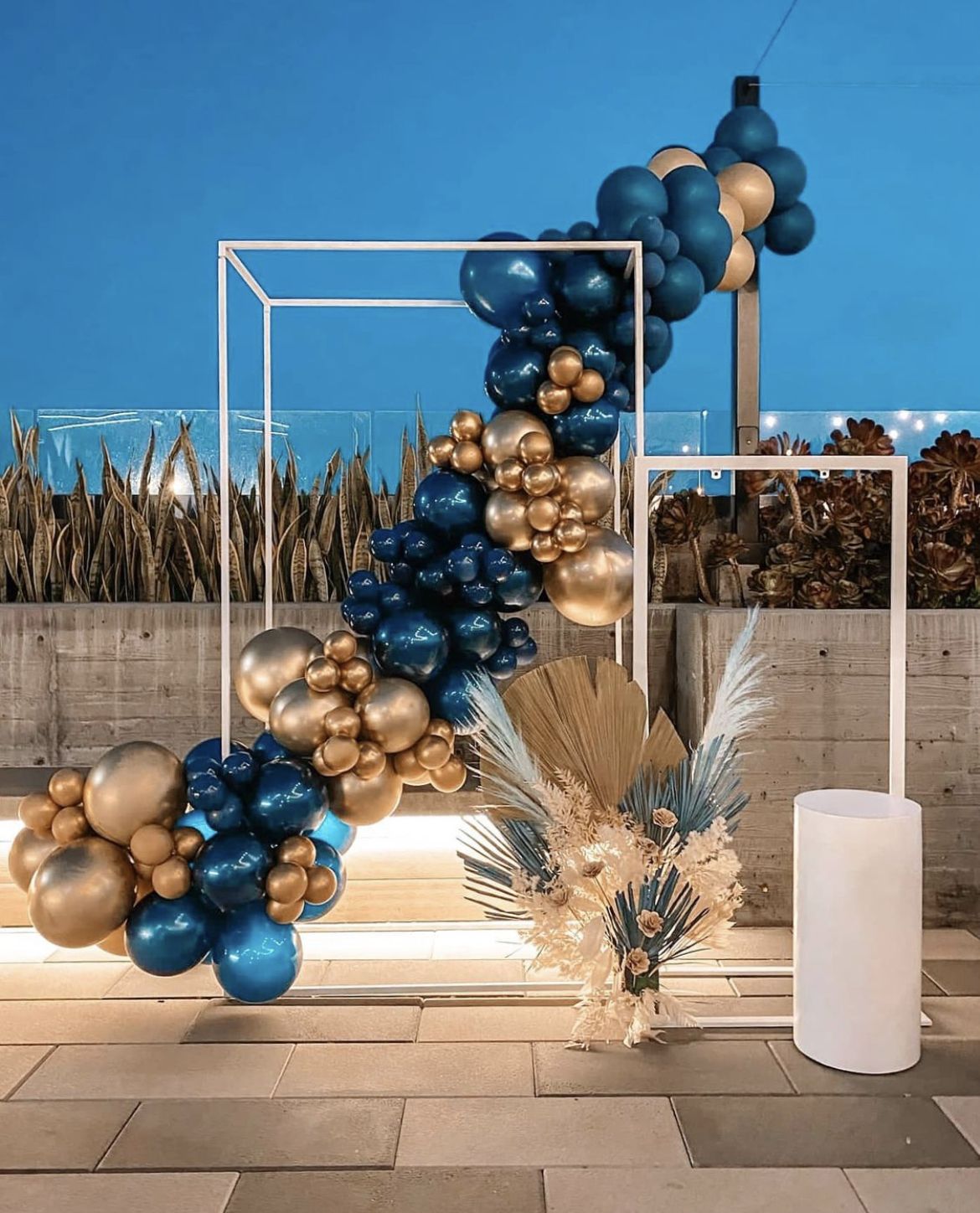 While most might prefer to place this stage balloon decoration at the entrance, however, we at myMandap recommend you place the arrangement in the stage area. Now simply place the seating arrangement below the arch and you have a new style of balloon decoration idea.
The Bubble Stage Balloon Decoration
This one is a personal favourite and we cannot help but admire the sheer beauty of the arrangement. The Bubble Balloon is essentially a transparent, bubble-like balloon that can hold within itself various structures like LED lights or flowers. The overall effect of this balloon centrepiece is surreal when it comes to acquiring perfection.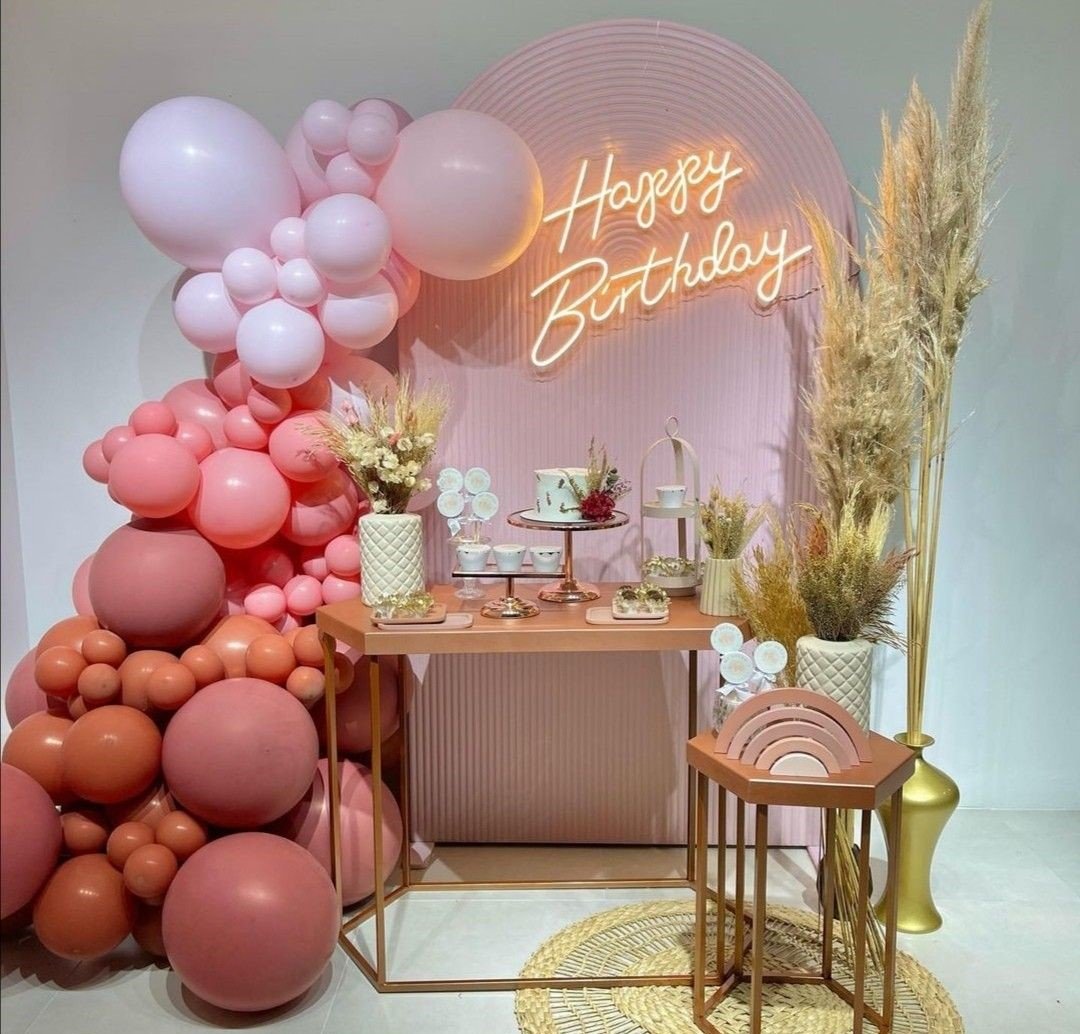 You can go creative when it comes to filling up the insides of the balloons. This could include confetti, glitter, or simple coloured paper bits. Creating a double-balloon with a bubble balloon is also a great idea. This involves having a smaller balloon within a larger one to create a magical effect. These look surreal and special, perfect for stage balloon decoration for the backdrop.
View More: Birthday room decoration ideas
The Wreath Stage Balloon Decoration
This is so pretty, you could gobble it up! The wreath balloon decor is suitable for wedding events or birthday celebrations as well. The idea is to completely replace the flower garland with a nice little wreath made entirely out of balloons tied together like a wreath.
For this, you can select a palate of various colour balloons in a garland along with various green leaves and flowers also if you like it. While it is always fun to get the decorations done by yourself, you could also appoint a balloon decoration service to get a professional look.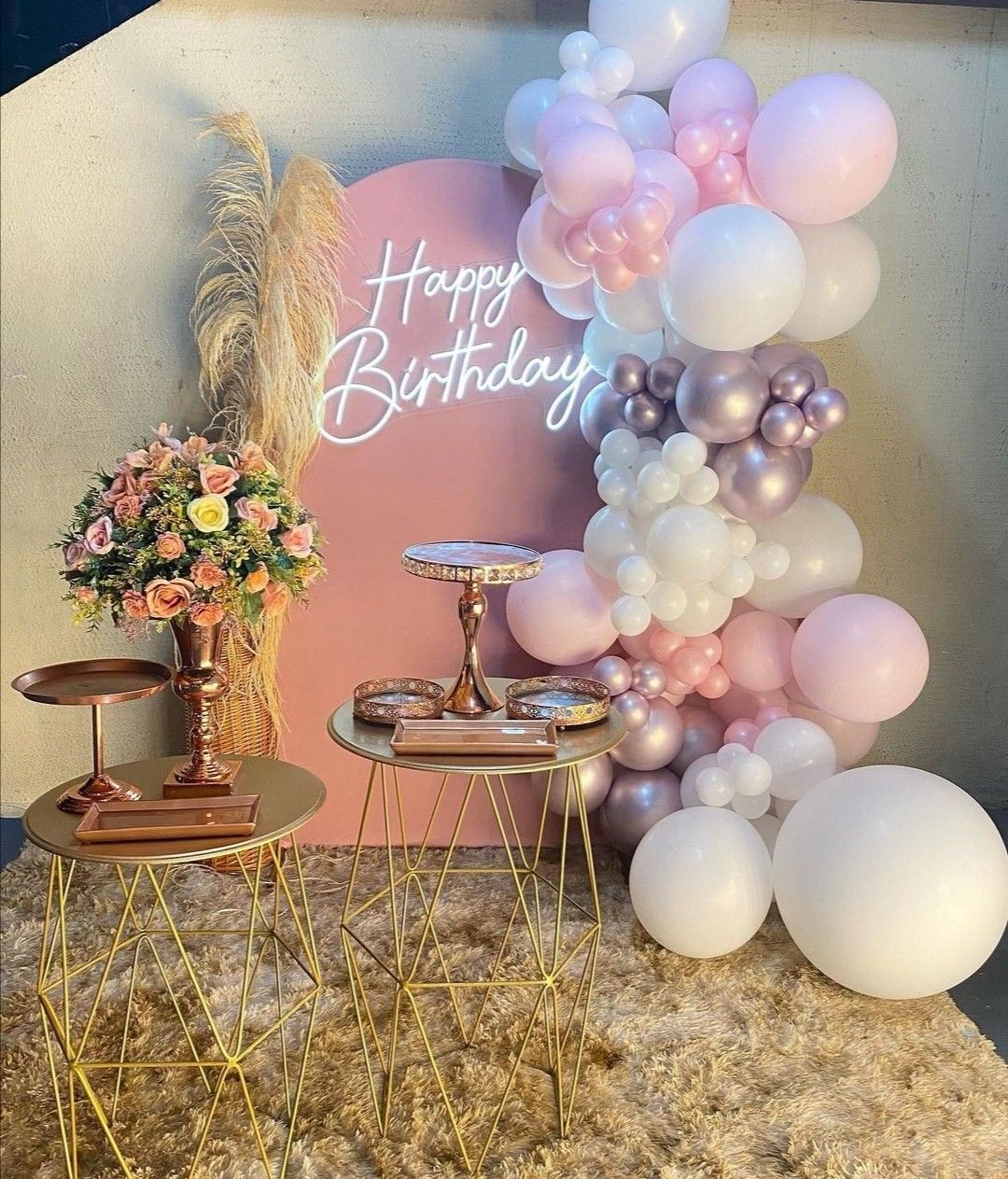 Make several balloon wreaths as you desire, and fix them up on the wall of the stage in a pattern best suited to your taste. These are some of the best Stage Balloon Decorations. 
The Backdrop Stage Balloon Decoration
This decoration idea comprises completely covering the stage backdrop with balloons. You could go to Montone with your choice of balloons or multicolour as well. This decoration idea can upgrade any wedding venue or a birthday celebration.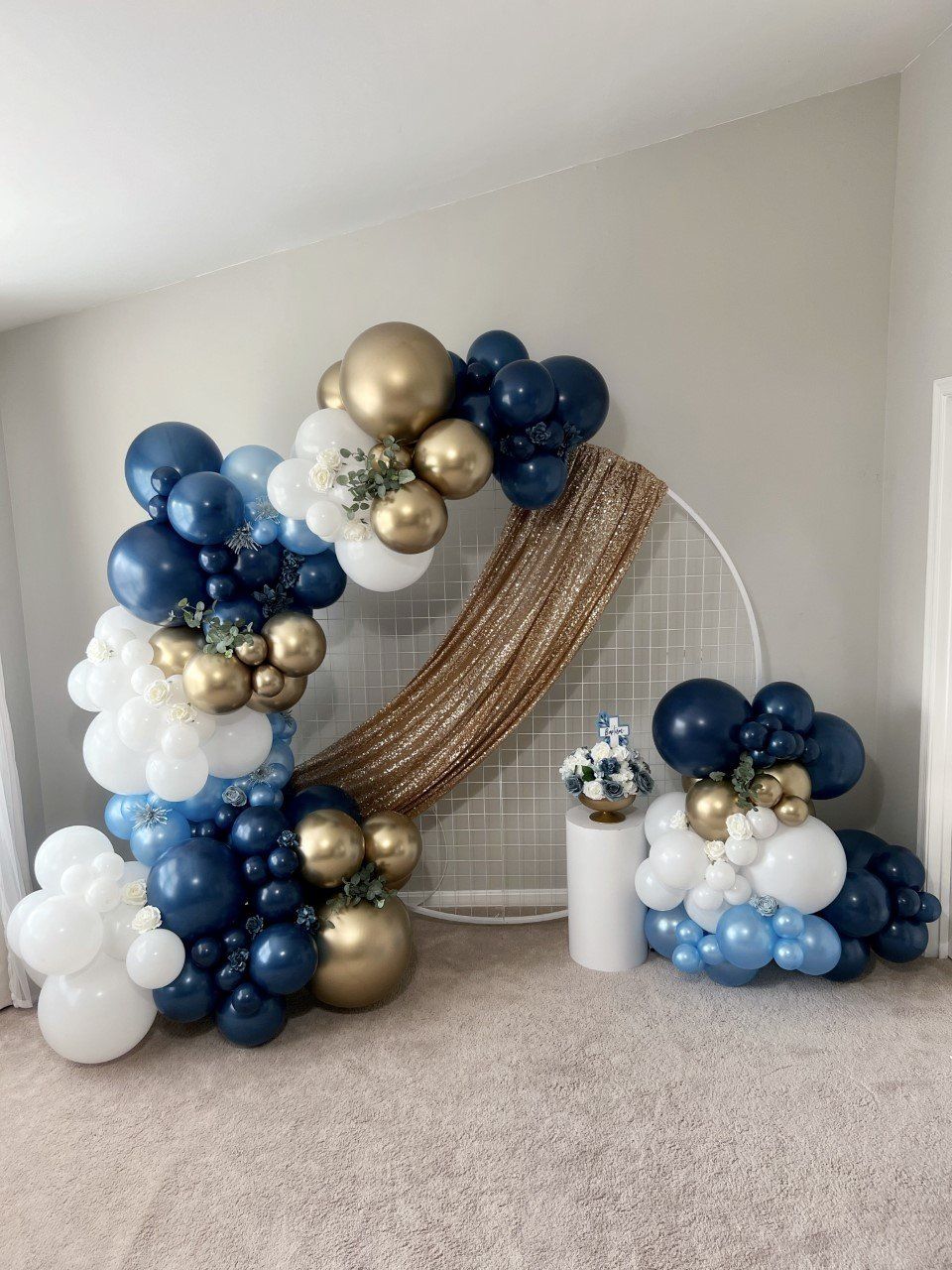 The backdrop stage balloon decoration can be created in a certain pattern or cover an entire wall of the stage backdrop. For an added effect you can also infuse a few flowers in between the entire arrangement.
View More: 1st Wedding Anniversary Decoration Ideas at Home
The Foil Stage Balloon Decoration
This decoration idea is crisp, neat, and fuss-free. The idea is to get the foil balloons that compile together to display a message. It could say, 'HappyBirthday', 'Happy Anniversary, 'Welcome' or anything you like. This is one of the best ideas when you are celebrating 10 years of your marriage; you can simply put up the foil balloons that state the date or the years you have spent married to each other.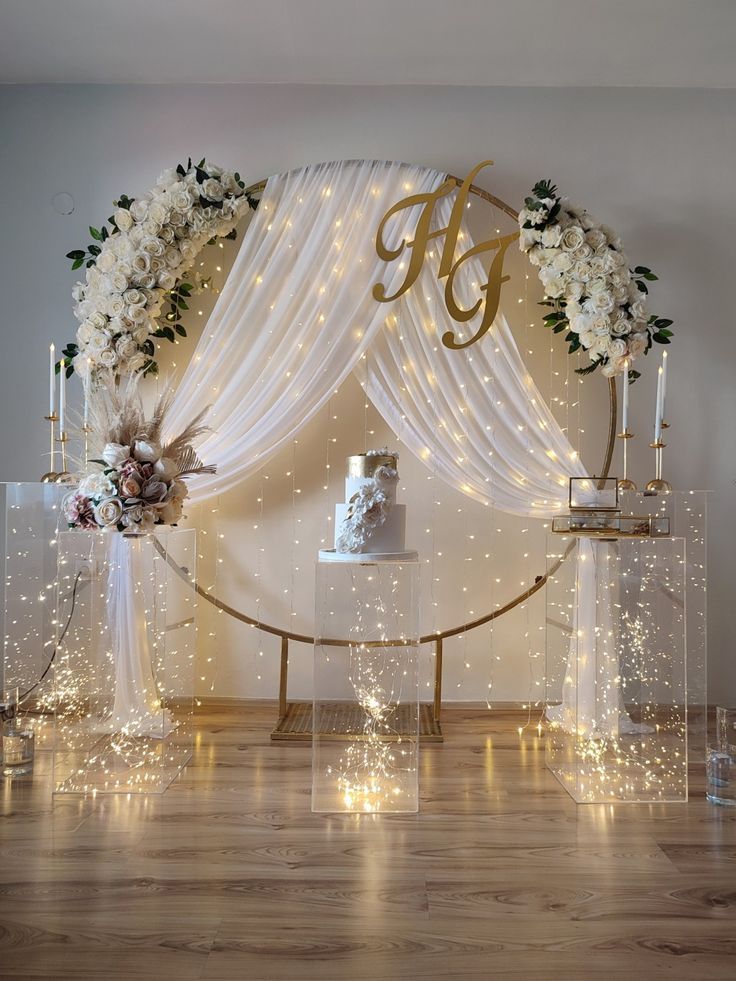 If you wish to steer clear of having the balloon decoration look like a kid's party; opt for cool metal colours like Gold, Silver, Deep Blue, or even Black. String up your creation in a foil balloon for a stage balloon decoration idea and you will be surprised with the effect.
The Boy Stage Balloon Decoration
Planning a birthday celebration or the arrival of a baby boy? Well, we have got you covered nonetheless. For this stage balloon decoration idea, you need to amp up your space with the 'baby boy Blue' theme for balloons. This is going to look heavenly, as you go about placing the Blue coloured balloons around the venue.
Our suggestion includes using a lot of Blue, White, Silver, and Gold coloured balloons. Try not to be stingy on this one, as you get a few in various varieties; foil, Helium, Round, and even a few in Bubbles. Also, lots of Blue and White coloured Ribbons make for a great addition to the overall effect.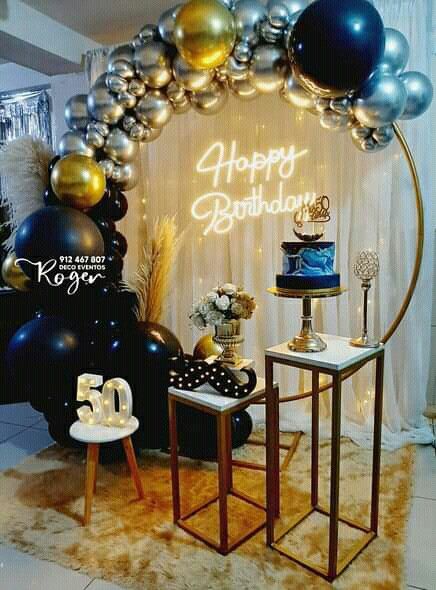 Now, at first, set up the stage with the relevant message using the foil balloons. Surround this with Spherical balloons all around; thus, encircling the message. Next, create a bunch of Helium balloons in Blue and Silver and station them on either side of the stage.
Likewise, you can also create Blue, White, and Silver arches at the entrance for the added effect. And there you have it, a great way to make your little Super Hero feel on top of the world.
View More: Car Decoration for Birthday
The Girl Stage Balloon Decoration Idea
Having a daughter is a blessing and you need to make your little Princess feel like one too. So, if it is a birth announcement party or a birthday celebration for your little girl, you can do so with the right balloons in the right colour.
For this, we recommend the use of various shades of Pink. This can include Rose Pink, Baby Pink, bright Pink, and others as well. Now, club this up with some Gold and Silver foil balloons as well. Go crazy and get heaps of balloons in all types: Helium, Spherical, Foil, and other shapes like Moon and Stars as well.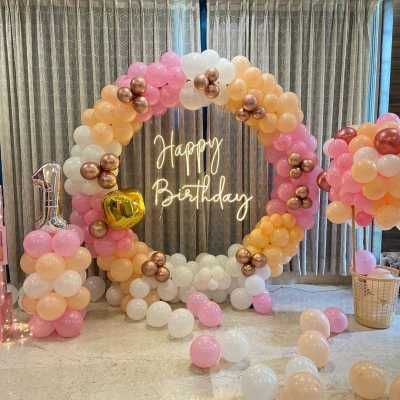 Club in flowers: both real and artificial as well. Roses, Orchids, and Chamomile are some of our recommendations. After all, it is your little Princess's special day and you need to let others know the same. Create a nice message on the centre stage with the foil balloons and surround the same with spherical ones, in a pattern or bunches.
Next, arrange the Helium balloons in a nice bunch and place them in between the seating arrangements. Similarly, create cute little bunches of flowers and place them at the individual tables. You could also have the Bubble balloons filled with Pink and Red Confetti and make a centrepiece out of it.
The Bumble Bee Stage Balloon Decoration Idea
This is a cute idea if your kid has a liking for the ever-so-cute Bumble Bees. You get the Bumble Bee-shaped and coloured balloons in the market, and some of these are also Helium type. As this Balloon type is cute enough in itself, all you need to do is arrange them as and where you wish them to be.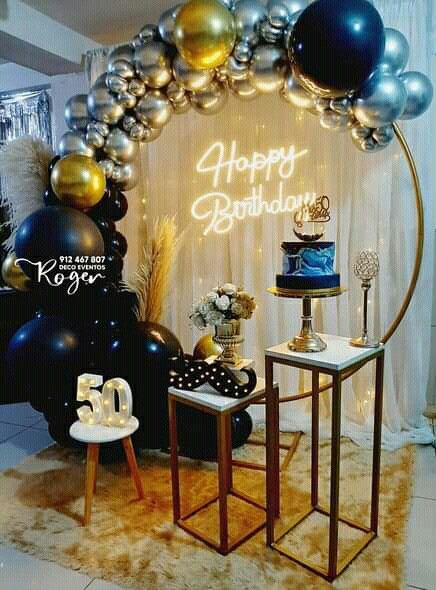 Also, you could have a fun activity for the kids at the party to enjoy as well. For this, simply use Yellow coloured balloons and give the kids the task to paint them like the Bees. A wonderful party of fun, stage balloon decoration activity and getting together.
Check Out: Balloon Arch Decoration
The Ceiling Stage Balloon Decoration Idea
This one is not exactly the stage decoration idea, but more of something you can have the entire venue indulge in. The idea is to have lots of Helium balloons in various colours released to stick to the ceiling of the venue. To each balloon, you need to tie up fun ribbons and LED sticks as well, if you are up for it.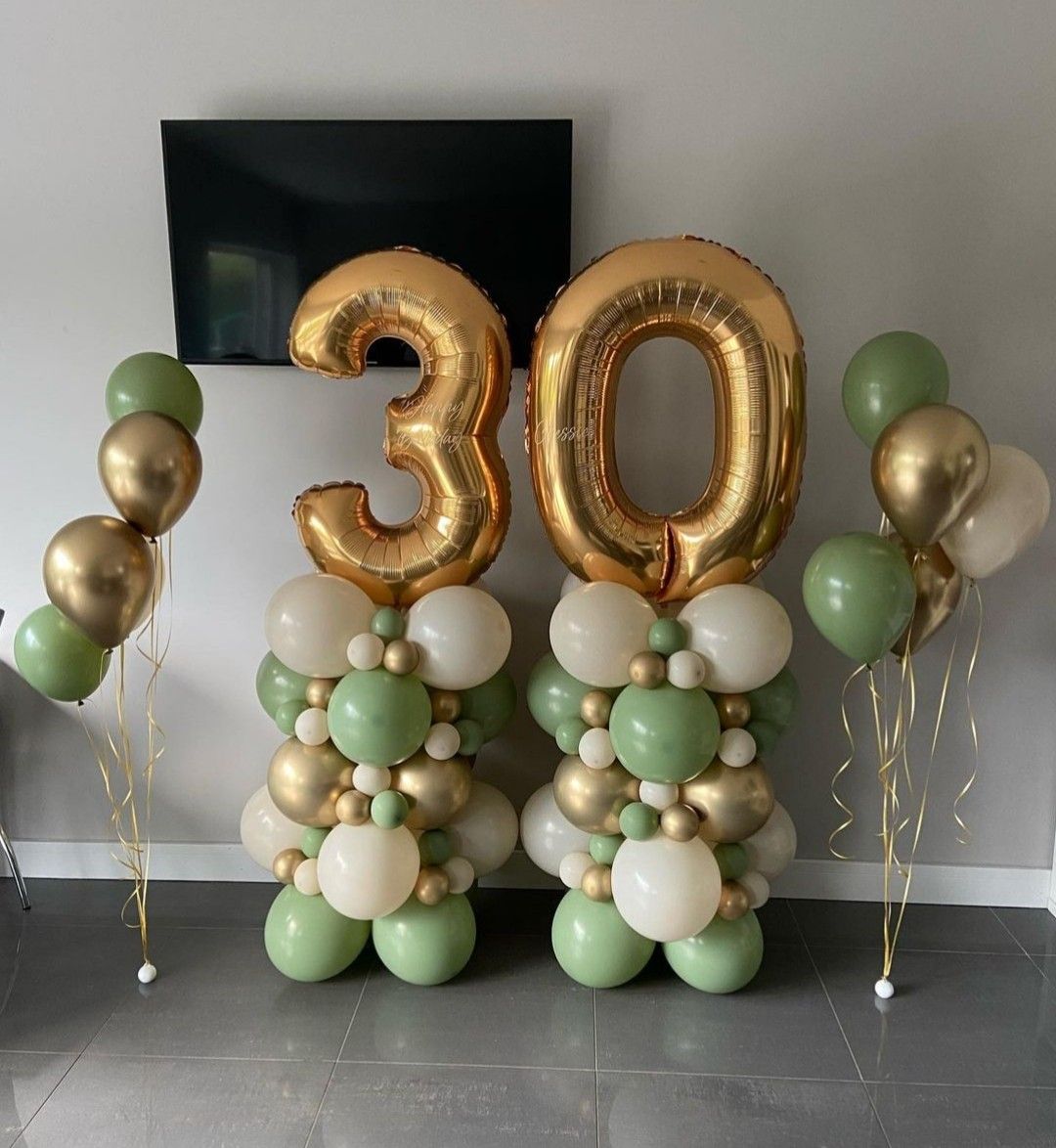 The overall effect is rather surreal and heavenly-like; with balloons, ribbons, and LED lights making the ambience look as festive as you can imagine it to be. Keeping up with the theme of 'Heavenly bodies', you can also get yourself a bunch of Star and Moon-shaped foil balloons as well. Now, line them up on either side of the stage for the magical appearance.
The stage balloon decoration idea is one of the most sought-after arrangements to make an event shine. We all love balloons and cannot get enough of them. These are fun, and cheerful and always manage to make anyone smile. Hence, these are the perfect 'party decoration idea', as you need to have all the fun elements for the party after all.
So, get a grab from among any of these stage balloon decoration ideas and make your event a memorable one.