A good face of Bengali Wedding Makeup must have two important things. A fine Eye Shadow Work with Long tip lining and the classic White and Red Kalka Design. 
Without these things, Bengali Wedding Makeup is incomplete. As matter of fact is, it hardly goes too old. A trendy Bridal Makeup is all about wearing your favourite look most unconventionally. 
A good Bengali Wedding Makeup must have a beautiful Kolka Art right on the forehead region, as it complements that beautiful Bridal Mukut worn by the bride. It is stylish and highly welcoming. 
With changing times, there are many new trends and fashion choices which have impacted the authenticity of a good old Bengali Wedding Makeup. Except it has evolved into the best version of itself. 
Top 10 Quintessential Styles for Bengali Wedding Makeup:
The word Elegance is extremely descriptive and self-explanatory. It is something which symbolises the elegance we witness for a good and well have done Bengali Wedding Makeup. 
It is the elegance of the Makeup Look that transient into one of the finest Bridal Looks. Infact, a Bengali Wedding Look is incomplete without the right Bengali Wedding Makeup.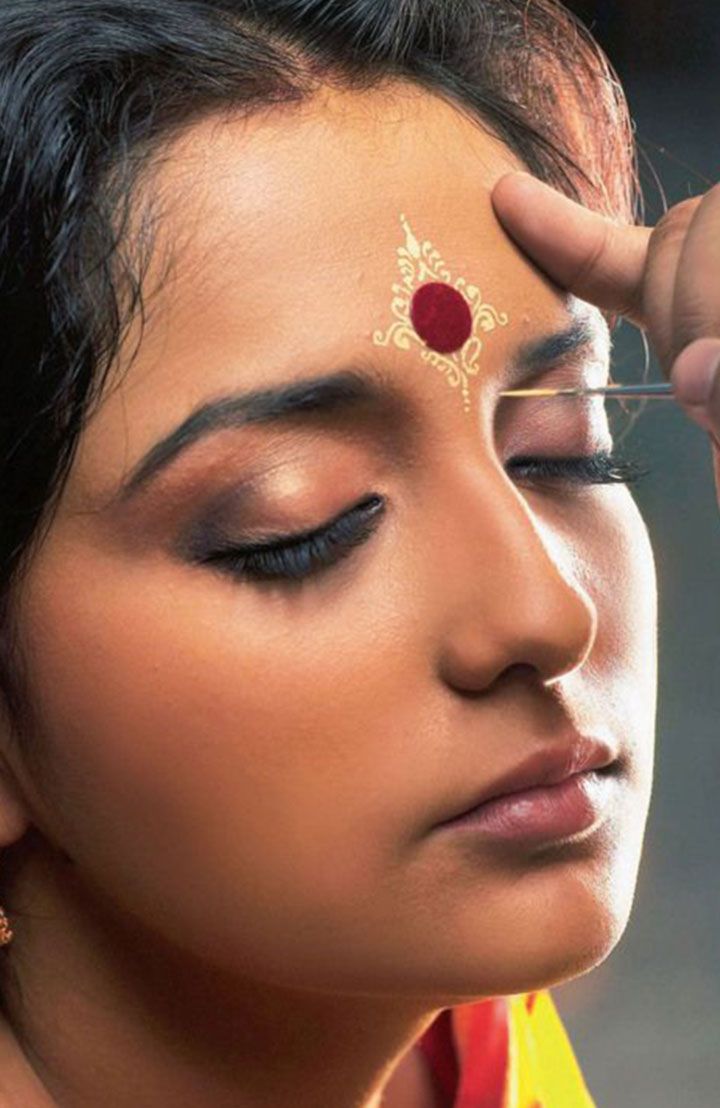 A good Bengali Bridal look is all about dressing up for the cause and settling with the most beautiful face of makeup. And that starts with you choosing the right makeup theme for the big day. 
Here, we have some of the best and the most classist options for Bengali Wedding makeup. Makeup Looks are fashionable, trendy and extremely gorgeous. 
Traditional Bengali Wedding Makeup
The traditional part of any look is auspicious and it makes any Bridal Look better and more realistic. This is one of such amazing Makeup Works.
The makeup artist has played with elements, that work best fr her face type. She has really pretty eyes, so the makeup artist has accentuated the look of her eyes.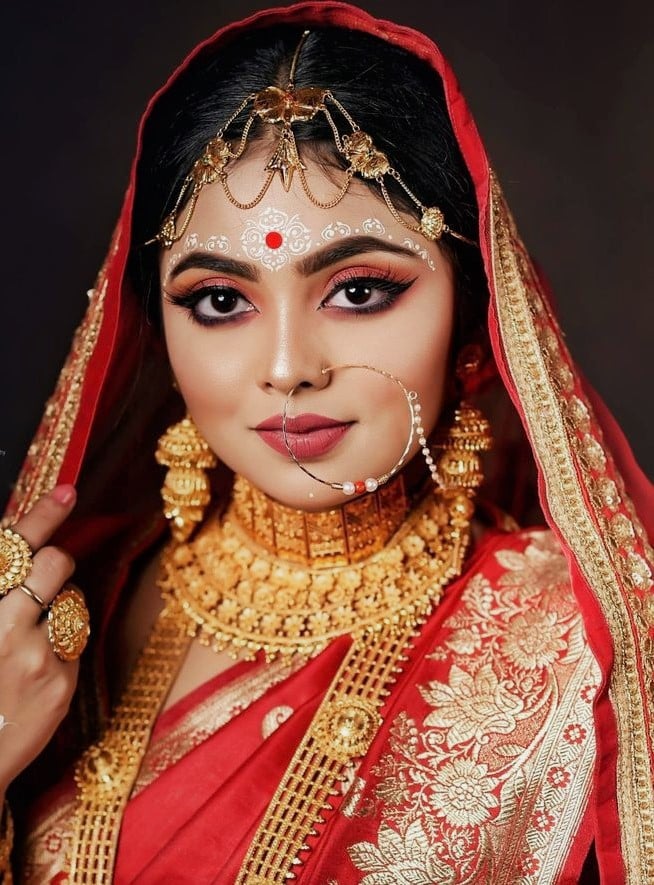 Her eyeshadow crease is decorated with the prettiest Smoky pink and a wing liner which is working great for her eye shape. The base makeup is flawless, and she looks perfect.
More than anything else, this is one of such Makeup looks, where the face has not been chiselled out with bronzer or contour. Instead of that, she has just been made prettier.
Visit more: Royal Maharashtrian Bridal Makeup
High Definition Bengali Wedding Makeup
Everything about her Bengali Wedding Makeup is different. she is wearing colours that complement each other, and she is wearing shades that work so well with one another.
At one end, she is the bride who wears unique shades and colours and on the other, her face is beautifully organised. Her eyeliner is wide, and her face is beautifully contoured too.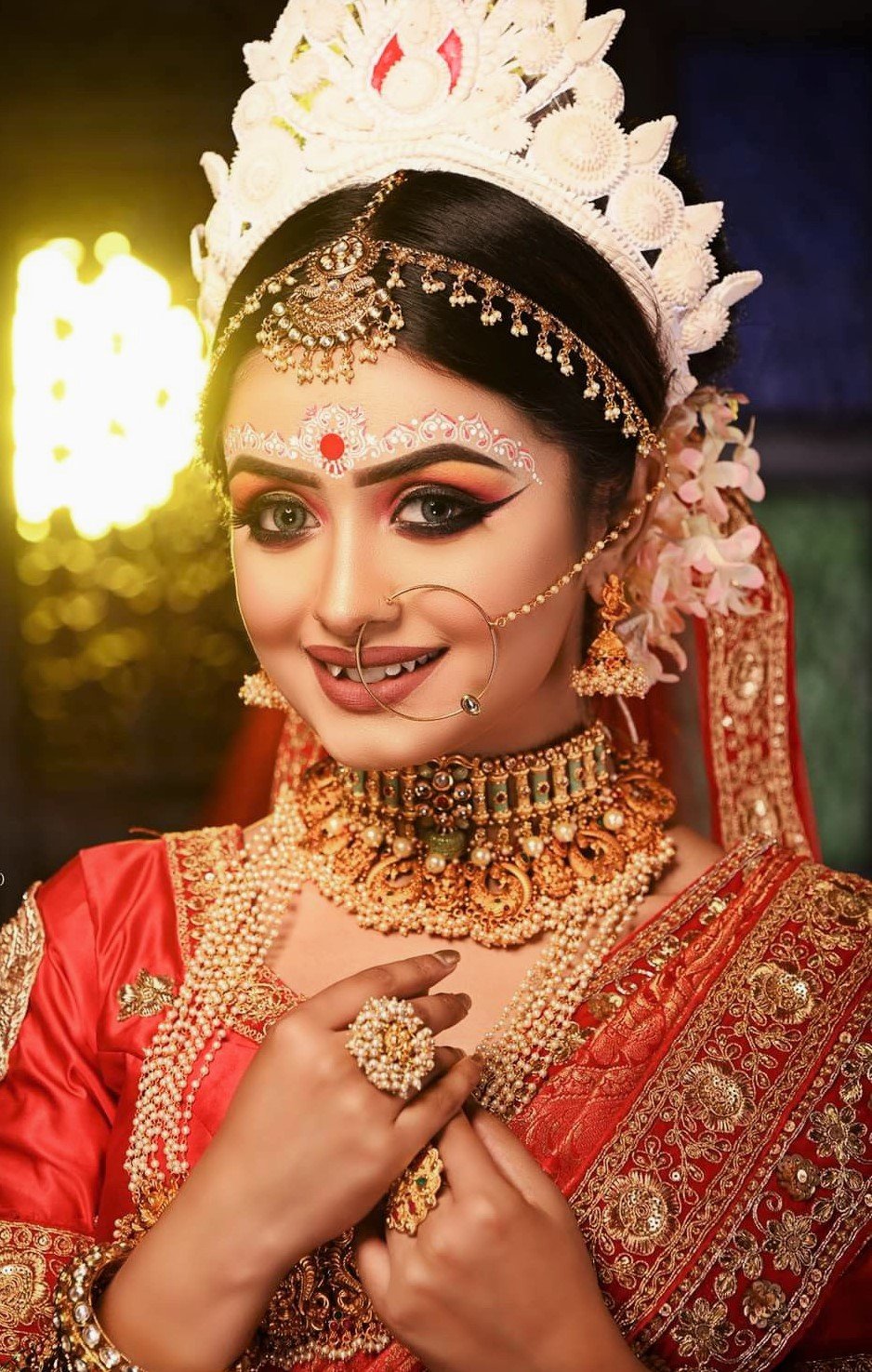 Her outfit is beautiful, and that is exactly what we need for a good old Bengali Wedding Makeup. She is stunning, and the problem products used are high end too.
In a way, she is the bride who is wearing it without any blurring effect. It is high definition and clears. For such makeup looks, you need time and accuracy.
Check also: Kerala Bridal Makeup Look
Beige Kalka Bengali Wedding Makeup
Some colours work differently for Bridal looks. This is one of such examples of a goof old Bengali Wedding Makeup. She is wearing a slightly different colour for Kalka.
Usually, we have White and red mixed Kalka for the Bride's forehead. Atleast that is conventional practice for a Be3ngali Bridal Makeup.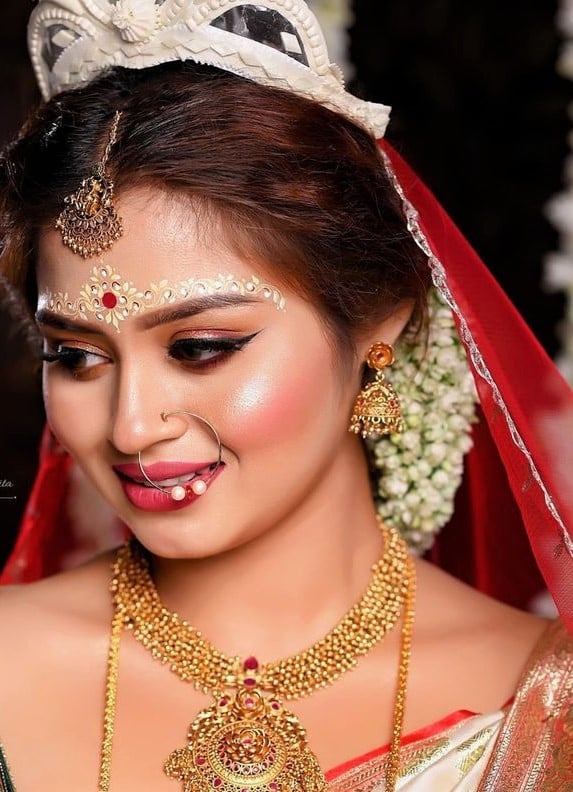 She is slightly different from that. Instead of using white fabric colour, the Makeup artist has used red and White Sandalwood Powder.
That is supposed to be the form, but it is not sustainable. 'Chandan'  or Sandalwood doesn't last long enough for the Wedding ceremony. This is why white colour pain is used for fabric art.
Check also: Wedding Tatta List for Groom
Smokey Bengali Wedding Makeup
Smokey Eye makeups are a win for everyone. It is beautiful, and elegant at the same time. Some might call makeup like this, not so trendy.
For me, this is an evergreen Bridal Makeup Look. Instead of using Black for the Smoking out work, the makeup artist has used Marsala Pink.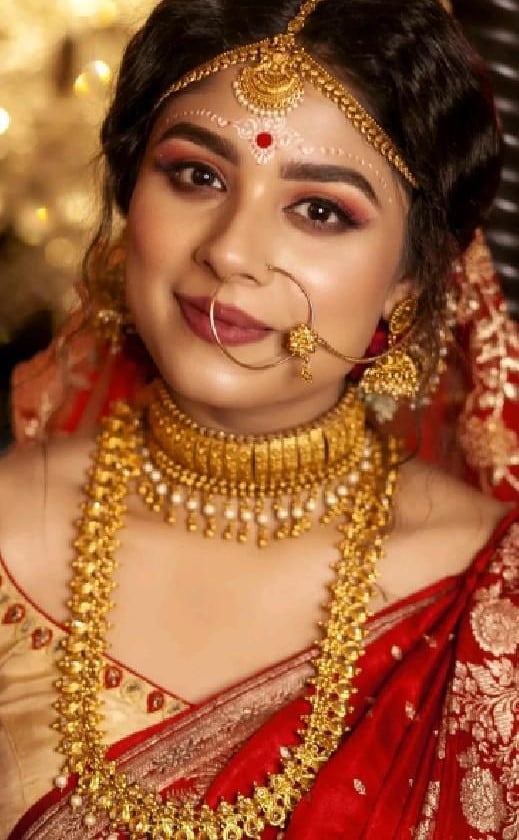 That little change in the process has completely changed the look from basic to a full slush. She is looking outstanding, and extremely beautiful too.
Her eyes are quite beautiful, although it was a Hoody eye naturally. We must say, the Makeup artist did fine work on her face.
See Related: Bengali Wedding Dress Ideas
Elegant Bengali Wedding Makeup
As soon as I have a look at this Bengali Wedding Makeup it speaks aloud of that beautiful Eyeshaodw work which has highlighted the inner corners of her eye.
This is a mixture of South Indian, and Tamiliam Makeup Looks. On one end, she is wearing the prettiest Bengali Kalka Art, and on the other, she is wearing temple Jewellery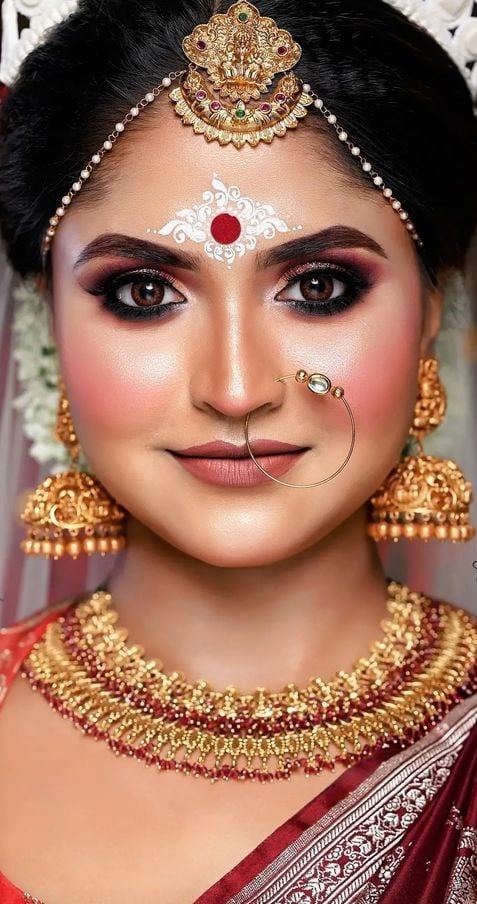 She is wearing a Benarasi Saree, and her jewellery is typically from the South. The most essential part of her face is the flush and fresh glow.
She is highlighted, and her eyes are as beautiful and as elegant as a Hindu Goddess who just walked out of the Temple, from a Deity's figurine.
No-Makeup Bengali Wedding Makeup
If the Bride wears her confidence along with the freshness of beauty. That is exactly what we know for a fresh and beautiful Bengali Wedding Makeup.
Her base makeup is extremely basic, and the look on her face is quite elaborate too. She is wearing the sleekest eyeliner, and that has changed the game for the bride.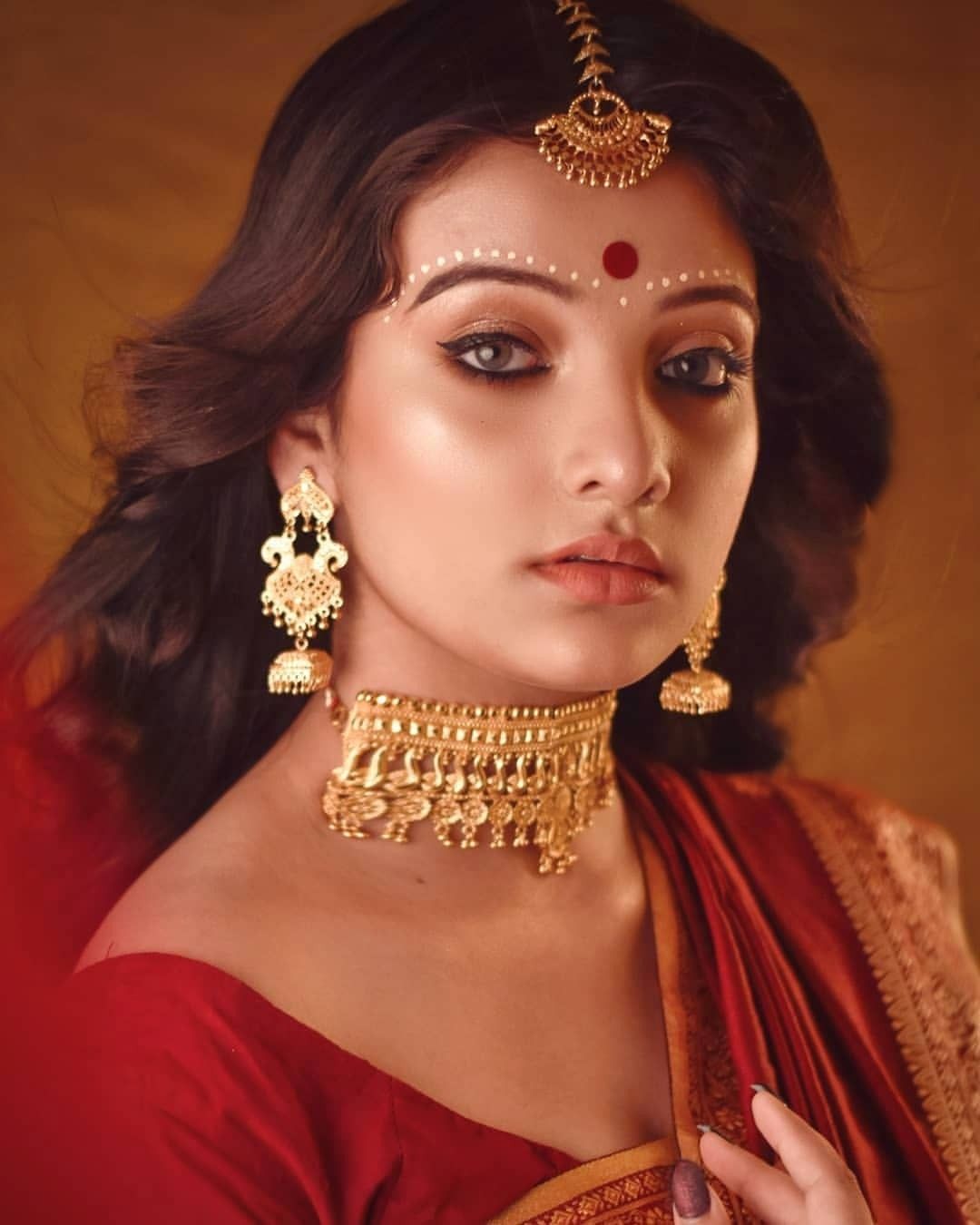 By the look of it, it seems like she is hardly wearing any makeup. It's her natural flush, and the prettiest part of her face is the unique glow.
I found this look extremely beautiful, and original too. Her open hair is slightly unconventional, in comparison to other makeup looks.
Read more: Rajasthani Bridal Look
Bollywood Style Bengali Wedding Makeup
If you have seen a Bollywood depiction of a Bengali bride, then this is just that. She is Bollywood's definition of a Bengali Bride.
She is wearing a Red Bindi on the middle of the forehead, and a really basic Kalka Design. The difference between this and the rest is the colour of the Kalka Art.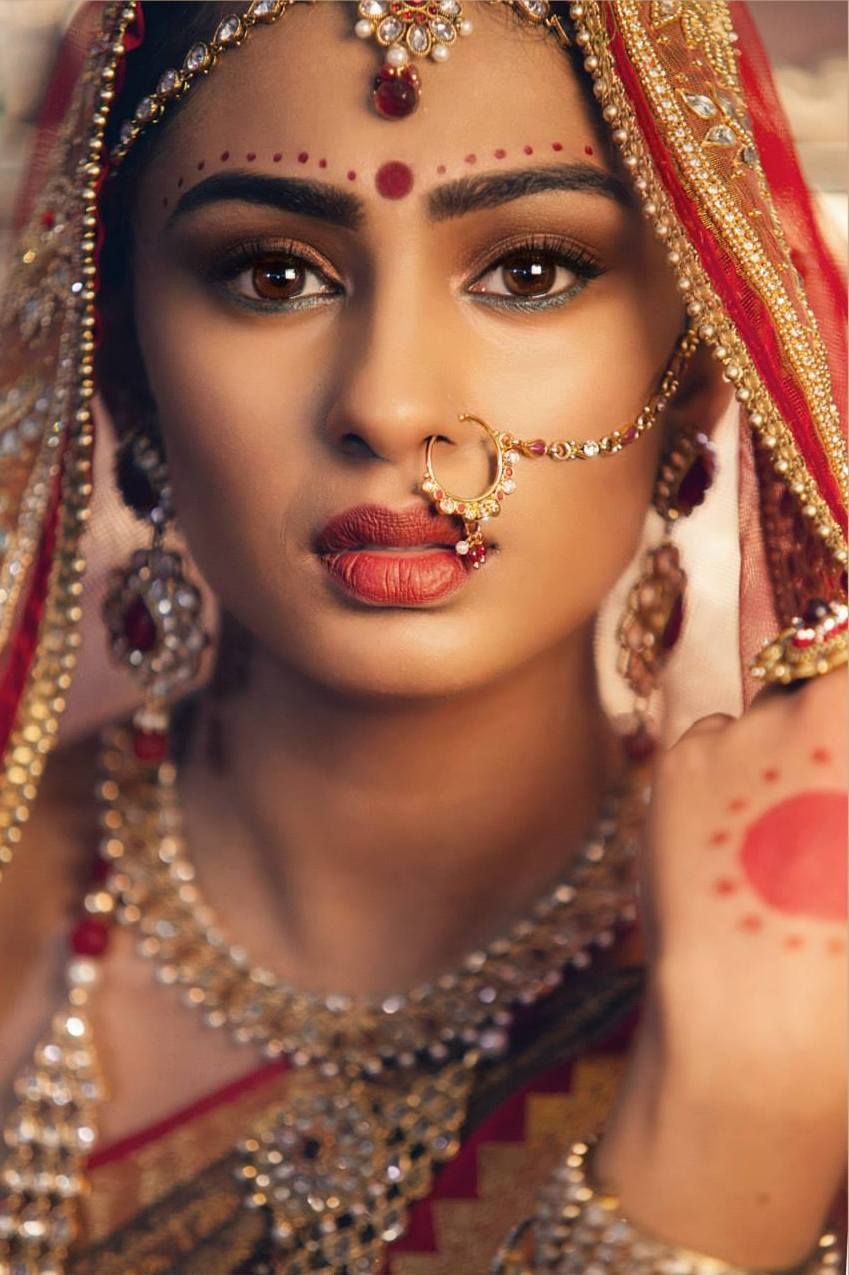 Instead of using other shades and colours for the base makeup, the artist has delicately used colours that compliment a dusky skin tone.
She is wearing Red Kalka art, instead of the classic white one. Her jewellery pattern is different and so is the kind expression on the face of the bride.
Bijou Kalka Design Bengali Wedding Makeup
The meaning of the word 'Bijou', stands for little yet beautiful. The Kalka design on this Bengali Wedding Makeup is just that.
It's not elaborated like most other makeup looks, but the delicate details have improved the look into a better and more elaborated look.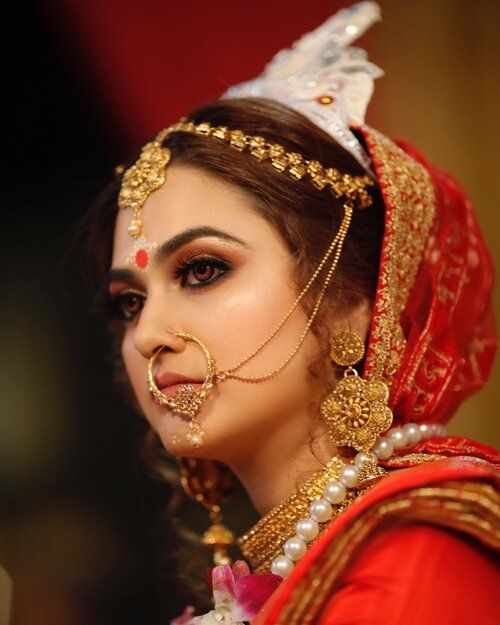 Although she wearing little to no Kalka Design on her forehead, her eye shadow work is quite a bit dramatic. She is wearing a classic black smokey eye makeup look.
Her base makeup is beautiful and it is adding up to the Bijou beauty of this Bengali Wedding Makeup. It is pretty and self-explanatory too.
Minimalist 90's Wedding Makeup
Minimalism is an art and not a cup of tea for everyone. This is an eye look, where the bride has added the prettiest Liner at the edge of the eye,
This is a look where the bride has worn th most delicate makeup, and you can call it out for a Bridal Reception Makeup look.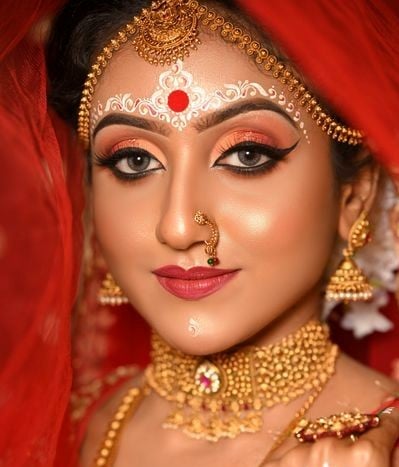 Her base makeup is minimal like most other parts of the face. She is wearing a beautiful base of makeup, with the prettiest line and the most basic eyeshadow.
Instead of making the lid overdramatic and high-end, the Makeup artist has played along with colours that go well with her outfit. Shades like Pink and glitter rose gold.
check out: Modern Bengali Wedding Sarees
Winged Liner Bengali Wedding Makeup
LIner designs play a big deal when it comes to choosing the final Wedding Makeup Look. It is actually about the Eye shape and the Eye makeup.
Some of us, like it broad and elaborated. While some of us enjoy keeping the Bengali Wedding Makeup along with the eye subtle and not so dramatic.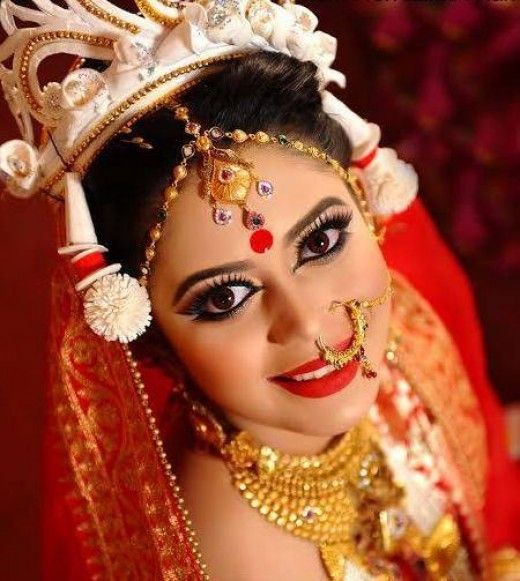 Like many other forms of Bridal makeup, this is also one of the arts where the Bride has applied Kajal also known as Kohl on the bottom line.
And the makeup artist has elevated her eye look with other details too. Which is anything other than little details. The artist has added a line of Wings on the edge of the eye.
Conclusion
Everything has its enigma. It starts with its parameter and its special showcasing. The classic Bengali Wedding Makeup is all about cherishing that one thing. One needs to wear what they like for their wedding ceremony. 
This is exactly why such amazing Wedding Makeup Looks have started to become too popular and in trend. Honestly, good Bengali Wedding Makeup is about wearing your best look, which can be anything. 
It can be a simplistic Bridal Makeup Look or even a look which is high-end as a woman wearing some beautiful additional attributes. This is the speciality of good old Bridal Makeup, it only improves over time. 
AWedding Makeup is definitely about getting dressed, and choosing what you actually want your face to look like. And, it starts with the outfit and also your mood. 
A bride who is having wedding jitters might find it difficult to smile and shine. Trust the process, and the Bengali Wedding Makeup will surely help you cope. If this was helpful, then let us know in the comment section.
We at myMandap, are right there to get you sorted with the best and the most exceptional Bridal Looks. Starting with the most beautiful makeup, Fashion Choices, Accessories, Decoration and whatnot.