A Bridal Kundan Jewellery Set is a perfect pack for the wedding function. It has the most beautiful cognition for that particular occasion. Kundan is a traditional piece of jewellery from the Marwari community. 
Yes, Kundan traditionally belongs to Rajasthan and these pieces of jewellery are famous across the country. That is exactly why we have gathered the best Kundan Jewellery Sets for you. 
Top 10 Kundan Jewellery Sets for the Classic Rajputana Look:
This is a fact, you look much more royal and queenly when wearing a beautiful Kundan Jewellery Set for the wedding ceremony. These pieces of jewellery have the finest stone setting and the best colours.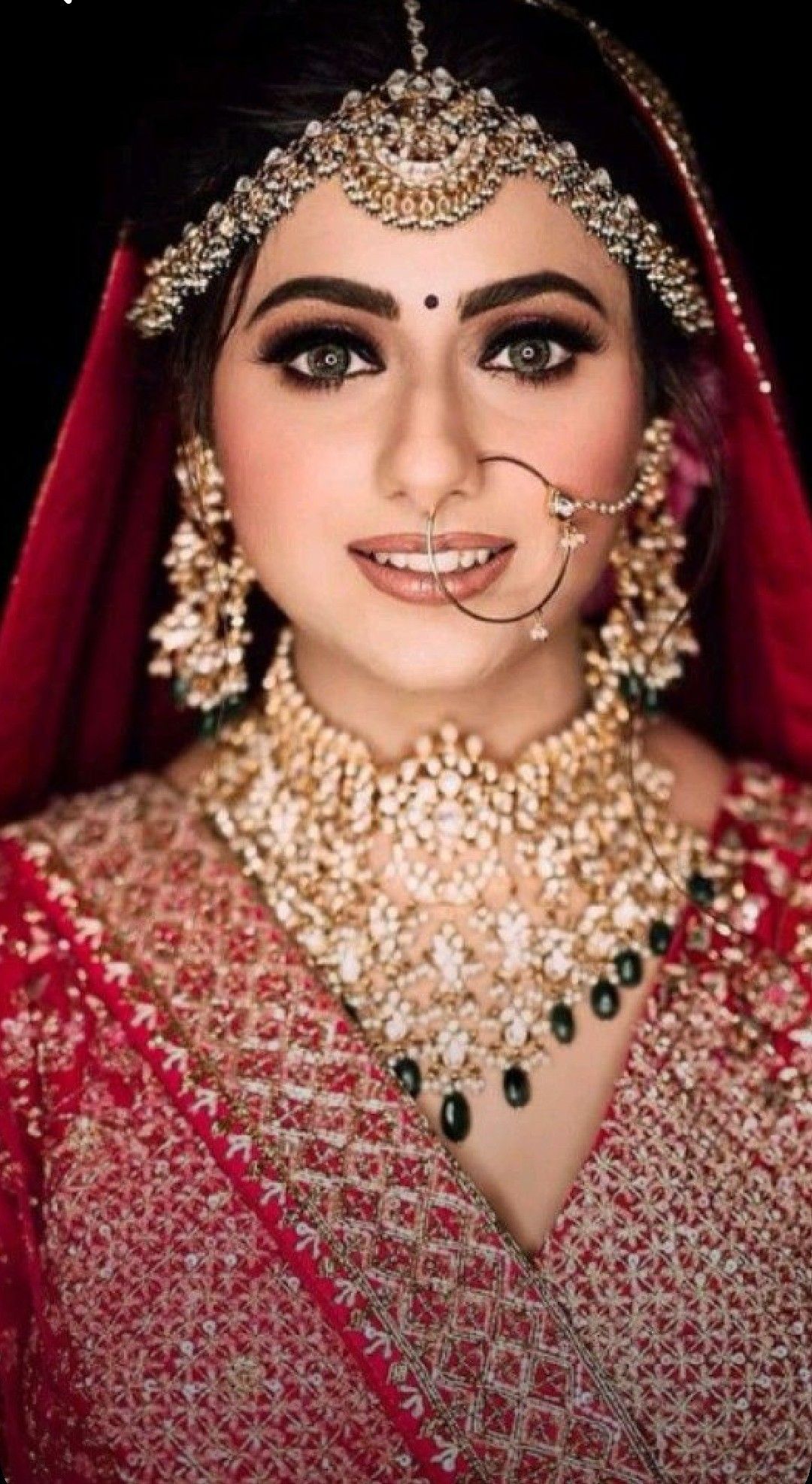 The stones are set around a precious metal, like gold, bronze, copper or even sterling silver. The beautiful design never fails to surprise us at any point in time. 
Kundan Jewellery Set with White Stones
I have a special fondness for this blend. The bride is all adorned in the fairest Kundan Jewellery Set, which is utterly white and shiny. She is all dressed up and has a pretty bridal glam on her face.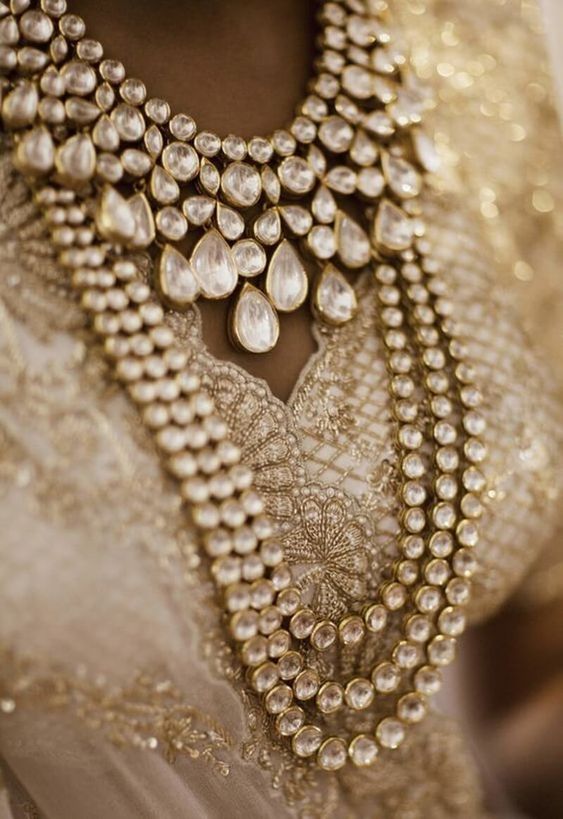 All these little things are not just making her bridal portrait better and prettier, but the bridal set is also getting accentuated with all those features. You cannot really have more of such a beautiful bridal look. 
View:American Diamond Jewellery Sets
Emerald Kundan jewellery set
Emeralds are one of the best precious stones that are used in making a pretty little Kudan Set. They not only make the white stone setting come through in the image but also help in elevating the look.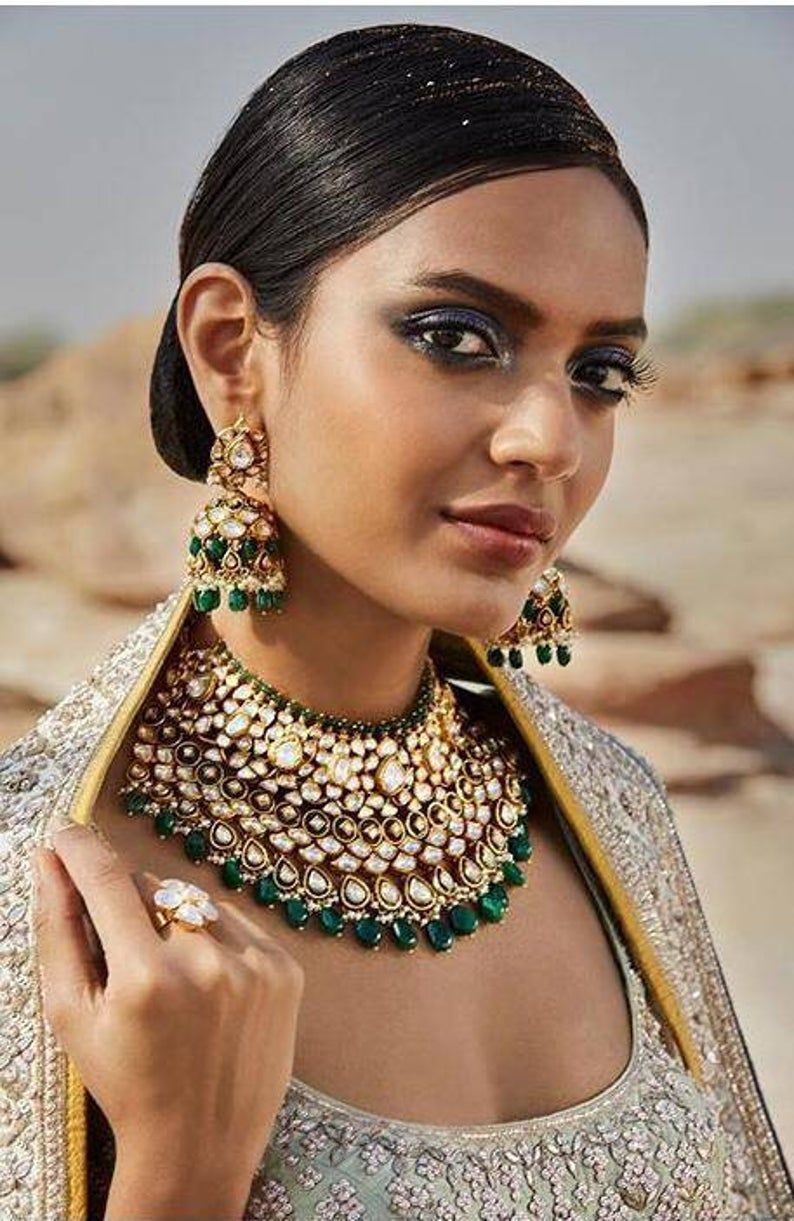 The subtlety of this Rajasthani Set is a mixture of jewellery. I cannot really be sure, if all the ornaments are real, and have been made over gold. The results are outstanding, and quite classy too. 
check more: Silver Jewellery Sets
Matching White Kundan jewellery set
This is a well-matched set, that has all the required features to make it even better and prettier for the wearer. The stones are white in colour, and the combination is perfect well blended.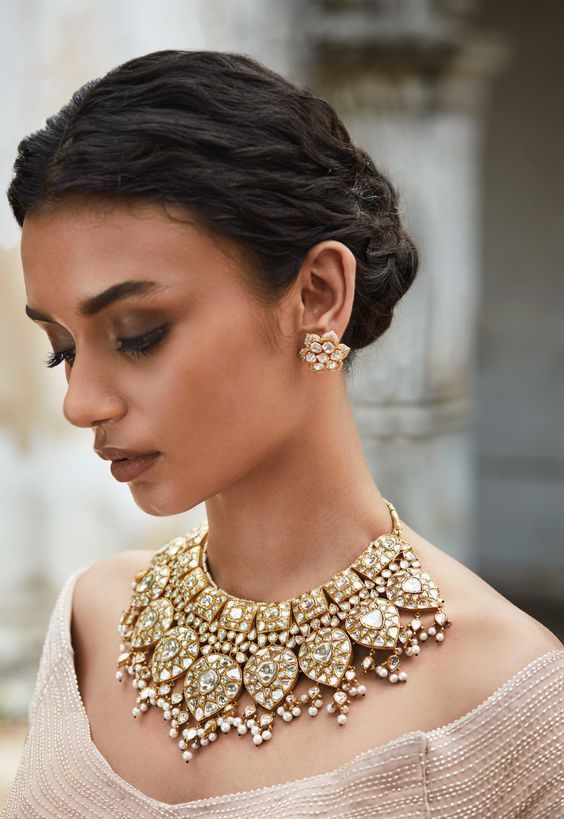 The set consists of a beautiful nosering, which is making the brides face look far more beautiful and well placed. A set of earrings, bangles, and other Kundan ornaments. I will call this set a classy design, that is perfectly well enriched. 
Long Necklace in Kundan jewellery set
Uncut diamond pieces have been encrusted on top of the necklace, which is absolutely picturesque. Tell me honestly, would you mind wearing such a beautiful necklace for your big day?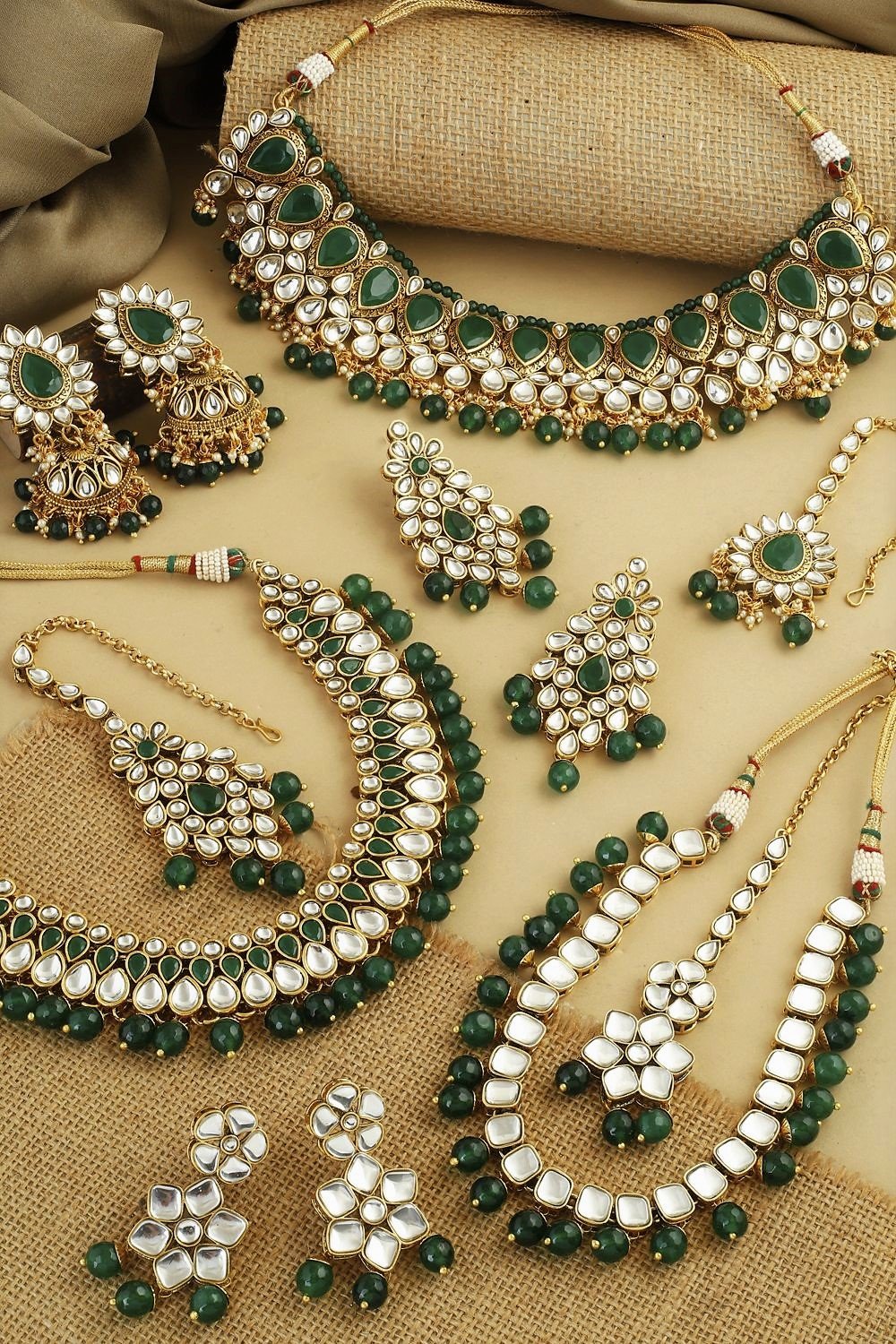 The answer is no, this is one of the most beautiful Kundan Jewellery Sets. Like a marching ornament, this is really beautiful Kundan necklace in a more protracted length. 
Choker Necklace Kundan jewellery set
The nature of this necklace is quite outstanding, and as a matter of fact, it has the best precious stone setting. And, it is slightly different from a Kundan Necklace set. Rather it is a choker that is set sound the neckline of the bride.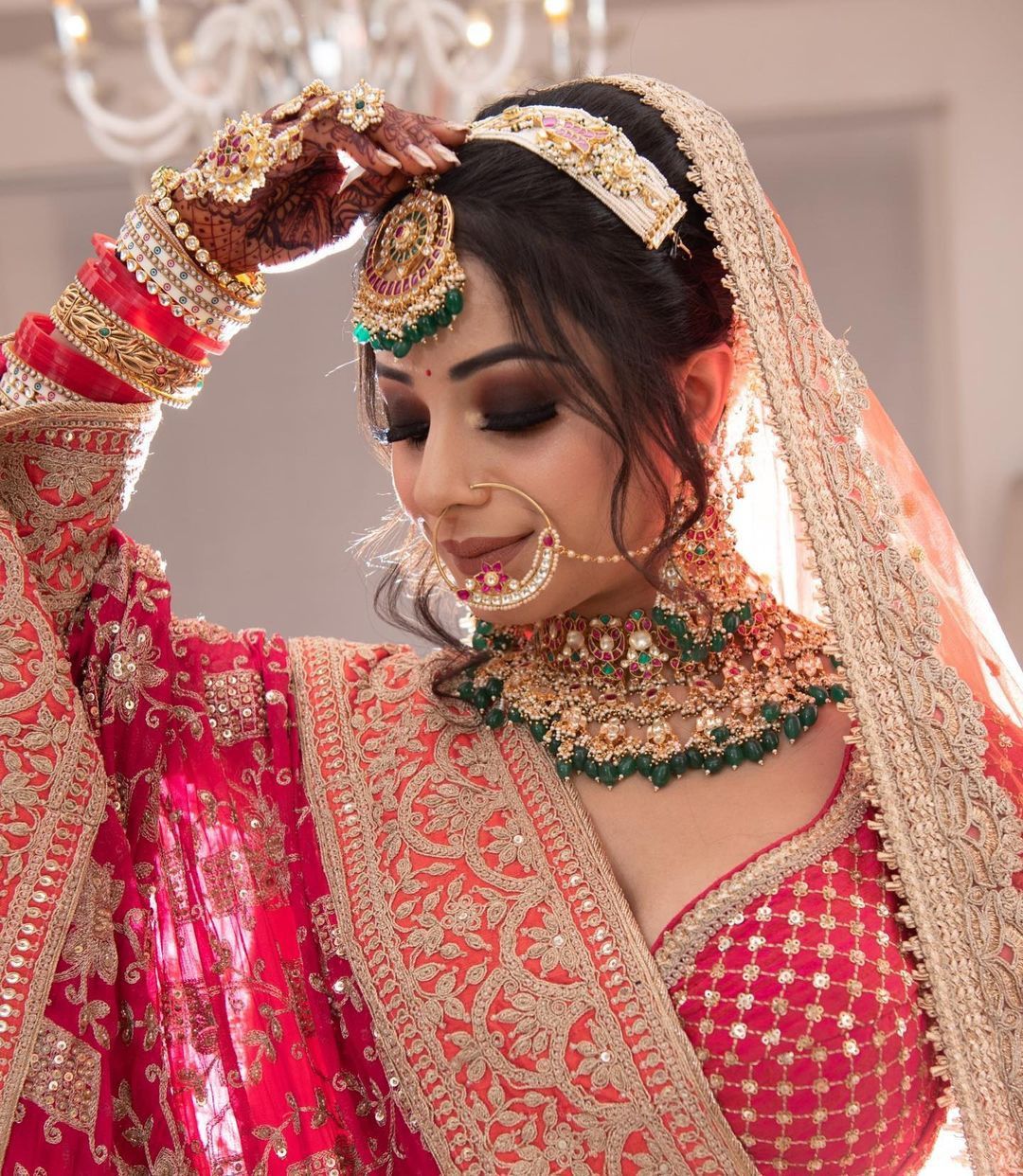 Chokers are quite popular, and trendy in terms of all standing fashion accessories. It is customisable, and quite popular too. Being a Kudan bridal jewellery, it is a beaded necklace.
Must Check: Temple Jewellery
'Matha Patti' in Kundan jewellery set
Here, we are talking about jewellery pieces that are stuck on the head. The Kundan Jewellery Set has the fanciest stone encrusting work, and the results are absolutely remarkable. 
The 'Matha Patti' design is of great importance to any Kundan Jewellery Set. You have to have a beautiful design like that, to make it completed and well blended. That is the reason, why such precious ornament is not just the main attraction, but it completes the entire look. 
Also, see: Pearl Set Styles
'Maang Tikka' in Kundan jewellery set
Why do I suggest Maang Tikka to everyone? Well, to those who do not want to overdo their look with a high-end Matha Patti, for them a Maang Tikka does the work. It covers just the tip of the forehead, which falls right above the Bindi.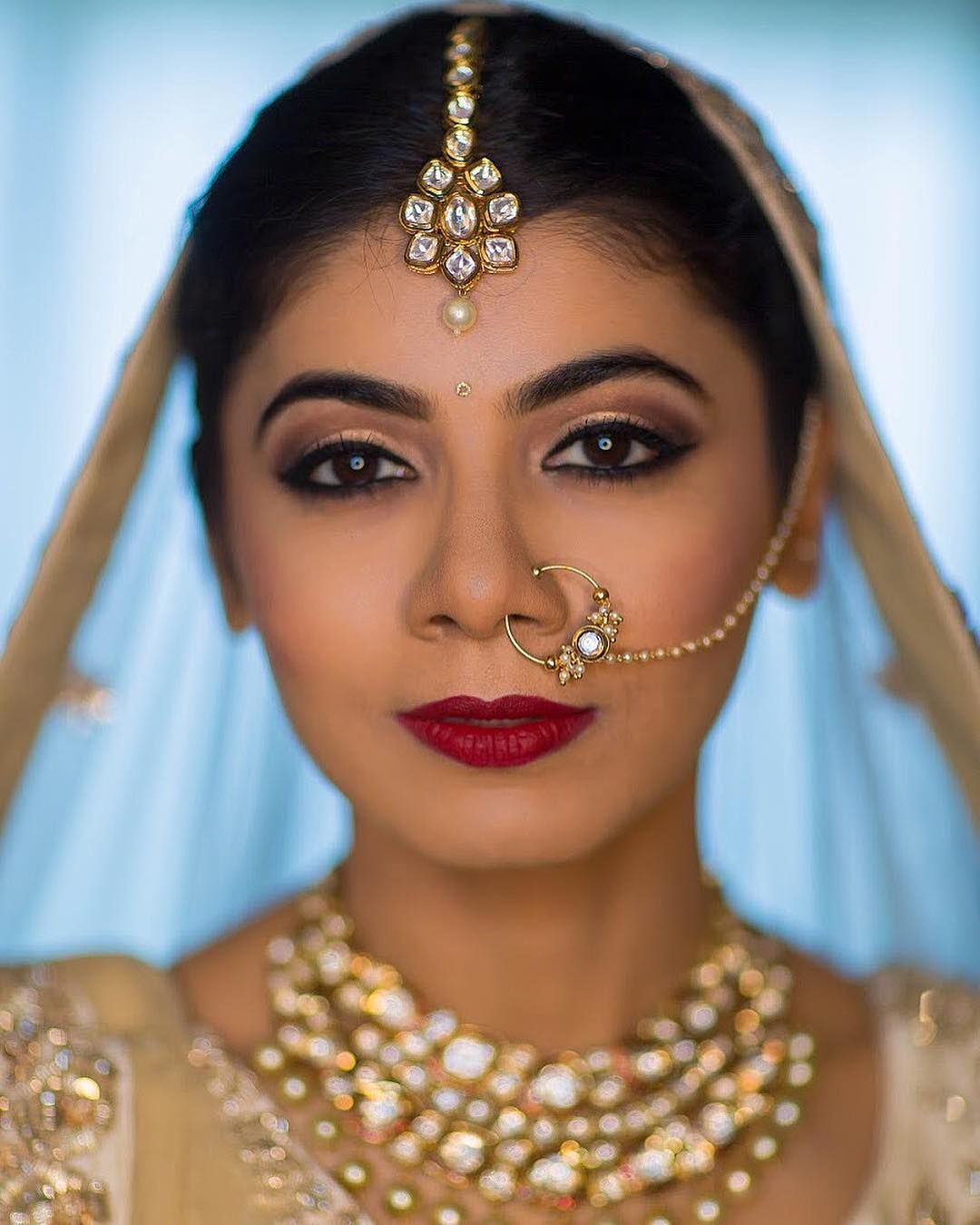 Trust me, a Maang Tikka is one of the best accessories for any event and it is officially the best of pieces of jewellery. I believe, such a high-end accessory, deserves to be paired with a good old. Such as a necklace or even a pretty well-elaborated earring set.
Must check: Bridal Gold Jhumka Design
Kundan jewellery set with 'Jhoomar'
Why do you need a "Jhoomar'? Not all brides would wear such an ornament for their wedding ceremony. Only a few communities in India, and East Asia wear this ornament. This a compulsory ornament among Muslims in India.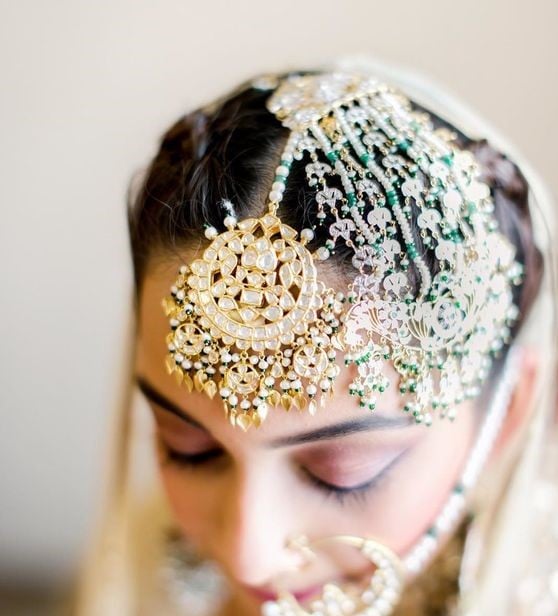 Other than Muslims, many Hindu's around the Himachal, Uttar Pradesh and Punjab wear it for their special occasions. The beauty of a Kundan Jhoomar si the Polki work, and the beautiful combination of white stones.
View also: Bridal Matha Patti
Kundan jewellery set with 'Jhumkas'
The rule of a Jhumka earring is, it has to have dangling balls that fall down the ornament. You can wear such a beautiful accessory for any ornament, especially when it is about the wedding ceremony.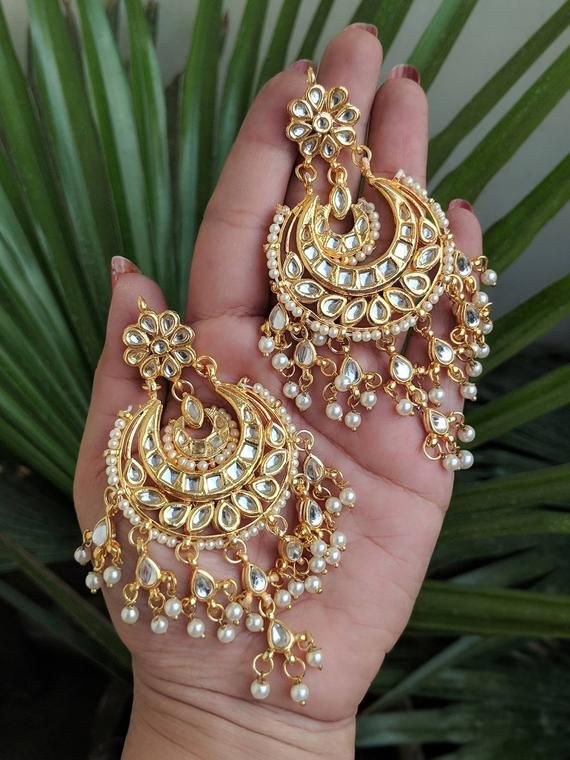 The jewellery has the finest white stonework, and to be honest it is extremely beautiful. I consider it as the best fashion accessory, specifically when it is about the wedding ceremony.
Kundan jewellery set with 'Chandbali'
A Chandbali is a kind of earring that has a round base, shaped like a crescent moon. The beauty of this earring stands o the shapes and different sizes. The one we are talking about here has the best Kundan jewellery work which to be honest has to be on the main screen.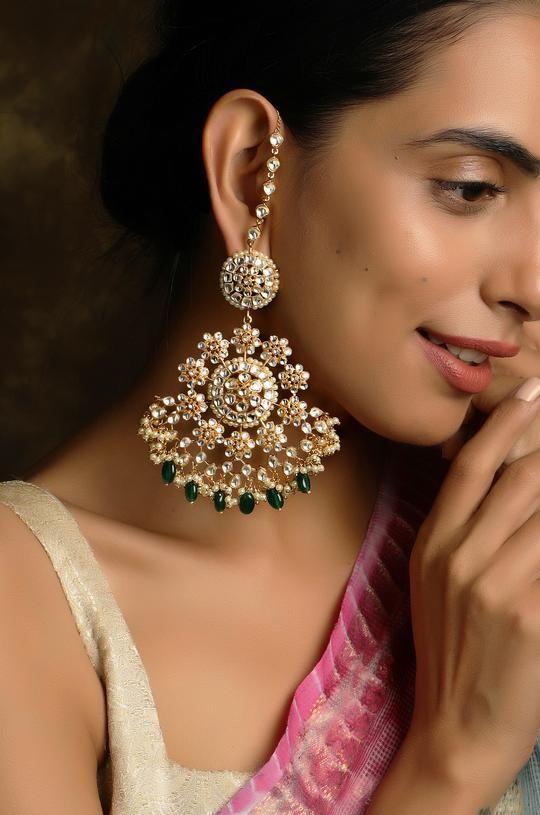 You can accentuate every look with this simplistic yet elegant earring. Just a simple chiffon saree can turn into a full-on Bollywood style, with a Chandbali earring like this.
Check out: Polki Jewellery Designs
Nose ring in Kundan jewellery set
Every Indian Bride needs its fair share of ornaments for its big day. Especially when it is about the wedding ceremony, on such an auspicious occasion, a Nose ring is of great importance. That is the reason why we have gathered th best designs for your nose too.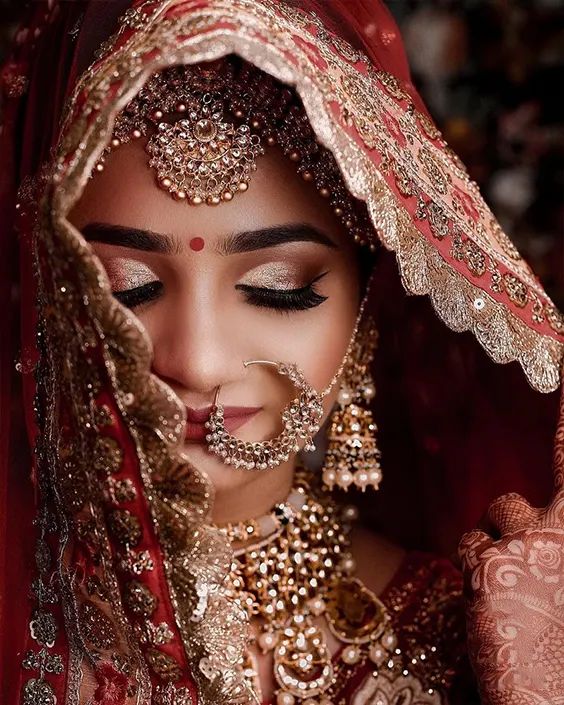 The displayed ring has the best stone engraving on it. It is accentuated with the finest White stones and has the most beautiful and coordinating semi-precious ornamentation on it.
read more: Kalire designs
Bridal Ring in Kundan jewellery set
This is a compulsory one, apart from the ring that you are getting from your better half for the wedding ceremony. This ring accentuates any bridal look from a zero to a full-on hundred. Trust me, you do not have to spend aeons for it.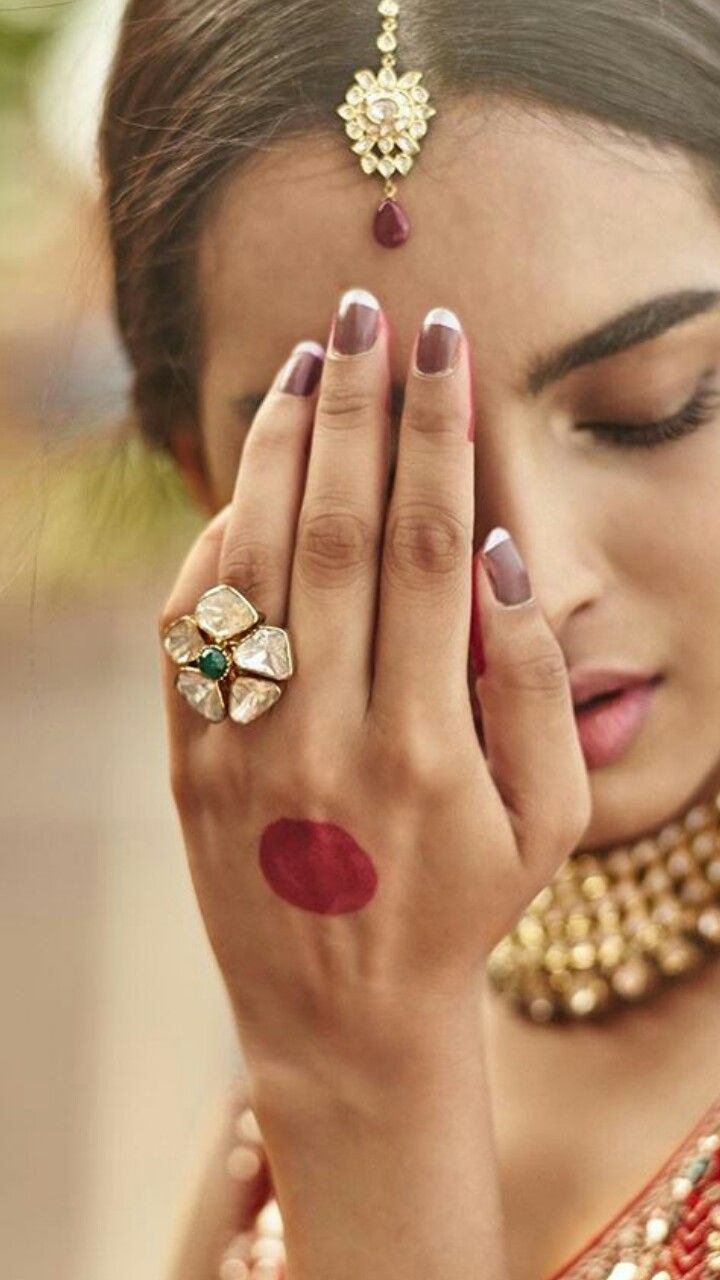 The simplicity of the ring is making it better, and more adaptable to the occasion. The wearer would be left in awe with such a beautiful ornament for their big day.
Bracelet in Kundan jewellery set
Believe me, a bracelet is one of the best kinds of accessories, and trust me you will never have enough of this amazing jewellery set. Why do you think, a bracelet would be necessary for a bridal jewellery set? Well, this is meant for those sets that do not have enough bangles.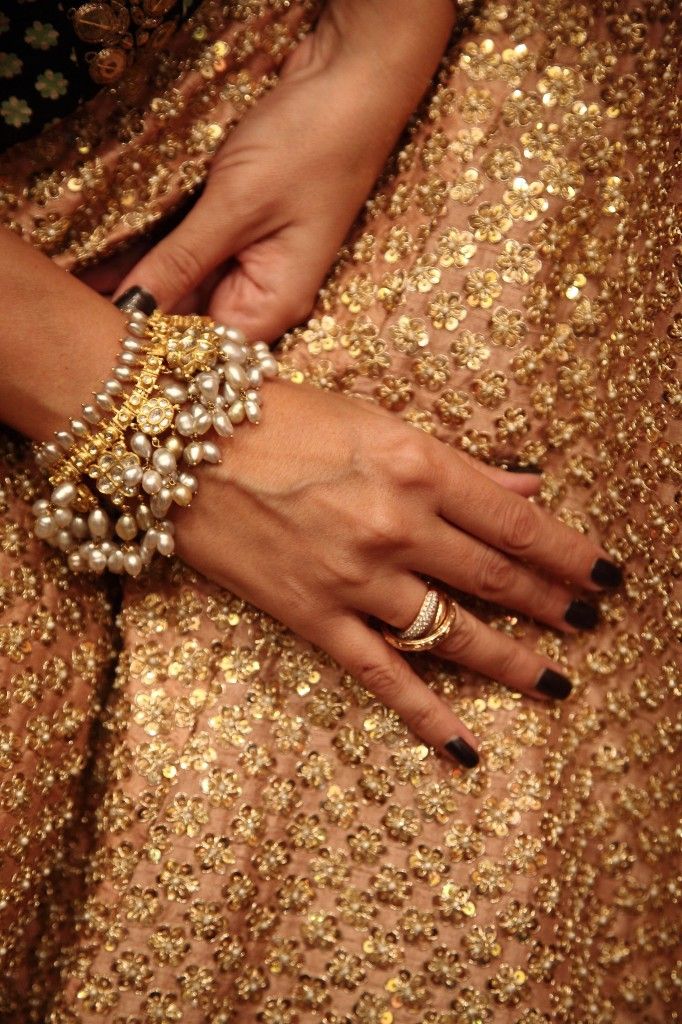 A bracelet like this completes the look of the hand in the best possible manner, and the results are just outstanding. This can be worn as StatementKundan jewellery too.
Kamarband Kundan jewellery set
A belt is one of the most useful accessories, and it can be worn as a simplistic ornament, as well as for the waist-cinching effect. The importance of a Kamarband is realised from a significant part of the bridal look.

Every Indian bride has their thereof Kamarband in the Bridal jewellery set. hee, we have given one of the sleekest designs, and the best one too. This is a Kunan Jewellery Kamarband, the finest of its type and the most gorgeous one too.
Kundan jewellery set Bangles
Kunda Jewellery Set ornaments are incomplete without a nice set of bangles. Bangles are quite important, and an ornament like his suits all kinds of events and occasions. The stone elaboration of this piece has been set with bigger stones, and the results are just outstanding.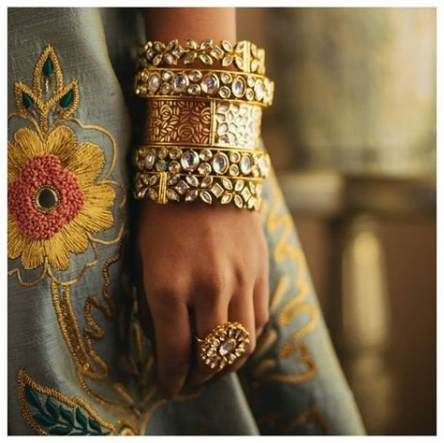 You cannot have enough of this bangle set. As it has few of the best stone enamelling work, made out of white stones and other semi-precious crystals which are popular in the market.
As a list of accessories, Kundan jewellery set ornaments are the most popular ones. Not just in Rajasthan as a typical Marwari Bridal one. But all around the country. Many North Indians, prefer wearing Kundan jewellery for their marriages, as it is a great match for any ethnic attire combination.
Not only as a Bridal accessory, but you can choose to wear a Kudan Set for almost all kinds of events. Such as the wedding ceremony, reception party, engagement, Haldi or any other thing. There are many things that are expected from your attire and at myMandap we have a whole bunch of info regarding such stuff.