The Bengali Wedding Dress is about the authentic style and the fashion we are used to seeing on a Bride and a groom. Their style isn't anything different from the rest of the designs. 
Irrespective of cultural diversity or discrepancies in the community, India stands on the unified parameter of colours. Which in turn makes the most colourful Wedding Dresses, for all Indian Brides as well as Grooms. 
The Classic Bengali Wedding Dress isn't that far more than the tree. The attire worn by a groom or a Bengali bride is made out similarly. Rugged over a silk fabric, with the most beautiful embroidery. 
I find, this diversity extremely appealing. Especially when it talks about the various dissimilarities and similarities that follow. Here, we are about to encounter some of the best Bengali Wedding Dress Ideas. 
Top 10 Gorgeous and Traditional Bengali Wedding Dress Ideas:
The changing times have emerged into a beautiful society, that wears and appreciates different cultures. There isn't any particular restriction, that a Bengali Wedding Dress has to be Benarasi Saree. 
It can be anything and everything depending on the specified desires of that particular Individual. Infact, the Groom's wardrobe has also evolved quite a far from just Dhoti to pretty Suits.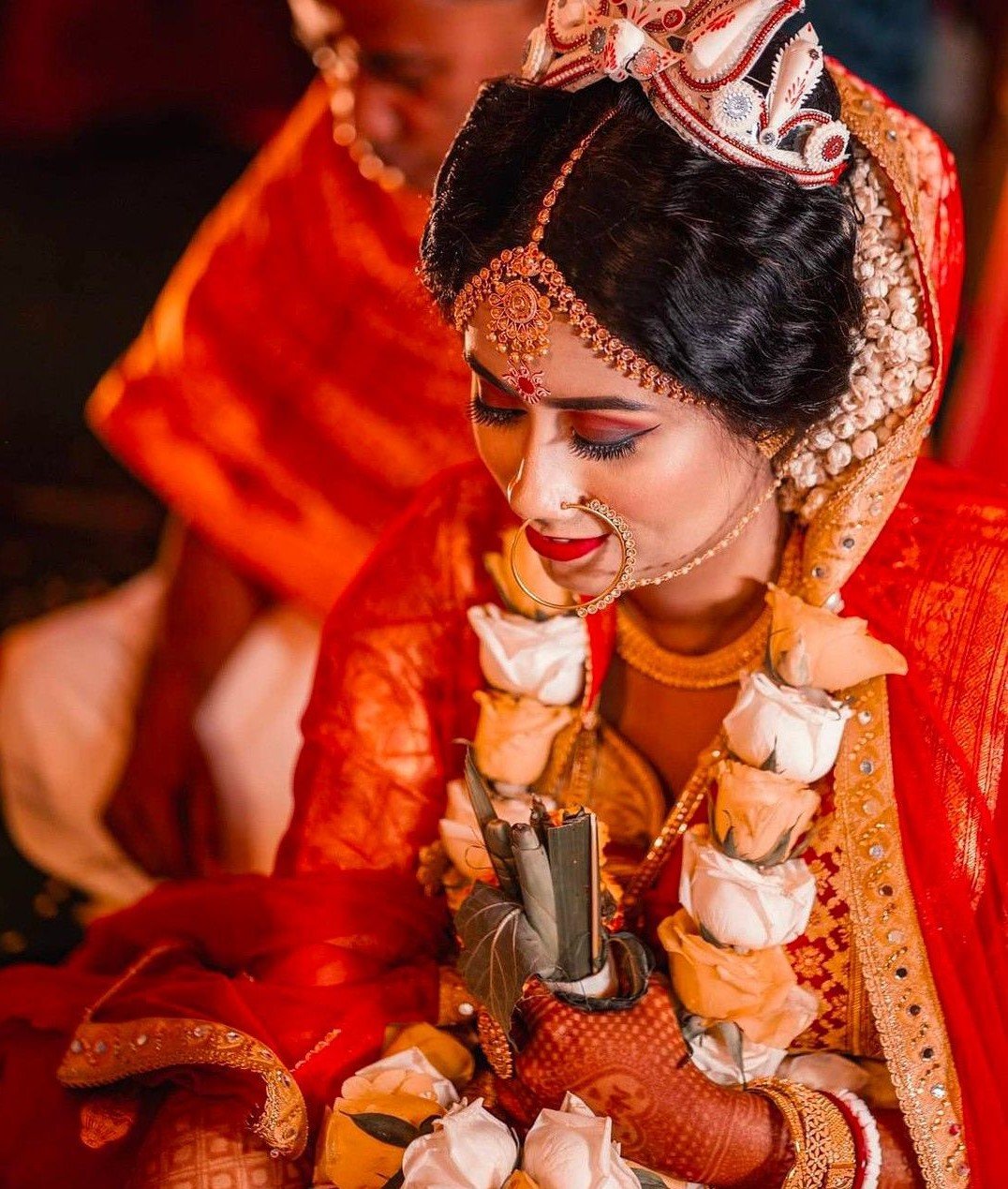 These are the major changing that we have seen in recent times. Especially from the year 2012 to 2022. Everything is changing, especially when it is to Wedding Fashion. 
People aren't afraid of any fashion choices. To wear what their hearts content and to choose their own personal Bengali Wedding Dress on their terms. Here, we have some of the best ones. 
Visit: Plus Size Indian Party Dresses 
Red Benarasi Lehenga in Bengali Wedding Dress
This is a known fact, that it is custom for Brides to wear Red outfits for their Wedding Ceremony. Not only any basic red but classic Reds.
This is one of such amazing combinations, which have been made in the colour Red. Rather this is a combination of Red and Benarasi. The two most important loves of Bengali Brides.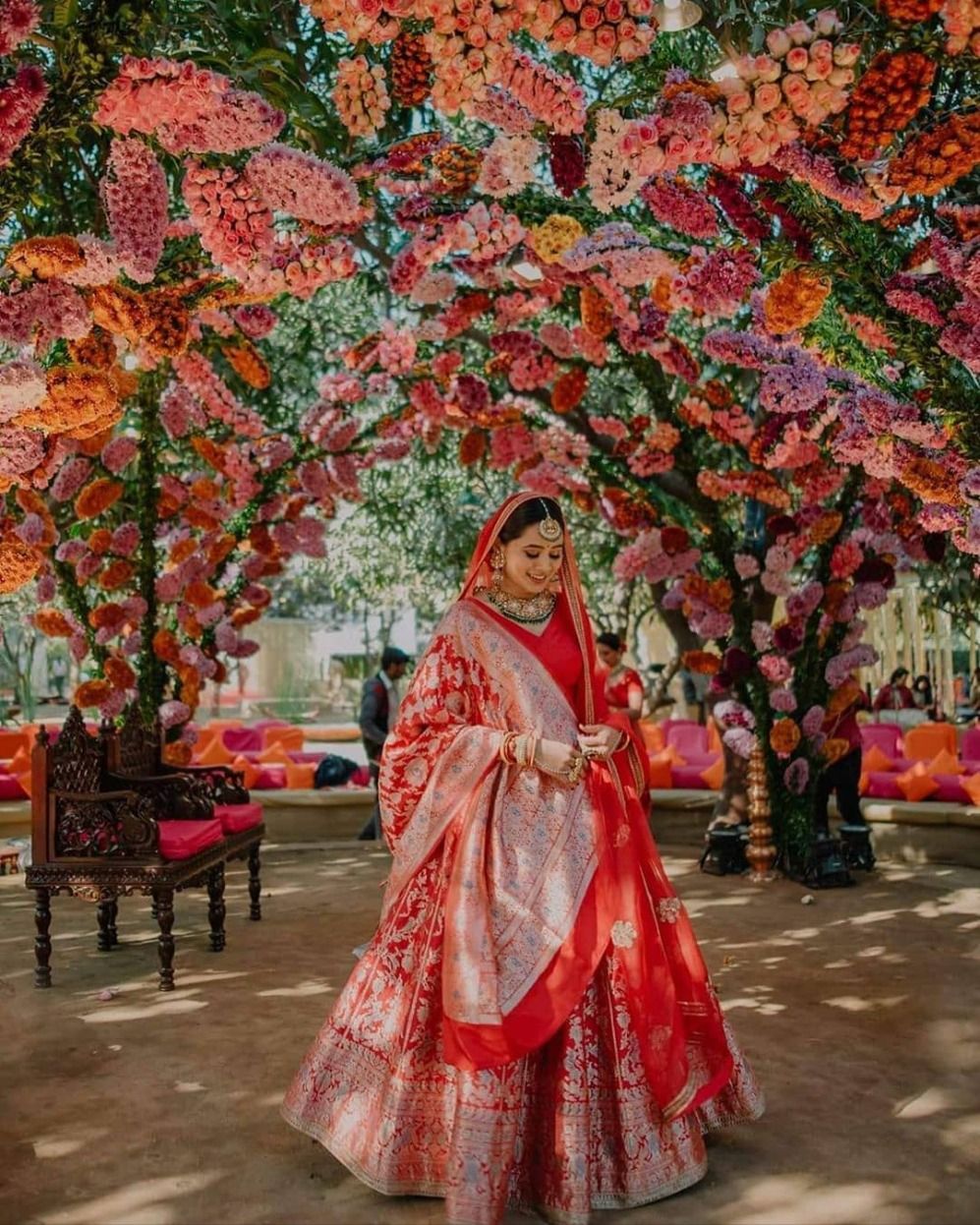 The bottom of the Lehenga Skirt is made out of benarasi Silk, and the top portion of the Saree has a similar fabric too. It is an exceptional Bridal Look.
Not quite common for North Indian brides, but this is relevant in the East. Especially in Kolkata, where brides prefer Lehenga as well as Benarasi Saree.
Check out: Christian Wedding Dress
Red Silk Eight-Fold Saree Bengali Wedding Dress
It is always the best option to keep it traditional, and ethnic. Instead of choosing some different genres of outfits, you should always choose the most feasible option.
Like in this case, the Bengali Wedding Dress is a Red Silk Saree. Not only any Silk Saree but a Benarasi Saree which is known to be the love of Bengali brides.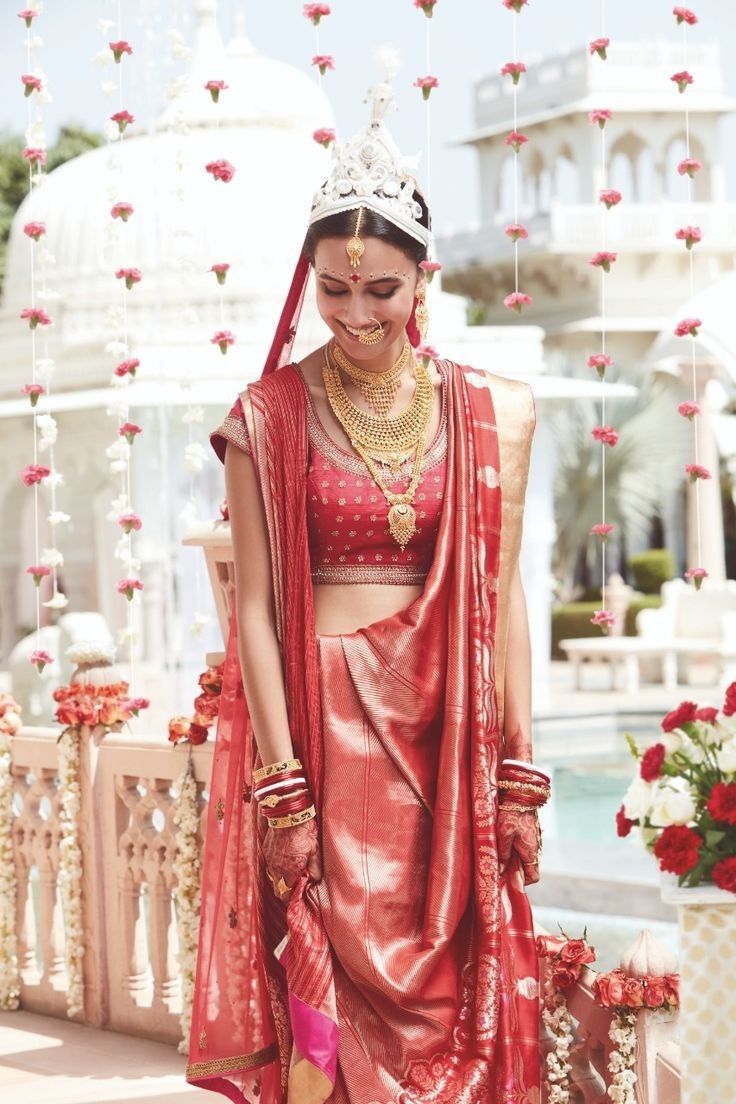 She is wearing the Saree most fashionably, with the pallu right over her shoulder and the Sare having no bottom Pleats.
This is a really popular technique of wearing Sarees in West Bengali, where the entire Saree is worn with just eight folds. instead of Spending time on pleats, they make folds to wear a Saree.
Check More: Bengali Wedding Dress for Groom
Maroon Brown Silk Saree in Bengali Wedding Dress
Among all other Bengali Wedding Dresses, this is slightly different. It has a different base and a shade which is not so convenient for bridal attire.
I think this is a Saree that has a block print threadwork.  A beautiful border, and golden threadwork, which is forming the prettiest motifs all over the Saree.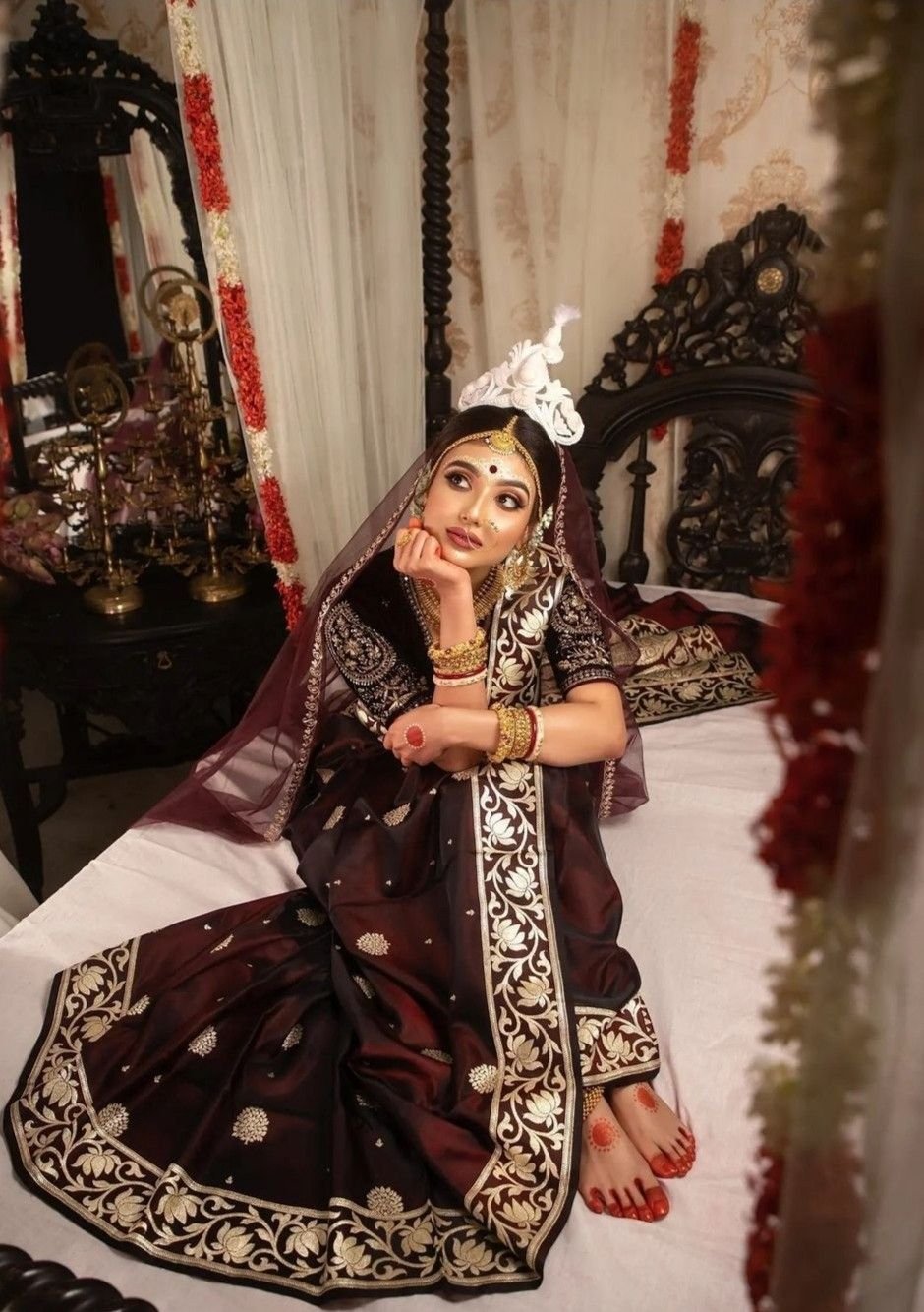 This is one of such Sarees which are always in trend. Trust me, this is a Saree that hardly goes out of fashion, and you can always count on it even after the wedding day.
This is a beautiful Bridal Saree with the most beautiful collectable Pallu and other works. One should wear their selective Traditional Jewellery Sets with this Bengali Wedding Dress.
Zardozi Georgette Saree Bengali Wedding Dress
I think this is from the exquisite Summer bridal Collection of Sabyasachi Mukherjee. Now, owning a SABYASACHI for the wedding ceremony is a class.
This is one of the most beautiful Bridal Sarees which have been decorated with the most enchanting sequins and even Zari Work. It is a Bridal Dupatta, with the Floral Print.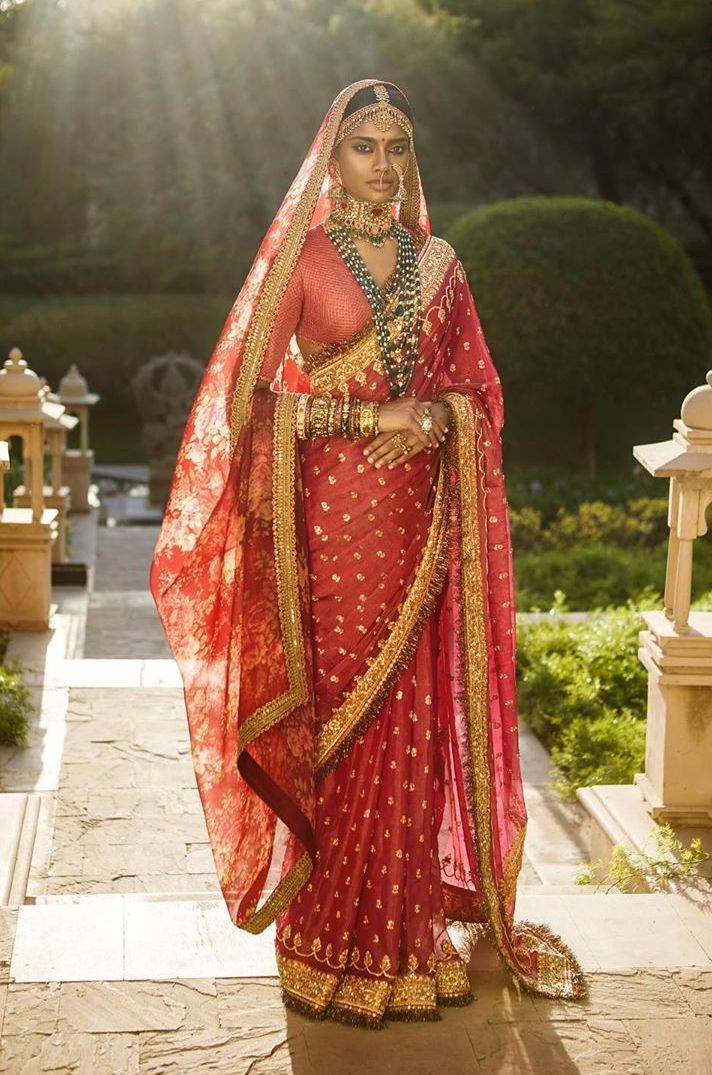 Now, Sabyasachi is known for its ravishing brides. His wear is a win for everyone, and it becomes an absolute hit and wins for everyone out there.
This is one of the most beautiful Georgette Sarees, which is decorated with the best Border and middle work. Honestly, this is an exceptional Bridal Saree, and the best Bridal Dupatta too.
Visit more: Marathi Wedding Dress
Red Bridal Lehenga in Bengali Wedding Dress
A Bengali Wedding Dress is incomplete without the right fit and the right shade. It is supposed to look its best when both things are taken care of.
Especially when you are wearing such a Beautiful Bridal Lehenga. This is Bipasha Basu and she is undoubtedly looking like a Bong Goddess.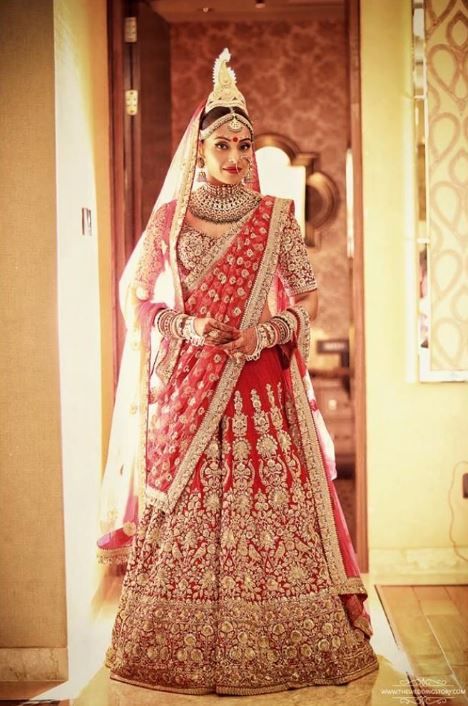 How come she looks so beautiful and exceptional. Well, it is none other than her endurance. It is so subtle and elegant that the Red Lehenga is looking like a Goddesses Attire.
This is one of such amazing Bridal Attires, which have been at the top. This is one of the best Bridal Lehengas, which is great for a Bengali bride.
Red Korial Benarasi Saree Bengali Wedding Dress
Different Looks make a complete difference in endurance to the rest of the look. It is important to choose a dress wisely. While some options might be extremely basic, few others aren't so.
This is one of such amazing creations known to us. It is a Saree style which is none other than a classic Benassi Saree. I think this is a fact known to everyone. A Benarasi is copyright, Bengali Saree.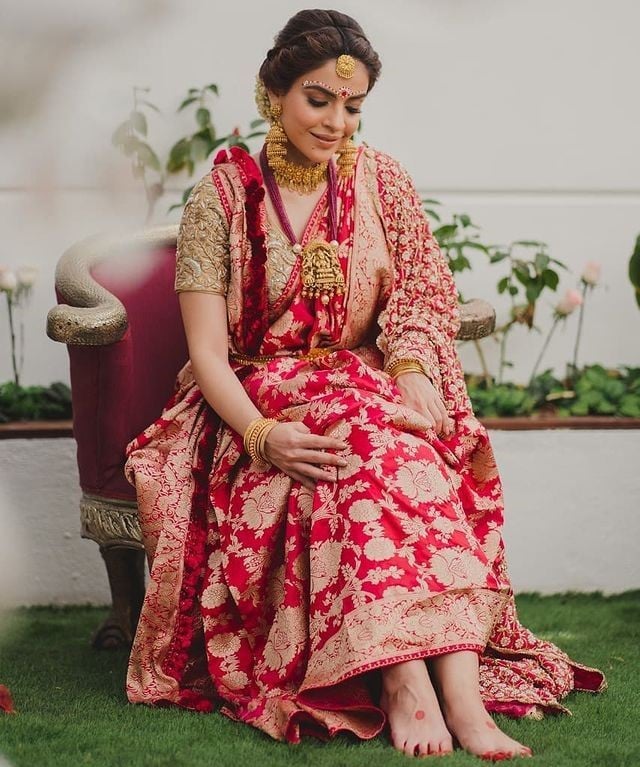 Don't take that literally as it comes from the state of Uttar Pradesh, Varanasi. The modern Bengali Innovations have been incorporated correctly with these fashion choices.
To know more about Bengali Bridal Benarasi Saree, do check out our blog on that. We have some of the most beautiful designs and equally beautiful styles.
Read more: Marwari Wedding Dress
Pastel Pink Silk Saree Bengali Wedding Dress
This is a delight, and the contrasting colour change is rightly done. She is wearing a beautiful Baby Pink Saree, also known as Pastel Organza Saree.
Not quite conventional of a Bengali Wedding Dress, and that is the main point of beauty. She s wearing a completely different Silk Fabric, than the ones worn by Bong Brides.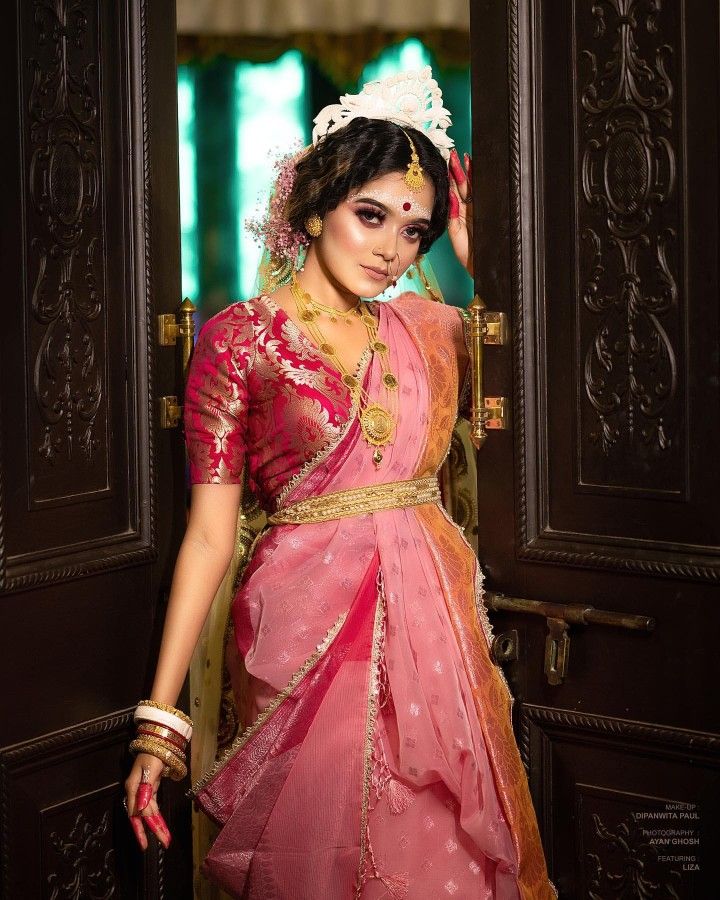 She is wearing a Net Like Saree, which is known as an Organza Silk. This is different, and it is sleeker and more stretchy. The main difference lies in the fabric work.
Benarasi or Kanjeevaram Silks are haveir Sarees, whereas this is one of such amazing little outfits which matches well for Bengali Cocktail Party, or even for Aiburobhat Look.
View more: Sangeet Dress for Bride
Red Silk Saree with Motifs Bengali Wedding Dress
Honestly, a Bengali Wedding Dress can't ever be super perfect. It is only fulfilling and gorgeous until you witness the beauty of it most prolifically.
A Silk Saree like this is just what you need for a Shinning Bengali Wedding Dress. The base colour is Red, while the rest of the design is as simple as it can be.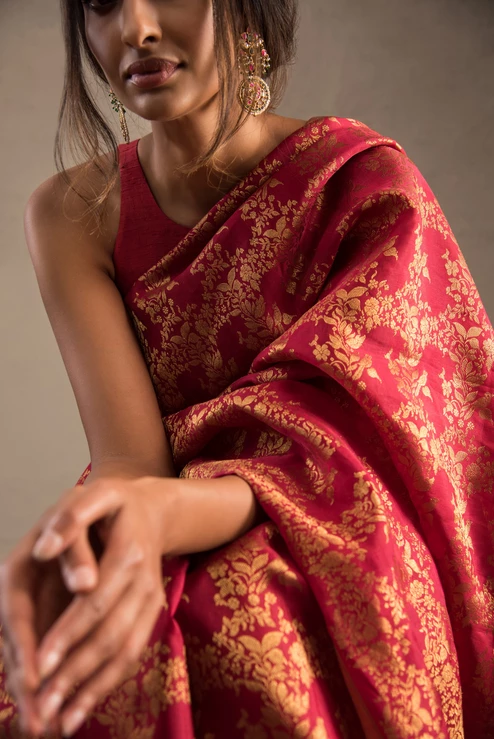 The beautiful Vermilion red is making the outfit better, and more appropriate for the official Wedding Reception. I found this fabric, really exquisite which is none other than a classic Kanjeevaram Saree.
Although it is more likely for a bride to wear a good old, Bengali Wedding Dress in Red. That is not a compulsion, one can choose their outfits on their term.
Chiffon Bridal Dupatta and Saree Bengali Wedding Dress
This is a simplistic Bride, who chooses her Bridal attire on two most important terms. Firstly a fashionable Bridal Saree is already a piece of cake for an outfit like this.
It is so well decorated that the rest of the Bengali Wedding Dress is just not important any further. What stands as the main attraction, is the Bridal Dupatta.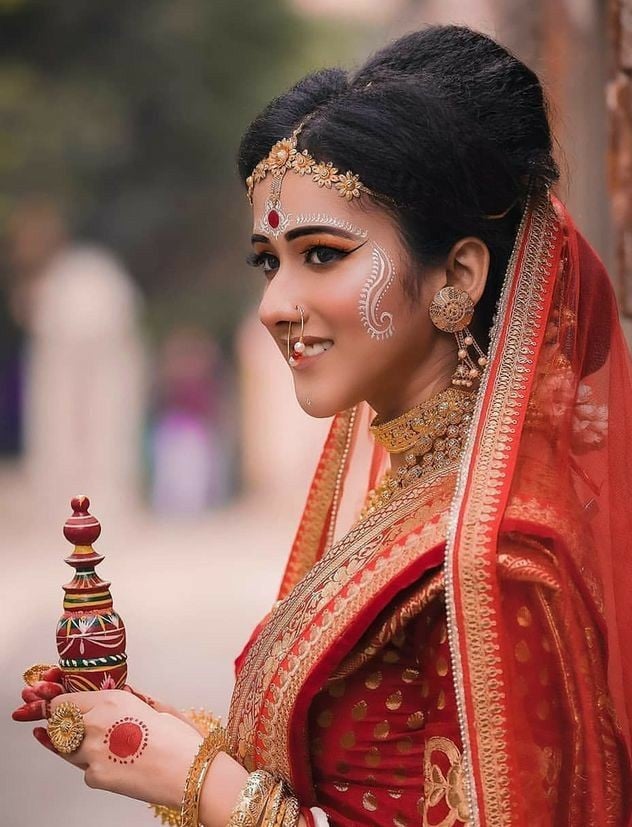 Yes, instead of using any other accessory to decorate this Bridal Look the bride has simply taken help from the already existing portion.
None other than the Bridal Dupatta, which has been specially decorated with the most beautiful specific decoratives. This is one of such amazing Bengali Wedding Dress Ideas which are my favourite.
Check out: Plus Size Indian Wedding Dresses
Meenakari Benarasi Saree Bengali Wedding Dress
A Benarasi Saree is the most basic outfit choice, that is used to seeing. This is all about wearing your heart's content most conventionally.
Like this is already known to know to everyone out there, a Bengali Wedding Saree is preferred to be Red. That is the outright perfect shade for a good old wedding Saree.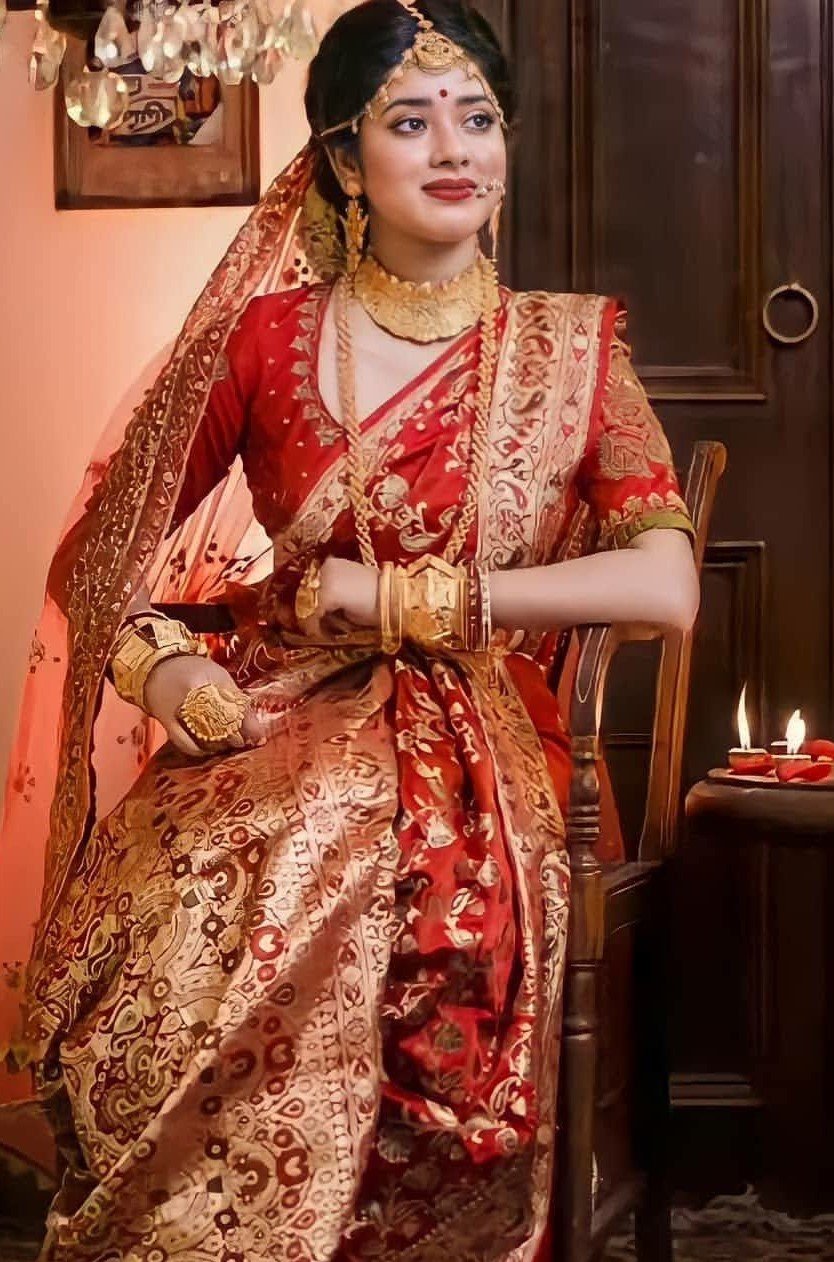 The colour red is pleasing to all and it makes your Bengali Wedding Dresses far more pleasing and acceptable. More than anything get else, it is well embroidered and decorated.
Two of the most important kinds of stuff before choosing the final Bengali Wedding Dress. The uniqueness of the Saree is outright extremely beautiful, and that is what we need for a perfect Bridal outfit.
Well, these were some of the most exquisite Bengali Wedding Dress Ideas that we are used to daily. Besides that, there are many other options which make a proper wedding dress.
A good Bengali Wedding Dress should be about your personal outfit choice and something that goes well with your wardrobe. That is something we can hardly skip at a Wedding Outfit.
The material or the fabric is the first thing of comfort, as that directly sits on your skin. If you are not comfortable wearing Silk, th switch to cotton or some other alternative.
I know many, who aren't comfortable wearing Georgette. That is something we can hardly skip on. Most importantly that determines that look, and the dynamics for the entire day.
A good and creative Wedding Attire comes from a lot of consultations and Inspos. At myMandap, we have a lot of Wedding Inspiring content, that might work well with you.
Starting with the best Blogs on Wedding and Bridal Fashion, Wedding Stage Decoration, Makeup, Food and lots more. If this was helpful at all, then please let us know in the comment section.