The Plus-Size Hairstyle is nothing different from the usual ones. Rather these are meant for all my Curvy as well as Skinny Ladies. Without worrying about what suits you, here we have gathered some of the most unique hairstyles which break all kinds of boundaries for Hairstyles that are sleek and fun. 
These Hairstyles are moderately curated for all kinds of women, irrespective of who they are and what kind of hairdresser they want to wear. Without further Adeus, let's get to my point, Which is the best Plus-Size Hairstyle? 
The Good-Old Rose Bun Plus-Size Hairstyle
The Hair bun Never goes out of fashion, as a matter of fact, it is one of my favourite hairdos. You'll be left baffled with the results, and trust me it looks good on each and every bride. No matter what size you are, or what is the colour of your complexion. A Bun has its own subtlety and elegance, you are bound to look good with this.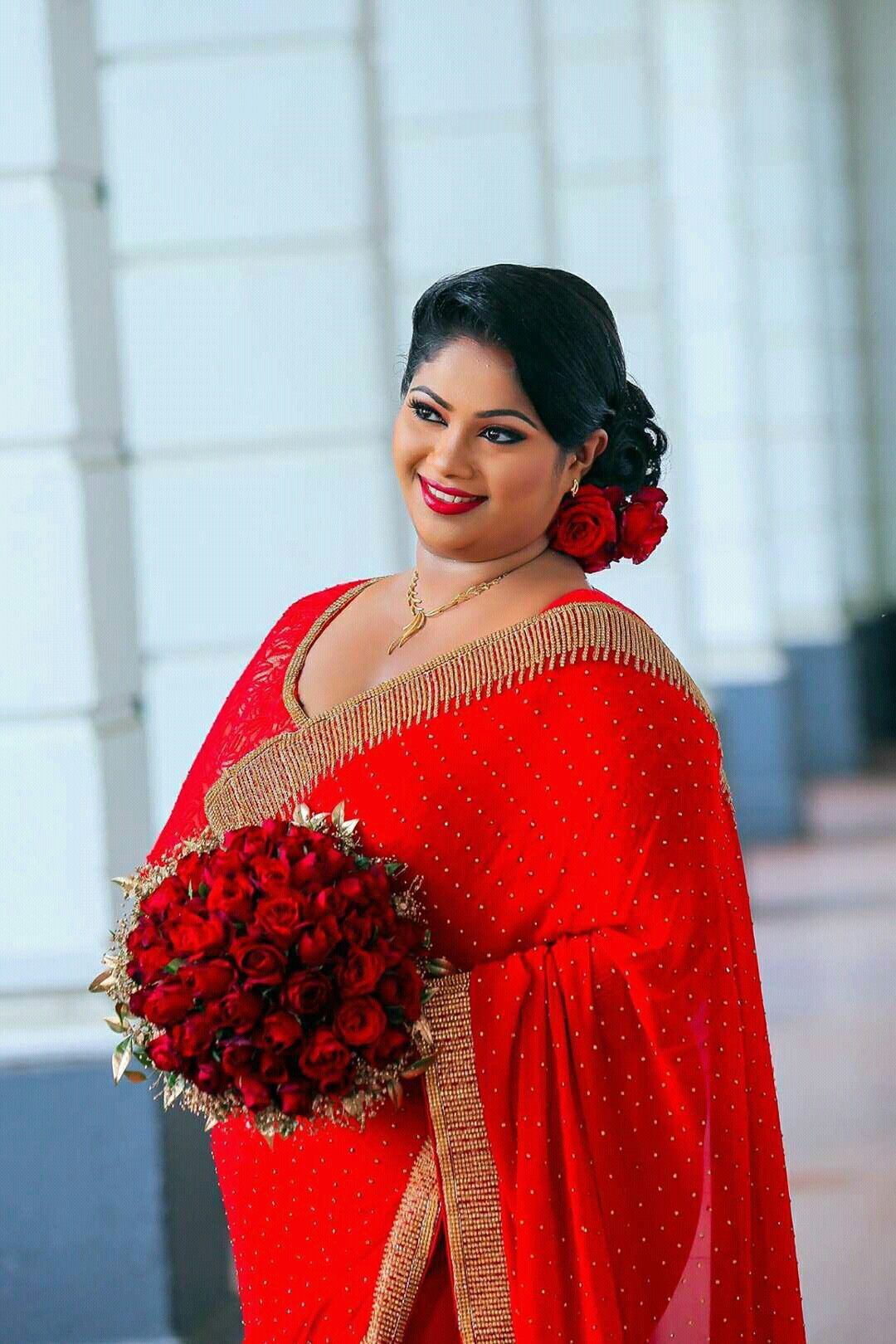 The hairstylist has utilised this lady's hair volume to the next level, first of all, the back portion has been turned into a really beautiful fluffy bun, while the front has been curler in a really nice manner. In a way, this looks neater, than any other bridal hairstyle. As a Plus-Size Hirstyle, the stylist has added some roses to the back to make it more voluminous.
Sleek Bun Plus-Size Hairstyle
This is the hardcore neat bun, rather I will call it the neatest hairstyle in the list of Plus-Size Hairstyles. It has the elegance of a simplistic Hair Bun, with the slightest twist of a really pretty sleek frontier style. Trust me, this is one of the best hairstyles, on the list of Plus-Size Hairstyles. As a Curvy, you might have heard a million times, that sleek bun do to suits you.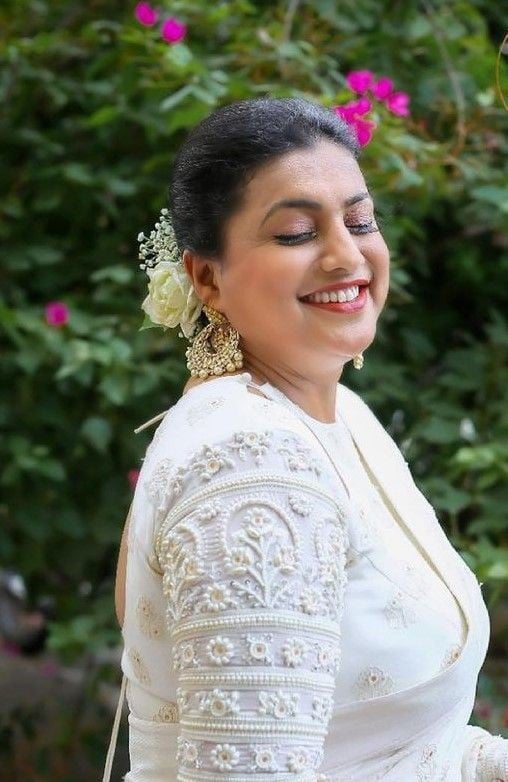 This Hairstylist has broken all such stereotypes around tieing the hair and making your face look broader than ever. This has a separate fanbase, and trust me you can never have enough of such amazing styles. More than a Hair bun, it is a style that cannot be expressed better than with some additional flowers. This hairstylist has incorporated the best White Roses, to make it even better.
Must Check: Plus Size Indian Party Dresses
Perfect Waves Plus-Size Hairstyle
Starting with the elegance of an open hair looks, to the ultimate grace of white flowers. This PLus-Size Hairstyle has the best of both worlds. First, of all the front of the hair has been puffed out uniformly with the centre parting around the crown region. This deviation has made the back of the hair even more voluminous and pretty. Trust me, such an amazing hairstyle can never go out of fashion.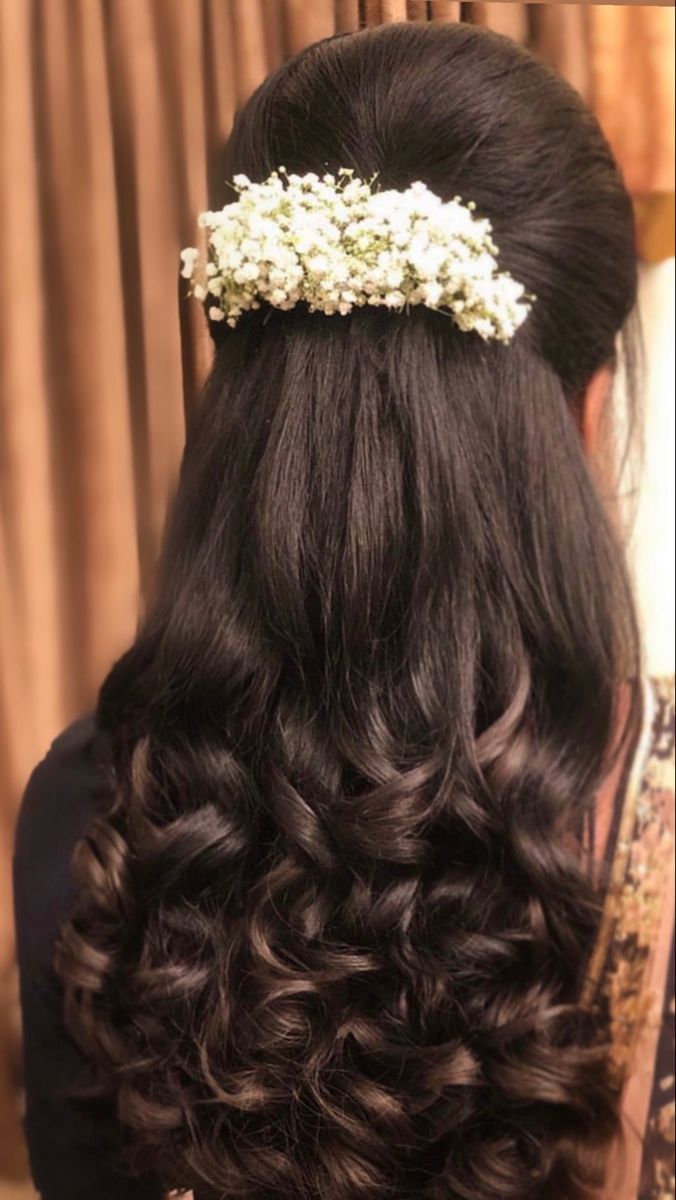 The bottom portion of the hair has been curled uniformly with those pretty yet so beautiful curls on top of the head. These curls are nothing but the best accessory, that one can wear for their wedding ceremony or other types of occasions. The bottom curls are bouncy, crusty and really very elegant This can be a great option for your statement Hairstyles required for other bridal occasions.
Check Out: Bridal Hairstyles for Weddings
Bollywood Curls for Plus-Size Hairstyle
As simple as this might be., the best part about this hairstyle is the elegance and the beautiful bouncy curls. The hairstylist has gathered the most beautiful Bollywood curls for this particular Plus-Size bride. Trust me, this isn't as hard as it looks like. The base of this hairstyle is simple, with a middle parting look while the rest of the Hairdo has nothing but soft and bouncy curls.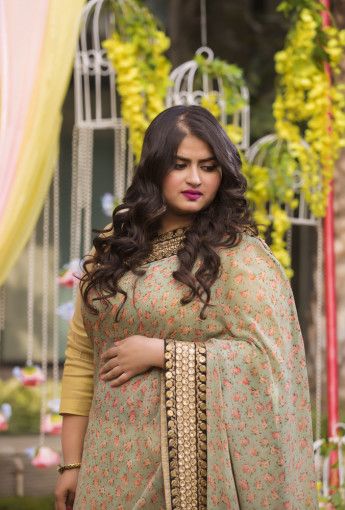 This can be a hairstyle for almost all kinds of brides, plus-size or even skinny brides. This would look beautiful on a person with voluminous hair, or on someone who has a scanty hair problem. That is the beauty of Bollywood curls, it suits every Indian bride. This can be ou hairstyle for almost every wedding occasion, as a morning hairdo or even for those stunning night functions.
visit also: Which Saree Colour Suits for Dark Skin?
Plain Straightening Plus-Size Hairstyle
Authentic, classy and trust me the safest style for a PLus-Size Bride. The hairstylist has utilised the highlights she has on her hairdo, which made it easier to style and bettered. Trust me, this is a kind of hairstyle that can never look bad on a single human being. Curvy, skinny, dark or Fair this hairstyle has to be your perfect Hairdo no matter what.
This is a kind of hairstyle that is supposed to be your bae, and you might not always need a hairstylist to make it look p[perfect. One with pre-smoothened hair, or a simple hair straightener can win this for their wedding g ceremony. Although I wouldn't suggest this for your wedding day, this is a great hairstyle for other assorted celebrations, like the Cocktail Party or the RIng Ceremony Night.
Floral Plates for Plus-Size Hairstyle
This is not just a Plus-Size hairstyle, but a proper hairstyle for all body types. This is a kind of hair look that is bound to look with a Lehenga Skirt, a Saree, a gown or even the most authentic Bridal Attires. The simplicity of this back hairstyle is made more prominent and articulated with those additional white flower sets and a list of parts on top of the crown area.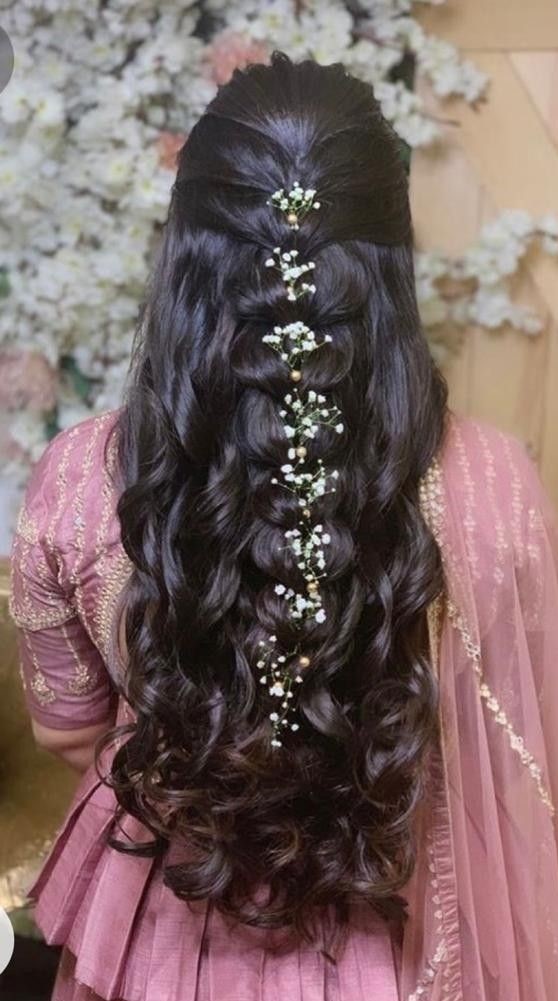 This might even look stunning with an additional set of flower tiara on top of the head, o just a simplistic crystal crown. This is a kind of Plus-Size Hairstyle that is upright supposed to look good with almost every little attire. No matter, what is your size, shape, or skin tone. One can actually choose this as their bridal fashion style for an Engagement party, or even other assorted Bridal events.
Check out: Royal Maharashtrian Bridal Makeup
Waterfall Plate Plus-Size Hairstyle
Just look at the way, this hairstylist has curated the plait on the head of the bride. That side parting hair look is nothing but the most beautiful styles out there. This is one of the most fashionable hair statements for the occasion of the Haldi ceremony, Mehendi day or even the most beautiful occasion of the Engagement ceremony. A waterfall plait looks good on every occasion.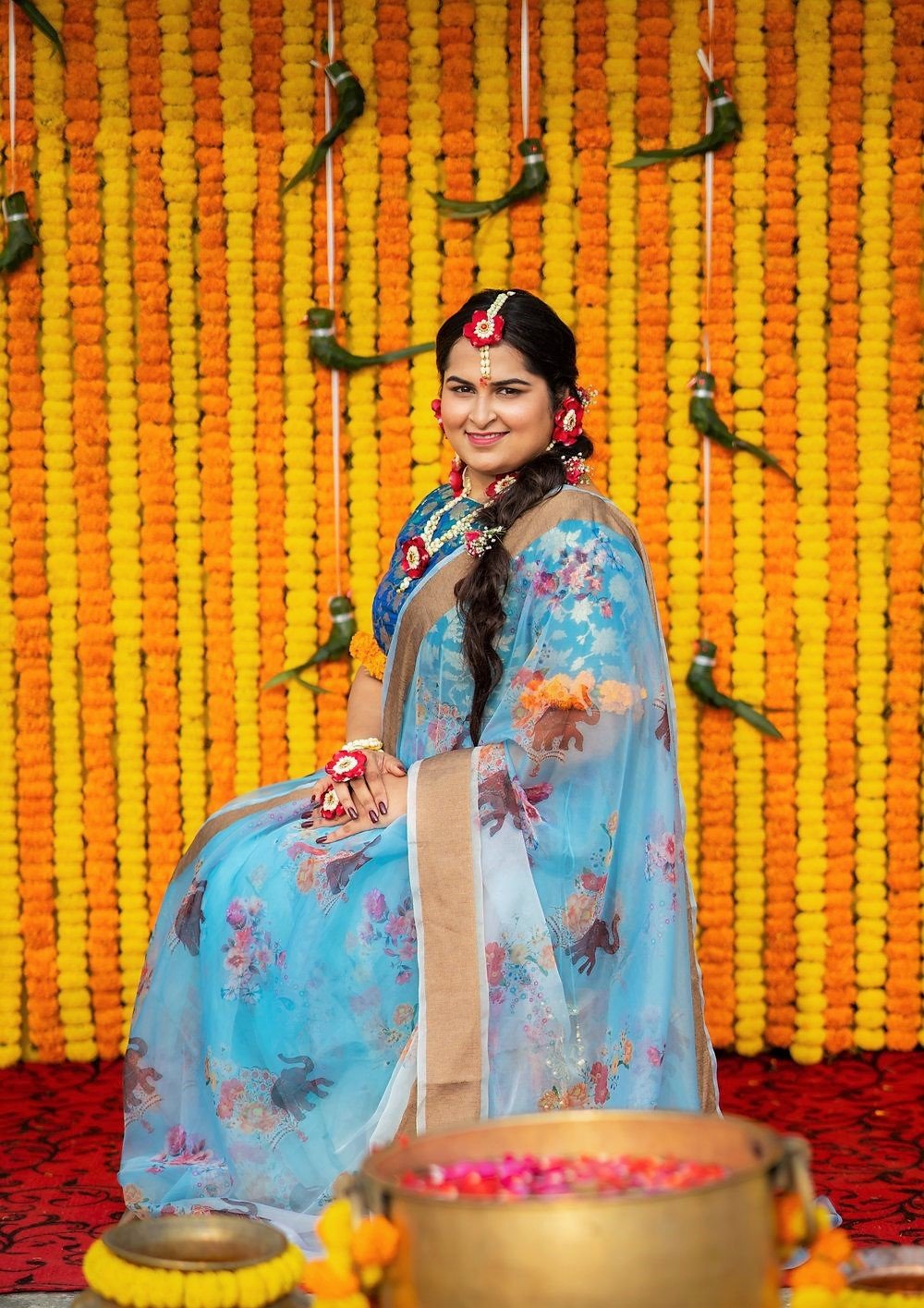 No matter what personal style you have, or what is your favourite makeup look, having such a basic hairstyle can always be helpful. This hairstyle looks amazing with a full face of smokey makeup, or even an elegant style for the  Nude Makeup look. Such styles look best with flower jewellery sets, and this has been my favourite on the list.
Also see: Plus Size Indian Wedding Dresses
Curly Hair Plates Plus-Size Hairstyle
Natural curly hair can be stylised in two simple manners, firstly by straightening it out completely and using the natural volume for a Hair Bun or even a simple open hair look. But when you have such a beautiful natural curl, the stylist might not even do much to make it better and prettier. They might simply incorporate what you have with the best stylist.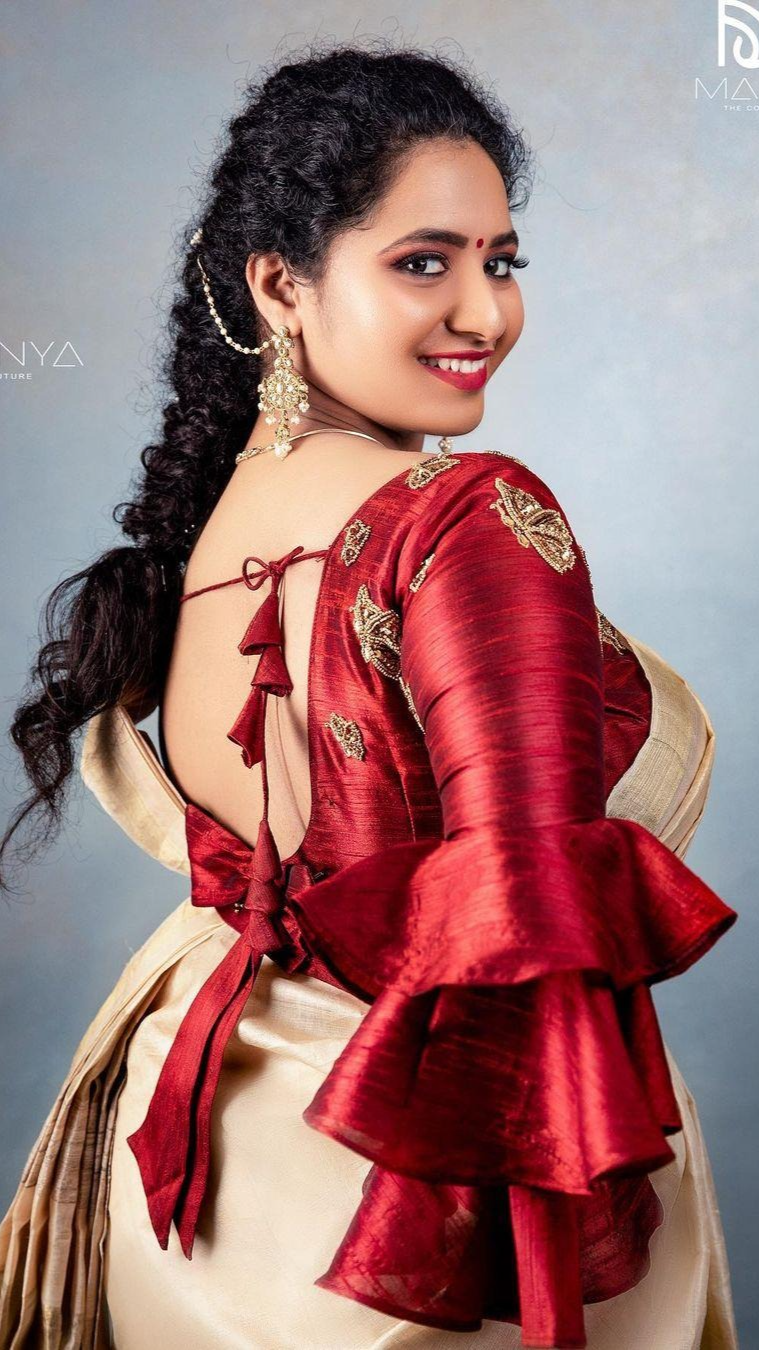 Like, this particular hairstylist has elevated the natural beauty of this woman's hair by simply plating it up. Yes, a simplistic Palm Tree plate, which is also known as a cross fishtail. This makes her hair even prettier, better and more beautiful. Trust me, you will never have enough o this naturally beautiful look. This can surely be your plus-Size Hairstyle for the Haldi, Mehendi and even the Sangeet Look.
Crispy Curls for Plus-Size Hairstyle
Haven't you fallen in love with the minimalism of this particular back bun look? This is actually popularised as a Messy Bun look, the stylist has used the softness of this woman's hair to the next level. First of all, those shinny locks or the little golden Maang Tikka is nothing but the most beautiful piece in the entire hairstyle. This is known as the best Curly Hairstyle out there.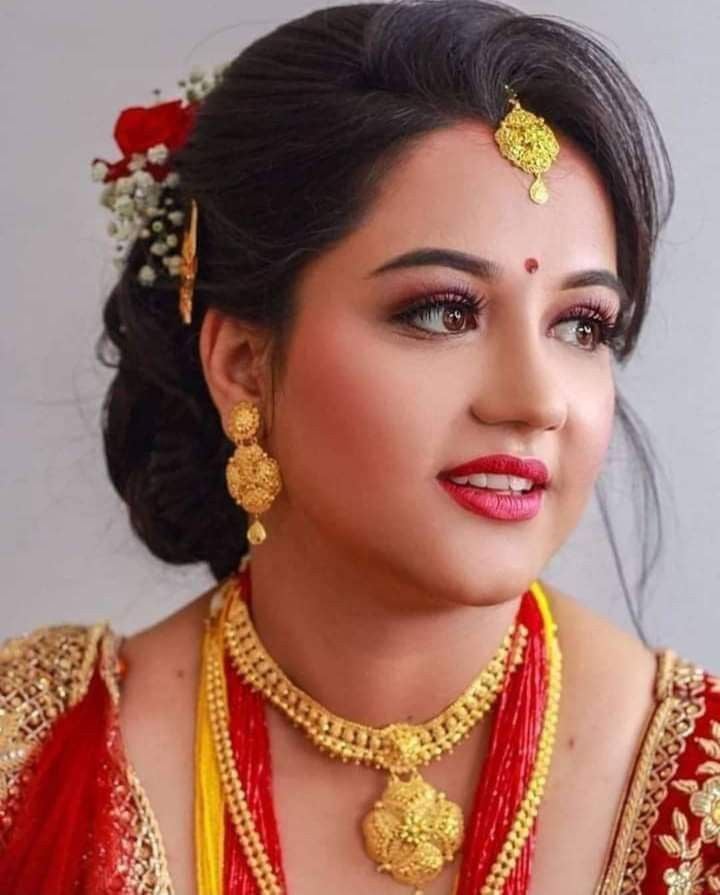 Just look at her, back bun with all those teeny-tiny roses and white flowers stuck to it. Isn't it the best of all hairstyles? I'll call this the safest Plus-Size Haisyle, and it is accentuating each part in the most natural and authenticated manner. This particular Hairstyle is marked as the best of all designs. Those golden, pieces of jewellery are nothing but the best of all designs.
Read more: Which Colour Suits For Dark Skin Tone?
Amorous Front Open Plus-Size Hairstyle
This is one of those hairstyles, that never gets out of fashion. This Curvy girl is wearing a really elegant silver lehenga gown with the most beautiful crystal dupatta s a headdress. Her hairstylist has utilised her front volume, more than the back style. The hairstylist has simply curled out the bottom of her hair, to make it more bouncy.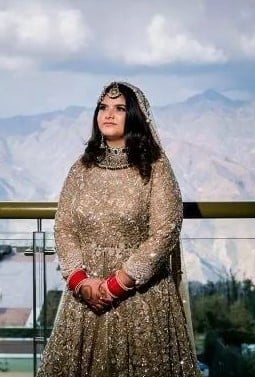 Undoubtedly she has short hair, but her stylist has not manipulated the length. Instead, she has simply curled out the bottom portion, which is accentuating the beauty of her short and crusty natural hair. Such Plus-Size Hairstyles are one of a kind, trust me you can never have enough of these hair looks for your big day. Adding a simple flower string has the potential to make it even better.
All Hairstyles are meant to be worn. Irrespective of your body weight, complexion, or even the slightest insecurity you might have about your body. Whether the volume of your hair isn't thick enough, or the length is too short. 
These are not even a problem that should be a concern between you and your desired Plus-Size Hairstyle. Be inclusive about thoughts to the Hairdresser and let her know what makes you excited for the day. If that is about the simplest open hairstyle or a huge bouquet. 
To know more about such amazing themes on Hairstyles, makeups and other related fashion statements from the wedding day, visit myMandap. We have a wide range of content about Wedding Fashion, Wedding Stage Decorations, Caterings and lots more.