Which Saree Colour Suits for Dark Skin? Every shade suits your skin, irrespective of your complexion, features, and event type. But there are certain shades that are totally meant for the Dusky Divas out there. 
Although this Patriarchal World has the weirdest rules for body complexions. Here, we have broken all such norms for the perfect shades in Sarees. Which Saree Colour Suits for Dark Skin? Let's find out the following shades and styles. 
Which Saree Colour Suits for Dark Skin? 
Instead of asking Which Saree Colour Suits Dark Skin? We should actually ask Why not all colours? No matter what her complexion or body type is, she is supposed to look stunning with her elegance, style and personality. 
We have a really shallow standard of beauty in India, where a Fair and lighter complexion is considered beautiful. While the largest crowd of India falls under the brown skin category. Why such a shallow Colonial Hangover?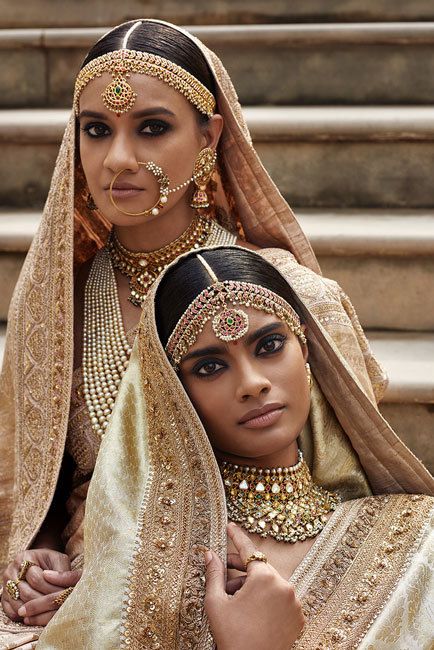 Instead of praising and cherishing the originality, we are told and taught the craziest thing on how to be fair, and the advantages of being fair. I believe this should stop. And, that should actually start with our traditional Indian Saree. 
Which Saree Colour Suits for Dark Skin? Here, I have unravelled some of the craziest Myths about Indian Fashion. 
view more: Colour Suits For Dark Skin Tone
Benevolent Red for the Fair Bride
Many women do not believe in the fiddle construct of wearing red for the big day. What if I say, this is the safest colour for all skin tones? You do not really have to worry about the way it turns out, as you are supposed to look your best. 
Trust me, you would really want to have such a beautiful design, and the results are just outstanding. Trust me such a design never offends a single person. You can really put your full confidence in the combination. Firstly, as an outfit for the wedding, it needs to be all colourful.  
Design: 
For such an instance, red is just the perfect shade that looks the best in all instances. Red is a kind of colour that goes well with almost every situation. This is the kind of occasion, where you spend the most on your bridal attire. Such colours never go out of fashion.
Firework Red is not a Friend
Such a beautiful colour would make you look like a 'Pataka'. Which Saree Colour Suits for Dark Skin? Red is your 'bae' for such an instance. Trust me, these colours always look best on you irrespective of any factor. 
Your Parlour 'Waali Aunty' or even the Weird 'Parason' might eye on your courage to drape such a coloured Saree. Trust me, your confidence and killer elegance can bring any loo from the dead grave to a full-on hundred.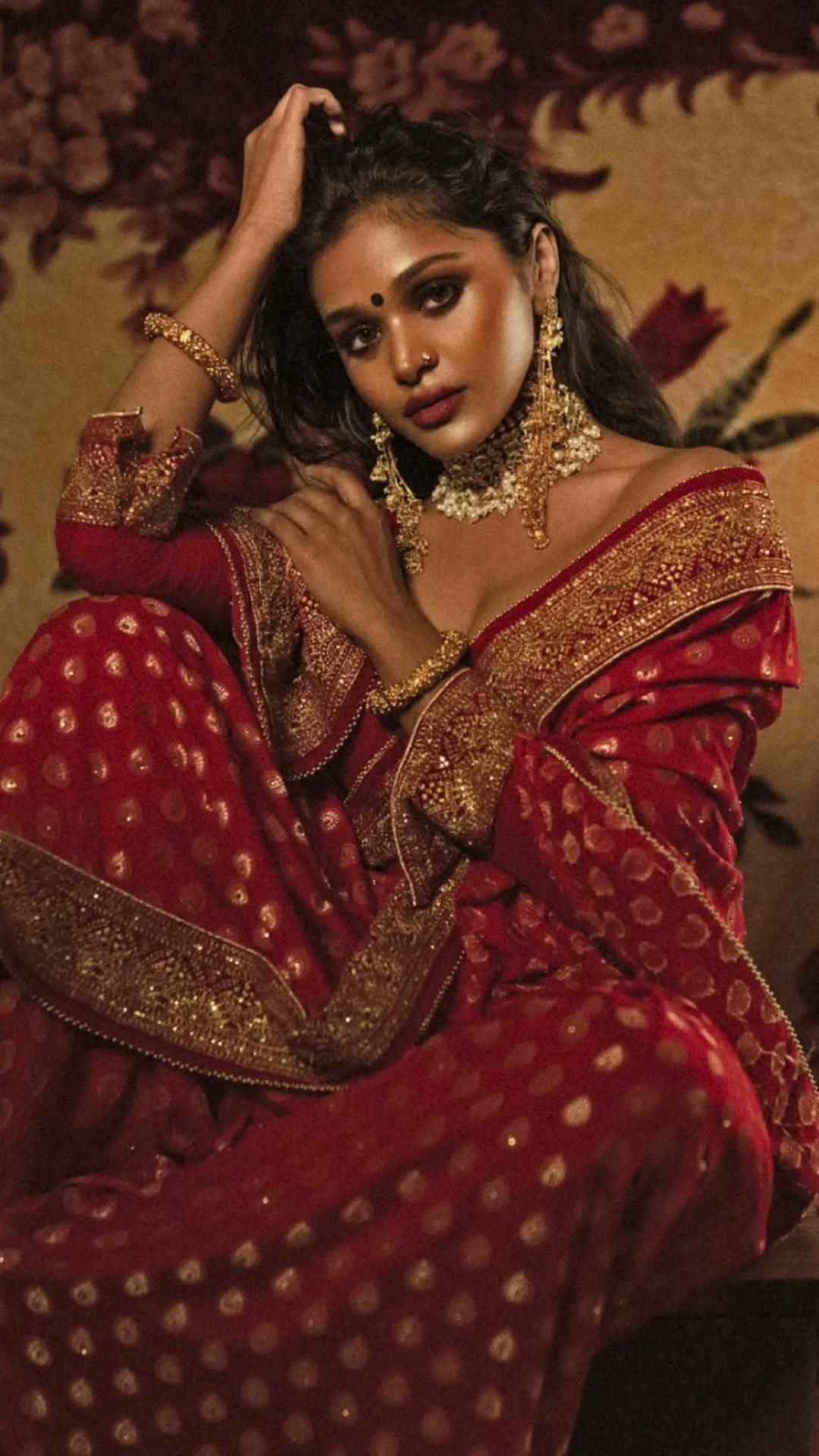 Design
:
This particular style is slightly falling between the paradigm of red and orange. Which is exactly why you should wear it more often. Which Saree Colour Suits for Dark Skin? Well, Orangish-Red actually does that with a full-on elegance. 
Also see:Bengali Saree Styles
Hot Pink is the colour for the Fairest
Which Saree Colour Suits for Dark Skin? Pink is your best friend. No matter what others tell you if you love the way Pink makes any situation brighter, better and bubbler. Then you go, Girl. Rock your wedding function in the funkiest ink Saree. 
This is one of the most inclusive colours, and it looks stunning for occasions. Like, Yellow and orange Pink is also one of a kind. This particular shade is said to be quite risky, as you can look the best and the worst in this particular combination.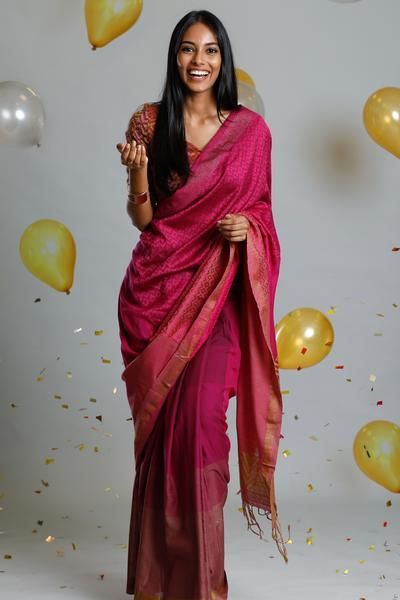 Design
:
If you know Which Saree Colour Suits for Dark Skin, then you would also know how to style it in the right manner. For such amazing outfits, you have to worry about two important things. Firstly particular shapewear along with it, then the best jewellery to style with it. 
Pink Zarikari is an Ideal one for Lighter Skins
The combination and the mixture stands really very important for any particular outfit. Which Saree Colour Suits for Dark Skin, you might make the outfit exactly that way. If the combination lacks assemblance, and particularity, you really do not need anything else. 
Like this particular Pink colour wouldn't be in your list with the most exclusive colours, trust me this should be at the top of the list. Firstly you can customise the combination according to your preference, and the right style.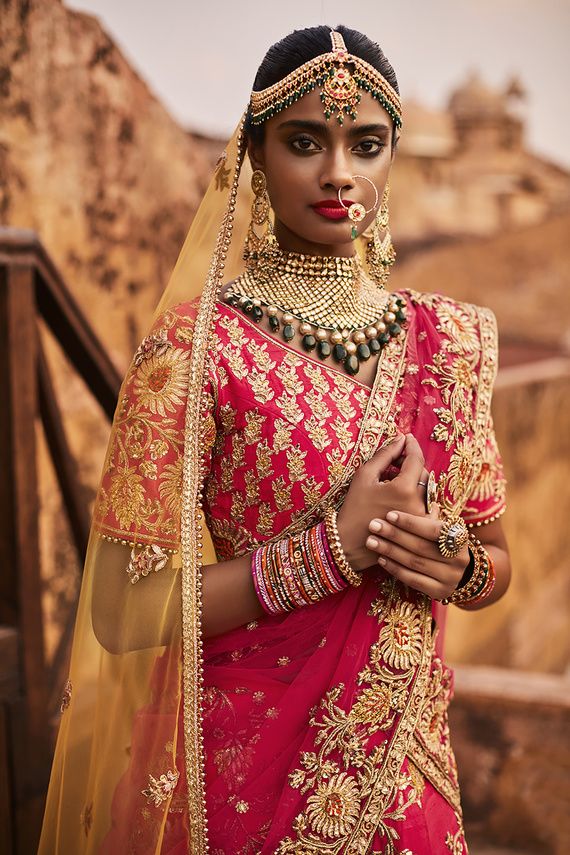 Design
:
Which Saree Colour Suits for Dark Skin? This particular Blush Pink suits you the best. You should style it with a contrasting blouse, a definitive makeup and obviously the best accessorization. Such Sarees do not need to have a personal explanation, their overall presentation is enough. 
view more: Bengali Saree
Violet is a really Bold Choice
Violet is a kind of colour that suits all Indian skins. Even when you are told that it is not something which Saree Colour Suits for Dark Skin. Do abide by this statement, this particular colour suits all Indian Skins. 
In fact, this is a mixture of night blue, Prussian, and purple which gives this is a lighter undertone. Supposedly, it looks better with Brown, dark and copper skin tone. Such a thing has to be in your bridal trousseau right?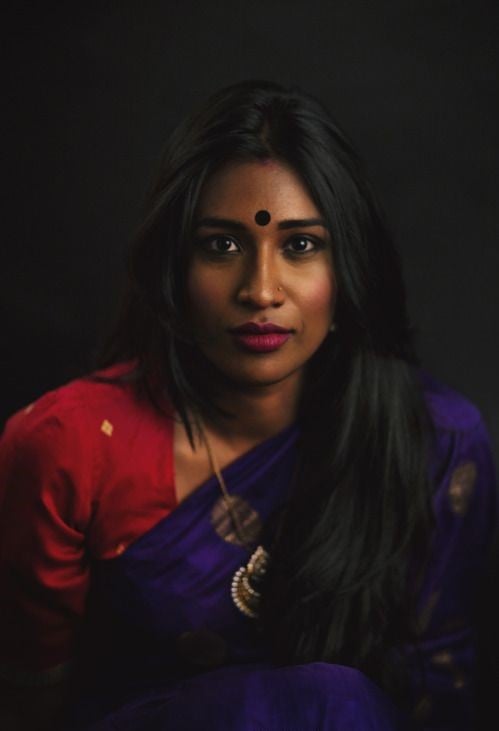 Design:
Trust me, you really do not need to forget this one thing. As a Dusky woman, you can choose any dark colour. It looks more accentuating and well blended. Such shades are particularly more benevolent and articulated. 
Yellow Banarasi too Tacky
This is the biggest Myth and the one which needs to be broken down right now. You should change right now, and involve more shades in your wardrobe. A colour like this is the most unique one for Banarasi Sarees. 
By unique, I do not mean it doesn't exist; rather it is uncommon for people to wear it at the wedding. Which is the reason why you should choose such a colour for the wedding ceremony. Yellow is not at all tacky, and it is actually really pretty.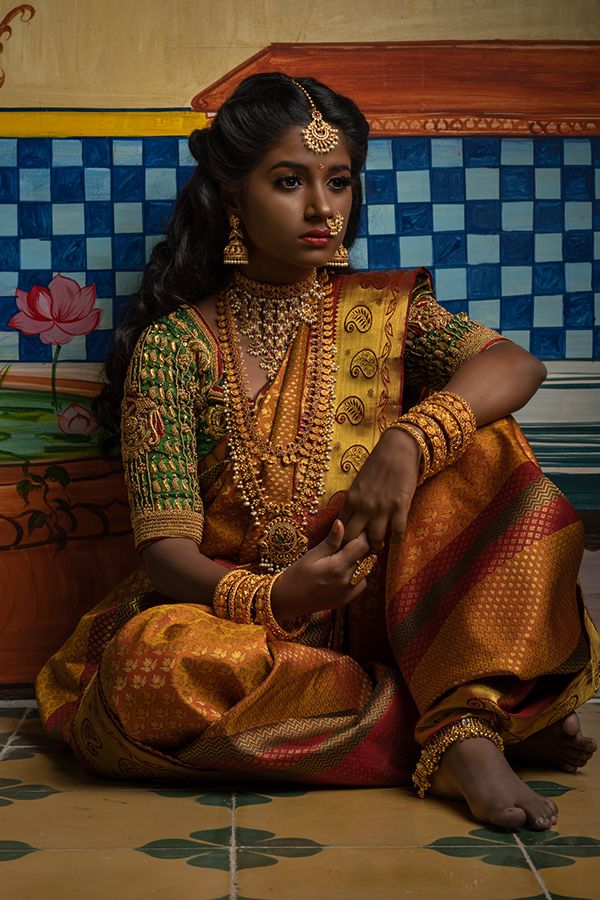 Design:
Which Saree Colour Suits for Dark Skin? Yellow surely does wonders to your Bridal outfit. The reason is quite simple, the beauty of this shade is, it makes you look more confident and pretty. 
Simple Black never a Hack
Black is the best shade, and to me, this is a perfect shade. You can wear this for any occasion. Though Black is not a colour that is supposed to be worn for the purpose of a wedding, there is no harm if one wears it too. 
The simplicity of this saree and the elegance of your simple saree can make it a total killer look. I trust the design the most, and the design is just perfect. You can wear it as your post-wedding, back to office look.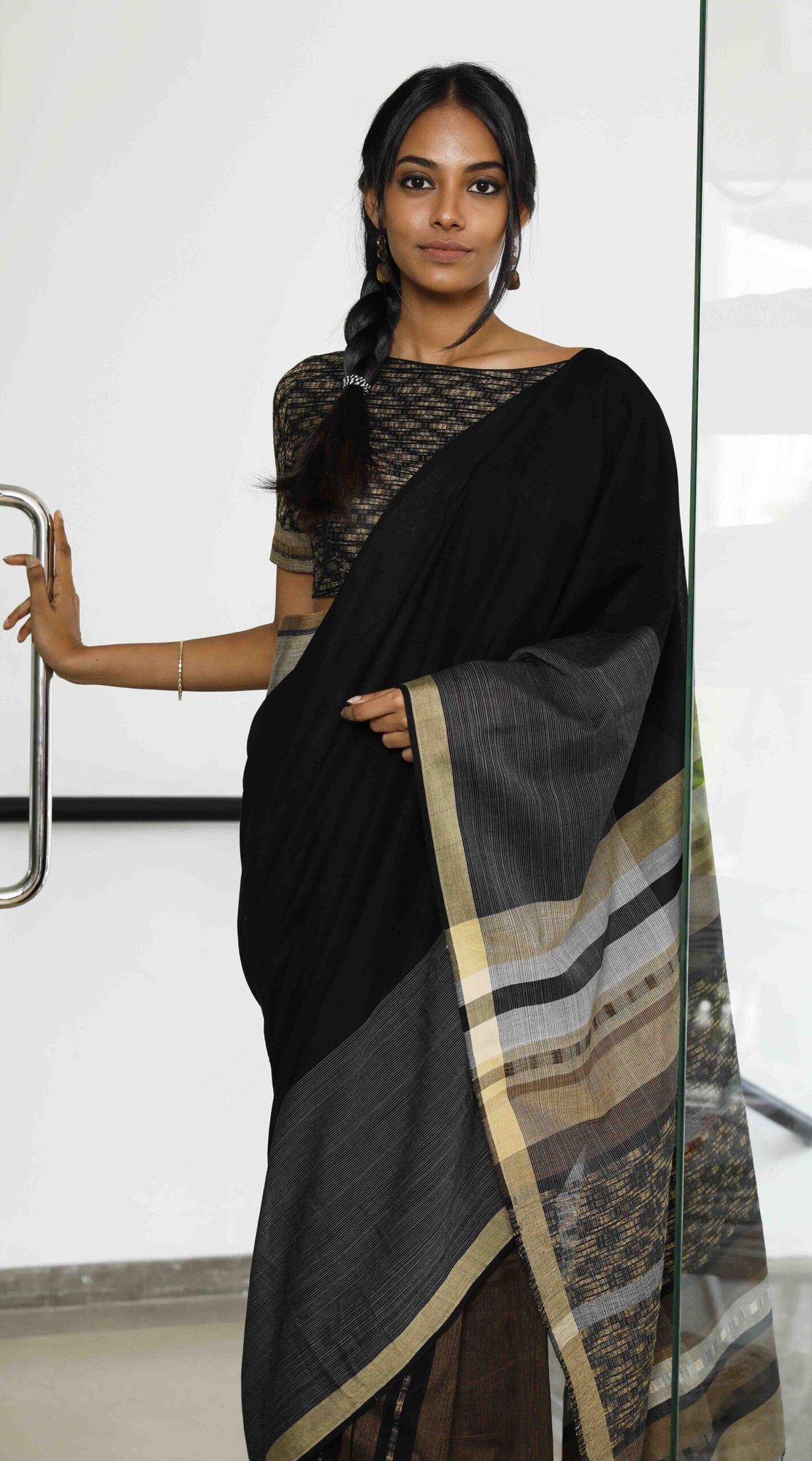 Design:
Which Saree Colour Suits for Dark Skin? Definitely yes, you should wear it. If you are dark or have a lighter complexion. This shade looks best with everything. 
Good Old White Keep it Aside
This is a real Myth that White is not a colour for Darker girls. If this was true, then White and Golden Kerala Cotton wouldn't be so popular around South India. This is a kind of Handloom Saree that looks outstanding on every Indian Bride. 
The trick is to pair the Saree with the right blouse design, jewellery and elegance. A single point missing from that list would make your outfit dull and boring. While choosing a White Saree is always the best choice.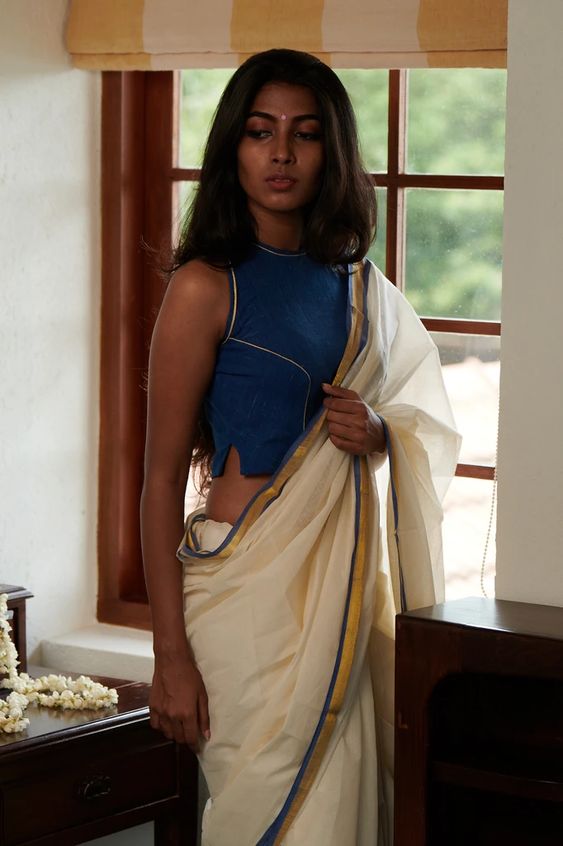 Design:
Which Saree Colour Suits for Dark Skin? White surely suits better than most colours. There is another Myth about white, that it makes you look bulkier. In reality, it is about the style in which the Saree has been draped. 
Pink Chiffon is not a Dusky Girl Thing
Who said a Dusky Woman is not supposed to wear such a pretty colour? I believe this is one of the best shades which Saree Colour Suits for Dark Skin. This is ambiguous, fluent, and transplant, pretty and quite comfortable too. 
Such fabrics hardly need to have an introduction of their own, it is quite beautiful and suits almost everyone. The only thing that has to be maintained for wearing it is, dealing with the Bengali Saree style.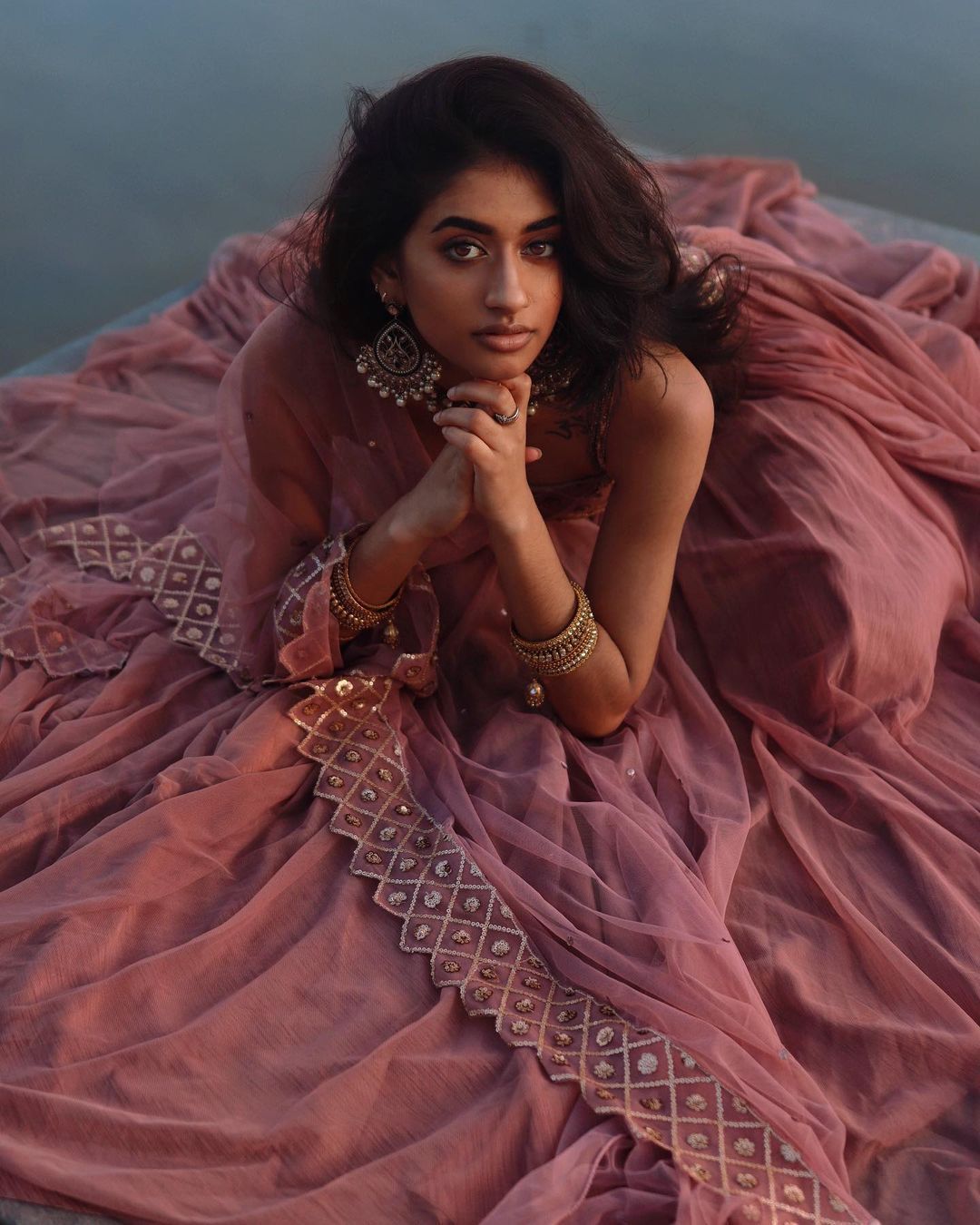 Design
:
The apparel style is significantly important, and you can hardly skip on that particular matter. Is it a Shade Which Saree Colour Suits for Dark Skin? Yes, it is. 
Read more: Modern Bengali Wedding Sarees
Parrot-Green and Yellow too Loud
Which Saree Colour Suits for Dark Skin? Parrot green does, and a yellow saree with a similar border is even better. Here, you do not need to bother about the fabric, design or even the way it is falling on the stature. 
Such a pretty saree needs to be a part of your Haldi ceremony attire. You can style it with a simplistic gold jewellery set, a pair of Jhumka and even a set of bangles. You can wear it for any occasion, most importantly for the occasion of Haldi.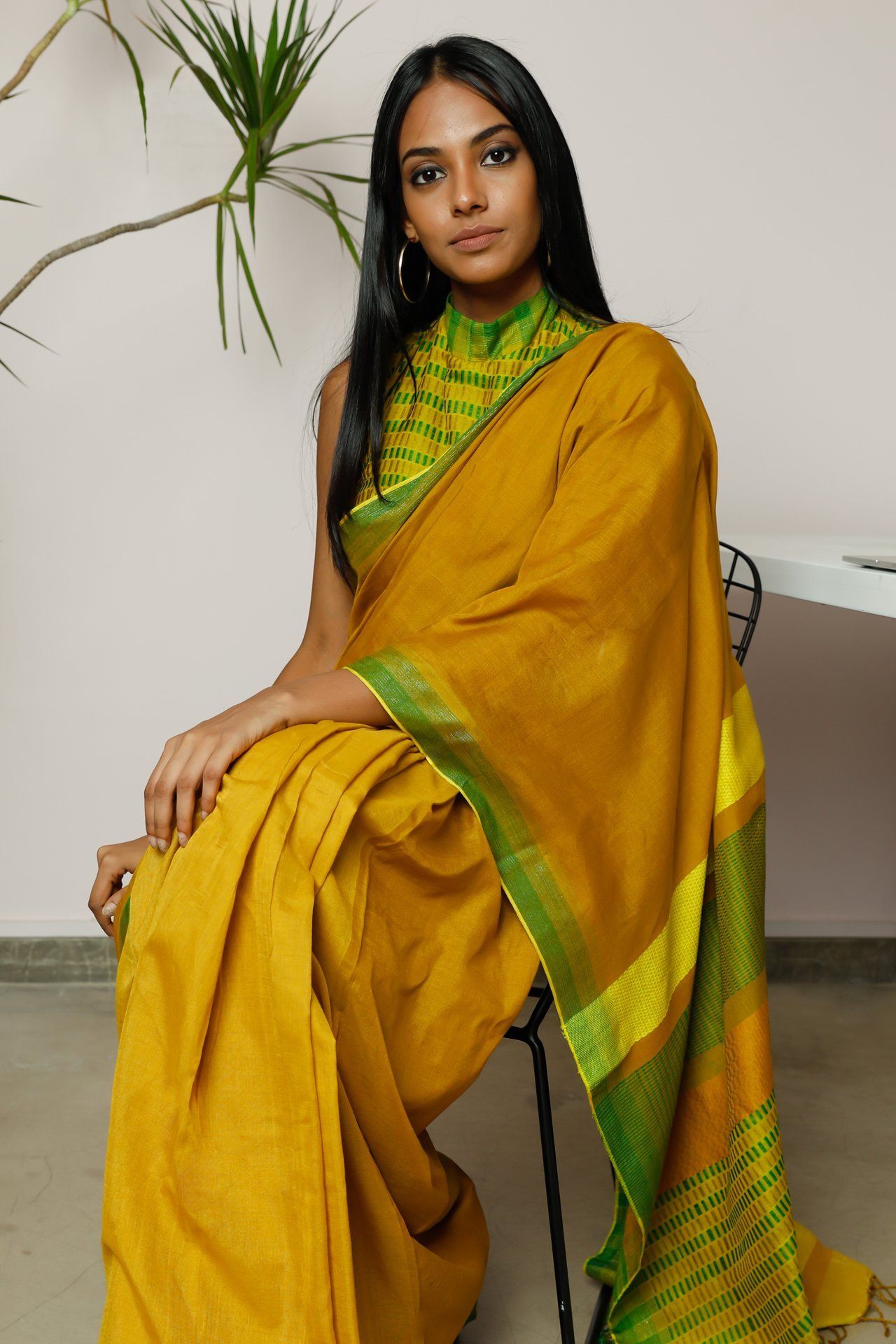 Design
:
This is a kind of Saree that deserves no absolute credit, just that you should trust it more often for your bridal trousseau. Which Saree Colour Suits for Dark Skin? Yes, it does, better than any other. 
As a Dusky Girl myself, I have derived a wide variety of style tips for all women on Which Saree Colour Suits for Dark Skin. Irrespective of your skin tone, complexion, undertone, Shape, size and measurement. You are loved, and you deserve to look the best on your big day. 
This is something that I believe none of us should compromise with. To look stunning and elegant one needs to carry out their style with a simplistic smile, which should speak louder than your words.
Trust me, with confident self-worth you can break down aeons of rules and stereotypes related to Female fashion. All these constrictions deserve to be shattered and you need to fall in love with your own skin. 
Once that goal is achieved, all you really need to do is buy a good Saree that has a fine fabric, and you feel comfortable in it. With that, we come to an end as myMandap has many other blogs related to Bridal Fashion, Jewellery, Wedding Decoration, Food and much more.