Bridal Nail Extension is similar to Bridal Nail Art Designs. The only difference lies in the immediate floor of the art. While Nail Arts are done over the person's nails, Bridal Nail extension is different. 
The word Extension, itself is narrating the purpose of his basic Bridal Nail Art. Instead of doing the Nail art on their bare nails, they take artificial Nail Like substances to curate a Nail Art over the real Nail Enamel. 
Now, this nail art is not prepared on bare nails, rather a fine nail alike layer stands between the two. This is a slightly tricky thing to do, and Nail Extension technicians are qualified with professional Skills.  
This is why we have gathered some of the most common examples of classic Bridal Nail Extensions. These are beautiful Nail Arts, which are widely popular during the Wedding Season.  
Top 10 Beautiful Bridal Nail Extension Designs:
The Art of Nail synthesis involves three separate varieties. One is very popular among Instagram Folks, where you have to visit the Nail technician for getting Poly Gel Nails. 
This is a gel-like substance, which is used to build nails over your natural enamel. Without a LED lamp, this doesn't dry up. And the Bridal nail Art is prepared on top of it. 
The second one is not as popular for longevity. This is a Sticking fake Nail, made out of plastic which is shaped according to the size of your nails. The nail art is prepared on top of that Sticking nail. 
And the third one is premade Bridal Nail Extension Stickers, which only need to be stuck on top of your natural enamel. This lasts the least, the fake nail lasts for two to three weeks, while the Poly Gel lasts the longest. 
Check out: Kerala Bridal Jewellery
Oval French Manicure Bridal Nail Extension
Oval shapes are pretty feminine. This is exactly why this is an ideal shape for a Bridal Nail Extension. It is a nail shape, which is quite common for most natural nails.
This particular nail art can be done on regular nails, as well as for Nail Extensions. The one shown in the picture is that of a Nail Extension.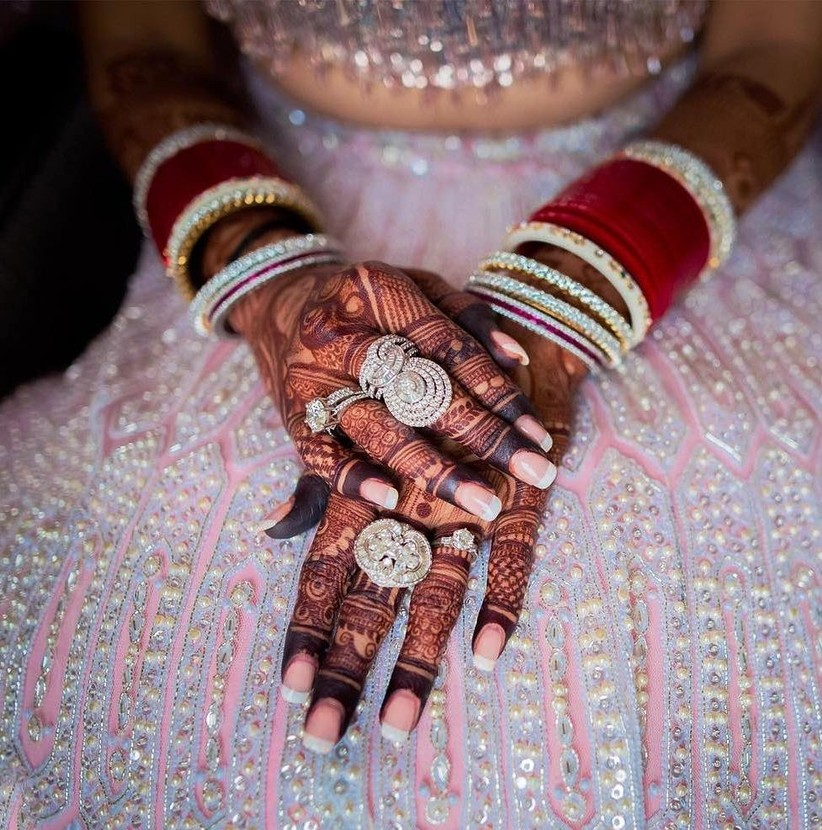 Before we were accustomed to Nail Arts, and other popular designs. This was one of the most common Nail Art treatments, that most of us got at a regular Manicure Salon.
The authentic simplicity of this Bridal Nail Extension is what makes it prettier. The nails look very natural, and the tips are plain and white, while the rest of the nail is solid nude.
Read more: Bridal Nail Art Design
Golden Tips Stiletto Bridal Nail Extension
Golden Nail tips are quite stunning, and you can do it at your length. No matter, which is the size of your nail, you can get this done on your beautiful nails.
Pastel Pink Nails are a pretty base for your little nail. These are open pallets which are undoubtedly beautiful. The Pik nail base is a good spot for additional designs.
The little pink base works as a beautiful base for finely curated Nail arts. These nail art designs are such a beauty, that it makes the finest Nail Art designs.
The golden glitter tips are just a part of that bigger nail. You can do it on shorter nails too, but the bigger length is usually more attractive.
Visit more: Green Bridal Jewellery
Red Stiletto Bridal Nail Extension
Have you seen Stiletto shoes? Aren't those the sexiest heels, which are absolutely a Hot thing? The length of the Heel is so sharp and tall, that it looks like a thin pencil.
And that Pencil has been used as inspiration for these beautiful Bridal Nail Extensions. The length of these nails is extremely pretty, and the shape is also a delight.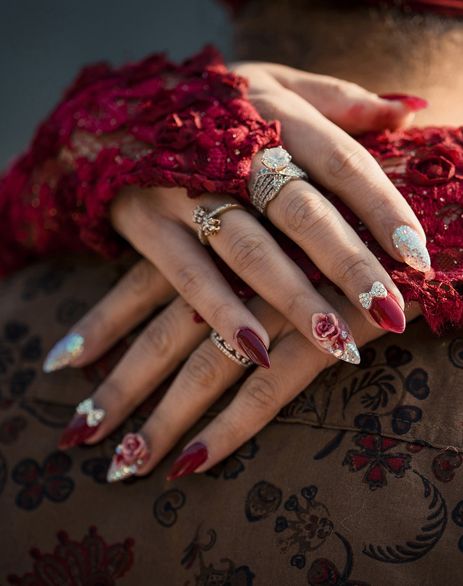 More than just nail art, this is a design with the most unique and mundane pattern. Instead of using the natural texture of your nil, the artist has to use Polygel.
Beautiful roses and little crystals have been used in making it even more youthful and pretty. Honestly, this is one of the best designs for Nail art.
Foil Paint With a Bow Bridal Nail Extension
Foil Nail Paint is the trendiest Nail colour, which has made its way in recent times. It is a beautiful shade, and anything beyond this isn't good enough.
You just need to add the right accents to it, to make it a pretty Extension. The Nail Artist has used little Bow crystals for the Nail Art Design.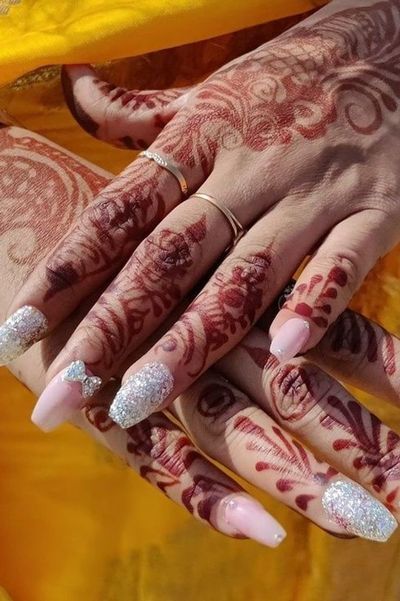 These are Poly Gel Nails without a doubt and have been styled uniquely. Instead of cutting these right to left, the nail artist has used buffer tools.
The shape of this nail is popularly known as Coffin Shape. No wonder the name itself reflects the design most bizarrely.
Gold Foil Bridal Nail Extension
Not such a clustered design worn y Brides. This is more like a Golden Skin Bridal Nail Extension. The texture of this particular one is that of a tortoise.
One of the most creative ones which are quite common for today's woman. Even if you are not getting married, this can be the perfect nail art, for any occasion.
This is very out there, and the design is undoubtedly beautiful. More than just the pattern or the texture of the design, this is one of the most elegant options.
The back design is a nude shade and the base colour is outright beautiful. Trust me, this is a Nail Art which hardly goes out fo fashion.
See related: Polki Jewellery
Stick on Bridal Nail Extension
The Bridal Nail Extension is pretty, and this is one of the most basic Nail Arts which is undoubtedly very beautiful. Basic Nail Paints do not last long.
Nail Extensions in basic shades last longer than just painting your nails. This is one of the easiest Nail Extensions, which hardly needs more than an hour to complete.
Those glitter details have been painted on the Accent nail. Such a pretty Mauve colour is totally in trend, and this is perfect for a Newlywed.
This is a classic Bridal Stick-On Nail Design. As simple as it can be, and quite basic too. The most important part is the design, which is very different from the rest.
Pastel Stick-ons Bridal Nail Extension
Pastel Shades are stunning. They make Bridal Nail Extensions better, more exciting and highly attractive for the Wedding Ceremony.
This is more like a premade Bridal Nail Extension with the prettiest stonework on top of it. This is a design where you just stick it to the base of your nail.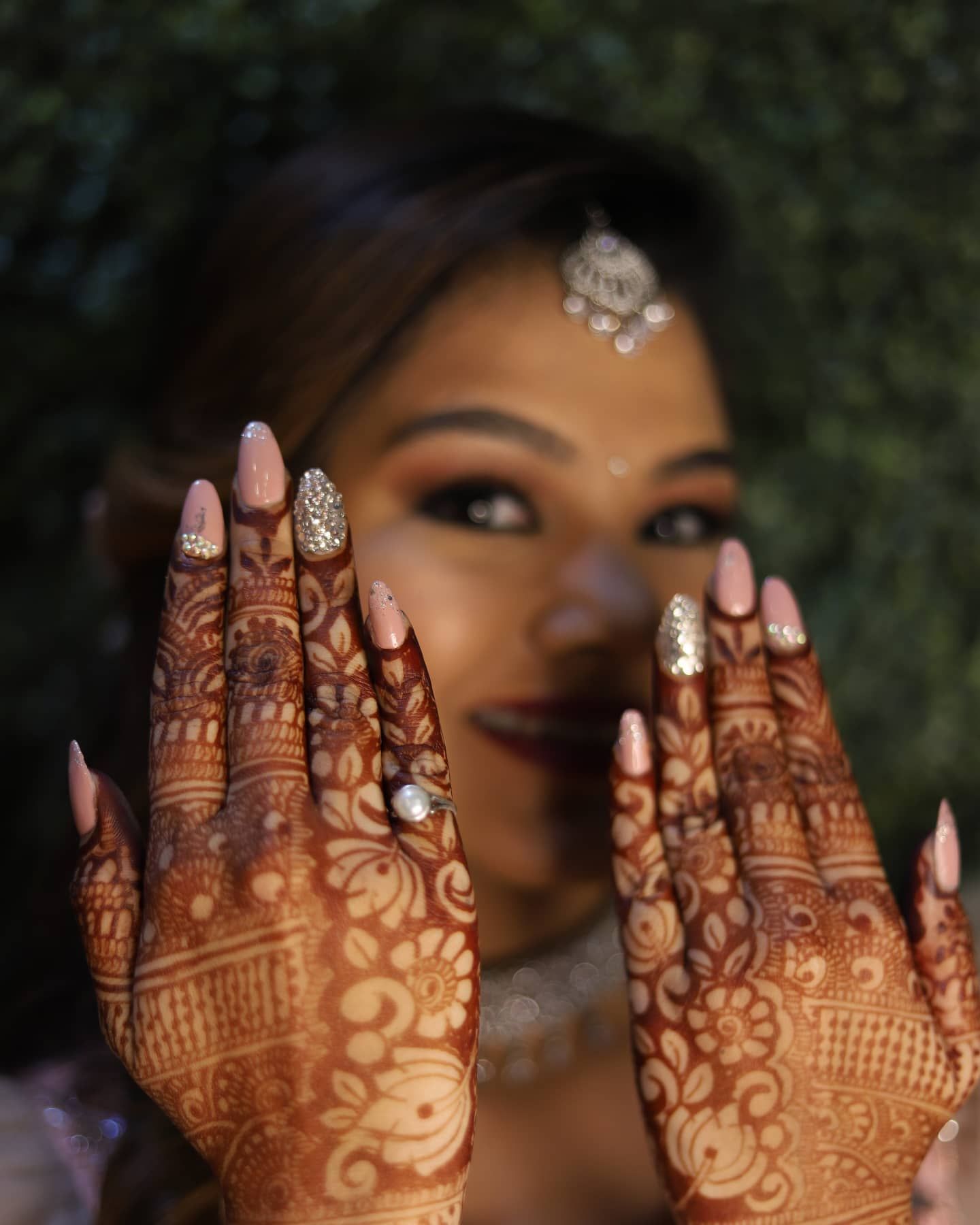 The cutest part of it is the colour. The baby pink shade is extremely beautiful, and you get to have a beautiful stone encrusting on top of it.
The peach shade of this nail paint is quite pretty, and you can change it anytime. You can surely scrap it out, and try a new stick-on nail for the next occasion.
Coffin Bridal Nail Extension with Rhinestones
The coffin shape is one of the most unique shapes for Nail arts, these are simple nail shapes which come out well at the end. 
While one of the nails has been planted with a Holo Silver Shade, the rest of the nails aren't the same. Each nail is different from the next one.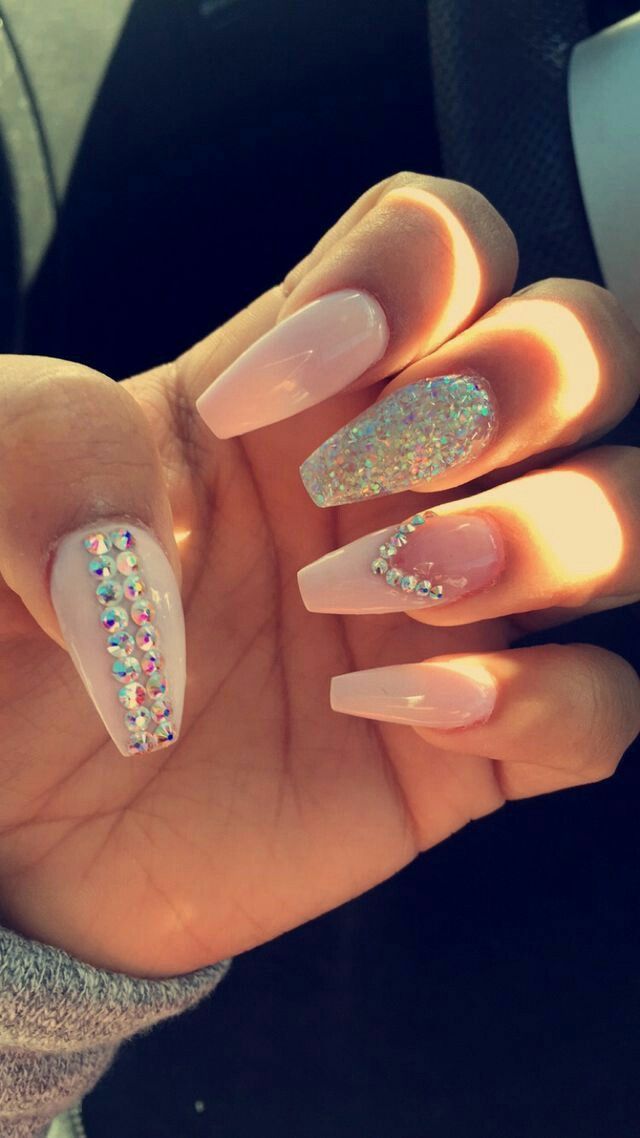 Some nails have just been painted with a pastel pink colour, and some have been painted with Holographic nail polish. In a way, this is unique and versatile at the same time.
The Accent Finger is the Ring Finger, which has painted pastel Nail polish. Along with a Triangular Rhinestone Sequence. It is quite stunning and beautiful.
Rhinestone Accent Bridal Nail Extension
Rhinestone is a beautiful accessory for a perfect Bridal Nail Extension. You need the colours to work well with one another, and the rest of it is just like a piece of cake. 
Setting up rhinestones is difficult and that is exactly why you need to take help from a Professional Nair Artist who is accustomed to this. Glueing down those little stones in sequence.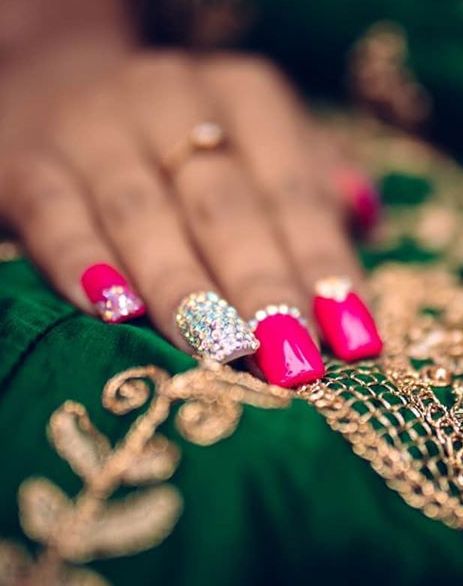 A pattern which is developed on some nails only, and not on all nails. These are accent nails, which happen to be on a single nail piece. It is not such a difficult thing to do, but it's a lot more time. 
Every little stone has to be fixed with greater accuracy, precision and time. You can't randomly stick some stones and glue them down. For a Bridal Nail Extension like this, you have to arrange them properly. 
Golden Ballerina Bridal Nail Extension
Golden Nail Extension is a beauty, especially when you are getting it done for the Wedding Ceremony. As a Bridal Nail Extension, it is extremely basic and you won't have to wait hours for getting it. 
This is more like a stick-on-nail version of Extension. The nail artist can paste nails that have been pre-painted with golden nail paint and just need to be cut in the Ballerina Shape. 
This is known as a ballerina Nail shape, with a unique oval cut. The most important part of this Nail Art is the accent colour. This is one such nail, that you will find extensively online. 
Many nail artists sell their beautiful works online, and you just need to paste them on your own with your shape and nail size. Such Bridal Nail Extensions are not at all time-consuming. 
The only difference between Bridal Nail Art and actual Bridal Nail Extension is the longevity of the result. Since Nail Art is drawn over the natural animal, it is supposed to chip off with the natural growth of the nail. 
While the Bridal Nail Extension lasts longer for the two most important thighs. Firstly it is not prepared on the real Nail enamel. Instead of that, it is curated over a Polymer Layer.  
And that takes the full length of the Nail to grow off, only then it would fall off. There won't be any chipping and it lasts longer than any bridal Nail Art. The Nail Extension colours are shinner and better than most nail paints. 
In a way, getting Bridal Nail Extensions is a wise decision. Since you have to get prepared for so many more things before the final wedding ceremony. It also complements your Bridal Mehendi Design. 
If you found the one for your Bridal Nail Extension, then let us know in the comment section. At myMandap, we have everything that you need to know about the Wedding Ceremony. 
Starting with the most beautiful Bridal Fashion Tips and Tricks, to the most exclusive Decoration and food choices. Let us know in the comment section, we are eager to hear from your end.