A Polki Jewellery set is a subtle combination of 'Kundan' and also pearl ornaments. Both of these Jewellery Techniques contribute to making the prettiest Polki Jewellery sets.
Here, we have gathered some of the best Polki Jewellery Sets. That is appropriate for the wedding ceremony and can be a part of your Bridal Jewellery Set. 
Best Bridal Polki Jewellery Sets and Ornaments:
The perfect blend of pearls at every little juncture of the necklace. A Polki necklace would never disappoint you for the wedding ceremony. Every North Indian bride would have at least one pair of Polki Jewellery.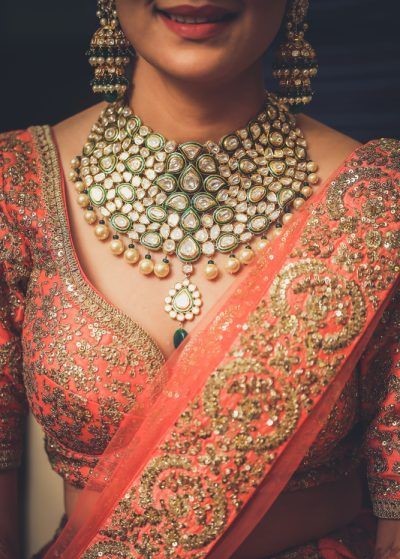 Surprisingly this particular variety of jewellery has all the concerned features to make it look customisable and perfect for the big day. The colours of enamelling, and framing good metalwork for the ornament. 
See related: Kalire designs
Green Meenakari Polki Jewellery Necklace
A piece of jewellery like this deserves to be highlighted in all little ways. Trust me, girl these kinds of accessories have been in the fashion world for years now. The way it is excavating, and elaborated on the neck and the look it provided to the one wearing it.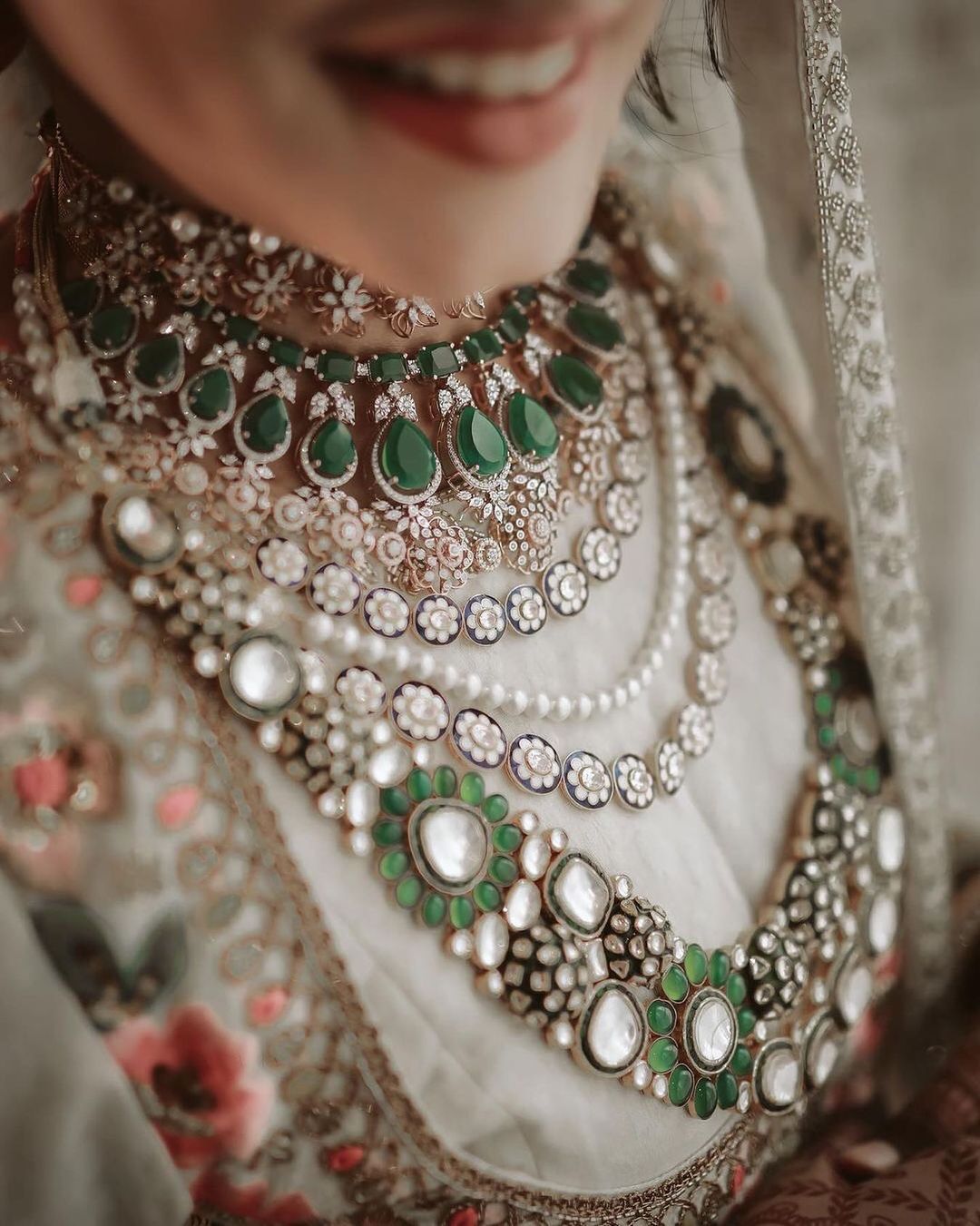 The way it accentuates the neckline, and the design is highly noticeable for a bride to wear. Plus, you can style any lehenga or outfit with such a beautiful Polki Jewellery set and a necklace piece like this.
Must check: Bridal Gold Jhumka Design
Polki Jewellery Choker
A choker is a kind of necklace, that we have all wanted for our big day. Trust me such an accessory, needs no explanation or even credibility. Such a choker has been a part of your bridal jewellery set, and I have a special place for such a beautiful necklace.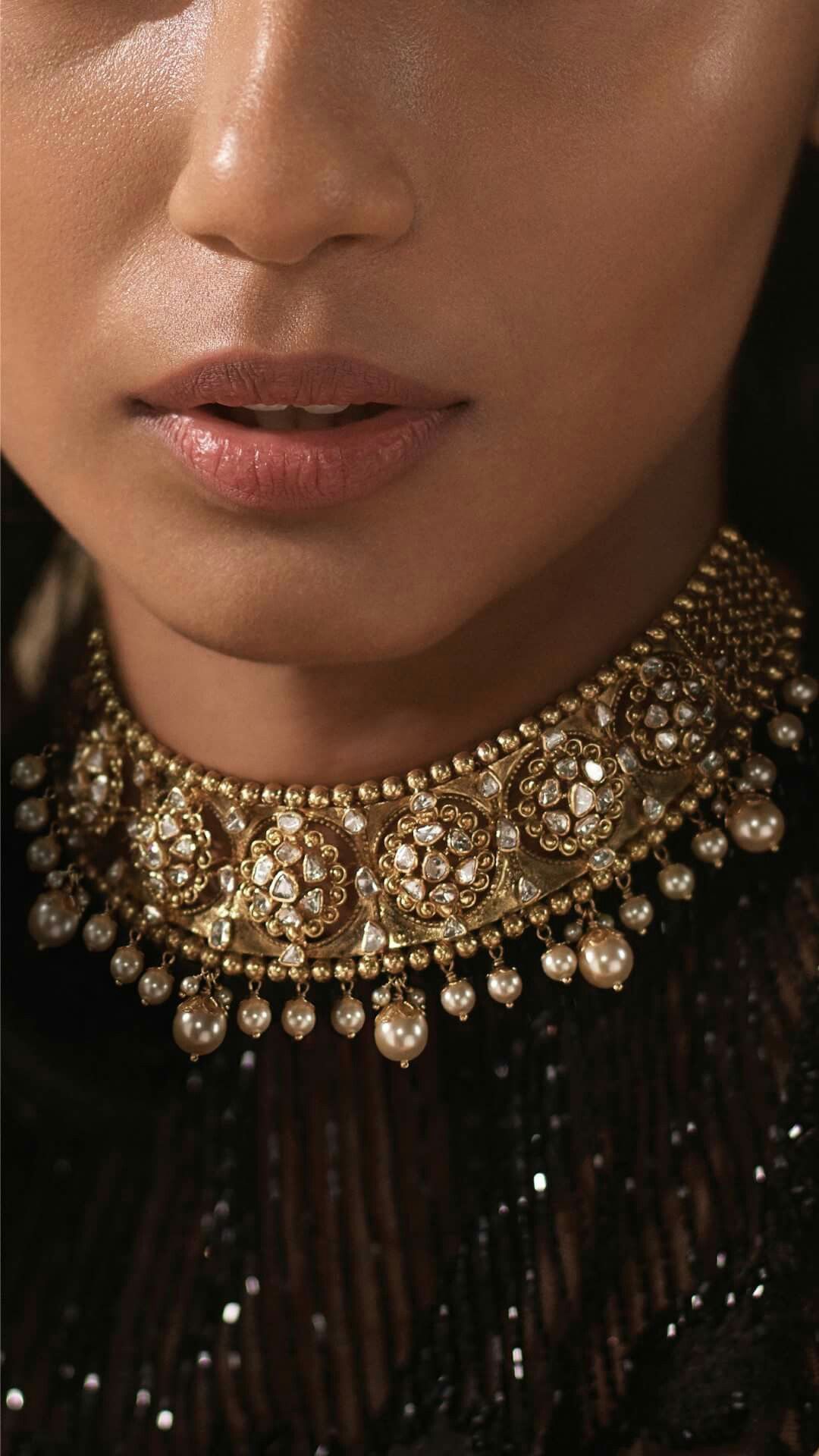 Honestly, this is a kind of necklace, that deserves to be on the frontlist for some major necklaces, and other little parts. It has the most beautiful pearls hanging down the set And, believe me, you can pair any earring with a beautiful and exorbitant accessory.
Check out: Indian Wedding Veli
Broad Polki Jewellery Necklace with Pearls
A necklace like this is broad enough to be called bridal jewellery and also apart to be the best ornament for some other events. An accessory like this deserves to be on the top of the list and believe me you really do not need anything else with this.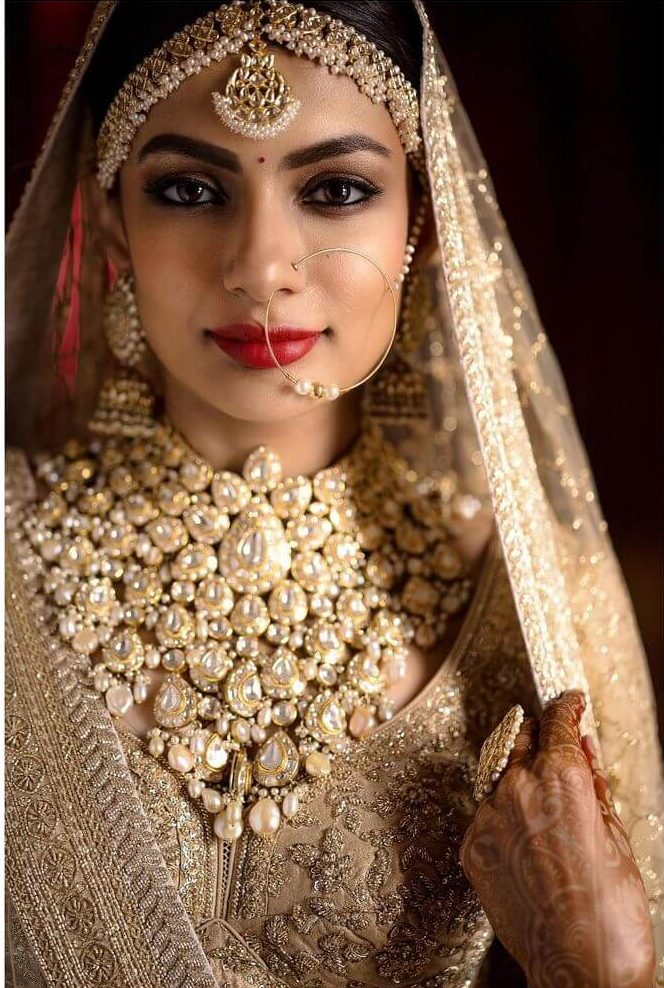 It has the most beautiful ornamentation and exclusive pearl work. This has a really pretty metal set and some of the most beautiful stones set right on top of it. You need to have at least one of them, and it makes any set turn into a real win.
Check also: Bridal Nath Design
Polki Jewellery Simplistic Necklace
You might call this a real Polki Necklace, but trust me this deserves all the love in the world. Firstly it has a simplistic and minimalistic pattern for an ornament and secondly, it has the realistic approach of wearability.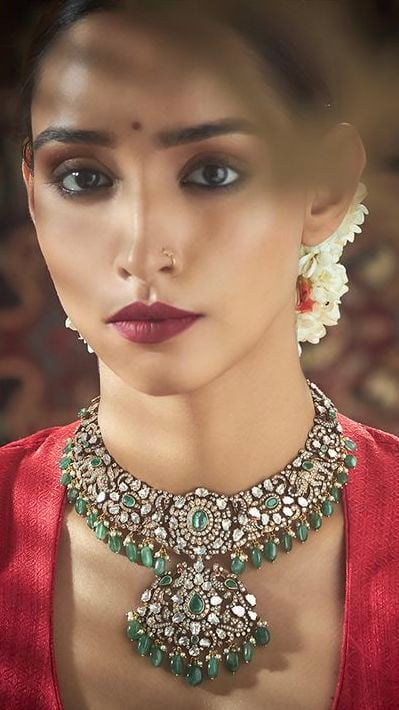 You can choose this ornament for any occasion, even if it is not tour wedding ceremony. This is a kind of ornament that deserves to be a part of your list of best pieces of jewellery and accessories. It is a kind of Kundan accessory, but better.
Ring Shaped Polki Jewellery Earring
What is making it so special about an accessory like this? Well, almost everything. Starting from the simple and real stones on top of the Polki jewellery set and secondly the most exorbitant Ring-shaped piece.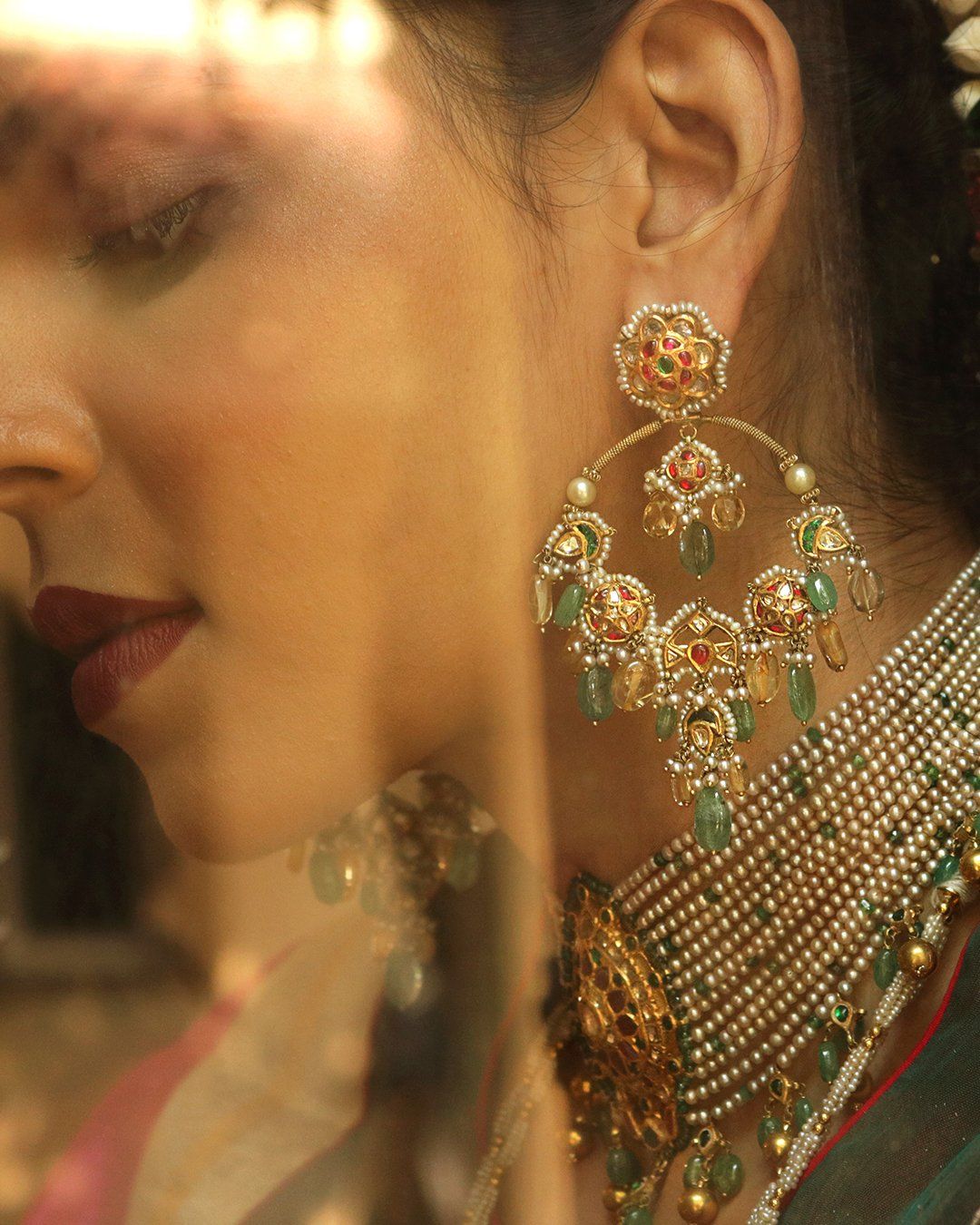 A shape this deserves no explanation. Firstly this looks like a 'Chandbali', but it is not really one of those. This is one of the most beautiful ones in the list of ornaments presents out here.
See More: Temple Jewellery Set
Red Enamelled Earrings Polki Jewellery
Polki jewelry is a kind of accessory, that is worn by Indian brides around the western region of India. Especially when you are wearing such an accessory, for the wedding ceremony. Meenakari Jewellery or enabled pieces of jewelry are a big part of our Indian culture and tradition.
Both ornaments are from the western corridor of India, which is coming from Rajasthan. As a red meenakari ornament, it is one of the best earrings for the wedding ceremony.
Check out: Royal Maharashtrian Bridal Makeup
Polki Jewellery 'Matha Jhoomar'
Jhoomar is a kind of jewellery, which is worn by Muslims in India. This is a piece of typical Arabian jewellery, and a piece like this has become extremely popular in recent times. Almost every North Indian bride, is choosing to wear this for most of their wedding events.
A piece of Jewellery like this has to be a part of your wedding ceremony. If not for the wedding itself, it can be worn for your Haldi, cocktail, engagement, o even some other exclusive event.
Must Check: Bridal Nail Extension
Polki Jewellery 'Matha Patti'
Well, Matha Patti is a better version of a Maang Tikka. This completes your headdress and makes the face even prettier and well placed. As a piece of Polki jewellery, it is really very pretty, and trust me this is one of the best buys.
It is not really a necessity, to wear this particular ornament in some valuable metal like gold, silver or encrusted diamonds. You can go for a piece of simplistic statement jewellery, and call it a day.
view more: American Diamond Jewellery
Nose Ring in Polki Jewellery
Nose rings are not just a requirement but a compulsory part of a bridal jewellery set. Trust me, you need to have one to make your bridal jewellery set even better and most presentable. A necklace, earrings, or even a ring can just make you look like a bride.
While wearing a Nose ring, makes it look completed and elevated. It completes the entire bridal jewellery set, and you will never repent wearing such a pretty accessory.
View also: Bridal Matha Patti
Polki Jewellery Bridal Ring
You will have a ring, given by your husband and the fiance but what about completing the entire Polki jewellery set? Which is absolutely incomplete without a Ring, Mantasha, or even a Kamarband belt. This is one of the best and the most exclusive ornament for the day.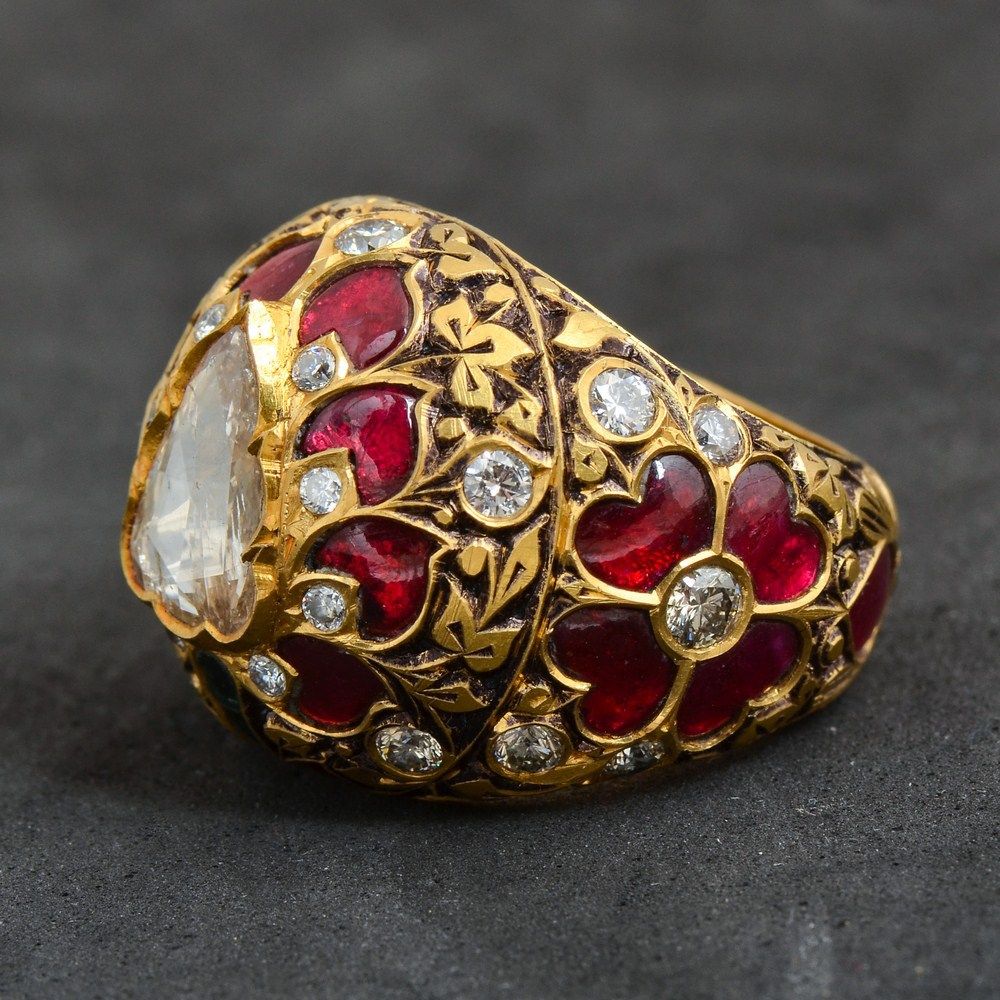 Having a Bridal Ring like this is necessary for accentuating the beautiful Mehandi that you have to wear for a bridal look. It makes your bangle set, even prettier, and better. You have to agree with me, the pearl work is just outstanding.
Also View: Kundan Jewellery Set
Polki Jewellery Kamarband
Trust me, like a necklace or an earring there are major differences for Polki jewellery sets too. A Polki Kamarband is nothing different, as it has the most beautiful ornamentation, stonework and the best metal framing on top of it.
A piece like this has to be selective for the bridal jewellery set, specifically when you are talking about the bride and her wedding ornaments. This is to be worn with the best Saree, and also one of the necklaces too.
Polki Jewellery Bangle Set
A necklace or a simplistic earring actually needs its fair share of a bangle set. Honestly, a bangle like this deserves to be on the top of the list. A Polki jewellery bangle is nothing more than pearl jewellery. Such an amazing set deserves to be highlighted and kept on the priority list.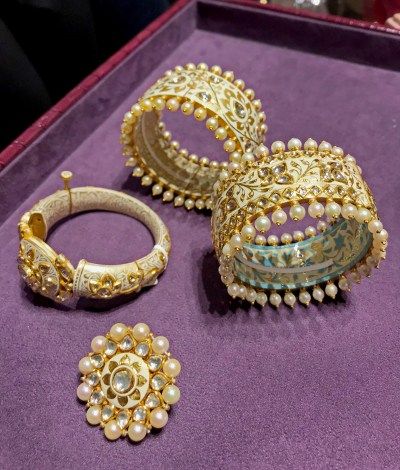 A bangle set like this, or a bracelet has to be worn for the wedding ceremony. Trust me, such a jewellery piece deserves to be worn for your wedding ceremony. A bangle like this can be a part of your engagement, cocktail and other major parties.
These were some of the most popular Polki jewellery sets, that are particularly beautiful and quite accumulative too. I personally have a special place for such amazing jewellery sets. 
To know more about such amazing jewellery sets, and other little details about Polki Jewellery sets, diamond necklaces, silver ornaments, and other fabulous outfits, simply visit myMandap.