A Temple Jewellery Set is one of the most glorious ornaments in India. Generally worn by Tamilian brides, it is incredibly, beautiful and ethnic to the Indian culture. The tradition of Temple jewellery comes from the deep Indian heritage. 
The Monumental structures of India, are represented in the form of an accessory. You can buy Temple Jewellery online too, as the designs are professionally the best. Here we have gathered the Temple jewellery designs.
12 Best Temple Jewellery Set Ideas for Brides:
As a mere difference to the outfit, you get the finest jewellery. As a Bride, you will have a lot of expectations from your big day. At least, when you have Temple jewellery for the day, you would want your traditional jewellery to be authentic.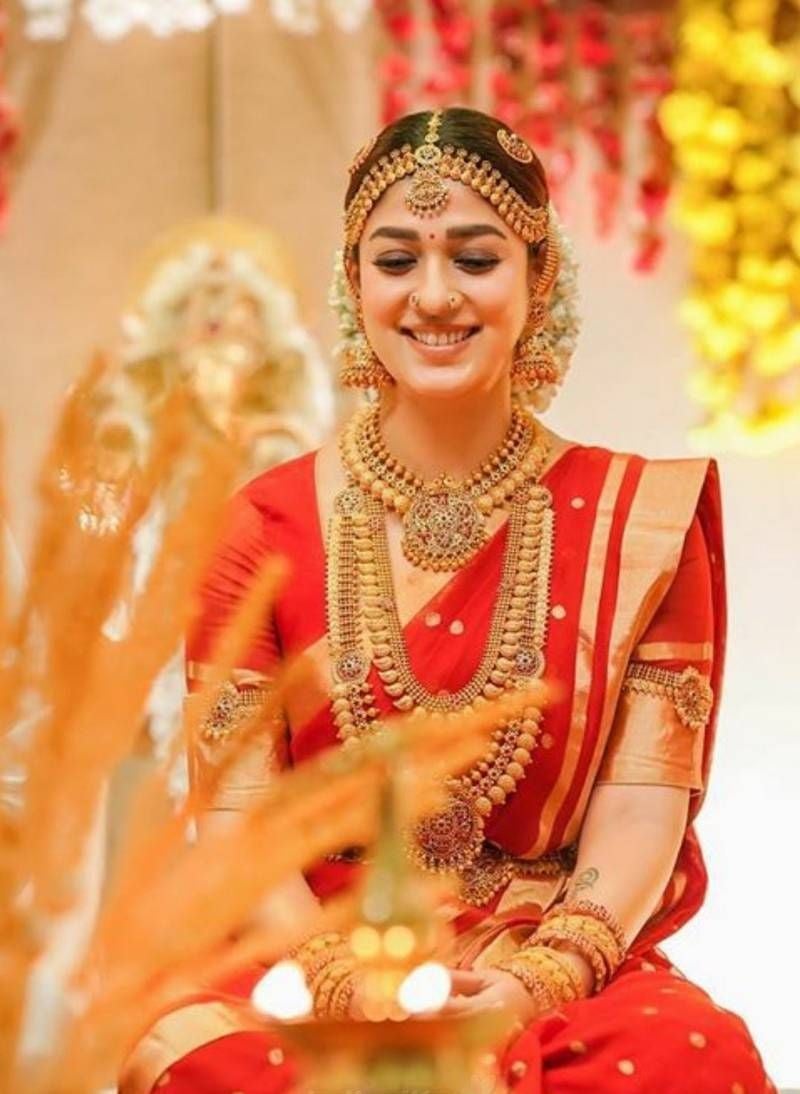 All you want is, to have the best attire, and the most significant part is the ornament. Putting a fine collection of stones is extremely important for curating a fine picture for the day.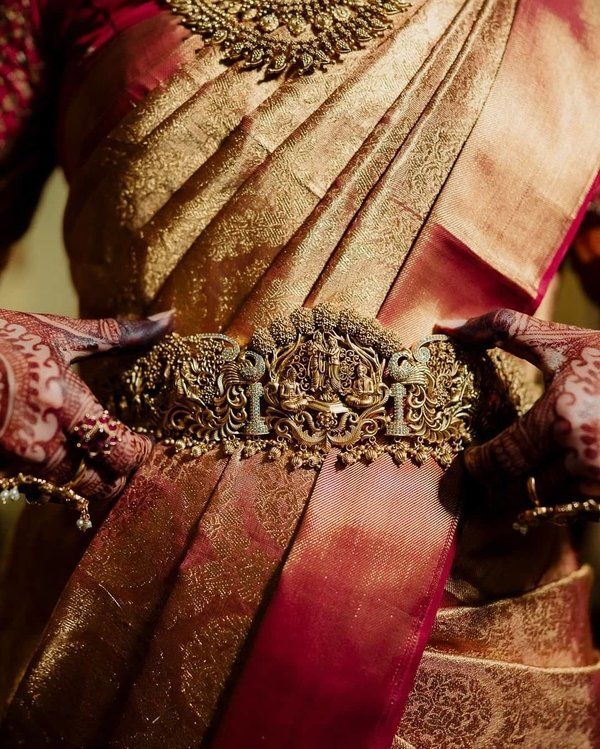 View More: Kundan Jewellery Set Ideas
Coin Temple Jewellery Set
This is undoubtedly a really beautiful and fine collection for the big day. The Necklace has certain really fine attributes, that makes it one of the best buys. It has encrusted stones on top. 
And, some really beautiful golden intricacies. What makes it so special for the wearer is, it is one of the most popular Temple Jewellery Design in South India.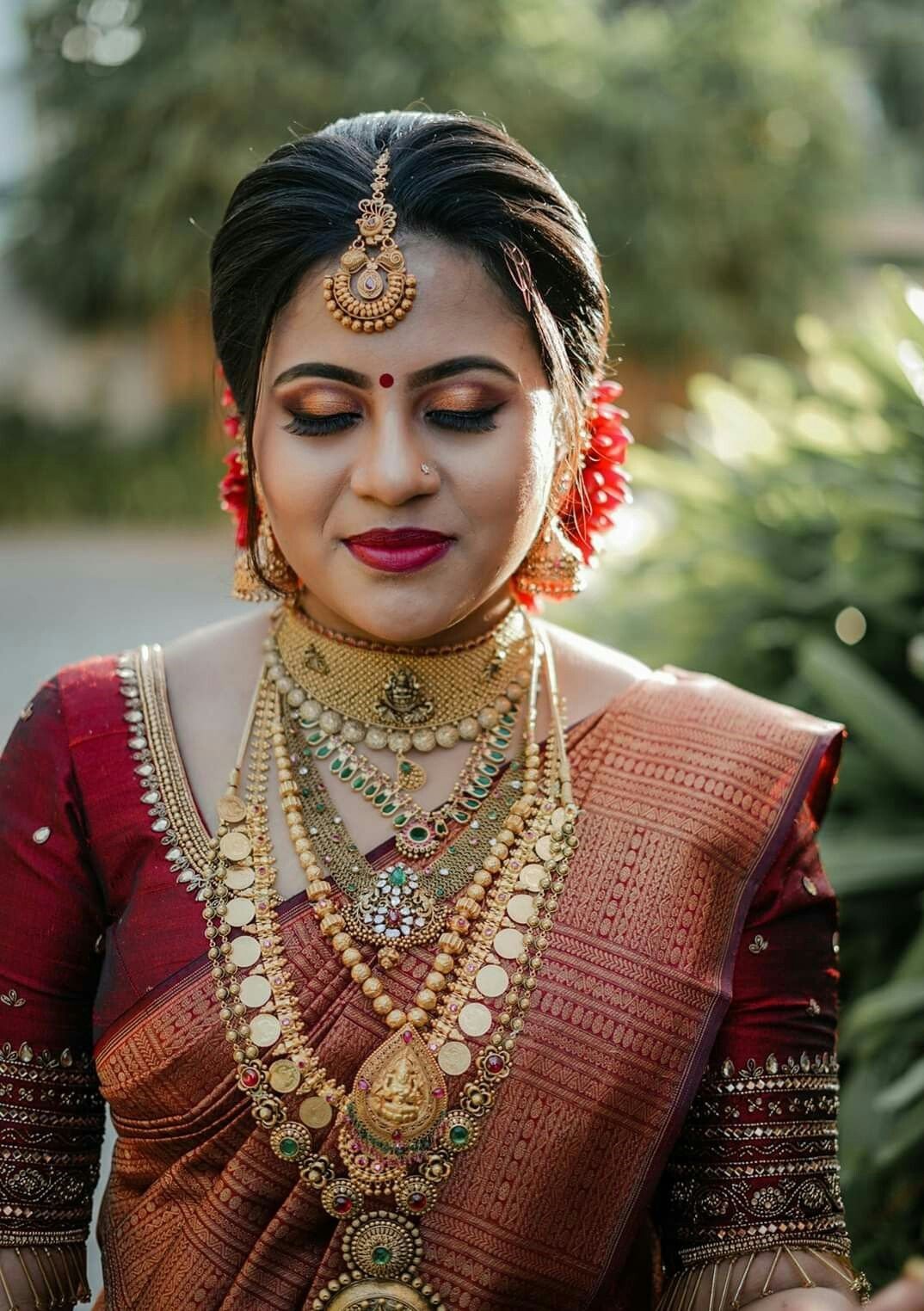 Speciality:
The main attraction of such a cute set is, it is really very pretty and compatible with all sorts of attires. Besides that, it can be worn for other events too, other than the wedding ceremony. 
Temple Jewellery Set for Tamilan Bride
This is a well-combined jewellery set that is popularly worn by Tamilian Brides in India. It has a really beautiful golden base, with some teeny-tiny stones encrusting on top of it. 
I would highly suggest this particular Bridal jewellery set to everyone. Who wants to get hold of a good Temple Jewellery set.  A set that has almost all sorts of little details, like bangles, earrings, and other parts too. 
Speciality:
This particular Bridal Jewellery set has Temple Necklaces, Earrings, bangles, bracelets, Matha Patti, Maang Tikka,  Kamarband, and other very pretty Indian jewellery sets. 
Check : American Diamond Jewellery Sets
Long Temple Jewellery Necklace
This is a long necklace and has the most beautiful ruby framing. This necklace stands out from the rest of the look, as it is not just appropriate but quite accentuating too.
The beauty of this necklace mostly comes from the way it is worn for the big day. Firstly, with a deep neck blouse, and secondly a really pretty earring.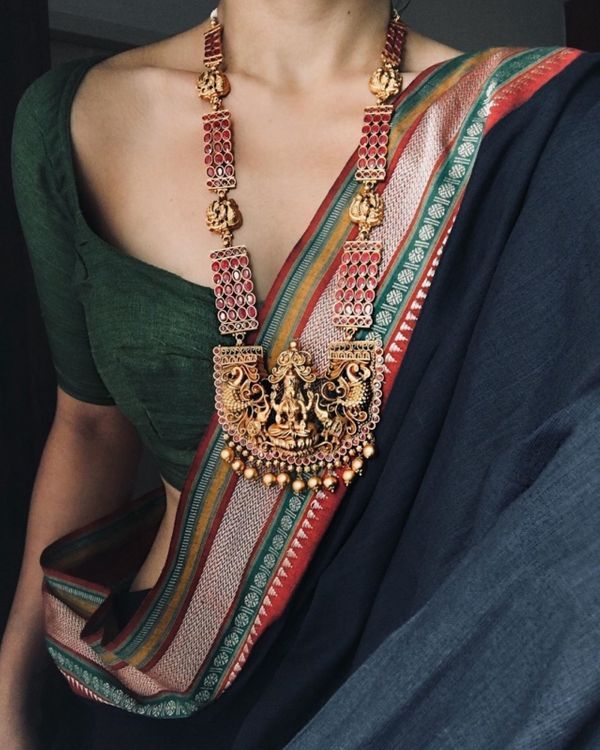 Speciality:
The wearer hasn't really worn the most conventional temple jewellery necklace, but the most common one. This only has a temple work, at the lower portion and not the rest of the ornament.
Must Check: Bridal Nail Extension
Temple Jewellery Set with 'Matha Patti'
Well, you cannot really miss out on this particular ornament, as this is the best one on the list. Although this isn't that typical Matha Patti worn by North Indian Brides. But really has a few of the best things, that makes it wearable and appropriate too.
Those little indicate details of Gods and Goddesses are just outstanding. As Temple Jewellery set, it is one of the best accessories for the big day. These chains are making it even more wearable and perfect for the big day.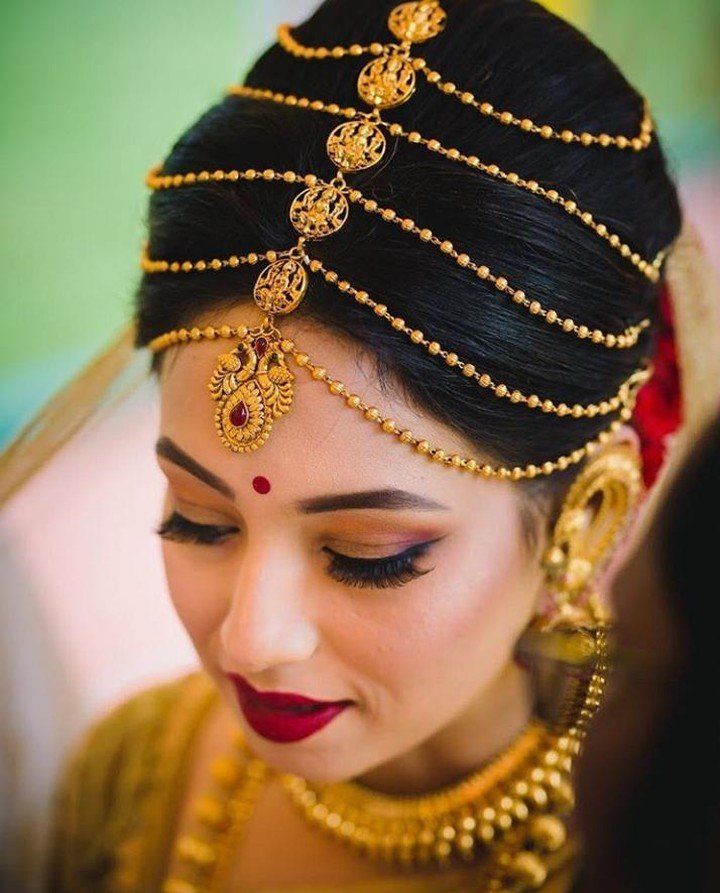 Speciality:
The particular "Matha Patti" has the most beautiful ruby stone work and a fabulous golden chain work for the wedding ceremony.
check out: Indian Wedding Veli
Nose Pin in Temple Jewellery Set
Tamilian Nose pins are slightly different than what you commonly know as one. They as not as sleek as regular ones, and not too big too. This is not a Nathni, worn by Maharashtrians but not a 'Nath' too which is popular in North and Western India.
This is really unique and precious Temple jewellery. Worn typically by Tamilian Brides, with their amorous 'Matha Patti' and obviously the other 'Shish Chakra'. This makes great sense to me, as the results are just outstanding, as the pictures come out best.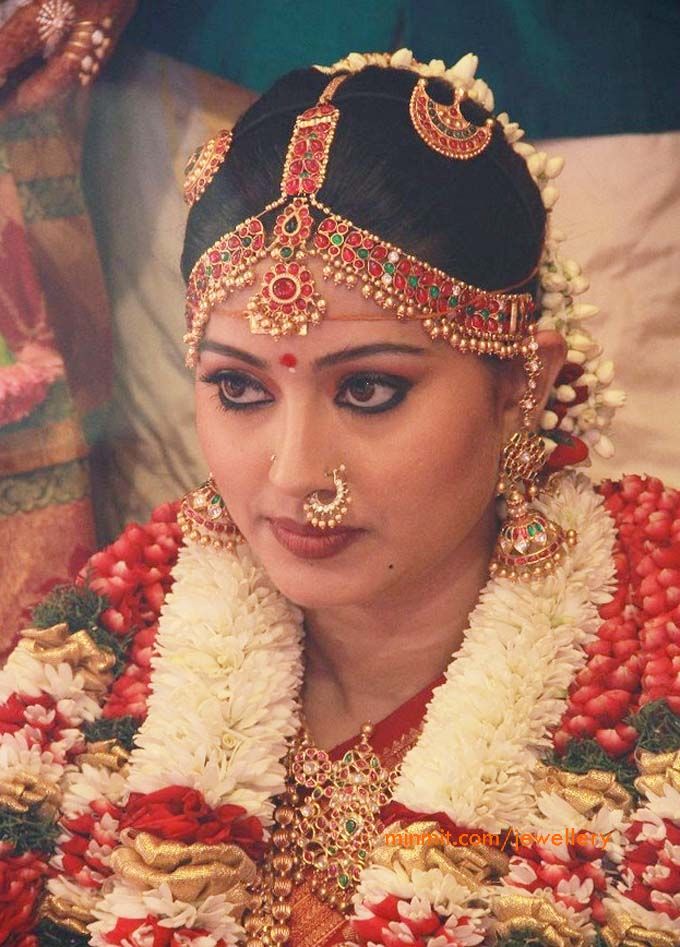 Speciality:
As a bridal attire is concerned, this particular one has all the good things that are required for the perfect end. Such a piece can put everything in place that too without hampering any of the kinds of stuff.
Read more: Silver Jewellery Sets 
Temple Jewellery Set with 'Kadhas'
This is a type of bangle set, which is not so sleek and thin in shape and size. rather these bangles are found in a pair and have a width of about a few inches. These have a classic embroidery of Temple Jewellery. Which covers at least half of this bangle set.
As a bridal ornament, it can have a two-way opening. Firstly as a bangle, it can be worn organically like one. Like you have to wear it from the porch of the wrist, or else there is a wide breaking point like a bracelet. Which is found in the middle of the jewellery.
Speciality:
As a bridal ornament, it is mostly covered with beautiful intricacies and a fine layer of pieces of jewellery too. The little jewels are making it even more precious and appropriate for a bride to wear.
Must check: Bridal Gold Jhumka Design
Temple Jewellery Set with 'Jhumka'
A Jhumka earring is one of the most commonly worn Temple Jewellery accessories in South India. If not all ornaments, atleast the earring has to be made in the Temple jewellery format. This tradition is quite common in Tamil Nadu and the rest of the State.
As an earring, it really has the most beautiful finishing and a really pleasant golden framework too. Being a piece of bridal jewellery, it has some of the best ornamentation work and a very pretty golden work.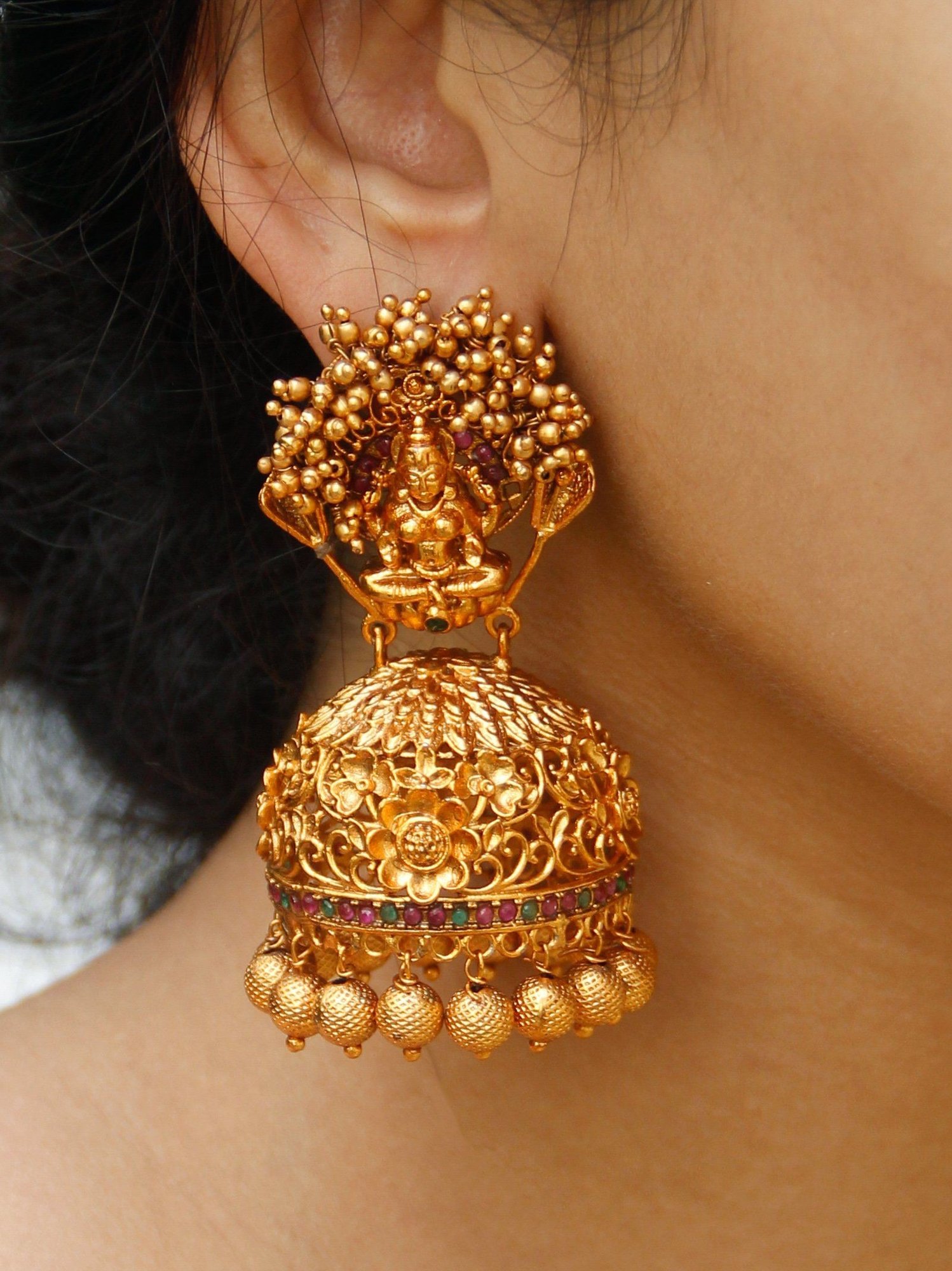 Speciality:
A piece like this deserves to be at the top of the list. Firstly it has a really beautiful rose gold finishing, and the stonework is out of this world.
View also: Bridal Matha Patti
Stud Earring with Chain in Temple Jewellery Set
The beauty of this earring is the chain extension, which flows towards the hairline. Being a bridal accessory, it has the most beautiful and pleasing ornamentation for the rest of the look. Believe me or not, such a piece of jewellery shall never go out of fashion.
It literally became a trend to wear such pieces of jewelry since 'Baahubali' where Anushka Shetty a.k.a Devsena. She wore this amazing earring in her royal look. Thats how the temple jewellery stud earring became a trend in India.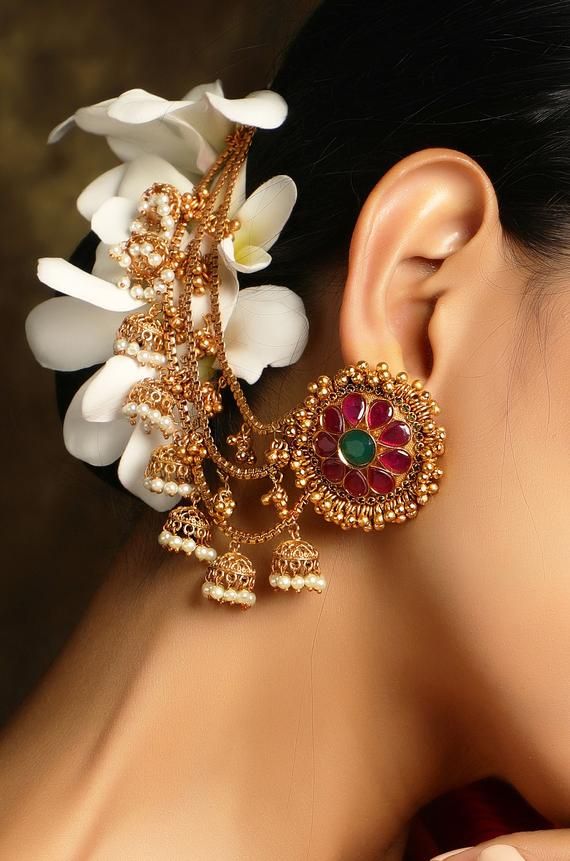 Speciality:
This can be in gold, but you even try statement metals, which are far more affordable than most other metals found widely around the globe.
Also see: Pearl Set Styles
Temple Jewellery Set with Bracelet
A bracelet is one of the best ornaments in the list of Temple Jewellery designs. Especially when you need to have such amazing jewellery, and other accessories in your ist of ornaments. Having a piece like this is probably the best possible option. I believe this is one of the best buys.
Even you aren't doing much with the rest of the outfit or accessories. A Simple pair of earrings, bracelets and rings can create the most beautiful look. Trust me, it never gets too old to start something fresh with such beautiful things in hand.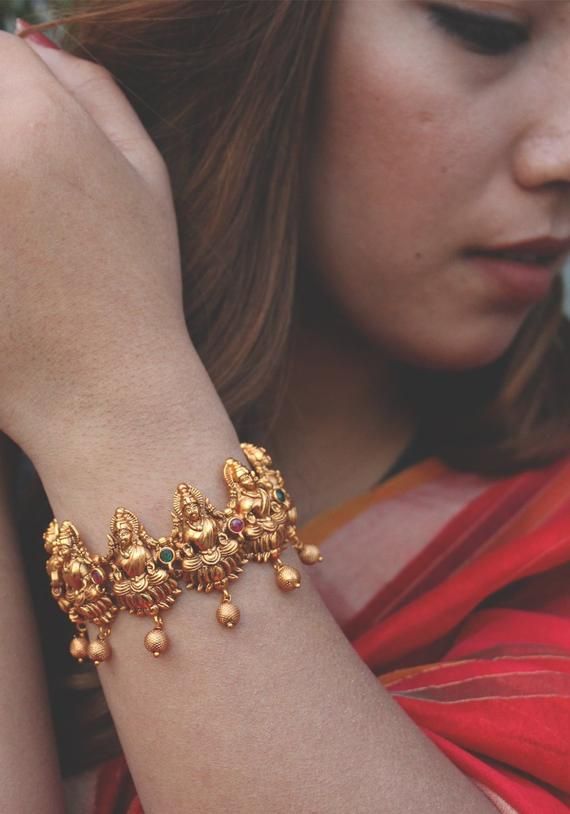 Speciality:
This bracelet looks best with a darker coloured saree, the pattern or the look of it makes it even more wearable and worthy for the big day. Trust me, I have a special place for these kinds of bracelets.
Bridal Ring in Temple Jewellery Set
A ring is a kind of accessory that many women and men wear on daily basis. But such a pretty and ornamental piece of the ring cannot be worn on a daily basis. As this is to be heavy, to be used as a daily ornament. 
This is a distinctive part of a Temple jewellery ring, it is subtle but extremely well decorated. Something that is not quite comfortable for daily usage.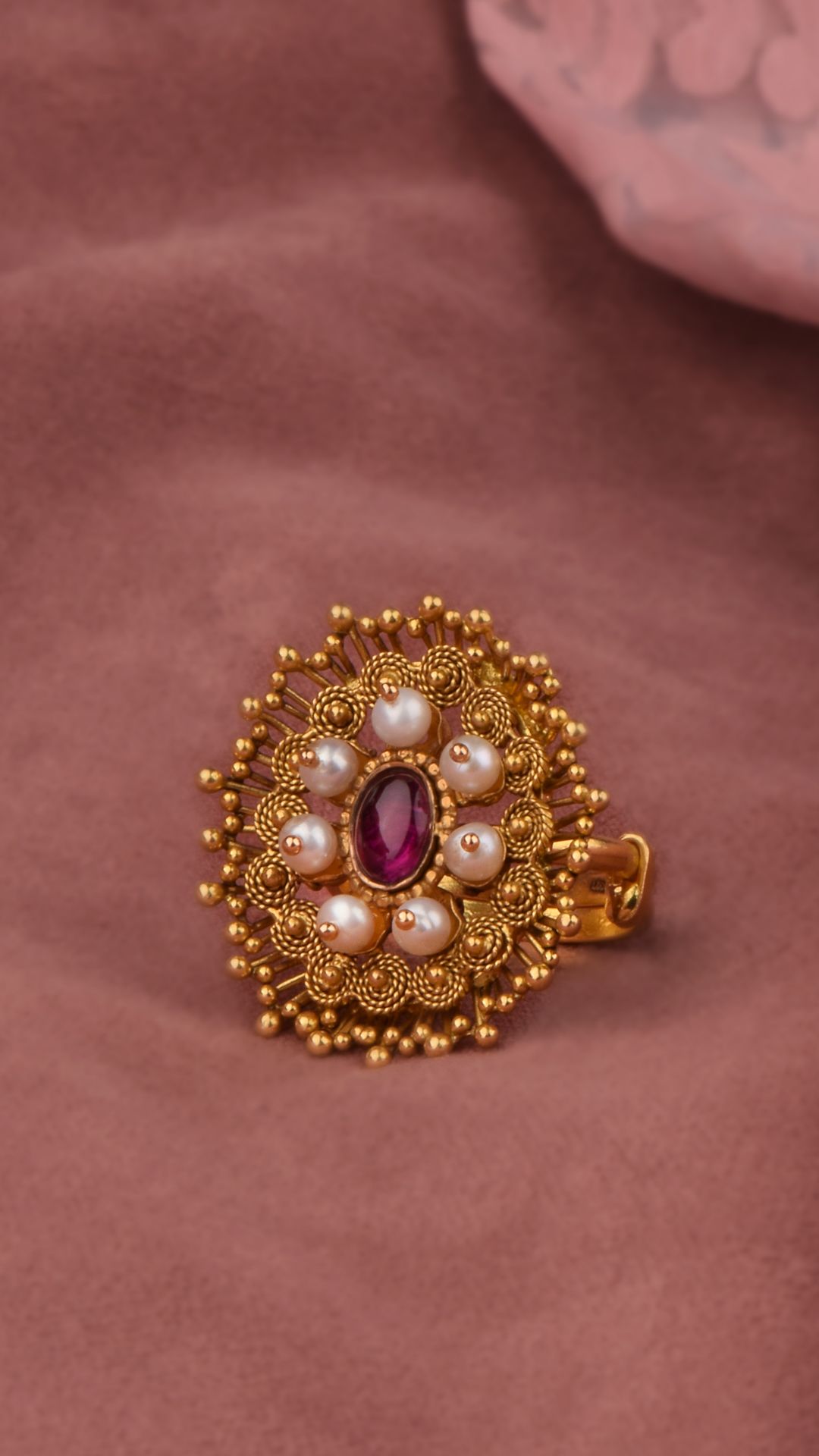 Speciality:
The beauty of this ring is quite articulating. I would suggest buying one for yourself without a doubt. 
Check out: Polki Jewellery Designs
Temple Jewellery Set with Anklets
An anklet is a piece of ornament, that can be worn on a daily basis. When it is a Temple jewellery anklet, it cannot be worn on a daily basis. Rather she needs some extra care and can only be worn for the purpose of the wedding ceremony. 
These are significantly pretty ornaments, that not only accentuate the beauty of the Foot Mehandi design but also act as a great help for completing the entire look.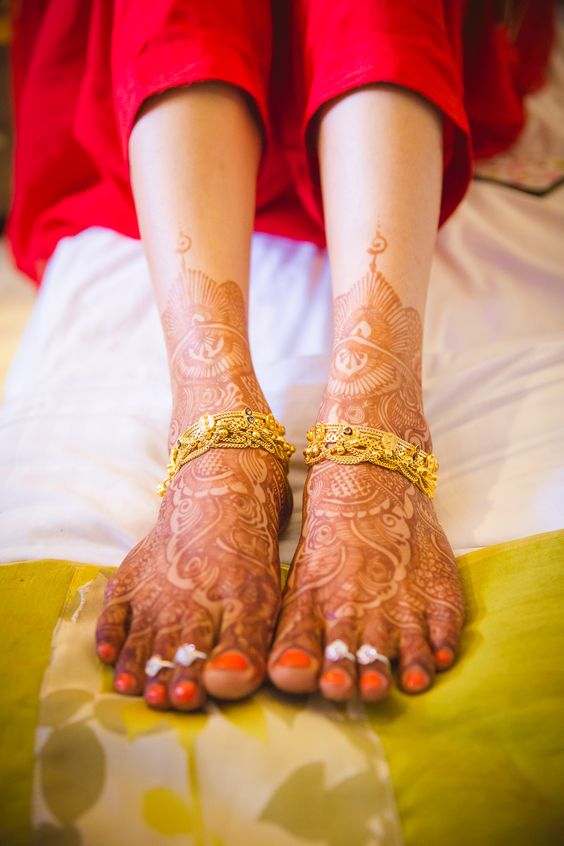 Speciality:
Such a pretty anklet pair is well detailed, but it cannot be made in gold. As no one wears gold below their torso region. This particular 'Payel' design is made of 'silver' with gold plating. 
Well, these were some of the classiest Temple Jewellery Sets in India. Something that is not only pretty and well accumulated but also appropriate for the Big day. 
The above mentioned Temple Jewellery Sets can be made in Gold, or widely available as statement ornaments too. Yes, you will find Artificial Temple Jewellery online without any trouble. 
Bridal Fashion, ornaments, event decoration, cuisines, food and other fancy information regarding stuff. Find everything you need about these at myMandap.