The ideal Christian Wedding Dress has to be White. Although Christian Wedding Gowns started being white when Princess Philippa of England, wore a White Wedding Gown for her Big Day. 
Before that, all Christian Wedding Dresses used to be darker or Pastel in colour. Shades like Yellow, Beige, Nude, or even some beautiful Creams played a huge role in the Quintessential Christian Wedding Gowns.
Since Princess Philippa of England wore a white dress, it became a trend among other European countries to choose White for their Big Day. She was the daughter of King Henry the Fourth, and we can gladly call her an influencer. 
That trend soon stuck with the Indian Christians. Here we have some of the prettiest Christian Wedding Dress for the wedding ceremony. These are Classic White Christian Wedding Gowns for Brides. 
Top 10 Christian Wedding Dress Ideas in White:
Colourful outfits and designs are just a play in a bigger part. They happen to have the most essential role in setting up the perfect Bridal Attire. And when this is about A Christian Wedding, it has to be white. 
Although you can wear other shades too for Christian Wedding Gowns. I think White looks better in terms of a well-decorated and organised Christian Wedding Dress.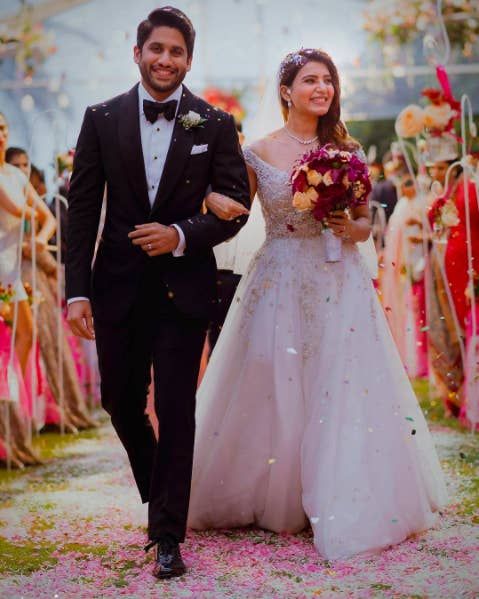 Here we have gathered some of the most conventional Christian Wedding Dress options, with an Indian Twist added to them. These outfits are perfectly meant for Indian Christian Weddings. 
Quintessential colours, accessories, and an outfit which is stunning in your real beauty. These are classic Christian Wedding Dresses, which are slightly different from most other outfits we have seen so far. 
Check more: Bengali Wedding Dress
White Gown Christian Wedding Dress
I like cheque fashion, it is self-explanatory and undisguised. A  good old Christian Wedding Dress is far more attractive than any other White Dress.
This is not a Saree or a Lehenga, but a prominent White Wedding Gown. Yes a Christian Wedding Gown, with the most extensive threadwork.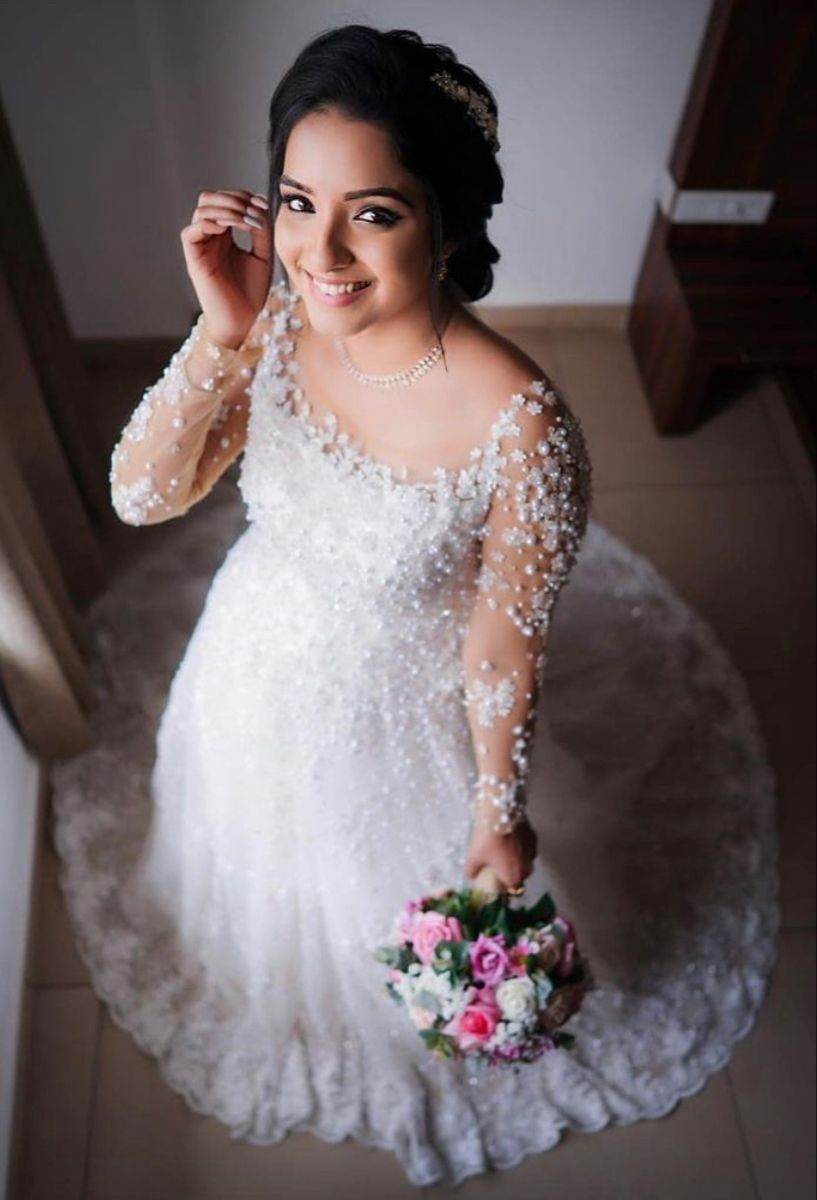 The bottom of the dress has the prettiest little length and an effect of a mermaid's bottom. What I found so exciting about this dress, has to be the upper region.
The fabric is celestial, with teeny-tiny white elements that have elevated the White shade to a completely different extent. In a way, this is a picture-perfect Wedding Attire.
Rose Pink Saree Christian Wedding Dress
No matter what kind of Christian Wedding Dress you are wearing, a Saree can never go out of fashion in India. It is one of the most lavish Sarees.
As a Wedding Saree is not a Silk or any other Christian Wedding Dress which is conventional for a usual Wedding Attire. It is very different from all other options for the big day.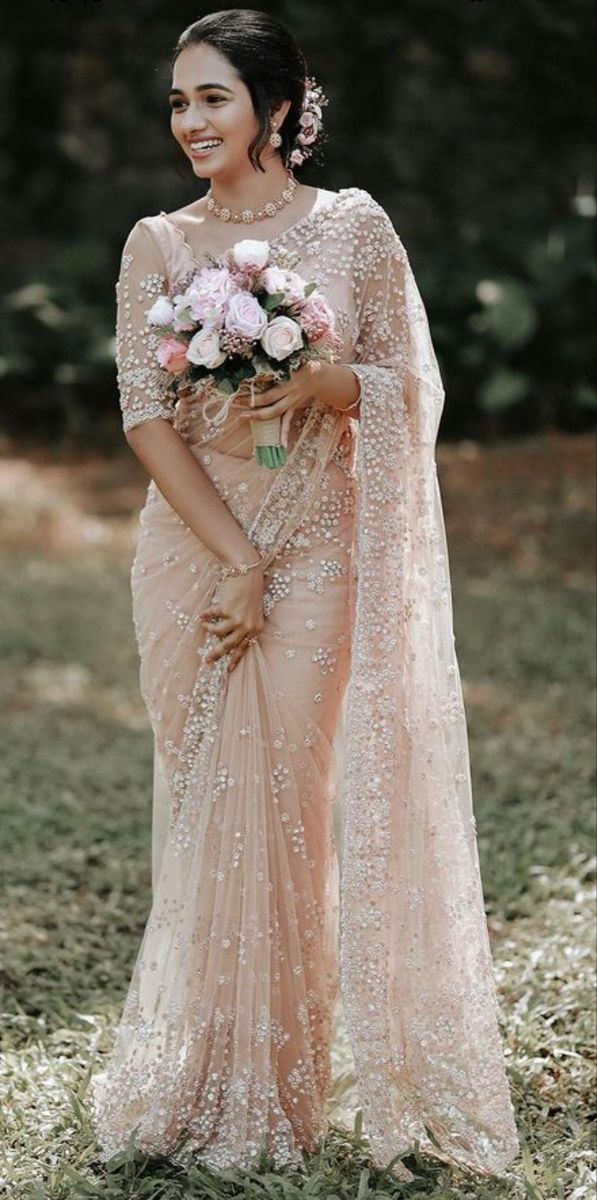 The entire Saree is covered with pretty little sequins which are very different from the ones which we are used to seeing. IU think this is the easiest Saree.
You just need to add some celestial pieces of jewellery along with this look, like super pretty and original Pearl and Diamonds ornaments.
Visit also: Wedding Dress for Groom
White Saree Christian Wedding Dress
Sarees are traditional, and they are known for their ethnic glamour and fun. Sarees are comfortable wedding attires, and they make much more sense as toṇ what should be worn.
Indian Weddings usually have a lot more colours, when it comes to choosing the bridal attire. But a Christian Wedding Dress has to be white.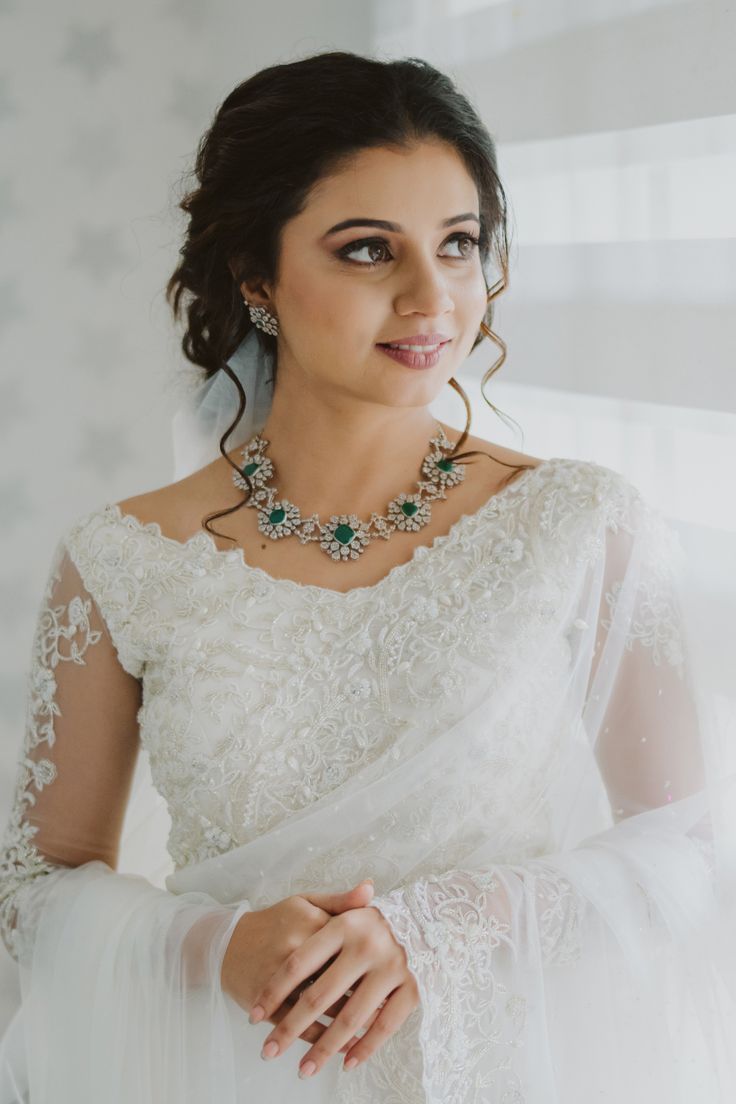 Likewise, this is a perfect blend of Saree and a Quintessential Christian Wedding Gown too. It is a basic chiffon Saree, which has been worn with the same styled blouse.
I found this blouse design extremely beautiful, surreal and heavenly. Such basic Wedding Dress options, make the even more beautiful, and all about you and your partner.
Long Trail Christian Wedding Gowns
A dress with an extended length and trail is like a dream for all women. White Wedding Dresses usually have a trail, and they are different from one another.
Christian Wedding Dress is beautiful, ethnic and surreal. Trust me, this is an outfit which hardly goes out of fashion. And, you can totally wear it for your big day.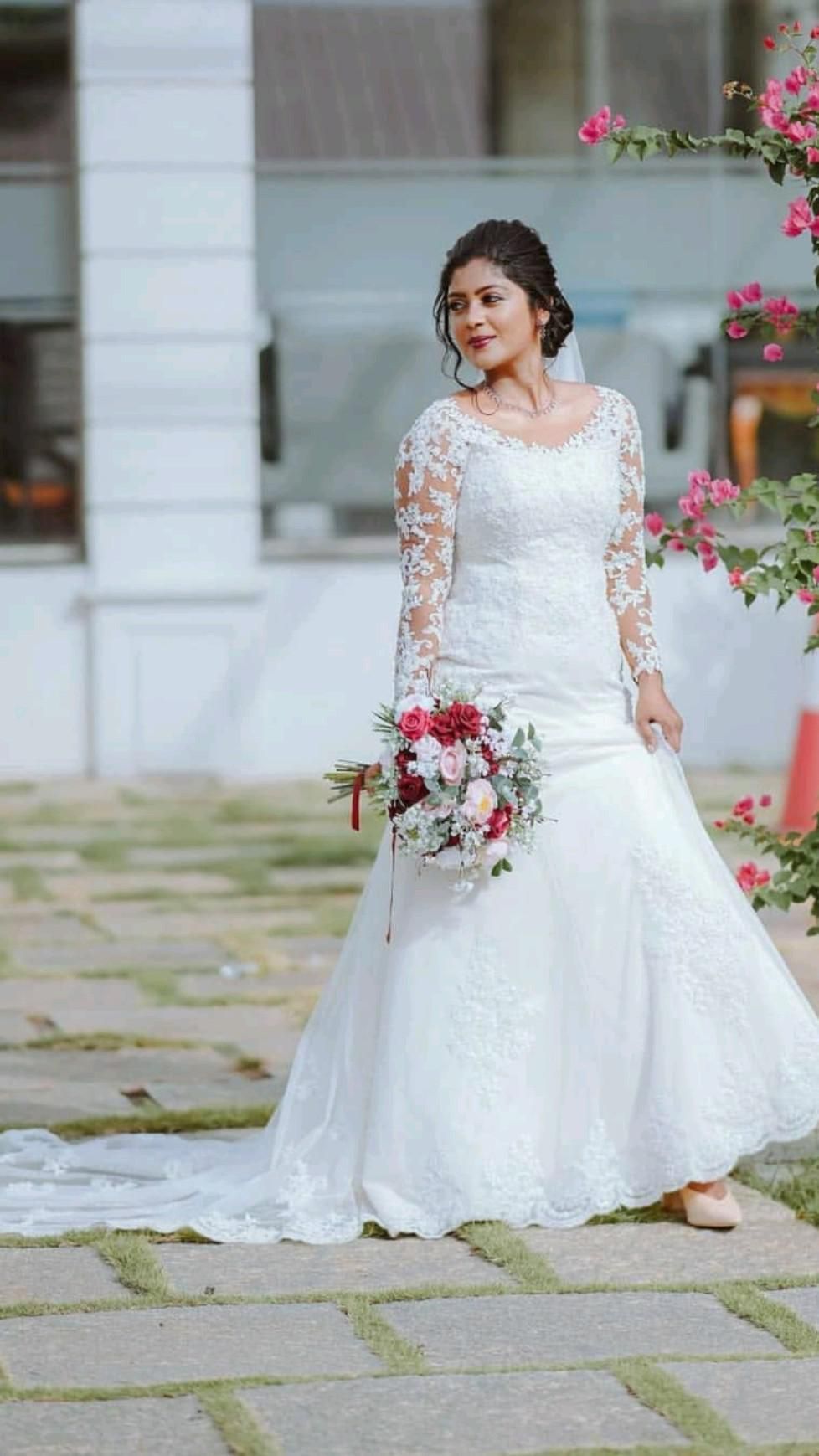 The sleeves were pretty basic, but the material of the Dress is lacy. It is an exceptional Wedding Dress, but the main attraction of this dress has to be the long trail.
Without a doubt, everyone's attention would straightaways go to the long extended trail of the dress. It has made the outfit even prettier for being worn.
Must Buy: Marathi Wedding Dress
Pearl Sequin Christian Wedding Gowns
Pearls are best and they are best for mainly two exact reasons. Firstly they make an outfit even more surreal and pretty, and they are perfect for Christian Wedding Gowns.
A Christina Wedding Dress looks very blunt and basic without the right elements, which have to be added on top of it. The elements are mostly pretty basic.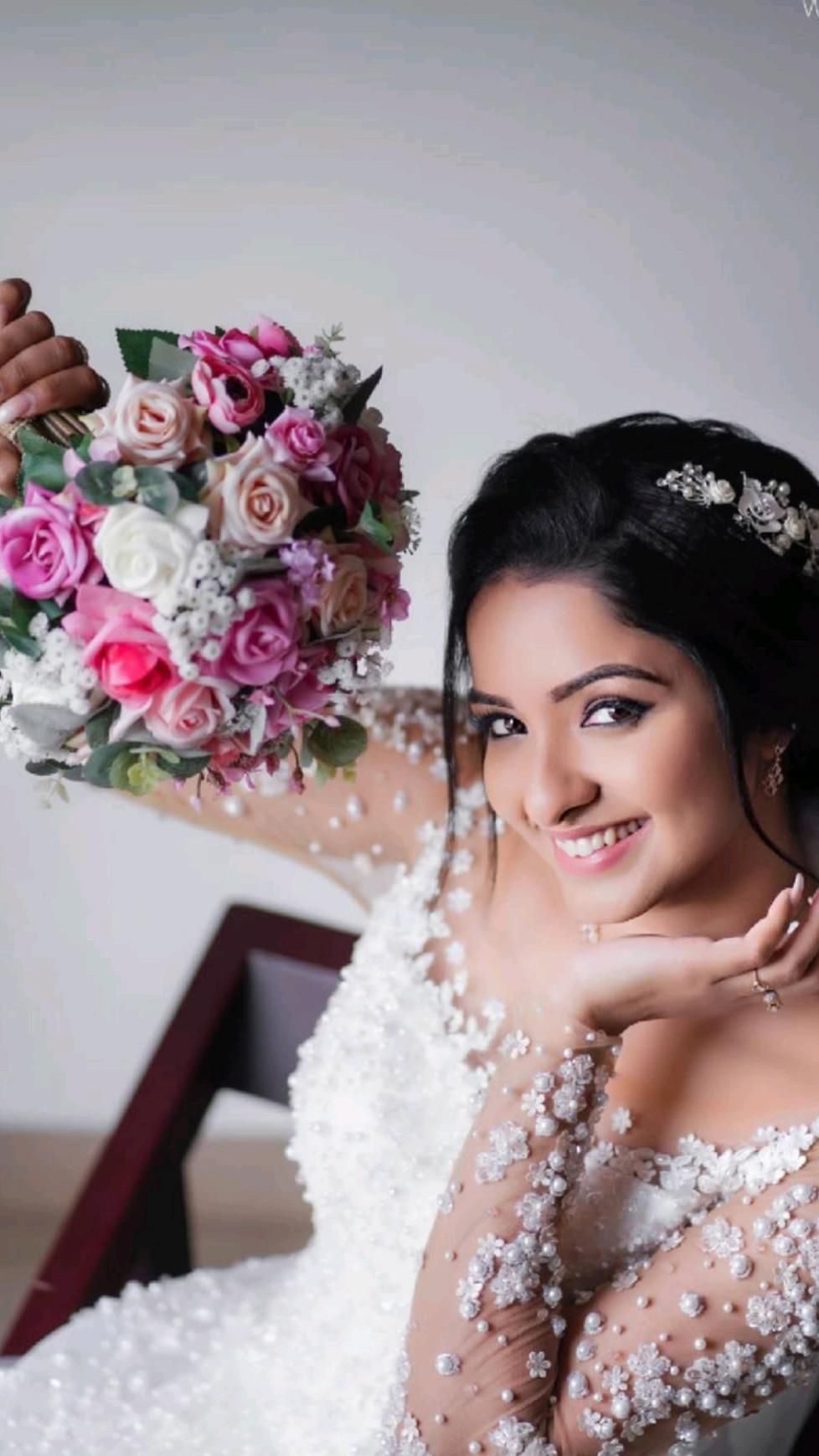 This is a dress which has been accentuated with the prettiest little floral pearls, and other lace accentuations. It is not just pretty awesome, but quite beautiful too.
The sleeves are different and they are slightly transcluscent in nature. Such sleeve designs are also known as Net Sleeves, as they are see-through.
Lace Work Christian Wedding Dress
A White Wedding Dress is nothing without the proper lace work. I find Christian Wedding Dress options even more attractive with Lace work.
Although this is basic threadwork, the fabric is slightly different from most other Christian Wedding Gowns. It has a lacework which is made out of chiffon.
The fabric of the dress, or the pattern with which it is made out. The lace is mainly curated in a semi-transparent region. In this case, it is the arms and the sleeves.
The lace has worked is gathered around the Boddess of the dress, mainly around the chest and the sleeve region. It even has a Bridal Veil.
White Beadwork Christian Wedding Dress
Beadwork is one of the arts which very few people are capable of doing. This is one of such amazing Christian Wedding Dress.
It has a Quintessential border and a pretty fabric with the most extensive Pearl Beadwork. In a way, this is one of the best outfits in town.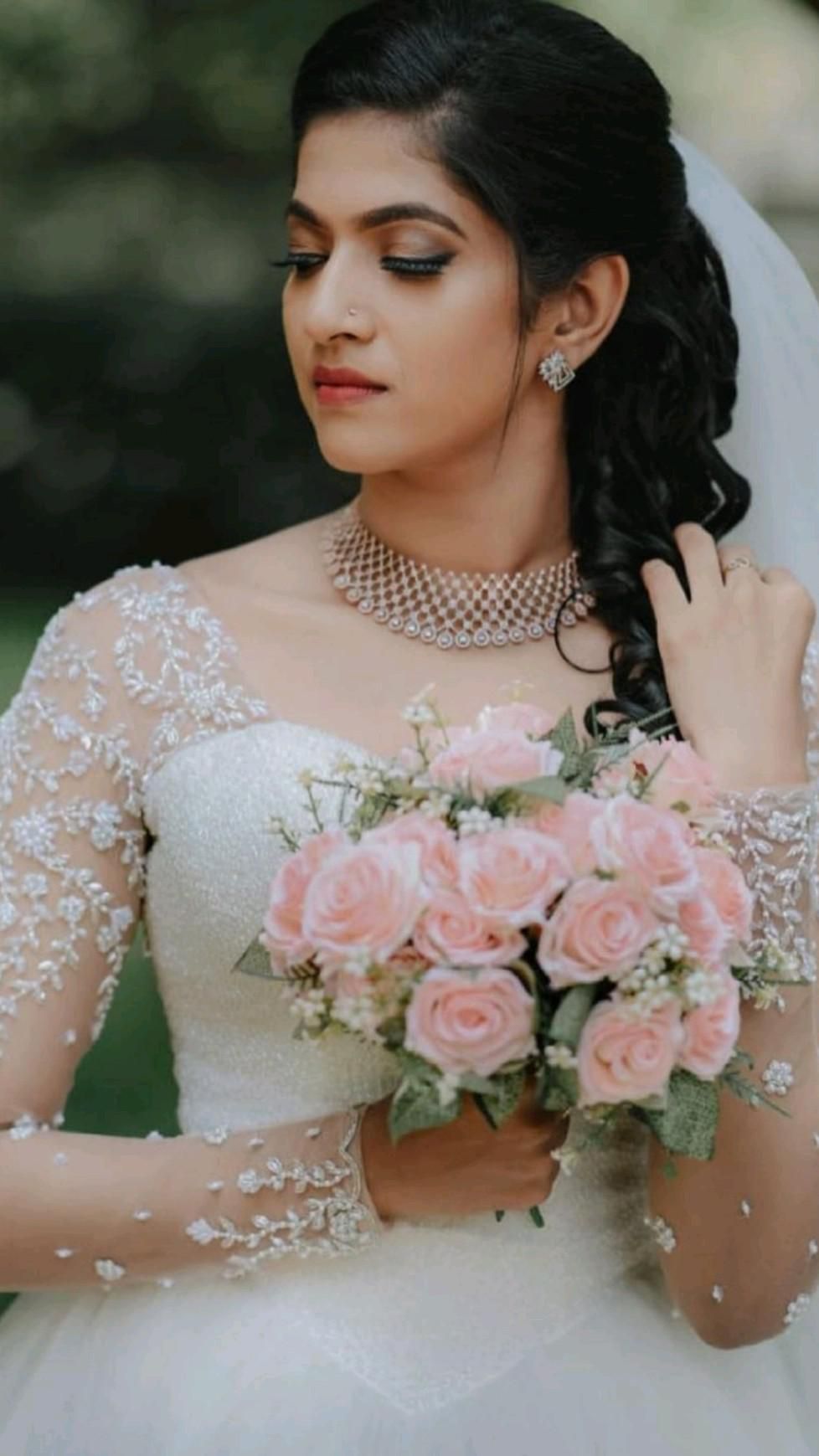 This is a Christian Wedding Gown, that has some subtle pearl works on top of it. This is pretty awesome for a good old White Wedding Wedding Dress.
As a white wedding dress, this has everything which you might need for the wedding ceremony. Starting with the most beautiful fabric, to the best needlework.
Check out: Marwari Wedding Dress
Floral Chiffon Saree Christian Wedding Dress
Chiffon Sarees are some of the best options for good old Christian Wedding Dresses. They happen to have a soft fabric, which is one of the best ones.
The colour White looks amazing on a Floral Chiffon Saree, and hence this is one of the easiest apparel wear for the wedding ceremony.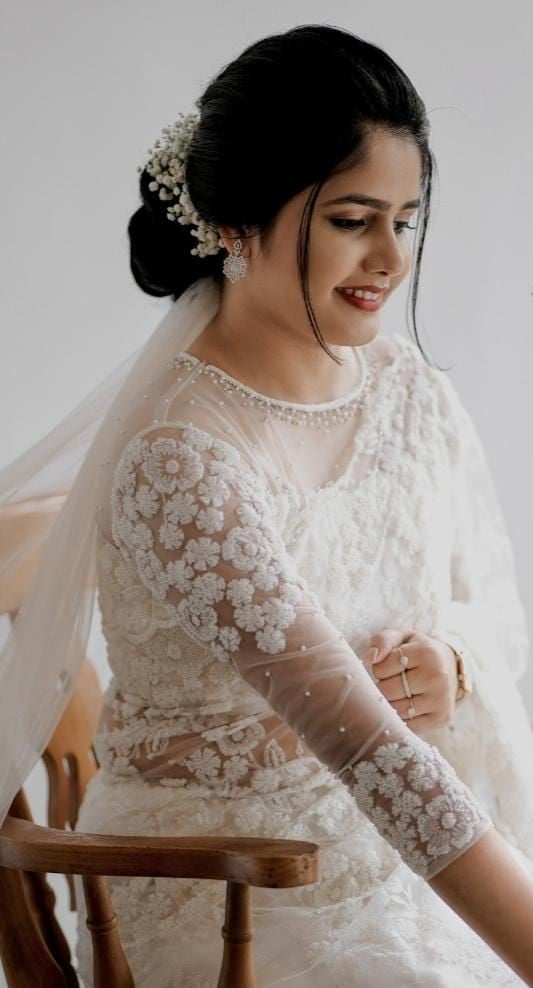 This is one of such amazing Chiffon Christian Wedding Sarees, with a pretty floral applique work throughout the fabric. In fact, this is one of the most well-worked fabrics.
The White fabric of the room is far more beautiful, elliptical and pretty. I find these ones exclusively beautiful and quite well designed.
Silver White Saree Christian Wedding Dress
Sarees are attractive, and they happen to have the most exciting colour range for the wedding ceremony. When it is to the Christian Wedding Dress, the colour of the Saree has to be White. 
It is a Saree with the prettiest little silver border. The entire Saree has silver celestial embroideries, and it has the most beautiful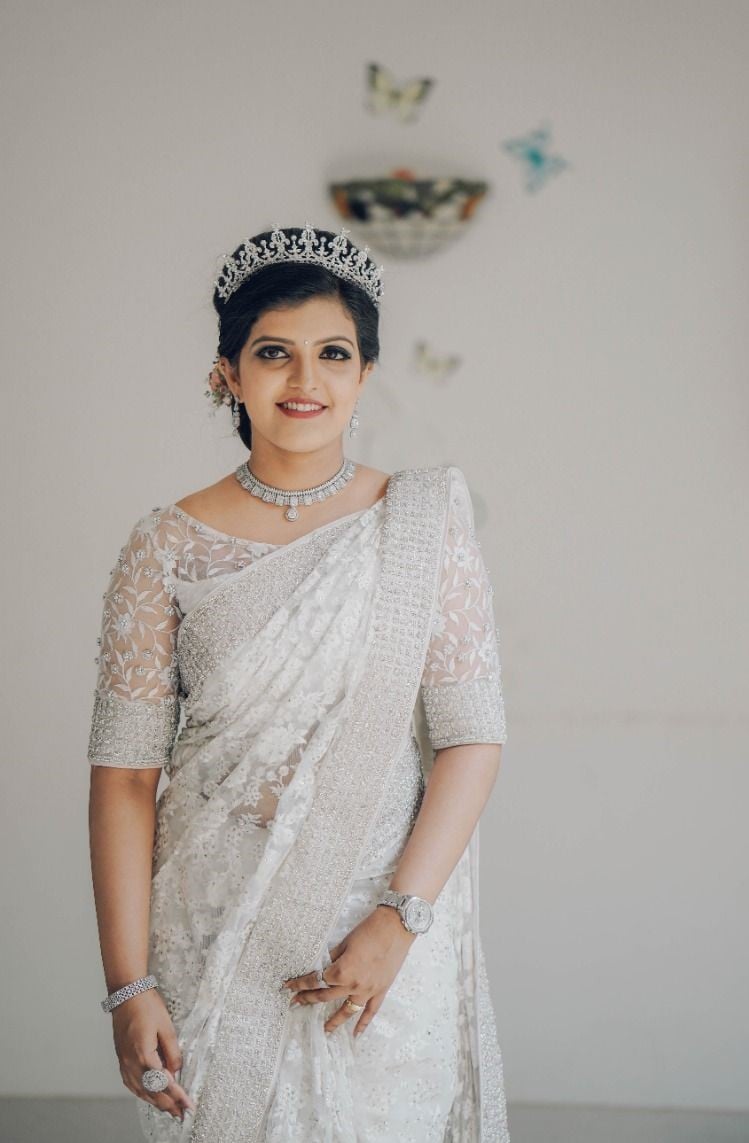 This is a Saree, and wearing this one is quite common for Indian Christian Weddings. Most brides I know choose to wear White for their Weddings.
And a Saree is a traditional best, and it hardly goes out of fashion. It is exceptionally pretty, well organised and quite beautiful t the same time.
See related: Plus Size Indian Wedding Dresses
Mermaid Christian Wedding Dress
The bottom of these Christian Wedding Gowns is the main attraction. The shade of this dress is slightly different from most other mentioned outfits.  The bottom portion is sinched. 
The lower sinched portion has given a mermaid-like effect to the gown. It has made the bottom of the dress look extremely beautiful. It is not just sturdy and pretty, which is just for the shape.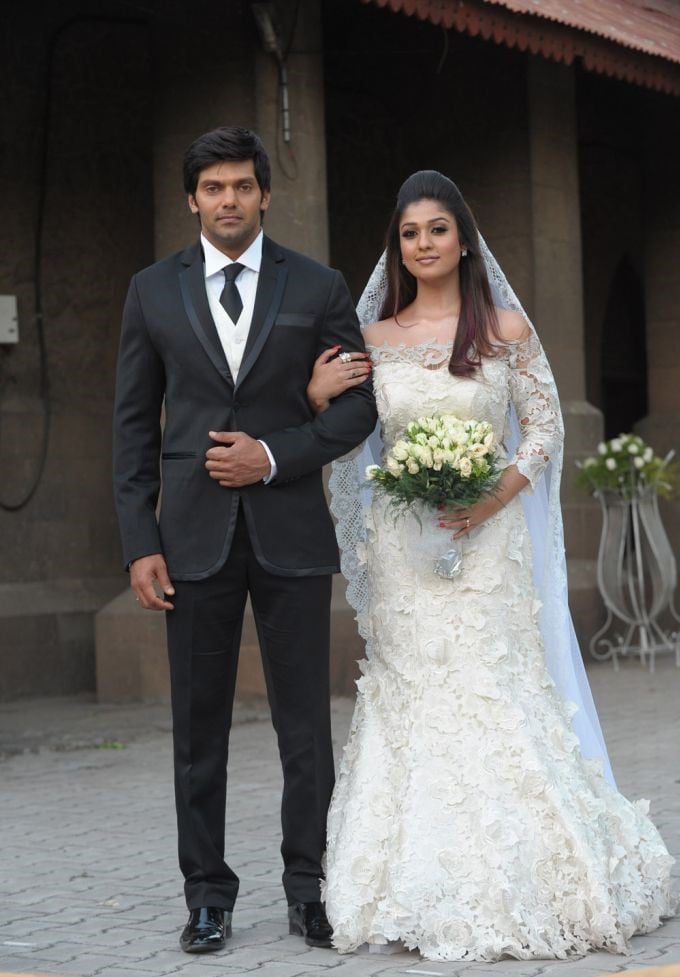 The mermaid bottom of this attire is outright beautiful. In a way, this is extremely simple with a pretty exciting bottom line. I found this one highly expensive, sturdy pretty and obviously well-decorated. 
The Christian Wedding Dress in white is pretty awesome. The beauty of this dress is the lower portion, and it would even look better with a pretty long flowing dress trail. 
If you are a Christian, and you were figuring out which is the right Wedding Attire, then should have filled your demands. In fact, these are not just Western Gowns and dresses, we have Sarees too. 
Most Christian Brides wear Gowns and outfits of the same variety. A pretty Christian Wedding Dress can also be a beautiful chiffon Saree, and I think you got exactly what you needed to earn. 
Amongst various White colours, always chose the shade which you feel complements your complexion. If that's off-white, then so that be and if it is beige then it's right too. 
 A Perfect Christian Wedding Dress has to be sleek, shiny and extremely beautiful. This is one of the essential parts of your Wedding Ceremony, and you get to wear what you feel like wearing. 
These were the coolest Indian Christian Wedding Dress Ideas. If you found the right one for yourself, then do not forget to let us know in the comment section. 
At myMandap, we have some of the classiest options for Bridal Fashion, Accessories, Makeup, Decoration, food and everything that you need for a perfect Wedding Ceremony.