Top Marwari Wedding Dress styles are mostly traditional lehenga Cholis or typical Jodhpuri Suits. Basically, everything is known for its glam as a wedding outfit. Here, we are actually about to break some of the best Marwari Wedding Dress ideas, which are conventional and popular. 
Starting with the prettiest Lehenga to the most beautiful skirt which holds like the princess's attire. Here, we have some of the best and most popular dresses. Having the Right Marwari Wedding Dress is the main priority here. So, we have gathered some of the best designs for such amazing attires. 
Best Lehenga Styles for Marwari Wedding Dress
A Marwari Wedding Dress stands as the only dress which is fully accentuated, completely well embroidered and highly appreciated. Trust me, we all want our Wedding Attire to be like the one worn by a Marwari Bride. The attires are fairly subtle and the entire design resembles the good old side of beauty.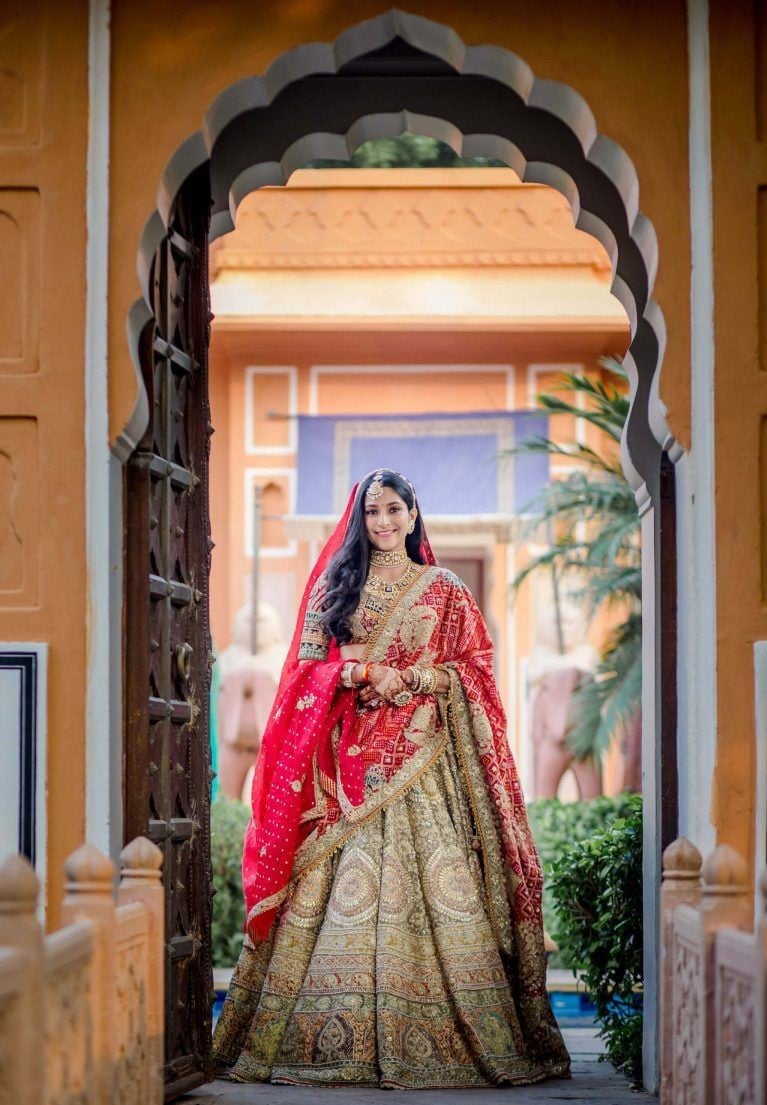 Such an amazing set for Wedding Attire is one of a kind, and you would actually wear it for your wedding ceremony. Trust me such beautiful Marwari Wedding Dress concepts set a record for them, who like their attire to be well decorated. Here, we have some of the best and the most traditional designs for Marwari Wedding Dresses. 
Check more: Marathi Wedding Shalu Sarees Online
Traditional Gotapatti Lehenga Marwari Wedding Dress
There is no right Lehenga for a Marwari Wedding Dress. The concept of 'Chaniya Choli', 'Ghagra Choli' or any other Lehenga like Skirt, comes from the best and the most glamorous western desserts of India. The people there, wear Lehenga Choli, on a daily basis.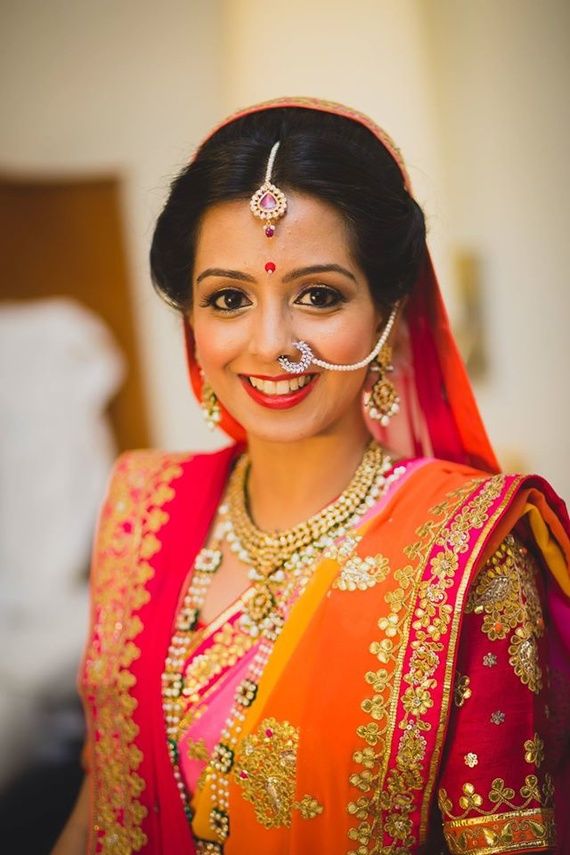 This particular outfit is nothing but the perfect representation of that vivid concept. Starting with the elaborate base design, to the prettiest border decoration. This particular Lehenga Choli has everything that is required to make it a proper outfit for the wedding ceremony.
Pastel Zardozi Lehenga Choli Marwari Wedding Dress
This bride chooses her Marwari Wedding Dress in the simplest Zardozi form. I know Zardozi isn't something which is known for being lightweight or uncomfortable. This is something that makes your outfit better, and more desirable. The bride has dressed in the prettiest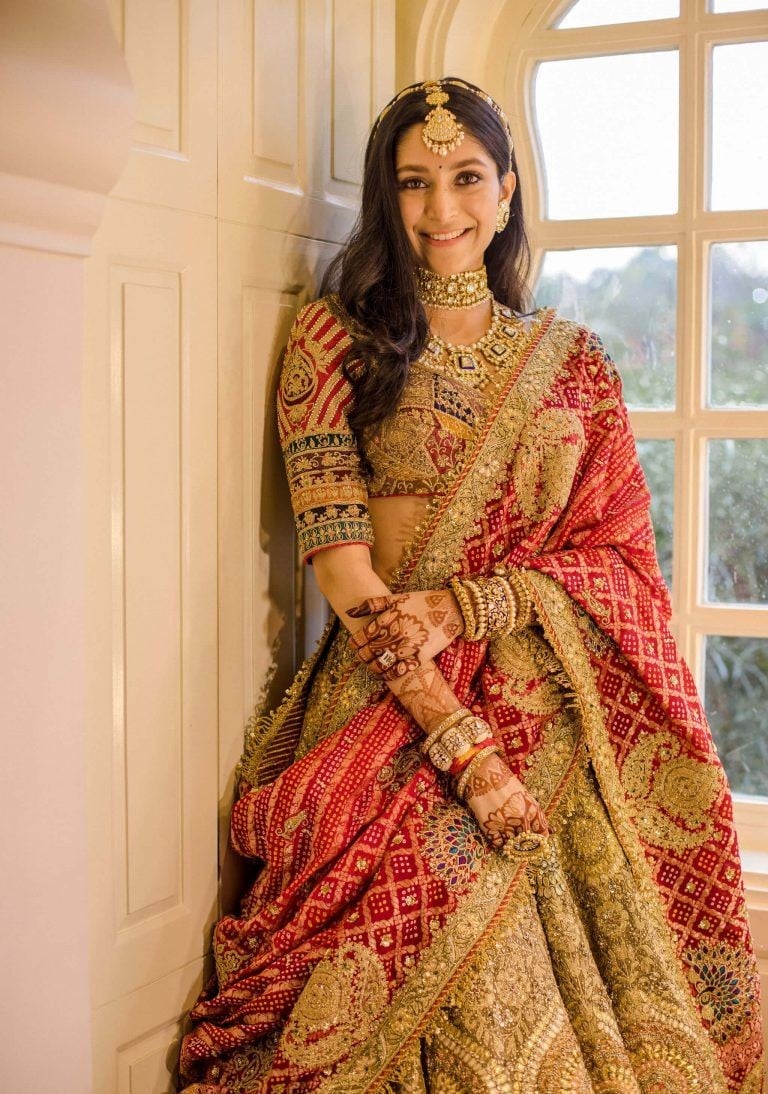 The embroidery on the Lehenga Skirt and the Bridal dupatta is just of the world. The Zardozi work on top of it is far more elaborate and the Aari Beadwork is far more exciting. This beautiful Marwari Wedding Dress is a perfect choice for people who like their Bridal Attire to be well-designed.
Must Read: Marathi Wedding Paithani Saree
Zardozi Red Lehenga Marwari Wedding Dress
Red is a classic colour for Bridal Attires, especially when you are buying red coloured outfits for the Lehenga Skirt, or the Benarasi Saree. This is one of those shades, that makes anything better and more attractive. Just like she is dressed in the prettiest Zardozi pattern.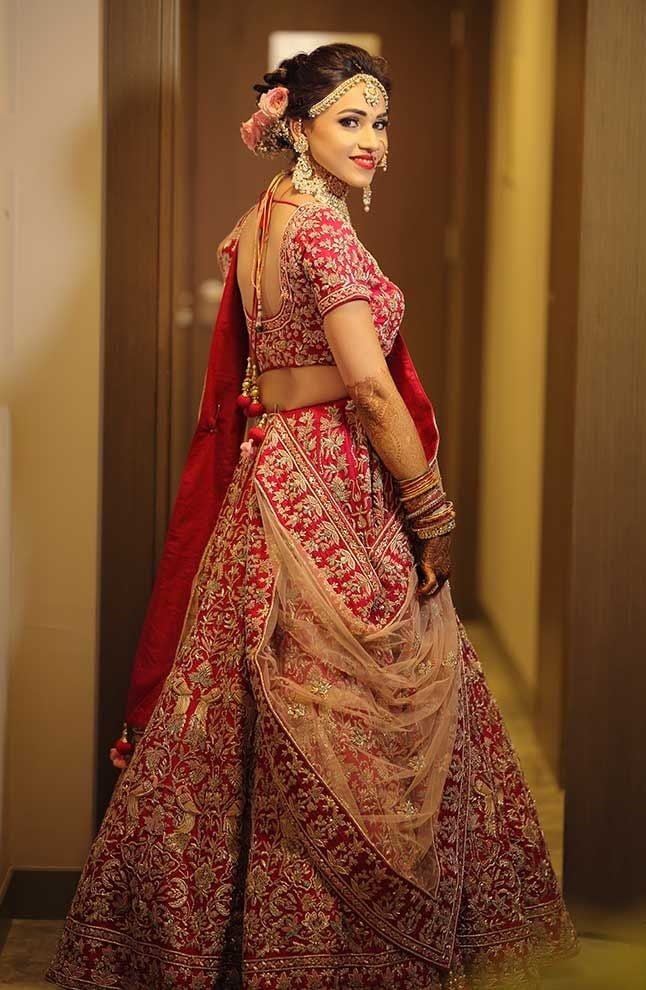 Her wide and embroidered skirt is just the cherry on the cake. Something that looks good, feels good and has everything else makes it presentable for a person to wear. As a Bridal Marwari Lehenga, this is everything that one needs for making their bridal attire picturesque.
Check out: Christian Wedding Dress
Zamavari Haldi Lehenga Marwari Wedding Dress
Starting with the simplistic yellow colour.  This is a kind of Lehenga Skirt, that would look really good with a pretty well embroidered Bridal Dupatta. These attires make a lot more sense when you wear them in the right manner. The colour yellow isn't something that should be worn with other associated events.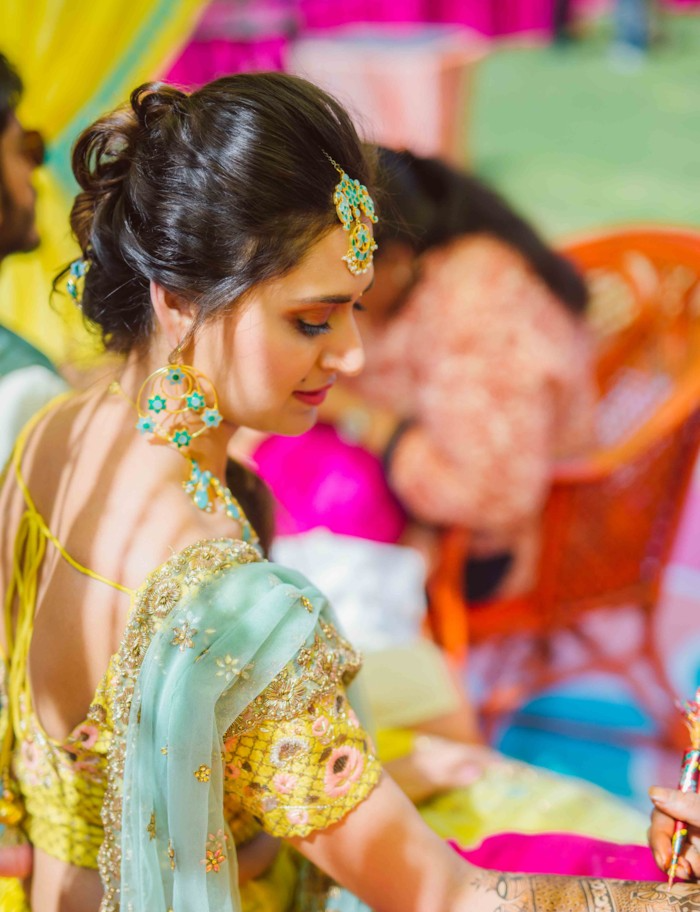 This is something that looks really well with the most uncommon yellow Lehenga Attire. Especially when you are selecting the right attire for the Haldi Ceremony. yes, this is one of those selected Marwari lehenga Dresses, that would look better for the Haldi Ritual, and not for the Wedding Ceremony.
More details: Marathi Wedding Card Designs
Rajputana Lehenga Marwari Wedding Dress
There are many attires, that resemble the Kingship and the Queen's glam. This is one of those delightful Marwari Bridal Attires. She is wearing a simplistic Saree, with a really simple blouse design too. What is so special about the outfit, is her glam and glow which is absolutely making the outfit even better.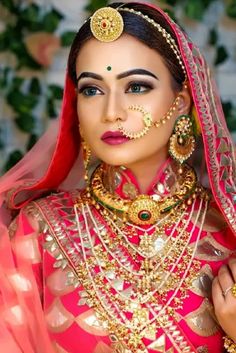 Yes, the bridal jewellery that she is wearing this simplistic and basic. Which is none other than a classic example of a Jadau Necklace set. yes, that Jadau jewellery Set has made her ordinary Marwari Wedding Outfit, even more, versatile and better.
Read more: Bridal Dupatta Designs
Top 5 Marwari Wedding Dress for Couples
A Dress has to be both beautiful, elegant and well-placed. Trust me, you can't really do any random attire, and call it a Marwari Wedding Dress. It should be well decorated, appreciated and highly accentuated. Trust me, we all want our attires to be like these. And more than any individual attire, these combinations are typically curated for couples. 
Starting with the most beautiful and lovely Marwari Wedding Dress. To the best-coordinated outfit for the bride and the groom. Here, we have some of the most modern yet elegant outfits for Newly married couples. Not just for their D-Day, but also for the events after it. 
visit also: Bengali Wedding Dress
Hot Maroon Lehenga Wedding Dress
I know, only the bride is wearing a Maroon in this particular image, right? Yes, that is exactly what has happened in the concept of this image. Starting with her elaborate Lehenga Skirt, to the most beautiful Jadau Jewellery Set. This entire look is practically the best choice for any married couple.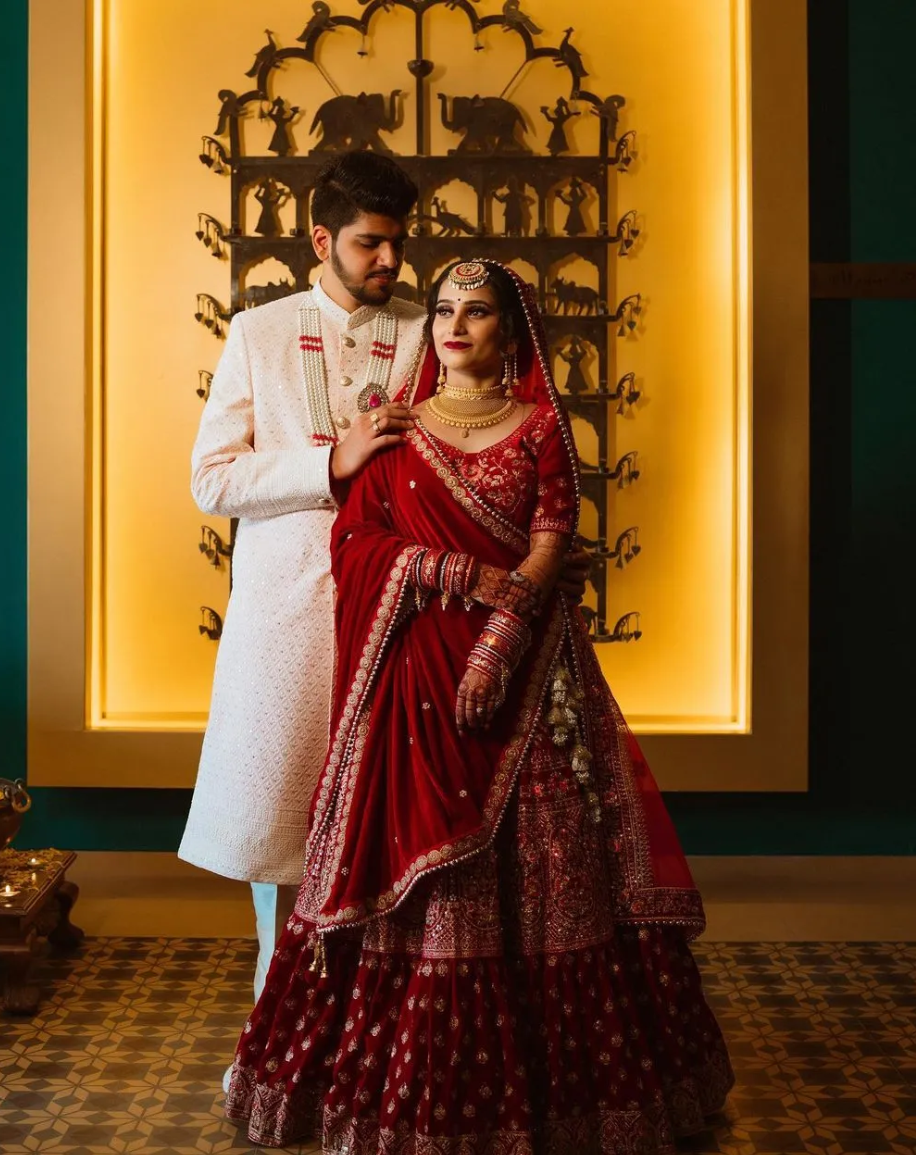 The groom, on the other hand, has dressed in the simplistic white Jodhpuri Kurta. Yes, a Jodhpuri Suit looks really well for an ordinary groom's look. Starting with the simplicity of the attire to the amorous colour combination. This is a feasible look for a Marwari Wedding Dress.
See also: Lagna Patrika Marathi Designs
Traditional Marwari Wedding Dress
Traditional things make me more intrigued. First of all, this couple is sharing a really traditional Hindu Marriage Moment. That too in their Marwari Wedding tradition by applying Orange Vermillion instead of red. The colour combination is extremely surreal, and it is really very related to the beautiful traditions of the event.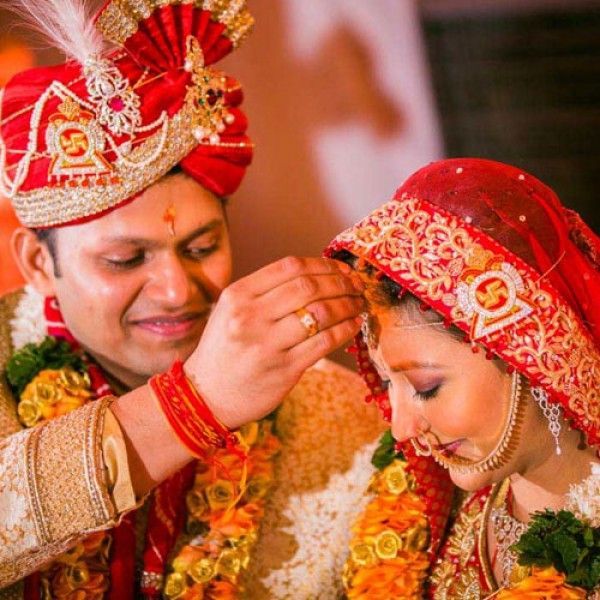 Starting with the simplistic colours, and the beautiful combination of such pretty Marwari Bridal Dupattas. This is a kind of wedding Dupatta that has its own fanbase, and it makes your regular outfit better, and more spectacularly good. Trust me, such pretty outfits cannot be skipped.
Contrasting Couple's  Marwari Wedding Dress
Contrasting Couple Attires are the next best thing. Starting with the simplest colours, to the most obvious and gorgeous Marwari Wedding. A Contrasting Couple's Outfit is something that should have all the colours that make it more wearable, manageable, and outburst beautiful.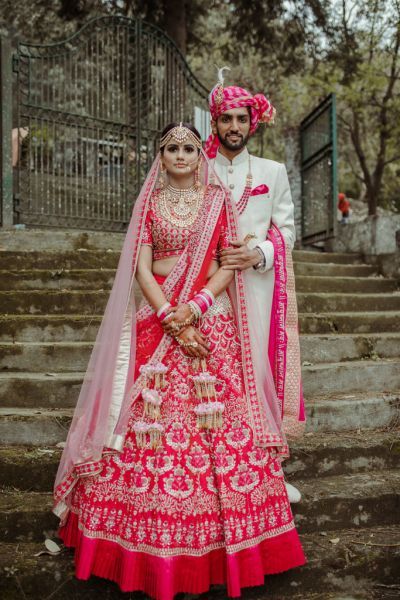 Contrasting Red colours make any outfit go from a full hundred to a full-on scoring combination. Starting with the prettiest bridal dupatta, that she is wearing, is exhilarating. The colour of the groom's outfit is simple, and that is the main attraction of this beautiful couple combination.
Check more: Royal Maharashtrian Bridal Makeup
Indo-Western Marwari Wedding Dress
Why am I calling this an Indo-Western Wedding Dress? First of all, the groom is wearing a pretty well-organised Jodhpuri Suit, with the prettiest Nehru Coat. The Bride is wearing a realistic Lehenga Skirt, not in some other colour, but a really pretty and glossy purple Shade.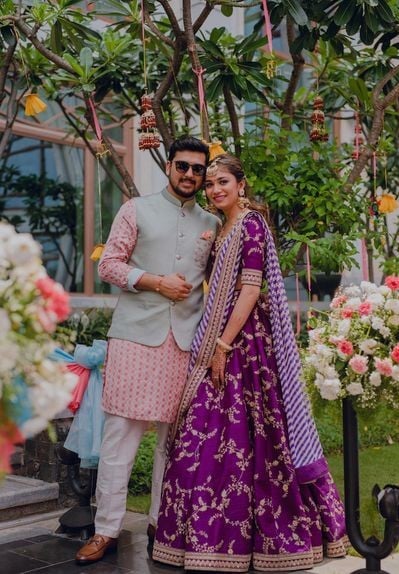 The colour of her Lehenga is actually the main cake of this outfit. The Lehenga is coloured in Purple, and the strips are simply made out of white, and a simpler combination of White Strips. This is one of the best Couples Marwari Wedding Dress. Something that always shines, on the big day.
View more: Sangeet Dress for Bride
Modern Marwari Wedding Dress Pastel Blue
Modern Wedding Dress, something that is spectacularly pretty and well-designed. Pastel colours are obviously the best, and it makes your outfit look much more youthful pristine and well-curated. Having good attire under your control is the best possible thing, and a pastel-coloured outfit is just that thing.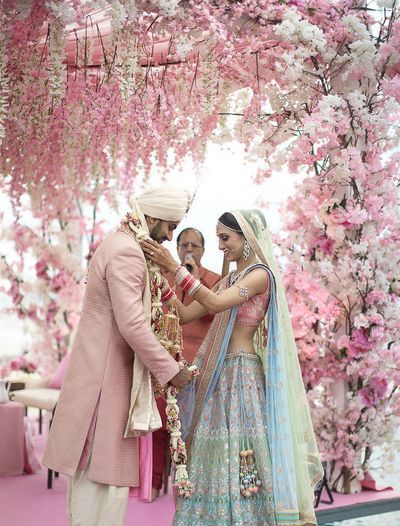 Starting with how it turns out for the wedding ceremony to how you should style. A pastel-coloured outfit is something that is relevant, pretty and quite well-assembled. the beautiful blue colour is just out of this world. The waist 'Latkhan' on the Bride's waist is spectacularly pretty. Something that you can always rely on.
I hope you found the right idea for your perfect Marwari Wedding Dress. These designs are specifically for those couples, who are finding it difficult to get the right wedding dress. If you have decided on which should be your perfect Marwari Wedding Dress, then let us know in the comments. 
Remember, irrespective of the attire, makeup, jewellery, or Wedding Stage Decoration. What stands most important for a wedding ceremony, is the fun, excitement, and lovely warmth that you share with your partner. As that is honestly the most important essence of a Marriage function. 
We have some of the best designs for Wedding Attires, couple designs, Wedding Sage Decorations, and other fantastic details about Weddings and other such amazing events. To know more about your wedding ceremony, stay connected with myMandap.