A traditional Dhoti for men is the classiest outfit worn by the groom himself. It is a very popular outfit worn by men all around the country. Where Dhoti is a traditional outfit for most Indians. 
Most states have their own unique variation of this classy yet elegant bottom wear. Bengali Grooms where a Tant Dhoti, Tamilians do wear a simple Silk Dhoti with a Golden Border. 
There are prominent styles of Dhoti for Men, like the Ikkat Dhoti from Orissa or the Veshti from Kerela. This is one of the classiest things worn by the groom, and such a tradition prevails. 
This is one of the classiest little things for the groom. Here at myMandap, we have some of the most popular options for Dhoti for Men and even other prominent suit styles too. 
Top 10 Classy and Traditional Dhoti for Men:
A dhoti pant is a style which makes a beautiful attire even prettier. This is a beautiful dhoti for men, which has been decorated with the best fabric and embroidery. 
This is a simplistic combination for the groom which has the prettiest bottom wear and a subtle Kurta Set which makes this even better. There are different styles and designs that make this a good option.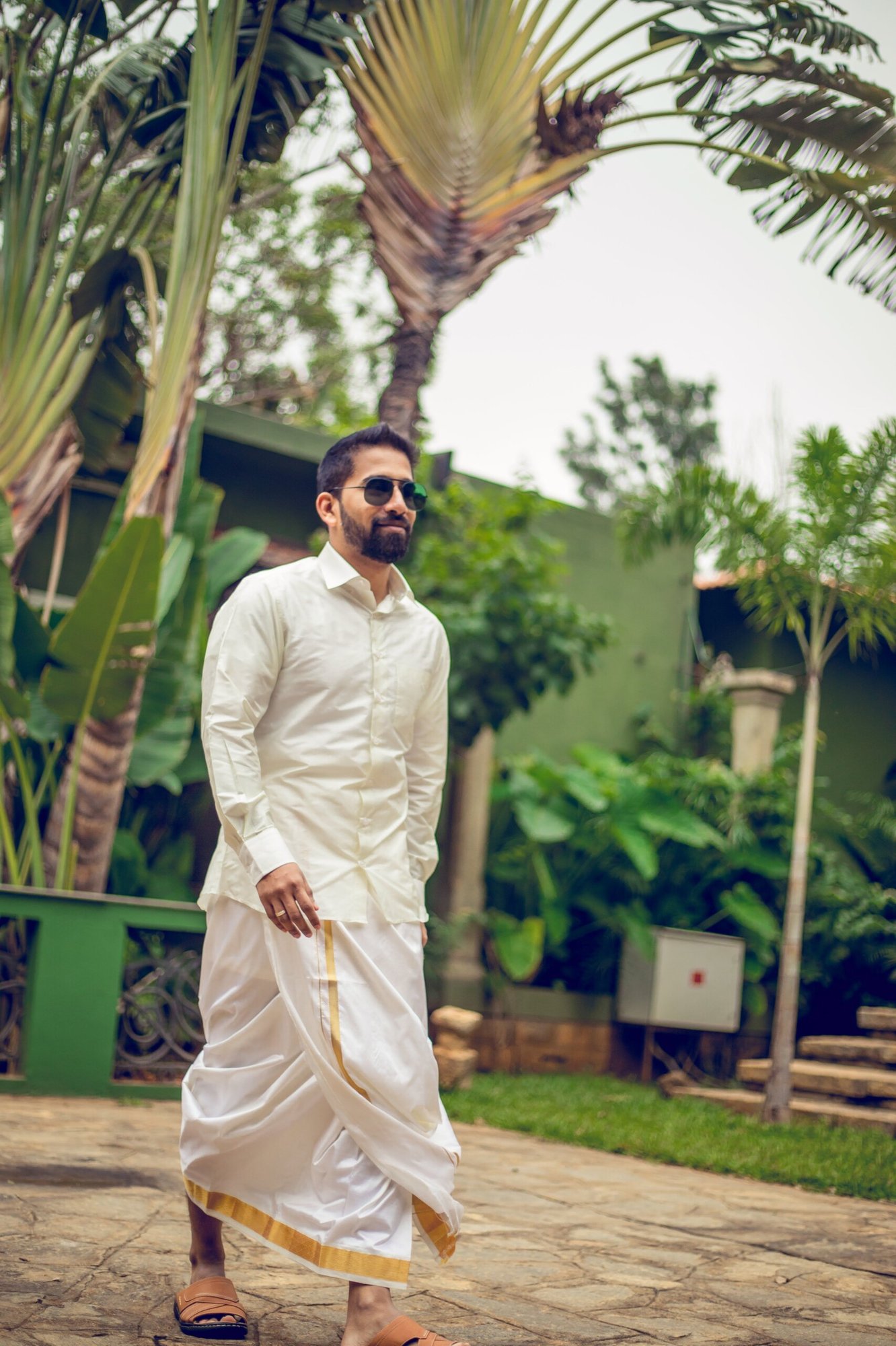 A simple Dhoti Kurta is perfect for the Wedding Ceremony. And even outfits, that complement the readymade dhoti look. At myMandap we have enlisted some of the classist designs for Men's Dhoti. 
An Indian man looks his best dressed in a simplistic pure cotton dhoti for men. Pant style Indian dhoti or even fabulous designs for classic Khadi cloth. Discover some of the best Dhoti for Men from different regions in India.
Kerala Cotton Lungi Style Dhoti for Men
The simplicity of this suit makes this even better as an option for d-day. It is a simplistic suit with a really pretty, yet sleek Dhoti for men.
The quality of this particular Dhoti is slightly different in terms of texture and pattern. Infact the main attraction lies around the unique finishings of the suit.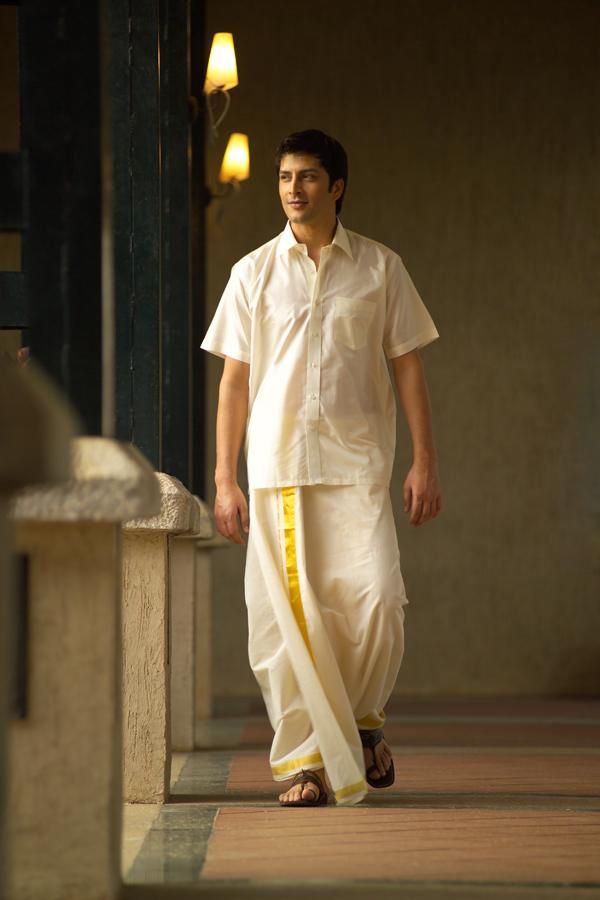 The fabric is a cotton piece, which is one of the most popular ones in South India. This is none other than a Keralian Lungi-style Dhoti. That too in the awesome Kerala Cotton fabric.
Not just for Dhoti and Veshti, Kerala Cotton fabric is quite popular for bridal sarees and suits too. This is an exceptionally soft fabric which is quite elegant for bridal attire.
Check Out: 10 Sexy Dhoti Pants
Tamilian Dhoti for Men
Tamilian weddings are the most romantic wedding ceremonies. They host the most beautiful wedding ceremonies in India that too with the total ethnic vibe it deserves.
These are some of the most beautiful weddings, with pretty surroundings and warm rituals. These are actually wedding ceremonies which are more cultured than anything else.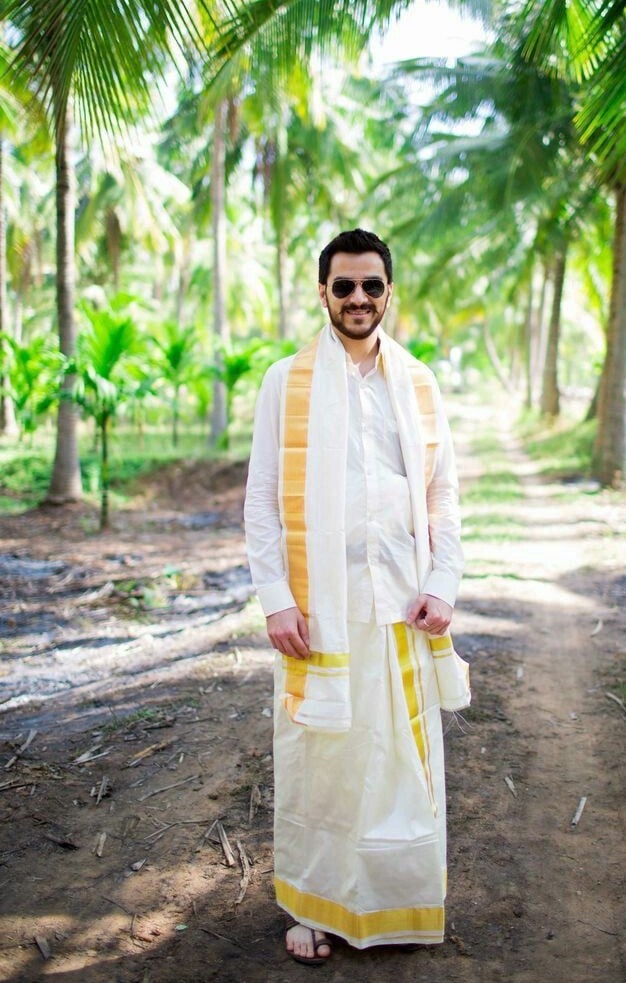 Exactly like the white dhoti, this particular groom is wearing for their wedding ceremony. The colour is simply awesome with all those de4lectavble and classic details that make it fuller.
It is a look that you can count for your wedding ceremony, with those glamourous little borders and other such thing which completes a Tamil wedding.
Vijay Devrakonda's Block Print Dhoti for Men
These are a look for all looks, created by none other than our beloved Vijay Devarakonda the star we all have a crush on. He is wearing a classic hero, with an exceptionally good style.
He is wearing a traditional Dhoti for Men, that too, not the usual ones we are used to seeing but a classic look which is created with the most stylish things in the look.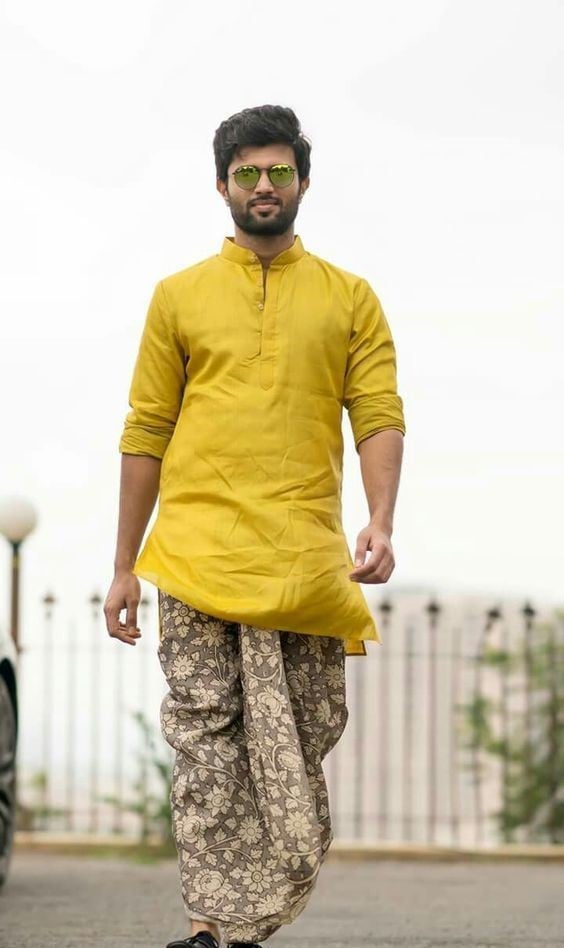 His dhoti has been covered with simplistic block prints which is a style from South India.  The style is not just worth the try, but it has made him look really well and extremely handsome too.
He is one of the best actors and a man who can literally look the best in absolutely everything he ever wears. It is one of the best things about his systematic look.
Must Visit: Top 10 Beautiful Dhoti Salwar Suits
Handloom Cotton Dhoti for Men
Handloom fabrics are the best thing ever. It is one of the most colourful things from India and the hand-woven fabric is just way too beautiful and cultured.
It is woven in a pattern which is extremely simple and sturdy too. One of the best things about a popular look for a simple and cultured wedding ceremony.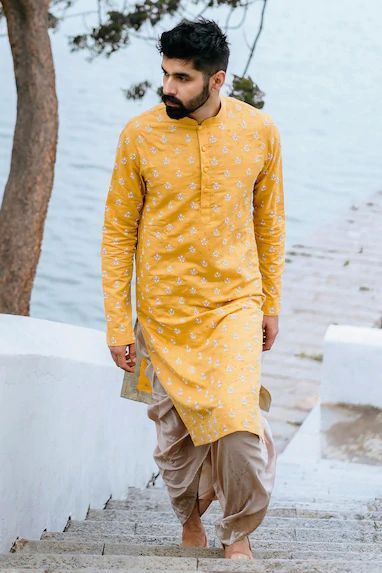 Such outfits are infact one of the best things in India, it is one of the classiest options for a good and well-organised Dhoti for Men. What I found most attractive is the beige shade.
It is very earthy, simple and smart as an option for the day. This is one of the most beautiful outfits for a simplistic wedding ceremony in India. Most importantly for the simple choice of colours.
Bengali Silk Dhoti for Men
The Bengali style of wearing a Dhoti for Groom is way different from the rest of the country. This particular guy who is wearing the Dhoti is none other than Anirban Bhattacharya.
He is a heartthrob of many Bengali women, and you might know him from the movie 'Gumnami' which was a movie about our beloved Netaji Subhash Chandra Bose.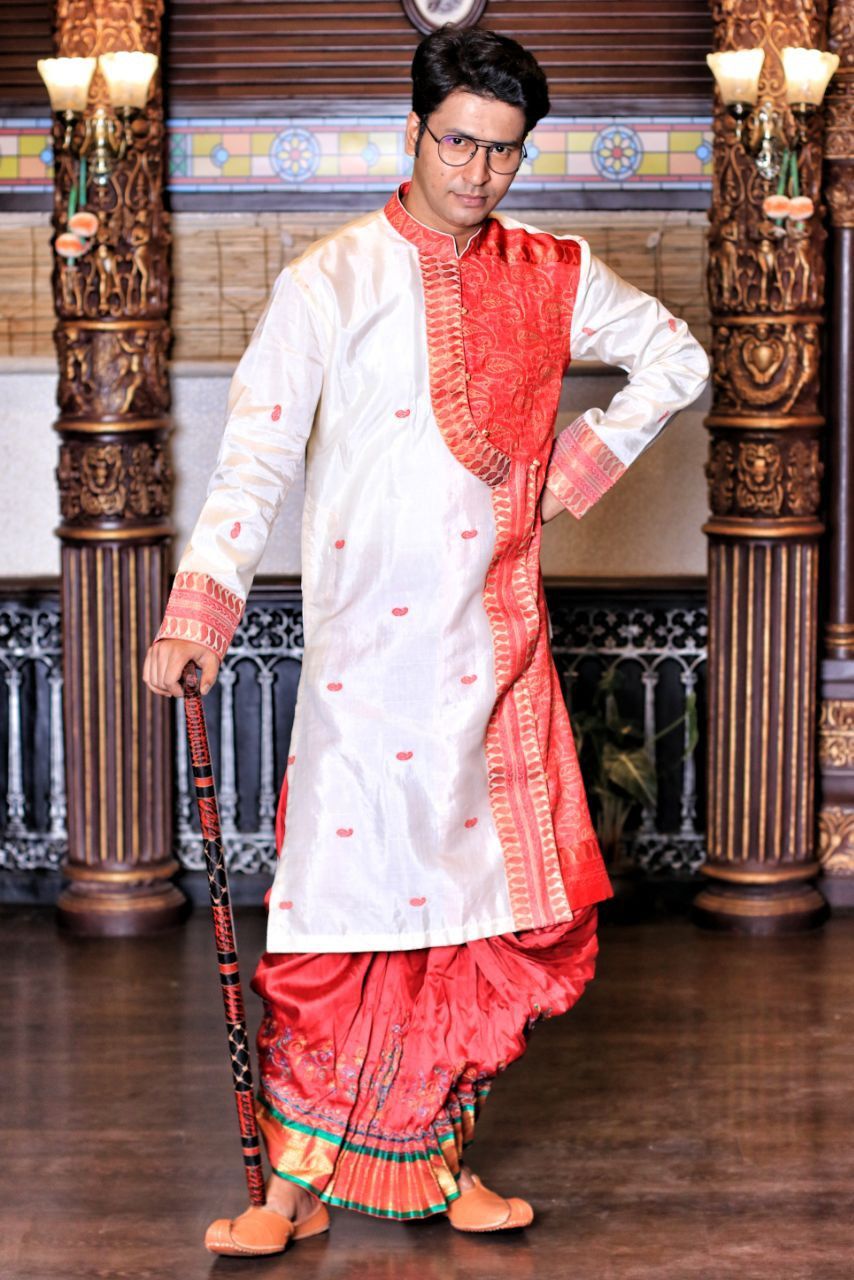 An eminent actor and the style he is currently wearing is the Bengali Babu Dhoti Style. The bottom pleats are an eminent part of his attire and the look is extremely royal.
Such a 'Dhoti for Men' was quite popular in urban and suburban Bengal in the nineteenth and twentieth centuries. The red dhoti is utterly made out of a simple Bengali Tant.
Also Visit: Dhoti Saree
White Marathi Dhoti for Men
In comparison to the usual Veshti style of South India, the Marathi Dhoti for Men is way different in terms of the wearing technique or th style which makes this complete.
The Marathi style of wearing a Dhoti is like a warrior, where each leg is draped in a criss-cross manner, and the central portion of the dhoti is attached to the backside.
In wearing a dhoti like this, you are making the one-piece fabric work like sleek and smart dhoti pants. This would make walking far easier in comparison to a rounding drape.
It is more professional in comparison to the South Indian style of wearing a Dhoti for Men. It is a smart technique, and you wouldn't be surprised to know that Marathi women also dress up like this.
Golden Border Dhoti for Men
This is one of the simplest Dhoti designs, which is known as a Veshti in many parts of South India. What I found attractive about this single-piece dhoti is the unique shape and size thing. 
What I like the most about this particular look is the unique white shade of the Dhoti for Men. The colour is white and beige, which is also known as off-white.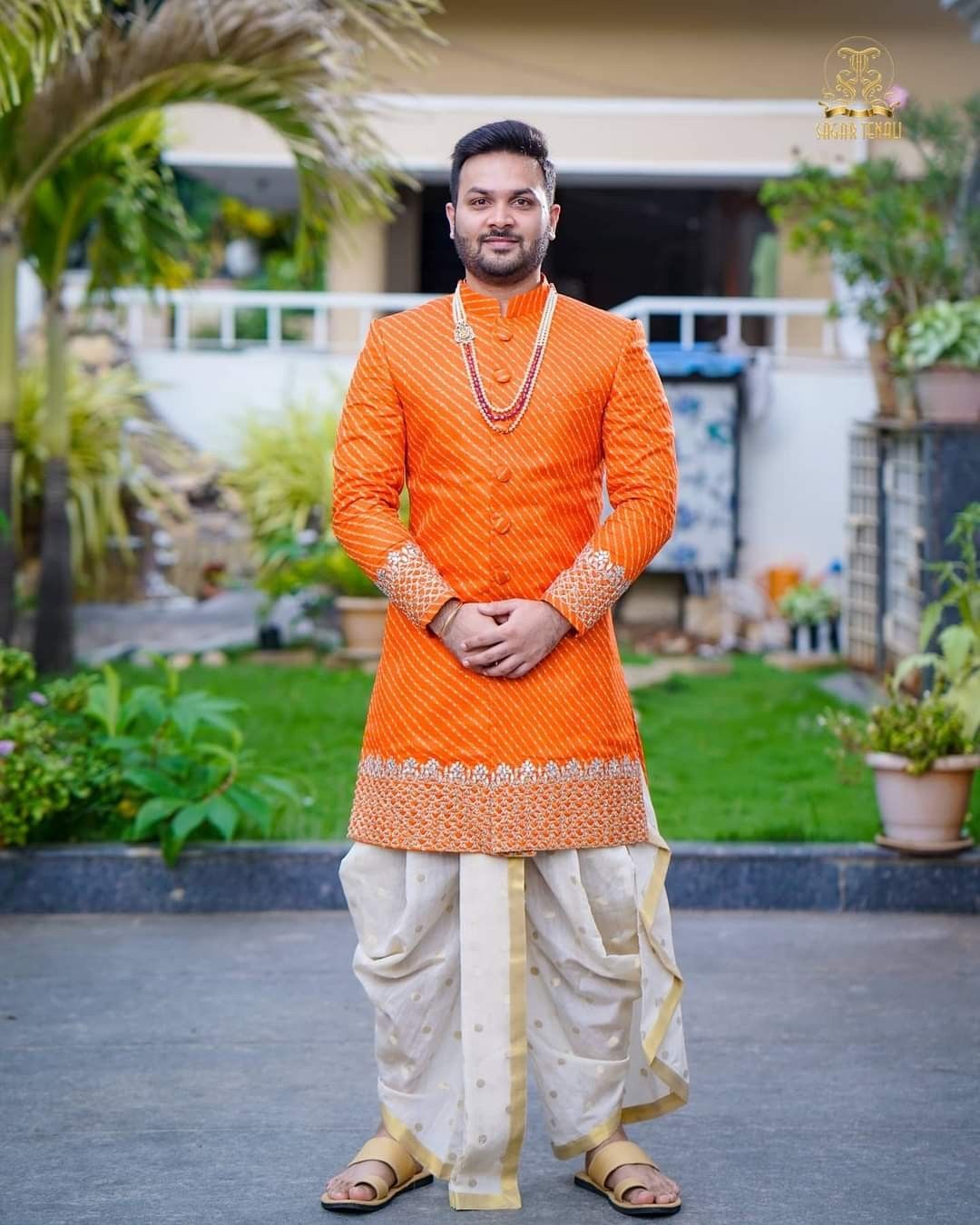 This particular shade for Dhoti is known as off-white colour. It is one of the most popular shades in India. It is remarkable, sturdy and super smart as a shade for the day.
The best part is the attractive border colour, it is exceptionally pretty and the remarkable shade makes this even more wearable. The Dhoti has been decorated with a simplistic golden border too.
Check Out: Sabyasachi Sherwani
Classy Dhoti Pants for Men 
Trousers and pants are awesome bottom wear and such a Dhoti pant is more than what you would be needing for the most part. Exceptionally pretty puja outfit which makes this totally worth it. 
The classy colour combination is different from the rest. The design is subtle and the different colours make this extremely gorgeous and highly decorated too.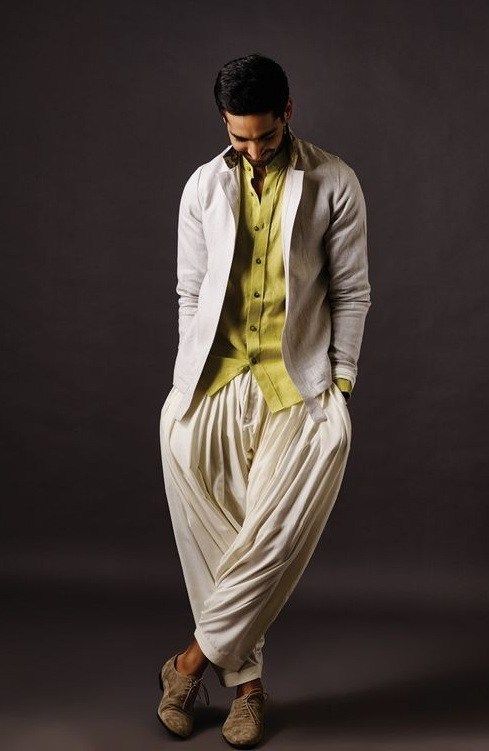 The simple style of the suit makes this well placed and stylish. The classic design of this Dhoti for Men is simply awesome and stylish too. This is one of the most stylish dhotis for men. 
As dhoti pants, this is one of the best options for the big day. Which is traditional and conventional for a homely attire. This style of Dhoti pants is not a woven outfit. 
Indo-Western Dhoti for Men
The silk pattern of a Saree is the trendiest and the most exclusive one. It is about the Indian culture which is simply awesome, decorative and decorated on its own. 
The unique pattern makes this highly well decorated for the wedding ceremony. Infact if you are searching for a good and trendy Dhoti, then this is exactly what you would be needing for the most part.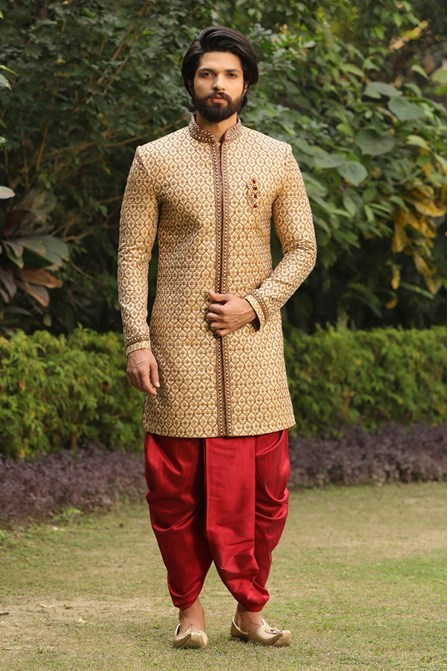 As an Indo-Western outfit, this is one of the coolest options for the wedding ceremony. Besides being a selective style for D-Day, this is the classiest option for the wedding night. 
This is traditional wear which is simply awesome, well organised and designed in the most fashionable manner. I found this design better than any other Dhoti for Men. 
Must See: Manyavar Designs
Silk Dhoti for Men in White
Silk colours are the best possible options for the wedding ceremony. This is one of the prettiest little things about a fashionable dhoti from Tamil Nadu. The state is famous for its gorgeous silk outfits. 
These clothing styles are exceptionally pretty and the quality of the silk is super pretty too. This is one of the best fabrics, which is totally worth it for the big day.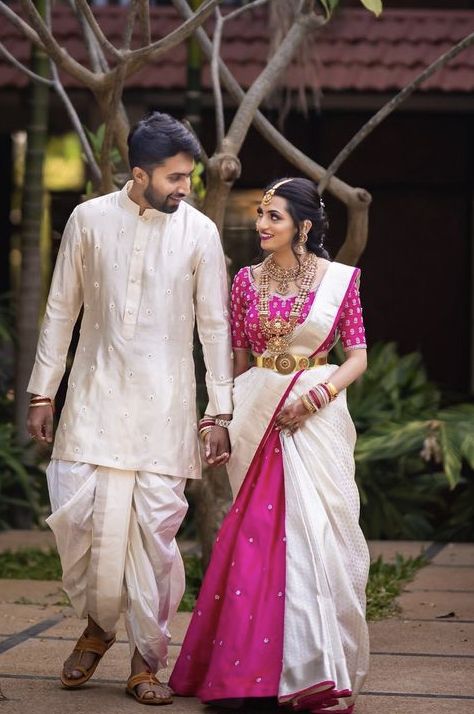 A traditional attire with the glossiest shades colours ad finishings. In a way, this is one of the best looks for bottom wear which is luxurious and pretty for an Indian groom. 
I would prefer this look over most other designs, which makes this so much better for someone who likes colours and simplicity. The main shade is an attractive white colour, which is also a pastel shade.  
This is a beautiful outfit with some extra decorations and subtle details. What makes this an extremely good option for the wedding ceremony? Just make sure, you are dressed in the right top wear. 
A Dhoti is an unstitched cloth which is very popular in South India. The work comes from the Sanskrit word. 'Dhauta' which meant leg covers. This is a beautiful outfit from South India and it is exceptionally pretty too. 
I find this particular combination better than many other conventional outfits worn by the groom. A weaver's pride, this is one of the classiest outfits worn by the Groom for the wedding ceremony. 
The woman wears a Saree for her wedding and the groom wears a simplistic Dhoti for Men. This is th beauty of India and its traditions which are so different across. While some traditions are better than the next, a Dhoti is classic bottom wear.
At myMandap we have some of the best wedding fashion options and styles from the Indian subcontinent. If you like a traditional dress, then choose from our wide range of Wedding fashion. 
If you liked the above-mentioned design then let us know in the comment section. At myMandap we are eager to hear from your end, as your feedback is extremely valuable to us.