A Dohale Jevan jewellery set is undoubtedly won for the traditional Marathi Bridal Shower. So this is basically nothing but a typical Bridal Shower Jewellery, that is worn in the Marathi culture. The auspiciousness of this ceremony, and the beauty of a new Mother. Together they bring out the best of both worlds. 
Here, we've curated some of the best Flower Jewellery for Baby Shower that that meant to be worn for the Dohale Jevan ceremony. 
Gold and Stones for Dohale Jevan Jewellery
Asa mystical jewelry set, we all have had our share for the wedding shopping. Apparently owing such a beautiful set is the pride for almost all mothers. Well, the Dohale Jevan jewellery set we are talking about here, has some of the most conventional decoration. That is ideally found on every Golden jewellery set.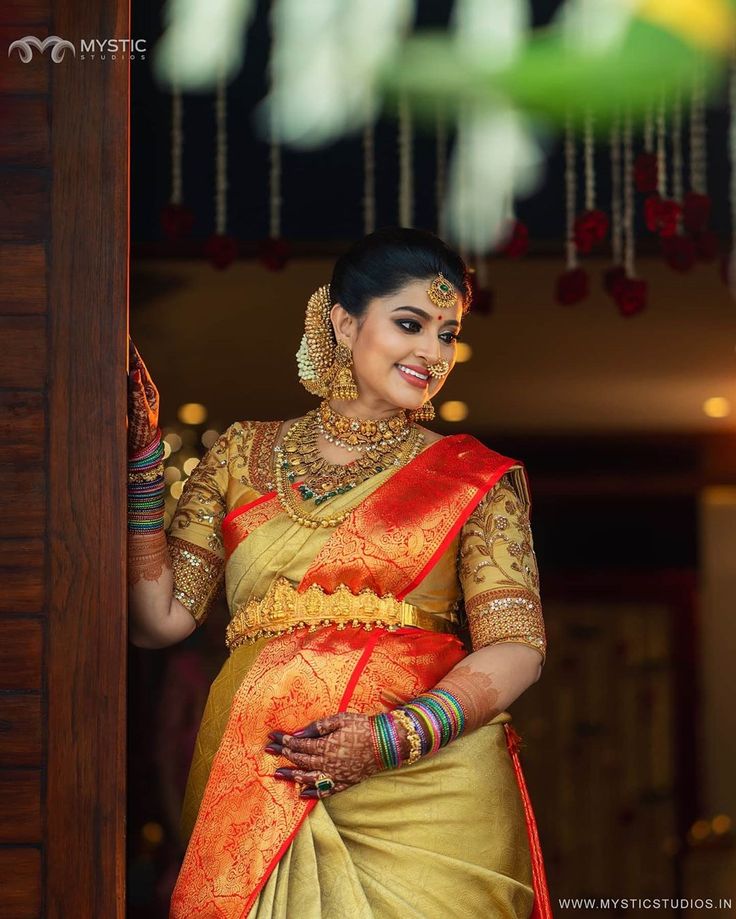 This mother has adorned herself with a beautiful Golden Temple jewelry set, which is decorated and ornamented with some semi-precious stones. Encrusted with rubies, emeralds, and other little forms of decoration. The mother has also adorned her wrists with angles, a fair share of Mehndi adoration too.
'Dohale Jevan' Jewellery for Bridal Shower
The moment I see her, the only thing which pops out of my mind is, 'How beautiful is her smile'. No wonder, this is a maternal glow, that is further accentuating the beauty of her Dohale Jevan Jewellery set. It has been ornamented with the best stones, and every little ornament is speaking aloud on her Marathi traditional Saree.
This mother chooses her hair instead of the neck or the years, for her Flower Jewellery for Baby shower. She wore good old golden jewelry pieces, and some really beautiful flowers on her hair, and other major portions of accessorisation. She is wearing a beautiful purple Paithani Sa
View more: Best Toe Ring Designs
White and Red Gajra Style Dohale Jevan Jewellery
This is exactly what I picture seeing when I hear about Dohale Jeevan Jewellery Set. This person went all traditional with her fabulous floral necklace and all other ornaments that are made with flowers too. Other than the traditional Marathi 'Nathni', every other piece of jewelry is made out of flowers.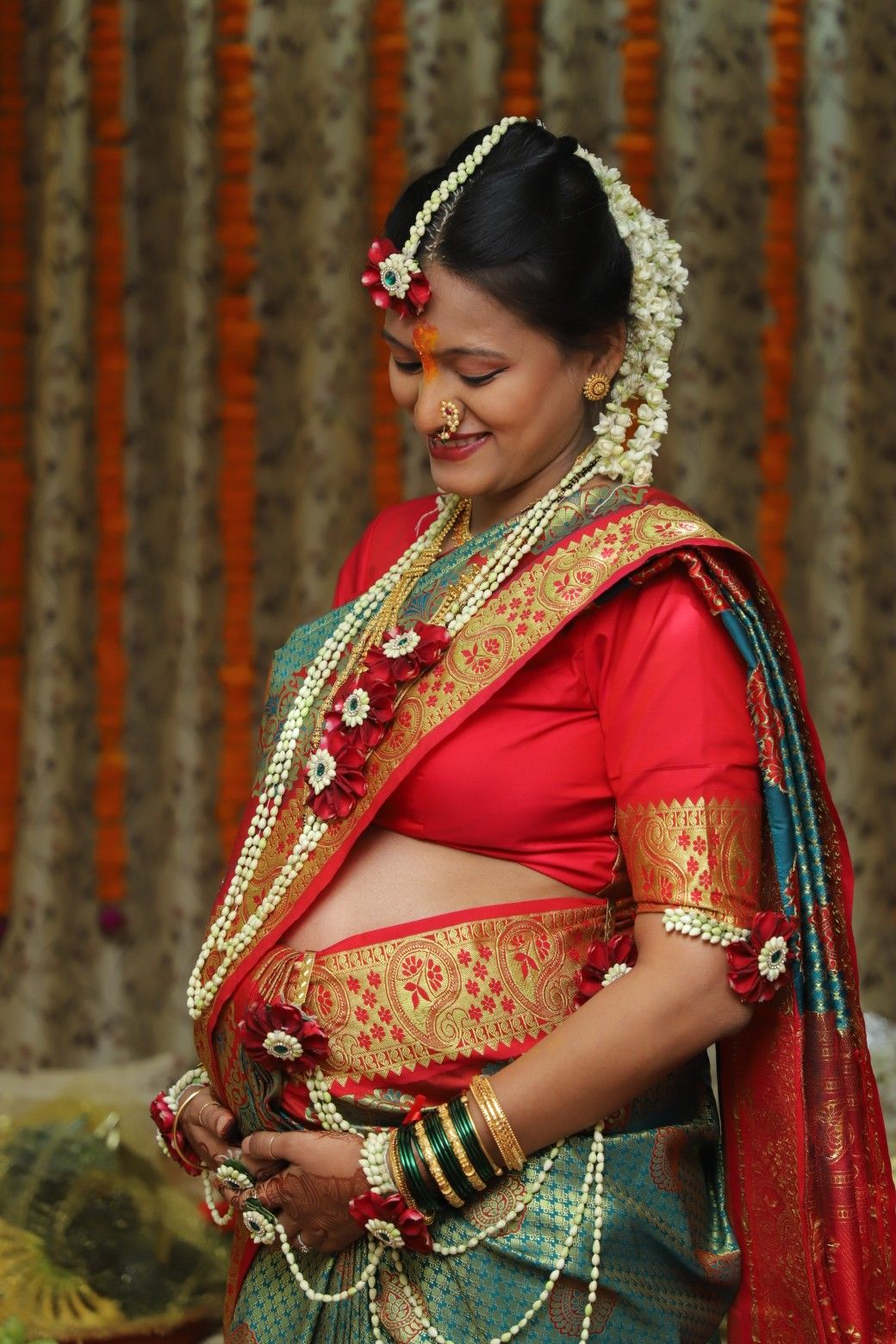 I have a special love for such awesome women, who choose to wear conventional and ethnic pieces of jewelry for their traditional cultural events. No wonder, 'Dohale Jeevan' is a typical Marathi tradition, which is Easternised representation of Baby Shower in Maharasthra. How beautiful is this Dohale Jevan Jewellery Set!
South Indian Styled Dohale Jevan Jewellery
Personally, this is somewhat a combination look for a Marathi cum a Tamilian Baby Showe Look. Although she is wearing a Paithani Saree, with the most beautiful Marathi Gajra, the rest of her Dohale Jevan Jewellery Set is pretty traditional in terms of a Tamilian Bridal Jewellery Set.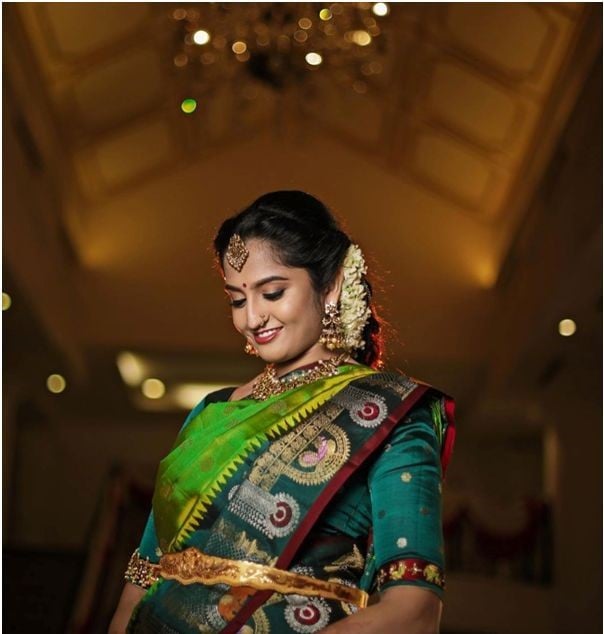 She has gathered the most beautiful ornaments together in this entire image, and believe me the entire look is coming out really nice for the occasion of a baby shower. Those jewelry pieces are somewhat similar to the ones, that we have commonly seen on the occasion of a baby shower.
view more: Senco Gold
Pastel Pink Dohale Jevan Jewellery for Baby Shower
The beautiful mother is not wearing a typical Saree with her Flower Jewellery for Baby Shower. Rather she has cooled it up with the jazzy Yellow Anarkali Suit. Which has become even prettier with the extra detail of a cold-shoulder and volumizing sleeve. The sequin material of her attire, and the beautiful base of makeup.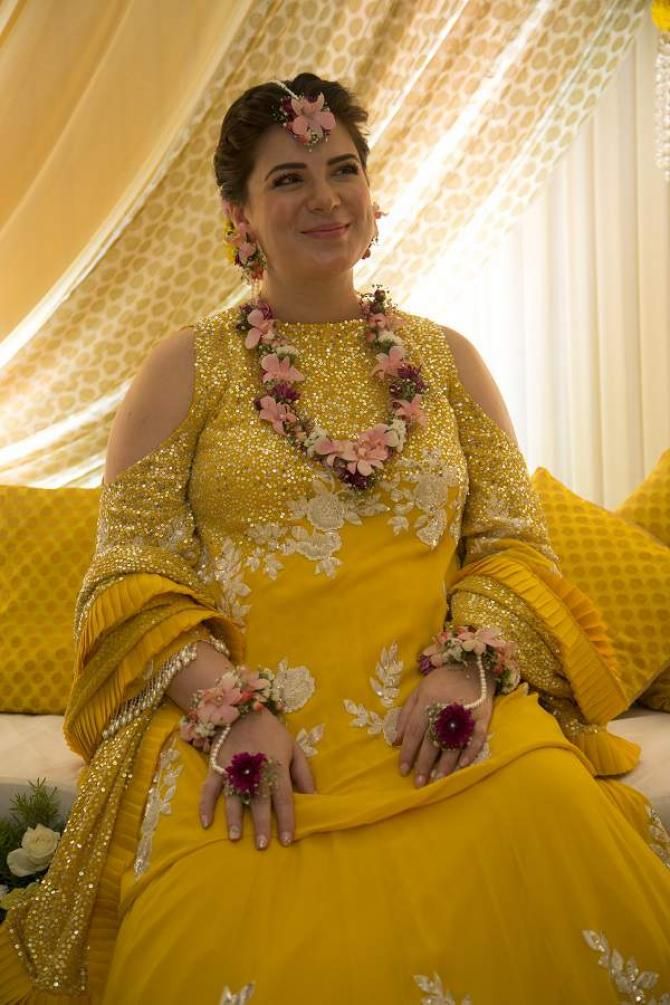 Together they are an accentuation to her Dohale Jevean Jewellery Set. She has wrapped around a Flower Jewellery for Baby Showe. Which is typically accenting the basicness of her motherly self. Well, the pastel-colored necklace or the Maang Tikka design is just the best of both of its kinds.  
The Golden Diva Dohale Jevan Jewellery
The maternal glow is speaking for the Mother, with those amazing necklaces, earrings, and the Kamarbandh too. How beautiful is her entire look, she is nailing the process, and believe me, I cannot express enough how beautiful she is looking with that wide Temple jewelry necklace.
The Aarri Designer blouse, or the conventional Kanjeevaram Saree, all these are making her look even more stunning. The Dohale Jevan Jewellery Set she choose to wear is quite ornamented and detailed. Her necklace or the Maang Tikka is quite matching and coordinated too.
Must check: Modern Hairstyle for Lehenga
Ruby Enamelled  Dohale Jevan Jewellery
This is an appropriate Motherly gesture, she is accentuating her baby bump, and the rest of her Dohale Jevan Jewellery Set makes the entire arrangement perfect. More like a dream come true, this entire look is perfectly well coordinated with the father's attire.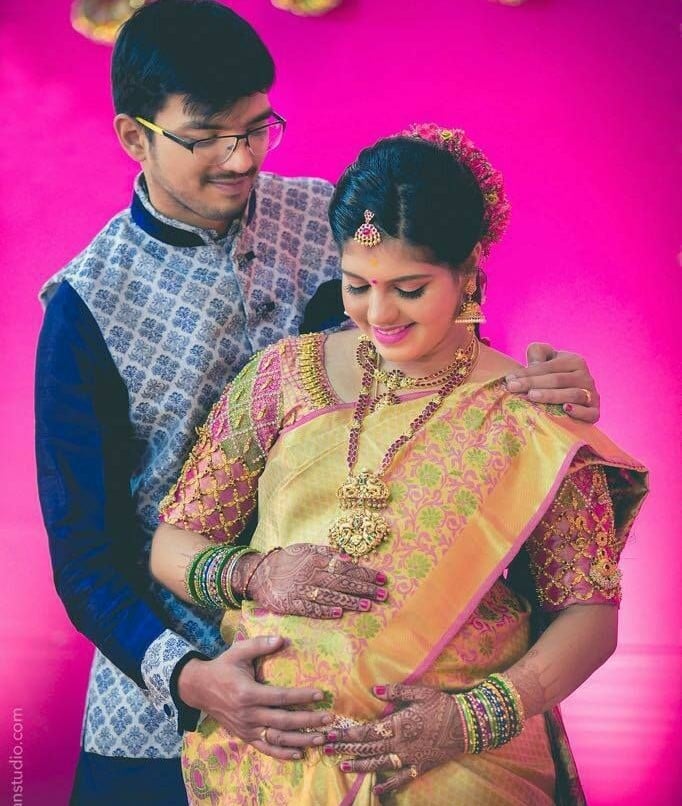 She is wearing some really pretty bangles to make his wrists look fuller and better. While for the neckpiece, she is wearing a beautiful temple necklace, with is encrusted with ruby stones, and also the earring and the Maang Tikka are of the same type.
Simplistic Green Dohale Jevan Jewellery
The green jewelry set is quite coordinated and well-placed. She apparently has worn a beautiful green Paithani saree, with some really subtle jewelry pieces. Which are quite ornamented and accentuated too. I personally have a special space for this amazing jewelry set.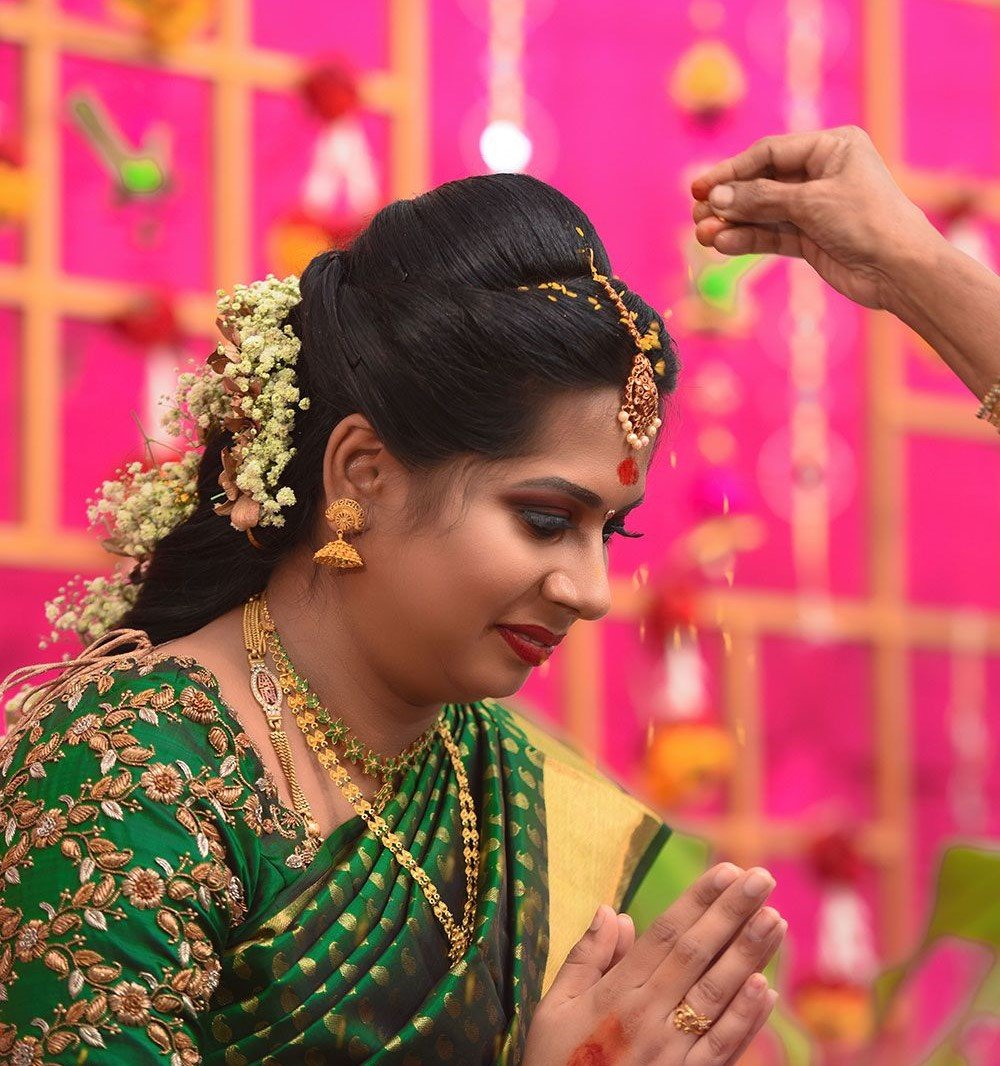 Her necklace or the simplicity of her other ornaments. Everything is suiting quite well with the rest of the look. She has a motherly glow, with the most beautiful glowing smile. What else do you really need to highlight the beauty of your Dhale Jeevan Jewellery set?
View more: Stunning Bridal Jewelry for Weddings
Temple Styled Dohale Jevan Jewellery
As a Dohale Jevan Jewellery Set, it has some of the most beautiful ornament pieces in it. It has a beautiful Maag Tikka, and Matha Patti Set with the most beautiful Necklace, and a fabulous long necklace too. These earrings are well paired with the rest of the jewelry set.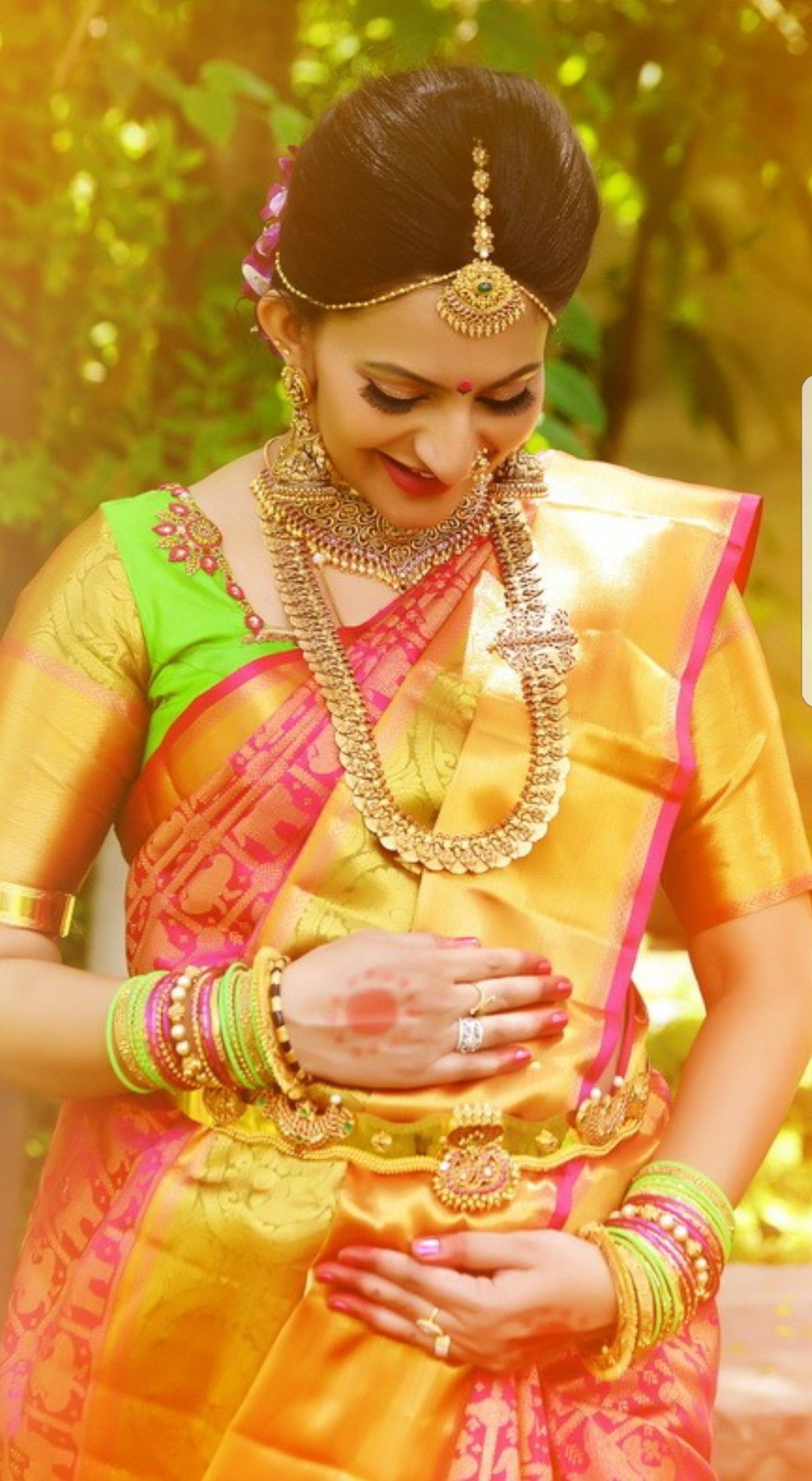 She is looking gorgeous that beautiful Saree and even better with such an amazing-looking attire that has some really beautiful detailing. She has a tender smile, that is completing the look to a completely different extent. Those bangles are like the cherry on the cake, nothing can go wrong with that.
Must check: Flower Jewellery Ideas
Pearly Dohale Jevan Jewellery with Red Roses
The pearls in the following necklace are undoubtedly not real. And the little white balls are actually real white flower buds that resemble the beauty of a naturally existing peal. The mother is wearing a beautiful long White and red necklace with a gorgeous array of earrings too. She is wearing some Green and red bangles that also have a similar ring bracelet design attached to them.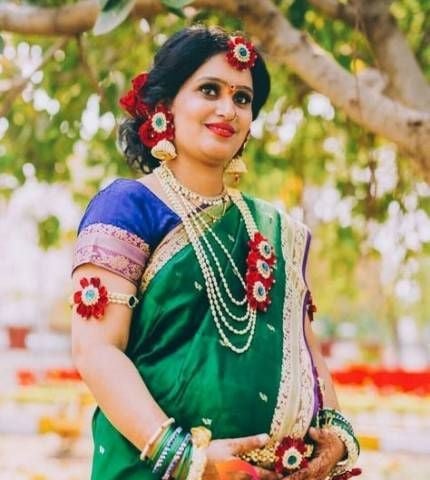 The mother has draped a Red Paithani Saree, which is typically worn by Marathi Brides in India. The blouse is the color blue, which reminds of the purity of a child's soul. Similar to the necklace and the earring, she is also wearing a similar red ross garland for the bun. The pure red necklace, and the gorgeous earring attachments, together form the best Dohale Jevan Jewellery for the New Mother. 
These were some of the fanciest Dohale Jevan Jewellery sets, that are perfect for every Marathi Mother, who is expecting their baby. To know more about such auspicious occasions, fashions, and other things related to decoration, follow myMandap.