Modern Hairstyle for Lehenga is the best fashion statement taken up for a Wedding or Engagement Ceremony. Why Modern and not just Good-Old traditional Buns? Well, the question should rather be, Why Not?
When you are choosing your Lehenag your own way, then why should the hairstyle be the same? These are the reason, why we have curated some of the most Quirky, stylish and elegant types of Modern Hairstyle for Lehenga.  
15 Best Modern Hairstyle for Lehenga:
I'm quite certain that you have an idea, why do we have different types of outfits for the wedding ceremony. While the Wedding requires a totally High-end and hefty outfit, the engagement and the rest of the events can have lesser fits.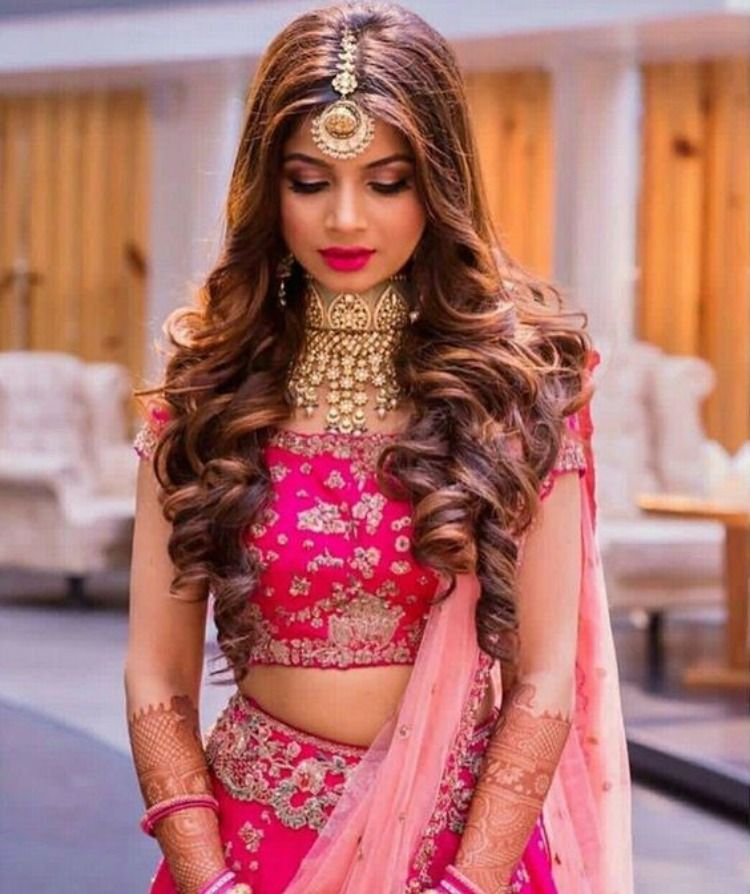 The only way, you can turn a boring look from zero to a hundred is with a major change in Hair. That is exactly why we have gathered the fanciest hairstyles which are appropriate to be worn along with a Lehenga Choli. 
Broad Modern Hairstyle for Lehenga in Fish Plait
A hair arrangement like this deserves no explanation at all, rather this deserves to be on the front page. The side by side plates are making the bun extremely beautiful and highly attractive.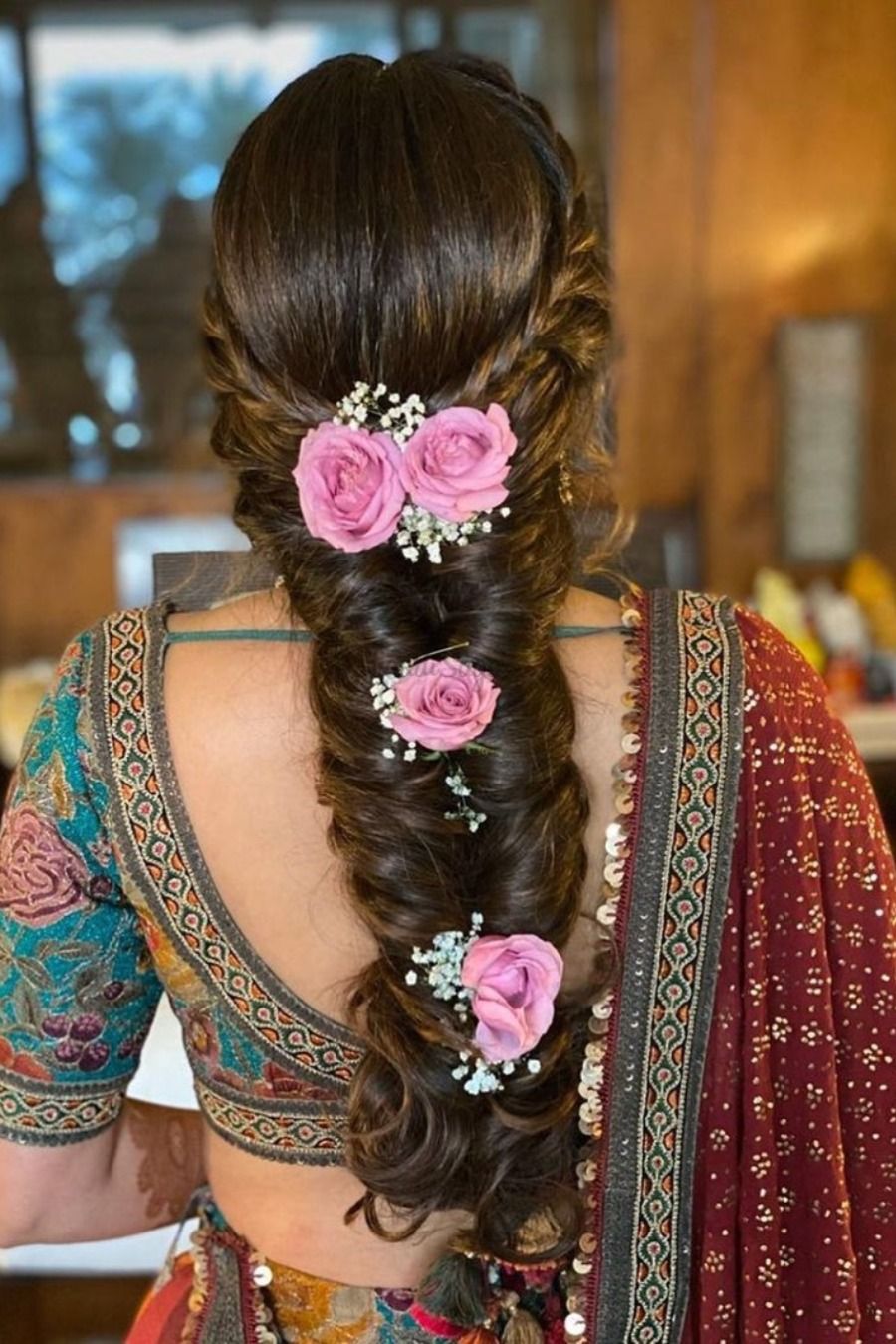 The hairstylist has elevated the appearance, with those subtle rose flowers. Trust me, such a precious hairstyle is absolutely perfect fr girls with long hair. Even if your hair isn't that voluminous and thick, this hairstyle should look really well on you.
Must View:  Haldi flower Jewellery Set
Rose Bun Modern Hairstyle for Lehenga
I have a special place for such amazing hairstyles. More than a fun and delightful hairdo, it is one of the best hairstyles in the bridal world right now. The ethnic beauty of this Modern Hairstyle for Lehenga is just out of the world, and the little rose petals are tucked quite nicely to make it even more attractive.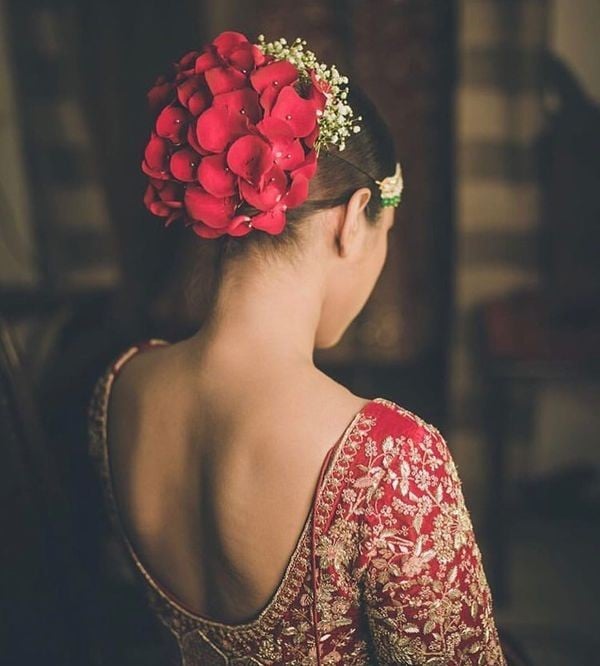 I believe these kinds of hairstyles do not need any introduction, these are easy, less time consuming and you wouldn't have to worry about the volume of your hair. Thick hair or thin hair, the thing looks really pretty with such a Modern Hairstyle for Lehenga.
Roses for the Fish Plait Modern Hairstyle for Lehenga
I'm a big fan of roses, and a hairstyle which comprised of such fine flowers is a delight! You cannot really have enough of this beautiful flower. Especially when it is about the wedding ceremony, starting from food, wedding stage decoration to the bride's jewellery.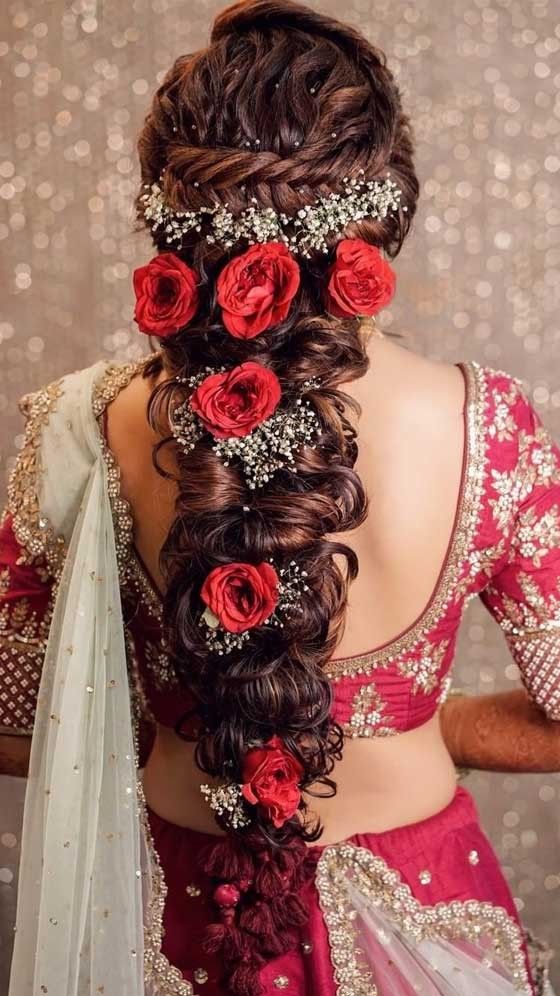 Everyone requires the beauty of roses to be a part of it. The stylist has included these beautiful red roses around the fishtail. No wonder, the length of hair is quite long, but the plate has made it even more gorgeous.
Check out: Royal Maharashtrian Bridal Makeup
Side-way Flowers Modern Hairstyle for Lehenga
Like the above three hairstyles, the stylist has included roses hair as well. Instead of using only roses, the stylist has incorporated some really pretty daisies and other little flowers into it. The beauty of this Modern Hairstyle for Lehenga is solely situated around the beautiful flower bouquet.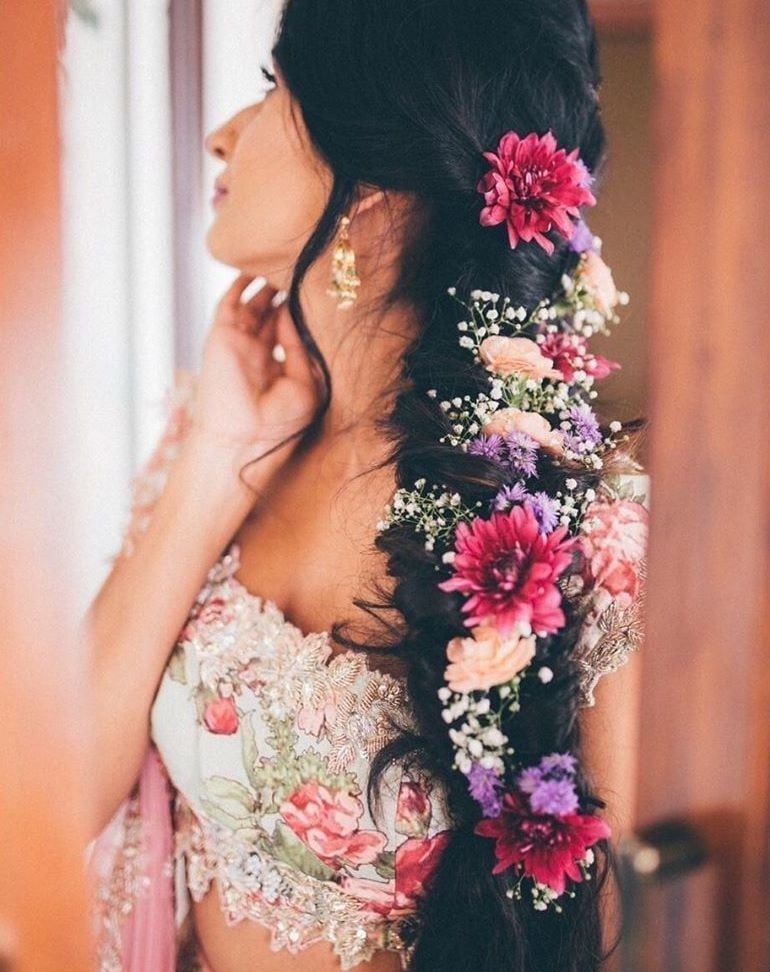 This is one of the ravishing modern bridal hairstyles for lehenga. Firstly you should try this one as your hairstyle for the wedding ceremony, or as your Sangeet night look. This is a perfect hairstyle, for a bride with colourful pastel attire.
Check Out: Bridal Hairstyles for Weddings
Crisscross Plait Modern Hairstyle for Lehenga with Roses
This is a sideway hair plate, and the main attraction of this plate is mainly around the back portion. The stylist has arranged a beautiful segment of roses, and some really pretty little white frills. The hair accessory is matching with the bracelets worn by the bride.
likewise, this is undoubtedly a part of the Haldi Flower jewellery set. Such an awesome hairstyle should always be a part of the wedding function. If not for the wedding itself, choose this for the Haldi and the rest for the rituals.
View More: Radha Flower Jewellery
Back Hair Crystal Tiara Modern Hairstyle for Lehenga
The only way of making a boring look come out better is by adding up to the look. Here, we have included this style, especially for women who want to keep their hair open. That too at the ease and comfort of their own dwelling.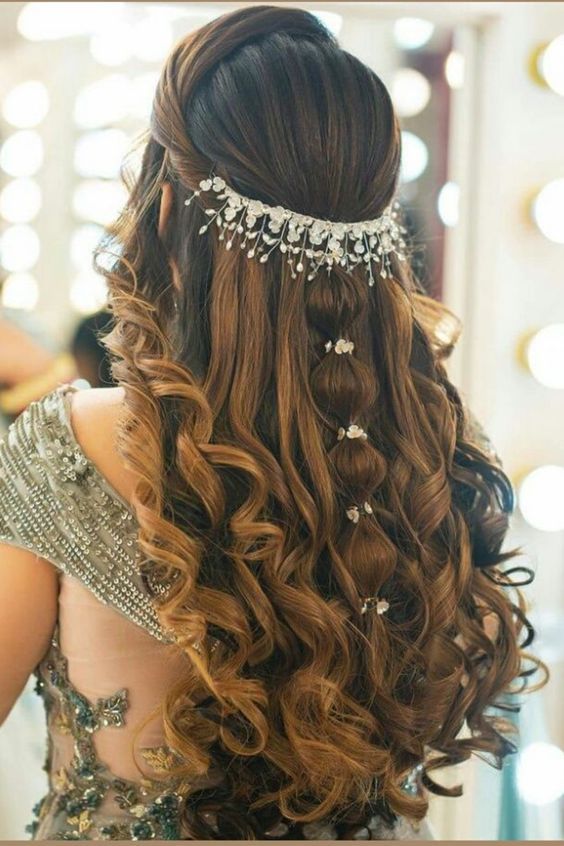 The bottom of this hairdo has some really crisp and crusty curls, while the top crown area is beautifully puffed. The middle portion of the hair has been decorated with a back tiara, while the middle parting is extended with a sleek back plait.
Four Fall Modern Hairstyle for Lehenga
This is something out of the box, and I love how it turned out for this Modern Hairstyle for Lehenga. The hairstylist has beautifully curated some really pretty folding curls at each juncture of the head, while most of the bottom hair is used in the side plait.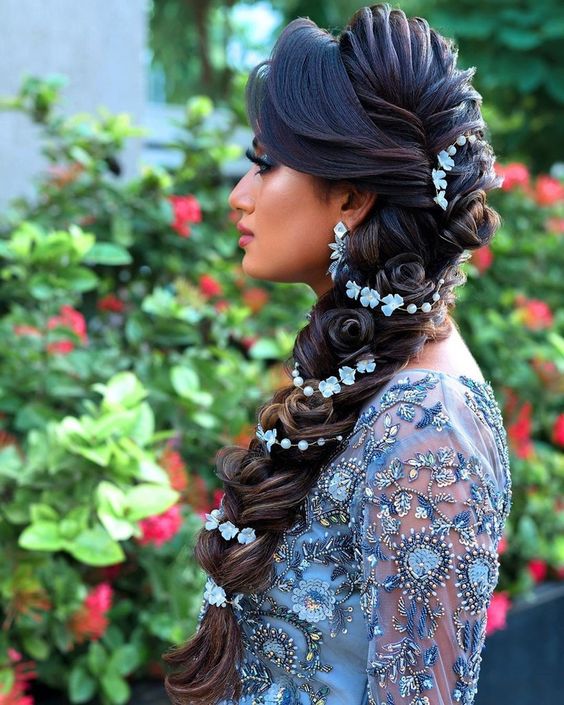 These little bouncy curls are a subtle reminder of beauty with the most gorgeous ingredient of blue crystals and balls added to it. The stylist has incorporated some really fine jewels to the side, with roses made out of the bride's own hair at regular intervals.
Check Out: Flower jewellery
Short Curls Modern Hairstyle for Lehenga
This is a short hair woman's style, as the beauty of this hairstyle is mostly surrounded around the bottom portion of the head. The designer has curtaed a fine layer of white roses on top of the head, while the rest of the hair is flat open.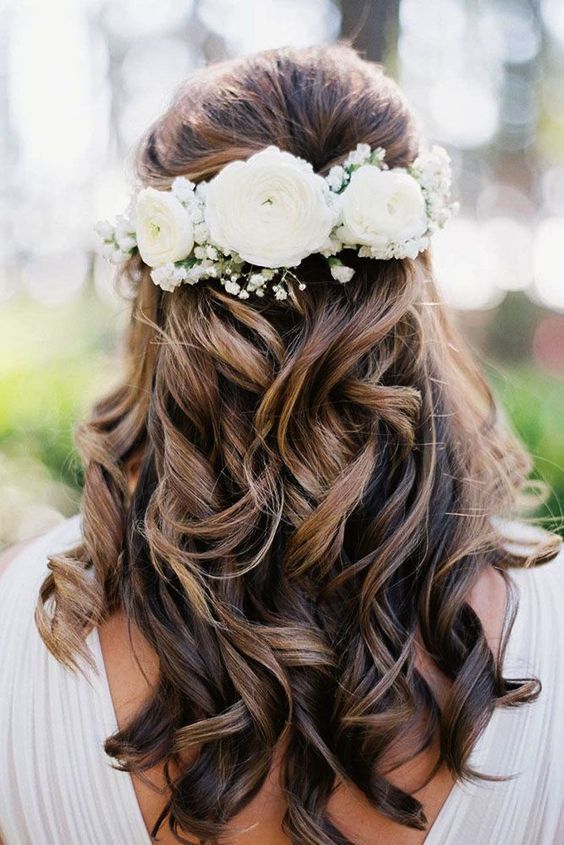 The bottom portion is not just waved, or left straightened out, but the stylist had made beautiful curls down the tips. These curls are crispy and really firm. This is a perfect hairstyle for brides with short or mid-short hair length, better if they are pre-lightened or highlighted.
Must Visit: Cute Hairstyles for Girls
Long Hair Five-Part Modern Hairstyle for Lehenga
This particular Modern Hairstyle for Lehenga is meant to be styled on long hair. No wonder you cannot do this one on short and curly hair. This needs to be executed on long, luscious hair, that has minimal volume to it. Many stylists add hair extensions just for the sake of the hairdo.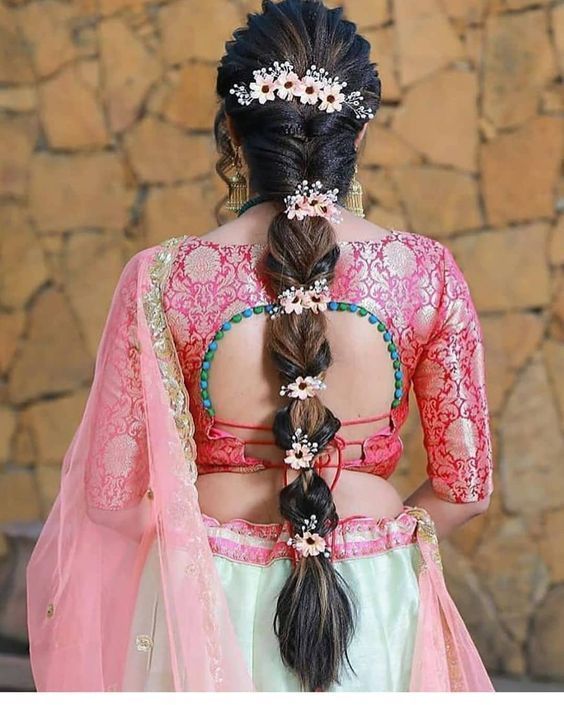 That is quite fair, add it can accentuate the length of mid-long hair, to curate such a beautiful and modern hairstyle. The beauty of this hairstyle is surrounded by the light and the parting technique. Your Traditional Bridal Designer would know what this hair means!
Also See: Dohale Jevan jewellery
Rapunzel Modern Hairstyle for Lehenga
You know the name of this Disney princess, Rapunzel from the story about her long, luscious, Blonde Hair. In the anything movie 'Tangled', there was a scene where her long hair was so unmanageable that she could barely walk with them?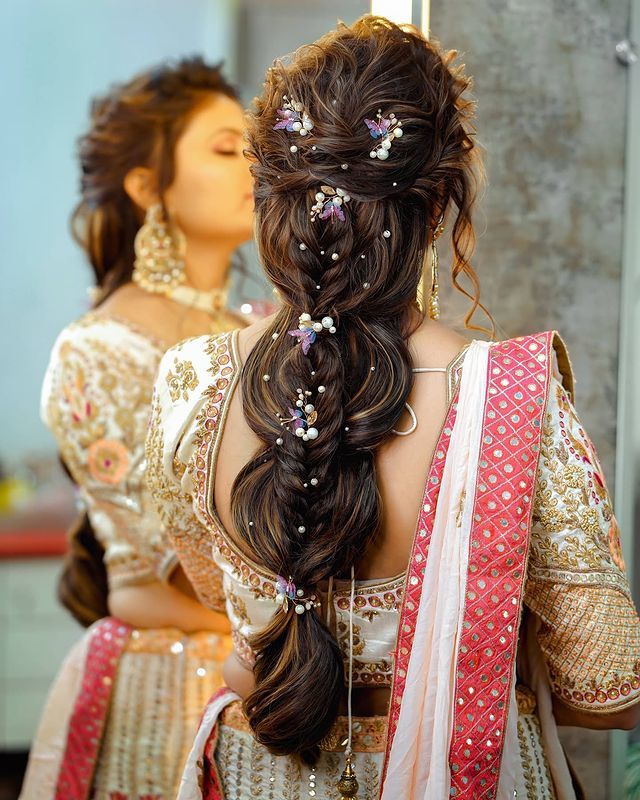 There in the village, some little girls tied her hair into a beautiful fishtail plait? Added beautiful flowers and added floral accessories to it? What is the main inspiration behind such a beautiful hair concept? The designer has used the story of 'Tangled' in her Modern Hairstyle for Lehenga.
Side plates Modern Hairstyle for Lehenga
Thius particular Modern Hairstyle for Lehenga is a really wise and silky choice for mid-length hair. The length of the hair is not even coming into comparison, what stands important is the direction and bouncyness of the hair.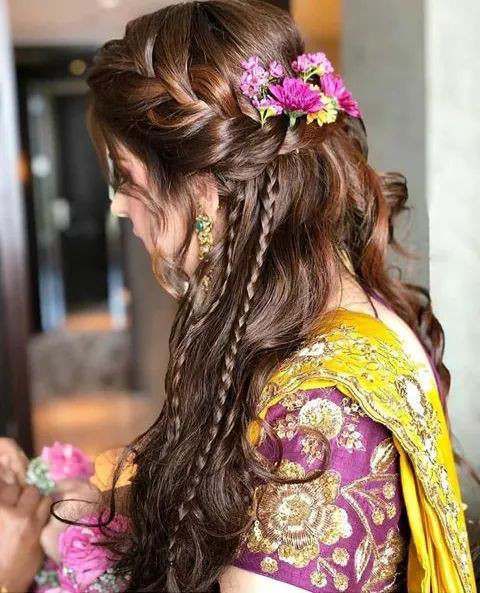 The sideway plaits are making the entire hairdo even more beautiful, gorgeous, and really very silky. This is preferred for brown, and other colored hairstyles. Trust me, you wouldn't be disappointed with how, this hairstyle turned out for you.
Must Check: Golden Bridal Lehenga
Open Hair Waves Modern Hairstyle for Lehenga
This is something that can only be done on some pre-highlighted to lightened hair. This is something that suits all hair lengths, especially the short ones. The waves are crips, and quite curly too.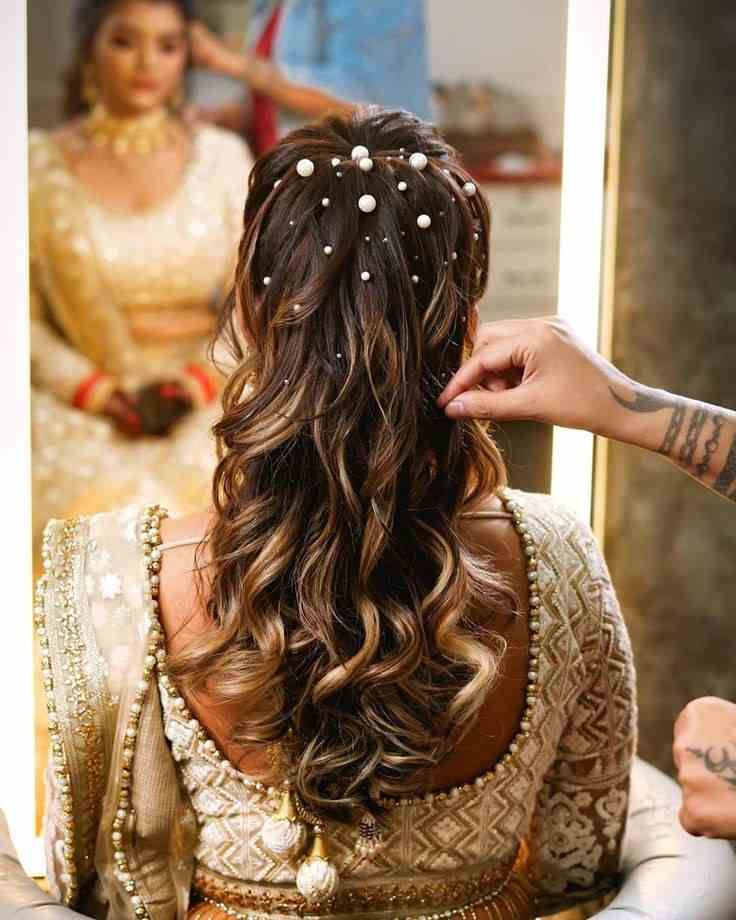 The difference between a curly and a wavy hairstyle is just the way it is done. While you need to roll the curler to make bouncy curls, all you have to do is rotate the curler for waves. It can even be done with a sleek hair straightening iron. 
Check out: Indian Wedding Veil
Open Hair Bollywood Curls Modern Hairstyle for Lehenga
Trust me Bollywood curls are the best thing in this entire world of hairstyles. These are not just good and modern but just trendy too. You should try some good hair highlights beforehand to make it even better.
If you want to keep the colour of your hair neutral, but still like to try highlights. Then ask your hairstylist to provide you with some hair extensions which are pre lighted. Trust me, the outcome is just fabulous and that doesn't even harm the quality of your natural hair. 
Drop Curls Modern Hairstyle for Lehenga
This is meant for those long hair girls, who don't have any idea over to do with their long and elongated hair strands. This Modern Hairstyle for Lehenga is bouncy and quite accommodative too.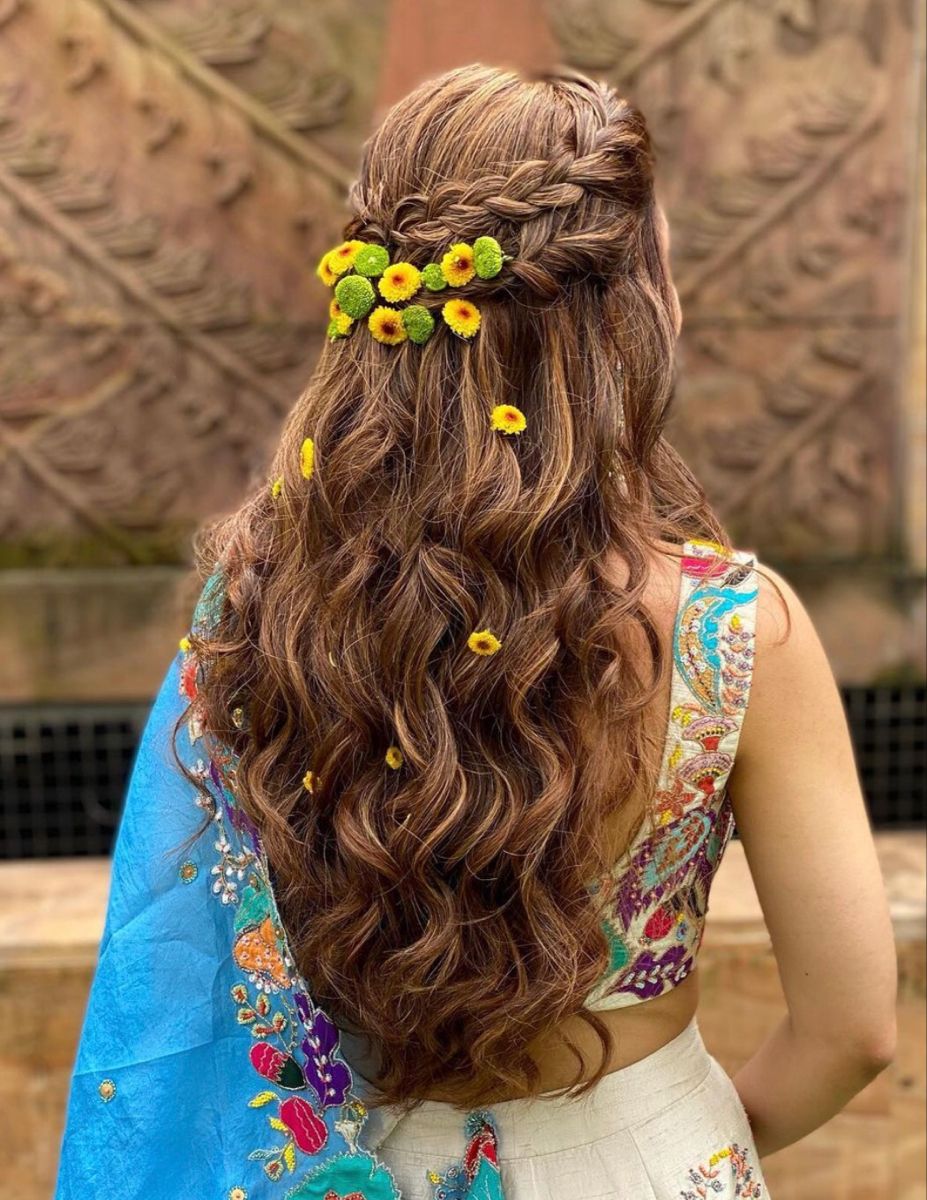 Believe me, you wouldn't feel a moment that this hairstyle is not elevating the beauty of your hair or reducing the volume. The only thing, which happens here is. The stylist curls the bottom part with a roller iron. 
View More: Pearl Set
Bouffou Modern Hairstyle for Lehenga
If you aren't fond of any of the above-mentioned looks, then do not worry girl. There are many more things which you can choose for your wedding look. Like this amazing bouncy and fluffy Modern Hairstyle for Lehenga.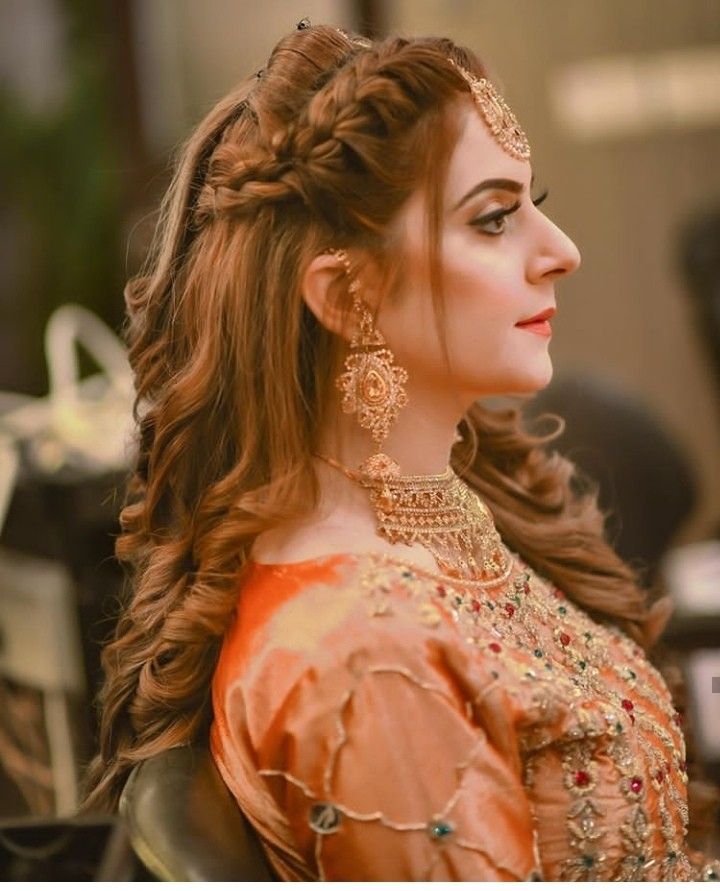 The upper portion of this look has a pair amount of fluffiness, and the bottoms are nicely curled and straightened. I only reason why you should choose this hairstyle, is if you face some major issues with volume. 
Still, having second thoughts about the right hairstyle? Believe me, there is nothing known as the best. There are too many factors for choosing a certain look. I would rather suggest something that works for your the best. 
Like an Outfit design from a separate look, makeup from another and the Modern Hairstyle for Lehenga should be according to your total 'OOTD'. Sound fun? Because this is fun. Finding the right look for your hair, and wearing it for the glam. 
If you have any further confusion or dilemma regarding your wedding outfit or other major decisions about the decoration and food. Feel free to browse through myMandap, we have a whole bunch of things that you might be interested in.